Top 10 of Chinese Apps by What's on Weibo
A top 10 of the most useful and funny Chinese apps.
What's on Weibo brings you a short introduction to China's fast-growing app market, oversight of alternative Android app stores and a top 10 of the most useful and funny Chinese apps.

Update June 2018: We've noticed many people like this article. It's from 2015, so it's time for an update! We'll soon post a new top 10. Follow us on @whatsonweibo to get the latest. Also check out our 2018 Top 10 apps for studying Chinese!

China is the world's largest smartphone market. With approximately   520 million smartphone users in Mainland China, mobile app business is booming.
In 2014, Chinese mobile phone users collectively downloaded close to 185 billion apps – 59% of all app downloads worldwide. In comparison: mobile phone users in the United States only transferred 8% of all global app downloads.
China does not only have a flourishing mobile app market, it is also a unique one. Popular Western app services like Twitter or Facebook have been blocked in Mainland China for over five years. Since the end of 2014, all Google services, including Gmail, Google Search, Google Maps or Google Play, have been cut off. The absence of these major Western app services has created a distinctive Chinese app environment, where alternative brands such as Baidu, Weibo or Weixin dominate the market.
Since April 2015, China has officially surpassed the US as Apple's biggest iPhone market. Although Apple has the number one spot in urban China smartphone sales (27.6% market share), it is Android that takes the crown in terms of application sales revenue.
Popular smartphone brands like Xiaomi, OnePlus, Oppo or Samsung are all based on the Android operating system. In China, the 'iOs versus Android' battle is not an 'iTunes versus Google Play' duopoly, as seen elsewhere in the world. Because of the blockage of Google Play and China's flourishing domestic app market, Chinese Android users download their apps through a variety of app stores.
NewZoo and TalkingData publish a monthly oversight of the top 10 Android App Stores in China. Alternative Android app stores like 360 (360手机助手), MyApp by Tencent (腾讯应用宝), Baidu app store (百度手机助手), the Xiaomi phone store (小米应用商店) or Wandoujia (豌豆荚) are amongst the most popular ones.
Some of these, like 360 or Baidu, are more than just an app store; they are tools to manage your phone by clearing the cache, deleting apps, saving on battery life, etc. Apart from the Baidu app store, Baidu browser and Baidu maps are convenient for anyone visiting or living in China, since Chrome or Google Maps will not work through normal Mainland Internet connections.
With such a giant mobile market and great variety of app stores, the world of China's apps is like a mobile jungle if you are not familiar with it. What's on Weibo has therefore selected a top 10 of useful and funny Chinese apps for you:
1. Weixin: the essential app for everyday life
Weixin (微信), also known as WeChat, is China's most popular smartphone application. It was launched in 2011 by Tencent. The power of this app lies in its multifunctionality; Weixin is Whatsapp, Twitter, Facebook, Paypal, Shazam, Viber and Uber, all combined into one app. It therefore is the essential app for everyday life.
Through Weixin's chat functions, you can have individual conversations with your friend or make a group chat. There is a large variety of emoji's to choose from to express your mood. The 'moments' function is comparable to Facebook's timeline, where you can follow what your friends are doing and comment on their pictures.
Through 'subscription accounts' it is possible to follow your favorite companies or media sources, from CCTV to McDonalds. Except for a great social media platform, Weixin is also an important way for (Chinese) media and businesses to stay in touch with their audiences. For more information about Weixin, read our Short Guide to China's Super App or China's Weixin Revolution.
Weixin is free and is available for iOs and Android users, from iTunes to Google Play or any other app store, both in Chinese and English versions.
2. Sina Weibo: not dead yet
Sina Weibo (新浪微博) is China's biggest social media platform, comparable to Twitter, launched in August 2009. Recently, many different media have stated that Weibo is dying as a consequence to new rules that required users to register with their real names. More people allegedly switched from Weibo to Weixin, media argued, and Weibo would soon be on the way out as online free speech becomes more and more limited.
Although Weibo is not the platform it used to be, it is still very much alive. The private dimension of Weibo (talking amongst friends) has made room for Weixin, where P2P is the most important form of interaction. Sina Weibo is now a public social media platform and China's most dominant source of news content, where netizens discuss trending topics of the day. Weibo has 600 million users; around 175 million of them are monthly active users. 70% of Weibo daily traffic comes through its mobile app.
Weibo is free and is available for iOs and Android users, from iTunes to Google Play or any other app store.
3. Taobao: the ultimate mobile shop and more
Taobao Marketplace is one of China's largest online shopping platforms, comparable to Ebay or Amazon. It was launched in 2003 by China's Alibaba Group. Taobao is a place where small businesses and individuals can sell products to consumers – anything from clothes to medicine. For the most funny things for sale, check out our top list of unusual things for sale on Taobao. Taobao has 8.4 million annual active merchants, many of whom mainly run their stores through the Taobao app.
Taobao will have more functions in the future besides serving as a shopping platform. Alipay and Sina Weibo launched a new service last week where mobile users can log in through Taobao, Alipay or Weibo to arrange their public service issues, like scheduling marriage registration or paying a traffic fine.
Taobao is free and is available for iOs and Android users, from iTunes to Google Play or any other app store.
4. Pitu: drag queen for a day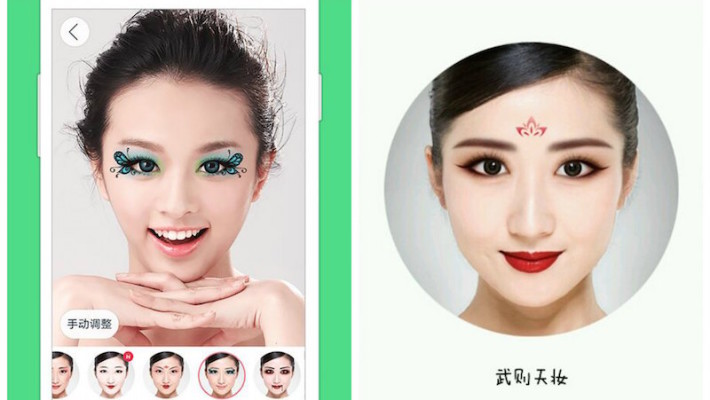 Photoapp Pitu (天天P图) is all the rage this year. Never before did a free photo app come with so many possibilities. Like the Meitu app (美图), which is also pretty good, Pitu is a camera and retouch app that offers a myriad of different filters to make you look your prettiest.
But there is much more: Pitu also allows you to play dress up with different make-up styles that look so real that is easy to trick your friends into thinking you actually did your make-up like Lady Gaga or a Peking Opera star. Besides the pre-made make-up sets (under "cosplay"), you can also apply your own make-up and decide on colors of eye-shadow, hair and lips. The app has many different templates to create collages. The 'cut-out' section lets you use your face in different backgrounds. Trust us, this is the most entertaining photo app of 2015. You can also take a normal picture of your friends and later turn them into proper dragqueens (sorry!).
天天P图 is free and is available for iOs and Android users, from iTunes to Google Play or any other app store.
5. MyIdol: you've never been this fabulous
MyIdol (小偶) is arguably one of the most fun apps around at this moment. The app allows users to take a picture of their face and then create their own 3D figure with a wide selection of different eye-colors, hairstyles, clothing and skin tones. You can then let your figure do several things, such as singing a popular song, wishing everybody a happy new year, playing the drums or falling asleep.
Although the app has been around for some time, it has been a rage lately – especially because the effects of the app are so well done. If you choose the right colors for skin, hair and eyes, combined with the right hair and outfit, it is almost as if you are standing there singing yourself.
MyIdol is free and is available for iOs and Android users, from iTunes to Google Play or any other app store.
6. DragonFly FM: discover China's radio
Dragonfly or Qingting FM (蜻蜓FM) is a top-ranking radio app that offers hundreds of channels from across China, from national to local levels. The app lets users choose from its most popular channels or by category: music, news, audiobooks, comedy, entertainment, opera, etc. A perfect app for anyone who wants to discover China's most popular music or for those who want to practice their Chinese.
Qingting is free and is available for iOs and Android users, link to app here. 
7. DouPai: featured in a Chinese news broadcast
DouPai is an original video app where personal images can be placed in pre-made scenes. Always wanted to be featured on the Chinese news? This is your chance. The app, a product of 360 Mobile, has a wide range of different scenes. Different from the MyIdol app, this app also allows two users to be in the same scene together; like two tigers holding hands in the woods, for example. It's the app you know you always wanted.
Doupai is free and is available for Android users, app link here.
8. Blued: the ultimate gay app
Blued is a social network app for gays. It is a product of China's gay website Danlan, that was launched eight years ago. Blued was added as a mobile app in 2012. It can be compared to gay dating app Grindr; users can look for other users based on their location and scan their profiles or hang out in a chatroom. Users can privately connect through chat and arrange a date if there is mutual interest.
The app has over 15 million users. In December 2014, the company received 30 million US dollars from American investors. 3 million of Blued's users are located outside of China.
Blued is free and is available for iOs and Android users, from Google Play or any other app store.
9. Chef's Table: play restaurant at home
The luxury of restaurant food in the comfort of one's own home – this is what the new Chinese app 'Good Chef' (好厨师) offers. 'Good Chef' allows users to search for specialized cooks based on their location and food preference, and hire them to come and cook in their own home kitchen. As online services like Uber are rapidly gaining popularity all over China, the app's home cooking service has become a hot business.
'Good Chef' was launched in September 2014 and operates in Beijing, Shanghai and Hangzhou. Its formula is simple; users can indicate what kind of food they like (Hunan cuisine, Sichuan style, Shandong food, etc.) and browse the different chefs that can be hired to cook for them in their area. Afterwards, users can rate the chefs with one to five stars and leave a comment about their experience. The system generates a list of top-rated chefs.
As Chinese website Wabei reports, over 20,000 people ordered a chef to cook in their home during the Chinese New Year period. The company currently employs 320 chefs on full-time basis. Founder Xu Zhiyan (徐志岩) has revealed that the start-up company recently raised 5 million USD from investors. The money will be used to expand to more cities in China and invest in product development.
The app is available for both iPhone and Android: www.chushi007.com.
10. Expression Factory: be your own emoticon
The expression factory (表情工厂) has been on the market for quite some time but has remained relatively unknown. The app lets users take a picture of their face, and then use it to create hundreds of different emoticons – from Japanese sumo wrestlers to naughty nurse. The emoticons can be exported to QQ, Weibo or Weixin, where they will be saved to use every time you feel like sending someone your personalised kisses or farts.
表情工厂 is free and is available for iPhone and Android users. If you cannot directly download on iPhone it might be because you're outside of China, you can try to download online and then transfer via iTunes. 
Enjoyed this article? Check out our Top 10 apps for studying Chinese!
– by Manya Koetse
– Appreciate this article and want to help us pay for the upkeep costs of What's on Weibo? You can do so here! Every penny helps.
©2015 Whatsonweibo. All rights reserved. Do not reproduce our content without permission – you can contact us at info@whatsonweibo.com.
Insights into Sesame Credit & Top 5 Ways to Use a High Sesame Score
These are the top ways in which netizens' high Sesame Credit scores can be used in daily life.
First published
There's been much talk about China's 'credit score' recently, with many media conflating the country's Social Credit System with the commercial Sesame Credit programme. In this article, we will explain the latter: what is Sesame Credit and what can users do with their high score?
Note: for more about the Social Credit System and differences in its media coverage in China and the West, please see this article.
With all the talks about China's nascent Social Credit system and commercial social credit programmes, it is becoming clear that Chinese netizens are entering a 'credit lifestyle' (信用生活).
"All Chinese citizens now have a score," is an idea that has popped up in many foreign media over the past years, often conflating it with China's nascent 'Social Credit System.' To read more about the Social Credit System see our articles about this here or here. In this article, we will solely focus on Sesame Credit.
On Weibo, the official Sesame Credit account (@芝麻信用), which has over 240,840 followers, often announces new ways for people to profit from their (high) Sesame Credit score.
What's on Weibo explores and lists five different ways in which a high Sesame Credit score can be used in China today. But first – what actually is Sesame Credit?
About Sesame Credit
Sesame Credit (Zhīma xìnyòng 芝麻信用) was launched on January 28, 2015, by Alibaba's Ant Financial, after it had received permission by the PBOC (People's Bank of China) to be one of the eight Chinese companies to experiment with personal credit reporting.
According to the Sesame Credit company, its major goal is to make credit more widely available to consumers and small business owners, and to "enable credit providers to make holistic and accurate decisions," while also "empowering merchants to provide more credit-related services."
Because Sesame Credit is part of Jack Ma's Alibaba Group family (Ant Financial is an affiliate of the Chinese Alibaba Group), Sesame Credit has an enormous amount of data at its disposal, from e-commerce sites to finance products. China's biggest shopping websites Taobao and Tmall belong to Alibaba's vast online ecosystem, as does payment app Alipay.
It is not mandatory for users to opt into Sesame Credit. Some have compared the system to a loyalty program, although it is a bit more than that. Since 2015, for example, Sesame Credit also cooperates with the popular online dating service company Baihe.com (百合网), so that people can link their dating profile to their credit score. Sesame Credit already had 520 million users as of 2017.
Since its launch, various foreign media have written about Sesame Credit as an 'Orwellian system.' Among others, one of the reasons for this, is that Sesame Credit incorporates a publicly available 'blacklist' into its scoring process. The 'blacklist' is a Chinese courts' list with the names of people that have an effective court justice against them; inclusion on this list can make users' existing Sesame Credit drop dramatically, which would make people miss out on all perks of having a high Sesame Score.
Earlier in 2018, Alibaba, along with the seven other private credit programmes that were allowed to run their trial in 2015, become shareholders and active contributors to a new unified platform that has access to an enormous number of personal credit data. At the so-called 'trust alliance' (信联) Baihang Credit (百行征信), state level and commercial organizations join forces in further developing China's credit systems.
About the Score
Within the Sesame Credit programme, the lowest score one can get is 350. The highest is 950. This score is based on users' behavior across various platforms. A score of 550 to 600 is an intermediate/normal score. 600-650 is considered a 'good' score. Those in the 700-950 range are exceptionally high in score.
For those who first opt-in to Sesame Credit, and who have not had any violations, 600 is usually the score to receive.
Some of the important elements the score is allegedly based on, are –
• (35%) general credit history: past payment history and indebtedness – if persons still have enough credit on their credit card when purchasing items, if they pay their gas & electricity on time [often done through Alipay in China], pay violations tickets on time, etc.
• (25%) general financial status/fulfillment capacity: the available amount on users' Alipay account, if they are renting a car/house etc. and are able to pay for it, status of Huabei (a credit card function within the Alipay wallet), etc.
• (20%) online behavior and preference: the extent to which an account is actively used, how many purchases are done, etc.
• (15%) people's personal characteristics: educational background, address, real-name registrations, etc.
• (5%) contact network and interpersonal relationships: how many online contacts one has, ones's influential power in contact list, interactions between user and friends, etc.
For those who opt in to Sesame Credit and have a high score, there are many different ways to benefit from it, as listed below.
The Top Ways to Benefit from Sesame Credit
Please note that there are more ways to benefit from a high Sesame Credit score, but we have listed five popular ones below.
#1 'Credit Treatment' at Hospitals
In November of 2017, Sesame Credit first launched its "Credit Medical Treatment" (信用就医) services for people with a score over 650, with Shanghai's Huashan hospital being the country's first hospital to implement the function.
With "Credit Medical Treatment," patients could save up to 60% of waiting time at hospitals by cutting lines and not needing to pay for treatments upfront. Payments are done through Sesame Credit's in-app credit function Huabei (花呗).
While a normal procedure at Chinese hospitals can be time-consuming, the Sesame Credit procedure is much more efficient, mainly because people do not need to line up to pre-pay for their medical check-up and the medications.
Normal procedure:
(±20 min) 1. Arrive and register at the hospital and pay for it
(±60 min) 2. Waiting time to see a doctor
(±10 min) 3. Doctor's appointment/consultation
(±20 min) 4. Line up for payment [of examination]
(±20 min) 5. Check-up/Examination
(±20 min) 6. Queue up for payment
(±10 min) 7. Pick up medicine
The procedure with Sesame Credit:
(±3 min) 1. Register at hospital and payment by phone.
(±10 min) 2. Automatically get a number to see the doctor.
(±10 min) 3. Doctor's consultation.
Payment [for examination]
(±20 min) 4. Examination.
Payment [for medicine]
(±10 min) 5. Pick up medicine
There are also other ways in which people with a good Sesame Credit score can enjoy extra services and benefits at hospitals. Those with a score over 600, for example, can rent a wheelchair in hospitals without deposit.
#2 Try First, Pay Later
Since September 2018, Sesame Credit offers the possibility to "try out" purchases from Tmall for consumers who have a Credit Score of over 700, promoting the idea of "never regretting a purchase."
With this concept, people can order clothes or other items from e-commerce platform Tmall (天猫 Tiānmāo in Chinese) without any risk, having the guarantee to always being able to send back items that are unsatisfactory without paying for them.
There are also frequent promotions done by brands and companies in collaboration with Sesame Credit, such as offering people with a high credit score (over 750) to try out the newest Ford for three days, or to use the latest Meitu phone for 30 days for free, without necessarily needing to buy it afterward.
Sesame Credit also makes it more tempting for its users to spend money on (Alibaba) platforms in other ways. The higher one's credit is, the more one is able to lend from online lending service Huabei; those with a credit higher than 750 can lend up to 20,000 RMB (±$2890). Unsurprisingly, the literal translation of Alipay's 'online credit card' service Huabei (花呗) is "Just Spend."
#3 No Deposit on Shared Bikes (and other things)
Sesame Credit has a partnership with bike sharing platforms Hello Bike (哈罗单车) and Ofo, allowing users with a credit over 650 points to rent these bicycles, that can be found anywhere in bigger cities in China, without paying a deposit.
It is not the only service that does not require a deposit for those with a high Credit score; using a shared umbrella, or a publicly available shared phone charger, or even renting apartments, often no longer needs a deposit for those with a higher score.
#4 Open Access to Libraries
In many places in China, people who have a Sesame Credit score over 550 no longer need to pay a downpayment and can set up a library card for free, in other places people with a higher Sesame score no longer need a library card at all to borrow books at their local libraries and/or their automated self-service street libraries (just their ID).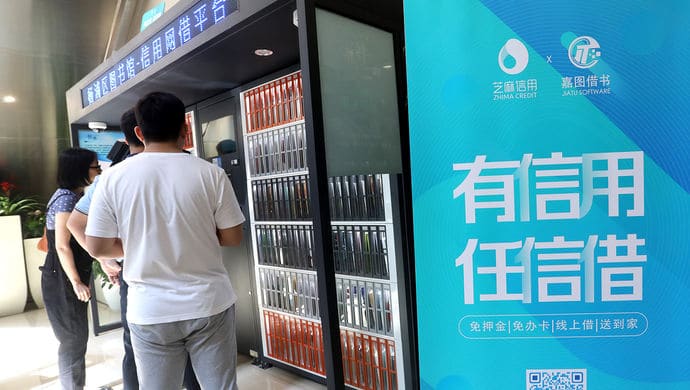 Since April of 2018, this special service for Sesame Credit users (not needing a card) was introduced in the entire Zhejiang province. Public libraries in other places, such as Shanghai, have already been experimenting with Sesame Credit perks for library lovers since 2015.
#5 Special Lounges at Train Stations
Especially during peak seasons such as the National Day holidays or Spring Festival, China's train stations can get exceptionally busy. For Sesame Credit members with a score over 650, there are now special lounges to relax.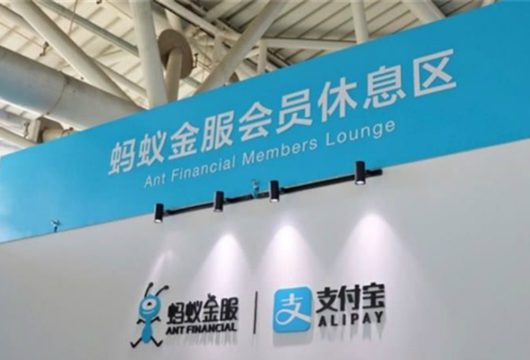 Sina notes that the lounge is only available to those members who have also bought a higher fair ticket (first class), or who have a platinum status.
By Manya Koetse
Follow @whatsonweibo
Spotted a mistake or want to add something? Please let us know in comments below or email us.
©2018 Whatsonweibo. All rights reserved. Do not reproduce our content without permission – you can contact us at info@whatsonweibo.com
Making China's Healthcare More Mobile: Wuxi Launches 'Smart Medical App'
The Wuxi Medical App makes Chinese health care more digital.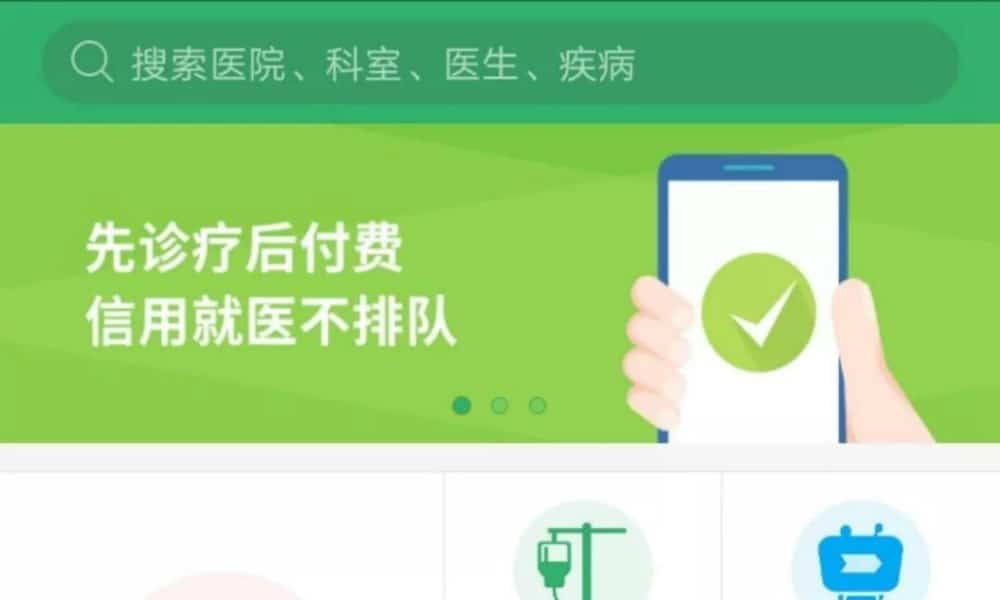 With the trial launch of the Wuxi Smart Medical app [无锡智医APP], patients of eight different Wuxi hospitals can now experiment with navigating their healthcare through mobile.
In late October, the Wuxi Municipal Health Planning Commission launched a trial version of the so-called "Wuxi Smart Medical App" [无锡智医APP] in cooperation with eight hospitals in the city of Wuxi, Jiangsu province – a city with a population of more than six million people.
The app is meant to make the navigation of health services more convenient for both patients and people who work in the medical sector.
According to Wuxi Daily, one of the reasons why the app was designed is to alleviate the widespread problem of long queues at local hospitals.
Especially in China's bigger cities, many patients have to wait in line for hours or sometimes even days before they can register for an appointment (a process known as guàhào 挂号), and receive medical treatment.
With the free app, users can now efficiently register for a doctor's appointment at one of the eight cooperating hospitals through their mobile phone, without having to stand in line at the hospital. The app also allows patients to see and pay for their medical bills, check medical information, and see their examination results.
"When I needed medical consultation or treatment, I never knew what department or doctor I had to queue for," Liu Xingyu (刘星宇), director of the Information Department of the Municipal Health Planning Commission, tells Wuxi Daily: "I was not the only one facing this problem. But with the app, patients can now insert a type of medical issue, their symptoms, etc., and the app will recommend the [relevant] department."
To get insights into examination results, patients using the app no longer have to spend entire afternoons waiting in the hospital. The app stores all examination results going back one year.
As for the payment of medical fees, the app provides users with a self-service payment option. By following a few steps, people can pay their medical bills on their phone through Alipay.
The Wuxi app is a new app, but the idea of bringing China's digitalization into the health care system is not new. As reported by Technode, Tencent already launched WeChat Intelligent Healthcare (微信智慧医疗) in 2014, a platform that allows users to do things such as book appointments, make payments, and more, at hospitals and other medical facilities through WeChat public accounts.
China's healthcare system has also become more digitalized through options offered by some hospitals in China for people with a relatively high score on their Sesame Credit to receive certain 'perks', such as being able to skip lines, or use wheelchairs without paying deposits. (For more about Sesame Credit, an opt-in commercial credit programme by Ant Financial (Alipay), also see this article).
Perhaps Wuxi's trial app will lead the way for other hospitals in China to become more mobile-focused. For now, the Android version of the Wuxi app is available on Huawei and Xiaomi app stores. The iOS version is expected to be available in the Apple Store soon, as is the added option to pay for medical bills through WeChat.
By Gabi Verberg, with contributions by Manya Koetse
Follow @whatsonweibo
Spotted a mistake or want to add something? Please let us know in comments below or email us.
©2018 Whatsonweibo. All rights reserved. Do not reproduce our content without permission – you can contact us at info@whatsonweibo.com