Top 10 of Chinese Apps by What's on Weibo
A top 10 of the most useful and funny Chinese apps.
What's on Weibo brings you a short introduction to China's fast-growing app market, oversight of alternative Android app stores and a top 10 of the most useful and funny Chinese apps.

Update 2019: We've noticed many people like this article. It's from 2015, so it's time to get yourself up to date in our Chinese app section that lists new popular apps. Follow us on @whatsonweibo to get the latest.
China is the world's largest smartphone market. With approximately   520 million smartphone users in Mainland China, mobile app business is booming.
In 2014, Chinese mobile phone users collectively downloaded close to 185 billion apps – 59% of all app downloads worldwide. In comparison: mobile phone users in the United States only transferred 8% of all global app downloads.
China does not only have a flourishing mobile app market, it is also a unique one. Popular Western app services like Twitter or Facebook have been blocked in Mainland China for over five years. Since the end of 2014, all Google services, including Gmail, Google Search, Google Maps or Google Play, have been cut off. The absence of these major Western app services has created a distinctive Chinese app environment, where alternative brands such as Baidu, Weibo or Weixin dominate the market.
Since April 2015, China has officially surpassed the US as Apple's biggest iPhone market. Although Apple has the number one spot in urban China smartphone sales (27.6% market share), it is Android that takes the crown in terms of application sales revenue.
Popular smartphone brands like Xiaomi, OnePlus, Oppo or Samsung are all based on the Android operating system. In China, the 'iOs versus Android' battle is not an 'iTunes versus Google Play' duopoly, as seen elsewhere in the world. Because of the blockage of Google Play and China's flourishing domestic app market, Chinese Android users download their apps through a variety of app stores.
NewZoo and TalkingData publish a monthly oversight of the top 10 Android App Stores in China. Alternative Android app stores like 360 (360手机助手), MyApp by Tencent (腾讯应用宝), Baidu app store (百度手机助手), the Xiaomi phone store (小米应用商店) or Wandoujia (豌豆荚) are amongst the most popular ones.
Some of these, like 360 or Baidu, are more than just an app store; they are tools to manage your phone by clearing the cache, deleting apps, saving on battery life, etc. Apart from the Baidu app store, Baidu browser and Baidu maps are convenient for anyone visiting or living in China, since Chrome or Google Maps will not work through normal Mainland Internet connections.
With such a giant mobile market and great variety of app stores, the world of China's apps is like a mobile jungle if you are not familiar with it. What's on Weibo has therefore selected a top 10 of useful and funny Chinese apps for you:
1. Weixin: the essential app for everyday life
Weixin (微信), also known as WeChat, is China's most popular smartphone application. It was launched in 2011 by Tencent. The power of this app lies in its multifunctionality; Weixin is Whatsapp, Twitter, Facebook, Paypal, Shazam, Viber and Uber, all combined into one app. It therefore is the essential app for everyday life.
Through Weixin's chat functions, you can have individual conversations with your friend or make a group chat. There is a large variety of emoji's to choose from to express your mood. The 'moments' function is comparable to Facebook's timeline, where you can follow what your friends are doing and comment on their pictures.
Through 'subscription accounts' it is possible to follow your favorite companies or media sources, from CCTV to McDonalds. Except for a great social media platform, Weixin is also an important way for (Chinese) media and businesses to stay in touch with their audiences. For more information about Weixin, read our Short Guide to China's Super App or China's Weixin Revolution.
Weixin is free and is available for iOs and Android users, from iTunes to Google Play or any other app store, both in Chinese and English versions.
2. Sina Weibo: not dead yet
Sina Weibo (新浪微博) is China's biggest social media platform, comparable to Twitter, launched in August 2009. Recently, many different media have stated that Weibo is dying as a consequence to new rules that required users to register with their real names. More people allegedly switched from Weibo to Weixin, media argued, and Weibo would soon be on the way out as online free speech becomes more and more limited.
Although Weibo is not the platform it used to be, it is still very much alive. The private dimension of Weibo (talking amongst friends) has made room for Weixin, where P2P is the most important form of interaction. Sina Weibo is now a public social media platform and China's most dominant source of news content, where netizens discuss trending topics of the day. Weibo has 600 million users; around 175 million of them are monthly active users. 70% of Weibo daily traffic comes through its mobile app.
Weibo is free and is available for iOs and Android users, from iTunes to Google Play or any other app store.
3. Taobao: the ultimate mobile shop and more
Taobao Marketplace is one of China's largest online shopping platforms, comparable to Ebay or Amazon. It was launched in 2003 by China's Alibaba Group. Taobao is a place where small businesses and individuals can sell products to consumers – anything from clothes to medicine. For the most funny things for sale, check out our top list of unusual things for sale on Taobao. Taobao has 8.4 million annual active merchants, many of whom mainly run their stores through the Taobao app.
Taobao will have more functions in the future besides serving as a shopping platform. Alipay and Sina Weibo launched a new service last week where mobile users can log in through Taobao, Alipay or Weibo to arrange their public service issues, like scheduling marriage registration or paying a traffic fine.
Taobao is free and is available for iOs and Android users, from iTunes to Google Play or any other app store.
4. Pitu: drag queen for a day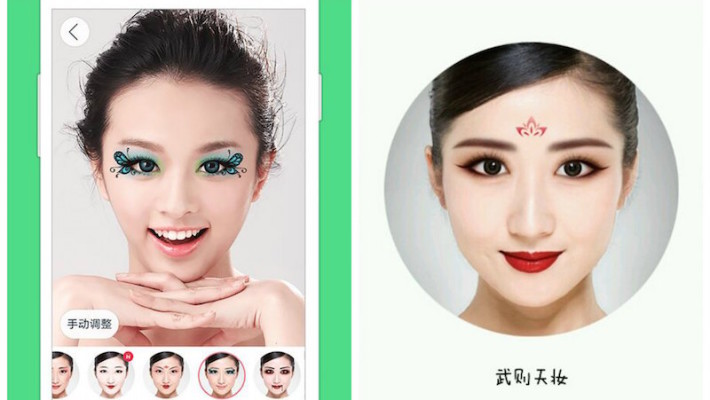 Photoapp Pitu (天天P图) is all the rage this year. Never before did a free photo app come with so many possibilities. Like the Meitu app (美图), which is also pretty good, Pitu is a camera and retouch app that offers a myriad of different filters to make you look your prettiest.
But there is much more: Pitu also allows you to play dress up with different make-up styles that look so real that is easy to trick your friends into thinking you actually did your make-up like Lady Gaga or a Peking Opera star. Besides the pre-made make-up sets (under "cosplay"), you can also apply your own make-up and decide on colors of eye-shadow, hair and lips. The app has many different templates to create collages. The 'cut-out' section lets you use your face in different backgrounds. Trust us, this is the most entertaining photo app of 2015. You can also take a normal picture of your friends and later turn them into proper dragqueens (sorry!).
天天P图 is free and is available for iOs and Android users, from iTunes to Google Play or any other app store.
5. MyIdol: you've never been this fabulous
China's 'deepfake apps' have become so advanced so rapidly, that we'd almost forget that these were the kinds of apps we (or, at least, I) got really excited over just a few years ago. To be honest, I still love it. #myidolapp pic.twitter.com/p7MspRH6om

— Manya Koetse (@manyapan) October 19, 2019
MyIdol (小偶) is arguably one of the most fun apps around at this moment. The app allows users to take a picture of their face and then create their own 3D figure with a wide selection of different eye-colors, hairstyles, clothing and skin tones. You can then let your figure do several things, such as singing a popular song, wishing everybody a happy new year, playing the drums or falling asleep.
Although the app has been around for some time, it has been a rage lately – especially because the effects of the app are so well done. If you choose the right colors for skin, hair and eyes, combined with the right hair and outfit, it is almost as if you are standing there singing yourself.
MyIdol is free and is available for iOs and Android users, from iTunes to Google Play or any other app store.
6. DragonFly FM: discover China's radio
Dragonfly or Qingting FM (蜻蜓FM) is a top-ranking radio app that offers hundreds of channels from across China, from national to local levels. The app lets users choose from its most popular channels or by category: music, news, audiobooks, comedy, entertainment, opera, etc. A perfect app for anyone who wants to discover China's most popular music or for those who want to practice their Chinese.
Qingting is free and is available for iOs and Android users, link to app here. 
7. DouPai: featured in a Chinese news broadcast
DouPai is an original video app where personal images can be placed in pre-made scenes. Always wanted to be featured on the Chinese news? This is your chance. The app, a product of 360 Mobile, has a wide range of different scenes. Different from the MyIdol app, this app also allows two users to be in the same scene together; like two tigers holding hands in the woods, for example. It's the app you know you always wanted.
Doupai is free and is available for Android users, app link here.
8. Blued: the ultimate gay app
Blued is a social network app for gays. It is a product of China's gay website Danlan, that was launched eight years ago. Blued was added as a mobile app in 2012. It can be compared to gay dating app Grindr; users can look for other users based on their location and scan their profiles or hang out in a chatroom. Users can privately connect through chat and arrange a date if there is mutual interest.
The app has over 15 million users. In December 2014, the company received 30 million US dollars from American investors. 3 million of Blued's users are located outside of China.
Blued is free and is available for iOs and Android users, from Google Play or any other app store.
9. Chef's Table: play restaurant at home
The luxury of restaurant food in the comfort of one's own home – this is what the new Chinese app 'Good Chef' (好厨师) offers. 'Good Chef' allows users to search for specialized cooks based on their location and food preference, and hire them to come and cook in their own home kitchen. As online services like Uber are rapidly gaining popularity all over China, the app's home cooking service has become a hot business.
'Good Chef' was launched in September 2014 and operates in Beijing, Shanghai and Hangzhou. Its formula is simple; users can indicate what kind of food they like (Hunan cuisine, Sichuan style, Shandong food, etc.) and browse the different chefs that can be hired to cook for them in their area. Afterwards, users can rate the chefs with one to five stars and leave a comment about their experience. The system generates a list of top-rated chefs.
As Chinese website Wabei reports, over 20,000 people ordered a chef to cook in their home during the Chinese New Year period. The company currently employs 320 chefs on full-time basis. Founder Xu Zhiyan (徐志岩) has revealed that the start-up company recently raised 5 million USD from investors. The money will be used to expand to more cities in China and invest in product development.
The app is available for both iPhone and Android: www.chushi007.com.
10. Expression Factory: be your own emoticon
The expression factory (表情工厂) has been on the market for quite some time but has remained relatively unknown. The app lets users take a picture of their face, and then use it to create hundreds of different emoticons – from Japanese sumo wrestlers to naughty nurse. The emoticons can be exported to QQ, Weibo or Weixin, where they will be saved to use every time you feel like sending someone your personalised kisses or farts.
表情工厂 is free and is available for iPhone and Android users. If you cannot directly download on iPhone it might be because you're outside of China, you can try to download online and then transfer via iTunes. 
Enjoyed this article? Check out our Top 10 apps for studying Chinese!
– by Manya Koetse
– Appreciate this article and want to help us pay for the upkeep costs of What's on Weibo? You can do so here! Every penny helps.
©2015 Whatsonweibo. All rights reserved. Do not reproduce our content without permission – you can contact us at info@whatsonweibo.com.
Chinese Tourism Bureau Chiefs Go Viral for Trying Really, Really Hard to Attract More Post-Covid Domestic Tourists
It's a Culture & Tourism Bureau social media battle: China's local tourist offices are fighting to go viral to attract more visitors.
Hoping to attract more domestic tourists in the post-Covid-era, Chinese local government officials are trying really hard to promote their hometowns. Various tourism bureau chiefs from across China are going viral on Weibo, Douyin, and beyond for dressing up in traditional outfits and creating original videos with low to zero budget.
Another local Chinese tourism bureau chief went viral today – it's an entire trend by itself. Tourist department offices under several local governments in China are trying really hard to promote their hometowns these days in hopes of attracting more domestic tourists in China's post-Covid era.
Government officials are showing their best side – and their most creative one – on social media to convince tourists to visit their region. In doing so, these local bureau chiefs have been attracting online attention for appearing in promo videos in various creative ways (#为了让你去玩儿文旅局长们能有多拼#).
Since early 2020, China's tourism industry has been heavily impacted by the pandemic and China's strict Covid measures and lockdowns. At various moments during the pandemic, China's domestic tourism saw an increase in holiday bookings as tourists still wanted to travel but could not easily travel abroad.
Now that China has lifted blockades on foreign travel, the post-zero-Covid itch to travel is back in full swing. As travel to other countries is seeing a boom again (while tourist visas to mainland China are still halted), local tourist offices are doing all they can with a minimal budget to encourage domestic travel to their lovely hometowns.
The trend of China's tourist bureau chiefs finding innovative ways to promote their regions or towns via social media has been going on for some time already, but it wasn't until recently that they really gained nationwide attention for their efforts.
The recent viral trend is not only generating more attention for the specific towns and regions promoted in the videos, it is also bringing more recognition for the drive of China's Culture & Tourism Bureau chiefs – officials who usually rarely get the limelight. Many Chinese netizens agree that it must take a lot of talent and creativity to become a local tourism bureau chief nowadays.
1. TOURISM BUREAU DIRECTOR OF ZHAOSU COUNTY (XINJIANG)
Riding a horse through a windy snowy country, He Jiaolong (贺娇龙) was the first local official to feature in a social media video to promote the Yili region. The video of the vice-county head of Zhaosu, all dressed up, went viral in the winter of 2020.
Chief He later told reporters that she did not expect the video to go as viral as it did. According to Shine, He Jiaolong said: "I invited two horse lovers to help us promote local tourism on social media. We borrowed the costume from a local art troupe. They posted my horse-riding videos on Douyin and received enthusiastic responses."
A 'behind the scenes' video later published on Douyin showed He falling over and battling the cold during the filming, only making the local official more popular for her dedication.
2. TOURISM BUREAU DIRECTOR OF SUIZHOU (HUBEI)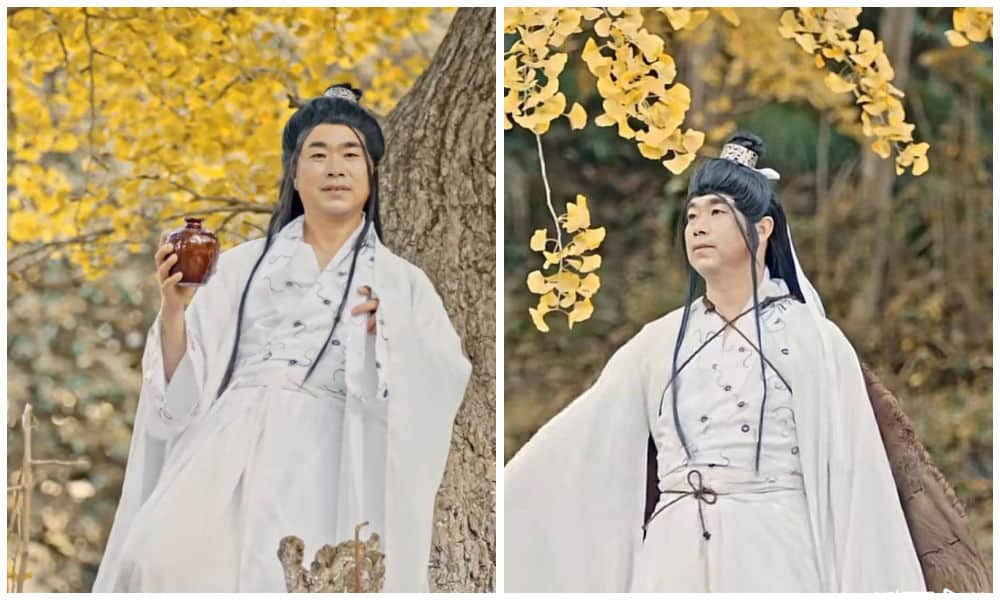 In October of 2022, Xie Wei (解伟), director of the Suizhou Municipal Bureau of Culture and Tourism in Hubei province, made headlines for his performance in videos produced and directed by himself.
As reported by South China Post, Xie made the videos himself because the local tourism bureau did not have the budget for a professional production. Although the videos made by Xie went viral, they also received some criticism because of how Xie was role-playing and dressing up as an ancient knight.
Nevertheless, Xie Wei did breathe new life into this creative approach to destination marketing, inspiring other Culture and Tourism Bureaus across China to take a similar social media strategy and join on the battleground to win over the hearts of domestic travelers.
3. TOURISM BUREAU DIRECTOR OF TIBETAN AUTONOMOUS PREFECTURE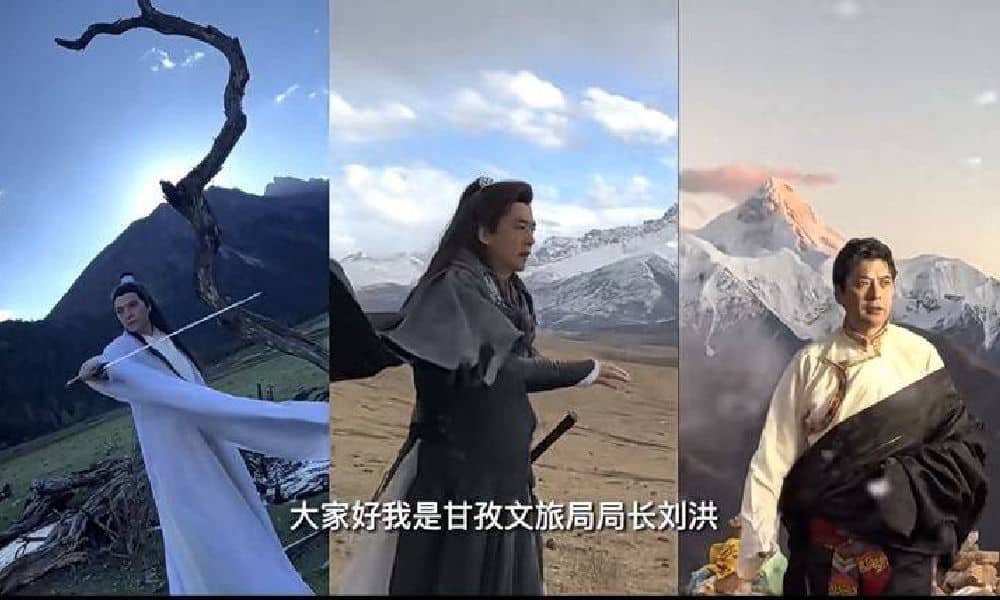 In February of 2023, it was the bureau chief of the Garzê Tibetan Autonomous Prefecture Tourism Office, Liu Hong (@甘孜刘洪), who went viral with various videos featuring him in traditional clothing, which earned him the nickname of "most handsome bureau chief" ("最帅局长").
It was not the first time for Liu to star in his own tourism promotion video, as there was another video in 2022 in which he also did some cosplay to promote the Garze region (Sichuan).
Liu Hong is now known as one of China's "celebrity tourism bureau chiefs" (网红文旅局长). The videos actually helped to promote the region but also turned Liu into a celebrity.
4. TOURISM BUREAU DIRECTOR OF DAWU COUNTY (SICHUAN)
On February 10 of 2023, it was the Cultural Tourism Bureau chief Jiangze Duoji (@降泽多吉) of Dawu County who professionalized the social media video trend and featured in a super slick 3-minute video with beautfiul shots and a creative idea.
In the intro of the video, Jiangze Duoji speaks English when he talks about his life question of "Who am I?" The video then shows the local official dancing in an astronaut's costume in Moshi Park, one of the area's most beautiful scenic spots that will make you feel like you're in outer space.
The local official is then dressed as a Tang emperor at the Daowu dwellings, moves on to be a an old painter in the Yuke grasslands and King Gasar while galloping over the Longdeng prairie.
The video did not just go viral, it was also promoted by several state media outlets, making it among the most famous videos in this list. It's also on Youtube here.
5. TOURISM BUREAU DIRECTOR OF TAHE COUNTY (HEILONGJIANG)
On February 27, the Heilongjiang Tahe Culture and Tourism Bureau (Daxing'anling prefecture) released a video in which a team of 34 people simulated a rocket launch in the snow.
Du Bo (都波), director of the Tahe County Bureau of Culture and Tourism, told reporters that the decision to shoot the video like this was made during lunch, with the position plan drawn out on a napkin.
With this original video, the local tourist office literally took the social media battle to another level (#塔河县文旅局长卷出新高度#). But Du Bo also stated that other tourist offices in China should not hold back and be scared to join the social media battle, saying they were all in this together to recover China's domestic tourism industry ("不要怕卷,这种卷是一件好事,大家凝聚在一起,共同期待文旅行业的复苏").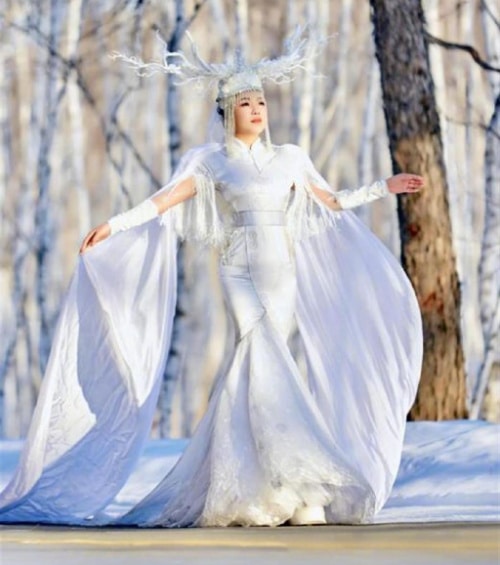 The tourist office also released a second video that gained popularity online, featuring a 'snow queen' in beautiful snowy landscape.
6. TOURISM BUREAU DIRECTOR OF MEISHAN (SICHUAN)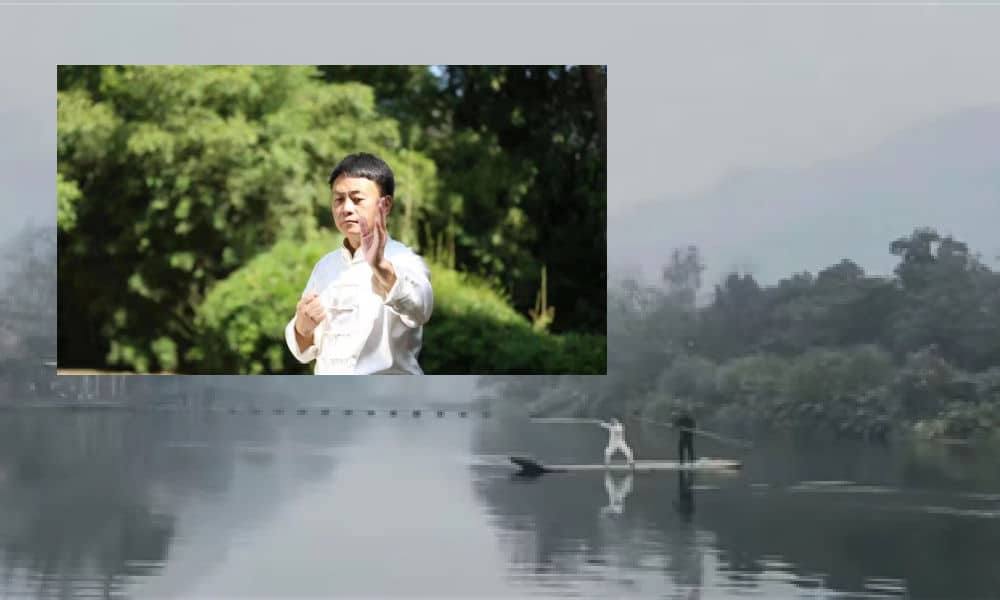 This video, which premiered late February of 2023, is also professionally made, with the Meishan Tourism Office taking the video trend very seriously.
The bureau chief demonstrates the beauty of kung fu in this short film, which also received many thumbs up on social media (#文旅局长用功夫带你游眉山#).
7. TOURISM BUREAU DIRECTOR OF GAOPING (SHANXI)
On March 7, a video from the tourist office in Gaoping, a county-level city in Shanxi's Jincheng, also went viral on Chinese social media as "yet another tourist office chief joining the war" (#又一文旅局长申请出战#).
The video shows the local tourist bureau chief "going to war" in traditional costume to promote Gaoping as the hometown of Emperor Yan (#文旅局长戏服代言炎帝故里#).
8: TOURISM BUREAU DIRECTOR OF HUANGGANG (HUBEI)
The video posted on social media 'on behalf of' the Tourism Bureau of Huanggang, Hubei, also attracted a lot of attention online since many people believed the cosplaying bureau chief had suddenly turned into a handsome young idol.
It later turned out that this video was actually not an official one and was posted on social media without the permission of the tourist office by enthusiastic locals.
9. TOURISM BUREAU DEPUTY DIRECTOR OF SUQIAN (JIANGSU)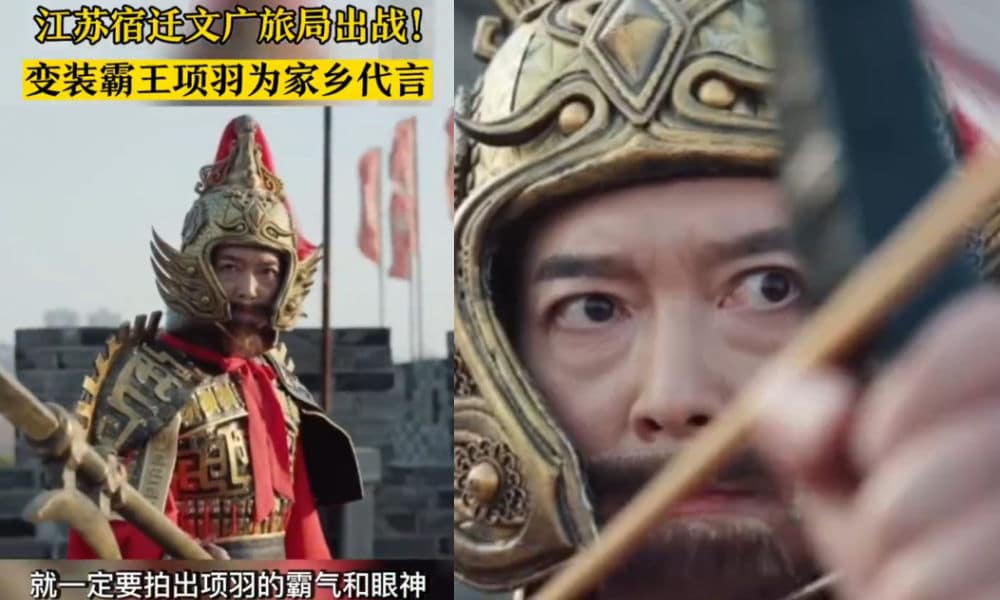 The hashtag is "Jiangsu's Culture and Tourist Office Bureau Chief Joins the Battle" (#江苏文旅局长卷起来了#). Liu Bing (刘冰), the deputy director of the Tourism and Culture Bureau in Suqian, Jiangsu, is another local official who is going viral these days for his appearance in a self-produced promo video on social media (#江苏一文旅局长变装项羽代言家乡#).
In the video, Liu Bing is dressed as Xiang Yu (项羽), Hegemon-King of Western Chu, to endorse Suqian tourism. Suqian is the hometown of Xiang Yu (232–202 BC), who is considered one of the greatest military leaders in ancient China.
Although Suqian is one of the later Tourism Bureau hypes to join the hype, the video – published on March 9 – is still welcomed by netizens and is actually putting some pressure on other Chinese cities and regions to come up with their own videos featuring their own historical local heroes.
10. TOURISM BUREAU STAFF OF FUJIAN
Fujian might be a bit late in "going to war" and joining the social media battle between the Chinese Tourism and Culture Bureau chiefs, its new video (March 9) obviously took a lot of effort, as it features different members of staff in various tourist spots in Fujian province.
The hashtag "Fujian Culture and Tourism Bureau Joins the Battle" (#福建的文旅局长卷起来了#) circulated on Thursday, attracting nearly five million views on Weibo in one day.

By Manya Koetse 
with contributions by Miranda Barnes
Get the story behind the hashtag. Subscribe to What's on Weibo here to receive our newsletter and get access to our latest articles:
Spotted a mistake or want to add something? Please let us know in comments below or email us. First-time commenters, please be patient – we will have to manually approve your comment before it appears.
©2023 Whatsonweibo. All rights reserved. Do not reproduce our content without permission – you can contact us at info@whatsonweibo.com.
Haidilao No Longer Allows Customers to Bring Their Own Food
While Haidilao is banning its bring-your-own-food option, customers can still bring their own drinks.
It was listed as one of the most popular topics on Weibo on Thursday, February 23: Chinese hotpot chain Haidilao bans customers from bringing their own food (#海底捞禁止自带菜#).
Starting from Feb. 21, 2023, the popular hotpot restaurant strictly enforces its policy of not allowing guests to bring outside food.
Previously, some Haidilao locations did allow customers to bring small amounts of their own food or ingredients, as long as they would sign a waiver. Haidilao stated that the recent ban on bringing in own food is in line with the restaurant's food management and safety policies.
Haidilao has hundreds of restaurants across China, and people often line up to get a table. Dining at Haidilao is known to be an experience in itself, as the hospitality of Haidilao staff is widely praised; staff members are thoroughly trained to give customers the best possible service. Throughout the years, the chain has introduced many new concepts to enhance customer experience.
Haidilao is all about hotpot, where you put fresh ingredients in a big pot filled with simmering broth. The pot is placed in the middle of the table, accompanied by plates of various meats, vegetables, noodles, condiments, dipping sauces, etc. The ingredients are to be cooked in the broth – Haidilao offers many different options from spicy to mild -and then taken out and dipped into the chosen sauce before eating. Because of this dining style, it would be relatively easy for people to bring their own ingredients as they could just cook them at the table.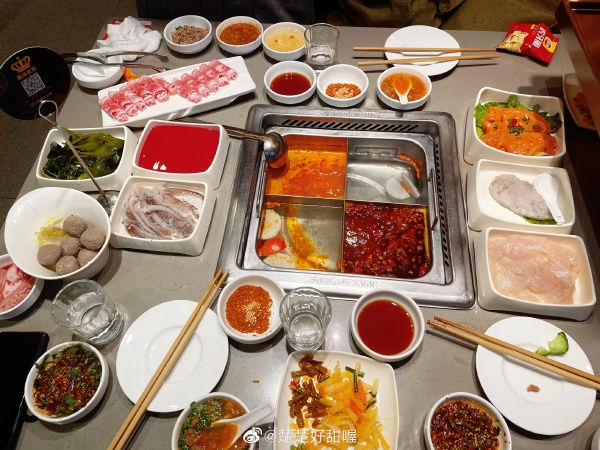 Although most commenters on Weibo think it is only reasonable for Haidilao to prohibit people from bringing in their own food, there are still many discussions about the topic. On Thursday night, the topic had over 260 million views on Weibo. By Friday, the hashtag had over 420 million clicks.
The most recurring comments are from those people who did not know that it was previously allowed to bring some of your own food. They wonder why people would do that in the first place. "If you go out for hotpot and bring your own food, why would you not just have hotpot at home?"
Haidilao's 'bring your own food' option was reportedly introduced in 2017 as part of the restaurant's 'customer always comes first' marketing concept, allowing people to bring an ingredient or dish they especially liked to the restaurant.
Some people say they appreciated the option. One commenter posted a photo showing how they brought their own seafood to Haidilao, writing: "Bringing your own food can be so delicious (..), we did it and we still ordered from the restaurant. They made us sign a waiver."
Another Weibo user (@王铜根) wrote: "I've been going to Haidilao for many years and only this year did I bring my own food on two occasions. Once, I bought a very nice beef at the supermarket but I was afraid it was going to thaw on my way home and then I realized I could bring my own food to Haidilao and I went and ate it there. While I was eating it, I thought, Haidilao is so amazing, I vowed that I'd always support them."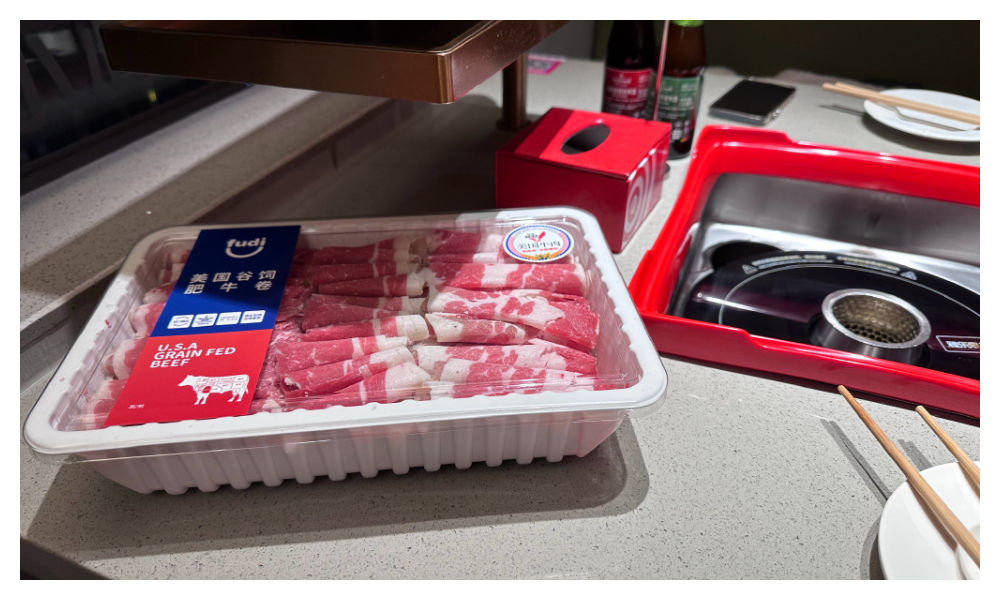 Over a year ago, Haidilao announced that it was closing about 300 of its restaurants which had been doing worse than expected.
Haidilao suffered because of Covid and local lockdowns. Due to the restaurant's increased labor costs, its menu prices went up, much to the dismay of many netizens, who already thought the prices at Haidilao were steep before the pandemic. In October of 2021, the story of a Haidilao customer in Zhengzhou discovering that the 200 grams of tripe he ordered for 72rmb ($11) was actually only 138 grams also went viral on Weibo, stirring discussions on the Haidilao menu prices.
While Haidilao's choice to ban its bring-your-own-food option could be a strategic business choice, it also could have other motives related to marketing and legal reasons. (Also read our story on this scammer pretending to find coackroaces in his hotpot to get money from Haidilao.)
Haidilao still allows customers to bring their own beverages to the restaurant.
By Manya Koetse 
Featured image via weibo @咚咚东_ddd
Get the story behind the hashtag. Subscribe to What's on Weibo here to receive our newsletter and get access to our latest articles:
Spotted a mistake or want to add something? Please let us know in comments below or email us. First-time commenters, please be patient – we will have to manually approve your comment before it appears.
©2023 Whatsonweibo. All rights reserved. Do not reproduce our content without permission – you can contact us at info@whatsonweibo.com.