Top 10 of Chinese Apps by What's on Weibo
What's on Weibo brings you a short introduction to China's fast-growing app market, oversight of alternative Android app stores and a top 10 of the most useful and funny Chinese apps.
What's on Weibo brings you a short introduction to China's fast-growing app market, oversight of alternative Android app stores and a top 10 of the most useful and funny Chinese apps.
China is the world's largest smartphone market. With approximately   520 million smartphone users in Mainland China, mobile app business is booming. In 2014, Chinese mobile phone users collectively downloaded close to 185 billion apps – 59% of all app downloads worldwide. In comparison: mobile phone users in the United States only transferred 8% of all global app downloads.
China does not only have a flourishing mobile app market, it is also a unique one. Popular Western app services like Twitter or Facebook have been blocked in Mainland China for over five years. Since the end of 2014, all Google services, including Gmail, Google Search, Google Maps or Google Play, have been cut off. The absence of these major Western app services has created a distinctive Chinese app environment, where alternative brands such as Baidu, Weibo or Weixin dominate the market.
Since April 2015, China has officially surpassed the US as Apple's biggest iPhone market. Although Apple has the number one spot in urban China smartphone sales (27.6% market share), it is Android that takes the crown in terms of application sales revenue. Popular smartphone brands like Xiaomi, OnePlus, Oppo or Samsung are all based on the Android operating system. In China, the 'iOs versus Android' battle is not an 'iTunes versus Google Play' duopoly, as seen elsewhere in the world. Because of the blockage of Google Play and China's flourishing domestic app market, Chinese Android users download their apps through a variety of app stores. NewZoo and TalkingData publish a monthly oversight of the top 10 Android App Stores in China. Alternative Android app stores like 360 (360手机助手), MyApp by Tencent (腾讯应用宝), Baidu app store (百度手机助手), the Xiaomi phone store (小米应用商店) or Wandoujia (豌豆荚) are amongst the most popular ones. Some of these, like 360 or Baidu, are more than just an app store; they are tools to manage your phone by clearing the cache, deleting apps, saving on battery life, etc. Apart from the Baidu app store, Baidu browser and Baidu maps are convenient for anyone visiting or living in China, since Chrome or Google Maps will not work through normal Mainland Internet connections.
With such a giant mobile market and great variety of app stores, the world of China's apps is like a mobile jungle if you are not familiar with it. What's on Weibo has therefore selected a top 10 of useful and funny Chinese apps for you:
1. Weixin: the essential app for everyday life
Weixin (微信), also known as WeChat, is China's most popular smartphone application. It was launched in 2011 by Tencent. The power of this app lies in its multifunctionality; Weixin is Whatsapp, Twitter, Facebook, Paypal, Shazam, Viber and Uber, all combined into one app. It therefore is the essential app for everyday life. Through Weixin's chat functions, you can have individual conversations with your friend or make a group chat. There is a large variety of emoji's to choose from to express your mood. The 'moments' function is comparable to Facebook's timeline, where you can follow what your friends are doing and comment on their pictures. Through 'subscription accounts' it is possible to follow your favorite companies or media sources, from CCTV to McDonalds. Except for a great social media platform, Weixin is also an important way for (Chinese) media and businesses to stay in touch with their audiences. For more information about Weixin, read our Short Guide to China's Super App or China's Weixin Revolution.
Weixin is free and is available for iOs and Android users, from iTunes to Google Play or any other app store, both in Chinese and English versions.
2. Sina Weibo: not dead yet
Sina Weibo (新浪微博) is China's biggest social media platform, comparable to Twitter, launched in August 2009. Recently, many different media have stated that Weibo is dying as a consequence to new rules that required users to register with their real names. More people allegedly switched from Weibo to Weixin, media argued, and Weibo would soon be on the way out as online free speech becomes more and more limited. Although Weibo is not the platform it used to be, it is still very much alive. The private dimension of Weibo (talking amongst friends) has made room for Weixin, where P2P is the most important form of interaction. Sina Weibo is now a public social media platform and China's most dominant source of news content, where netizens discuss trending topics of the day. Weibo has 600 million users; around 175 million of them are monthly active users. 70% of Weibo daily traffic comes through its mobile app.
Weibo is free and is available for iOs and Android users, from iTunes to Google Play or any other app store.
3. Taobao: the ultimate mobile shop and more
Taobao Marketplace is one of China's largest online shopping platforms, comparable to Ebay or Amazon. It was launched in 2003 by China's Alibaba Group. Taobao is a place where small businesses and individuals can sell products to consumers – anything from clothes to medicine. For the most funny things for sale, check out our top list of unusual things for sale on Taobao. Taobao has 8.4 million annual active merchants, many of whom mainly run their stores through the Taobao app.
Taobao will have more functions in the future besides serving as a shopping platform. Alipay and Sina Weibo launched a new service last week where mobile users can log in through Taobao, Alipay or Weibo to arrange their public service issues, like scheduling marriage registration or paying a traffic fine.
Taobao is free and is available for iOs and Android users, from iTunes to Google Play or any other app store.
4. Pitu: drag queen for a day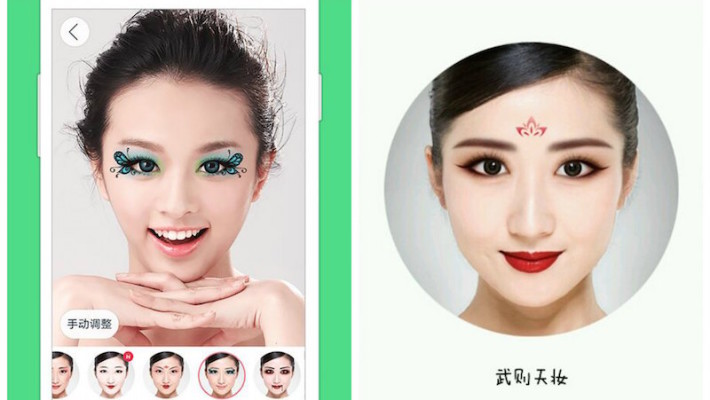 Photoapp Pitu (天天P图) is all the rage this year. Never before did a free photo app come with so many possibilities. Like the Meitu app (美图), which is also pretty good, Pitu is a camera and retouch app that offers a myriad of different filters to make you look your prettiest.
But there is much more: Pitu also allows you to play dress up with different make-up styles that look so real that is easy to trick your friends into thinking you actually did your make-up like Lady Gaga or a Peking Opera star. Besides the pre-made make-up sets (under "cosplay"), you can also apply your own make-up and decide on colors of eye-shadow, hair and lips. The app has many different templates to create collages. The 'cut-out' section lets you use your face in different backgrounds. Trust us, this is the most entertaining photo app of 2015. You can also take a normal picture of your friends and later turn them into proper dragqueens (sorry!).
天天P图 is free and is available for iOs and Android users, from iTunes to Google Play or any other app store.
5. MyIdol: you've never been this fabulous
MyIdol (小偶) is arguably one of the most fun apps around at this moment. The app allows users to take a picture of their face and then create their own 3D figure with a wide selection of different eye-colors, hairstyles, clothing and skin tones. You can then let your figure do several things, such as singing a popular song, wishing everybody a happy new year, playing the drums or falling asleep.
Although the app has been around for some time, it has been a rage lately – especially because the effects of the app are so well done. If you choose the right colors for skin, hair and eyes, combined with the right hair and outfit, it is almost as if you are standing there singing yourself.
MyIdol is free and is available for iOs and Android users, from iTunes to Google Play or any other app store.
6. DragonFly FM: discover China's radio
Dragonfly or Qingting FM (蜻蜓FM) is a top-ranking radio app that offers hundreds of channels from across China, from national to local levels. The app lets users choose from its most popular channels or by category: music, news, audiobooks, comedy, entertainment, opera, etc. A perfect app for anyone who wants to discover China's most popular music or for those who want to practice their Chinese.
Qingting is free and is available for iOs and Android users, link to app here. 
7. DouPai: featured in a Chinese news broadcast
DouPai is an original video app where personal images can be placed in pre-made scenes. Always wanted to be featured on the Chinese news? This is your chance. The app, a product of 360 Mobile, has a wide range of different scenes. Different from the MyIdol app, this app also allows two users to be in the same scene together; like two tigers holding hands in the woods, for example. It's the app you know you always wanted.
Doupai is free and is available for Android users, app link here.
8. Blued: the ultimate gay app
Blued is a social network app for gays. It is a product of China's gay website Danlan, that was launched eight years ago. Blued was added as a mobile app in 2012. It can be compared to gay dating app Grindr; users can look for other users based on their location and scan their profiles or hang out in a chatroom. Users can privately connect through chat and arrange a date if there is mutual interest.
The app has over 15 million users. In December 2014, the company received 30 million US dollars from American investors. 3 million of Blued's users are located outside of China.
Blued is free and is available for iOs and Android users, from Google Play or any other app store.
9. Chef's Table: play restaurant at home
The luxury of restaurant food in the comfort of one's own home – this is what the new Chinese app 'Good Chef' (好厨师) offers. 'Good Chef' allows users to search for specialized cooks based on their location and food preference, and hire them to come and cook in their own home kitchen. As online services like Uber are rapidly gaining popularity all over China, the app's home cooking service has become a hot business.
'Good Chef' was launched in September 2014 and operates in Beijing, Shanghai and Hangzhou. Its formula is simple; users can indicate what kind of food they like (Hunan cuisine, Sichuan style, Shandong food, etc.) and browse the different chefs that can be hired to cook for them in their area. Afterwards, users can rate the chefs with one to five stars and leave a comment about their experience. The system generates a list of top-rated chefs.
As Chinese website Wabei reports, over 20,000 people ordered a chef to cook in their home during the Chinese New Year period. The company currently employs 320 chefs on full-time basis. Founder Xu Zhiyan (徐志岩) has revealed that the start-up company recently raised 5 million USD from investors. The money will be used to expand to more cities in China and invest in product development.
The app is available for both iPhone and Android: www.chushi007.com.
10. Expression Factory: be your own emoticon
The expression factory (表情工厂) has been on the market for quite some time but has remained relatively unknown. The app lets users take a picture of their face, and then use it to create hundreds of different emoticons – from Japanese sumo wrestlers to naughty nurse. The emoticons can be exported to QQ, Weibo or Weixin, where they will be saved to use every time you feel like sending someone your personalised kisses or farts.
表情工厂 is free and is available for iPhone and Android users. If you cannot directly download on iPhone it might be because you're outside of China, you can try to download online and then transfer via iTunes. 
– by Manya Koetse
[button link="http://www.twitter.com/whatsonweibo" type="icon" icon="heart" newwindow="yes"] Follow us on Twitter[/button]
– Appreciate this article and want to help us pay for the upkeep costs of What's on Weibo? You can do so here! Every penny helps.
©2015 Whatsonweibo. All rights reserved. Do not reproduce our content without permission – you can contact us at info@whatsonweibo.com.
16 Years Ago Today: The Lanjisu Fire That Changed China's 'Wangba' Era
The tragic Lanjisu fire led to a nationwide crackdown on internet cafes in China.
A Beijing internet cafe fire that killed 25 young people in 2002 has become part of China's collective memory: it was a shift in China's internet cafe era. Today marks the 16th anniversary of this tragic event.
On June 16, 2002, at 2:40 a.m., a devastating fire broke out at a second-story Internet cafe (wangba 网吧) in Beijing's Haidian, the city's university district.
News of the tragic fire shocked the entire nation. The fire had instantly killed twenty people and severely injured 17, of whom five later died in the hospital.
All of the dead and injured people were students; 12 of them were from the prep school of the Beijing University of Science and Technology (Wang 2009, 86).
Although it did not take long for firefighters to arrive that night, the fire at the Lanjisu (蓝极速, 'Blue speed') internet cafe was mainly so disastrous because windows were firmly secured with iron burglar-proof bars, leaving no option for people to escape. The only door was locked; it happened more often that wangba owners would (illegally) operate overnight behind locked doors (Qiu 2009, 33).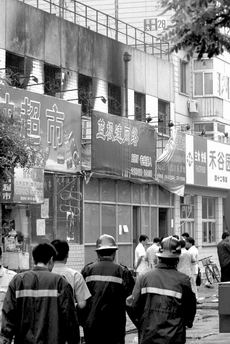 Investigators later ruled arson as cause of the fire at the cafe, which was located at Xueyuan Road 20. Traces of gasoline were discovered at the scene, and two teenage male suspects (13-year-old Zhang and 14-year-old Song) were arrested two days later.
The teenage boys were middle school students who used to play games at the internet cafe, but had gotten into a quarrel with other visitors and were not allowed to come in. To take 'revenge', they had purchased 1.8 liter of gasoline at a nearby gas station just 3-4 hours before they committed arson.
It was later revealed that the two boys both came from poor and shattered families, involving drugs and crime (Lifeweek 2003; Qiu 2015).
In August of 2002, a Beijing court sentenced the 14-year-old boy (Song X.) to life imprisonment, while the 13-year-old was sent to a juvenile re-education center as he was under the age of 14.
A third person, a 17-year-old female also named Zhang, was sentenced to 12 years in prison for being an accomplice; she gave the boys money to but the petroleum, and knew what they were up to. A fourth minor, a 14-year-old boy by the name of Liu, was sentenced to 18 years in prison for being part of the arson plan. The internet cafe owner was sentenced to 3 years in prison for breaching business and safety rules. The gas station was fined 50,000 yuan for selling gasoline to two minors (Lifeweek 2003; Sina 2008).
A turning point in the wangba boom
The Haidian Lansiju fire had a big impact on China's booming internet cafe culture. Internet cafes had been mushrooming in China since the mid and late 1990s. It was the time of Tencent's highly popular instant messaging software OICQ and multiplayer online games. By 2002 there were thousands of wangba across Chinese cities, many of them unlicensed and illegal, with no fire control equipment.
The Lanjisu fire made the problem of China's wangba a national concern. Not just the unsafe conditions were a reason for worry, but also the impact the internet cafes had on China's youth, with students spending days on end playing online games in these smoky rooms, leading to a rise in school absence and internet addiction. Beijing's vice mayor Liu Zhihua condemned internet cafes as "opium dens" for the country's youth.
The fire led to a huge crackdown on illegal internet cafes. The Beijing authorities launched a campaign that would stop the development of new internet cafes and that would screen all existing wangba one by one, and to close all unlicensed businesses immediately and to confiscate their operational tools (Wang 2009, 87). Across the country, approximately 400,000 internet cafes were closed (Sina 2008).
It also led to the implementation of new rules, such as that there could no longer be internet cafes within a 200-meter radius of schools, that minors were not allowed to enter, and that they had to be closed between midnight and 8 am (Venkatesh 2006, 55)
Since 2005, the remnants of the Lansiju internet cafe have been on display at the Haidian Safety Museum.
The fire is remembered in China as the "6.16 Wangba Big Fire" (6·16网吧大火), and is still being discussed on Chinese social media to this day.
By Manya Koetse
Follow @whatsonweibo
References
Qiu, Jack Linchuan. 2009. Working-Class Network Society
Communication Technology and the Information Have-Less in Urban China. Cambridge, MA: MIT Press.
Qiu, Jack Linchuan. 2015 (2009). "Life and Death in the Chinese Informational City: The Challenges of Working-Class ICTs and the Information Have-less." In: Living the Information Society in Asia, Erwin Alampay Alampay (ed), 130-157. ISEAS–Yusof Ishak Institute.
Sina. 2008. "北京蓝极速网吧老板今安在." Sina News, 29 Dec http://news.sina.com.cn/s/2008-12-29/100416941011.shtml [16.6.18].
Venkatesh, P. 2006. "China on the I-way." In: Strategic Management: Concepts and Cases, Hitt, Duane & Hoskisson (eds), chapter 2. Mason: Thomson Higher Education.
Wang, Xueqin. 2009. "Internet Cafes. What else can be done in addition to rectification?" In: Good governance in China–a way towards social harmony : case studies by China's rising leaders, edited by Wang Mengkui, Lchapter 8. London & New York: Routledge.
Zhuang, Shan 庄山, Ke Li 柯立, Li Wei 李伟, Wu Ang 巫昂. 2003 (2002). "两个纵火少年和25条生命" ["Two Minor Arsonists and 25 Lives"]. LifeWeek 2002 (26), online April 8 2003 http://www.lifeweek.com.cn/2003/0408/1594.shtml [16.6.2018].
Spotted a mistake or want to add something? Please let us know in comments below or email us.
©2018 Whatsonweibo. All rights reserved. Do not reproduce our content without permission – you can contact us at info@whatsonweibo.com.
Best VPNs for China Summer 2018
Just the two of them. The best VPNs for China in Summer 2018, recommended by What's on Weibo.
Earlier this year, we posted this top three of VPNs for China in January/February. We're planning to post our favorites every five to six months or so from now for our resources & recommendations section, so please let us know your experiences with VPNs in China and which ones you like best – we'll try it out and update our next list.
Most of our readers will know, but if you're not sure what a VPN is: websites detect your location due to the IP address that identifies your network connection. With a VPN you can "trick the system" by using a virtual network address located in another country. To be able to access many websites from within China (e.g. Google services, Facebook, Twitter, etc.), you'll need to download VPN services and install them on laptop/tablet/smartphone.
We've recommended multiple VPN's before, but for this time there are just two names we'd like to recommend for their overall stable connections from China from our personal experience: ExpressVPN and NordVPN.
Do note, however, that if you access a VPN from within the PRC, it is always possible that there are interruptions and that some locations and services do not work. This also goes for these two names. Having more than one VPN service installed on your devices is one way to stay safe – we've purchased multiple VPN services at different times and occasionally needed to shift between services to stay connected.
One of the main reasons why we decided to put this recommendation out here again, is actually because of NordVPN's Summer deal, which is very attractive.
NordVPN currently offers a three-year plan for only $2.75 per month, which saves 77% compared to its other packages. (Not sure how long they'll keep running this campaign, but here it is).
NordVPN is a well-trusted and easy-to-use VPN with great service. From our experience, the staff is always quick in replying and very friendly. The layout of the NordVPN application is also easy to use on desktop, mobile, and tablet.
Besides the current deal, NordVPN offers 1-month plans from $11.95 or 1-year plans from $5.75 per month. To purchase or read more about NordVPN click here.
Our other recommendation is ExpressVPN, which actually calls itself the "#1 Trusted leader in VPN." It is a reliable service with mostly steady connections depending on what location you select; ExpressVPN uses the 'smart location' button that helps you pick the best location to connect to from where you are. (From our experience, connections are often more stable on 4G than on a random bar wifi.)
ExpressVPN has excellent service and frequent updates for desktop, mobile, and tablet. They offer single month services starting from $12.95, 6-month plans from $9.99/month, and 1-year plans from $8.32/month.
The "30 Days Risk-Free" promise of ExpressVPN makes the barrier to try it out much lower. If you are not satisfied, they'll get you your money back without any questions asked.
To read more about ExpressVPN and purchase it, check here.
By Manya Koetse
Follow @whatsonweibo
NB: This post is not a sponsored post. These recommendations may, however, include an affiliate link that at absolutely no additional cost whatsoever to you allows What's on Weibo to receive a small percentage in case you purchase the service. (Which also helps a bit to keep our site going, so it's win-win!)
Do you think we should recommend another VPN and want to share your experiences? We're open to try it out and add to this list – feel free to contact us.
Feature image: By pelican from Tokyo, Japan – Adventure World, Shirahama, Japan, CC BY-SA 2.0, Link
Spotted a mistake or want to add something? Please let us know in comments below or email us.
©2018 Whatsonweibo. All rights reserved. Do not reproduce our content without permission – you can contact us at info@whatsonweibo.com.