Top 10 Overview of China's Most Popular TV Dramas of Fall 2018
The top scoring TV dramas in China of this moment – and they are almost all available with English subtitles.
From beautiful costume series to suspenseful war-themed productions – these are the most popular TV dramas in China of this fall, an overview by What's on Weibo.
Note: also see our Top 30 of all-time classic Chinese TV Dramas here!
China still has one of the most booming TV drama industries in the world, with dozens of new dramas being released every month, drawing in millions of viewers through the country's most popular online video streaming platforms.
We've compiled a top ten of the most popular Chinese TV dramas of this fall, based on the current popular charts of the leading websites in Chinese online video, including Tencent Video, iQiyi, Sohu, Youku, LeTV, 360kan, Sogou Video, along with Baidu's and Weibo's popular TV drama charts.
This fall, Chinese viewers are mostly into dramas that are themed around (historical) love stories and suspense. What is noteworthy is that the often top-rated South-Korean tv dramas are not making it to the list of top-watched series this time, and that the current top 10 series are all produced in mainland China.
Please note that this list has been compiled by combining the top-ranking lists of this moment. And we have chosen to exclude popular drama series that already made it in our previous top-ten lists, such as White Deer Plain (白鹿原), despite their ongoing popularity.
Most of these series are available for viewing online with English subtitles. If you need a VPN to circumvent any geo restrictions, we recommend either NordVPN or ExpressVPN to do so.
#10 All Out of Love (凉生我们可不可以不忧伤)
Mainland China
Chinese title: Liáng shēng wǒmen kěbù kěyǐ bù yōushāng 凉生,我们可不可以不忧伤
Genre: Romance
Directed by: Liu Junjie (刘俊杰)
Episodes: 70, start 17 September 2018, Hunan TV
All Out of Love is based on the novel Liang Sheng, Can We Not Be Sad by Le Xiaomi (乐小米, also known as 纪伟娜). The TV series stars, among others, Wallace Chung (钟汉良), Ray Ma (马天宇) and Sun Yi (孙怡).
The series ranked fifth in the Weibo top ten most popular TV dramas and sixth position in the Youku top 10 TV drama series. Tencent Video ranked the series with an 8.2.
Growing up in rough times and poverty, Jiang Sheng and her adopted brother Liang Sheng are inseparable. Throughout the years, their greatest happiness lies in being by each other's side. They eventually both develop feelings for one another, but despite them not being blood-related, they ignore their feelings. One day Liang mysteriously disappears, and Jiang is unable to find him. Years later, when Jiang is married, Liang suddenly comes back, and Jiang needs to face what is perhaps the most important decision of her life.
On Weibo, the official account of the series is nearing 375,000 fans right now.
See here the complete series including Chinese subtitles. Also available on Viki (incl. English subtitles).
#9 Battlefield Gun King (战地枪王)
Mainland China
Chinese title: Zhàndì qiāng wáng 战地枪王
Genre: War
Directed by: Li Yin (李印)
Episodes: 40, start 30 September 2018, Tianjin TV
Battlefield Gun King is the sequel in the 'Gun King' series following up The King of Guns (绝地枪王). However, it's not really necessary to see the first series in order to understand this sequel.
Battlefield Gun King is currently ranking third place in the Sohu hotlists, and fifth place on the Youku most-watched lists. On iQiyi, the series scores a 7.1.
The TV drama tells the patriotic story of a family from China's northeast, military hero Lu Yinghao, and the Chinese Communist Party's fighting against the Japanese aggressors. It is 1945, and Lu Yinghao returns to China from the Soviet military base to celebrate his father's birthday. At his arrival, he discovers that the Japanese military killed his family, mostly doctors, and other medical staff, to occupy the hospital. He decides to take revenge.
On Weibo, the official TV series account has approximately 22,000 fans.
See here on iQiyi the complete series with Chinese subtitles (no English).
#8 Mother's Life (娘道)
China Mainland
Chinese title: Niángdào 娘道
Genre: Drama
Directed by: Guo Jingyu (郭靖宇) and Ju Xingmao (巨兴茂)
Episodes: 76, start 5 September 2018, Beijing TV and Jiangsu TV
Mother's Life, starring Yue Lina (岳丽娜) and Yu Yi (于毅), tells the story of a young woman in times of China's political turmoil around 1945.
The drama series is currently ranked first in the Sohu TV top ten, ranked seventh in the Weibo's top 10 most popular TV dramas and is amongst the most popular series on Tencent Video.
Ying Gu is a young lady from a wealthy and influential big family. In the eight years she is married to her husband Long Jizong, they have three daughters. But when their third daughter is labeled a misfortune bearer, Ying Gu and her husband Xu Zhi are forced to move. Shortly after, Xu Zhi dies, leaving the pregnant Ying Gu all alone, which causes her to marry an opium addict out of desperation. One day, her new husband sells her third daughter to provide him with drugs. By taking out her rage, Ying Gu ends up in prison, where she thinks of a plan to reunite with her children.
See here the complete series including Chinese subtitles (no English).
#7 Ruyi's Royal Love in the Palace (如懿传)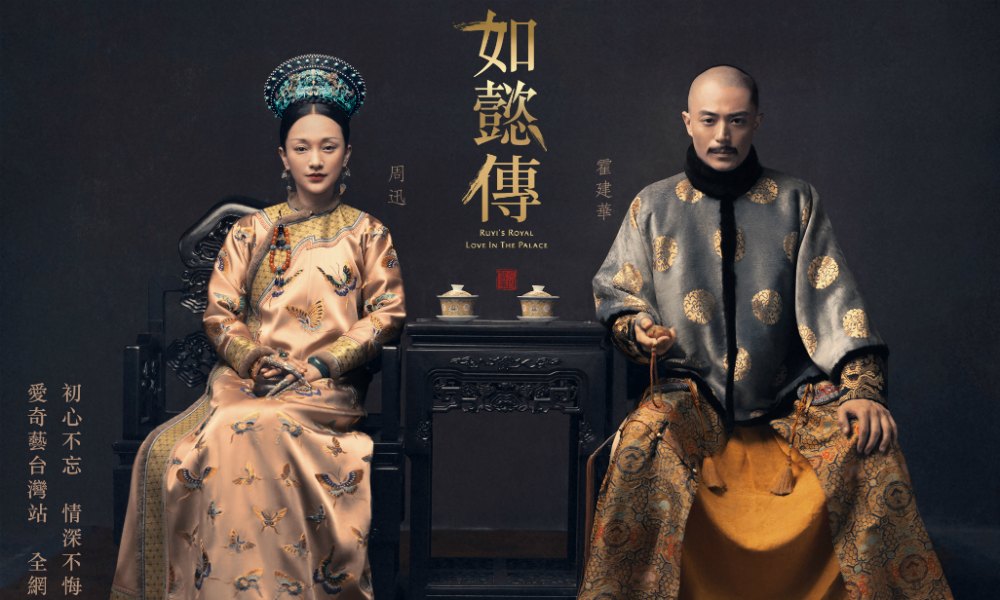 China Mainland
Chinese Title: Rúyì chuán 如懿传
Genre: Historical Drama
Directed by: Wang Jun (汪俊)
Episodes: 87, 20 August 2018, Tencent Video
Ruyi's Royal Love in the Palace is an adaption from The Story of Empress Ruyi (后宫·如懿传) written by Liu Lianzi (流潋紫). In total, the book consists of six volumes which mainly tells the follow-up story of Empress in the Palace (后宫·甄嬛传) which subsequently was also made into a drama series in both 2011 and 2017. The 2017 production did not make this selection, however, it is currently ranked the most popular TV drama on LeTV.
Ruyi's Royal Love in the Palace starring Zhou Xun (周迅) and Wallace Huo (霍建华)  is currently ranked number one most popular series on 360kan, and number six on Baidu's most popular drama list.
This fictional historical drama chronicles the marriage of Emperor Qianlong and his childhood friend and lover Ruyi. As Ruyi is a descendant of the Ulanara clan, she is only granted the position of consort. With the Empress Dowager as her sworn enemy, and dealing with the other consorts' jealousy of her relationship with Qianlong, Ruyi faces many hardships in the palace. However, she is determined to become Empress Dowager of the Middle Kingdom.
With more than a million followers on the drama's official Weibo account, it is one of the more popular TV series on social media in this list.
See here the complete series including Chinese and English subtitles, or watch on Viki.
#6 Martial Universe (武动乾坤之英雄出少年)
China Mainland
Chinese title: Wǔ dòng qiánkūn zhī yīngxióng chū shàonián 武动乾坤之英雄出少年
Genre: Fantasy, History, Martial Arts
Directed by: Zhang Li (张黎), assistant director Han Xiaojun (韩晓军)
Episodes: 40, 7 August 2018, Dragon TV
Just like Battle Through the Heaven, Martial Universe is based on a novel by author Li Hu (李虎), and was only published online.
This series starring Yang Yang (杨洋), Zhang Tianai (张天爱), Claudia Wang (Wang Likun/王丽坤), and Chun Wu (吴尊), is currently second most popular TV drama on Youku and third most popular series on Sogou Video.
This fantasy drama tells the story of Lin Dong, who, by coincidence, comes across a talisman with magical powers. After this encounter, his life will never be the same. Lin travels the world, and through his often very dangerous adventures, he gradually improves his skills as a martial artist. But will it be enough to face evil and save the world from demons taking over?
See here the complete series including English subtitles.
#5 Eagles and Youngster (天坑鹰猎)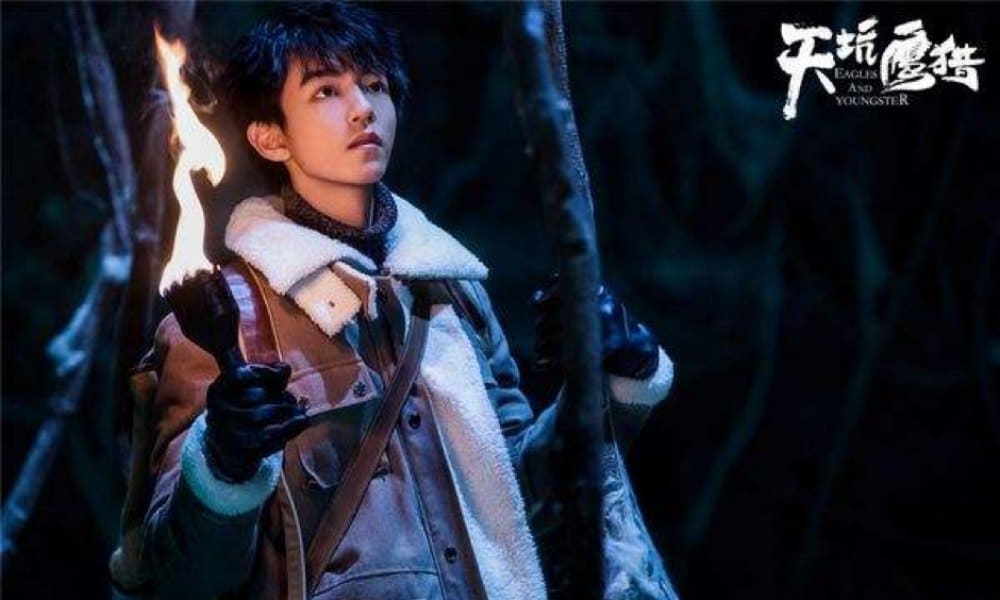 China Mainland
Chinese title: Tiān kēng yīng liè 天坑鹰猎
Genre: Youth, Adventure, Suspense
Directed by: Cheng Zhichao (成志超)
Episodes: 40, 30 August 2018 on Youku, 25 September at Dragon TV
Eagles and Youngster is a coming-of-age story, adapted from the novel with the same name written by Zhang Muye (张牧野).
The series is currently ranked first in the Youku TV drama charts and ranking fourth in the Weibo's top 10 most popular TV dramas.
With main characters played by Karry Wang (王俊凯) born in 1999, Vicky Chen (陈文淇) born in 2003, and supporting actress Jiang Yiyi (蒋依依) born in 2001, the cast of Eagles and Youngsters is the youngest amongst this list.
Eagles and Youngster revolves around city boy Zhang Baoqiang, who goes on an adventure with his two friends to find medicine to save their mentor's life. On their way, Zhang accidentally finds an egg that hatches into a majestic white eagle. The creature ignites a series of events that put the young heroes in danger, and they begin to understand the meaning of life and deepen their understanding of the relationship between humankind and nature.
The series currently has 1,2 million fans on its official Weibo account.
See here the complete series including Chinese and English subtitles.
#4 Battle Through the Heavens/Fight Break Spheres (斗破苍穹)
China Mainland
Chinese title: Dòu pò cāngqióng 斗破苍穹
Genre: History, Martial Arts, Fantasy
Directed by: Yu Songguang (于宋光)
Episodes: 45, start 3 September 2018, Hunan TV
Battle Through the Heavens starring Leo Wu (吴磊), Lin Yun (林允), Baron Chen (陈楚河), Li Qin (李沁) and Xin Zhilei (辛芷蕾) is an adaption of the like-named online novel by novelist Li Hu (李虎).
The series is currently ranked second in both Baidu's and Weibo's top 10 most popular TV dramas and is scored a 7.8 at Tencent Video.
The story revolves around Xiao Yan, whose mother was killed when he was only nine years old. Even though he was born a genius child, he lost all of his powers. At age 15, his martial arts skills are still average until he accidentally meets You Chen. With the help of the old man, Xiao Yan makes fast advances in martial arts. When he finds out that he and his family are doomed, he decides to embark on a journey to revanche his mothers' killer and eliminate forces of evil.
There are more than 551,000 fans following this series on its Weibo account right now.
See here the complete series including Chinese and English subtitles.
#3 Story of the Yanxi Palace (延禧攻略)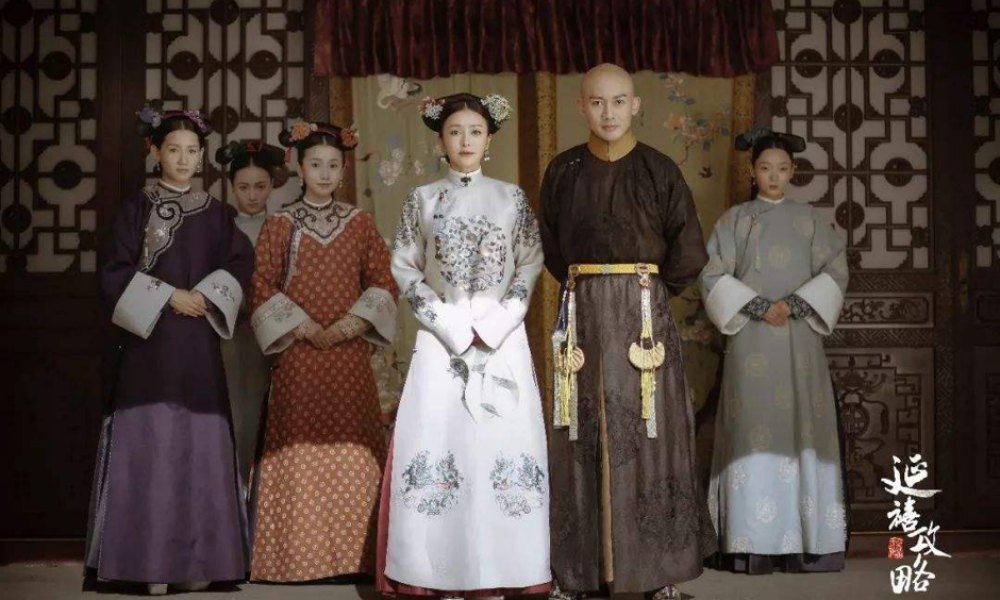 China Mainland
Chinese title: Yán xǐ gōnglüè 延禧攻略
Genre: Historical Drama
Directed by: Hui Yidong (惠楷栋) and Wen Deguang (温德光)
Episodes: 70, 19 July 2018, Zhejiang TV
This is the second production in our list (see: Ruyi's Royal Love in the Palace) that revolves around emperor Qianlong, starring the very popular Wu Jinyan (吴谨言) as the main character. 
Story of the Yanxi Palace is currently holding second place on 360kan's TV drama's hotlist and also on iQiyi it is amongst the most popular series of this moment, getting a high score of 8.0.
According to SCMP, the high standards and meticulous research of the production team regarding highly authentic props and story lines that stick to the history are a major part of this drama's succes.
Story of the Yanxi Palace tells the story of the young girl Wei Yingluo who enters the Forbidden City as a palace lady, aiming to find out the truth about her sisters' death and seek justice. She develops a friendship with the empress, who helps her up the ranks in the imperial palace to become a strong court lady. But when the Empress dies, Wei Wei is facing danger from an unexpected place.
See here the complete series including Chinese and English subtitles.
#2 Age of Legends (橙红年代)
China Mainland
Chinese title: Chénghóng niándài 橙红年代
Genre: Drama, Crime
Directed by: Liu Xin (刘新)
Episodes: 47, start 17 September 2018, Zhejiang and Dragon TV
Age of Legends starring William Chan (陈伟霆) and Ma Sichun (马思纯) is based on the like-named novel by Xiao Qixiao (骁骑校) and is currently ranked first in the iQiyi popular drama chart and scores an 8.5 at Tencent Video.
The drama follows the life of Liu Ziguang, who returns to his hometown after working overseas for eight years. He suffers severe memory loss of this period and wants to live a happy and simple life. He unexpectedly meets Hu Rong, a young female detective, and the two fall in love. But good times don't last long as Liu finds himself entangled in a dangerous situation. Together they go on a hunt for the truth and justice.
See here the complete series including Chinese and English subtitles.
#1 Ashes of Love (香蜜沉沉烬如霜)
China Mainland
Chinese title: Xiāng mì chénchén jìn rú shuāng 香蜜沉沉烬如霜
Genre: Fantasy, Drama, Romantic, Action, Suspense
Directed by: Zui Ruibin (朱锐斌)
Episodes: 63, 2 August 2018, Jiangsu TV, iQiyi, Tencent Video, and Youku.
Ashes of Love in an adapted screenplay from the like-named novel written by Dian Xian. The drama is starring two of China's currently most popular actors Yang Zi (杨紫) and Allen (邓伦). The played each other's lovers before, in the 2012 drama series Flowers in Fog (花非花雾非雾), leading to Allen's breakthrough.
That the two main actors are a good match is proved by the immense popularity of these series. The drama series is currently ranked first on Sogou Video, and third at 360kan's most popular TV dramas list. And also the users of Tencent Video show their appreciation of the series, scoring it with an 8.9.
Ashes of Love tells the story of the thousand-year romance between the flower deity called Jinmi, and the fire deity, called Xufeng. Right before Jinmi's mother gives birth to a daughter, she finds out that her daughter will suffer a great love drama. To spare her daughter, she swallows a pill preventing her daughter from feeling romantic love. Not knowing true love, she gets involved in a relationship with Xufeng.
See here the complete series including Chinese and English subtitles.
Want to see more? Also check out our
– Top 10 Chinese TV dramas of Summer 2018
By Gabi Verberg
Follow @whatsonweibo
Spotted a mistake or want to add something? Please let us know in comments below or email us.
©2018 Whatsonweibo. All rights reserved. Do not reproduce our content without permission – you can contact us at info@whatsonweibo.com.
Behind the Short Feature Film of the Spring Festival Gala
The first-ever 'mini film' of the Spring Festival Gala struck a chord with viewers for its strong storytelling and authentic production.
This precious and powerful short film by Zhang Dapeng has touched the hearts of Spring Festival Gala viewers. But there is more to the short film than meets the eye. Here's the noteworthy story behind the 7-minute Spring Festival Mini Film.
On January 21, 2023, China's Spring Festival Gala, hosted by China Media Group, kicked off the Year of the Rabbit. The annual show, which featured forty different acts and performances, lasted over four hours and attracted millions of viewers worldwide (see our liveblog here, and see a top 5 highlight of the show here).
Traditionally, the Spring Festival Gala always shows several short public service ad films in between the performances, but this year was the first time the Gala featured a "mini-film" or "micro film" (微电影).
Titled Me and My Spring Festival Night ("我和我的春晚"), the 7-minute film was praised among viewers. On Weibo, one hashtag dedicated to the short film received over nine million clicks (#我和我的春晚#).
The film was directed by the Beijing director Zhang Dapeng (张大鹏). Born in 1984, Zhang is a Beijing Film Academy graduate who previously attracted wide attention for directing the Peppa Pig Celebrates Chinese New Year movie and the brilliant ad campaign that came with it. Titled What Is Peppa, that short ad film featured a grandfather living in rural China who goes on a quest to find out what 'Peppa' is. The promotional video became an absolute viral hit back in 2019 (see/read more here).
This time, Zhang's latest Chinese New Year film is about a hard-working former military man from China's countryside named Zhang Jianguo (张建国), for whom coming on the show to play the trumpet has been a dream for many years. By featuring his story, the film takes us from the Chinese 1980s, 90s, 00s – as we see him change jobs, move around, and start a family – up to the present.
The main idea behind the film was to honor all the ordinary viewers who have written – and are still writing – to the Gala ever since it first aired in the early 1980s, and to tell a story inspired by these personal letters and ordinary viewers.
Short Summary of "Me and My Chunwan"
At the start of the film, we see Zhang Jianguo dusting off his military honorary awards (光荣军属), putting on his jacket, grabbing his thermos flask and trumpet, and setting out on a journey in the midst of winter.
Riding an electric tricycle in the icy cold, his driver (actor Huang Bo 黄渤) asks him where he is going. "Can you keep your mouth shut?" Zhang replies ("你嘴严实不严实"). "I can," the driver says, and Zhang then says: "So can I."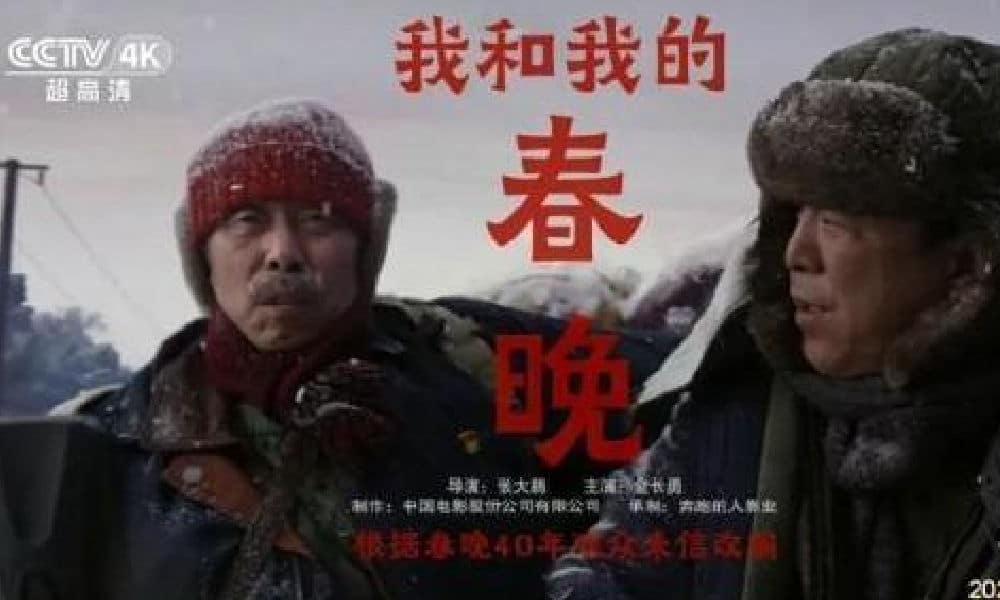 The voiceover narration, a first-person narrative by Zhang himself, explains that he has always been busy: "I never had time for the Spring Festival Gala. My Spring Festival fate is all because of something my captain said."
The film jumps to a scene showing Zhang as a young military man during the Chinese New Year's Eve, working outside while people are watching the Spring Festival Gala on a small black and white television inside. As his commander (played by Wu Jing 吴京) hands him his trumpet, he says: "Go and play your trumpet on the television."
"If the leader asks me to go on the Spring Festival Gala, it's a task I must complete," the voice-over says.
But in the military scene itself, duty calls and Zhang has to blow the trumpet to announce dinner time.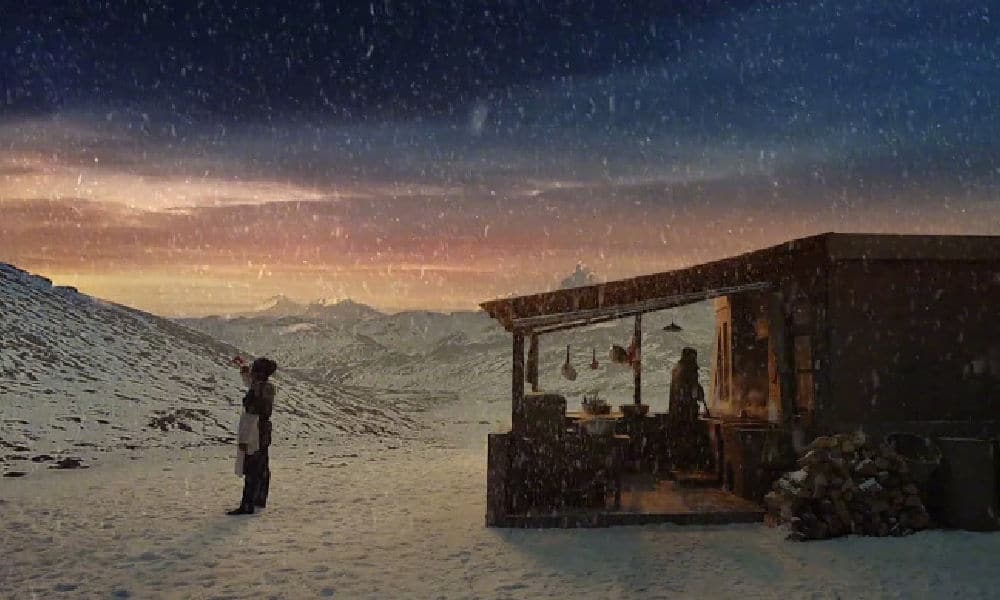 In the years that follow, Zhang is always busy during the Spring Festival Gala. Working in the factory, getting married, working on a train, farming cattle, taking care of his family, and always cooking. His trumpet is still there with him, to announce dinner time or hanging on the wall as a memory of times past.
As the years pass by, Zhang realizes that he has gradually forgotten about his commander's words. Time moves fast. First, he had a son, then his son grew taller than himself, and then his son had his own son. "And I still had never been to the Spring Festival Gala."
With his captain's words back on his mind, Zhang, now an older man, sets out on his journey without telling anyone. By foot, by electric tricycle, by bus, and by train, Zhang travels all the way to the famous Beijing Studio 1 to perform at the Spring Festival Gala after being "too busy" for forty years.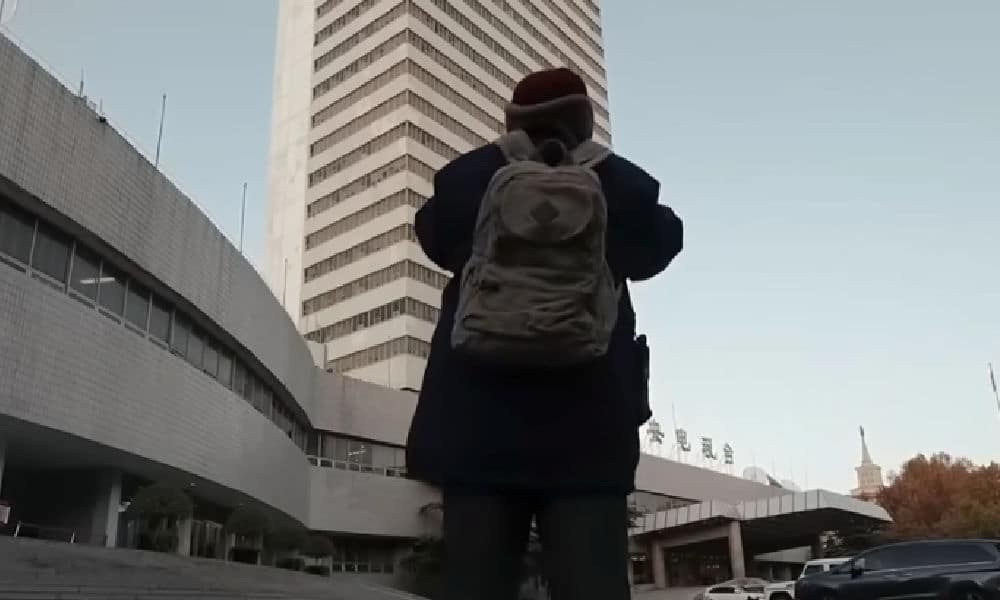 Backstage at the Spring Festival Gala, Zhang sits down with famous Chinese Spring Festival Gala performers (Ma Li 马丽 and Shen Teng 沈腾). While unpacking his lunchbox, he tells them he was finally not too busy to come on the show: "I wrote a letter and here I am." "It's that simple?" Ma Li wonders.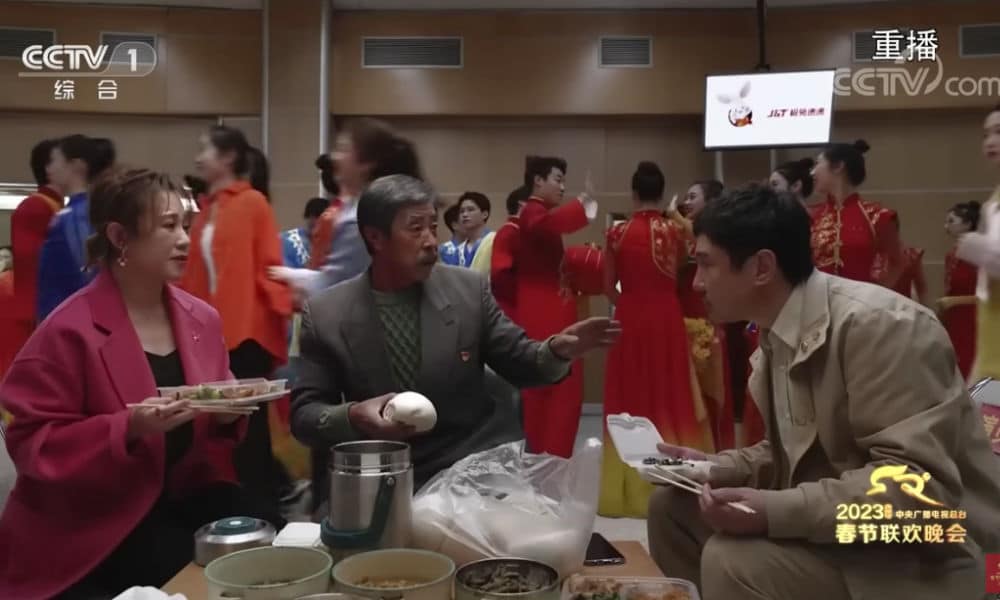 The producer then rushes to come and get Zhang, who bravely walks towards the stage with his old little trumpet.
A female voice-over then reads out a message, while we see various scenes throughout the years showing Zhang – from young to old – writing letters to CCTV from wherever he is.
The female narrator says: "Dear Uncle Zhang, we've received your letter regarding your hopes to realize your cherished stage dream. In this age of emailing, and knowing that you've been writing us for 39 years, we're moved and feel guilty. Our reply may be late, but not our sincerity.."
Meanwhile, we see a flashback to a mailman pulling up to old Zhang's home (the mailman is the actor Wang Baoqiang), and the old Zhang finally receives that much-anticipated letter from CCTV at his remote rural home.
The female narrator continues: "This year, we proudly invite you to be a guest at the Spring Festival Gala and to "ring the dinner bell" [play the sound announcing dinner]. Sincerely, the Spring Festival Director Committee."
In the final shot, we see Zhang blowing the trumpet at the Gala, with flashbacks showing him blowing that trumpet in all those decades before. He has finally made it to the big stage.
A Noteworthy Story
While Me and My Spring Festival Night received a lot of praise on Chinese social media, the story behind the film was not immediately clear to many viewers celebrating the Chinese New Year, but it was explained in several articles and interviews with director Zhang Dapeng.
During the live-televised Spring Festival Gala itself, the airing of Me and My Spring Festival Night was directly followed up by a shot featuring a person (a veteran) in the audience standing up and actually playing the trumpet.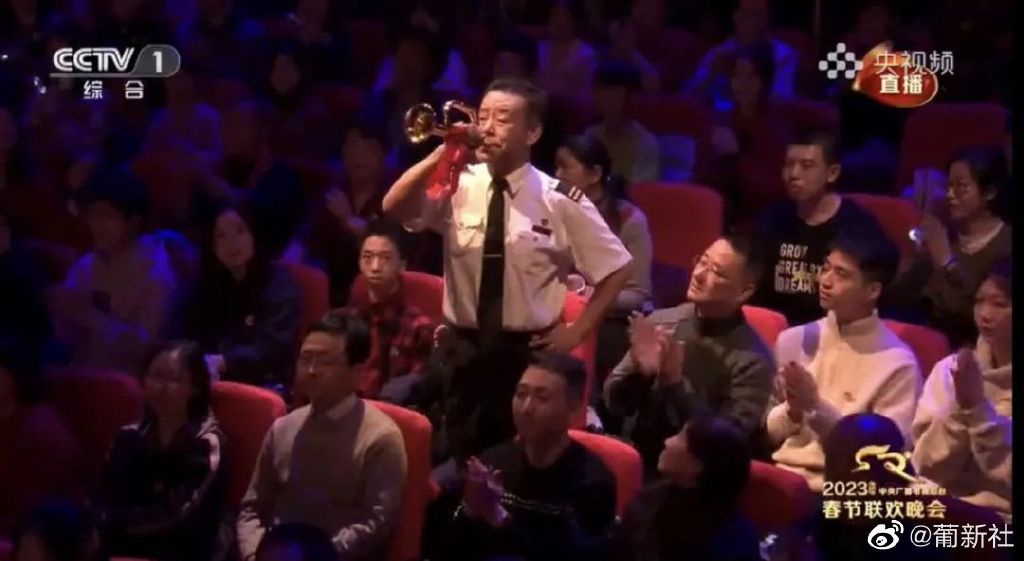 Directly after, the song "Goodmorning Sunshine" began, representing multiple people from all kinds of professions and social groups. About one minute into the song, the camera turns to another audience member: the person who plays 'Uncle Zhang' in the mini-film. Later in the song, we can see he is wiping away tears, visibly moved.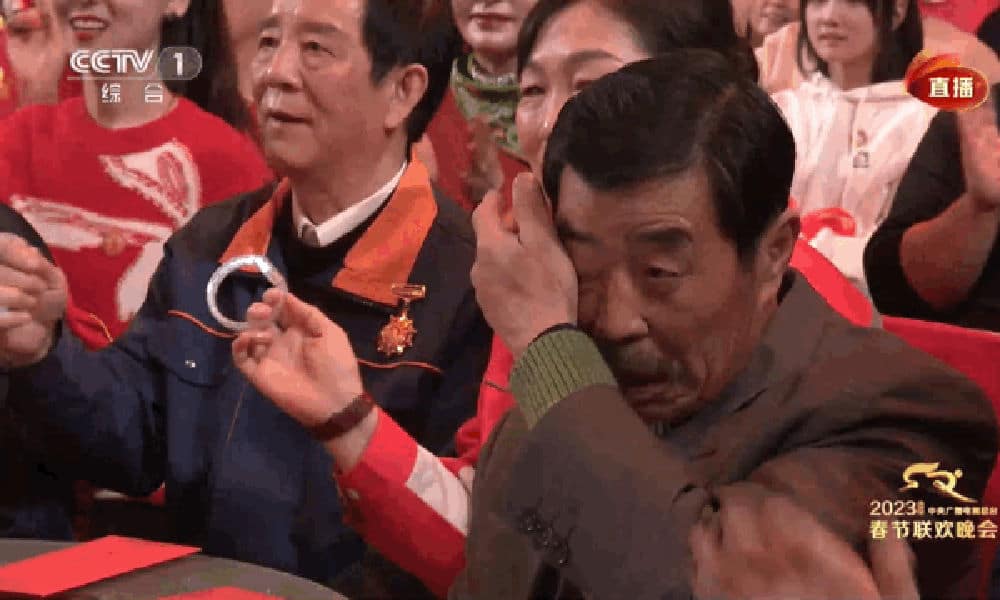 Why was he so moved? The older man in the audience, the main 'Uncle Zhang' actor in the film, is Jin Changyong (金长勇), and he actually is not a professional actor.
Somewhat similar to the character Zhang Jianguo, Jin Changyong or "Uncle Jin" (金叔) is a hardworking veteran from Hebei's Huailai County in Zhangjiakou.
Jin Changyong is a 63-year-old farmer who is also active at the Hebei Tianmo Film and TV Park doing security and logistics-related jobs. He served in the army for four years from the age of 19, as, among others, a military chef.
Director Zhang Dapdeng came across 'Uncle Jin' one day while shooting another film at the studio. While Jin was busy doing kitchen work, director Zhang saw him and, as he later recounts, was struck by his face that showed he had "lived through many changes" ("这种饱经沧桑的脸").
Zhang later invited Uncle Jin to star in the movie, and he also made sure Jin's own story played a role in the script.
This makes this short movie all the more special, something which has since been discussed on Chinese social media (#春晚微电影的主演是普通农民#).
The surprising twist in the story is how Zhang Jianguo tells other people he has just always been "too busy" to attend the Gala, while he had in fact already written to the show for 39 years with the hope of one day being invited.
Another noteworthy aspect of the film is how Zhang Dapeng chose to cast some of China's most celebrated actors as supporting roles to lift up the main character and actor, Jin, who was inexperienced and learnt from his fellow players.
In an interview, Jin expressed that the entire experience of playing in this short film left his overcome with emotion. After the filming had ended, he told reporters that he had sleepless nights because he had not received an actual invitation to the Spring Festival Gala yet, something which he so very much hoped for. Just one week before the show, that invitation finally came.
The fact that Jin, in a way, played a man like himself in the short movie has added to the film's popularity.
"I was sincerely moved by this film," one commenter wrote, with others saying: "This was the best program I've seen on the Gala over the past decade."
While some people also remarked that the short film seemed to have been influenced by The Grand Budapest Hotel by Wes Anderson, others praised it for its originality.
"This was just the best part of the night," several commenters said: "It made me cry."
"Zhang Pengda – a name to remember," others wrote.
You can watch the short film on Youtube here.
By Manya Koetse 
Get the story behind the hashtag. Subscribe to What's on Weibo here to receive our newsletter and get access to our latest articles:
Spotted a mistake or want to add something? Please let us know in comments below or email us. First-time commenters, please be patient – we will have to manually approve your comment before it appears.
©2023 Whatsonweibo. All rights reserved. Do not reproduce our content without permission – you can contact us at info@whatsonweibo.com.
Gu's Year: How Eileen Gu Became a Beloved Icon and Controversial Role Model in China
Patriotic, privileged, perfect? A year after Eileen Gu became an online sensation in China, she is still generating discussions.
Eileen Gu, the American-born freestyle skier and gold medallist who represented China in the 2022 Beijing Olympics, has made headlines again for her excellent halfpipe World Cup performance during the Chinese New Year. One year after Gu first became an internet sensation, she is, once again, receiving praise and triggering discussions on Chinese social media.
This Chinese Lunar New Year, the three Chinese Winter Olympic athletes Wu Dajing, Xu Mengtao, and Gao Tingyu, were widely discussed on Chinese social media after their debut at the CGM Spring Festival Gala.
Over 8000 kilometers away, another Winter Olympic athlete, Eileen Gu – better known as Gu Ailing 谷爱凌 in China, – also garnered huge attention for her excellent performance at the Calgary halfpipe World Cup. Just as people were celebrating the Chinese New Year, Eileen Gu claimed her second gold medal at the FIS Freeski World Cup.
It has almost been a year since the then-18-year-old Chinese-American freestyle skier grabbed gold at the Olympics and became front-page news in China.
Although Gu already garnered attention online when she announced in June of 2019 that she would switch national affiliation and compete for China, it wasn't until the Olympics that she appeared all over social media, was featured in dozens of ad campaigns, and practically became a household name in China.
Now, in light of the FIS Snowboard World Cup and the X Games in Aspen, Gu is back in the limelight.
On January 21st, the first day of the Year of the Rabbit, Chinese state broadcaster CCTV celebrated Gu's victory on social media using the hashtag "Eileen Gu Claims Two Golds within Three Days during the New Year Celebrations" (#谷爱凌过年3天2金#), with a two- minute video clip recording the highlights of her recent race. The hashtag has since received over 180 million views.
Gu herself also shared her victory on Weibo and wished people a prosperous New Year. That post attracted over 110,000 likes.
Many Chinese people celebrated Gu's new achievements with words of admiration, praising her capabilities and determination. One Weibo user commented: "I have to say, Gu Ailing is truly excellent. Three days, two medals. She has an indisputable talent."
Another user posted a video of Gu practicing while waiting for her flight and commented: "A healthy, energetic, diligent, excellent Gu Ailing who even continues training while waiting for boarding. Success doesn't come overnight."
Others also view Gu as a national icon for her gold medal wins for China. The phrase "wèi guó zhēngguāng" ("为国争光"), "winning glory for the country," appeared in many posts under the hashtag related to Gu's win.
But over the past year, since Gu's Olympic success, she has not always merely been viewed as a patriotic hero. Despite her popularity, Gu also triggered controversy and sometimes came under fire, with some wondering if she truly was patriotic and others blaming her for being privileged.
PATRIOTIC
"Everybody knows Eileen Gu is Chinese"
During the 2022 Winter Olympics in Beijing, the fact that Gu had switched her international allegiance and represented China instead of the US instilled pride among many Chinese. Chinese media flooded with stories on Gu that focused on the narrative of the multi-talented "mixed kid" who gave up her United States citizenship to represent the People's Republic of China.
However, when being asked about her citizenship in interviews, Gu's replies left many people wondering about the facts of the matter; they wanted to know whether or not Gu actually gave up her American passport, as China does not recognize dual nationality. Gu's response "I'm American when in the US and Chinese when in China" triggered dissatisfaction among Chinese audiences.
"I have stopped liking her since she said that," one Weibo user reflected in December 2022, and the post received 35,000 likes. To this day, there are many social media comments bringing up Gu's comment: "You're in America, so now you're American, right?"
Others also attacked Gu after Forbes listed her as the third highest-paid female athlete in the world in 2022 (#谷爱凌年收入1.4亿#). Some commenters argued that she had earned her money in China and was spending it in the US, and that she was unpatriotic for doing so.
However, some netizens defended Gu by stressing what she had done for China. In Weibo posts and comment threads, users supporting Gu wrote: "She won two gold medals and more for China, what did your patriotism contribute to China?" Others also said Gu had shown her love for China through her performances, and that it would be impossible to expect her to distance herself from the country she grew up in.
Meanwhile, Western media outlets described how the bi-lingual Gu had been "dodging" explicit questions about her US citizenship status. This also led to Gu getting attacked by Americans. When Gu returned to the US and enrolled in Stanford University, there was even an online petition about getting Gu's admittance to Stanford revoked due to Gu's supposed "lack of integrity about her nationality" and indifference to "the human rights violations" in China.
Among Chinese netizens, questions also rose about whether Gu had only represented China during the Olympics and if her return to the US might mean that she would give up her Chinese nationality and play for the US team instead.
But with Gu's debut at the FIS Freeski World Cup in the Year of the Rabbit, Chinese bloggers pointed out that Gu's nationality was still listed as Chinese.
"No matter where she is, Gu Ailing still has the Chinese nationality," one Weibo blogger wrote, with others also saying: "She is still representing China, we should all support her! The rumors about her changing nationalities are false!"
"Everybody knows Eileen Gu is Chinese," another social media user wrote.
But not everybody is convinced: "Don't fool yourself. I'm happy she helped China win gold, but dual citizenship is dual citizenship, there's no point in covering it up."
PRIVILEGED
"Gu's success is unrelated to normal people"
Another discussion that has flared up during Eileen Gu's past year of success is focused on her alleged privileged status, especially within the context of her being praised as a role model for Chinese (female) younger generations.
In February of 2022, an Instagram comment made by Gu regarding the use of VPNs in China caused some controversy. At the time, one person asked Gu about "internet freedom" in China and how it was possible for her to use Instagram while she was in China, where the platform is blocked. Gu then replied: "Anyone can download a vpn its literally free on the App Store [thumbs up]"
A screenshot of the exchange then circulated on Weibo, where many netizens were surprised about Gu's statement. VPNs are generally not available on app stores in mainland China, as there are numerous restrictions on virtual private networks (VPNs) which are commonly used to browse websites or apps that are otherwise blocked in China.
Gu was then criticized over the fact that she seemed unaware of the restrictions on VPNs along with her suggestion that 'internet freedom' only referred to the accessibility of foreign platforms, allegedly showing her privileged position.
After Gu enrolled in Stanford University and posted her all-A transcript of the first semester at the end of 2022, many praised her hard work but there was also criticism about her "showing off" and strategically choosing a supposedly easier curriculum.
"She posted it to impress Chinese people who do not understand the system," one person commented, with others replying that an "S" grade does not equal full points and that she had no A+ grades. Others claimed that Gu probably received help with her schoolwork.
As online discussions intensified (#谷爱凌斯坦福所有课程全部满分#), Gu herself responded to online criticism, stressing that she – without anybody's help – had worked hard for her grades and that only 5% of students can get an A at Stanford.
The idea that Gu comes from a very privileged background and that it is not just her diligence that brought her success is a recurring one on social media.
Gu was raised by her Chinese mother, a molecular biology graduate who studied at Peking University and Stanford University and who used to be a speed skating athlete as well as a part-time coach at Peking University. She allegedly worked at Wall Street and later became a CEO of a risk investment company. Her grandmother, a former official at China's Ministry of Transport, was a university basketball player, while her grandfather was a soccer player at school who was also good at swimming, skiing, and skating. Her family members' background is exceptional. University students were rare among Gu's grandparents' generation, and studying abroad was also uncommon for her mother's generation.
As people believe that this family background has largely contributed to Gu's success, Gu's position as a "role model" is questioned.
"Gu's success is unrelated to normal people," one Weibo user wrote. "What is the meaning of having this kind of role model? I have no parents from the Ivy League, no pretty face of mixed race, no elite education from the mix of Chinese and American cultures, no exceptional family background, and even no talent," one Zhihu user wrote.
"Gu started skiing at three years old, and practiced running, basketball, piano, and ballet soon after; I started playing in the mud at three years old and I can still only play in the mud," another user wrote. "Gu's mother meticulously planned Gu's life, but my mother could hardly spare any time for me while she was working."
PERFECT
"Congratulations, Little Gu, you're the greatest!"
Amid all the online discussions surrounding Eileen Gu, there is the view that people have not necessarily grown tired of Gu herself but of the (online) media narratives surrounding her which present her as the perfect daughter, the perfect athlete, or the perfect role model.
Some people admit that they feel jealous or say that they feel it is unfair because they feel they could never reach that standard.
One article published by The Paper in 2022 reiterated the popular view that Gu's success "has nothing to do with ordinary people" ("谷爱凌的成功与普通人没啥关系"), but argued that people should draw inspiration from her story rather than focusing on all the aspects of her life that are unattainable to them.
A commentary by PLA Daily also argued that Olympic athletes should not be turned into "gods" for their overnight success; neither should they be vilified because of their shortcomings. It's not about the pursuit of perfection, the author wrote, but about facing up to one's own shortcomings.
There are also those who remind others that Gu is still a teenager. Not only have some of the controversies over the past year shown that Gu is not "perfect," they also showed that fame is a double-edged sword.
As one netizen put it: "Success can be magnified to an extreme, and mistakes can be enlarged without boundaries (..) She'll be carefully walking on the sharp edge of the sword because if she does something that does not conform to what people expect of her, the same people who praise you today will step on you tomorrow."
Meanwhile, many Chinese fans of Eileen Gu have had it with those leaving "sour comments." "She is representing China, she snatched gold, your empty 'patriotism' is contributing nothing!"
"Congratulations, Little Gu, you're the greatest!" some say: "You did a good job, and we're proud of you."
By Zilan Qian and Manya Koetse
Follow @WhatsOnWeibo
Get the story behind the hashtag. Subscribe to What's on Weibo here to receive our newsletter and get unlimited access to all of our articles:
Spotted a mistake or want to add something? Please let us know in comments below or email us. First-time commenters, please be patient – we will have to manually approve your comment before it appears.
©2023 Whatsonweibo. All rights reserved. Do not reproduce our content without permission – you can contact us at info@whatsonweibo.com.