Top Weibo Accounts of 2018: Most Popular Celebrities on Sina Weibo
Top Weibo Celebs: these are the most popular Weibo accounts of 2018.
They are the celebrities with the most followers on social media in the world, yet some of their names barely come up in English-language media at all. What's on Weibo lists the top 10 celebrities with most followers on Weibo in 2018.
The top 5 celebrities with the most followers on Twitter have been unchanged for a long time.
They are Katy Perry (@katyperry, 107+ million followers), Justin Bieber (@justinbieber, 104+ million), Barack Obama (@BarackObama, 102+M), Rihanna (@rihanna, 88+M), and Taylor Swift (@taylorswift13, 83+M).
The top 10 of Weibo celebrities with the most followers has also barely changed over the past years. And yet, the names of Xie Na or Yang Mi might not sound as familiar to many outside of China.
After our top 10 lists of 2015 and that of 2017, here is an updated list of most popular Weibo accounts of 2018.
Although most of the names in the list are still the same as before, there are some changes too. Both AngelaBaby and Yang Mi have gained respectively more than 16 and 25 million fans since 2017. Guo Degang is no longer in the top 10, and has been taken over by the only newcomer in this top 10: Deng Chao.
Check out the latest changes and introductions here! >
1. Xie Na 谢娜
117.310.720 fans
The one and only absolute number one this list is the 'Queen of Weibo' Xie Na (1981), also nicknamed 'Nana' – the extremely popular Chinese singer, actress and designer.
One of the reasons she has become so famous in mainland China is that she is the co-host of Happy Camp (快乐大本管), which is one of China's most popular variety TV shows. She presents the show together with, amongst others, colleague He Jiong, who is the number two in this list.
Xie Na stars in many popular Chinese films and television series. She has also released several albums, founded a personal clothing line, and published two books.
Xie Na made headlines in March 2017, becoming #1 trending topic on Weibo, when she announced she would go to Italy as an overseas student to study design.
In 2018, Xie Na participated in the Mango TV television programme 'Viva La Romance' (妻子的浪漫旅行), in which couples reflect on their marriage and relationship, with her husband Zhang Jie, with whom she had twin daughters earlier in 2018.
Before getting married to Chinese singer Zhang Jie, Xie Na was in a 6-year relationship with her 'Happy Camp' colleague Liu Ye.
2. He Jiong 何炅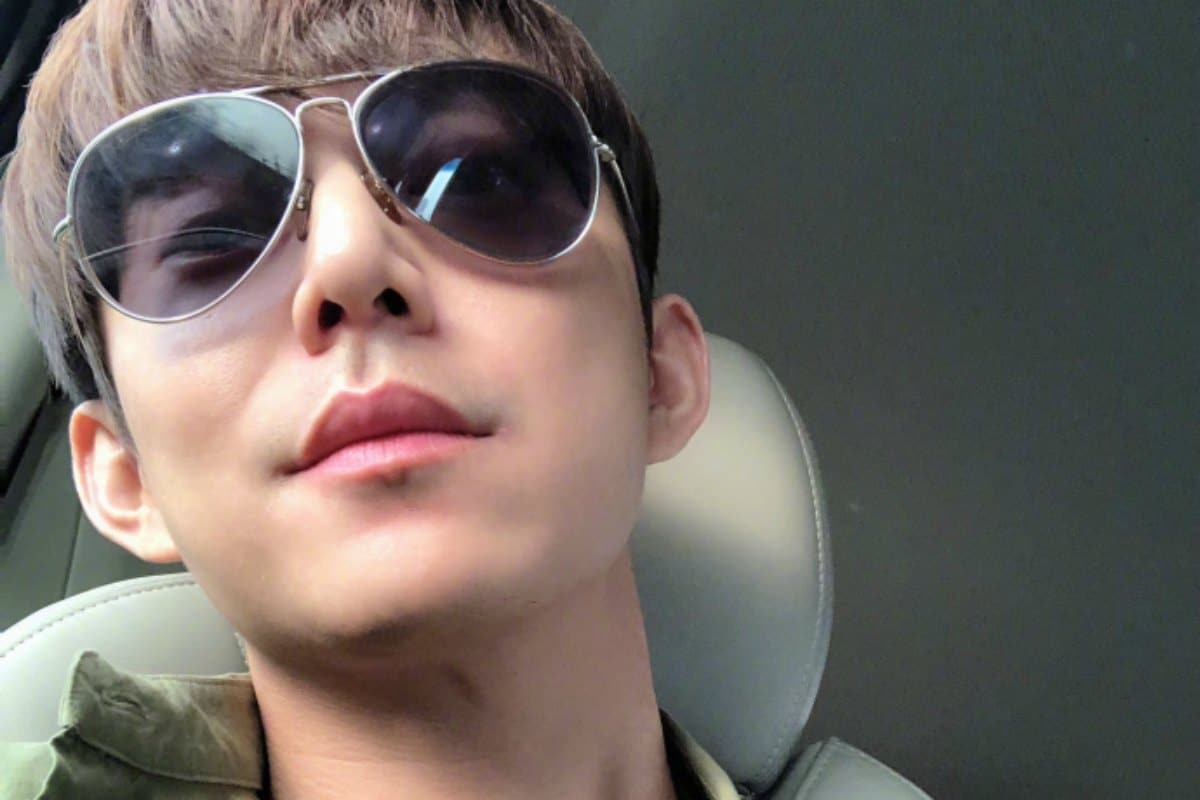 105.361.428 fans
He Jiong (1974) has been the host of China's popular Happy Camp TV show for over ten years. He is also a singer, actor, and used to be an Arabic teacher at Beijing's Foreign Studies University. Chinese media have called He Jiong "a key figure in China's entertainment industry."
'Happy Camp' (快乐大本馆) is a prime-time variety show aired by Hunan TV. It is one of China's most popular TV shows in China. With a viewership of tens of millions, it often holds first place in China's total viewing ratings.
In 2017, both He Jiong and Xie Na made it to the Guinness Book of Records for being the male and female with the most Weibo followers.
3. Yang Mi 杨幂
97.106.954 fans
The beautiful actress and singer Yang Mi (1986) went from number 8 to 4 in this list since last year. She gained fame and popularity through her various roles in Chinese hit tv dramas. Born in Beijing, Yang started her acting career at the age of 4.
Yang starred in many successful tv dramas, including in Eternal Love (三生三世十里桃花) and The Interpreters (亲爱的翻译官). Yang is now seen as one of China's biggest actresses, and also as one with the most commercial value; she recently became the brand ambassador for Estee Lauder (雅诗兰黛) in 2017 and also became a new face for Michael Kors in that same year.
This year, Yang stars in the much-anticipated movie Baby (宝贝儿), in which she plays a poor girl that is fighting for the life of a baby with disabilities.
4. Angelababy 杨颖
97.043.510 fans
'Angelababy' (nickname for Yang Ying aka Angela Yeung, 1989) has practically become a household name in China over the past few years. The actress and model started her acting career in 2007 and has taken on many roles in different movies and TV dramas.
Angelababy especially made headlines when she married Chinese famous actor Huang Xiaoming in 2015 and took extravagant pre-wedding photos in Paris. In the same year, she also set off a firestorm of debate when she underwent a medical examination to prove that she did not have facial plastic surgery to defend herself in a court case against a beauty clinic.
Angelababy is one of China's "New Four Dan Actresses" according to the 2013 Southern Metropolis Daily, meaning she is generally perceived as one of China's most bankable actresses.
5. Chen Kun 陈坤
90.616.162 fans
Chinese top actor and singer Chen Kun (1979, Chongqing) was the number 3 last year, so he lost his top 3 position to Yang Mi and Angelababy.
Chen is known for his roles in, amongst others, Painted Skin and Balzac and the Little Chinese Seamstress.
He also plays in 2018 Chinese television series The Rise of Phoenixes (天盛长歌), which is also available on Netflix.
Chen Kun, sometimes also known as Aloys Chen, is not only popular because of his acting work, but also for his looks – he is known to have a large gay fanbase. He is not shy about his looks, and likes to post a lot of photos of himself on his Weibo page.
6. Vicky Zhao 赵薇
84.912.880 fans
Still the number six in this list is Vicky Zhao (1976). Zhao is a Chinese film star, singer, entrepreneur and director. She is also known for her work as the face for various brands, which has added to her wealth: she was named the world's wealthies working actress by Forbes in 2015 .
Together with actresses Zhang Ziyi, Zhou Xun and Xu Jinglei, she belongs to China's 'Four Dan Actresses' (四大花旦, the four greatest actresses of mainland China) from the early 2000s. In the list of the 'New Four Dan actresses', there is Angelababy, number 4 in this list, who ironically is now the wife of Zhao's former partner.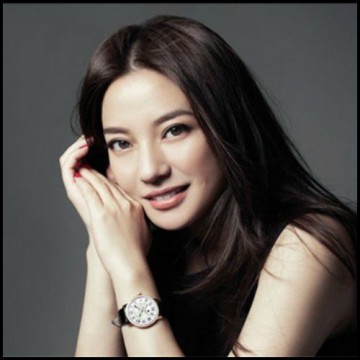 Zhao is now married to Huang Youlong, with whom she has a daughter. The couple made it to a list of the world's wealthiest young billionaires in 2016. Zhao has a passion for wine; she bought her own vineyard in France in 2011.
Zhao Wei regularly updates her Weibo, where she posts about her work as an actress, her photoshoots, and her ambassador work for good causes.
7. Yao Chen 姚晨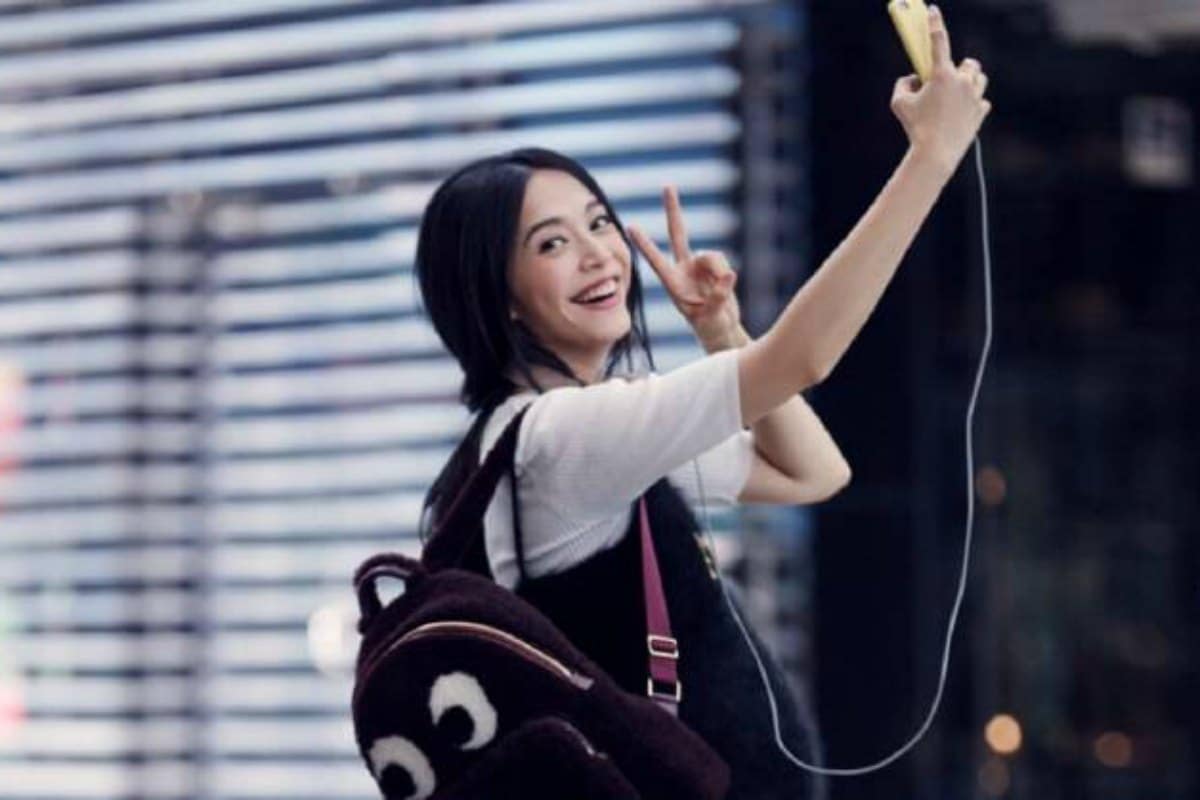 80.021.355 fans
In our 2015 list of Weibo's biggest celebrities, Yao Chen was ranking first with 78 million followers. In our 2017 list, she ranked fifth with 80,5 million. But she has dropped in the number of people following her since then, thus also has dropping a few places in this list.
Fujian-born Yao Chen (1979) is a Chinese actress and Weibo celebrity, who was mentioned as the 83rd most powerful woman in the world by Forbes magazine in 2014. Being the first-ever Chinese UNHCR Goodwill Ambassador, she is also called 'China's answer to Angelina Jolie' (Telegraph).
Yao Chen is not necessarily China's number one actress, but she was one of the first celebrities to share her personal life on Weibo since 2009, and interact with her fans. On Weibo, she talks about her everyday life, family, news-related issues, work, and fashion. She posts personal pictures every day.
The combination of her popularity due to acting work, combined with her frequent Weibo updates and closeness to her fans, have made Yao Chen a huge Weibo celebrity.
This year, Yao stars in Lost, Found, a feminism-themed film released in October.
8. Ruby Lin 林心如
76.368.428 fans
Ruby Lin Xinru (1976) is the first Taiwanese name in this list. She is an actress, producer, and singer, who especially became famous because of her role in TV drama My Fair Princess (1998). Since then she has starred in many different TV series.
Ruby is married to actor Wallace Huo, who starred in popular Chinese TV drama Ruyi's Royal Love in the Palace (如懿传). They have one child together.
The couple has often been a target of cyberbullying, which is believed to be the reason why Huo closed his Weibo account in September of 2018. Lin posts regular updates on Weibo.
9. Deng Chao 邓超
73.968.964 fans
Deng is the only newcomer in this top 10 list. Deng Chao (1979) is a Chinese actor, director, and singer. He is, amongst others, known for his role in the popular variety program 'Keep Running' (奔跑吧).
Films in which Deng played, such as The Mermaid (2016) or DuckweedThe Dead End (2015).
Shadow is an upcoming Chinese historical film directed by Zhang Yimou in which Deng also stars, together with his wife Sun Li (孙俪).
10. Jimmy Lin 林志颖
71.422.326 fans
Jimmy Lin (Lin Zhiying, 1974) is a famous Taiwanese actor and singer and race car driver. He is one of the top rally racers of China, but is also very successful in his showbiz career as actor and singer.
Over the past few years, Lin's participation in the Chinese hit reality show Where Are We Going, Dad? has contributed to his success on Weibo.
For some time Lin dated Ruby Lin, number 7 on this list. Now he is married to model Kelly Chen (陈若仪), with whom he has three children.
He regularly updates his Weibo profile, talking about his work, his personal life, and posting pictures of him with his race cars.
By Manya Koetse
Follow @whatsonweibo
Spotted a mistake or want to add something? Please let us know in comments below or email us.
©2018 Whatsonweibo. All rights reserved. Do not reproduce our content without permission – you can contact us at info@whatsonweibo.com
Famous Chinese Nursery Song "One Penny" Inflates to "One Yuan"
One penny becomes one yuan in this children's song. What's next – changing it to QR codes?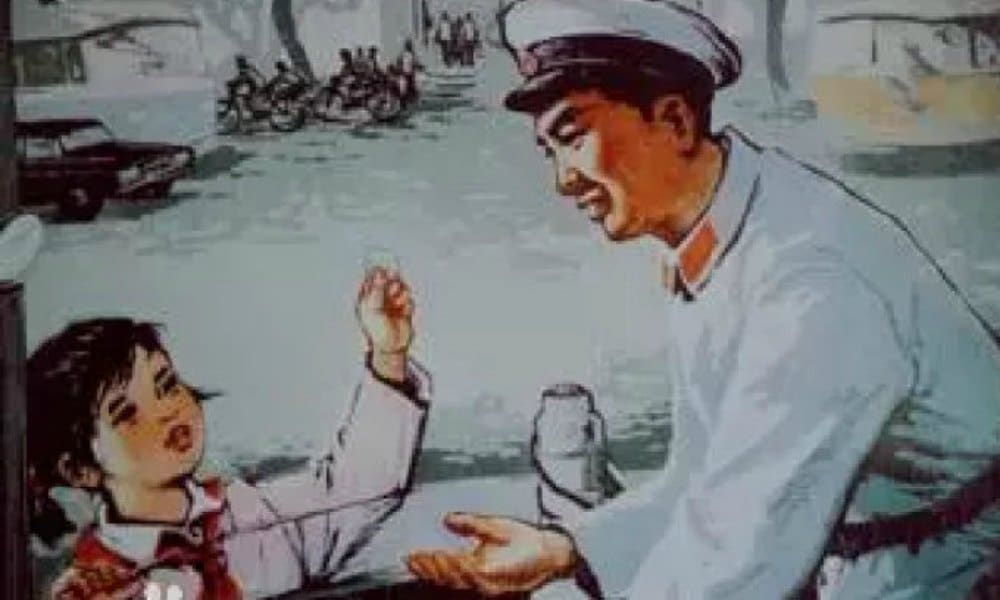 Famous Chinese children's song "One Penny" (一分钱) has changed its penny to a Chinese yuan ($0.15).
The lyrics to the song are now published online and in children's books with the different lyrics, Chinese news platform City Bulletin (@都市快报) reports on Weibo.
The classic song, in translation, says:
"I found a penny on the street,
And handed it over to Uncle Policeman.
The Uncle Policeman took the penny,
And nodded his head at me.
I happily said: "Uncle, goodbye!"
The song, by Chinese composer Pan Zhensheng (潘振声), is known throughout China. It came out in 1963.
Apparently, in present-day China, nobody would go through so much hassle for a penny anymore, and so the text was altered (although it is very doubtful people would go through the trouble for one yuan either).
The penny coin (0.01) in renminbi was first issued in 1957, and is somewhat rare to come across these days. "It's probably even worth more than one yuan now," some netizens argue.
Chinese media report that composer Pan Zhensheng said the song is just an innocent children's song, and that it should not be affected by price inflation. Sina News also quoted the composer in saying that changing the text is "not respectful."
Although some Chinese netizens think the change in the song is just normal modern development, others do not agree at all. In Hangzhou, some say, all you can find on the streets nowadays is QR codes rather than coins. Surely the song should not incorporate those new developments either?
Some commenters on Weibo say the song would never be realistic in China's current cashless society anyway: "Kids nowadays are not finding cash money at all anymore!"
By Manya Koetse
Follow @whatsonweibo
Spotted a mistake or want to add something? Please let us know in comments below or email us. Please note that your comment below will need to be manually approved if you're a first-time poster here.
©2019 Whatsonweibo. All rights reserved. Do not reproduce our content without permission – you can contact us at info@whatsonweibo.com
Controversy over Scene in Anti-Japanese War Drama Featuring Black U.S. Soldier and Chinese Nurse
Some scenes from this anti-Japanese war drama have angered Chinese netizens over 'historical nihilism.'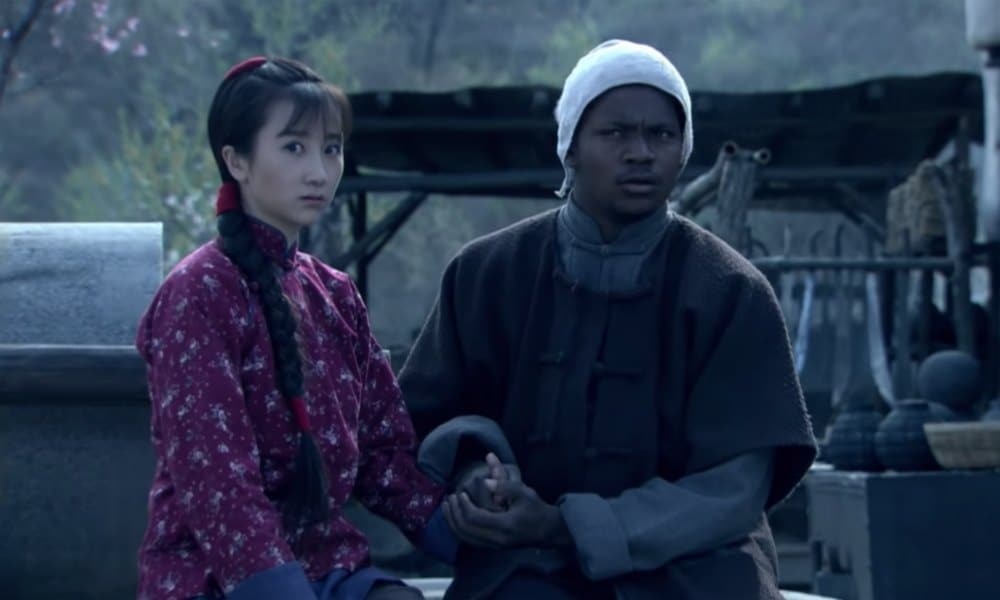 A black soldier comes to China from afar during WWII and falls in love with a Chinese villager who sacrifices her life for him. This war drama is sensationalizing the Sino-Japanese War in the wrong way, many netizens say.
"I love you, I love China," a black man tells a Chinese woman in a clip of an anti-Japanese war drama that has gone viral on Chinese social media over the past few days (watch clip in embedded tweet below).
This scene from a Chinese Anti-Japanese war drama is stirring controversy on Chinese social media this week. "I love you, I love China," the foreigner says. "Love me, love China," the Chinese woman says, before sacrificing her life for him and getting killed by Japanese shooters.

— Manya Koetse (@manyapan) September 5, 2019
The scene is set on a mountain, where the man and woman hold hands when she tells him to flee from the "Japanese devils." She repeats: "Remember: love me, love China."
The love scene takes a dramatic turn when the two get ambushed by the Japanese army. The Chinese woman immediately pushes the man off the mountain to bring him to safety. While she cries out "love me, love China" she is attacked by Japanese soldiers and dies.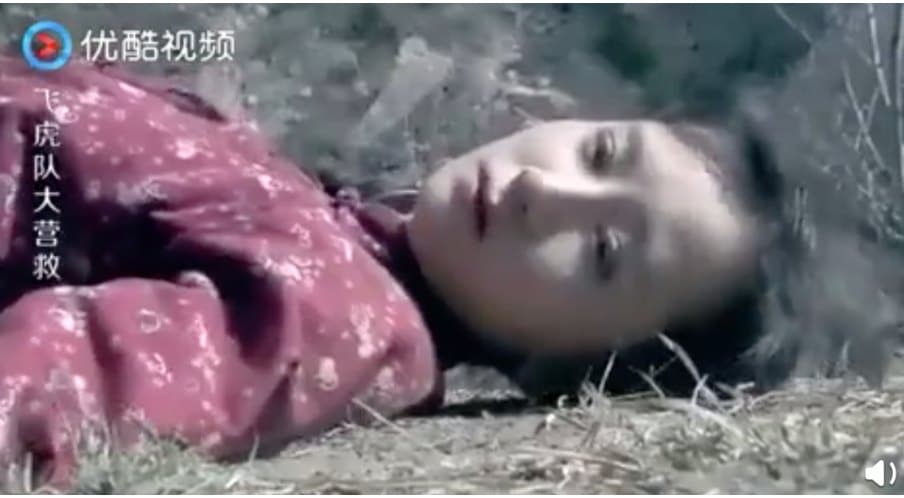 The scene comes from a 2016 TV drama titled The Great Rescue of The Flying Tigers (飞虎队大营救). The drama tells the story of Japanese soldiers chasing surviving members of a Flying Tigers aircraft after they shot it down. Various soldiers and army staff on the Chinese side try to rescue the fighters from the hands of the Japanese.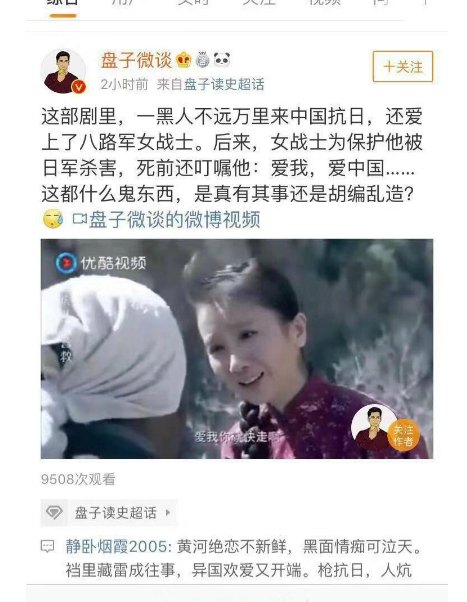 The drama's portrayal of a romance between the foreign soldier and a Chinese woman, on the side of the Communist Eighth Route Army, has stirred controversy on Weibo this week.
"The director is retarded, this is historical nihilism," one Weibo blogger writes.
Hundreds of netizens also criticize the drama's director and screenwriters: "This is not even funny, what kind of scriptwriter comes up with this trash? This should be thoroughly investigated."
The Flying Tigers (飞虎队) were a group of US fighter pilots who went to China during the final three years of the Second Sino-Japanese War to fight the Japanese invaders and defend China.
The people behind the Flying Tigers belonged to the organization of the American Volunteer Group (AVG), who came together in 1941 to strengthen the Chinese Air Force.
In the now controversial TV drama The Great Rescue of The Flying Tigers, the black soldier is 'Carl' (Cedric Beugre), a surviving member of the Flying Tigers aircraft shut down by Japanese forces. The Chinese woman is 'Xinghua,' a female nurse who sacrifices her own life to save Carl.
The dialogues between Carl and Xinghua are pretty simple and at times almost ridiculous. While Xinghua does not speak a word of English and appears clueless, Carl is depicted as a stubborn, crude and somewhat silly character, who also seems to understand very little of what is happening around him and does all he can to be with his Xinghua after a brief meeting in the Chinese base camp (also see this scene or here).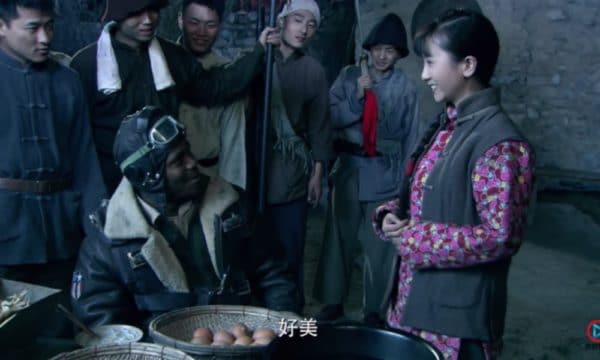 On Chinese social media, the drama is critiqued for being a so-called 'divine Anti-Japanese drama' (抗日神剧): Chinese war dramas that sensationalize the history of the war by making up unrealistic and overly dramatic or funny scenes and storylines.
In 2015, China's State Administration of Press, Publication, Radio, Film, and Television (SAPPRFT) announced a limit on these kinds of TV dramas that sensationalize the history of war, and in doing so 'misrepresent history' and 'disrespect' the Chinese soldiers who fought to defend the nation (read more).
TV series focusing on war are part of China's every day (prime time) TV schedules. These Chinese war dramas are called "Anti-Japanese War Dramas" (抗日电视剧), literally referring to the period of 'resisting Japan' during WWII (in China, the 1937-1945 war is called The War of Resistance against Japanese Aggression 中国抗日战争).
The 40-episode series The Great Rescue of the Flying Tigers was aired by Yunnan City Channel but is also available online. Since there are countless reruns of Anti-Japanese war dramas on Chinese tv, it is possible that some viewers only now viewed the 2016 drama for the first time.
Some netizens call this a "new kind of fantasy war drama", summarizing: "A black man comes from far away to China to fight Japan, falls in love with a Chinese nurse who sacrifices her own life for him and yells 'Love me love China' before she dies."
Many on social media call the script "idiotic," others question if black soldiers ever joined the Flying Tigers in the first place.
There seems to be more to the controversy than sensationalizing history alone though – relationships between foreign men and Chinese women, especially black men and Chinese women, are often met with prejudice and racism on Chinese social media. Mixing such a narrative in a drama about the Second Sino-Japanese war makes it all the more controversial.
Some see the narrative of the love between a foreign soldier and a Chinese woman as a way of 'beautifying' the war and 'adoring everything that's foreign.'
"This is not respecting history at all!", one among hundreds of commenters says.
In the TV drama, the sentence "Love me, Love China" does have some extra meaning in the end. Although Xinghua sacrifices her life for Carl in episode 19, he eventually chooses to fight side by side against the Japanese 'devils' with the Chinese army, keeping his promise to "love China" like he loved Xinghua.
By Manya Koetse , with contributions from Miranda Barnes
Follow @whatsonweibo
Spotted a mistake or want to add something? Please let us know in comments below or email us. Please note that your comment below will need to be manually approved if you're a first-time poster here.
©2019 Whatsonweibo. All rights reserved. Do not reproduce our content without permission – you can contact us at info@whatsonweibo.com