Top Weibo Accounts of 2018: Most Popular Celebrities on Sina Weibo
Top Weibo Celebs: these are the most popular Weibo accounts of 2018.
They are the celebrities with the most followers on social media in the world, yet some of their names barely come up in English-language media at all. What's on Weibo lists the top 10 celebrities with most followers on Weibo in 2018.
The top 5 celebrities with the most followers on Twitter have been unchanged for a long time.
They are Katy Perry (@katyperry, 107+ million followers), Justin Bieber (@justinbieber, 104+ million), Barack Obama (@BarackObama, 102+M), Rihanna (@rihanna, 88+M), and Taylor Swift (@taylorswift13, 83+M).
The top 10 of Weibo celebrities with the most followers has also barely changed over the past years. And yet, the names of Xie Na or Yang Mi might not sound as familiar to many outside of China.
After our top 10 lists of 2015 and that of 2017, here is an updated list of most popular Weibo accounts of 2018.
Although most of the names in the list are still the same as before, there are some changes too. Both AngelaBaby and Yang Mi have gained respectively more than 16 and 25 million fans since 2017. Guo Degang is no longer in the top 10, and has been taken over by the only newcomer in this top 10: Deng Chao.
Check out the latest changes and introductions here! >
1. Xie Na 谢娜
117.310.720 fans
The one and only absolute number one this list is the 'Queen of Weibo' Xie Na (1981), also nicknamed 'Nana' – the extremely popular Chinese singer, actress and designer.
One of the reasons she has become so famous in mainland China is that she is the co-host of Happy Camp (快乐大本管), which is one of China's most popular variety TV shows. She presents the show together with, amongst others, colleague He Jiong, who is the number two in this list.
Xie Na stars in many popular Chinese films and television series. She has also released several albums, founded a personal clothing line, and published two books.
Xie Na made headlines in March 2017, becoming #1 trending topic on Weibo, when she announced she would go to Italy as an overseas student to study design.
In 2018, Xie Na participated in the Mango TV television programme 'Viva La Romance' (妻子的浪漫旅行), in which couples reflect on their marriage and relationship, with her husband Zhang Jie, with whom she had twin daughters earlier in 2018.
Before getting married to Chinese singer Zhang Jie, Xie Na was in a 6-year relationship with her 'Happy Camp' colleague Liu Ye.
2. He Jiong 何炅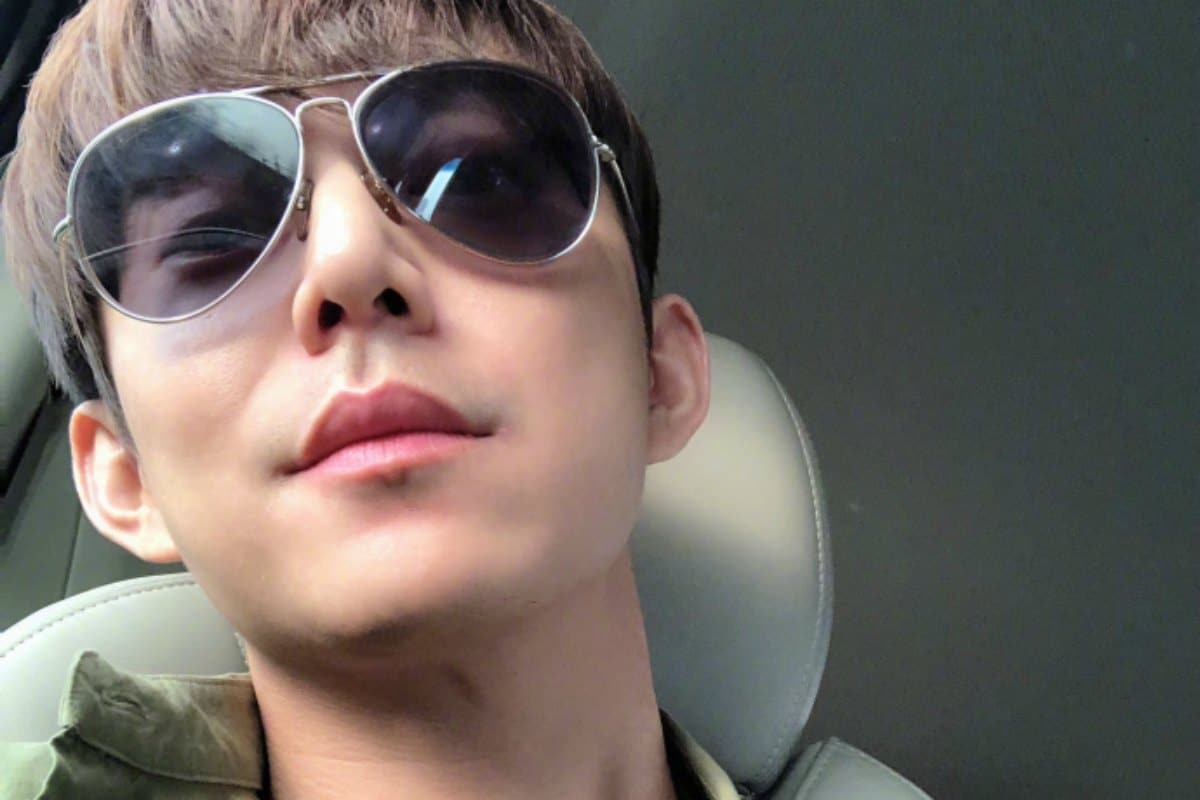 105.361.428 fans
He Jiong (1974) has been the host of China's popular Happy Camp TV show for over ten years. He is also a singer, actor, and used to be an Arabic teacher at Beijing's Foreign Studies University. Chinese media have called He Jiong "a key figure in China's entertainment industry."
'Happy Camp' (快乐大本馆) is a prime-time variety show aired by Hunan TV. It is one of China's most popular TV shows in China. With a viewership of tens of millions, it often holds first place in China's total viewing ratings.
In 2017, both He Jiong and Xie Na made it to the Guinness Book of Records for being the male and female with the most Weibo followers.
3. Yang Mi 杨幂
97.106.954 fans
The beautiful actress and singer Yang Mi (1986) went from number 8 to 4 in this list since last year. She gained fame and popularity through her various roles in Chinese hit tv dramas. Born in Beijing, Yang started her acting career at the age of 4.
Yang starred in many successful tv dramas, including in Eternal Love (三生三世十里桃花) and The Interpreters (亲爱的翻译官). Yang is now seen as one of China's biggest actresses, and also as one with the most commercial value; she recently became the brand ambassador for Estee Lauder (雅诗兰黛) in 2017 and also became a new face for Michael Kors in that same year.
This year, Yang stars in the much-anticipated movie Baby (宝贝儿), in which she plays a poor girl that is fighting for the life of a baby with disabilities.
4. Angelababy 杨颖
97.043.510 fans
'Angelababy' (nickname for Yang Ying aka Angela Yeung, 1989) has practically become a household name in China over the past few years. The actress and model started her acting career in 2007 and has taken on many roles in different movies and TV dramas.
Angelababy especially made headlines when she married Chinese famous actor Huang Xiaoming in 2015 and took extravagant pre-wedding photos in Paris. In the same year, she also set off a firestorm of debate when she underwent a medical examination to prove that she did not have facial plastic surgery to defend herself in a court case against a beauty clinic.
Angelababy is one of China's "New Four Dan Actresses" according to the 2013 Southern Metropolis Daily, meaning she is generally perceived as one of China's most bankable actresses.
5. Chen Kun 陈坤
90.616.162 fans
Chinese top actor and singer Chen Kun (1979, Chongqing) was the number 3 last year, so he lost his top 3 position to Yang Mi and Angelababy.
Chen is known for his roles in, amongst others, Painted Skin and Balzac and the Little Chinese Seamstress.
He also plays in 2018 Chinese television series The Rise of Phoenixes (天盛长歌), which is also available on Netflix.
Chen Kun, sometimes also known as Aloys Chen, is not only popular because of his acting work, but also for his looks – he is known to have a large gay fanbase. He is not shy about his looks, and likes to post a lot of photos of himself on his Weibo page.
6. Vicky Zhao 赵薇
84.912.880 fans
Still the number six in this list is Vicky Zhao (1976). Zhao is a Chinese film star, singer, entrepreneur and director. She is also known for her work as the face for various brands, which has added to her wealth: she was named the world's wealthies working actress by Forbes in 2015 .
Together with actresses Zhang Ziyi, Zhou Xun and Xu Jinglei, she belongs to China's 'Four Dan Actresses' (四大花旦, the four greatest actresses of mainland China) from the early 2000s. In the list of the 'New Four Dan actresses', there is Angelababy, number 4 in this list, who ironically is now the wife of Zhao's former partner.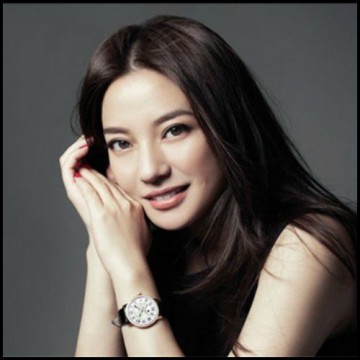 Zhao is now married to Huang Youlong, with whom she has a daughter. The couple made it to a list of the world's wealthiest young billionaires in 2016. Zhao has a passion for wine; she bought her own vineyard in France in 2011.
Zhao Wei regularly updates her Weibo, where she posts about her work as an actress, her photoshoots, and her ambassador work for good causes.
7. Yao Chen 姚晨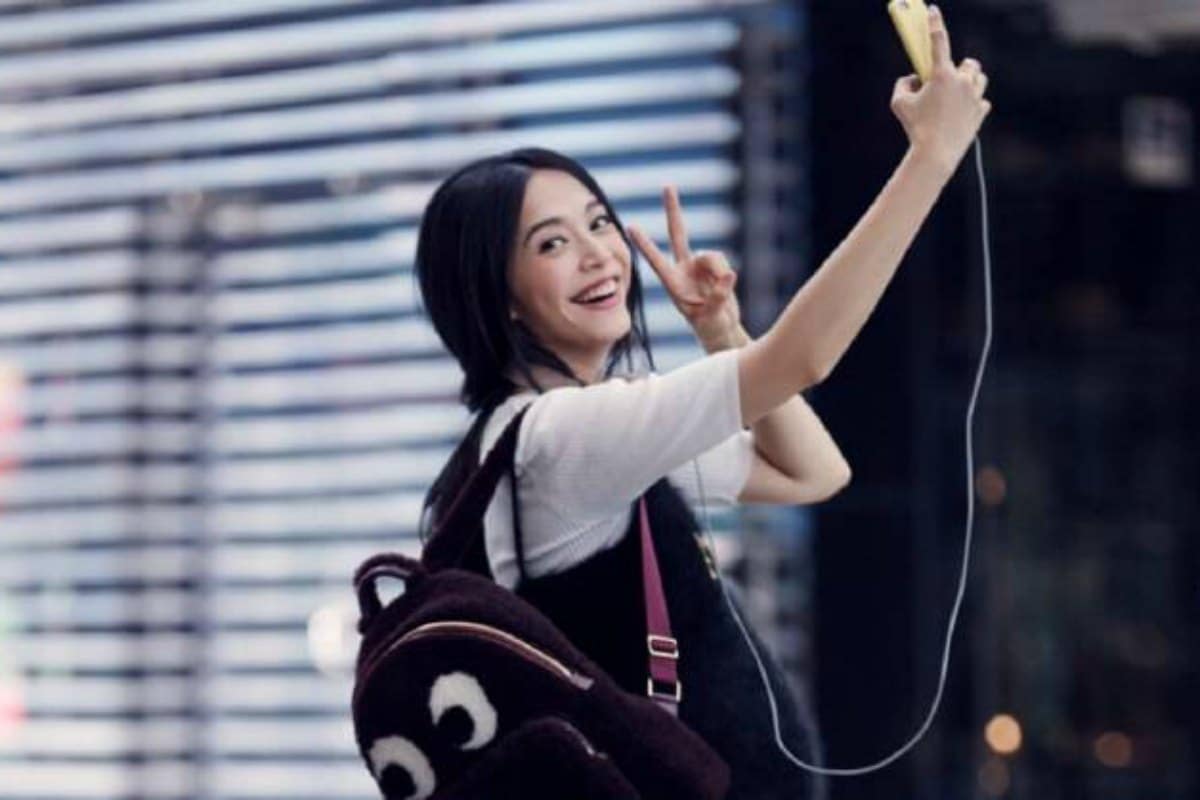 80.021.355 fans
In our 2015 list of Weibo's biggest celebrities, Yao Chen was ranking first with 78 million followers. In our 2017 list, she ranked fifth with 80,5 million. But she has dropped in the number of people following her since then, thus also has dropping a few places in this list.
Fujian-born Yao Chen (1979) is a Chinese actress and Weibo celebrity, who was mentioned as the 83rd most powerful woman in the world by Forbes magazine in 2014. Being the first-ever Chinese UNHCR Goodwill Ambassador, she is also called 'China's answer to Angelina Jolie' (Telegraph).
Yao Chen is not necessarily China's number one actress, but she was one of the first celebrities to share her personal life on Weibo since 2009, and interact with her fans. On Weibo, she talks about her everyday life, family, news-related issues, work, and fashion. She posts personal pictures every day.
The combination of her popularity due to acting work, combined with her frequent Weibo updates and closeness to her fans, have made Yao Chen a huge Weibo celebrity.
This year, Yao stars in Lost, Found, a feminism-themed film released in October.
8. Ruby Lin 林心如
76.368.428 fans
Ruby Lin Xinru (1976) is the first Taiwanese name in this list. She is an actress, producer, and singer, who especially became famous because of her role in TV drama My Fair Princess (1998). Since then she has starred in many different TV series.
Ruby is married to actor Wallace Huo, who starred in popular Chinese TV drama Ruyi's Royal Love in the Palace (如懿传). They have one child together.
The couple has often been a target of cyberbullying, which is believed to be the reason why Huo closed his Weibo account in September of 2018. Lin posts regular updates on Weibo.
9. Deng Chao 邓超
73.968.964 fans
Deng is the only newcomer in this top 10 list. Deng Chao (1979) is a Chinese actor, director, and singer. He is, amongst others, known for his role in the popular variety program 'Keep Running' (奔跑吧).
Films in which Deng played, such as The Mermaid (2016) or Duckweed (2017), are among the highest-grossing Chinese films of all times in China. In 2017, Deng was crowned Best Actor at the Golden Rooster Awards for his performance in The Dead End (2015).
Shadow is an upcoming Chinese historical film directed by Zhang Yimou in which Deng also stars, together with his wife Sun Li (孙俪).
10. Jimmy Lin 林志颖
71.422.326 fans
Jimmy Lin (Lin Zhiying, 1974) is a famous Taiwanese actor and singer and race car driver. He is one of the top rally racers of China, but is also very successful in his showbiz career as actor and singer.
Over the past few years, Lin's participation in the Chinese hit reality show Where Are We Going, Dad? has contributed to his success on Weibo.
For some time Lin dated Ruby Lin, number 7 on this list. Now he is married to model Kelly Chen (陈若仪), with whom he has three children.
He regularly updates his Weibo profile, talking about his work, his personal life, and posting pictures of him with his race cars.
By Manya Koetse
Follow @whatsonweibo
Spotted a mistake or want to add something? Please let us know in comments below or email us.
©2018 Whatsonweibo. All rights reserved. Do not reproduce our content without permission – you can contact us at info@whatsonweibo.com
When a Scene from a 2010 Chinese TV Drama Goes Viral: The 'Cao Cao Flips Rice Bowl' Meme
Cao Cao flipping the rice bowl is another Cao Cao meme that's widely used to convey internal struggles about facing reality.
These days, a viral meme originating from the Chinese TV series Three Kingdoms (三国) has gained significant traction on Chinese social media.
In a memorable scene from the 2010 series, Cao Cao, a prominent warlord in Chinese history played by actor Chen Jianbin (陈建斌), angrily flips his rice bowl upon receiving news of a surprise attack, only to gather the spilled rice back into the bowl later.
This scene featuring an enraged Cao Cao has resurfaced and struck a chord with individuals reluctantly facing reality.
This short scene from the 2010 Chinese historical drama "Three Kingdoms" – in which Cao Cao angrily flips over his rice bowl on the table and then shortly after puts it all back in the bowl – has gained significant traction on Chinese social media recently. pic.twitter.com/DrM3Xgi35F

— What's on Weibo (@WhatsOnWeibo) June 3, 2023
Turning into a popular meme, Cao Cao flipping the rice bowl has become widely employed to convey sentiments of self-inflicted humiliation or the hesitation to undertake certain actions.
The Context of the Scene
The specific scene comes from episode 12 of the Three Kingdoms. Warlord Cao Cao, who is governor of Yan Province, is enjoying his meal when his advisor comes in to inform him about a surprise attack by Chinese military general Lü Bu (吕布), capturing almost the entire province.
Upon receiving this alarming report, Cao Cao's anger flared, and he promptly flipped his rice bowl upside down on the table, an act now commonly referred to as "Cao Cao flips the rice bowl" (曹操盖饭).
Cao Cao's anger was intertwined with disbelief at Lü Bu's audacity to execute such a daring attack. Cao Cao's advisor swiftly clarified that the mastermind behind the attack was Lü Bu's strategist, Chen Gong (陈宫), who was also renowned as a brilliant strategist during the Three Kingdoms era.
As he grasped the true situation, Cao Cao gradually regained his composure and meticulously gathered the spilled rice back into his bowl – an act now known as "Cao Cao retrieving his bowl of rice" (曹操撤回了一碗饭),- before resuming his meal.
The catchphrase that is used to describe Cao Cao retrieving his rice utilizes the word "chèhuí" (撤回), which means "to recall" or "to retract." It can be understood as "Cao Cao recalled his bowl of rice," drawing a parallel to the recall function in WeChat that allows users to retract or cancel a message after it has been sent.
How To Use the Meme
The contrast between the forceful act of flipping the rice bowl and the subsequent unwillingness and silence displayed while putting the scattered rice back into the bowl is a key factor contributing to the meme's viral nature on the internet.
Netizens have creatively applied Cao Cao's meme in various situations to express their own internal struggles or a sense of self-inflicted humiliation they experience (自己打自己脸).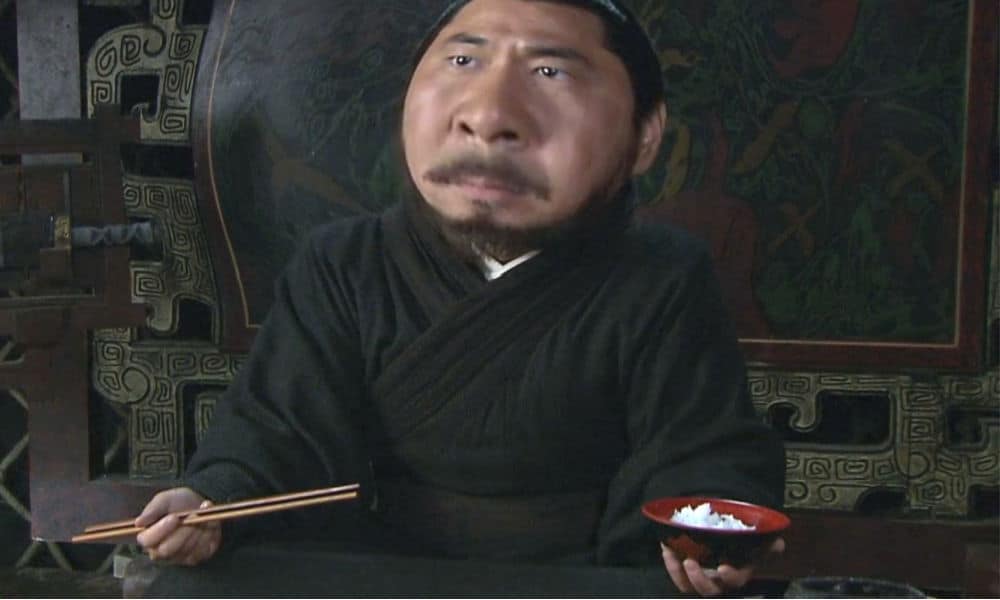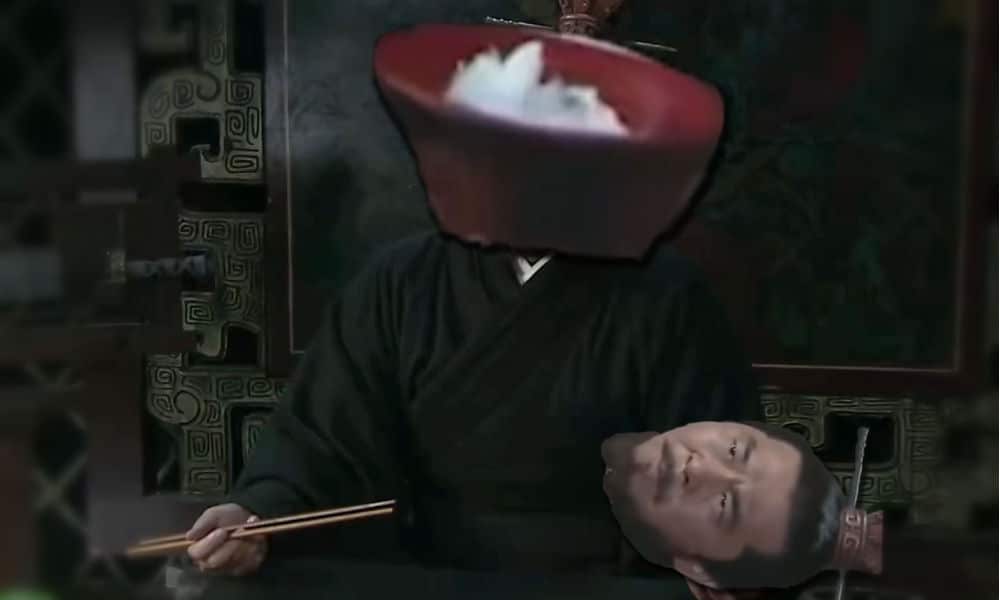 For instance, the meme effectively captures the feelings of both white-collar workers and students who utilize the "Cao Cao flips the rice bowl" meme on Fridays. On this day, they express their frustration with the demanding work week and their eagerness to leave their tasks behind.
On Friday it's f*ck this job… pic.twitter.com/S8cHTQOzgX

— What's on Weibo (@WhatsOnWeibo) June 3, 2023
However, the arrival of Monday brings a sense of reality as they realize the necessity of returning to the office or school. The "Cao Cao retrieves his bowl of rice" meme is then employed to represent the unavoidable resumption of their daily routines.
…on Monday, it's back to work… pic.twitter.com/ST1v8eqjyq

— What's on Weibo (@WhatsOnWeibo) June 3, 2023
In this regard, the meme is somewhat comparable to the English "F*ck This Job, *Goes to Work*" meme (link).
"Not Possible, Absolutely Not Possible"
It is not the first time for Three Kingdom's Cao Cao to achieve viral status through memes.
Prior to the emergence of the 'Cao Cao flips/retrieves the rice' meme, Cao Cao was already well-known for another meme phrase: "Not possible, absolutely not possible" ("不可能,绝对不可能").
This meme originated from a scene where Cao Cao received news of Liu Bei's rebellion, immediately after confidently asserting that Liu Bei, another major warlord, would never betray him.
The meme captures the essence of self-deception and the unwillingness to accept the truth. Similar to the current popular meme, this meme is often used to depict situations where someone unintentionally exposes their own flaws or contradicts their previous statements, symbolizing a self-inflicted "slap in the face."
Read more of our articles about memes in China here.
By Zilan Qian
Get the story behind the hashtag. Subscribe to What's on Weibo here to receive our newsletter and get access to our latest articles:
Spotted a mistake or want to add something? Please let us know in comments below or email us. First-time commenters, please be patient – we will have to manually approve your comment before it appears.
©2023 Whatsonweibo. All rights reserved. Do not reproduce our content without permission – you can contact us at info@whatsonweibo.com.
Fandom Meets Matrimony: Sea of Brides at Roy Wang's Concert as Female Fans Show Up in Wedding Gowns
After showing up as brides at Roy Wang's concert, some female fans attempted to return their gowns within the store's 7-day 'No Questions Asked Return Policy'.
A recent concert by Chinese celebrity Roy Wang (Wang Yuan 王源) has become a hot topic on Chinese social media as female fans attending the show collectively decided to wear wedding dresses to express their love for the singer.
Born in 2000, Roy Wang is best known as a member of the hugely popular TFboys idol group that debuted in 2013, but his solo career has also been thriving for years. Wang is an award-winning musician, who is now among China's most influential young celebrities. On Weibo, he has nearly 85 million followers.
The sight of so many fans coming to Wang's Chongqing concert wearing wedding dresses was already remarkable, but it garnered even greater attention when it turned out that some of the women's boyfriends were so upset over their girlfriends wearing a wedding dress for another man that they ended the relationship because of it.
On Douyin (China's TikTok), the related discussion made it to the top 5 trending daily topics list.
The story gained further traction when reports emerged that some female fans who had recently purchased wedding dresses for the concert attempted to return them to the store the next day, taking advantage of the store's policy that allows returns within seven days without requiring a specific reason (7天无理由退货).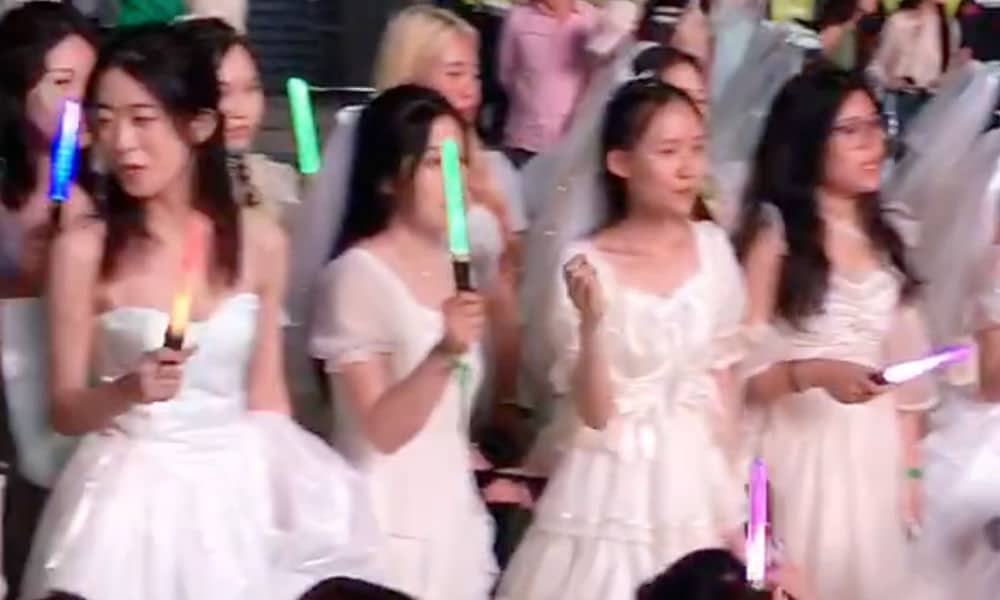 "I already wondered why business was suddenly booming," one Chongqing wedding gown seller wrote on social media, complaining how the return policy was being abused by some of Roy Wang's fans.
Others saw the fact that they wore the wedding dress to the concert as a unique selling point, and tried to resell their gowns online for more than the original price, claiming that the dress still had "a hint of the concert's aroma."
Commenters bombarded these women with negative comments, as the topic also drew wider discussions on how far some fans are willing to go to show their love for their idols.
Some social media users expressed that a wedding dress has a symbolical or even sacred function, and that tying the concept of fandom to matrimony is inappropriate. They condemned the women for showing up to the concert as brides.
Given that many of the commenters criticizing the women were male, there were also feminist voices that condemned these men for their pettiness and chauvinistic attitudes. One comment stood out: "There will always be men whose ego is bruised when women they don't even know won't wear a wedding dress and save their chastity for them. Thanks to Roy Wang's concert, I once again realize the diversity of species."
In an online poll asking people "Can women only wear a wedding dress once in their lives" (#女生一生只能穿一次婚纱吗#) the majority of people replied that they should just wear whatever they like.
"My first thought is that this is romantic," one popular entertainment blogging account (@娱大蜀黍) wrote: "My second thought is that it's actually quite moving. In the midst of their youth, they are writing a passionate chapter for themselves. They will treasure it as a beautiful memory later on in life. They do what they love and they're not bothering anyone. It's perfectly fine."
By Manya Koetse & Miranda Barnes
Get the story behind the hashtag. Subscribe to What's on Weibo here to receive our newsletter and get access to our latest articles:
Spotted a mistake or want to add something? Please let us know in comments below or email us. First-time commenters, please be patient – we will have to manually approve your comment before it appears.
©2023 Whatsonweibo. All rights reserved. Do not reproduce our content without permission – you can contact us at info@whatsonweibo.com.
Subscribe to our newsletter
Stay updated on what's trending in China & get the story behind the hashtag
Sign up here to become a premium member of What's on Weibo today and gain access to all of our latest and premium content, as well as receive our exclusive newsletter. If you prefer to receive just our weekly newsletter with an overview of the latest, you can subscribe for free here.
Would you like to become a contributor, or do you have any tips or suggestions for us? Get in touch with us here.