Online Doctors and Counting Steps: Top 5 Chinese Health & Fitness Apps
These are the popular health & fitness apps used by Chinese netizens.
As China's fitness market is seeing rapid growth, these are some of the health & fitness apps that are popular among Chinese mobile users.
Ttracking psychical activities and sharing them with friends on social media is something that has become more popular in China, with other types of apps in the health and fitness categories also gaining in popularity.
In a series of five articles, What's on Weibo is providing some insights into what apps are currently popular in mainland China. After the categories news apps, mobile gaming, and short video & livestreaming, we will now highlight some of the more popular apps in the category of health and fitness.
We made our selection based on the data from the Android app stores Tencent, Baidu, Huawei, and Zhushou360. We tried our best to give you a representative overview of a variety of apps that are currently most used in China, but want to remind you that these lists are by no official "top 5" charts.
Here we go!
#1 Keep 自由运动场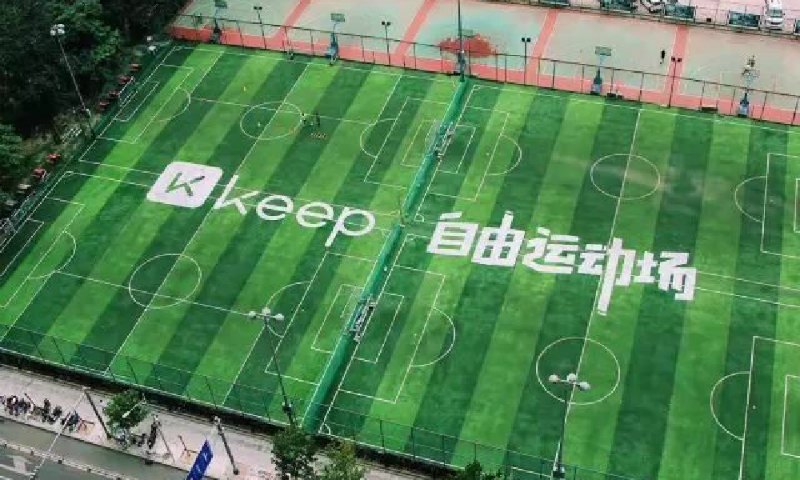 Keep (literally: Free Sportsground 自由运动场) is currently the most popular health and fitness app in the Chinese Apple store. Keep first appeared in 2015, and has since grown to become the country's biggest online sports community. Following their success, Keep has also expanded its businesses outside of the online world and now have their own KeepLand Gyms.
Keep is a very all-round app. When first using the app, users have to answer a number of questions concerning their health, age, motivation to exercise, level of experience, and preferred sports. Once the user has answered all the required questions, the app is ready for use.
The app's main page is called 'workout' and is divided into different workout categories. Per category, the user can find many different exercises, including (video) explanations and duration of the workout sessions. For certain endurance sports such as running and cycling, the app will also track the user's route and speed.
Based on the measured activity, the app will recommend new exercises. Besides workouts, there are also classes you can follow and challenges to take on.
But becoming healthier takes more than exercising alone. Therefore, the app also incorporated a food page, providing its users with diet advice, recipes, and calorie info.
The app also has its own shop selling sports clothes and attributes, food supplements, and other trendy merchandise. For those who share their personal results on social media platforms, such as WeChat, get discounts in the app's webshop.
Last but not least, the app also has a 'community space' where users can share their experiences and find support.
#2 Meet You 美柚月经期助手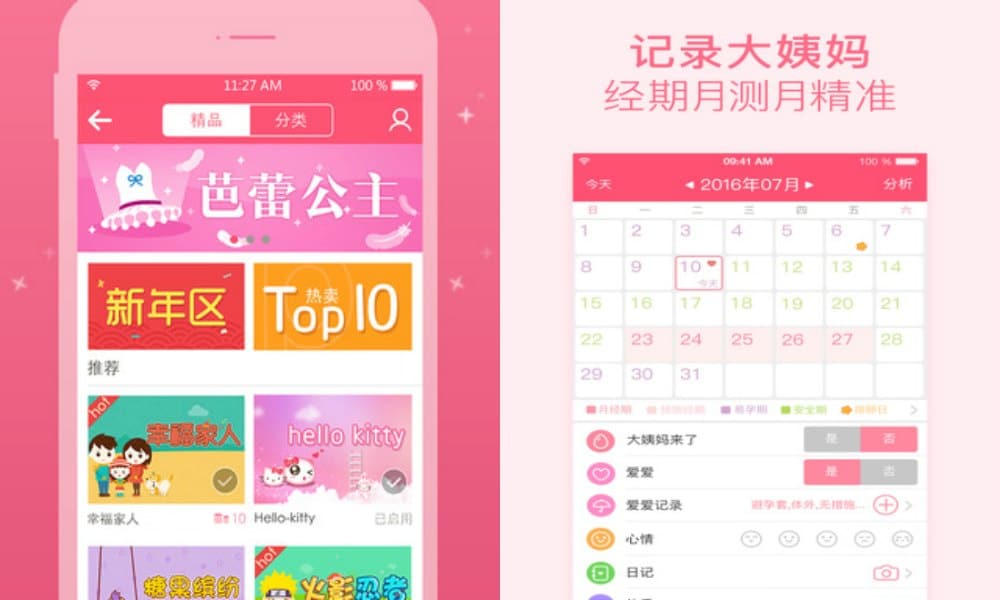 Meet You is the English name of this app, that is literally called 'Beautiful Pomelo Menstruation Tracker' (美柚月经期助手), with the pomelo being a fruit that symbolizes prosperity, good luck, and positivity. The app is a multifunctional period tracker for all women but is mainly focused on women who are trying to get pregnant, who are pregnant, or who already have children. Meet You promotes its app as a way to "make Chinese women even more beautiful and healthier."
The most important page of Meet You is the personal main page. On this page, users can keep a record of their menstruation cycle, their day-to-day mood, weight, possible illnesses, bowel movements, use of anticonception, eating habits, etc.
Based on all this data, the app will analyze their current state of health, and recommend certain news articles and other reads that match the user's preferences.
Additionally, users can also share their experiences and knowledge through the in-app 'communities.' The app has a number of communities focused on specific topics, such as Make-up Time, Love To Travel and Skin Care Beauty Salon.
Of course, there is also a shopping page, which, without doubt, is an important part of the app's revenue model.
Meet You was first launched in 2013 by the Meiyou Information Technology Company, based in Xiamen. Throughout the years, the company launched several other apps all focused on women. Currently, Meet You has over 200 million users, of which 7 million were daily active users according to their own website. And according to a report by Jiguang, Meet You was the second most favored app among female mobile users in 2018.
#3 Qin Baobao 亲宝宝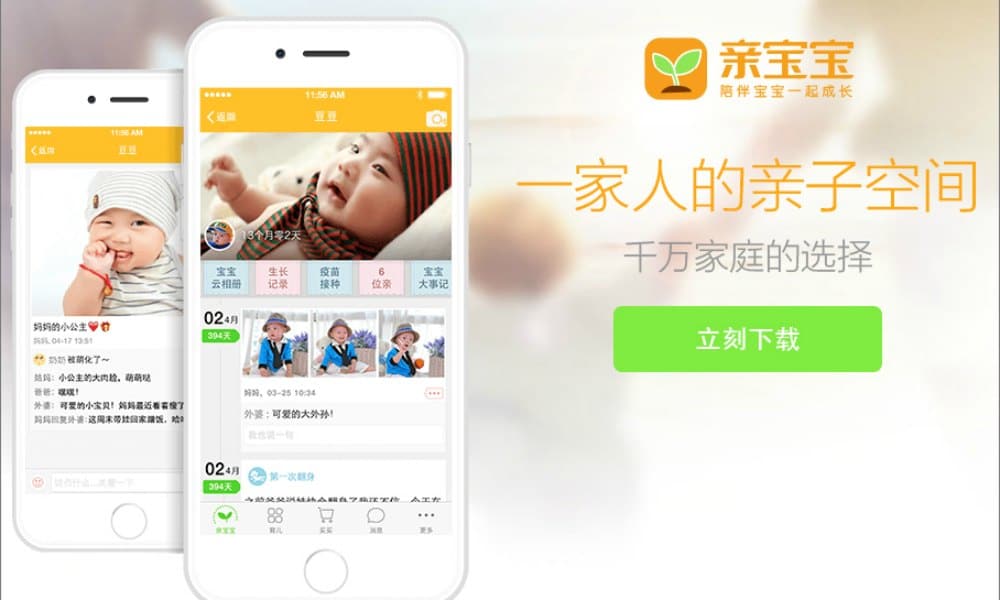 Qin Baobao is an app to provide childcare information for pregnant woman and families with children up to the age of six. The app was first launched in 2013 by Hangzhou Xingwang Technology. Five years later, in 2018, the app had succeeded in reaching more than 100 million registered users, according to the company's website.
In March 2019, the app was the third most popular app in the category Health and Fitness in the Chinese Apple Stores.
Qin Baobao is mainly focused on using technology to help families to better care for their young children. The app's functions can be divided roughly into two parts. One part is focused on the improvement of children's health and general well-being, and the other part is about recording the child's development and sharing joyful moments with friends and family.
To help parents in taking care of their young children, the app provides functions such as soothing music and a knowledge database of age-appropriate foods.
There are also recipes for baby food, tips on how to make your child eat well, advice on what to do when your child is sick, and a Q&A forum.
The other part is all about documenting the growth of the child. Through texts, pictures, and videos, the precious first years of a child's life can be safely stored and shared with friends and family.
What makes the app more attractive than other social media, according to the company's statement, is that the app respects its users' privacy and allegedly won't be using the uploaded data for other purposes.
#4 Ping An Good Doctor 平安好医生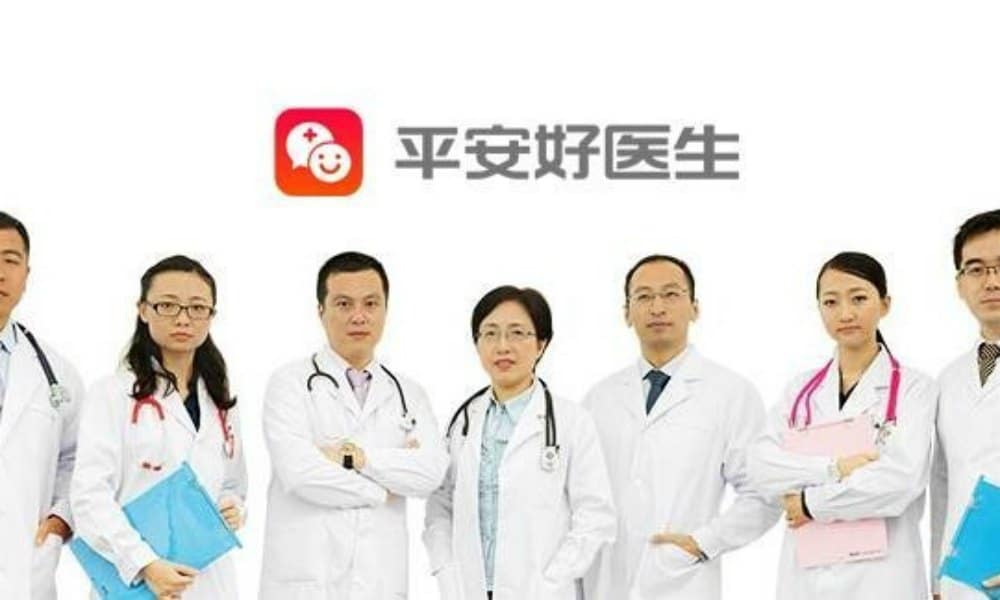 Ping An Good Doctor is a health care and medical consultation platform and part of the Ping An Healthcare and Technology Company.
Ping An Good Doctor was launched in 2015 and has become more popular since. In 2018, the number of registered users reached 265 million, of which nearly 54.7 million were monthly active users, according to their own website.
The app is a portal for medical consultation, something which is not easily available to everyone in China. The app provides four types of services: the family doctor, the consultation hall, medical bibliography of the doctors, and a 'health community.'
The so-called family doctor service provides a one-on-one, private, real-time (paid) consultation between a user and a doctor. Online 'patients' can also talk to doctors in the 'consultation hall,' but this service is not private nor one-on-one.
The app certainly cannot replace an actual doctor's appointment; not only does the virtual environment make it impossible to do a physical checkup, but the doctors also can not give any prescriptions to their 'patients.' The app does allow users to make an appointment with a doctor at an actual hospital through its appointment booking service.
Besides the medical consultation functions, the app also includes a catalog of China's top-notch doctors. Through the app, users can request (offline) consultation or other services from these doctors. The compiled list of doctors is also a way to get insight into the different specialisms of different hospitals and doctors throughout the country.
The last feature of the app is the health community. In this area, all users can read articles about how to keep healthy, how to treat diseases, etc.
To provide all of these services, Ping An Good Doctor allegedly employed 1196 medical personnel in its in-house medical team, signed contracts with an additional 5,203 renowned external doctors, and partnered with over 3000 hospitals and over 15.000 pharmacies by the end of 2018.
#5 Yodo Run 悦动圈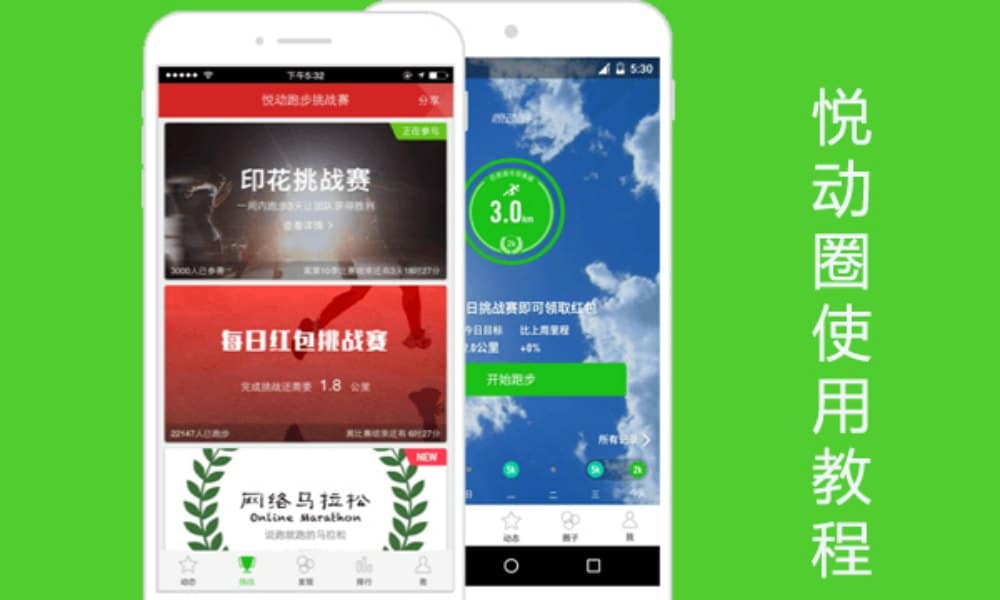 The final app in this list is Yodo Run by the Shenzhen-based Rejoice Sports Tech Company. Yodo Run is one of China's leading social health and fitness recording apps that strives to stimulate users to adopt a healthy lifestyle.
Through Yodo Run's advanced automatic step counting and GPS algorithm, the app can record various exercise patterns such as walking, running, fitness, and cycling. This way, users can keep track of their day-to-day movements. But that is not all that the app provides. The app also includes exercise schedules, video tutorials and a list of music.
To make sure people keep using the app, Yodo Run gives away tens of thousands of money packages every day. There are awards for reaching small goals, such as making 500 steps on your first day as an app user. But there are also awards that are more difficult to earn, such as long-term goals or when you partake in competitions or challenges.
But for those who are not using the app as a way to earn something extra, the app found another way to stimulates its users to exercise. And this is where Yodo Run differentiates itself with many other sports apps.
Yodo Run has a strong focus on bringing people together to exercise. To enable this, Yodo Run has the right tools to actively stimulate people to go out and meet others with a shared passion for exercising. According to their own website, the app has enabled people to unite in more than 500,000 "sports groups", of which 10,000 are actual real-time running groups, spread over more than 300 cities worldwide.
The app is available in both Chinese and English.
Also see:
By Gabi Verberg, edited by Manya Koetse
Spotted a mistake or want to add something? Please let us know in comments below or email us.
©2019 Whatsonweibo. All rights reserved. Do not reproduce our content without permission – you can contact us at info@whatsonweibo.com
WeChat's New Emoji Are Here (Including a Watermelon-Eating and Doge One)
WeChat's new emoji are based on popular memes.
On January 14, Tencent's Wechat introduced new emoji to its existing emoji set. The new emoji include, among others, a watermelon-eating emoji and a smiling Shiba Inu.
On Weibo, the new emoji have become a topic of discussion under the hashtags "WeChat's New Emoji" (#微信上线新表情#), "WeChat's Watermelon Eating Emoji" (#微信上线吃瓜表情#), and "WeChat's Dog Emoji" (#微信上线狗头表情#).
Different from the Unicode emoji (see Emojipedia), WeChat and Weibo have their own sets of emoji, although there is overlap.
The reason why especially the watermelon-eating and dog emoji are being discussed on social media, is because these emoji are based on popular internet memes.
"Eating watermelon" (吃瓜 chī guā) is an online expression that comes from "watermelon-eating masses" (吃瓜群众 chī guā qúnzhòng), which describes a common mentality of Internet users who have no idea what is actually going on but are still commenting or following online stories for their enjoyment – perhaps comparable to the "popcorn memes" that are ubiquitous on Western social media platforms.
The smiling dog has been around since 2013 and is known as the doge meme, based on a photo of a Shiba inu. The meme was originally spread on social media platforms such as Reddit, but then also became hugely popular in China, where it became a symbol of sarcasm (also read this Abacus article on this topic).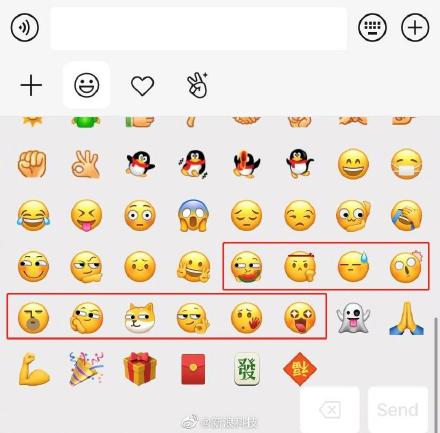 Other new emoji are the "wow" emoji, and others to express "ok," "add oil," "emm," "oh!"
There's also a "shehui shehui" (社会社会, lit. "society society") emoji, which also comes from online culture and is a way among friends to (self-mockingly) talk about being 'gangsters,' 'brothers.' or 'scoundrels.'
As the new emoji are still in their testing phase, not all WeChat users can use the new emoji yet, so you might have to wait a bit before being able to try them out.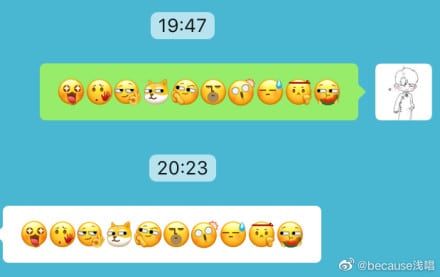 By Manya Koetse, with thanks to @caaatchina
Follow @whatsonweibo
Spotted a mistake or want to add something? Please let us know in comments below or email us. First-time commenters, please be patient – we will have to manually approve your comment before it appears.
©2020 Whatsonweibo. All rights reserved. Do not reproduce our content without permission – you can contact us at info@whatsonweibo.com.
'Good Doctor', Digital Hospitals: How Mobile Apps Are Alleviating China's Healthcare Problems
With the rapid digitalization of China's healthcare, Chinese patients now have more ways than one to receive medical assistance.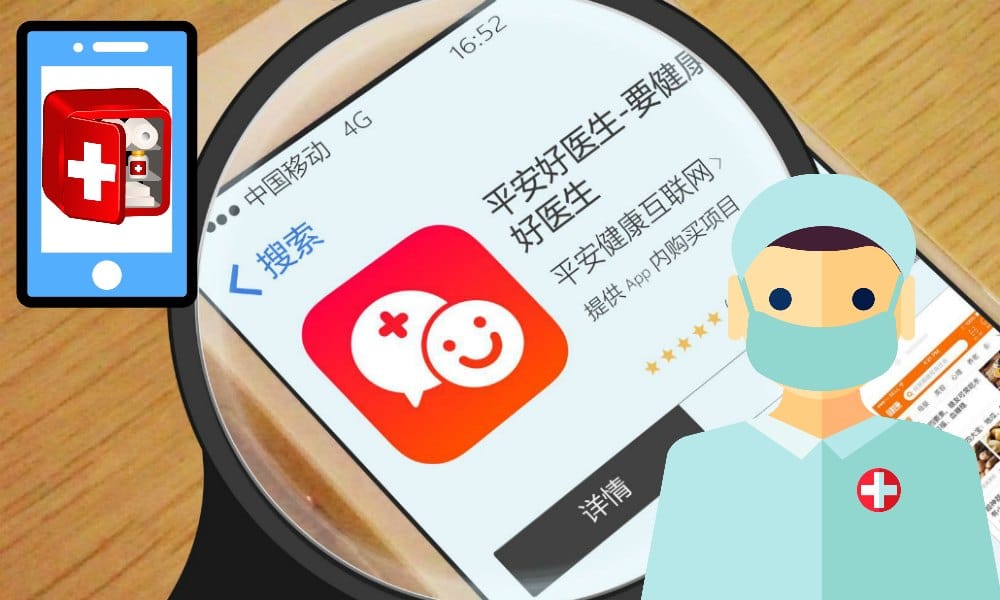 China's healthcare industry is facing some serious challenges. As Chinese society is rapidly digitalizing, mobile apps now provide innovative solutions to alleviate pressing problems in the country's health services sector.

This is the "WE…WEI…WHAT?" column by Manya Koetse, originally published in German by Goethe Institut China on Goethe.de: "Good-Doctor Apps und Digitale Krankenhäuser." 

Social Credit System, artificial intelligence, surveillance cameras; these are some of the hottest topics making headlines in mainstream Western media when discussing China-related developments recently.
With the rapid digitalization of Chinese society, these topics certainly have come to play a more important role in social media discussions within the People's Republic of China (PRC). But if there is one issue that seems to concern Chinese social media users the most, it is not facial recognition nor their 'Sesame score': it is the topic of healthcare.
In December of 2017, a photo showing a crying mother kneeling down beside a toddler on the sidewalk in front of a Shanghai hospital went viral overnight. The moment was captured on camera by a reporter who was visiting Shanghai's Children's Hospital.
The mother, Guo Yinzhen, is a single parent who had traveled from a remote village to seek medical help for her 3-old-son, who was suffering from congenital hydrocephalus or 'water on the brain.' Already having traveled to the city multiple times and spending all her money on medical bills, Guo could not afford the additional 100.000 yuan (€ 12.600) for medical procedures needed to save her son's life.
Guo's story struck a chord with Chinese netizens, who continue to share the heartbreaking photo on social media to this day. It has become emblematic of China's healthcare problems.
Crowded Hospitals and 'Healthcare Disturbance'
The key to an adequate healthcare system, no matter where in the world, is that there is a right balancing in the "iron triangle" of efficiency/cost containment, high quality care, and patient access.[1] China, however, struggles with all three sides of this triangle.
Guo's case is an extreme example, but many people in China dealing with less serious health issues and needing basic medical services also struggle to afford and access the healthcare they need.
Over 95% of people in China have health insurance, but people from different regions do not enjoy the same benefits and their out-of-pocket expenses can vary greatly. Uncovered medical costs can sometimes be catastrophic and simply unaffordable for patients and their families.
As more money flows are going to healthcare facilities in China's cities, there is also the issue of varying levels of providers' medical education and the overall healthcare quality, with the substantial majority of modern hospitals still existing in urban areas.
Easy access to the right kind of healthcare can be especially problematic for China's rural population, as people often need to travel long distances and have to go through the lengthy process of registering and waiting for their doctor's appointment, which sometimes requires them to stay in the city overnight.
For all of these reasons, China's bigger public hospitals can get super crowded, sometimes resembling shopping malls on an end-of-season sales day. On social media, both patients and medical workers often complain about the stress brought about by the huge crowds and the shortage of doctors in hospitals across the country.
Perhaps it is no wonder that China even has a word to describe outbursts of violence between patients and doctors: 'Yī nào' (医闹, literally: "healthcare disturbance").
One major problem within China's healthcare conundrum is the lack of local family or primary-care doctors, which often makes bigger hospitals the first stop to any kind of medical treatment for Chinese patients.
The reasons for this issue are manifold. There is a general lack of trust in private and smaller local healthcare clinics, for example, and patients often choose to go directly to a bigger hospital to avoid making extra costs.
This makes it extra difficult for many community health care centers – that are already struggling – to make enough money and to retain qualified staff. In a society that is rapidly aging, the challenges facing China's healthcare industry are only becoming more pressing.
A Doctor Today, Just an App Away
As China's online environment is thriving, new innovative online apps are popping up on a daily basis. Some of these apps, that have found their ways into China's most popular app rankings, are offering solutions to some of the country's most pressing healthcare problems.
One of these apps is Ping'an Good Doctor (平安好医生), which was developed by health insurance provider Ping'an in 2015 and calls itself China's "one-stop healthcare ecosystem."
Employing some 1000 medical staff in its in-house team, contracting over 5,200 external doctors, and collaborating with 3000 hospitals and thousands of pharmacy outlets across the country, the app is somewhat of an "online hospital."
Through the app, users can look through an online database of medical professionals, order medicine at nearby pharmacies, get 24/7 online medical consultancy, search for information about both Western and Chinese Traditional Medicine, etc., but they can also use Ping'an Good Doctor as a fitness app to track their own health.
When looking for a specific doctor for a one-on-one consult, the app first lets users select an area of expertise (e.g. dermatology or gynecology), and then offers a list of different specialists in various price categories.
Doctors from well-known hospitals, for example, or those with excellent ratings, have a one-time consultation fee of 100 yuan (€ 12,60). Other doctors can be consulted starting from 30 yuan (€3,70). All costs can be paid efficiently via online payment apps.
Ping'an Good Doctor uses an AI-driven system to ask patients various questions about their symptoms and to automatically create a user's medical record to save time. Based on the AI-generated record and the conversation with the patients – files such as photos can also be uploaded to the app -, the doctors can prescribe medicine or refer the patient to a hospital for an offline appointment if needed.
Ping'an recently announced that its number of registered users exceeded 300 million users, with 62 million monthly active users. Because the app keeps building on its AI-driven system, Ping'an Good Doctor can be expected to only become a 'smarter' smart health app the more popular it gets.
Although Ping'an is now leading within China's medical app category, there are many other apps providing similar services, such as Chunyu Yisheng (春雨医生), Haodafu Online (好大夫在线), or DingXiang Doctor (丁香医生).
The emergence of these apps is just one of the many ways in which China's digital developments, online media, and tech giants are impacting the healthcare industry, profoundly changing how patients receive healthcare information and access medical services now and in the future.
In a way, China's medical consultation apps fill the void in offline primary care. Patients who would otherwise turn to hospital care as their first stop can now  access medical consultations any time, any day, at a relatively low cost. Those who suffer from relatively harmless conditions could be diagnosed by a medical specialist via the app and get the medicine they need within a matter of minutes. With the growing popularity of these kinds of apps, many patients no longer need to visit a hospital at all.
Are smart health apps such as Ping'an Good Doctor the solution to China's healthcare problems? No, they're not. Struggling mums like Guo Yinzhen will not find the help they need there. But they do contribute to a more efficient healthcare environment where crowd flows in hospitals can be reduced, and patients do not need to spend a lot of time and money to stand in hour-long queues to get five minutes of their doctor's time.
Although smart health apps could not help Guo Yinzhen and her son, social media apps could. As soon as their story went viral in late 2017, Shanghai Children's Welfare Foundation Xiaoxingxin offered to cover medical treatments for the little boy, with a notable pediatric neurosurgeon operating the child. According to the latest updates, the boy's situation was "looking good."
Hopefully, the same holds true for the challenging sides of China's healthcare industry.
By Manya Koetse
Follow @whatsonweibo
[1] Burns & Liu, 2017: 3-4.
References/Linked Sources
Burns, Lawton Robert, and Gordon G. Liu. 2017. "Introduction." In China's Healthcare Industry: A System Perspective, Lawton Robert Burns and Gordon G. Liu (eds), pp-1-116. Cambridge: Cambridge University Press.
Economist, 2017. "China needs many more primary-care doctors." The Economist, May 11 https://www.economist.com/china/2017/05/11/china-needs-many-more-primary-care-doctors [20.10.19].
Zhou, Viola. 2018. "Does China Have Universal Healthcare? A Long (And Better) Answer." Inkstone, Oct 10 https://www.inkstonenews.com/health/china-translated-does-china-have-universal-health-care/article/2167579
This text was first published by Goethe-Institut China under a CC-BY-NC-ND-4.0-DE license (Creative Commons) as part of a monthly column in collaboration with What's On Weibo.