Online Doctors and Counting Steps: Top 5 Chinese Health & Fitness Apps
These are the popular health & fitness apps used by Chinese netizens.
As China's fitness market is seeing rapid growth, these are some of the health & fitness apps that are popular among Chinese mobile users.
Ttracking psychical activities and sharing them with friends on social media is something that has become more popular in China, with other types of apps in the health and fitness categories also gaining in popularity.
In a series of five articles, What's on Weibo is providing some insights into what apps are currently popular in mainland China. After the categories news apps, mobile gaming, and short video & livestreaming, we will now highlight some of the more popular apps in the category of health and fitness.
We made our selection based on the data from the Android app stores Tencent, Baidu, Huawei, and Zhushou360. We tried our best to give you a representative overview of a variety of apps that are currently most used in China, but want to remind you that these lists are by no official "top 5" charts.
Here we go!
#1 Keep 自由运动场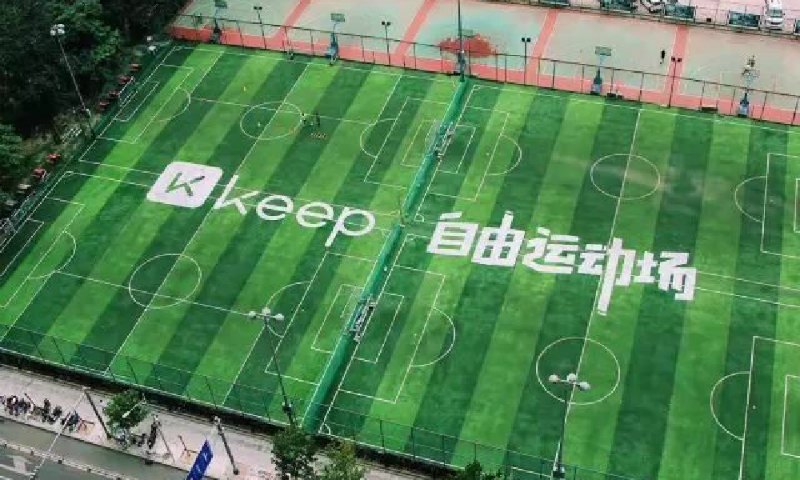 Keep (literally: Free Sportsground 自由运动场) is currently the most popular health and fitness app in the Chinese Apple store. Keep first appeared in 2015, and has since grown to become the country's biggest online sports community. Following their success, Keep has also expanded its businesses outside of the online world and now have their own KeepLand Gyms.
Keep is a very all-round app. When first using the app, users have to answer a number of questions concerning their health, age, motivation to exercise, level of experience, and preferred sports. Once the user has answered all the required questions, the app is ready for use.
The app's main page is called 'workout' and is divided into different workout categories. Per category, the user can find many different exercises, including (video) explanations and duration of the workout sessions. For certain endurance sports such as running and cycling, the app will also track the user's route and speed.
Based on the measured activity, the app will recommend new exercises. Besides workouts, there are also classes you can follow and challenges to take on.
But becoming healthier takes more than exercising alone. Therefore, the app also incorporated a food page, providing its users with diet advice, recipes, and calorie info.
The app also has its own shop selling sports clothes and attributes, food supplements, and other trendy merchandise. For those who share their personal results on social media platforms, such as WeChat, get discounts in the app's webshop.
Last but not least, the app also has a 'community space' where users can share their experiences and find support.
#2 Meet You 美柚月经期助手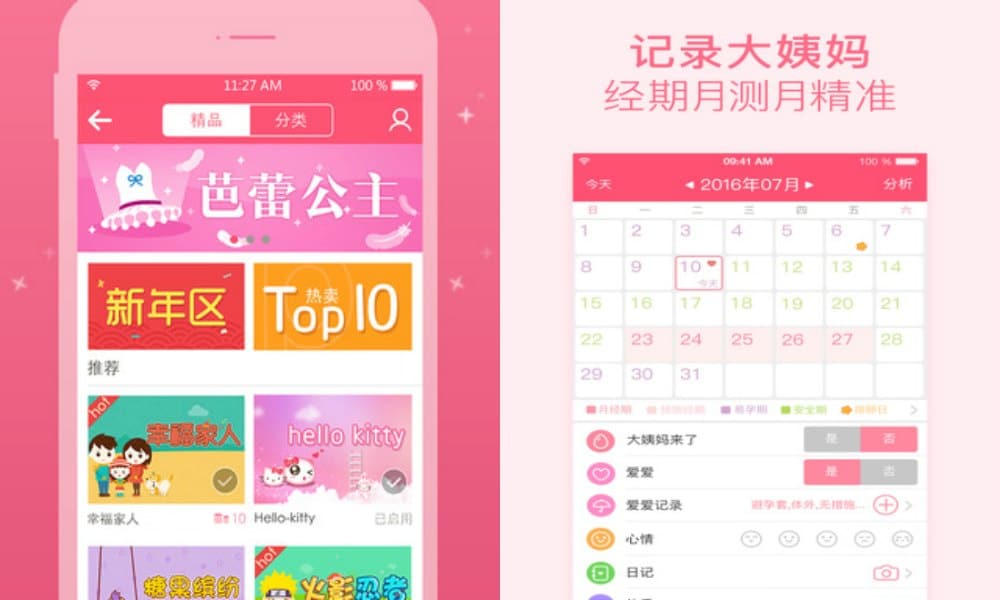 Meet You is the English name of this app, that is literally called 'Beautiful Pomelo Menstruation Tracker' (美柚月经期助手), with the pomelo being a fruit that symbolizes prosperity, good luck, and positivity. The app is a multifunctional period tracker for all women but is mainly focused on women who are trying to get pregnant, who are pregnant, or who already have children. Meet You promotes its app as a way to "make Chinese women even more beautiful and healthier."
The most important page of Meet You is the personal main page. On this page, users can keep a record of their menstruation cycle, their day-to-day mood, weight, possible illnesses, bowel movements, use of anticonception, eating habits, etc.
Based on all this data, the app will analyze their current state of health, and recommend certain news articles and other reads that match the user's preferences.
Additionally, users can also share their experiences and knowledge through the in-app 'communities.' The app has a number of communities focused on specific topics, such as Make-up Time, Love To Travel and Skin Care Beauty Salon.
Of course, there is also a shopping page, which, without doubt, is an important part of the app's revenue model.
Meet You was first launched in 2013 by the Meiyou Information Technology Company, based in Xiamen. Throughout the years, the company launched several other apps all focused on women. Currently, Meet You has over 200 million users, of which 7 million were daily active users according to their own website. And according to a report by Jiguang, Meet You was the second most favored app among female mobile users in 2018.
#3 Qin Baobao 亲宝宝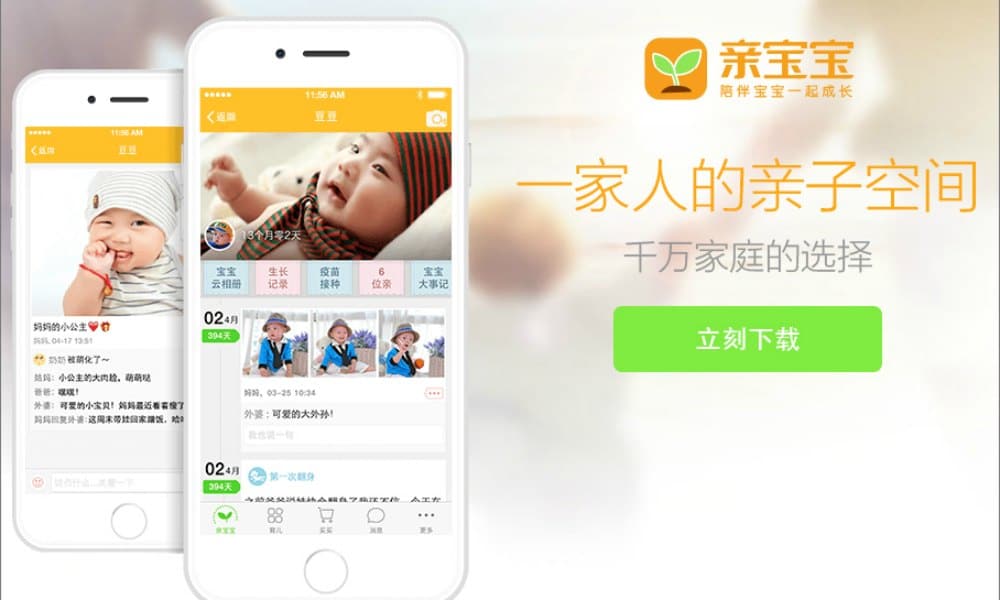 Qin Baobao is an app to provide childcare information for pregnant woman and families with children up to the age of six. The app was first launched in 2013 by Hangzhou Xingwang Technology. Five years later, in 2018, the app had succeeded in reaching more than 100 million registered users, according to the company's website.
In March 2019, the app was the third most popular app in the category Health and Fitness in the Chinese Apple Stores.
Qin Baobao is mainly focused on using technology to help families to better care for their young children. The app's functions can be divided roughly into two parts. One part is focused on the improvement of children's health and general well-being, and the other part is about recording the child's development and sharing joyful moments with friends and family.
To help parents in taking care of their young children, the app provides functions such as soothing music and a knowledge database of age-appropriate foods.
There are also recipes for baby food, tips on how to make your child eat well, advice on what to do when your child is sick, and a Q&A forum.
The other part is all about documenting the growth of the child. Through texts, pictures, and videos, the precious first years of a child's life can be safely stored and shared with friends and family.
What makes the app more attractive than other social media, according to the company's statement, is that the app respects its users' privacy and allegedly won't be using the uploaded data for other purposes.
#4 Ping An Good Doctor 平安好医生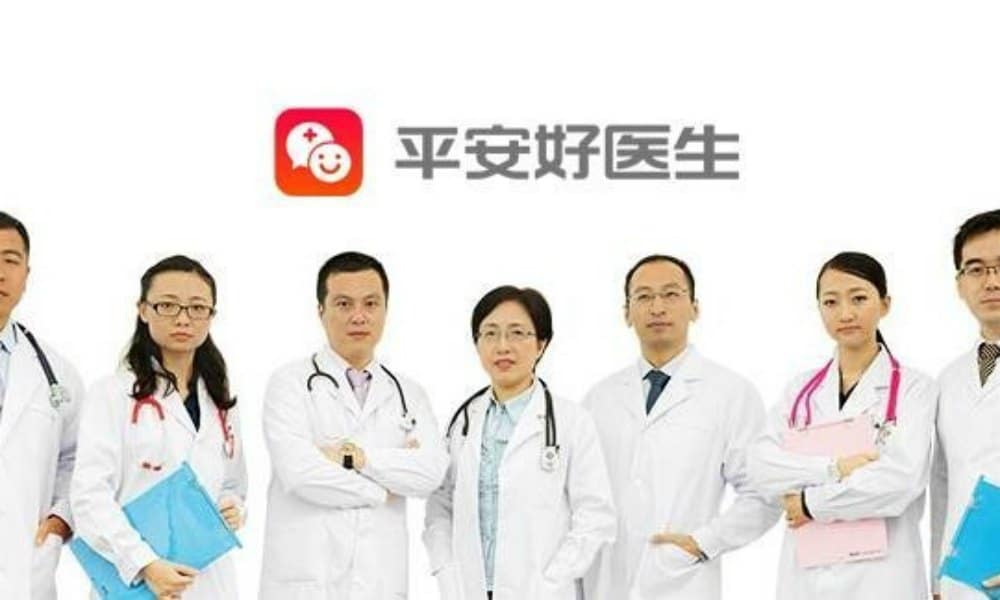 Ping An Good Doctor is a health care and medical consultation platform and part of the Ping An Healthcare and Technology Company.
Ping An Good Doctor was launched in 2015 and has become more popular since. In 2018, the number of registered users reached 265 million, of which nearly 54.7 million were monthly active users, according to their own website.
The app is a portal for medical consultation, something which is not easily available to everyone in China. The app provides four types of services: the family doctor, the consultation hall, medical bibliography of the doctors, and a 'health community.'
The so-called family doctor service provides a one-on-one, private, real-time (paid) consultation between a user and a doctor. Online 'patients' can also talk to doctors in the 'consultation hall,' but this service is not private nor one-on-one.
The app certainly cannot replace an actual doctor's appointment; not only does the virtual environment make it impossible to do a physical checkup, but the doctors also can not give any prescriptions to their 'patients.' The app does allow users to make an appointment with a doctor at an actual hospital through its appointment booking service.
Besides the medical consultation functions, the app also includes a catalog of China's top-notch doctors. Through the app, users can request (offline) consultation or other services from these doctors. The compiled list of doctors is also a way to get insight into the different specialisms of different hospitals and doctors throughout the country.
The last feature of the app is the health community. In this area, all users can read articles about how to keep healthy, how to treat diseases, etc.
To provide all of these services, Ping An Good Doctor allegedly employed 1196 medical personnel in its in-house medical team, signed contracts with an additional 5,203 renowned external doctors, and partnered with over 3000 hospitals and over 15.000 pharmacies by the end of 2018.
#5 Yodo Run 悦动圈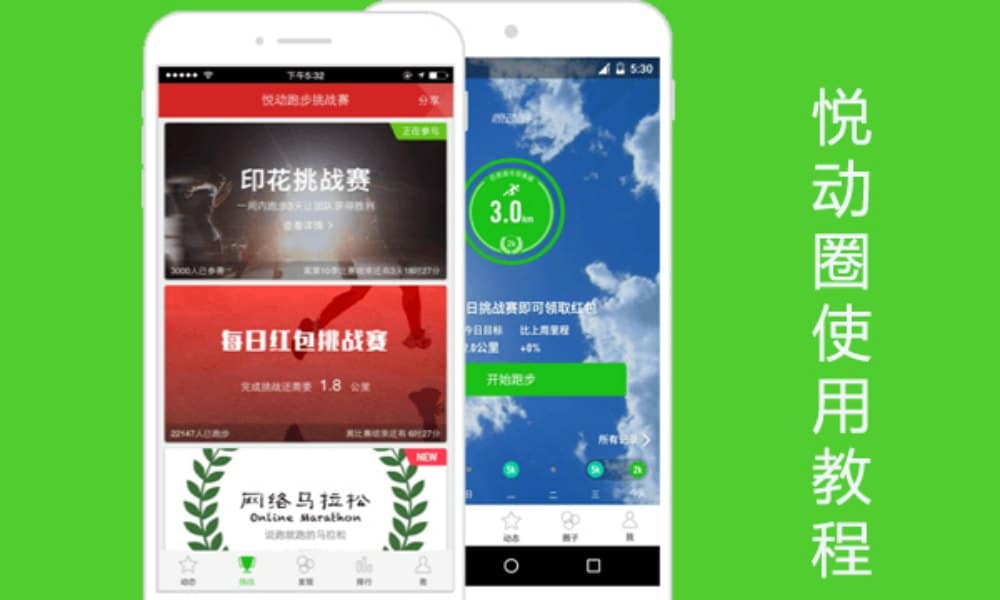 The final app in this list is Yodo Run by the Shenzhen-based Rejoice Sports Tech Company. Yodo Run is one of China's leading social health and fitness recording apps that strives to stimulate users to adopt a healthy lifestyle.
Through Yodo Run's advanced automatic step counting and GPS algorithm, the app can record various exercise patterns such as walking, running, fitness, and cycling. This way, users can keep track of their day-to-day movements. But that is not all that the app provides. The app also includes exercise schedules, video tutorials and a list of music.
To make sure people keep using the app, Yodo Run gives away tens of thousands of money packages every day. There are awards for reaching small goals, such as making 500 steps on your first day as an app user. But there are also awards that are more difficult to earn, such as long-term goals or when you partake in competitions or challenges.
But for those who are not using the app as a way to earn something extra, the app found another way to stimulates its users to exercise. And this is where Yodo Run differentiates itself with many other sports apps.
Yodo Run has a strong focus on bringing people together to exercise. To enable this, Yodo Run has the right tools to actively stimulate people to go out and meet others with a shared passion for exercising. According to their own website, the app has enabled people to unite in more than 500,000 "sports groups", of which 10,000 are actual real-time running groups, spread over more than 300 cities worldwide.
The app is available in both Chinese and English.
Also see:
By Gabi Verberg, edited by Manya Koetse
Spotted a mistake or want to add something? Please let us know in comments below or email us.
©2019 Whatsonweibo. All rights reserved. Do not reproduce our content without permission – you can contact us at info@whatsonweibo.com
Will Weibo Become 30% State-Media Owned?
Alibaba is allegedly ready to give up its Weibo shares to SMG.
Bloomberg recently reported that Chinese e-commerce giant Alibaba is preparing to sell its 30% stake in social media platform Weibo. According to people familiar with the matter, Alibaba is negotiating with the state-owned Shanghai Media Group (SMG).
News about Alibaba planning to sell all of its Weibo shares has triggered some online discussions on the Chinese social media platform. Bloomberg was the first to report that the Chinese e-commerce and IT enterprise is talking to the state-owned Shanghai Media Group (SMG) to sell all of its 30% stake in Weibo.
According to Bloomberg, the move relates to regulators wanting to curb the influence of Chinese tech giants in the media sphere. The Bloomberg article claims that SMG, as one of China's largest state-owned media and cultural conglomerates, stands a higher chance of gaining the approval of Chinese authorities than a private acquirer.
SMG is a large state-owned enterprise with over a dozen TV and radio stations, many newspapers and magazines, various drama & film production and distribution businesses, and more. The company has a major media influence, not only in Shanghai but throughout the country.
According to Weibo's 2020 annual reports, New Wave held a 45% stake in Weibo, followed by Alibaba with its 30%. New Wave is the holding company by Weibo chairman Charles Chao.
"Weibo will change into another channel for SMG," some Weibo users predict, with others also sharing their fear that Weibo would become more and more like a platform for official media ("微博现在越来越官方化").
"This would be a big milestone in the crumbling of Alibaba's media empire," another commenter wrote. Some wonder if the developments have more to do with Weibo as a platform, or with Alibaba and its media influence.
In March of 2021, the Wall Street Journal already reported that the Chinese government asked the Alibaba Group to dispose of its media assets due to concerns over the company's influence in the sensitive media sphere.
"When Alibaba exits and state-owned capital enters, Weibo is expected to magnificently transform into a 'state-owned enterprise'," another Weibo user wrote.
Although some commenters worry that Weibo will change for the worse and that there will be more censorship, others see a sunnier future for the social media platform: "It would be good for Weibo to be 'state-owned' so that it won't be controlled by capital to influence public opinion anymore."
Chinese tech site 36kr also reported about the issue on January 1st, but neither Weibo nor Alibaba or SGM have officially responded yet.
By Manya Koetse
With contributions by Miranda Barnes.
Spotted a mistake or want to add something? Please let us know in comments below or email us. First-time commenters, please be patient – we will have to manually approve your comment before it appears.
©2021 Whatsonweibo. All rights reserved. Do not reproduce our content without permission – you can contact us at info@whatsonweibo.com.
China's Livestreaming Queen Viya Goes Viral for Fraud and Fines, Ordered to Pay $210 Million
Viya, the Queen of Taobao, is under fire for tax evasion.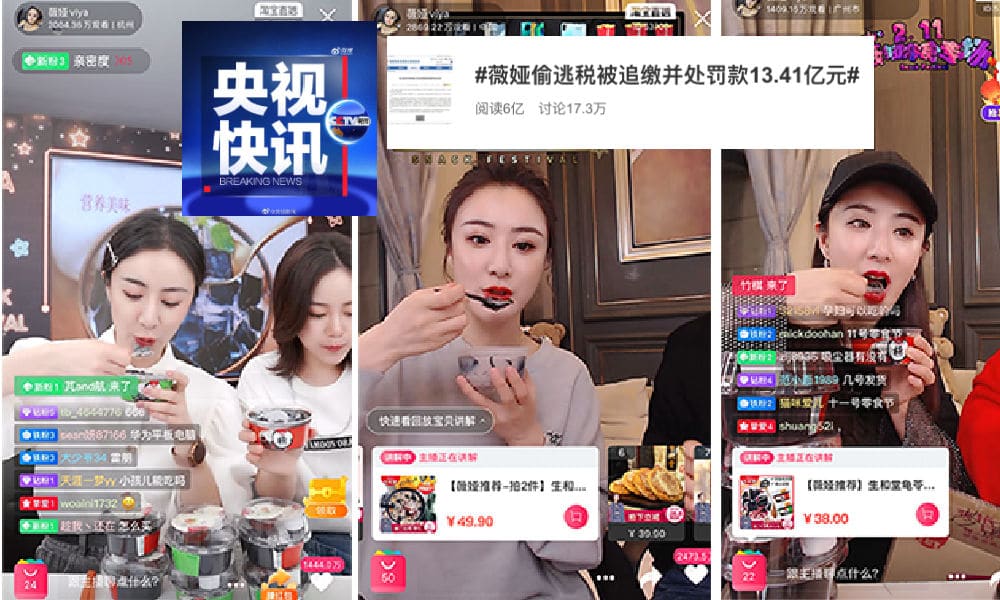 Viya, one of China's most well-known and successful live streamers, is trending today for allegedly committing tax fraud by deliberately providing false information and concealing personal income.
The 'Taobao queen' Viya (薇娅, real name Huang Wei 黄薇) reportedly committed tax fraud from 2019 to 2020, during which she evaded some 643 million yuan ($100 million) in taxes and also failed to pay an additional 60 million yuan ($9.4 million) in taxes.
The Hangzhou Tax Administration Office reportedly ordered Viya to pay an amount of over 1.3 billion yuan ($210 million) in taxes, late payment fees, and other fines. On Monday, a hashtag related to the issue had garnered over 600 million views on Weibo (#薇娅偷逃税被追缴并处罚款13.41亿元#).
Viya made headlines in English-language media earlier this year when she participated in a promotional event for Single's Day on October 20th and managed to sell 20 billion yuan ($3.1 billion) in merchandise in just one live streaming session together with e-commerce superstar Lipstick King.
China has a booming livestreaming e-commerce market, and Viya is one of the top influencers to have joined the thriving online sales industry years ago. When the e-commerce platform Taobao started their Taobao Live initiative (mixing online sales with livestreams), Viya became one of their top sellers as millions of viewers starting joining her channel every single day (she livestreams daily at 7.30 pm).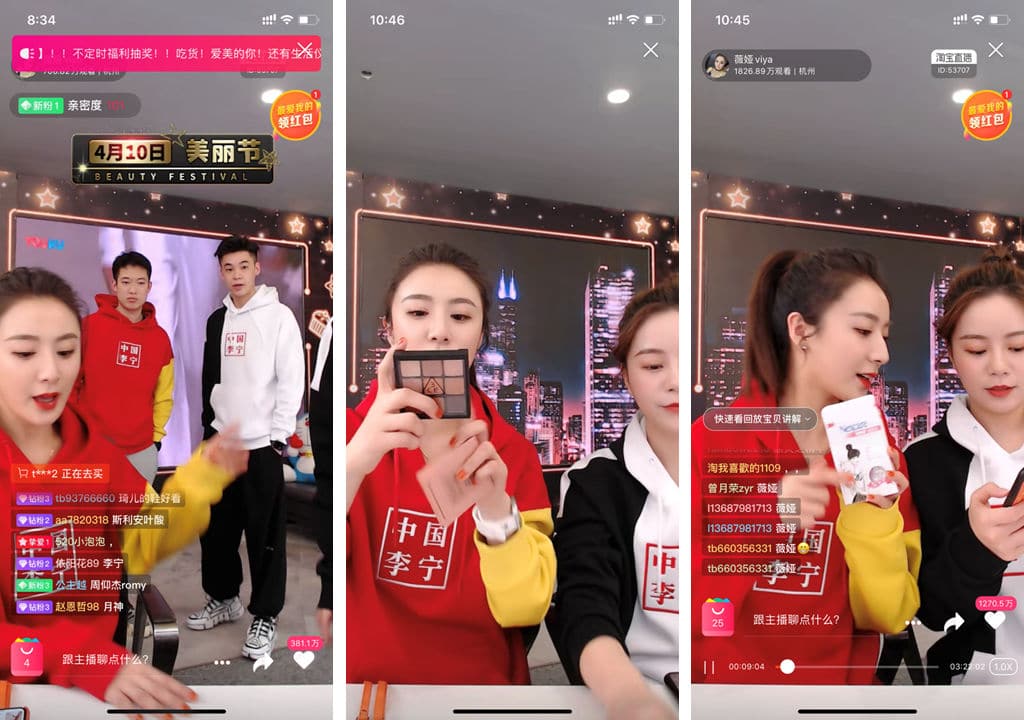 With news about Viya's tax fraud practices and enormous fines going viral on Chinese social media, many are attacking the top influencer, as her tax fraud case seems to be even bigger than that of Chinese actress Fan Bingbing (范冰冰).
Chinese actress Fan Bingbing went "missing" for months back in 2018 when she was at the center of a tax evasion scandal. The actress was ordered to pay taxes and fines worth hundreds of millions of yuan over tax evasion. The famous actress eventually paid approximately $128,5 million in taxes and fines, less than Viya was ordered to pay this month.
Like Fan Bingbing, Viya will also not be held criminally liable if the total amount is paid in time. This was the first time for the e-commerce star to be "administratively punished" for tax evasion.
Around 5pm on Monday, Viya posted a public apology on her Weibo account, saying she takes on full responsibility for the errors she made: "I was wrong, and I will bear all the consequences for my mistakes. I'm so sorry!"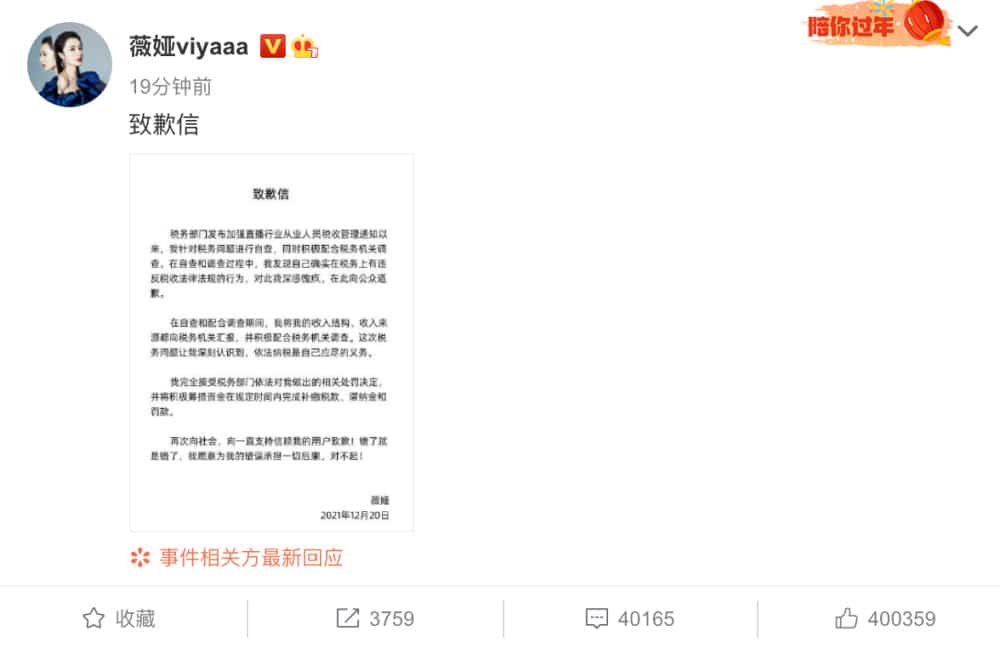 It is not clear if she will still do her daily live stream later today and how this news will impact Viya's future career.
Update: Vaya's live stream was canceled.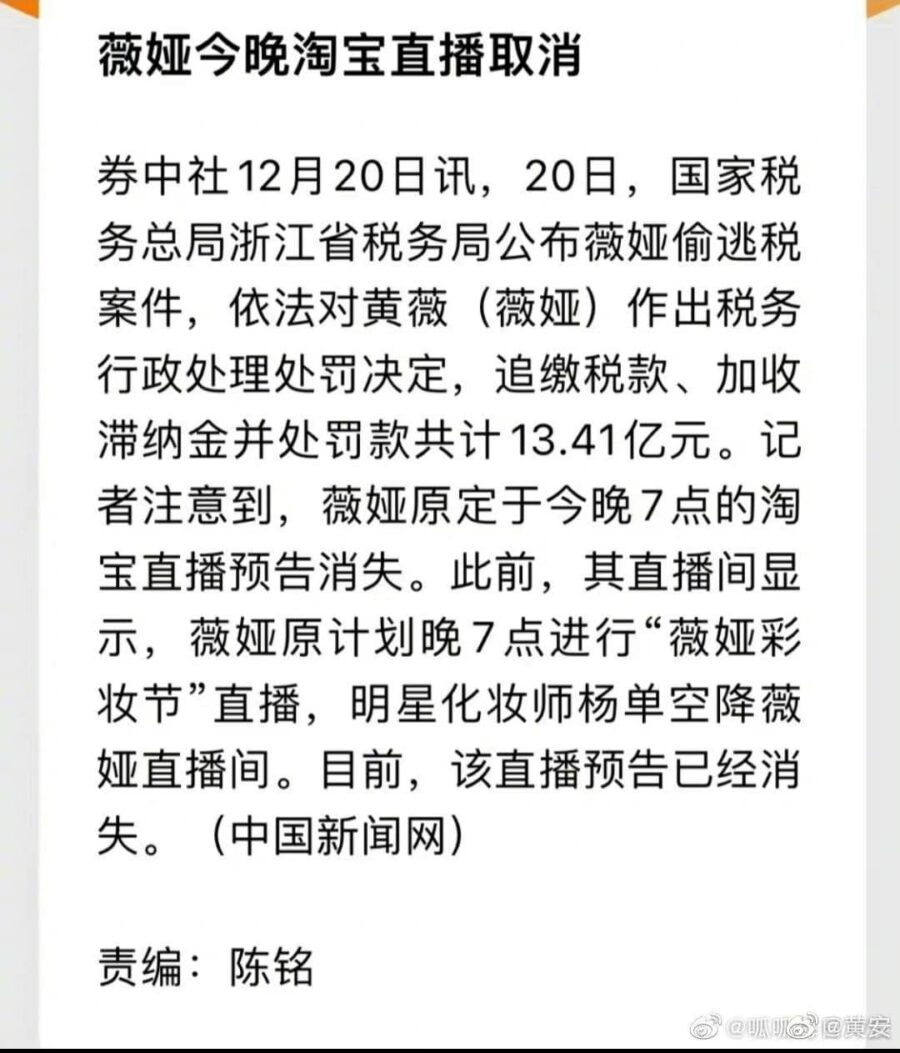 Update 2: Vaya's husband also issued an apology on Weibo.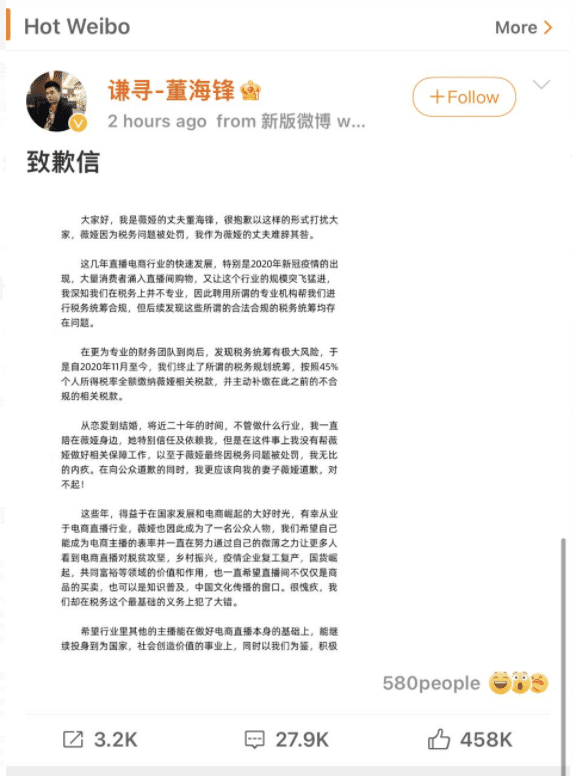 Update 3: Taobao has suspended or 'frozen' ("冻结") Vaya's livestreaming channel. Her Taobao store is still online.
By Manya Koetse
With contributions by Miranda Barnes.
Spotted a mistake or want to add something? Please let us know in comments below or email us. First-time commenters, please be patient – we will have to manually approve your comment before it appears.
©2021 Whatsonweibo. All rights reserved. Do not reproduce our content without permission – you can contact us at info@whatsonweibo.com.