Online Doctors and Counting Steps: Top 5 Chinese Health & Fitness Apps
These are the popular health & fitness apps used by Chinese netizens.
As China's fitness market is seeing rapid growth, these are some of the health & fitness apps that are popular among Chinese mobile users.
Ttracking psychical activities and sharing them with friends on social media is something that has become more popular in China, with other types of apps in the health and fitness categories also gaining in popularity.
In a series of five articles, What's on Weibo is providing some insights into what apps are currently popular in mainland China. After the categories news apps, mobile gaming, and short video & livestreaming, we will now highlight some of the more popular apps in the category of health and fitness.
We made our selection based on the data from the Android app stores Tencent, Baidu, Huawei, and Zhushou360. We tried our best to give you a representative overview of a variety of apps that are currently most used in China, but want to remind you that these lists are by no official "top 5" charts.
Here we go!
#1 Keep 自由运动场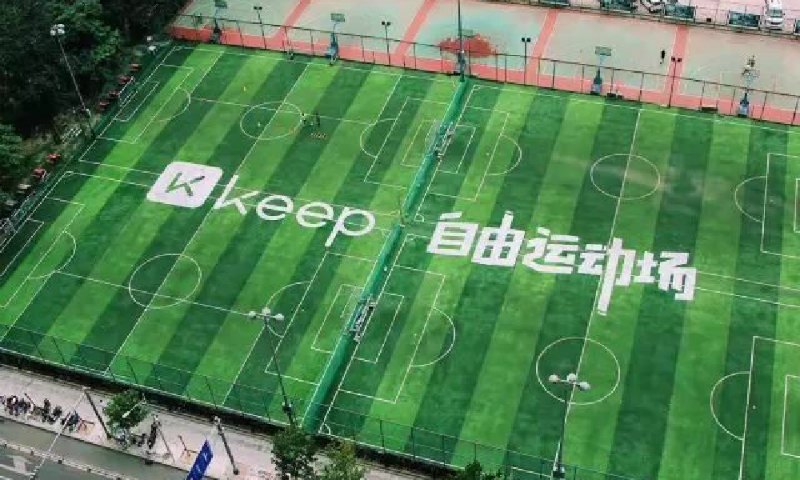 Keep (literally: Free Sportsground 自由运动场) is currently the most popular health and fitness app in the Chinese Apple store. Keep first appeared in 2015, and has since grown to become the country's biggest online sports community. Following their success, Keep has also expanded its businesses outside of the online world and now have their own KeepLand Gyms.
Keep is a very all-round app. When first using the app, users have to answer a number of questions concerning their health, age, motivation to exercise, level of experience, and preferred sports. Once the user has answered all the required questions, the app is ready for use.
The app's main page is called 'workout' and is divided into different workout categories. Per category, the user can find many different exercises, including (video) explanations and duration of the workout sessions. For certain endurance sports such as running and cycling, the app will also track the user's route and speed.
Based on the measured activity, the app will recommend new exercises. Besides workouts, there are also classes you can follow and challenges to take on.
But becoming healthier takes more than exercising alone. Therefore, the app also incorporated a food page, providing its users with diet advice, recipes, and calorie info.
The app also has its own shop selling sports clothes and attributes, food supplements, and other trendy merchandise. For those who share their personal results on social media platforms, such as WeChat, get discounts in the app's webshop.
Last but not least, the app also has a 'community space' where users can share their experiences and find support.
#2 Meet You 美柚月经期助手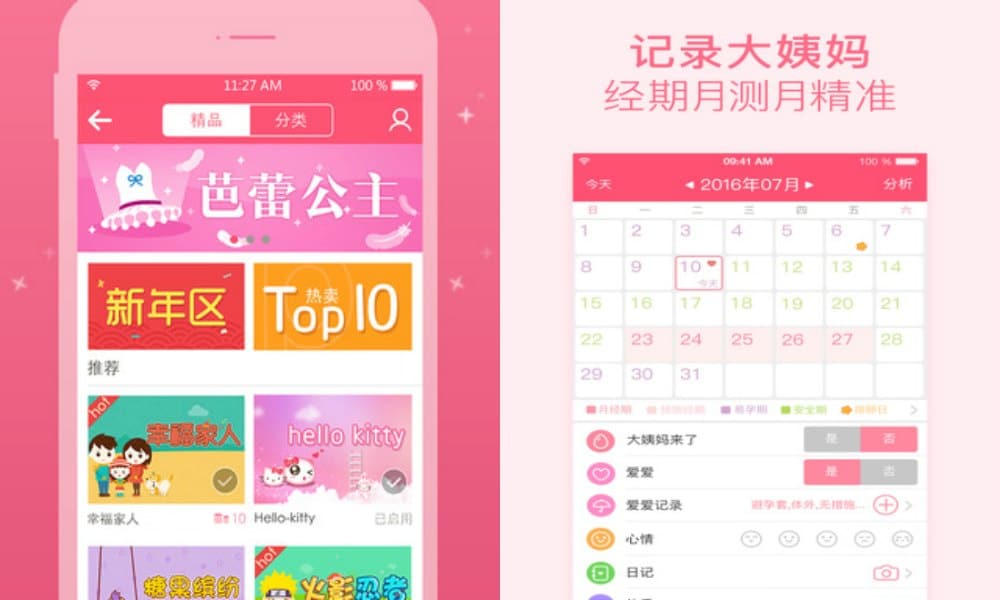 Meet You is the English name of this app, that is literally called 'Beautiful Pomelo Menstruation Tracker' (美柚月经期助手), with the pomelo being a fruit that symbolizes prosperity, good luck, and positivity. The app is a multifunctional period tracker for all women but is mainly focused on women who are trying to get pregnant, who are pregnant, or who already have children. Meet You promotes its app as a way to "make Chinese women even more beautiful and healthier."
The most important page of Meet You is the personal main page. On this page, users can keep a record of their menstruation cycle, their day-to-day mood, weight, possible illnesses, bowel movements, use of anticonception, eating habits, etc.
Based on all this data, the app will analyze their current state of health, and recommend certain news articles and other reads that match the user's preferences.
Additionally, users can also share their experiences and knowledge through the in-app 'communities.' The app has a number of communities focused on specific topics, such as Make-up Time, Love To Travel and Skin Care Beauty Salon.
Of course, there is also a shopping page, which, without doubt, is an important part of the app's revenue model.
Meet You was first launched in 2013 by the Meiyou Information Technology Company, based in Xiamen. Throughout the years, the company launched several other apps all focused on women. Currently, Meet You has over 200 million users, of which 7 million were daily active users according to their own website. And according to a report by Jiguang, Meet You was the second most favored app among female mobile users in 2018.
#3 Qin Baobao 亲宝宝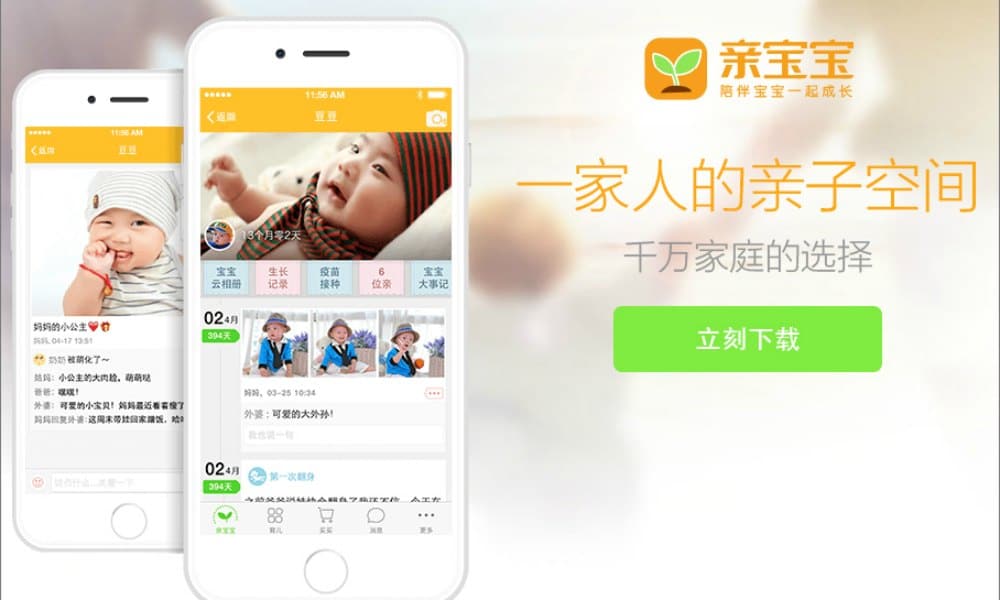 Qin Baobao is an app to provide childcare information for pregnant woman and families with children up to the age of six. The app was first launched in 2013 by Hangzhou Xingwang Technology. Five years later, in 2018, the app had succeeded in reaching more than 100 million registered users, according to the company's website.
In March 2019, the app was the third most popular app in the category Health and Fitness in the Chinese Apple Stores.
Qin Baobao is mainly focused on using technology to help families to better care for their young children. The app's functions can be divided roughly into two parts. One part is focused on the improvement of children's health and general well-being, and the other part is about recording the child's development and sharing joyful moments with friends and family.
To help parents in taking care of their young children, the app provides functions such as soothing music and a knowledge database of age-appropriate foods.
There are also recipes for baby food, tips on how to make your child eat well, advice on what to do when your child is sick, and a Q&A forum.
The other part is all about documenting the growth of the child. Through texts, pictures, and videos, the precious first years of a child's life can be safely stored and shared with friends and family.
What makes the app more attractive than other social media, according to the company's statement, is that the app respects its users' privacy and allegedly won't be using the uploaded data for other purposes.
#4 Ping An Good Doctor 平安好医生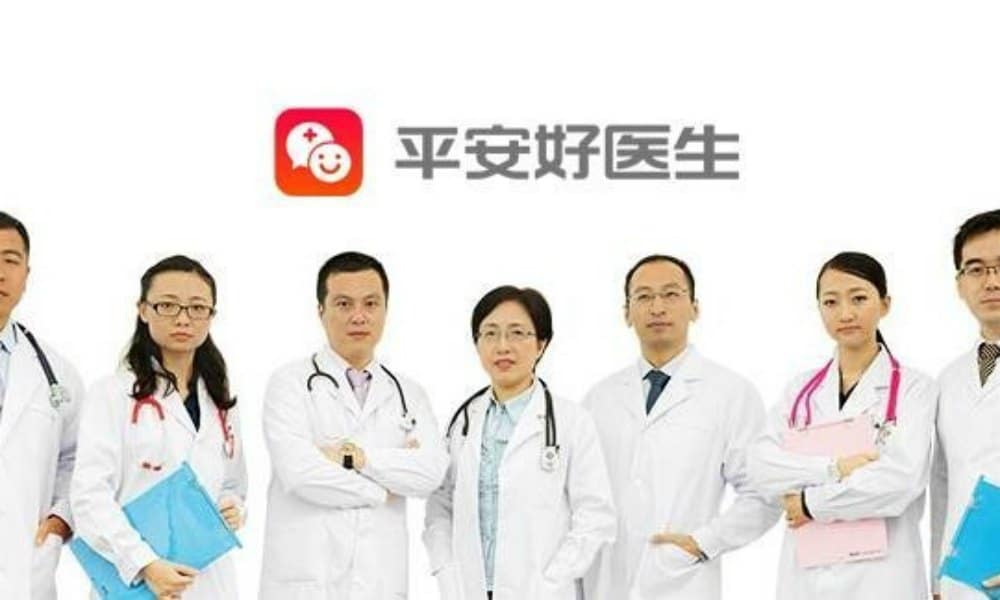 Ping An Good Doctor is a health care and medical consultation platform and part of the Ping An Healthcare and Technology Company.
Ping An Good Doctor was launched in 2015 and has become more popular since. In 2018, the number of registered users reached 265 million, of which nearly 54.7 million were monthly active users, according to their own website.
The app is a portal for medical consultation, something which is not easily available to everyone in China. The app provides four types of services: the family doctor, the consultation hall, medical bibliography of the doctors, and a 'health community.'
The so-called family doctor service provides a one-on-one, private, real-time (paid) consultation between a user and a doctor. Online 'patients' can also talk to doctors in the 'consultation hall,' but this service is not private nor one-on-one.
The app certainly cannot replace an actual doctor's appointment; not only does the virtual environment make it impossible to do a physical checkup, but the doctors also can not give any prescriptions to their 'patients.' The app does allow users to make an appointment with a doctor at an actual hospital through its appointment booking service.
Besides the medical consultation functions, the app also includes a catalog of China's top-notch doctors. Through the app, users can request (offline) consultation or other services from these doctors. The compiled list of doctors is also a way to get insight into the different specialisms of different hospitals and doctors throughout the country.
The last feature of the app is the health community. In this area, all users can read articles about how to keep healthy, how to treat diseases, etc.
To provide all of these services, Ping An Good Doctor allegedly employed 1196 medical personnel in its in-house medical team, signed contracts with an additional 5,203 renowned external doctors, and partnered with over 3000 hospitals and over 15.000 pharmacies by the end of 2018.
#5 Yodo Run 悦动圈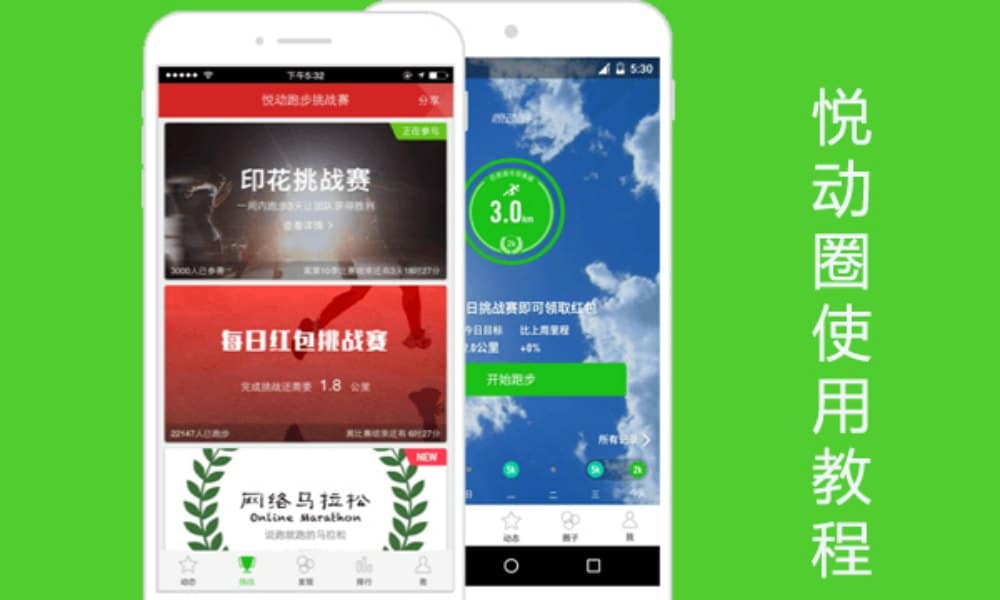 The final app in this list is Yodo Run by the Shenzhen-based Rejoice Sports Tech Company. Yodo Run is one of China's leading social health and fitness recording apps that strives to stimulate users to adopt a healthy lifestyle.
Through Yodo Run's advanced automatic step counting and GPS algorithm, the app can record various exercise patterns such as walking, running, fitness, and cycling. This way, users can keep track of their day-to-day movements. But that is not all that the app provides. The app also includes exercise schedules, video tutorials and a list of music.
To make sure people keep using the app, Yodo Run gives away tens of thousands of money packages every day. There are awards for reaching small goals, such as making 500 steps on your first day as an app user. But there are also awards that are more difficult to earn, such as long-term goals or when you partake in competitions or challenges.
But for those who are not using the app as a way to earn something extra, the app found another way to stimulates its users to exercise. And this is where Yodo Run differentiates itself with many other sports apps.
Yodo Run has a strong focus on bringing people together to exercise. To enable this, Yodo Run has the right tools to actively stimulate people to go out and meet others with a shared passion for exercising. According to their own website, the app has enabled people to unite in more than 500,000 "sports groups", of which 10,000 are actual real-time running groups, spread over more than 300 cities worldwide.
The app is available in both Chinese and English.
Also see:
By Gabi Verberg, edited by Manya Koetse
Spotted a mistake or want to add something? Please let us know in comments below or email us.
©2019 Whatsonweibo. All rights reserved. Do not reproduce our content without permission – you can contact us at info@whatsonweibo.com
"Taobao Life": This Feature Shows How Much Money You've Spent on Taobao
Some users just found out they could've bought a house with the money they've spent on Taobao.
Over the past few days, a new Taobao feature that allows users to see how much money they have spent on the online shopping platform is flooding Chinese social media.
Taobao Marketplace is China's biggest online shopping platform. Owned by tech giant Alibaba, Taobao was launched in 2003 to facilitate consumer-to-consumer retail.
For many people, Taobao shopping has become part of their everyday life. Whether it is clothes, pet food, accessories, electronics, furniture – you name it, Taobao has it.
Because buying on Taobao is so easy, fast, and convenient, many online consumers lose track of how much they actually spent on the platform – especially if they have been using it for years already.
Thanks to "Taobao Life," users can now see the total amount of money spent on their account.
How to do it? First: go to Taobao settings and click the profile account as indicated below.
Then click the top icon that says "Achievement" (成就).
And here you find what you have spent in this account in total. On the left: the money spent, on the right: the amount of purchases.
Since I've used started using this Taobao account for the occasional clothes shopping since 2016, I've made 122 purchases, spending 7849 yuan ($1140) – a very reasonable amount compared to some other Taobao users, who are now finding out they could have practically bought an apartment with the money they have spent on Taobao.
This user, for example, found out they spent over half a million yuan on Taobao ($75,500).
This user below has spent over 1,1 million yuan on Taobao ($170,000).
Some people discuss all the things they could have bought with the money they have spent on Taobao over the years: "As soon as I saw the number, I wanted to cry," one Weibo user writes: "What have I done?!"
Another person, finding out they have spent 230,000 yuan on Taobao ($33,400), writes: "This can't be true! Surely this must be a mistake!?"
"If I wouldn't have spent all this money on Taobao, I would've been rich," others say.
The topic of Taobao's total spending amount has become so popular on Chinese social media this week, causing so much consternation, that Taobao posted a message on its Weibo account on July 27, writing: "We heard you guys couldn't sleep last night.."
Although many people are shocked to find out the money they've spent on Taobao, others console themselves with the thought that adding up everything they have spent on Taobao, they were actually 'rich' at some point in their lives.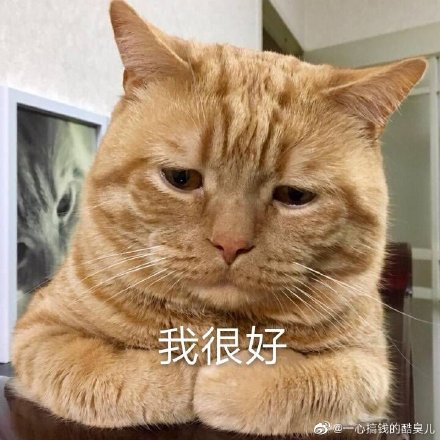 By Manya Koetse , with contributions from Miranda Barnes
Follow @whatsonweibo
Spotted a mistake or want to add something? Please let us know in comments below or email us. Please note that your comment below will need to be manually approved if you're a first-time poster here.
©2019 Whatsonweibo. All rights reserved. Do not reproduce our content without permission – you can contact us at info@whatsonweibo.com
Summer Censorship: Weibo Launches "Project Sky Blue"
No hot summer on Weibo: the social media network announces extra censorship on 'vulgar content.'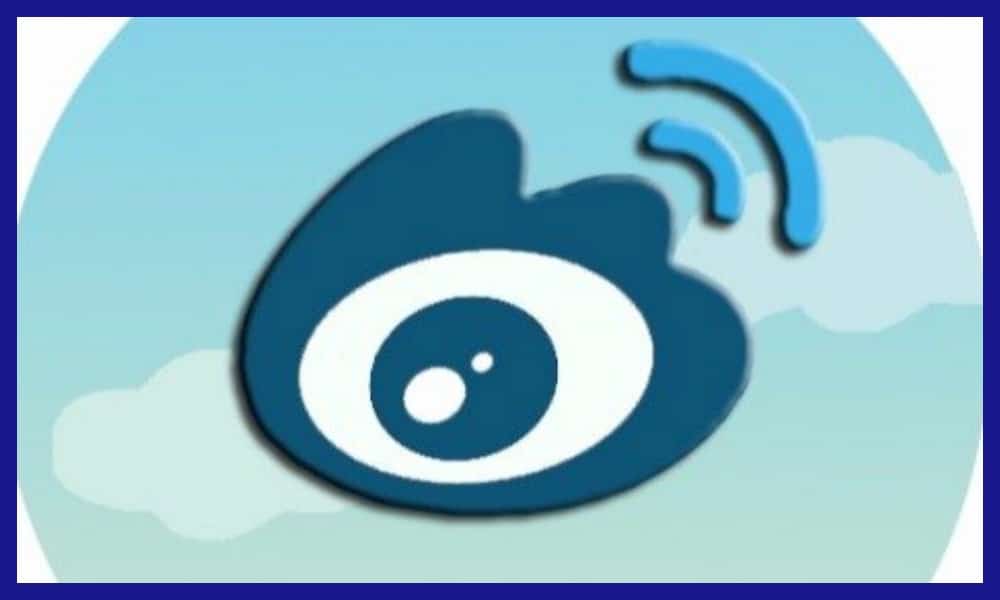 Earlier this week, the administration of Sina Weibo announced a special summer holiday crackdown on "vulgar content," including "pornographic novels, erotic anime, pictures or videos."
In a public announcement that was posted on July 4th, the Weibo administration writes that the primary goal of this campaign is to "create a healthier, more positive environment for underage users" during the summer break period.
The censorship plan is titled "Project Deep Blue" (or: "Project Sky Blue") (蔚蓝计划), and will use filter systems, human moderators and user reports to censor more content for the upcoming two months.
The project even has its own Weibo account now, where Weibo users can ask questions, report inappropriate content, and get more information on the campaign.
Weibo states it will further expand its team of online content supervisors, and also explicitly encourages netizens to flag 'inappropriate' content to make the online community 'more wholesome.'
The hashtag #ProjectDeepBlue (#蔚蓝计划#) topped the hot search lists on Weibo this week; not necessarily because of the topic's popularity, but because it was placed there by the social media site's administration. At time of writing, the hashtag page has attracted more than 180 million views.
Online responses to the summer censorship program are mixed: many commenters voice their support for the latest measure, while others express frustration.
One Weibo user from Hubei calls the latest measure "hypocritical," arguing that minors surf Weibo just as much during school time as during the summer holiday – suggesting that launching a special censorship program for the summer vacation does not make sense at all.
But many popular comments are in favor of the project, saying: "I support Project Deep Blue, the internet needs to be cleaned up," and: "China's young people need to be protected."
This is not the first time Weibo launches a special intensified censorship program. Throughout the years, it has repeatedly carried out 'anti-pornography' campaigns in cooperation with Chinese cyberspace authorities.
Often, the crusade against 'vulgar' content also ends up being used for the purpose of censoring political content rather than to actually eradicate 'obscenities' (read more).
By now, it seems that many Weibo users are quite actively using the Project Deep Blue tag to report on other users who are posting violent or vulgar content.
"If you're not careful, you're hit with vulgar and obscene content the moment you're on the internet," well-known mom blogger Humapanpan (@虎妈潘潘) writes: "Now that the summer holiday is coming, I hope we can join the Project Deep Blue, and clean up the internet environment.  Actively report obscene content the moment you see it – let's protect our future together."
By Skylar Xu & Manya Koetse
Spotted a mistake or want to add something? Please let us know in comments below or email us. Please note that your comment below will need to be manually approved if you're a first-time poster here.
©2019 Whatsonweibo. All rights reserved. Do not reproduce our content without permission – you can contact us at info@whatsonweibo.com