Catharsis on Taobao? Chinese 'All is Well' TV Drama Fans Are Paying Up to Scold the 'Su Family Villains'
Some netizens are getting too worked up over this hit TV drama.
Chinese TV drama 'All is Well' is such an online hit, that the collective despise for the fictional villains in the story is getting all too real. The show itself, along with an online service to scold its characters, has become a trending topic on Chinese social media this week.
The Chinese TV series All is Well (都挺好) is such a success that some people would even pay to scold the drama's main 'villains.' One Taobao seller had nearly one thousand customers paying a fee this week for a special service to curse the characters they despise so much.
All is Well is a 46-episode urban TV drama that premiered on March 1st of this year on Zhejiang and Jiangsu Television. The series is based on the novel by A'nai (阿耐), who is also known for writing the super popular Ode to Joy TV drama.
All is Well tells the story of white-collar worker Su Mingyu and the conflicts within her family. The role of this daughter is played by Chinese actress Yao Chen (姚晨), one of the most popular celebrities on Weibo.
As the only daughter, Su Mingyu is the black sheep of the family and grows up feeling lonely and unloved. When her mother suddenly passes away, the Su family falls apart. The father becomes selfish and overbearing, while her brothers are also unsuccessful in keeping the family together.
The three men within the Su family have become much-hated characters on Chinese social media for their selfishness and manipulative traits. Su Mingcheng (Li Junting) is Mingyu's older brother, Su Mingzhe (Gao Xin) is her younger brother, and Su Daqiang (Ni Dahong) is her father.
While the TV drama is a major hit, many fans seem to take pleasure in scolding the main characters. On Weibo, some netizens are changing their names into some of the Su villains, allowing others to scold them.
But there are also people who have turned the collective contempt for the Su men into a small business. On e-commerce site Taobao, one seller set up a service to "curse the Su family father and sons" (怒骂苏家三父子), charging a 0.5 yuan fee, Caijing reports.
Various Chinese media report that the seller has had at least 300 customers over the past week who could "vent their anger" about the drama's characters. The seller would open a chat window, displaying the photo and name of one of the three despised characters, and pretending to be them. He also displays a counter that shows how many times the characters have been scolded by customers.
Other news sites report that there are at least 40 online shops selling this 'scolding service' to customers, with one seller allegedly serving nearly 1000 customers in one day.
The topic, under the hashtag "Online Shop Sells Service to Scold the Su Father and Sons" (#网店出售怒骂苏家三父子服务#), received nearly 100 million views on Weibo this week.
Many netizens are surprised and amused that their favorite TV drama has turned into a business opportunity for Taobao sellers. "I'm a shop seller," one commenter says: "I give all the money to charity. I work during the day, but in the evenings I'm here for all of you!"
"Is this the rival of the Kua Kua group?", one commenter wonders. Kua Kua groups, as we recently explained in this article, are online chat groups where people can be complimented or praised, sometimes for money. The current scolding groups, in a way, serve a similar purpose: offering netizens a way to vent their feelings and feel a bit better.
Although the cursing may provide emotional catharsis for some, others just find it really funny. "How about you give me one yuan, and I scold you?", one commenter suggests: "It's crazy that these type of services exist."
All is Well can be viewed through iQiyi (without English subtitles, regional restrictions apply – VPN).
Also see:
By Manya Koetse 
Spotted a mistake or want to add something? Please email us.
©2019 Whatsonweibo. All rights reserved. Do not reproduce our content without permission – you can contact us at info@whatsonweibo.com.
Top 10 Overview of China's Most Popular TV Dramas February 2019
The top scoring TV dramas in China of this moment, winter 2018/2019.
First published
From beautiful costume series to suspenseful war-themed productions – these are the most popular TV dramas in China this season, an overview by What's on Weibo.
China has one of the most booming TV drama industries in the world, with dozens of new dramas being released every month, drawing in millions of viewers through the country's most popular online video streaming platforms.
We've compiled a top ten of the most popular Chinese TV dramas of this moment, based on the current popular charts of the leading websites in Chinese online video, including Tencent Video, iQiyi, Sohu, Youku, LeTV, 360kan, Sogou Video, along with Baidu's and Weibo's popular TV drama charts.
Please note that this list has been compiled by combining the top-ranking lists of this moment. And we have chosen to exclude popular drama series that already made it in our previous top-ten lists (here, here, here), despite their ongoing popularity.
Most of these series are available for viewing online, some also with English subtitles. If you need a VPN to circumvent any geo restrictions, we recommend either NordVPN or ExpressVPN to do so. Note: also see our Top 30 of all-time classic Chinese TV Dramas here!
Here we go:
#10 Mystery of Antiques 古董局中局
China Mainland
Chinese title: Gǔdǒng jú zhōng jú 古董局中局
Genre: Suspense, Mystery
Directed by: Wu Bai (五百) aka Guo Shubo (郭书博), Yu Qing (余庆)
Episodes: 36, December 2018, Tencent Video
Mystery of Antiques is an adaption of the like-named novel by award-winning novelist Ma Boyan (马伯庸). The main character in the drama series is played by Xia Yu (夏雨), who previously won awards for acting at various film festivals from Venice to Beijing, and from Taiwan to Singapore.
The series currently ranks fourth on Baidu's most popular drama list, and seventh on the 360kan most popular series rankings.
The drama tells the story of the ordinary small antique shop owner, Xu Yuan (Xia Yu), who comes from a family of antique traders. One day, a visitor coming to the shop brings Xu into a conspiracy that goes beyond his wildest dreams and links him to a legendary treasure. It is the start of a dangerous and tumultuous journey, in which Xu does all he can to clear his family's name and change his fate.
On Weibo, the official account of the series has over 20.000 followers.
The show, in Chinese, is available on QQ.
#9 Forty Years We Walked 我们的四十年
China Mainland
Chinese title: Wǒmen de sìshí nián 我们的西十年
Genre: Coming of age
Directed by: Wang Zi (王梓)
Episodes: 60, November 2018, Jiangsu TV, iQiyi, Tencent Video, Sogou Video, Mango TV, LeTV, Fun TV, PP TV, Youku
This coming of age story, featuring beautiful images of Beijing, is directed by Hunan-born filmmaker Wang Zi. Wang was born in 1986 and started his career as an actor in 2008. Some say that this series is very much based on Wang's own experiences in his journey to becoming a director.
The series is currently the second most popular series on Sogou Video.
Forty Years We Walked tells the life story of Feng Dou, who falls in love with television and film from the first time he ever sees a TV at his friend's house. In middle school, he becomes well-known together with his friend for collecting old tv-parts and building "new" televisions from them. Feng continues to pursue his passion for tv, setting up several businesses. However, as he Feng gets older, he starts to question his purpose in life until he realizes what it is he was always intended to do.
On Weibo, the official account of the series is currently nearing 20.000 followers.
The show is available on AsiaTVSub here or on Youtube here with Chinese subtitles.
#8 Well Intended Love 奈何BOSS要娶我
China Mainland
Chinese title: Nàihé BOSS yào qǔ wǒ (奈何BOSS要娶我)
Genre: Drama, Romance
Directed by: Wu Qiang (吴强)
Episodes: 20, January 2019, Sohu Video TV, Mango TV
Well Intended Love, that features the youngest cast within this overview, including Xu Kaiwei (徐开骋, 1990) and Simona Wang (王双, 1991), tells the love story between a wealthy man and mostly unknown young actress. The series is currently the most popular drama series on Sohu Video.
The series revolves around undiscovered actress Xia Lin who is suffering from leukemia. To afford a surgery that can save her life, she gets involved with the wealthy CEO Ling Yizhou. At the same time, Xia continues to pursue her career as an actress. Ling and Xia eventually get married and live a happy life together in secrecy until Ling finds out that Xia has a hidden agenda.
On Weibo, the official account of the series has over 190.000 followers.
See the complete series including English and Chinese subtitles on YouTube here.
#7 The Legend of Hao Lan 皓镧传
China Mainland
Chinese title: Hào lán chuán  皓镧传
Genre: Costume Drama, War, Romance, Historical Fiction
Directed by: Li Dachao (李达超)
Episodes: 62, January 2019, iQiyi
The historical drama The Legend of Hao Lan, starring Wu Jinyan (吴谨言), Mao Zijin (茅子俊), and Nie Yuan (聂远), chronicles the rise of Li Hao Lan to become the Empress Dowager of the Qin dynasty, after a long drawn battle between Zhao and Qin, towards the end of the Warring States period (475–221 BC).
The series is currently ranked third most popular series on 360kan and fourth most popular on iQiyi. Viewers of the latter evaluate the series with an average of 7.0.
Its popularity shows that historical drama is still very much booming in China's drama industry. Recently, state media critique on period costume dramas that focus on conflicts in the imperial court became a hot topic on Chinese social media. The criticism singled out Yanxi Palace in particular, a show that was then canceled on TV for its "negative impacts," signaling heightened censorship on Chinese costume dramas.
For now, however, The Legend of Hao Lan is going strong – and it stars the same main characters (Wu Jinyan and Nie Yuan). It depicts the story of the brave woman Li Hao Lan, daughter of Imperial censor Li He of Zhao state, who gets framed by her stepmother and is sold as a slave to Lu Buwei. Lu later presents her as a gift to Sun Yiren, a Qin royal that resides in Zhao as a hostage. As Li and Lu arrive in the royal Zhao palace, they unite and start their battle for power.
On Weibo, the official account of the series has over 40.000 followers.
See the complete series including Chinese subtitles here. Also available on Viki (incl. English subtitles).
#6 Candle in the Tomb: The Wrath of Time 鬼吹灯之怒晴湘西
China Mainland
Chinese title: Guǐ chuīdēng zhī nù qíng xiāngxī (鬼吹灯之怒晴湘西)
Genre: Adventure, Suspense
Directed by: Fei Zhengxiang (费振翔), supervised by Guan Hu (管虎)
Episodes: 21, January 2019, Tencent Video
The Wrath of Time is the third season in the fictional Candle in the Tomb series, an adaption from the novels by Zhang Muye. The series chronicles the adventures of a gang of tomb raiders as they excavate the truth behind a mysterious curse. Previous seasons were Candle in the Tomb: Mu Ye Gui Shi (鬼吹灯之牧野诡事) and Candle in the Tomb: The Weasel Grave (鬼吹灯之黄皮子坟). Despite this series being the third season, it's not really necessary to see the first series to understand the third season.
The series, starring Pan Yueming (潘粤明), Gao Weiguang (高伟光), and Xin Yulei, currently ranks third most popular drama series on Tencent Video scoring a 9.3, and fourth most popular serie on 360kan.
This third season of the Candle in the Tomb series is set in a time when the warlords are fighting for power and bring disaster upon the people. With the purpose of finding the ancient tombs from the Yuan dynasty, tomb raider Chen Yulou and warlord Luo Laowai embark on a journey to the Xiangxi Mountains. On their way, they meet Zhe Gushao, who is set on finding a pearl that will end the spell upon his clan. Despite the mutual suspicion of each other's motives, Chen and Zhe rely on each other to get to their destination.
The third season does not have an official account on Weibo, however that the series is quite popular can be seen from the hashtag "Candle in the Tomb: The Wrath of Time" (#鬼吹灯之怒晴湘西#) which already got over 690 million views, and received more than 2.3 million comments on Weibo.
See the complete series including English and Chinese subtitles here.
#5 Behind the Scenes 幕后之王
China Mainland
Chinese title: Mùhòu zhī wáng (Mùhòu zhī wáng)
Genre: Drama, Romance
Directed by: Li Jun (李骏)
Episodes: 42, January 2019, Youku TV, Dragon TV, Beijing TV
Behind the Scenes, starring Zhou Dongyu (周冬雨) and Luo Jin (罗晋), is currently ranking second place on Weibo's top ten most popular TV dramas, and third on Youku's top 10 TV drama series.
The series revolves around ambitious student Bu Xiaogu and the famous producer Chun Yuqiao. Bu is thrilled when she is given the opportunity to work with the man she greatly admires. But she quickly discovers that he is nothing like she imagined. With her hopes and dreams shattered, Bu gets involved in an accident. Chun unexpectedly takes on the sole responsibility for the accident, setting off a special relationship between the two.
On Weibo, the official account of the series has over 80.000 followers
See the complete series including Chinese subtitles here.
#4 Spy Hunter 天衣无缝

China Mainland
Chinese title: Tiānyīwúfèng (天衣无缝)
Genre: Action, Detective
Directed by: Li Lu (李路)
Episodes: 48, January 2019, Zhejiang TV, Jiangsu TV, Tencent Video, Youku, iQiyi, Mango TV
Spy Hunter, starring Lu Yi (陆毅) as one of the main characters, currently ranks second most popular drama series on both 360kan and iQiyi.
This fictional story takes place in the spring of 1931 when the Central Committee of the Communist Party of China is establishing logistic bases in several big cities. Two Special service teams try to establish a new secret underground route and depot. But one day, their secret base in Tianjin is exposed, and the life of agent Wan is sacrificed. In the name of justice, Wan's brother goes looking for the truth behind his brother's death.
On Weibo, the official account of the series has approximately 50.000 followers.
See the complete series including English and Chinese subtitles here.
#3 I Will Never Let You Go 小女花不弃
China Mainland
Chinese title: Xiǎonǚ huā bu qì (小女花不弃)
Genre: Costume Drama, Fantasy, Adventure
Directed by: Cha Chuanyi (查传谊)
Episodes: 51, January 2019, iQiyi, Tencent Video, Youku, PPTV
I'll Never Let You Go is an adaptation of the like-named novel by Zhuang Zhuang (桩桩). The series stars many famous actors including Ariel Lin (林依晨), Lin Bohong (林柏宏), and Zhang Binbin aka Vin (张彬彬).
On Tencent Video the series currently occupies second place in their most popular drama series hotlist, scoring an average of 8.2. And also on Weibo, Youku, and 360kan, the series holds a position in the top five.
I'll Never Let You Go is a coming-of-age story revolving around a young with a unique gift, who wanders the world alone after her entire family was killed to protect the girl's special gift. One day, the girl meets a courageous masked man who saves her life, after which they fall in love. But everything turned around when the girl discovers who the man she loves really is.
On Weibo, the verified Weibo page of the series has over 4.6 million followers, making it the most popular series on Weibo of this list.
See the complete series with Chinese subtitles here. Also available on Viki (including English subtitles).
#2 Anti-Japanese 荡寇

China Mainland
Chinese title: Dàng kòu 荡寇
Genre: Drama, War, History
Directed by: Jiao Xiaoyu (焦晓雨)
Episodes: 60, November 2016, Guizhou TV, iQiyi, Sohu TV, PP TV, Youku
This TV drama, that has the remarkable English title 'Anti-Japanese' (the original Chinese title roughly translates as 'sweeping away the enemy') was first aired by Hunan TV in November of 2016. Since then, it was broadcasted by at least eight different television stations and platforms.
The most recent rebroadcast started on January 19, 2019, and the numbers show that people still can't get enough of the drama. On iQiyi, the series currently ranks first place, and on Sohu and LeTV the series ranks second and fourth place respectively.
The TV drama is set at the start of the War of Resistance again Japan (1937-1945). When an intelligence team of the Communist Party finds out about a box with classified information regarding the development chemical and biological weapons that is sent out by the Japanese army, Yang Erhu is sent to stop their evil plans and to protect his country.
See the complete series including Chinese subtitles here.
#1 The Story Of Minglan 知否知否应是绿肥红瘦

China Mainland
Chinese title: Zhī fǒu zhī fǒu yīng shì lǜféi hóng shòu (知否知否应是绿肥红瘦)
Genre: Historical fiction, Family, Politics
Directed by: Zhang Kaizhou (张开宙)
Episodes: 73, December 2018, iQiyi, Tencent Video, Youku, Youtube, Hunan TV
The fictional Story of Minglan, starring Zhao Liying (赵丽颖) and William Feng (冯绍峰) as main characters, is an adapted screenplay a novel by Chinese author Zheng Yi (郑怡) aka Guanxin Zeluan (关心则乱).
The series currently dominates the drama top charts, occupying the first place on Tencent Video, Youku, Baidu, Weibo, Sogou Video and 360kan.
The story of Minglan tells the coming of age story of an intelligent concubine daughter that has to grow up dealing with her unkind stepmother, an indifferent father, and unreasonable sisters.
Minglan learns to hide her skills and true intentions in order to survive until she meets Gu Tingyu, and the two fall in love. After Gu becomes a powerful official, and the two get married, Minglan rises to prominence.
On Weibo, the official account of the series has nearly 1.7 million followers.
See the complete series including Engish and Chinese subtitles here.
By Gabi Verberg
Spotted a mistake or want to add something? Please let us know in comments below or email us.
©2019 Whatsonweibo. All rights reserved. Do not reproduce our content without permission – you can contact us at info@whatsonweibo.com
When Ad Breaks Get Weird: Branded Content in Chinese TV Dramas Is Ruining It For the Viewers
China's ubiquitous inserted ad marketing is alienating viewers from their favorite TV drama characters.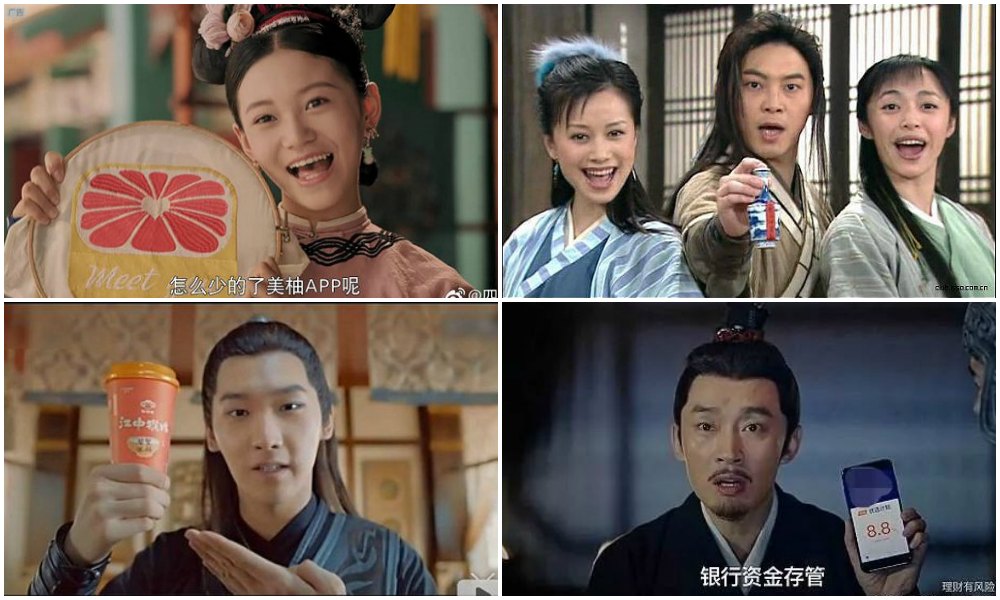 Ad breaks can be annoying, but when it's the main character of your favorite historical drama promoting the latest smartphone, it can actually ruin the viewer experience. In recent online discussions, China's ubiquitous 'Inserted Ad Marketing' (中插广告), that goes beyond product placement, is being attacked by netizens and media.
A 2017 Ad Age article on the high levels of branded content in China's online TV argues that Chinese viewers generally do not mind embedded marketing. They have allegedly become so used to to all kinds of branded distractions in TV shows, dramas, and films, that it is just "another part of the entertainment" (Doland 2017). But recent discussions on Chinese social media signal that the general sentiments regarding inserted sponsored content are changing.
On January 6, Chinese author Ma Boyong (@马伯庸, 4.5 million followers) posted an article on Weibo in which he criticized the phenomenon of inserted ad content in Chinese television series, saying the marketing style often does not suit the characters and is making the actors less credible.
Although Ma does not oppose to embedded marketing per se, he argues it hurts the credibility of TV dramas and the viewer's experience when it does not blend in with the style of the TV drama and its characters.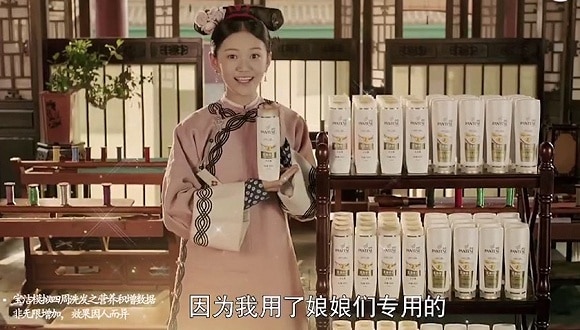 One of the TV dramas where the sponsored segments 'hurt' the show, according to Ma, is Mystery of Antiques (古董局中局, 2018) that is based on one of the author's novels. The actor Qiao Zhenyu (乔振宇), who plays the leading role, allegedly "looks like a fool" because of the inserted ad.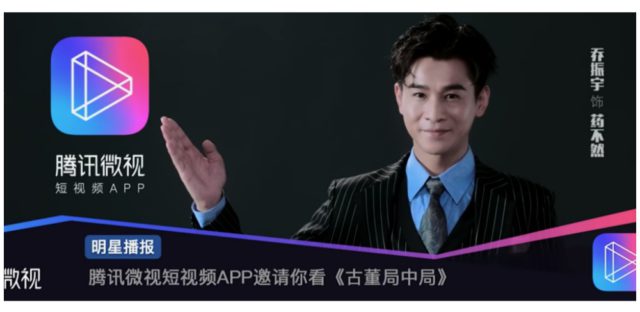 The type of advertising, that is central to this recent discussion, goes beyond product placement; it is the type of ad that appears inside (online) TV shows in which the actors, in character, straightforwardly promote a certain brand and product, sometimes in a scene dialogue ('storyline ads'), but also often while looking directly into the camera (see example here or here, Chinese term: zhōngchā guǎnggào 中插广告).
The hashtag 'Ma Boyong Roasts Inserted Ad Marketing' (#马伯庸吐槽中插广告#) had received more than 50 million views on Weibo by Sunday night, with the overall majority of people supporting the author's stance.
"Finally someone says this," one commenter said: "When it just started out, it was new, and I could endure it, but now it just really annoys me." "It is really disruptive," others agree.
A New Kind of Money-Making Machine
China's history of TV advertisement is not a long one; it wasn't until 1979 that China's first TV commercial was aired. Since then, the industry has blossomed, and branded content has become ubiquitous; the first TV drama incorporating product placement was broadcasted in 1991 (Li 2016).
Product placement is known as a powerful marketing tool since it is inescapable, has a long shelf life, is inexpensive, and unobtrusive (Huan et al 2013, 508). But as China's product placement has been turning into 'branded entertainment' within the settings of the show, it is losing its 'unobtrusiveness.'
Unsurprisingly, this is not the first time this type of advertising receives criticism. In 2017, various Chinese media, such as People's Daily, noted the rise of inserted product ads, stating that TV dramas were "shooting themselves in the foot" with these ad campaigns.
When the protagonist of a dynastic costume drama suddenly promotes a new smartphone app during an inserted ad break, he falls out of character, and the entire drama loses credibility. Do you remember those weird ad breaks in the famous American movie The Truman Show? Even Truman did not fall for that!
In China, this particular type of advertising can be traced back to the 2006 TV drama My Own Swordsman (武林外传), in which the characters suddenly turn to the camera in promoting a "White Camel Mountain" medicinal powder (watch the famous segment here).
Although that scene was for entertainment purposes only (the product was non-existent), it became reality in 2013, when the TV series Longmen Express (龙门镖局) first started using this kind of 'creative' advertising. Many online dramas then followed and started to use these inserted ads, especially since 2015 (Beijing Daily 2017). The promoted products are often new apps or money lending sites.
In the beginning, many people appreciated the novel way of advertising, and as the online video industry rose, so did the price of such advertisements. In a timeframe of roughly two years, their price became ten times higher. These type of 'ad breaks' have become an important and relatively easy money-making machine for drama productions (Beijing Daily 2017). In 2016 alone, Chinese TV drama productions made 800 million rmb (±116 million USD) through this marketing method – a figure that has been on the rise ever since.
The V-Effect: From Vips to Verfremdung
In China's flourishing online streaming environment, one of the problems with inserted ad campaigns is that even 'VIP members' of popular video sites such as iQiyi cannot escape them, nor 'skip' them, even though they pay monthly fees to opt out of commercials (similar to YouTube Premium).
"The reason I signed up for a VIP membership is to avoid ads, and now we get this," many annoyed netizens comment on Weibo.
Although that is one point that many people are dissatisfied with, the biggest complaint on social media regarding the inserted ad phenomenon is that it breaks down audience engagement in the show they are watching, and alienates them from the character, which is also known as verfremdungseffekt, distancing effect, or simply the 'V-effect,'  a performing arts concept coined by German playwright Bertolt Brecht in the 1930s.
The Brechtian "direct address" technique, one of the characteristics that made the American TV series House of Cards so successful, is employed to "break the fourth wall" – the imaginary wall between the actors and audience  – and serves a clear purpose: it makes viewers less emotionally attached to the characters and the narrative, it makes them more conscious and less likely to 'lose themselves' in the show they are watching, and is meant to provoke a social-critical audience response.
But this is exactly the faux pas China's ubiquitous 'creative inserted ads' make in letting popular TV drama characters promote a new app or soda; it is not meant to provoke a social-critical response, it is meant to advertise a product. But by alienating audiences from the show for a commercial and non-meaningful purpose, they actually reach the opposite effect of what their marketing objective is. Audiences become annoyed, less engaged, and 'exit the show' (in Chinese, the term '出戏' [disengage from the performance] is used).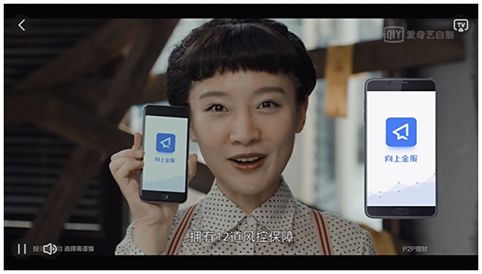 "These kind of ads make the entire drama seem so low," a typical comment on Weibo says. "What can we do? As long as people pay for it, they'll do it," others say.
Despite the recent attack on China's 'branded entertainment,' there is no sign of a change in these marketing techniques. Perhaps, if critique persist, this might change in the future. For now, disgruntled viewers turn to social media to vent their frustrations: "These ads completely make me lose interest in the story, they need to be criticized. I'm happy someone stood up to say it."
By Manya Koetse
Follow @whatsonweibo
References
Beijing Daily (北京日报). 2017. "创意中插广告泛滥,唯独缺了创意" [The Overflow of Creative Inserted Ads, Only They're Lacking Creativity] (in Chinese). Beijing Daily, Oct 18. Available online http://bjrb.bjd.com.cn/html/2017-10/18/content_183998.htm [Jan 6th 2019].
Doland, Angela. 2017. "China's online TV pushes product placement to crazy levels. Even crazier: Viewers don't mind." Ad Age, May 16. Vol.88(10), p.0030.
Huan Chen , En-Ying Lin , Fang Liu & Tingting Dai. 2013. "'See Me or Not, I Am There': Chinese White-Collar Moviegoers' Interpretation of Product Placements in Chinese Commercial Movies." Journal of Promotion Management, 19:5, 507-533.
Li, Hongmei. 2016. Advertising and Consumer Culture in China. Cambridge: Polity Press.
Spotted a mistake or want to add something? Please let us know in comments below or email us.
©2019 Whatsonweibo. All rights reserved. Do not reproduce our content without permission – you can contact us at info@whatsonweibo.com