Turning Drinks into Fashion – Chinese Designer Yang Yang Personifies Popular Beverages
Personified beverage fashion – trending because it's cool.
Every now and then there are posts on Weibo that just seem to keep on making their rounds. The 'beverage fashion' drawings collection by Yang Yang (杨杨) is one of these posts, first popping up on Chinese social media in June of this year.
Yang Yang is a 28-year-old designer from Anhui, who started drawing when she was 13 years old. She has been active in the fashion business for eight years now and has become popular on Kuaishou, China's popular short video and live-streaming app.
If Coca Cola were a fashionista, what would she look like? In the eyes of Yang Yang, this would be her:
Wahaha (哇哈哈) purified water, produced by the largest beverage company in China, is personified here:
Energy drink brand Red Bull China, a Sino-foreign joint venture company, uses different colors than cans in the US or Europe.
One particularly striking illustration by Yang Yang is that of Nongfu icea tea drink Cha π (茶兀).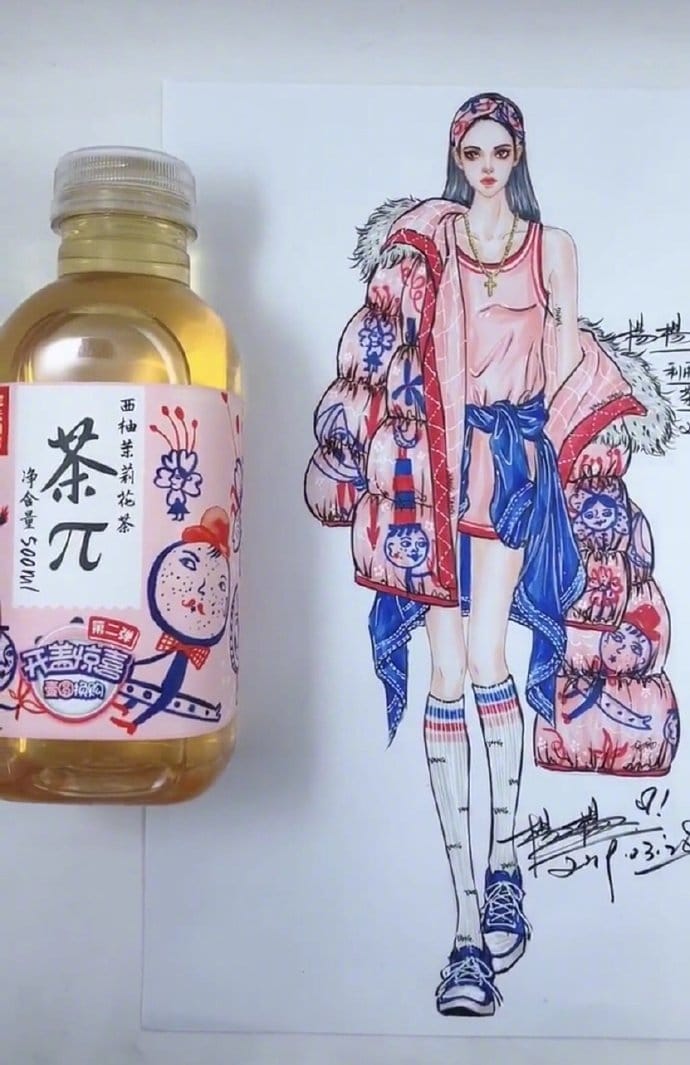 Nongfu Spring, one of the most common brands of bottled water in China, suddenly seems very trendy now.
This is the fashion version of Sea Crystal Lemon, known for its bright blue and yellow.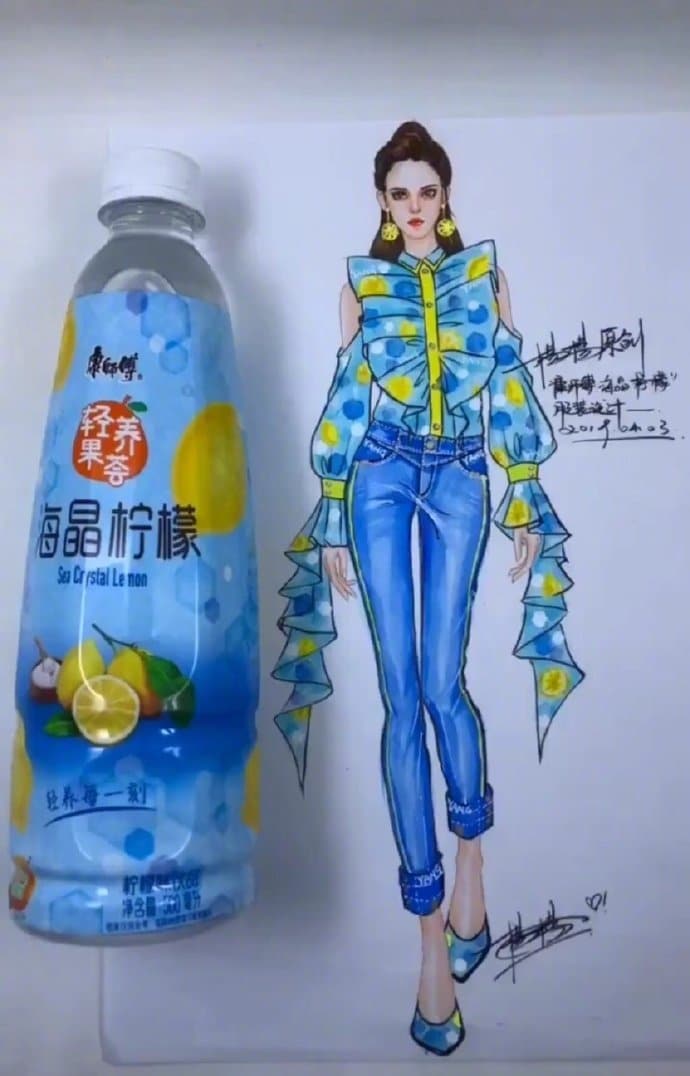 Following the various Weibo posts that are making their rounds with the illustrations by Yang Yang, more drawings seem to have been added later via other channels, including that of Pepsi, Wong Lo Kat, and Snow Beer.
Although Yang Yang's designs have gone viral this year, it is not known if they will have a chance to be turned into wearable fashion. As for Yang, she says she was just "playing around" to keep a creative mind.
Also read: From Stay-at-Home Dad to Fashion Designer – 'Super Dad' Rises to Fame
By Manya Koetse
Sources:
https://k.sina.com.cn/article_1872762823_p6fa017c702700xosj.html
https://new.qq.com/rain/a/20190619A0POST
Spotted a mistake or want to add something? Please let us know in comments below or email us. First time commenters, please be patient – we will have to manually approve your comment before it appears.
©2019 Whatsonweibo. All rights reserved. Do not reproduce our content without permission – you can contact us at info@whatsonweibo.com
The 'Fake Rich' of Shanghai: Peeking Inside a Wannabe Socialite WeChat Group
A Shanghai fake 'rich girl WeChat group' has become the talk of the day after a Chinese blogger went undercover in their bizarre social media circle.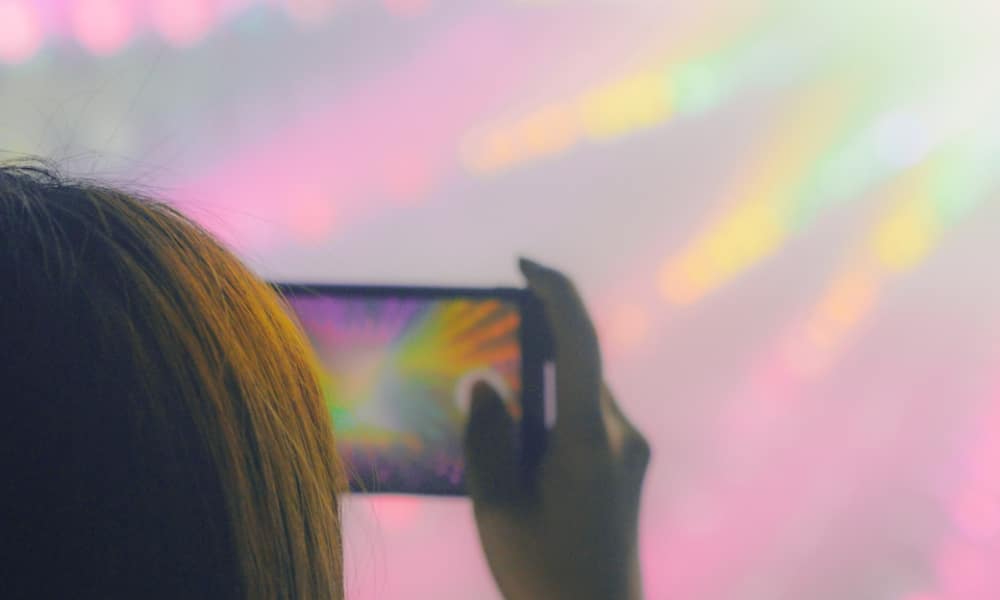 A Shanghai Lady Socialite WeChat Group has become top trending on Chinese social media after a blogger exposed its workings. From splitting the costs for an afternoon high tea at The Ritz to sharing a Gucci pantyhose, these girls are taking the phrase 'fake it 'til you make it' a bit too literally.

By Manya Koetse, with contributions from Miranda Barnes

How to become part of Shanghai's super-rich social circles? Some people think joining a WeChat group is the way to go.
A Shanghai 'Female Socialite WeChat Group' has gone mega trending on Chinese social media today after a blogger went undercover in the group for two weeks, giving netizens a peek inside a world that's all about faking it. The topic reached over 1.2 billion views on Weibo on Monday.
The Chinese blogger Lizhonger (李中二) invested 500 yuan ($75) and pretended to be a girl in order to become a member of the WeChat group after one of his readers tipped him off about its existence.
The group profiles itself as the 'Shanghai Female Socialite' group that is all about "Young / Fashion / Money". The profile poster states that the WeChat group is a place to share information about (Hermes, Dior, etc) luxury products, to have afternoon tea together, to get to know social media influencers and to share updates on wealthy and eligible bachelors.
Besides a 500 yuan membership fee, new members are required to provide proof of having at least 100,000 yuan ($15,000) in their savings account.
Faking such proof is probably not too difficult; most of the active members of the 'Shanghai Ladies' WeChat group appear to be anything but nouveau riche – nor old rich, for that matter.
Lizhonger discovered that instead of being an actual WeChat group for rich girls to talk about their latest Louis Vuitton bags, the group is in fact all about finding ways to appear rich. Part of it is sharing resources and splitting the costs of experiences where these luxury-loving girls can post photos of themselves.
"It turned out to be a high-end version of Pinduoduo," Lizhonger writes. Pinduoduo, sometimes referred to as 'the Groupon of China,' is an interactive group-buying shopping platform that offers quality goods at extremely low prices.
As exposed by Lizhonger, the members of the WeChat group would do things such as sharing the cost for an afternoon high tea at the Ritz-Carlton. The high tea, which is meant for two people, was split among six people, with each person paying 85 yuan ($12.5). The girls then took turns to attend the high tea, with the first girls promising not to touch any of the food so the other girls could still take pictures of it once it was their turn to show up at the Ritz.
Likewise, the booking costs for a 3000 yuan hotel room at the Ritz was shared among 15 members of the WeChat group, with each person paying 200 yuan ($30).
The price for a room at the glamorous and expensive Bvlgari Hotel Shanghai was shared with no less than 40 people, each person paying 125 yuan ($18) just to go up, take a pic, and share their location on social media.
The madness does not stop there. Lizhonger also exposed how the group members would rent one designer bag with four persons, passing them on to each other to wear on a date with a prospective boyfriend.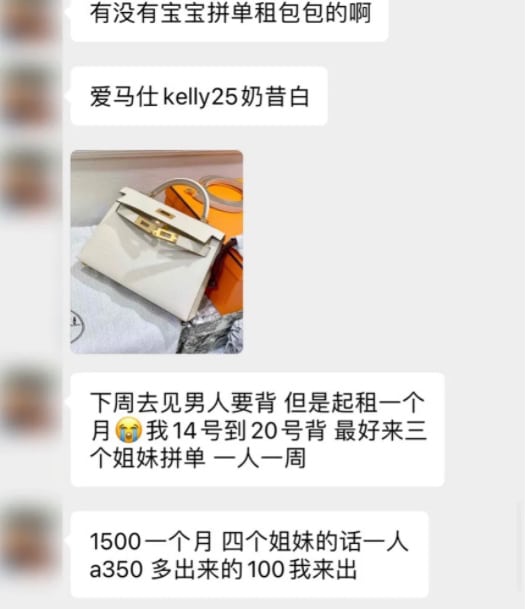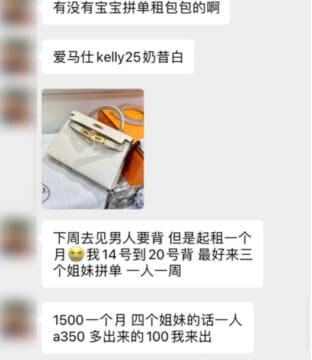 Or how about renting a white Ferrari for one day with 60 people? For 100 yuan ($15) per person, each lady got to take a picture to post on social media.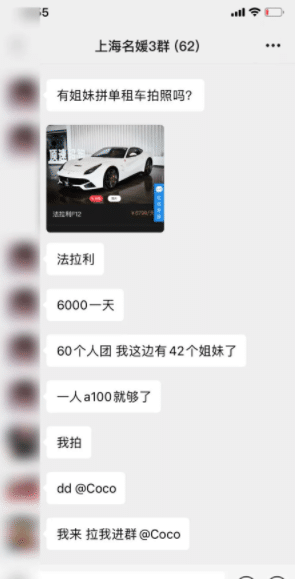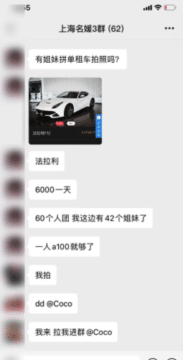 The girls even went as far as sharing the costs for a second-hand Gucci pantyhose, while also discussing how guys driving a BMW or Benz are just not good enough.
One WeChat group can hold a maximum of 500 people. Groups that are popular, such as the one described here, are sometimes split up in multiple groups (A, B, and C) so that more than 500 people can participate.
Since Lizhonger posted his article on WeChat on Sunday, it's become all the talk on Chinese social media. One post about the topic on Weibo reached over 1,4 million likes.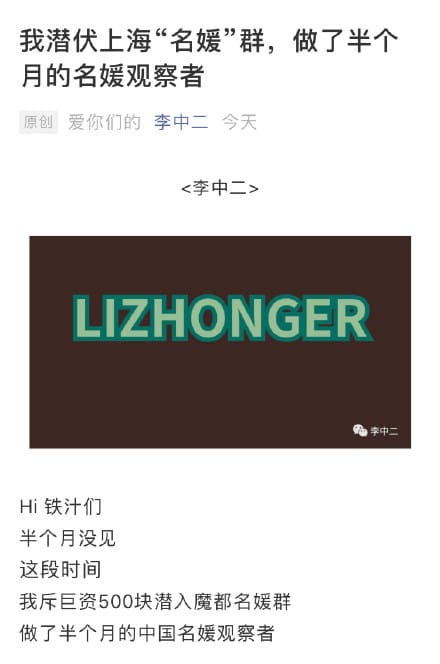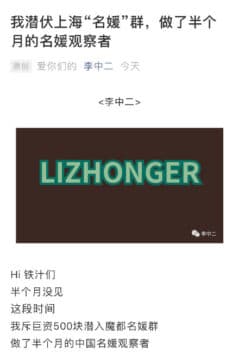 Although many people laugh about the matter, there are also many who criticize these Shanghai women for pretending to be rich and chasing after money in order to increase their social status in order to find a wealthy husband.
"They are faking their appearances, but actually they are just faking themselves," some commented.
Others are not surprised that these kinds of groups are popular. "Did you think this was rare? There are so many of these groups!"
Although this group goes to extremes, the fake socialite life is not just a Shanghai thing. Since some years ago, it was reported that influencers in Russia were booking grounded jets for photoshoots. More recently, some influencers in the US were exposed for renting a photo studio made to look like a private plane for their Instagram photos.
By Manya Koetse, with contributions from Miranda Barnes
Follow @WhatsOnWeibo
Featured image by Yuan Zhe Ma
Spotted a mistake or want to add something? Please let us know in comments below or email us. First-time commenters, please be patient – we will have to manually approve your comment before it appears.
©2020 Whatsonweibo. All rights reserved. Do not reproduce our content without permission – you can contact us at info@whatsonweibo.com.
Chinese Social Media Users Stand up Against Body Shaming
Recent photos of famous actress Gong Li that showed her curvier figure have gone viral on Sina Weibo, receiving over 850 million clicks. With Gong Li's weight gain becoming all the talk on Weibo, the public's focus on her appearance has sparked an online wave of body positivity posts, with web users rejecting the all-too-common phenomenon of body shaming on Chinese social media.
First, there was the 'A4 Waist' hype, then there was the 'iPhone6 Legs' trend, the 'belly button backhand,' and the online challenge of putting coins in your collarbone to show off how thin you are (锁骨放硬币). Over the past five years, China has seen multiple social media trends that propagated a thin figure as the ruling beauty standard.
But now a different kind of trend is hitting Weibo's hotlists: one that rejects body shaming and promotes the acceptance of a greater diversity in body sizes and shapes in China.
On August 26, Weibo user @_HYIII_ from Shanghai posted several pictures, writing:
"Reject body shaming! Why should we all have the same figure? Tall or short, thin or fat, all have their own characteristics. Embrace yourself, and show off your own unique beauty!"
The post was soon shared over 900 times, receiving more than 32,000 likes, with the "body shame" phrase soon reaching the top keyword trending list of Sina Weibo.
Gong Li Weight Gain
The body positivity post by '_HYIII_' is going viral on the same day that the apparent weight gain of Chinese actress Gong Li (巩俐) is attracting major attention on Chinese social media platforms such as Weibo and Douyin.
The 54-year-old actress, who is known for starring in famous movies such as Farewell My Concubine, To Live, and Memoirs of a Geisha, was spotted taking a walk with her husband in France on August 24. The photos went viral, with media outlets such as Sina Entertainment noting how Gong Li had become "much rounder" and had put on some "happy fat" (幸福肥).
By now, the hashtag page "Gong Li's Figure" (#巩俐身材#) has received more than 850 million (!) views on Weibo, with thousands of people commenting on the appearance of the actress. In the comment sections, there were many who lashed out against the focus on Gong Li's weight gain.
"She just has a regular female body shape. Stop using 'white / skinny / young' as the main beauty standard to assess other people," one commenter said, with another person writing: "Why do you all keep focusing on her figure, did she steal your rice and eat it?!"
"Why do you all keep focusing on her figure, did she steal your rice and eat it?"
Some people suggested that the COVID19 pandemic might have to do with Gong Li's weight gain, with others writing: "If she is healthy is what matters, skinny or fat is not the way to assess her beauty."
What stands out from the discussions flooding social media at this time, is that a majority of web users seem to be fed up with the fact that a skinny body is the common standard of women's beauty in China today – and that accomplished and talented women such as Gong Li are still judged by the size of their waist.
Say No to Body Shaming
In light of the controversy surrounding Gong Li's recent photos and the following discussions, posts on 'body shaming' (身材羞辱) are now flooding Weibo, with many Weibo users calling on people to "reject body shaming" (拒绝#body shame#) and to stop imposing strict beauty standards upon Chinese women.
The pressure to be thin, whether it comes from the media or from others within one's social circle, is very real and can seriously affect one's self-esteem. Various studies have found an association between body dissatisfaction and social pressure to be thin and body shaming in Chinese adolescents and young adults (Yan et al 2018).
The main message in this recent Weibo grassroots campaign against body shaming, is that there are many ways in which women can be beautiful and that their beauty should not be merely defined by limited views on the ideal weight, height, or skin color.
Over the past decades, women's beauty ideals have undergone drastic changes in China, where there has been a traditional preference for "round faces" and "plump bodies." In today's society, thin bodies, sharp faces, and a pointy chin are usually regarded as the standard of female ideal beauty (Jung 2018, 68). China's most popular photo apps, such as Meitu or Pitu, often also include features to make one's face pointier or one's legs more skinny.
This is not the first time Weibo sees a growing trend of women opposing strict beauty standards. Although the word 'body shaming' has not often been included in previous trends, there have been major trends of women opposing popular skinny challenges and even one social media campaign in which young women showed their hairy armpits to trigger discussions on China's female aesthetics.
Especially in times of a pandemic, many netizens now stress the importance of health: "Skinny or fat, it really doesn't matter how much you weigh, as long as you're healthy – that's what counts."
Also read:
By Manya Koetse
Follow @WhatsOnWeibo
References
Jung, Jaehee. 2018. "Young Women's Perceptions of Traditional and Contemporary Female Beauty Ideals in China." Family and Consumer Sciences Research Journal 47 (1): 56-72.
Yan, Hanyi ; Wu, Yingru ; Oniffrey, Theresa ; Brinkley, Jason ; Zhang, Rui ; Zhang, Xinge ; Wang, Yueqiao ; Chen, Guoxun ; Li, Rui ; Moore, Justin. 2018. "Body Weight Misperception and Its Association with Unhealthy Eating Behaviors among Adolescents in China." International Journal of Environmental Research and Public Health 15 (5): 936.
Spotted a mistake or want to add something? Please let us know in comments below or email us. First-time commenters, please be patient – we will have to manually approve your comment before it appears.
©2020 Whatsonweibo. All rights reserved. Do not reproduce our content without permission – you can contact us at info@whatsonweibo.com.