Users of WeChat Moments Can Now Delete Comments from Friends
WeChat Moments has a new function, but users would rather see other things change.
The latest iOS update of WeChat (7.0.15) brings a change to the Chinese app, allowing users to delete comments made by friends on their Moments posts.
Once a comment has been deleted, the person posting the comment will be able to see that their comment has been removed by their friend.
The update went trending on Chinese social media, with the hashthag "Comments Can Be Deleted in WeChat Moments" (#微信朋友圈可以删评论了#) receiving over 460 million views on Weibo by Monday night. By Tuesday, the topic hashtag page had received more than 970 million views.
Moments (朋友圈) is a function within the WeChat app that allows users to share pictures, links, or updates with captions. The Moments timeline is a feed that is somewhat similar to the Facebook timeline, where friends can comment on posts.
WeChat has 1.2 billion users worldwide. The majority of its userbase is in China. Whenever the app is changed or has functions added, it often becomes big news since the app plays such an important role in the online lives of Chinese users.
Although many people are happy with the new function in Wechat Moments, there are also many who would rather see other functions added to the app.
These are some of the most popular suggestions on what people would like to see changed within WeChat:
– enable users to edit one's posts after posting
– allowing users to post longer videos
– introducing a real-time search function within Moments
– once a friend deletes you, that friend should also be deleted from your friend list
– adding a control toolbar to voice messages (to pause or adjust speed)
– no notifications when other people like posts of other friends
– clear chats out of the Wechat window without erasing the chat history
– add a 'dislike' button
Many Weibo commenters think the function to delete friends' comments is a trivial change. They argue that if people do not have a friend connection on Wechat, they can't see each other's comments anyway. If you are friends and you're deleting each other's comments, you might as well not be friends.
There are also discussions that WeChat takes too long to implement new functions that are basic functions of social media. Being unable to edit or update your own post, which is possible on many sites including Instagram and Facebook, is one thing that many users are annoyed about.
Some are happy about the newly added feature, saying, for example, that they can finally delete comments on their photos of friends asking if they gained weight. "You have the right to comment on my posts, I have the right to remove your comments."
By Manya Koetse
Follow @WhatsOnWeibo
Spotted a mistake or want to add something? Please let us know in comments below or email us. First-time commenters, please be patient – we will have to manually approve your comment before it appears.
©2020 Whatsonweibo. All rights reserved. Do not reproduce our content without permission – you can contact us at info@whatsonweibo.com.
Disgruntled Woman Cuts Up 32 Wedding Dresses in Chongqing Bridal Salon
The woman ruined 32 wedding dresses – worth at least $11,000 – because she wanted her $550 deposit back.
On January 9, an argument between a female customer and a bridal store staff member escalated when the angry customer took out scissors and ruined more a total of 32 wedding dresses by cutting them up.
A video of the incident went viral on Chinese social media, showing the woman taking out wedding gown after wedding gown and cutting them with scissors. The person filming can be heard saying "Think clearly, these dresses cost thousands [yuan]," with the woman responding: "Thousands? Even it's ten-thousands, it doesn't matter."
This angry customer at a Chongqing bridal salon took out scissors and cut up wedding dress after wedding dress. The video has since gone viral on social media. pic.twitter.com/LSRXoI0OAa

— What's on Weibo (@WhatsOnWeibo) January 13, 2022
The incident happened in the city's Jiangjin District at a store that sells bridal gowns and also offers wedding services. According to Chinese media site Sohu.com, the wedding store manager told reporters that the woman named Jiang first made arrangements with the bridal salon in April 2021 for her October 5th wedding – she booked a wedding package for 8000 yuan ($1260).
Four months later, in August, the woman asked the bridal shop if her wedding arrangements could be postponed. When the woman came to the shop again in November, saying she wanted to cancel all arrangements and get her down payment of 3500 yuan ($550) back, the shop refused due to their policy of not refunding advanced payments. They did offer to instead provide some arrangements for a child's 100th-day celebration, as the woman was allegedly expecting a baby.
Although the woman initially agreed with this, she suddenly returned to the shop on January 9th and started acting out. In her anger, she proceeded to ruin 32 wedding dresses. The woman was taken away by the police after the shop assistant alerted them and was detained. She has since said she is sorry for her behavior.
According to the shop owner, the woman's husband offered to compensate the store for over 60,000 yuan ($9420), but he has not paid a penny yet. The woman allegedly ruined 32 dresses with a total worth of at least 70,000 yuan ($11,000).
On Weibo, thousands of commenters have responded to the incident.
"What on earth was she thinking?" some write, with others saying that the woman should be held criminally liable for her acts and deserves a prison sentence. Others argued that pregnancy hormones could be blamed for the woman's unreasonable behavior, and said the woman should no go to prison but stay home and rest instead. There was one thing virtually all commenters agreed on, which is that the shop should soon be fully compensated for all damages.
By Manya Koetse
Spotted a mistake or want to add something? Please let us know in comments below or email us. First-time commenters, please be patient – we will have to manually approve your comment before it appears.
©2021 Whatsonweibo. All rights reserved. Do not reproduce our content without permission – you can contact us at info@whatsonweibo.com.
Footage Shows Mysterious Flashes Before Qinghai Earthquake
The flashes of light seen in the sky right before the Qinghai earthquake have become a trending topic on Weibo.
Videos of the January 8th quake, which occurred in Qinghai's Menyuan county, appear to show several intense flashes of light filling the night sky immediately preceding the quake. The videos have sparked debate among Chinese internet users as to the explanation for the brilliant lights, with some referencing the little-understood phenomenon of "Earthquake Lights."
On January 8 at approximately 1:45 AM, Menyuan County in the Haibei Tibetan Autonomous Prefecture in China's Qinghai Province was struck by a magnitude 6.9 earthquake, damaging several homes and causing minor injuries to four people.
Photos of buildings in the area show shattered wall tiling and window glass, a partial ceiling collapse, and other minor structural damage. The area around the quake's epicenter is sparsely populated, but tremors could be felt in numerous nearby cities including Zhangye, Wuwei, Jinchang, Lanzhou, and Linxia Autonomous Prefecture in Gansu, as well as causing railway closures along the Qinghai-Tibet and Lanzhou-Qinghai high-speed rail lines, Jiangxi Daily reports.
The earthquake was followed by several subsequent quakes, including 5 quakes of lesser magnitude all within the hour.
According to the China Earthquake Administration, the quakes continued into the 9th, with a magnitude 3.2 earthquake recorded in Menyuan county at 0:44 on January 9th.
CCTV footage shot moments before the quake and shared widely on Weibo captured a bright, explosive flash of light, which quickly disappears before a second, shorter flash lights up the night sky, followed immediately by tremors.
This video went viral on Chinese social media this weekend, showing an intense flash of light right before the Qinghai earthquake happened. pic.twitter.com/MtibhGiTSl

— What's on Weibo (@WhatsOnWeibo) January 9, 2022
The footage intrigued Chinese netizens, with the hashtag "Intense Flash of Light on the Horizon Before the Qinghai Earthquake" (#青海地震前地平线出现耀眼强光#) accumulating over 100 million views by Sunday and giving rise to debate over the cause of the strange lights. Other videos capturing the flash from different angles show only one flash, or several smaller flashes along the horizon.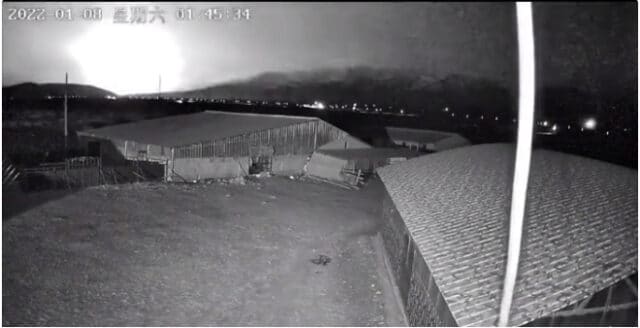 Much of the debate centered around whether this was a case of "Earthquake Lights" (地光/地震光, also EQLs), a controversial phenomenon among scientists which is sometimes reported before high-magnitude earthquakes, such as Italy's 2009 L'Aquila quake.
Just before and after quakes begin, witnesses have reported seeing unexplainable light phenomena in a range of colors, ranging from brilliant white flashes as bright as daylight to a blue, flame-like glow hovering above the earth.
Explanations range from the ionization of oxygen in rocks under intense stress, piezoelectric or triboluminescent phenomena, and leaks of radioactive ionizing gas into the atmosphere to more mundane sources, such as the flailing of damaged power lines. Sometimes the lights were also said to come from UFOs or explained them in religious terms, but a 2014 study refuted this and linked the phenomenon to rift environments.
Interestingly, this is not the first time the phenomenon has been reported to precede a major earthquake in China. Some Weibo users remarked that "Earthquake Lights" had been seen before the disastrous 1976 Tangshan earthquake, which damaged or destroyed vast swathes of that city and killed over 240,000 people. Two movies depicting the quake, After the Blue Light Flashes.. (蓝光闪过之后..) and The Great Tangshan Earthquake (唐山大地震) both feature scenes of mysterious bright lights illuminating the night sky moments before tremors began.
Strange lights were also reported in the sky in Tianshui, Gansu province, preceding the 2008 Sichuan earthquake.

Other Weibo users remained unconvinced about the strange lights being mysterious Earthquake Lights. "Don't freak out over it," one user wrote: "It's just a downed power line."
Another online video features commentary from seismologist Chen Huizhong (陈会忠) of the China Earthquake Administration, who explains the flashes as an electrical transformer exploding, noting that footage from another angle shows the tremors damaging electrical lines in the distance, which begin sparking and showing obvious signs of damage. This damage, however, occurs after the tremors have already started, and does not seem to explain the bright flashes which lit up the sky immediately preceding the tremors.
Still others suggested that radon gas leaking from underground as the earth shifted could have caused the flash.
While the debate rages on between proponents and skeptics of "Earthquake Lights," a third group of online commenters has already made up their minds: the Weibo fans of prominent Chinese science fiction writer and The Three-Body Problem author Liu Cixin (刘慈欣), wasted no time in heralding the coming of extraterrestrial invaders.
"Looking forward to a scientific explanation," wrote one user: "As for me, I think it's the first step in an alien attack." The user's post ended with the hashtag, "The Sophon from Three-Body Problem has arrived!"

By Luke Jacobus
Follow @whatsonweibo
Spotted a mistake or want to add something? Please let us know in comments below or email us. First-time commenters, please be patient – we will have to manually approve your comment before it appears.
©2022 Whatsonweibo. All rights reserved. Do not reproduce our content without permission – you can contact us at info@whatsonweibo.com.