Viral Politics: Next-Stage Investigation Into Covid-19 Origins Discussed on Weibo
Many Weibo users agree with Chinese officials that the U.S. re-investigation of the Covid-19 origin is about "political manipulation" and "blame-shifting."
While President Biden ordered a closer review into the origins of the Covid-19 and more countries are calling for action on a next phase study, Chinese officials demand that the U.S. thoroughly investigates the source of the epidemic within America's own borders and biological labs.
Fifteen months after the WHO declared the novel coronavirus (Covid-19) outbreak a global pandemic, the origin of the virus is still unclear. After the Wuhan field visit of the international WHO research team earlier in 2021, all hypotheses on the origin of the virus remain on the table.
As the efforts to get more people vaccinated continue and the outlook on containing Covid-19 are more positive, the question of where the virus that causes Covid-19 came from is attracting attention again. The issue of the 'origin investigation problem' ("溯源问题") is also generating discussions on Chinese social media.
The U.S. Side: "Looking for a Definitive Conclusion"
On May 26, the White House released President Joe Biden's statement calling for further investigation into the origins of Covid-19.
The statement says that there is still no definitive conclusion on the origins of the virus, with two scenarios being most likely: human contact with an infected animal or a laboratory accident. Biden writes that he has asked the Intelligence Community to "redouble their efforts to collect and analyze information that could bring us closer to a definitive conclusion," asking for a follow-up within 90 days, with a special focus on China.
Speculation that the coronavirus may have emerged from a laboratory in Wuhan was first raised in early 2020, before being refuted and sidelined as a "conspiracy theory" by many scientists.
A statement in The Lancet published in February of 2020 condemned any rumors on the virus origins, claiming that scientific research "overwhelmingly" concludes that the new coronavirus originated in wildlife. The WHO research team investigating the origins of Covid-19 also called it "extremely unlikely" that the virus leaked from a lab in China.
The American Dr. Anthony Fauci, the director of the National Institute of Allergy and Infectious Diseases, was among those scientists who originally refuted the 'lab leak' theory. But in May of 2021, Fauci said he was "no longer convinced" that the Covid-19 pandemic originated naturally.
In American media, reports on the 'lab leak theory' have also seen shifting narratives, going from a 'conspiracy theory' to a seemingly credible one. Last month, a Wall Street Journal published an opinion article titled 'The Science Suggests a Wuhan Lab Leak,' which claims that the pathogen of the novel coronavirus has a genetic footprint that has never been observed in a natural coronavirus.
The Wall Street Journal also reported on a study by the Lawrence Livermore National Laboratory in California, which concluded that the hypothesis of a virus leak from a Chinese lab in Wuhan is plausible and deserves further investigation. The report by Wall Street Journal included an alleged American State Department's assertion that the U.S. government has reason to believe that several researchers inside the Wuhan Institute of Virology became sick in autumn 2019, "with symptoms that were consistent with Covid-19 or a seasonal flu."
The Chinese Side: "It's All about Blame-Shifting"
Chinese officials have repeatedly denied a possible leak from a Chinese laboratory and have emphasized their cooperation with international efforts to find the origins of the pandemic.
On May 27 of this year, a day after Biden's statement was released, Zhao Lijian (赵立坚), spokesperson for the Foreign Ministry, responded to the reinvestigation of China regarding the origins of the novel coronavirus.
Zhao argued that the US is not actually interested in the scientific origin of the virus, but that its determination to reinvestigate China despite previous scientific conclusions is all about "political manipulation" and "blame-shifting." He further said that the US – with over 33 million confirmed Covid-19 cases and 600,000 deaths from Covid-19 – should examine its own behavior, instead of "attempting to scapegoat China."
Although China was the first country to report Covid-19 infections, the official stance has been that this does not necessarily mean that the new coronavirus "patient zero" was also in China.
Prior to the Wuhan lab leak theory, China had been questioning the US military base Fort Detrick in Fredrick, Maryland, about the leak of Covid-19 as an agent of biochemical warfare. In May of last year, China's Foreign Ministry Spokesperson Hua Chunying asked for an international review of Fort Detrick and other bio-labs.
The #US keeps calling for transparency & investigation. Why not open up Fort Detrick & other bio-labs for international review? Why not invite #WHO & int'l experts to the US to look into #COVID19 source & response?

— Hua Chunying 华春莹 (@SpokespersonCHN) May 8, 2020
In light of recent developments, Chinese Foreign Ministry spokesperson Wang Wenbin (汪文斌) also, again, suggested that the U.S. should invite an international team of scientists to conduct an independent investigation on Fort Detrick on its potential link to the origin of Covid-19.
This stance was again reiterated by Zhao Lijian in a June 17 press conference, where the MFA spokesperson asked the U.S. to explain why, being the most medically country in the world, their COVID19 death toll was so high and why nobody would take responsibility for this and give more transparency on Fort Detrick.
On June 22, China's Ministry of Foreign Affairs turned the tables on the U.S. and demanded a thorough investigation of (1) the source of the epidemic in the United States, a (2) thorough investigation of the why's and who's of the American inadequate response in fighting the epidemic, and then also (3) an investigation into the safety concerns at Fort Detrick other biological labs (#赵立坚请美国赶紧回答3个问题#).
Weibo Discussions and Hashtags
On Chinese social media, various discussions and hashtags have come up in response to the recent developments regarding the research into the COVID19 origins. Most commenters agree on one thing, namely that the next stage of Covid-19 origin investigations is seemingly more about politics than about the virus itself.
A hashtag titled "Biden Ordered US Intelligence to Investigate the Origins of Covid-19" (#拜登令美情报部门调查新冠病毒起源) appeared on the same day as the White House statement was released and immediately attracted over 35 million views. Another relating hashtag on Weibo is "U.S. Specialists Have Changed Their Tune Regarding COVID19 Origin" (#美国专家在新冠病毒的来源上改口了#).
On Weibo, the most common reaction to Biden's investigation and American media coverage of the origins of the virus is one of suspicion towards their true intentions, ranging from intense emotions to sarcastic humor. Weibo users suggest that Biden's call to action is a politically charged move to further blame China for the pandemic amidst growing China-US tensions. Most netizens commenting under this hashtag feel that the U.S. is deliberately hyping the issue to discredit China, turning the COVID19 origins issue into a geopolitical issue, rather than a scientific one.
One popular comment (@乐隐灯清) said: "If I say you have it, then you have it – [this is] the second season of 'Laundry Detergent'!" This sarcastic comment refers to the famous UN meeting where US Secretary of State Colin Powell presented a vial containing white powder, supposedly proving that Saddam Hussein was stockpiling anthrax, in order to justify the US's invasion of Iraq. Putin fired back by calling this vial of powder "laundry detergent."
There are also web users who are concerned with the 90-day limit of Biden's announced investigation, questioning whether such a relatively short time would be enough for a thorough and fair study. One user, whose profile image is the Chinese national flag, wrote: "90 days? If you investigated Fort Detrick starting in the morning, you would already have the conclusion before lunchtime!"
One user questioned the US President's move to trace Covid-19's origin in China instead of in his own country: "Are they giving 90 days to investigate the origin or 90 days to fabricate a rumor?"
Another hashtag is "Where did the new coronavirus originate?" (#新冠肺炎病毒起源于哪里#). On this hashtag page, most discussions revolve around the fact that COVID19 was already found in various countries outside of China during or just before the early days of the Wuhan outbreak. Various studies suggest that the coronavirus might have been circulating in the US and France a month before it was officially confirmed.
"The fact that Chinese scientists were the first to discover the genetic sequence of the new coronavirus does not mean that Wuhan is the source of Covid-19, and it certainly cannot be used as a pretext to conclude that the virus was made by Chinese scientists," one Weibo blogger (@侠骨一点情) wrote.
There are those who believe it is probable that the virus did come from the U.S., saying that the American investigation into China is an issue of "zéi hǎn zhuō zéi" (贼喊捉贼), an idiom that literally means 'a thief crying "Stop Thief!",' conveying the idea that it is easy for someone to accuse another in order to cover up one's own misdeeds.
In response to the investigation, the computer graphics artist @半桶老阿汤 / 'Half Can of Old Soup' also released a cartoon, showing President Biden blocking the entrance to Fort Detrick, with a WHO research team standing in front of the entrance.
Many web users support the Chinese official reaction that it is time for America to investigate the epidemic within its own borders. "First, discrediting and framing China regarding the virus origin has become a 'national policy' of the U.S. government to get rid of their [own] predicaments," Chinese economist Tao Yongyi (@陶永谊) wrote on Weibo: "Now, the best defense is a good offense."
By Susanna Sun & Manya Koetse
Follow @whatsonweibo
Spotted a mistake or want to add something? Please let us know in comments below or email us.
©2021 Whatsonweibo. All rights reserved. Do not reproduce our content without permission – you can contact us at info@whatsonweibo.com.
Fangcang Forever: China's Temporary Covid19 Makeshift Hospitals To Become Permanent
China's temporary 'Fangcang' shelter hospitals are here to stay.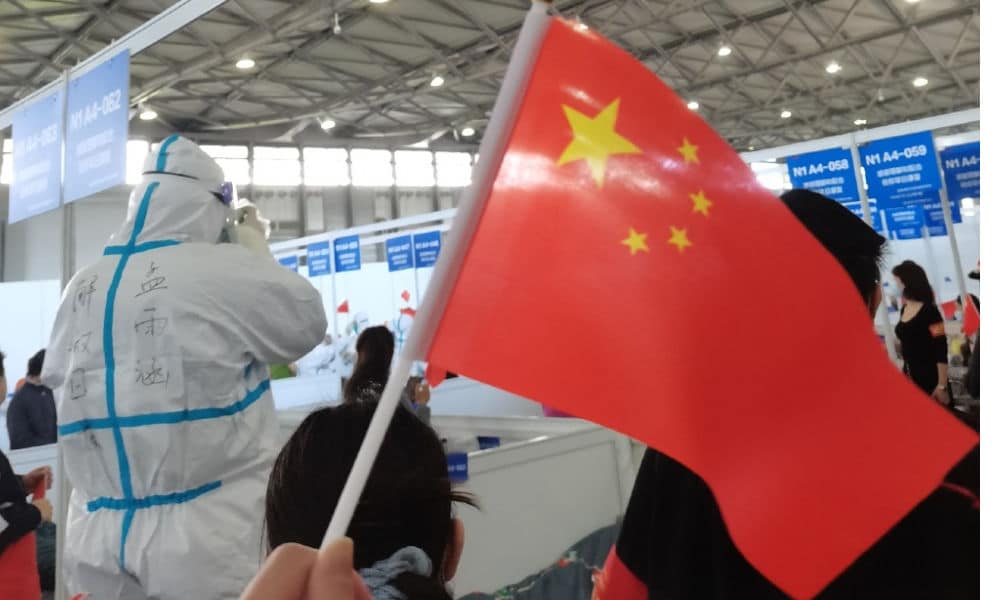 A new term has been added to China's pandemic lexicon today: Permanent Fangcang Hospital. Although China's 'Fangcang' shelter hospitals are, by definition, temporary, these healthcare facilities to isolate and treat Covid patients are now becoming a permanent feature of China's Zero-Covid approach.
Over the past few days, Chinese authorities have emphasized the need for China's bigger cities to build or renovate existing makeshift Covid hospitals, and turn them into permanent sites.
So-called 'Fangcang hospitals' (方舱医院, square cabin hospitals) are large, temporary makeshift shelter hospitals to isolate and treat Covid-19 patients. Fangcang shelter hospitals were first established in China during the Wuhan outbreak as a countermeasure to stop the spread of the virus.
They have since become an important part of China's management of the pandemic and the country's Zero-Covid policy as a place to isolate and treat people who have tested positive for Covid-19, both asymptomatic and mild-to-moderate symptomatic cases. In this way, the Fangcang hospitals alleviate the pressure on (designated) hospitals, so that they have more beds for patients with serious or severe symptoms.
On May 5th, Chinese state media reported about an important top leadership meeting regarding China's Covid-19 situation. In this meeting, the Politburo Standing Committee stressed that China would "unswervingly adhere to the general Zero-Covid policy" and that victory over the virus would come with persistence. At the meeting, chaired by Xi Jinping, the seven-member Politburo Standing Committee also declared that China would fight against any words or acts that "distort, doubt, or deny" the country's dynamic Zero-Covid policy.
Following the meeting, there have been multiple official reports and statements that provide a peek into China's 'zero Covid' future.
On May 13, China's National Health Commission called on all provinces to build or renovate city-level Fangcang hospitals, and to make sure they are equipped with electricity, ventilation systems, medical appliances, toilets, and washing facilities (Weibo hashtag ##以地级市为单位建设或者改造方舱医院#).
On May 16, the term 'Permanent Fangcang Hospital' (Weibo hashtag #永久性方舱医院) became a trending topic on Weibo after Ma Xiaowei (马晓伟), Minister of China's National Health Commission, introduced the term in Qiushi (求是), the leading official theoretical journal of the Chinese Communist Party.
The term is new and is somewhat contradictory as a concept, since 'Fangcang hospitals' are actually defined by their temporary nature.
Ma Xiaowei stressed the need for Chinese bigger cities to be ready for the next stage of China's Covid control. This also includes the need for some central 'Fangcang' makeshift hospitals to become permanent ones.
In order to 'normalize' the control and monitoring that comes with living in Zero-Covid society, Chinese provincial capitals and bigger cities (more than ten million inhabitants) should do more to improve Covid testing capacities and procedures. Ma proposes that there should be nucleic acid sample collection points across the city within a 15-minute walking distance radius, and testing frequency should be increased to maximize efficient control and prevention.
Cities should be prepared to take in patients for isolation and/or treatment at designated hospitals, centralized isolation sites, and the permanent Fangcang hospitals. The recent Covid outbreak in Shanghai showed that local authorities were unprepared to deal with the outbreak, and sites that were used as Fangcang hospitals often lacked proper facilities, leading to chaotic scenes.
The hashtag "Permanent Fangcang Hospitals" received over 140 million views on Weibo on Monday.
One of the Weibo threads by state media reporting on the Permanent Fangcang hospitals and the publication by Ma Xiaowei received nearly 2000 comments, yet the comment section only displayed three comments praising the newly announced measures, leaving out the other 1987 comments.
Elsewhere on Weibo, people shared their views on the Permanent Fangcang Hospitals, and most were not very positive – most commenters shared their worries about China's Covid situation about the stringent measures being a never-ending story.
"We're normalizing nucleic acid test, we're introducing permanent fangcang hospitals, [but] why isn't the third Covid vaccination coming through?" one person wondered.
"If there was still a little bit of passion inside me, it was just killed by reading these words 'Permanent Fangcang Hospital,'" another commenter writes, with one Weibo user adding: "I feel desperate hearing the words 'Permanent Fangcang Hospital.'"
"Building permanent Fangcang? Why? Why don't you use the resources you're now spending on normalizing testing to create more hospital beds, more medical staff and more medications?"
Another commenter wrote: "China itself is one giant permanent Fangcang hospital."
"The forever Fangcang are being built," one Weibo user from Guangdong writes: "This will never end. We'll be locked up like birds in a cage for our entire life."
For more articles on the Covid-19 topics on Chinese social media, check here.
By Manya Koetse, with contributions by Miranda Barnes
Get the story behind the hashtag. Subscribe to What's on Weibo here to receive our weekly newsletter and get access to our latest articles:
Featured image via user tongtong [nickname] Weibo.com.
Spotted a mistake or want to add something? Please let us know in comments below or email us. First-time commenters, please be patient – we will have to manually approve your comment before it appears.
©2022 Whatsonweibo. All rights reserved. Do not reproduce our content without permission – you can contact us at info@whatsonweibo.com.
These Are China's Ten Brand-New Stadiums That Will NOT Be Used for the 2023 Asia Cup
Billions were spent on the venues to host the Asia Cup, what will happen to them now that China will no longer be the host country?
China's withdrawal as the 2023 Asia Cup host leaves netizens wondering: "Will these newly built stadiums become Covid quarantine centers instead?" These are the ten stadiums that will not be used for next year's Asia Cup.
News that China will no longer host the 2023 Asia Cup due to the Covid situation has left Chinese netizens wondering what will happen to the mega venues constructed especially for the event.
On Saturday, May 14, the Asian Football Confederation (AFC) released a statement saying that, following extensive discussions with the Chinese Football Association (CFA), they were informed by the CFA that it would not be able to host the 2023 AFC Asian Cup due to circumstances caused by the Covid-19 pandemic.
The event was planned to take place from June 16 to July 16, 2023, across ten Chinese cities: Beijing, Tianjin, Shanghai, Chongqing, Chengdu, Xi'an, Dalian, Qingdao, Xiamen, and Suzhou.
On Weibo, one popular post listed ten stadiums that were renovated or newly built to host the 2023 Asia Cup, adding the alleged (staggering) construction/renovation costs.
"1. Xiamen Bailu Stadium: costs 3.5 billion [$515.5 million].
2. Qingdao Youth Football Stadium: costs 3.2 billion [$470 million].
3. Chongqing Longxing Stadium: costs 2.7 billion [$397.7 million].
4. Xi'an International Football Center: costs 2.395 billion [$352.7 million].
5. Dalian Suoyuwan Football Stadium: costs 1.88 billion [$277 million].
6. Chengdu Phoenix Hill Stadium: costs 1.865 billion [$274.7 million].
7. SAIC Motor Pudong Arena: costs 1.807 billion [$266 million].
8. Suzhou Kunshan Football Stadium: costs 1.6 billion [$235.6 million].
9. Tianjin Binhai Football Stadium: the renovation cost 320 million [$47 million].
10. New Beijing Gongti Stadium: renovation cost 280 million [$41.2 million]."
All of these stadiums were built or renovated for the Asia Cup on a tight schedule, as there was just a three-year timeframe from design to construction completion. In the summer of 2019, it was confirmed that China would host the Asia Cup.
Now that these venues will not be used for the Asia Cup, many netizens are wondering what will happen to them.
One of the most popular answers to that question was: "Perhaps they should be turned into makeshift hospitals [fangcang]."
Fangcang, China's 'square cabin' makeshift Covid hospitals, are seen as a key solution in China's fight against the virus. Together with mass testing and local lockdowns, the Fangcang have become an important phenomenon in China's dynamic zero-Covid policy.
Since every city needs quarantine locations to be prepared for a potential local outbreak, many people half-jokingly say the venues would be more useful as Covid isolation points if they are not used for the Asia Cup anyway.
"So many great stadiums, what a waste," some commenters write, with others suggesting the stadiums should be opened up for the people to use and enjoy.
In response to China's withdrawal as the 2023 Asia Cup host, another popular comment said: "China has taken the lead in achieving Zero at the level of major sports events," jokingly referring to the country's Zero-Covid policy that currently impacts all aspects of society.
For others, the announcement that China would not host the Asia Cup came as a shock. Not necessarily because of the cancelation of the event itself, but because it made them realize that China's stringent measures and Zero-Covid policy can be expected to continue well into 2023: "How did it get this far? I thought the country would open up after the general meeting," one person wrote, referring to the Communist Party National Congress that is set for autumn 2022.
Another Weibo user wrote: "They finally said it. The Asia Cup will be hosted by another country because our Strong Country will continue to stay sealed, the money spent on building all these venues is going to go to waste."
"The point that many people missed is that the Asian Cup is no longer being held in China because China refuses to hold the event in 'full open mode' as requested by foreign countries," another commenter wrote. Some people praised the decision, calling it "courageous" for China to persist in handling the pandemic in its own way.
Others are hopeful that all of the money spent on the venues won't be in vain, and that China can use these venues to still host the World Cup in the future.
Below is the list of the ten brand-new venues where the Asia Cup is not going to take place.
1. The Xiamen Bailu Stadium (厦门白鹭体育场)
The Bailu Stadium in Xiamen is an impressive construction with a steel structure similar to that of Beijing Bird's Nest, and, like most of the stadiums in this list, it was designed especially for the 2023 Asia Cup.
Expected to be finished by late 2022, the building does not just offer a beautiful sea view, it is also fully multifunctional and has a floor area of 180,600 square meters and a capacity of 60,000 seats. It is the first professional soccer stadium in China that can switch from a soccer field to an athletic field. The inner and outer circles of the seating area can be moved to transform the stadium.
2. Qingdao Youth Football Stadium (青岛青春足球场)
The Qingdao Youth Football Stadium, a high-standard soccer stadium with a capacity of 50,000 people, is the first major professional soccer stadium in Shandong Province.
The stadium, located in the city's Chengyang District, started its construction in 2020 and the entire stadium with a floor area of 163,395 square meters, is expected to be finalized by late 2022.
3. Chongqing Longxing Stadium (重庆龙兴体育场)
Like most of the other stadiums on this list, the Chongqing Longxing Stadium started to be constructed in 2020 and the 60,000-capacity football stadium is expected to be finished in December 2022.
The design of the stadium is based on a twirling flame, meant to convey the hot image of Chongqing (the city of hotpot) and the burning Asian Cup football passion. Aerial photos published by state media in March of 2022 show that the construction of the roof and decorations has come to the final stage.
4. Xi'an International Football Center (西安国际足球中心)
The Xi'an International Football Center is a Zaha Hadid project, which is the same architects office to design prestigious buildings in China such as the Beijing Daxing International Airport or the Galaxy SOHO.
On their site, they write that the Footbal Centre, which started construction in 2020, is a 60,000-seat stadium in Xi'ans Fengdong New District. Besides the arena, the stadium will also provide recreational spaces for the city.
5. Dalian Suoyuwan Football Stadium (大连梭鱼湾足球场)
Located on the Dalian Bay, this is a spectacular new 63,000-capacity stadium that was, obviously, also meant to host the AFC Asian Cup in 2023 and to provide a home for the Dalian Professional Football Club.
An animation of the design for the Dalian Football Stadium can be viewed here.
6. Chengdu Phoenix Hill Stadium (成都凤凰山体育场)
The Chengdu Phoenix Hill Stadium consists of a a 60,000-seat stadium and an 18,000-seat standard arena. The large open-cable dome structure is reportedly the first of its kind in China.
Besides football, the venue will also be able to host other major tournaments, including ice hockey, badminton, table tennis, handball, and gymnastics.
7. SAIC Motor Pudong Arena (上汽浦东足球场)
The Shanghai Pudong Football Stadium, currently named SAIC Motor Pudong Arena, was supposed to be one of the stadiums used for the AFC Asian Cup, but it was not necessarily built for that purpose.
The 33,765-seat stadium, which is supposed to remind you of a Chinese porcelain bowl, is home to the football association Shanghai Port FC and was the first football-specific stadium designated for a club in China. Its construction, which started in 2018, was finished by late 2020.
8. Suzhou Kunshan Football Stadium (苏州昆山足球场)
The Suzhou Kunshan Football Stadium is the first professional soccer stadium in Jiangsu. With a total construction area of ​​135,000 square meters, the stadium can accommodate about 45,000 spectators.
The design of the building is inspired by the Chinese traditional "folding fan." More pictures of the venue can be seen here.
9. Tianjin Binhai Football Stadium (天津滨海足球场)
The TEDA football stadium in Tianjin has been fully renovated and upgraded to host the 2023 Asia Cup. The stadium, build in 2004, originally could hold 37,450 people. The renovations of the original stadium started this year and the construction work was expected to take about six months.
10 . New Beijing Gongti Stadium (新北京工体)
Beijing's old Workers' Stadium or Gongti was closed in 2020 to be renovated and reopened bt December 2022, in time for the 2023 AFC Asian Cup. The Beijinger reported on the venue's renovating process, with the stadium's capacity increasing to 68,000, with the venue getting an all-new roof structure.
For more articles on the Covid-19 topics on Chinese social media, check here.
For more articles on hot topics related to architecture in China, check here.
By Manya Koetse
Get the story behind the hashtag. Subscribe to What's on Weibo here to receive our weekly newsletter and get access to our latest articles:
Spotted a mistake or want to add something? Please let us know in comments below or email us. First-time commenters, please be patient – we will have to manually approve your comment before it appears.
©2022 Whatsonweibo. All rights reserved. Do not reproduce our content without permission – you can contact us at info@whatsonweibo.com.