Weibo Administration: "We're No Longer Targeting Gay Content"
After a storm of critique following a ban on gay content, Weibo announces it will no longer specifically target cartoons, games, or videos relating to homosexuality.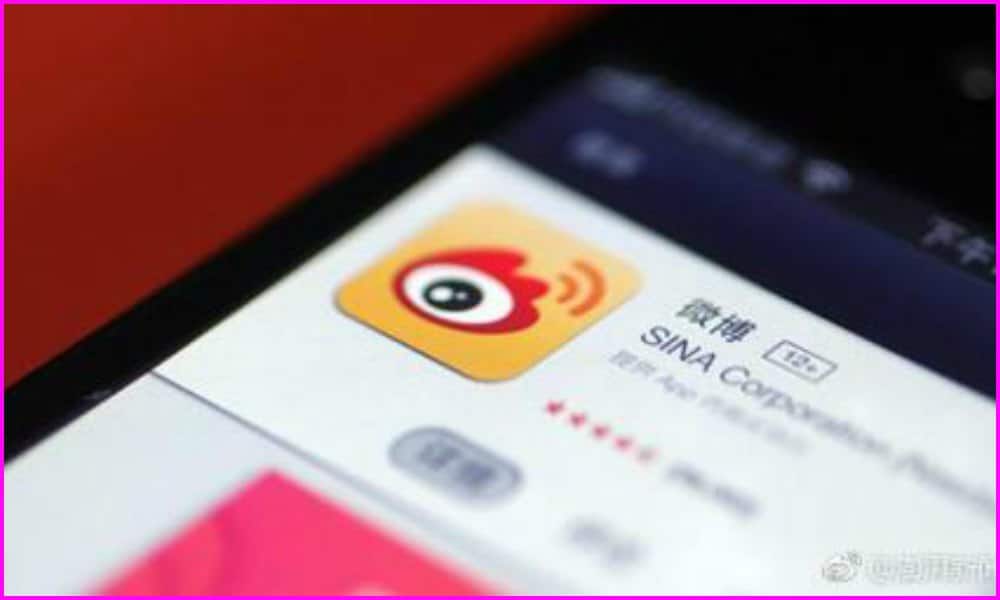 Three days after Sina Weibo announced a clean-up of its platform that included a ban on homosexual content, it has announced that it will no longer target displays of homosexuality specifically.
Just now Weibo annouced it would not target topic of homosexuality anymore. pic.twitter.com/lNkhnIJFEd

— 吕频Lü Pin (@pinerpiner) 16 april 2018
Weibo administration (@微博管理员) wrote on Monday afternoon (Beijing time): " This time, the cleanup of anime and games won't target gay content. It is mainly [meant] to clean up content related to pornography, violence, and gore. Thank you for your discussions and suggestions."
On Friday, the announcement that, along with violent and pornographic content, homosexual content would be targeted in a new online clean-up campaign, ignited a storm of discussion. Thousands of netizens then responded to the campaign with the hashtag "I am gay" (我是同性恋#).
The announcement and its aftermath show many similarities with a Weibo campaign of 2017, in which the platform said it would ban "displays of homosexuality" in online videos. Then, an official account of the Communist Youth League replied that "being gay is no disorder."
Although comments on Friday's Sina Weibo announcement have been locked for viewing, the responses to the new announcement on Monday were open to see.
Within three hours after Weibo's Administration posted the rectification, it had been forwarded more than 33,000 times and received over 7500 comments. "I hope you'll never announce discriminatory guidelines again," some netizens said.
The Weibo account LGBT (@LGBT) responded to the new notice, writing that: "Weibo's homophobic storm has settled," and that this was a "step forward" in showing "respect for people who are different."
By Manya Koetse
Follow @whatsonweibo
Screenshot of announcement:
Spotted a mistake or want to add something? Please let us know in comments below or email us.
Directly support Manya Koetse
. By supporting this author you make future articles possible and help the maintenance and independence of this site. Donate directly through
Paypal here
. Also check out the
What's on Weibo donations
page for more information.
©2018 Whatsonweibo. All rights reserved. Do not reproduce our content without permission – you can contact us at info@whatsonweibo.com.
Weibo's New Online Guidelines: No Homosexual Content Allowed
The official Weibo Community Manager announced a 3-month-ban on online content on April 13, including that on displays of homosexuality.
On April 13, Weibo's Community Manager issued a notice with new guidelines for the social media platform to "create a bright and harmonious community environment."
In the notice, that received near to 20,000 comments and over 96,000 shares shortly after it was posted (see screenshot), the official Sina Weibo account writes that, in order to "fulfill the corporate responsibility," the platform will adhere to Internet Security Laws in strictly overseeing cartoons, games, videos, and other related content published on Weibo for a 3-month-period.
The Weibo Community Notice says its "clean-up" mainly targets content related to cartoons, images, and short videos relating to pornography, "bloody violence", and homosexuality.
Violent content, such as that of the Grand Theft Auto game, will also not be allowed to appear on the social media platform.
According to the account, a total of 56,243 related violations were already "cleared" at the time they published the notice.
Although the announcement received many comments, they were not viewable at time of writing.
On their own accounts, many netizens also shared their views on the announcement: "According to China's classification of mental disorders, being gay is not a mental illness," one person writes: "Heterosexuals and homosexuals enjoy the same basic human rights. Publishing homosexual content is not illegal, and it should not be banned. It is my right to publish this post, and it would be wrong to delete it."
"I object to Weibo's guidelines against homosexual content. This is 2018, why do you still want to control everything people say?"
The slogan "I am Gay" (#我是同性恋#) also took off shortly after the announcement, with hundreds of netizens raising their voice against the guidelines by using this hashtag, some combining it with the hashtag "I am illegal" (Or: "I am breaking the law") (#我违法#).
"If we don't raise our voices now, then when will we?", some said. "I am homosexual, and I am not proud of it, neither do I feel inferior," one person stated.
This is not the first time the regulations for online content regarding the display of sexuality on Weibo are sharpened. In 2017, Chinese authorities also issued a statement in which they wrote that online audio-visual content on sites such as Sina Weibo would no longer be allowed to have any "display of homosexuality." At the time, the Communist Youth League responded to the guidelines by posting: "Being gay is no disorder!"
Another commenter says: "I am an adult, and I should be able to view books, cartoons, or videos targeted at an adult audience. You're now telling me I can't view content relating to sexuality?"
"I am equal," one Weibo user writes: "Why can't we just respect each other?"
By Manya Koetse
Follow @whatsonweibo
Spotted a mistake or want to add something? Please let us know in comments below or email us.
Directly support Manya Koetse
. By supporting this author you make future articles possible and help the maintenance and independence of this site. Donate directly through
Paypal here
. Also check out the
What's on Weibo donations
page for more information.
©2018 Whatsonweibo. All rights reserved. Do not reproduce our content without permission – you can contact us at info@whatsonweibo.com.
The World of Weibo Verification: Options to Verify Accounts on Sina Weibo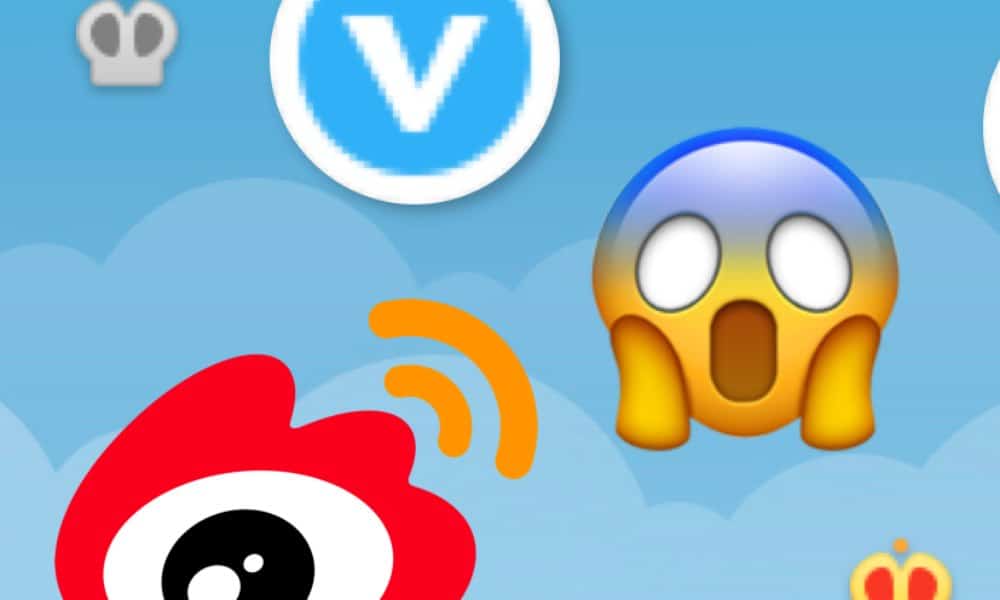 What's on Weibo often receives emails from readers asking how to get verified on Sina Weibo. While we're keeping up with the trending stories, our friends at KAWO know all about the tech & marketing side of Chinese social media. KAWO's Tianyi Han explains the verification process on Weibo for our What's on Weibo resources page.
In an online world of 'fake news' and online scams, it is sometimes hard to know what and who is real on social media. This is especially true in China, which has an online population of over 770 million, of which more than 350 million people are active monthly users of Sina Weibo.
As the user base of China's social media has seen a staggering growth, it has become more important for businesses, brands, celebrities, or other accounts of public interest, to get verified to show netizens they are authentic. This adds credibility and trust to an account – generally increasing the number of followers and influence.
Weibo has a somewhat complicated variety of options to verify accounts, all leading to that one goal of authentication: a 'V' on the account page. All of Weibo's celebrities, Key Opinion Leaders or 'KOLs', and a myriad of companies and micro-bloggers, now have that desirable 'V' on their account.
That little 'V' is of great importance; it even led to the widespread popularization of the term "Big Vs" (大V), referring to those verified and influential accounts on Chinese social media.
Since Weibo's online support for verification processes are rather chaotic and scattered around, we've created this guide for you. (Click here to enlarge.)

Some Things to Know about Weibo Verification:

Individual verification is free.
All users need to bind their phone number and upload a clear profile photo.
'Golden verification' is only awarded to most popular accounts on Weibo.
A contract grass root media account gets more privileges on media content, which include:
Paid Articles: allowing readers to pay to read your articles;
Article Notifications: followers will get notified via PM when a new article is published;
Allow users to follow an account from inside a video;
"Original work" option (similar to "original content" on WeChat in which a special tag clarifies that content is verified as being unique and not infringing on copyright);
Drive users to continue reading an article.
It's important to remember that Weibo only charges organizations for verification so there are a lot more options, which we have listed below.

Organization verification

For a so-called 'Blue V' verification, which is awarded to verified businesses, there are three levels and it includes benefits in 6 different categories:
Basic Services
Promotion
Events
Coupons
Private Messages
Data Analysis & Social Listening

1. Basic Services

A purchase of the Blue verification will give you a banner image slider on the homepage, on the top of your post feeds. You can insert up to 5 images and 1 video.

2. Promotion

Weibo's promotion tools are essential for any brand looking to boost engagement and grow their account.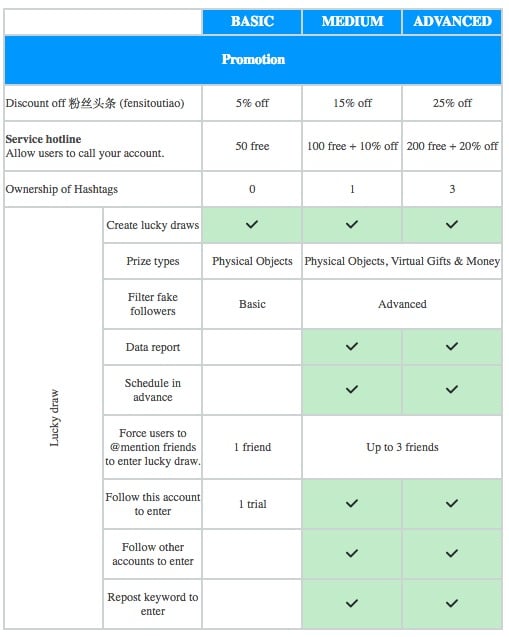 Basic plan users will experience some restrictions in utilizing the campaign and promotion tools. If you would like to run campaigns on Weibo, we recommend you buy a medium plan and ideally splash out for the 9,800 RMB Advanced plan if you're a heavy user of fensi toutiao (粉丝头条, 'fan headlines': option to push post to top of newsfeed of followers).

3. Event Platform

Weibo offers 6 types of event promotions:
Wheel of Fortune: spin to win a prize or red packet.
Flash Sales: limited time offers inside Weibo.
Repost to enter a lucky draw.
UGC: reward users who post your campaign on their Weibo with a prize.
Pre-order: similar to how Apple lets people pre-order iPhones.
Request a Sample: users fill out a form to get a free sample.

4. Coupons

Coupons are a great way to entice users to follow your account and give a little nudge to those with demonstrated intent to purchase.

5. Private Messages

Private messages are almost a direct copy of WeChat's articles. The basic plan – bizarrely enough – only lets you send them to a random 10% of your follower base and has other restrictions on menus and auto-replies.

6. Data Analysis & Social Listening

This is not to be confused with Weibo's "data helper" (数据助手), which costs an additional 6,800 RMB/year, although medium and advanced plans can get a discount on it.
Overseas brands need to pay $1000 to apply for organization verification. Detailed information can be found at Weibo's Support Page. If you do not want to worry about all of these details, KAWO's team can help you get a better reporting experience.

Lastly..

Some final remarks about Weibo verification. There are also many organizations that just get individual verification status, and those that do not even bother getting verified at all.
While it is true that 'Blue V' gives an organization instant authority and credibility as an official account, trust and authenticity can also be built up through consistent posting, a formal tone of writing, and professional quality content. One good example is Penguin Market, an online import food and lifestyle seller with 50k+ followers. Their account has remained 'unverified', yet they have succeeded in becoming and staying popular. Before spending time and money on a Blue V-status, it is, therefore, worthwhile to consider if a free verification may be sufficient to meet your needs.
Adding to that; non-Blue V accounts actually can also purchase the RMB 5000 and 9800 packages. It took us wuite some research of all the Weibo documentation to find out that non-verified users can also purchase the same service pack. It does, however, carry a different name: "Super Fans Package" (超级粉丝包) – sounds just as good.
KAWO connects teams across the globe providing data insights, greater transparency, and increased efficiency. We help international brands in China be more authentic and consistent on social media.
Interested to learn more? Schedule a free demo.