Top 3 Most "Evil" Women in China's History
Since one of the articles we did in the early days of What's on Weibo about the 10 most evil power women in the history of China has become one of the best-read articles, we decided to feature a vlog on our YouTube channel about this topic.
Although not all of the women in this list are equally "evil" (at all), they're still much-discussed people on Chinese social media, and have become a part of the canon of Chinese popular culture.
See our latest vlog here:
By Manya Koetse
Follow @whatsonweibo
Spotted a mistake or want to add something? Please let us know in comments below or email us.
©2018 Whatsonweibo. All rights reserved. Do not reproduce our content without permission – you can contact us at info@whatsonweibo.com.
This is "Chinese Santa": Weibo Launches Lei Bao 'Santa Claus' Emoticon for Christmas
The Chinese Santa emoticon is here!
On Christmas day, Sina Weibo released a new emoticon in the image of a character named Lei Bao (雷豹, literally 'thunder leopard') from the 1990s comedy movie Hail the Judge (九品芝麻官), for his costumes, beard, and impressive eyebrows, that bear some resemblance to Santa Claus.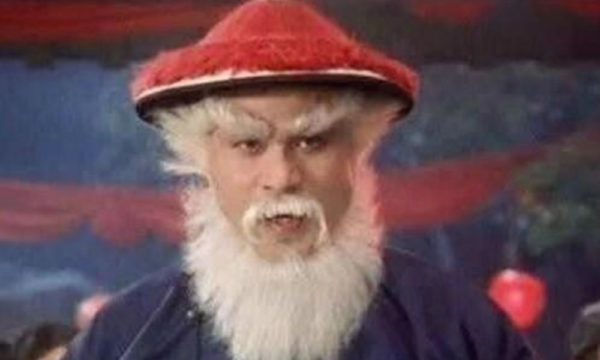 The emoticon was created by the cartoonist @大绵羊BOBO after social media users started using images of 'Lei Bao' to celebrate Christmas on Weibo and WeChat, writing: "It is said that Santa is a man with a white beard wearing a red hat."
The Chinese actor Xu Jinjiang (@徐锦江/Elvis Tsui), who played this entertaining character in the movie, posted a response on his Weibo saying: "Best wishes to you all from an old man with white beard and wearing on Christmas."
According to an online announcement issued on the official account of the Sina Weibo content center, the social media website first received permission from the emoticon's creator and from Xu Jinjiang to launch the image, and then posted a message to look for the copyright owner of the movie.
Later, Tiffany Chen (@向太Tiffany陳嵐), wife of Win's Entertainment founder Charles Heung Wah-Keung (向华强), the copyright holder of the movie, replied on Weibo and gave permission to launch the emoticon online.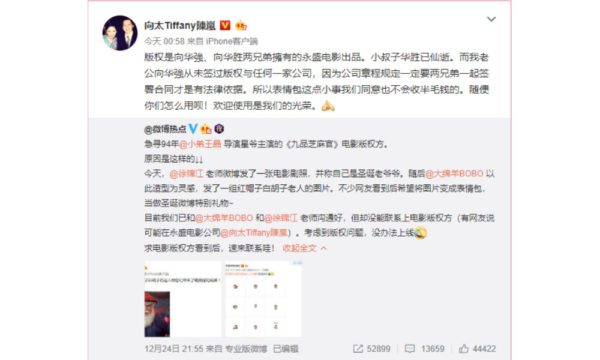 Within less than 24 hours, Weibo managed to solve the copyright issue and to release the emoticon online – just in time for Christmas.
In response to the 'Chinese Santa' emoticon, two hashtags became popular on Weibo: "Weibo Santa Claus Emoticon" (#微博圣诞老人表情#) and "Christmas Emoticon of Xu Jinjiang" (#圣诞徐锦江表情包#), attracting some 370 million views in total on Weibo at time of writing.
Thousands of netizens have started to use the new emoticon and joke around with it, with many expressing some Christmas joy over this new 'Chinese Santa,' that will undoubtedly make a comeback next year again.
By Wendy Huang
Follow @whatsonweibo
Spotted a mistake or want to add something? Please let us know in comments below or email us.
©2018 Whatsonweibo. All rights reserved. Do not reproduce our content without permission – you can contact us at info@whatsonweibo.com
'D&G Loves China' Controversy: The Video, the "Racist" Designer, the Canceled Show
"D&G Loves China", but China doesn't really love D&G this week.
It started with a controversial promotional video, got really messy when screenshots went viral of a China-bashing online conversation with the alleged Stefano Gabbana, started snowballing when D&G claimed the account was hacked, and ended with the cancellation of Dolce & Gabbana's big Shanghai show. A classic trending marketing drama has captured the attention of Chinese netizens today.
One of the biggest topics on Chinese social media today is a controversy involving Italian luxury brand Dolce & Gabbana, better known as D&G (Dùjiābānnà 杜嘉班纳 in Chinese), and the cancelation of its high profile Shanghai fashion show that would have taken place on Wednesday night.
1: The Video
The story starts with the Italian fashion house D&G's recent campaign series "DG Loves China," which was launched in order to promote a runway show that was supposed to take place in Shanghai on November 21st.
As part of the campaign, D&G issued multiple videos on social media. One of them shows a Chinese-looking woman – all dressed in D&G – attempting, quite unsuccessfully, to eat a large cannoli bread with chopsticks.
A male Chinese voice over in the video then suggests that the cannoli might be "too big" for the lady (watch one of the videos on Temper Magazine here).
She then takes a small part of the bread with her chopsticks, after which the voiceover says: "Right, now you feel like you're in Italy, while you are in China."
The campaign was promoted through Instagram and also went live on Weibo on November 18, using hashtags as #DGLovesChina# and #DGTheGreatShow#. But it was not received very well by many netizens on Chinese social media, with some calling it "outdated and stereotypical," "racist," or "disrespectful."
China-focused fashion publication Temper Magazine notes that this is not the first time for D&G to trigger this kind of controversy in mainland China.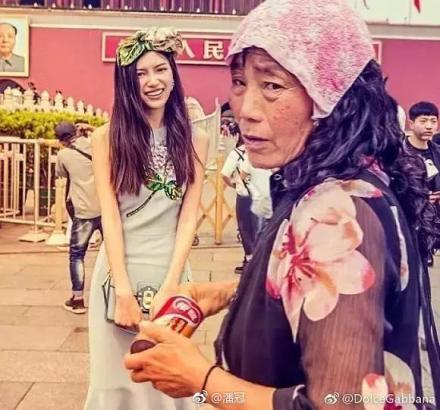 In April of 2017, netizens also reacted angrily to a series of D&G photographs shot in Beijing streets, which featured glam models next to common taxi drivers or impoverished local residents. Many thought the photos purposely showed a more 'ugly' side of China, instead of the more glamorous sides of the city.
Welcome to episode 3 with Dolce&Gabbana's "eating with chopsticks". We will be tackling the Italian Spaghetti al pomodoro! Now even though you think they may be similar to Chinese noodles, there is a GREAT difference in the way you eat them.#DGLovesChina#DGTheGreatShow pic.twitter.com/etzd3b31xe

— Dolce & Gabbana (@dolcegabbana) 17 november 2018
This week, the D&G videos in question were pulled from Weibo following the criticism. On Twitter, the videos are still available (check one of them in embedded Tweet above to judge for yourself).
2: The "Racist" Designer
The social media storm snowballed out of control after screenshots of comments attributed to fashion designer Stefano Gabbana went viral on Wednesday, also being reposted by major Chinese state media accounts such as Global Times.
The screenshots were posted by Instagram user Michaela Phuong Thanh Tranova (@michaelatranova), a fashion business student, although it is stil unclear why this Instagram user would have a private Instagram conversation with Stefano Gabbana and whether or not they are acquainted.
Despite the lack of context and/or veracity of the conversation, the screenshots, in which the alleged fashion designer uses rambling texts and refers to China as the "land of sh*t" and speaks of "China ignorant dirty smelling mafia", soon spread on Chinese social media, where many netizens called for a boycott of D&G.
"This is not just a designer, he is one of the creators of D&G," some commenters said: "The brand literally carries his name." And: "Congratulations with your bankruptcy."
3: The Cancelled Fashion Show
On Wednesday afternoon, Beijing time, Stefano Gabbana published a post on his official Instagram account, in which the designer said his Instagram account had been hacked, adding, "I love China and the Chinese culture. I'm so sorry for what happened."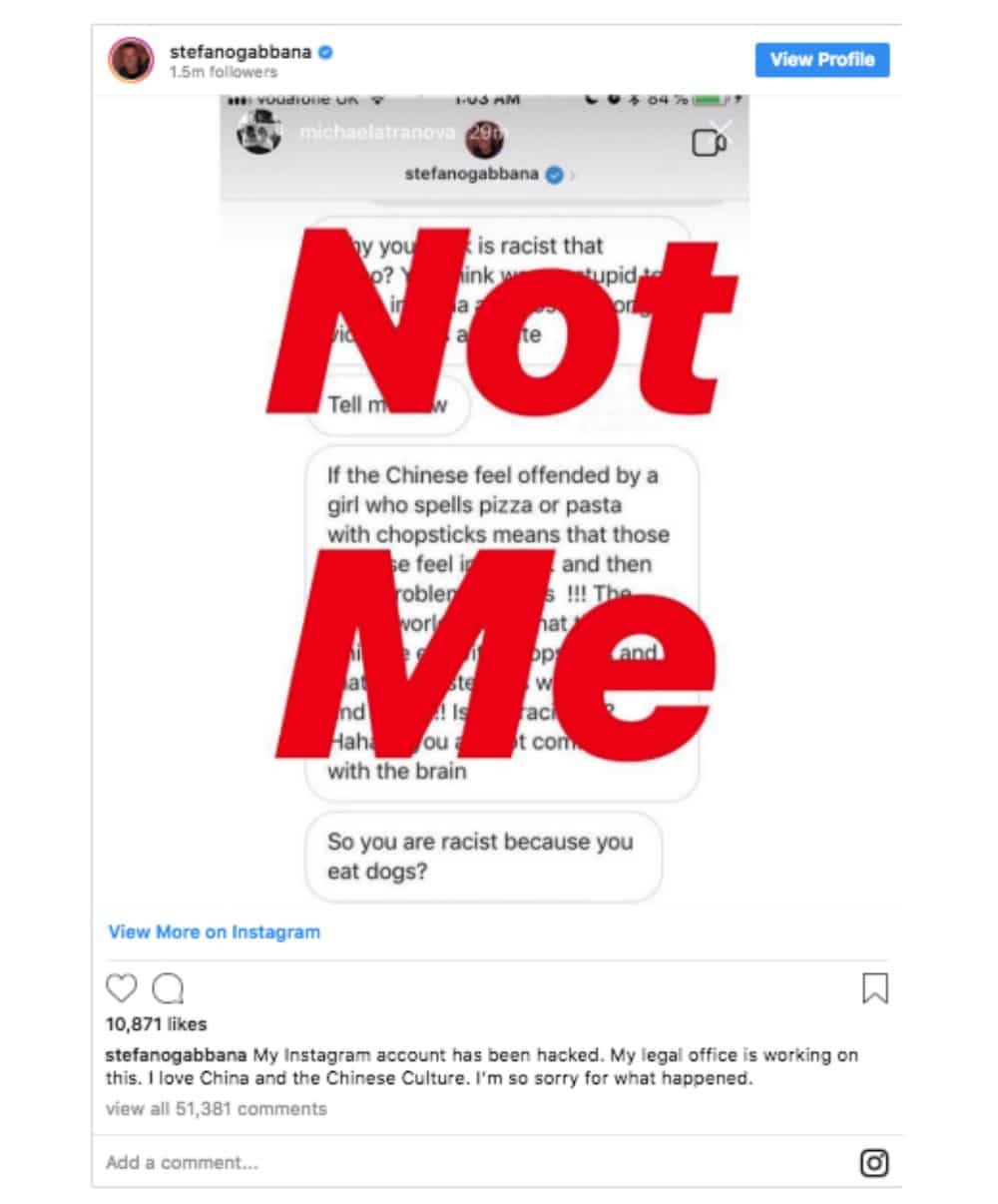 Despite the alleged hack of the Gabbana account, news came out on Wednesday that the much-anticipated Shanghai fashion show of D&G, that would take place this evening, had been canceled.
"The fashion show that was planned on November 21st at 20.00 has been rescheduled due to circumstances, we deeply regret any inconvenience caused," the official D&G account published on Weibo, just some three hours before the show would take place.
The hashtag "DG Show Cancelled" (#DG大秀取消#) had received 340 million 490 million views at time of writing, being one of the top 10 trending topics of this moment.
According to Chinese media, various Chinese celebrities, including Zhang Ziyi (章子怡) and Chen Kun (陈坤) had already refused to attend the show.
On Weibo, many netizens do not believe the claims by D&G that their account had been hacked, saying things such as: "Ha, ha, ha, your show has been canceled, you tried to make money off China, get lost!"
The Sina Fashion Weibo account has since posted photos of the fashion show venue, that is now deserted (images below).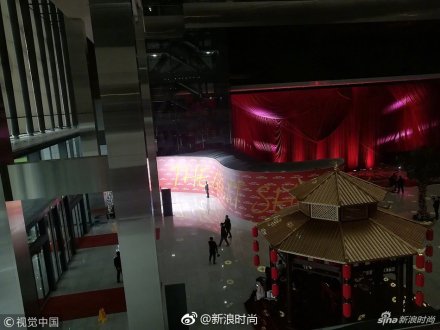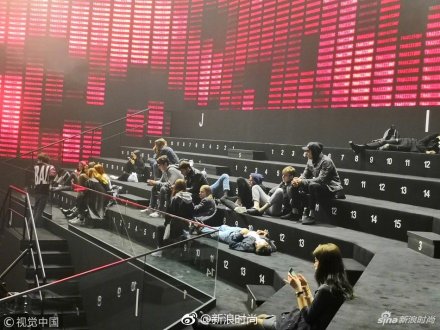 Meanwhile, Instagram user @michaelatranova, who posted the screenshots of the conversation with the alleged D&G designer, posted on Instagram that "we all (not only us Asians) deserve a better treatment from all (fashion) brands that pretend to cater to our needs just to stuff their pockets with our money."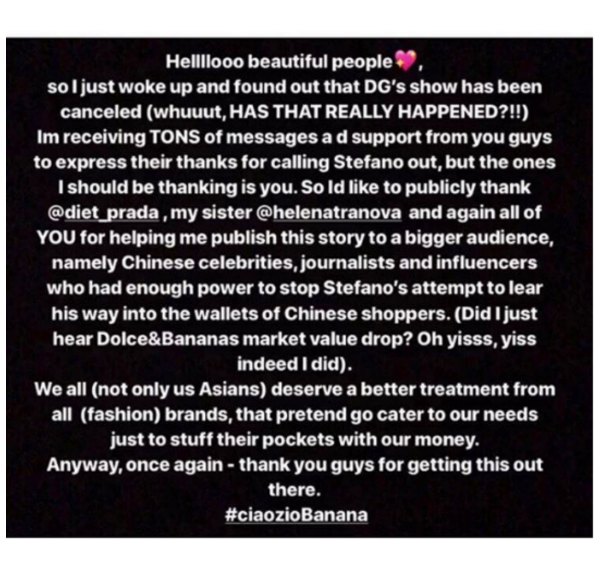 Many Chinese netizens seem to agree with the Instagram user, as hundreds of Weibo commenters are calling for a China boycott of D&G.
As this story is still developing, feel free to share your view on this below in the poll: do you believe Gabbana's account was really hacked, do you think it is an excuse, or is it irrelevant?
For an update of this story, please check this article!
By Manya Koetse, with contributions from Miranda Barnes
Follow @whatsonweibo
Spotted a mistake or want to add something? Please let us know in comments below or email us.
©2018 Whatsonweibo. All rights reserved. Do not reproduce our content without permission – you can contact us at info@whatsonweibo.com