Weibo Netizens: Chinese Guys Are Weaker Than Girls
Many of China's universities have too many girls, principles say, which is not good for the development of male students. 'Nonsense', Weibo users argue: girls are just stronger than boys.
Many of China's universities have too many girls, professors say, which is not good for the development of male students. 'Nonsense', Weibo users argue: Chinese guys are just weaker than girls.
The 'Chinese Language Development Summit' (中文发展论坛) was held at the University of Anhui this week. Over 20 principals and professors from China's key universities attended to discuss the development of Chinese language and traditional culture. One of the topics was China's relatively high percentage of female students within liberal arts education, which was presented as an urgent concern.
Dean of the Capital Normal University (首都师范大学), Ma Zili (马自力), stated at the summit that there was "not even one boy" in some of the classes. He and other professors suggested that the best solution to solve the problem of "too much yin and too little yang" ("阴盛阳衰") is to accept more male students through university recruitment, in order to get a more equal balance between male and female students.
"This is not a good growing environment for boys."

According to the President of Beijing's Language & Culture University (北京语言大学), Cui Xiliang (崔希亮), girls account for 83% of this year's Chinese language major freshmen. "This is not a good growing environment for boys," he added: "I've heard from many girls that the guys in their class are not even as tough as they are."
Once President Cui's remark was posted on Sina Weibo, the topic "boys are less tough than girls" (#男生还没女生爷们#) triggered heated discussions.
The topic page has been viewed over 37 million times, attracting over 10,000 comments.
Some female students share what they have witnessed at college. For instance, user "Yu Yuxun" writes: "We were with over 200 students at an elective class yesterday, and we had to move desks and chairs. All the girls were working, while the guys did nothing and just stood there. Then they just sat on the chairs that the girls moved for them. I really believe that girls at university are tougher than guys."
"Guys are spoiled by their parents and society at large."

A lot of female netizens write that studying has made them stronger and more independent, especially because the guys are not "helping" at all.
User "Sophie Lee" says that she has become a "tough girl" (女汉子) after a couple of years at the Capital Normal University: "I was a typical vulnerable little girl before I entered university, but now I'm capable of doing a lot of physical work by myself. It's mainly because I feel like I can't trust or rely on guys any more. They are spoiled by their parents and society at large. Girls have to be tough and independent."
In China, particularly in small cities and rural areas, families still prefer having sons instead of daughters. The one-child policy is often pointed out as the main reason for that.
"Chinese boys are raised to be sissies."

As someone who grew up from a small town in China, user "ADnue" comments that Chinese boys are pampered and are raised to be sissy ("娘娘腔"): "In my hometown, boys always play around, while girls have to help parents with farming and housework. Parents and teachers are more tolerant with boys, and easily forgive them their mistakes. They just assume that boys will eventually catch up with girls. Girls are forced to be tough because of the idea that men are superior to women."
A number of Weibo users are offended that some of China's universities consider offering more entry opportunities for male students to balance the male/female ratio.
According to user "Silly Wool", it is gender discrimination: "It's normal that there are more girls than boys majoring in education or languages, because girls are generally better at it. I just really don't understand the point of giving priority to male students. Female students majoring science and engineering find it difficult to get a good job after graduation, since a lot of related occupations prefer men over women. And now these college leaders and professors think they should enroll more boys in liberal arts? This is pure sexism."
This is not a the first time a similar topic has become trending on Sina Weibo. The question of "what is a true man?" is a recurring issue, especially amongst those coming from the post 90s generation.
Weibo users generally say that a true man should be responsible, decisive and self-motivated. A user called "Short-haired Cat" says: "When thousands of people say that boys are not as tough as girls, it is no longer an individual problem". For the majority of Weibo users, it's a fact.
By Yiying Fan
Follow @WhatsOnWeibo
Image:
http://www.people.com.cn/mediafile/pic/20120628/83/11289201794464870203.jpg
http://hebei.sinaimg.cn/cr/2014/1027/960183796.jpg
©2015 Whatsonweibo. All rights reserved. Do not reproduce our content without permission – you can contact us at info@whatsonweibo.com.
Online Outrage over Gansu Female Medical Workers Required to Shave Their Heads
Heroes of the coronavirus crisis or victims of visual propaganda? A video showing female medical workers having their heads shaved has triggered controversy.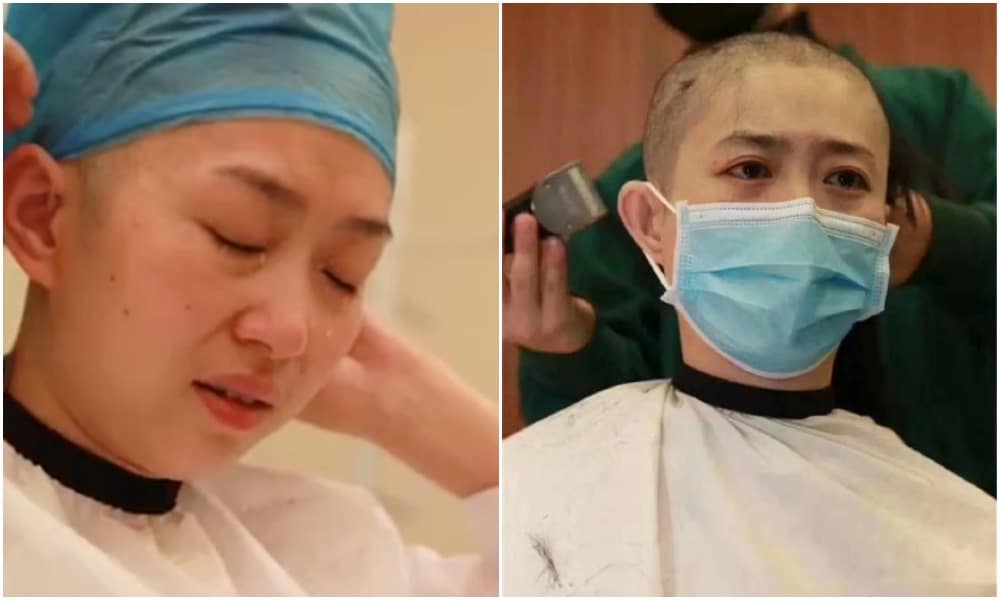 First published
A Chinese media post praising female nurses for having their heads shaved has sparked outrage on Weibo and WeChat. Are these women heroes of the coronavirus crisis or victims of gendered visual propaganda?
A video showing tearful female medical workers having their head shaved before going to COVID-19 epicenter city Wuhan has sparked outrage on Chinese social media.
The video, originally posted by Gansu Daily (每日甘肃网) on February 15, shows how a group of female nurses is standing in line to have their hair shaved off in preparation of their mission to Hubei to assist during the ongoing coronavirus crisis.
In the short segment that has since gone viral on Weibo and WeChat, some women can be seen crying while having all of their hair shaved off.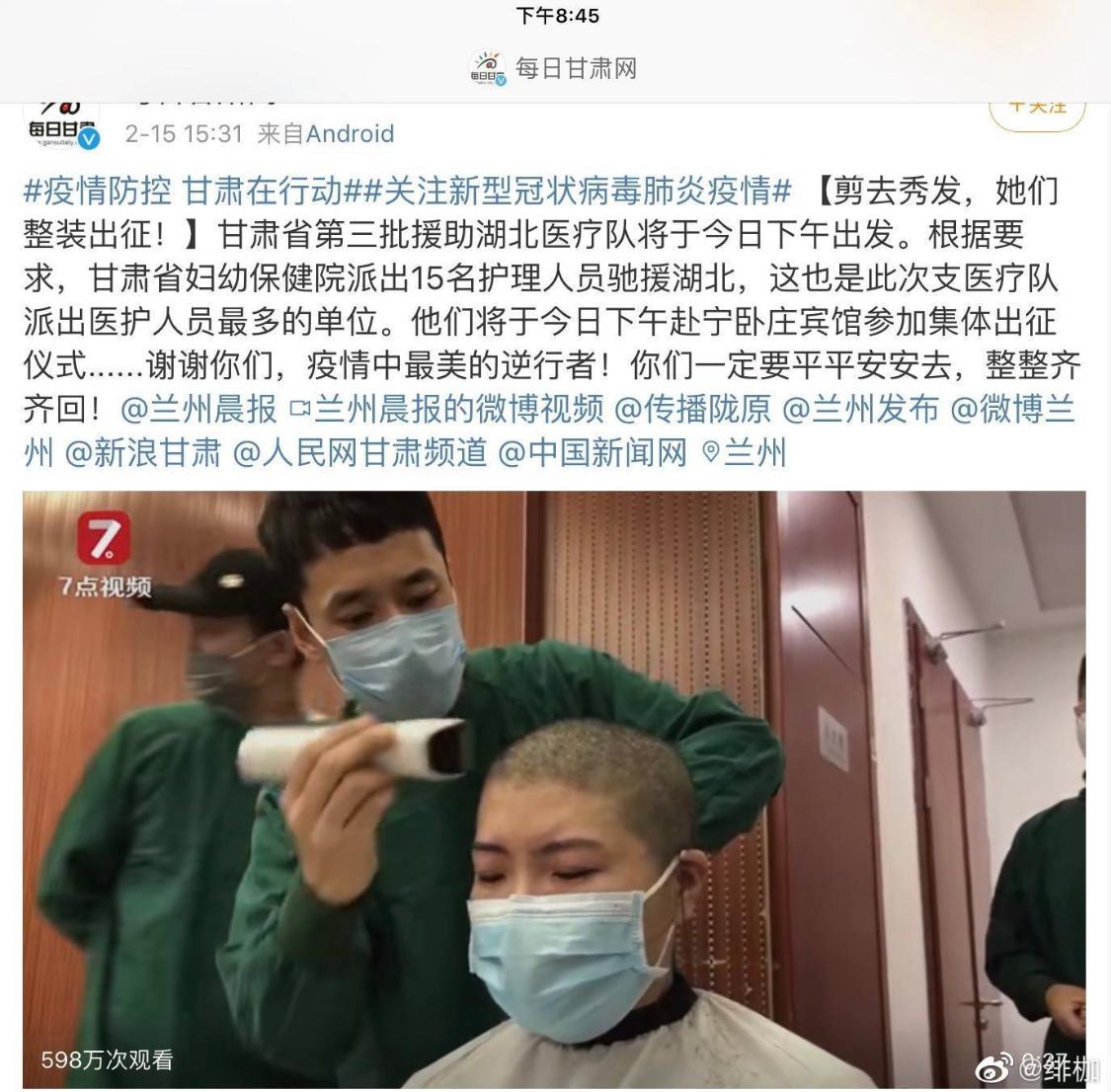 According to Gansu Daily and other Chinese media, the fifteen nurses, including one man, are part of a medical aid group that was sent out to Wuhan this weekend. Their hair was reportedly shaved off "in accordance with requirements" to make their work more efficient and reduce the risk of infection.
The original news post praises the women as "the epidemic's heroes in harm's way" ("疫情中最美的逆行者") – a term also used to describe brave firefighters during the 2015 Tianjin explosions (for more background on this term in Chinese, also see Xinhua and Zhihu).
Although the story praises the female medical workers as heroes and was soon reposted and promoted by many other (state) media, it was not just met with positive reactions from Chinese netizens.
On the contrary: it triggered waves of criticism over the medical team's supervisors requiring the women to shave off their hair, with many deeming the measures unnecessary, humiliating, and sexist.
"Why do they need to shave all of their hair, the men don't even need to do that?!", some Weibo commenters wonder.
Many Weibo users wonder how necessary it actually is for the women to go completely bold for medical work purposes, wondering why the male workers do not need to shave their heads and why the women could not just opt for a shorter hairstyle instead – suggesting the media circus surrounding the shaving of the heads is more about visual propaganda than actually being a necessity.
"I am a medical worker myself," one Weibo user writes: "I consulted an infection control doctor [on this matter] and they said it is not necessary at all to have a bald head. Short hair is convenient enough, and hair has a protective function too to reduce [skin] irritation from the friction of wearing hats and masks. It furthermore also has a function of catching sweat, preventing it from dripping to your eyes. A shaven head does more harm than good."
"Why do people need to bleed and cry in order for them to become heroes?", others say: "This is just cruel."
Adding to the online fury was a photo showing the group of medical workers after their heads were shaved, as the one male nurse in the group not only seemed to wear a better quality face mask, but also appeared to have much more hair left than the female nurses.
The original Gansu Daily post has since been deleted from social media.
On WeChat account Epoch Story ("epochstory2017″/Epoch故事小馆), author Chen Mashu (陈麻薯) posted a critique on February 17th titled "Please Stop Using Female Bodies as Propaganda Tools" ("请停止用女性的身体,作为宣传的工具").
Recent online Chinese visual propaganda in times of the coronavirus crisis has seen a strong focus on Wuhan medical workers.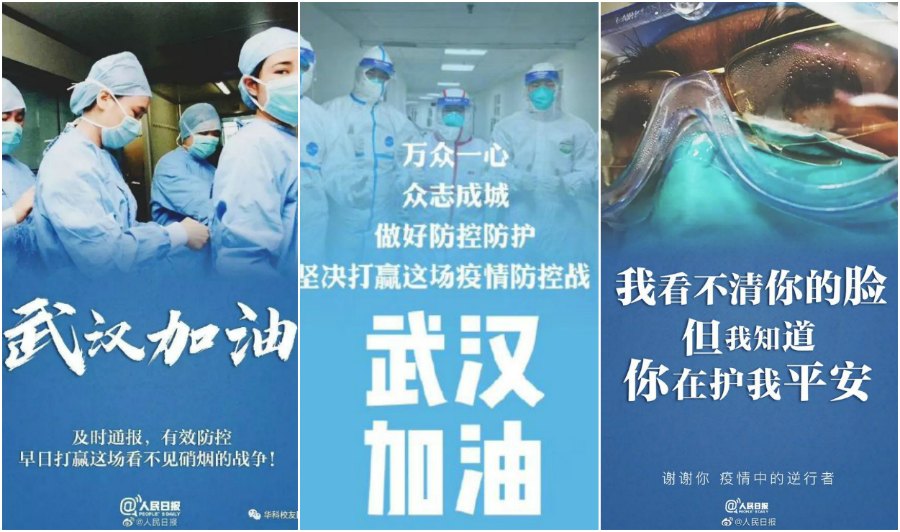 This kind of visual propaganda often highlights the idea of "sacrificing," especially when it comes to women as pretty girls, loving mothers, or good wives.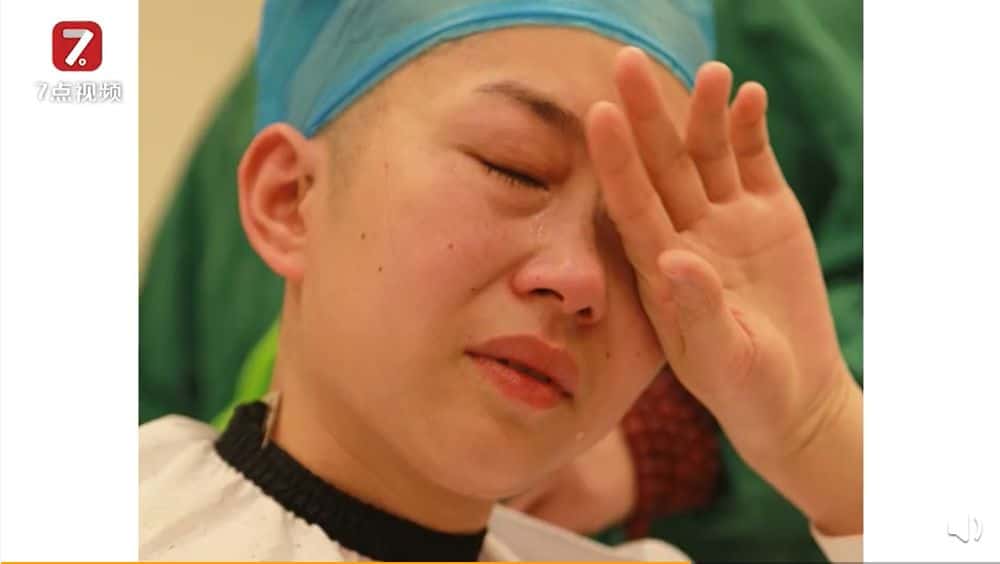 In the WeChat article, author Chen argues that Chinese state media always uses women's bodies as a tool for propaganda, and argues that it should not be necessary for women to endure extra hardship or suffering (in this case, sacrifice their hair) in order to make them admirable 'model workers.' The fact that they are fighting on the front line should be more than enough reason to praise them, Chen writes.
While these women's tears were "used to try to impress the audience" and become an example of some "collectivist spirit," Chen argues, this kind of propaganda backfired because the individual needs and wishes of these women were completely ignored during the process.
Although the original story and visuals may have meant to be empowering in times of coronacrisis, they are actually counterproductive to female empowerment at large.
This is not the first time the role of women in Chinese state media propaganda become a big topic of discussion online.
In 2016, a photo series titled "100.000 soldier-loving girls" (十万恋军女孩) posted by China's Military Web during the Wuhan flood also caused controversy. In the online media campaign, Chinese state media paid a 'tribute' to rescue workers by sharing pictures of girls holding the message "I wish to wash your uniform for you". It triggered online discussions on the submissive female image propagated by Chinese state media.
At time of writing, various posts about the shaved heads of the Gansu medical workers have been taken offline.
For more COVID-19 related articles, please click here.
By Manya Koetse (@manyapan) and Bobby Fung (@bobbyfungmr), with contributions by Miranda Barnes
Spotted a mistake or want to add something? Please let us know in comments below or email us. First-time commenters, please be patient – we will have to manually approve your comment before it appears.
©2020 Whatsonweibo. All rights reserved. Do not reproduce our content without permission – you can contact us at info@whatsonweibo.com.
Girls' Charity Project Funds Boys Instead: Online Anger over 'Spring Buds Program'
The 'Spring Buds' charity supposedly only focused on helping girls, but it turns out this is not the case.
First published
A charity fund that was supposedly dedicated to girls' education in rural China has been found to fund the education of boys, triggering anger online.
The Chinese charity "Spring Buds Program" (春蕾计划), a project meant to advance girls' education launched by the CCTF (China Children and Teenagers' Fund 中国儿童少年基金) has come under fire for providing financial aid to schoolboys in China.
The "Spring Buds" project, which falls under the All-China Women's Federation, has received the China Charity Award in the past for its efforts to promote girls' education. The program was launched in 1989 to help girls in China's impoverished rural areas to go to school, improve literacy rates among China's young girls and women, and empower girls to strengthen their influence in their local communities.
This week, the charity's focus has come under scrutiny after it became known that of the 1267 students receiving financial aid as part of one of 'Spring Buds' scholarship programs, there were 453 male students.
The topic triggered wider online discussions on Chinese social media on gender inequality in China.
Some commenters argued that boys, even in impoverished areas, are generally still better off than girls due to a persisting gender preference for boy children.
Weibo users also pointed out how there are multiple non-gender specific charity programs in China, and that 'Spring Buds' is one of the few focused on girls only – arguing that it should thus also really be assisting solely girls.
As the news about 'Spring Buds' coincided with this week's launch of the Global Gender Gap Index report, some Weibo users also wondered why Chinese official media would quote this report and mention Japan's worsening gender equality, while not mentioning anything about the status quo of gender equality in China.
The CCTF responded to the controversy via their official Weibo account on December 17th, stating that although its program was initially focused solely on girls, this year's project funding was also allocated to impoverished male students who needed "urgent help."
The organization further noted that they will be more transparent to charity donors in the future about how their funds are allocated.
Although the hashtag "Anger over Spring Bud Project Subsidizing School Boys" (#春蕾计划资助男生引质疑#) was used on social media by several Chinese media outlets to report the issue, the hashtag page is no longer accessible on Weibo at time of writing.
By Manya Koetse and Miranda Barnes
Follow @whatsonweibo
Featured image photo by Ray Chan.
Spotted a mistake or want to add something? Please let us know in comments below or email us. First-time commenters, please be patient – we will have to manually approve your comment before it appears.
©2019 Whatsonweibo. All rights reserved. Do not reproduce our content without permission – you can contact us at info@whatsonweibo.com.