Weibo Netizens: Chinese Guys Are Weaker Than Girls
Many of China's universities have too many girls, principles say, which is not good for the development of male students. 'Nonsense', Weibo users argue: girls are just stronger than boys.
Many of China's universities have too many girls, professors say, which is not good for the development of male students. 'Nonsense', Weibo users argue: Chinese guys are just weaker than girls.
The 'Chinese Language Development Summit' (中文发展论坛) was held at the University of Anhui this week. Over 20 principals and professors from China's key universities attended to discuss the development of Chinese language and traditional culture. One of the topics was China's relatively high percentage of female students within liberal arts education, which was presented as an urgent concern.
Dean of the Capital Normal University (首都师范大学), Ma Zili (马自力), stated at the summit that there was "not even one boy" in some of the classes. He and other professors suggested that the best solution to solve the problem of "too much yin and too little yang" ("阴盛阳衰") is to accept more male students through university recruitment, in order to get a more equal balance between male and female students.
"This is not a good growing environment for boys."

According to the President of Beijing's Language & Culture University (北京语言大学), Cui Xiliang (崔希亮), girls account for 83% of this year's Chinese language major freshmen. "This is not a good growing environment for boys," he added: "I've heard from many girls that the guys in their class are not even as tough as they are."
Once President Cui's remark was posted on Sina Weibo, the topic "boys are less tough than girls" (#男生还没女生爷们#) triggered heated discussions.
The topic page has been viewed over 37 million times, attracting over 10,000 comments.
Some female students share what they have witnessed at college. For instance, user "Yu Yuxun" writes: "We were with over 200 students at an elective class yesterday, and we had to move desks and chairs. All the girls were working, while the guys did nothing and just stood there. Then they just sat on the chairs that the girls moved for them. I really believe that girls at university are tougher than guys."
"Guys are spoiled by their parents and society at large."

A lot of female netizens write that studying has made them stronger and more independent, especially because the guys are not "helping" at all.
User "Sophie Lee" says that she has become a "tough girl" (女汉子) after a couple of years at the Capital Normal University: "I was a typical vulnerable little girl before I entered university, but now I'm capable of doing a lot of physical work by myself. It's mainly because I feel like I can't trust or rely on guys any more. They are spoiled by their parents and society at large. Girls have to be tough and independent."
In China, particularly in small cities and rural areas, families still prefer having sons instead of daughters. The one-child policy is often pointed out as the main reason for that.
"Chinese boys are raised to be sissies."

As someone who grew up from a small town in China, user "ADnue" comments that Chinese boys are pampered and are raised to be sissy ("娘娘腔"): "In my hometown, boys always play around, while girls have to help parents with farming and housework. Parents and teachers are more tolerant with boys, and easily forgive them their mistakes. They just assume that boys will eventually catch up with girls. Girls are forced to be tough because of the idea that men are superior to women."
A number of Weibo users are offended that some of China's universities consider offering more entry opportunities for male students to balance the male/female ratio.
According to user "Silly Wool", it is gender discrimination: "It's normal that there are more girls than boys majoring in education or languages, because girls are generally better at it. I just really don't understand the point of giving priority to male students. Female students majoring science and engineering find it difficult to get a good job after graduation, since a lot of related occupations prefer men over women. And now these college leaders and professors think they should enroll more boys in liberal arts? This is pure sexism."
This is not a the first time a similar topic has become trending on Sina Weibo. The question of "what is a true man?" is a recurring issue, especially amongst those coming from the post 90s generation.
Weibo users generally say that a true man should be responsible, decisive and self-motivated. A user called "Short-haired Cat" says: "When thousands of people say that boys are not as tough as girls, it is no longer an individual problem". For the majority of Weibo users, it's a fact.
By Yiying Fan
Follow @WhatsOnWeibo
Image:
http://www.people.com.cn/mediafile/pic/20120628/83/11289201794464870203.jpg
http://hebei.sinaimg.cn/cr/2014/1027/960183796.jpg
©2015 Whatsonweibo. All rights reserved. Do not reproduce our content without permission – you can contact us at info@whatsonweibo.com.
The Silent Storm: Peng Shuai's Weibo Post
Weibo has completely silenced anything relating to Peng Shuai and Zhang Gaoli.
On the night of November 2nd, a Weibo post by Chinese tennis player Peng Shuai (彭帅) sent shockwaves across social media. In her lengthy post, the tennis star claims she was assaulted by former Vice Premier Zhang Gaoli (张高丽) before starting an affair with him.
The 35-year-old Peng Shuai, who has some 574,000 followers on her Weibo account, addressed her post directly to the 75-year-old Zhang Gaoli, who served as China's senior Vice Premier (2013-2018) and was also a member of China's highest ruling council, the Politburo Standing Committee (2012-2017).
"I know I can't say it clearly and that it's useless to say. But I want to say it anyway. I'm such a hypocrite. I'll admit I'm not a good girl, I'm a bad bad girl," Peng starts her post.
She then goes on to address what happened three years ago, after the tennis star played in Beijing.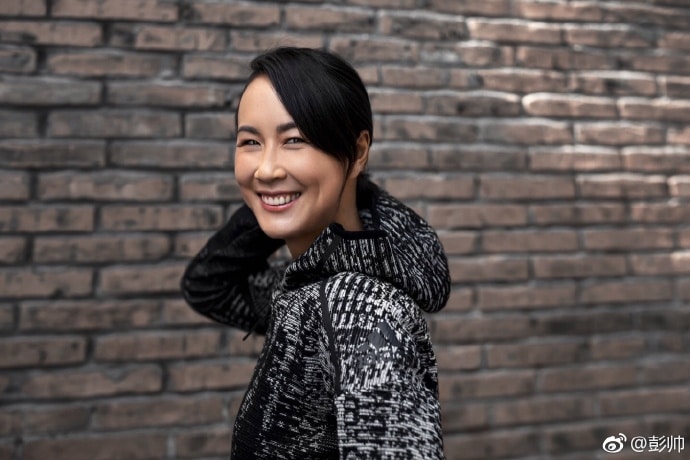 "After I had finished playing, you and your wife Kang Jie took me to your home. You took me to your room, and like what happened in Tianjin over ten years ago, you wanted to have sex with me. I was very scared that afternoon, I had not expected things to go this way."
Peng alleges that she had sex with Zhang once seven years earlier, and that she had never heard from him again once he was promoted to the Standing Committee.
"I had buried it all inside me, and since you were not planning on taking responsibility at all, why did you come and look for me again, take me to your house, and force me into sex? I have no proof, and it would be impossible for me to keep any evidence. You denied everything afterward (..) That afternoon I originally did not consent and cried the whole time. "
Peng goes on to describe how her emotions were complicated and that she began to open up to Zhang afterward, starting an affair with him. The two would play chess, sing, play billiards, and table tennis, and they got along well together.
"You told me you loved me," Peng writes at one point, later saying: "From beginning to end, you have always asked me to keep my relationship with you secret, let alone telling my mother that we were in a relationship."
Peng describes how it sometimes felt as if Zhang's wife was like an "empress" while she barely felt like a person anymore: "I felt like a walking corpse. I was pretending so much every day that I didn't know who the real me was anymore.."
Peng's post further suggests that the relationship between her and Zhang has now ended since a major dispute on the night of the 30th of October after which she would meet Zhang to talk on November 2nd, but that she was ghosted by him and that he "disappeared" as he did seven years prior to their affair. She posted her letter on that very same night.
Peng says she is left with nothing but her own memories of the past years and without any evidence of anything that has occurred between the two of them.
"I know that for someone of your status, Vice Premier Zhang Gaoli, you've said that you're not afraid," Peng wrote in her post, "But even it's like striking a stone with an egg, and courting self-destruction like a moth to the flame, I will tell the truth about you."
Despite the fact that Peng's post was deleted within thirty minutes after she posted it, screenshots of what she wrote were already flooding WeChat and Twitter.
The Silence after the Storm
Just two days after Peng's post, Weibo has completely silenced the controversy.
Searching for the name of Zhang Gaoli, no results relating to the post appear. Comment sections on older posts relating to the retired Vice Premier have been shut down.
Similarly, Peng Shuai only comes up in older stories completely unrelated to this week's events. Her account also no longer shows up in search results, even though it is officially still online. All of the comment sections on her previous posts have since been restricted.
On other platforms, including search engine Baidu, Q&A website Zhihu, and social networking site Douban, the topic is also nowhere to be found. Baidu trends do show that there's been a major peak in searches for 'Peng Shuai' on November 2nd, when the keyword was searched for nearly two million times.
Since the censorship following Peng's post has been so strict, there barely is any room for discussion of the topic at all on Chinese social media. Underneath some posts relating to tennis events, netizens hesitantly wonder: "Can we also discuss the Peng x Zhang case here?"
Meanwhile, on Twitter and on English-language media, posts about Peng Shuai are running at full speed.
Most English-language media report about Peng's story within the context of the global #MeToo movement, suggesting Peng's post was a "MeToo post." The tennis star did not mention '#Metoo' in her own writings.
Chinese feminist activist Lü Pin (吕频) also published a 'Feminist Comment on Pengshuai's Case' via Twitter, in which she praised Peng and wrote that "Peng Shuai is not a member of the organized #MeToo movement, but she is a member of those connected through the effect from such echoes and demonstrations."
Although there have previously been big cases in China involving women accusing men in powerful positions of sexual abuse, such as the Xianzi versus Zhu Jun case, they have never been as censored as this case is.
In this regard, this story perhaps says more about the person who is accused of sexual misconduct than about the actual account itself. The timing of its publication also matters in light of the upcoming key gathering of the highest-ranking members of the Communist Party – the sixth plenary session of its 19th Central Committee will be held from November 8 to 11.
At time of writing, nothing has come out in Chinese media nor on Chinese social media about Peng's post. For now, it is the most silent storm Weibo has seen this year.
Update November 21, 2021: Chinese Tennis Star Peng Shuai Attends Fila Kids Junior Tennis Finals
By Manya Koetse
Spotted a mistake or want to add something? Please let us know in comments below or email us. First-time commenters, please be patient – we will have to manually approve your comment before it appears.
©2021 Whatsonweibo. All rights reserved. Do not reproduce our content without permission – you can contact us at info@whatsonweibo.com.
'Call Me By Fire' All-Male Variety Show Becomes Social Media Hit
'Call Me By Fire' is the male version of 'Sister Who Make Waves' and it's an instant hit.
A Chinese reality show starring 33 male celebrities titled Call Me By Fire (披荆斩棘的哥哥) has become an instant hit after its premiere on Mango TV last week.
The show is considered the male version of the hit variety show Sisters Who Make Waves (乘风破浪的姐姐, read more here) but with different rules. The contestants, ranging from age 27 to 57, are all in the entertainment industry; the group includes pianists, singers, dancers, actors, hosts, and rappers.
They are required to perform individually and in a team for the first episode's performances. Chinese viewers were surprised to see some of the high-quality performances, which then went viral on social media.
Li Chengxuan (@李承铉 a.k.a. Nathan Lee), who was previously mostly known for being the husband of Chinese actress Qi Wei (戚薇), rapped in a low voice and wowed the audience. The hashtag about his first stage performance on the show garnered more than 120 million views ( #李承铉天上飞舞台#). A video of his performance can be found here.
Li is a former member of the South Korean boy band TAKE. In 2014, the Korean-American pop star married Qi, who later gave birth to their first daughter Lucky. When Qi went back to focusing on her career, Li decided to be a stay-at-home dad.
Just like some of the other show contestants, Li also appeared on the talk show Definition (定义), where he spoke to the female journalist Yi Lijing about his life as a full-time father. In that show, he expressed how he used to think being a full-time parent would be easy. "It takes a lot of time and energy to take care of the baby and the family, but as a result, it always looks like you haven't done anything all day."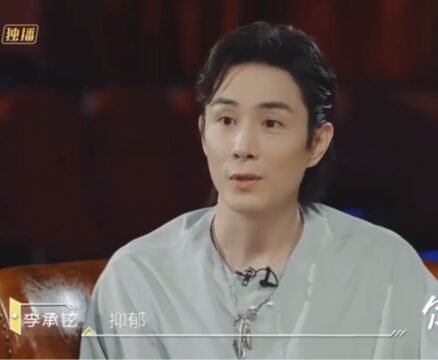 He describes how he experienced a time of depression during which he tried his best to be a good parent but sometimes just could not control his temper. Li explains how he would regret these moments of anger and then would cry at night when his daughter was asleep.  (Interview video here.)
Li's experiences as a full-time parent struck a chord among Chinese netizens, especially among stay-at-home moms. The hashtag "Li Chengxuan Was Depressed for Over a Year As a Full-Time Dad" (#李承铉当全职爸爸抑郁了一年多#) received more than 600 million views on Weibo. Under the hashtag, commenters shared their experiences and struggles in being full-time parents.
One netizen wrote: "This is so true. We do so much when taking care of our children, but other people often feel like it's nothing. When you lose your temper in front of the kid, you feel terrible inside and start to question yourself about why you failed to control yourself, and then you make another promise not to lose your temper anymore."

Another Weibo user wrote: "See, when a mom looking after her kids feels depressed, it is not because she is weak and sensitive! It is because the job itself will make any human being depressed."
Li later responded on his Weibo account, saying he just did his part as a parent, and this is what any new mom or new dad will face. That post also received thousands of comments and over 285,000 likes.
So far, the hashtag of the Call me By Fire TV show has received a staggering 4.4 billion views on Weibo (#披荆斩棘的哥哥#).
The show's performances and Li sharing his struggles as a stay-at-home dad are not the only reasons for the show's massive success on Chinese social media. Some other related issues also made the show gain more attention.
Even before Call Me By Fire aired, the show already made headlines when the 55-year-old Taiwanese singer Terry Lin Zhixuan (林志炫) reportedly fell off the stage while filming.
Later, one of the contestants left the show after some social media drama. Chinese singer Huo Zun (霍尊) announced his withdrawal from the show after his ex-girlfriend accused him of being a cheater and leaking some WeChat conversation screenshots to prove that he actually disliked the show.
The remaining 32 contestants will enter the real 'elimination stages' in the following episodes. The show and highlight clips can be viewed on the Mango TV official site here.
By Wendy Huang
Follow @whatsonweibo
Spotted a mistake or want to add something? Please let us know in comments below or email us. Please note that your comment below will need to be manually approved if you're a first-time poster here.
©2021 Whatsonweibo. All rights reserved. Do not reproduce our content without permission – you can contact us at info@whatsonweibo.com