Welcome to What's on Weibo
Welcome to What's on Weibo. A site about the most popular social media platform in China: Sina Weibo.
First published
Welcome to What's on Weibo. This blog is the result of an idea I have had for over a year. I have lived in China for over 1,5 years and acquired many Chinese friends. As a native Dutch, mainly using social media sites such as Twitter and Facebook, I have often felt excluded when my Chinese friends would talk about popular topics discussed on the social media site they most often used; Sina Weibo. I have used this blog as a personal challenge to keep myself up to date with the popular culture of today's China. Besides that it is meant as a source of information for those who are interested in China's current social media affairs, but who do not have the linguistic and/or cultural background knowledge to get 'behind the scenes'.
I welcome you as a frequent visitor to this site. If you have any suggestions or comments, please send me a message through the contact page.
Chinese Doctor Knocks Herself Out in Controversial Self-Experiment
Dr. Chen wanted to warn about the dangers of sevoflurane and other drugs.
A female doctor has become a topic of discussion on Chinese social media for her self-experimentation with anesthesia.
Dr. Chen (陈大夫), a Nanjing doctor who works in the Obstetrics and Gynecology department, conducted the experiment in response to an ongoing discussion on whether or not a handkerchief dipped in inhalation anesthetics could cause immediate unconsciousness ("一捂就晕").
The discussion was triggered by news of the death of a 23-year-old woman from Foshan, Guangdong Province, on February 8. The recent college graduate was found in a hotel room and it was later ruled that the cause of death was acute respiratory failure due to sevoflurane toxicity. The victim's company supervisor, a 39-year-old man named Peng, is now suspected of fatally sedating and raping the young woman.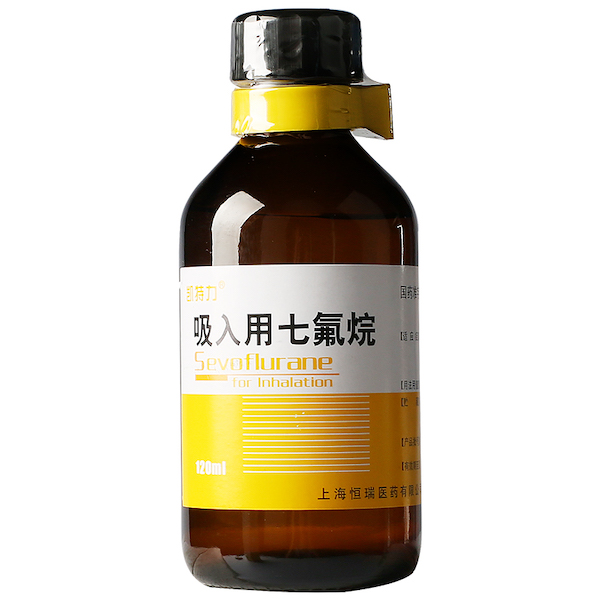 The case led to speculation among netizens whether or not sevoflurane could have knocked out the woman in seconds. There have been ongoing debates on the effects of general anesthetics used to sedate unsuspected victims, with some specialists arguing that it is not so easy to make someone slip into unconsciousness within a matter of seconds – saying it would take much longer than and only if an unusually high dosage is used.
Dr. Chen posted on February 10 that she was certain that it is possible for certain inhalation anesthetics to immediately make someone pass out, but her claim was refuted by others. The popular Weibo blogger Jiangning Popo (@江宁婆婆), a police officer, was one of the persons involved in the discussion claiming Chen was wrong.
Dr. Chen is active on Weibo under the handle @妇产科的陈大夫, and with over two million followers on her account, she is somewhat of a 'celebrity' doctor.
Instead of spending time arguing back and forth on the internet, Dr. Chen decided to put the issue to the test herself with an unopened bottle of sevoflurane that she had previously purchased for the planned sterilization of her dog. The sevoflurane had already passed its expiry date.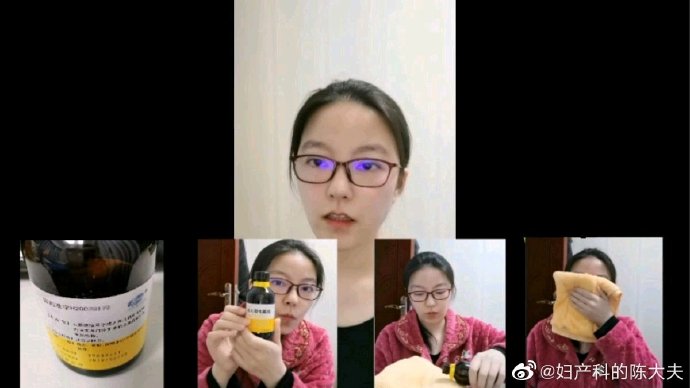 On February 16, Dr. Chen then asked someone else to film her doing the self-experiment and she posted the video on Weibo, in which she inhaled sevoflurane on a cloth. The doctor soon passed out in the video, which has since been deleted.
The experiment in the video lasts 64 seconds, and shows Chen:
– 00:01-00:06 Opening the bottle of sevoflurane
– 00:07-00:12 Preparing a cloth
– 00:13-00:23 Putting the sevoflurane on the cloth
– 00:23-00:26 Closing the cap of the bottle
– 00:27-00:28 Putting the cloth on her mouth and nose
– 00:29-01:33 = the time frame of losing consciousness (with first symptoms starting at 0:44) to going limp and falling on the floor (1:20) and being completely unconscious (1:21-1:33).
Dr. Chen's experiment immediately sparked controversy after she posted the video on social media.
Although sevoflurane is a prescription drug and a controlled substance, it is also sold online as a type of drug. According to The Paper, the number of rape cases in China facilitated by drugs have risen over the past three years, with many 'date rape drugs' being sold and bought over the internet.
With sevoflurane being a controlled substance, Dr. Chen's video triggered discussions on whether or not she was actually involving in a criminal act by doing the self-experiment. She also received criticism from within the medical community that she used this medication outside of the hospital environment.
Dr. Chen soon deleted the video herself and then called the police to personally explain and apologize for the incident, with the news soon going viral (#女医生拿自己做实验后报警并致歉#, 270 million views).
But despite the controversy, the doctor still defends her actions to some extend. Although Chen stated on February 17 that her self-experiment was "not right," dangerous, and should never be imitated by anyone, she later also explained on her Weibo page that she thinks sevoflurane as a prescription drug is too easy to get your hands on and that the existing laws to prevent people from buying it are too weak.
The doctor has succeeded in raising public awareness on the dangers of these kinds of drugs. She also reminds both women and men never to leave their drink unattended, as the dangers of someone slipping something in your drink are real and the consequences can be grave.
As the incident has gone trending on Chinese social media, many commenters praise Dr. Chen for her experiment, while others also praise her for being transparent and admitting her mistakes.

By Manya Koetse
with contributions by Miranda Barnes
Follow @whatsonweibo
Spotted a mistake or want to add something? Please let us know in comments below or email us. First-time commenters, please be patient – we will have to manually approve your comment before it appears.
©2021 Whatsonweibo. All rights reserved. Do not reproduce our content without permission – you can contact us at info@whatsonweibo.com.
"Hi, Mom!" Box Office Hit Sparks 'When My Mum Was Younger' Trend on Weibo
The touching Chinese hit movie "Hi, Mom" has sparked an emotional trend on Weibo.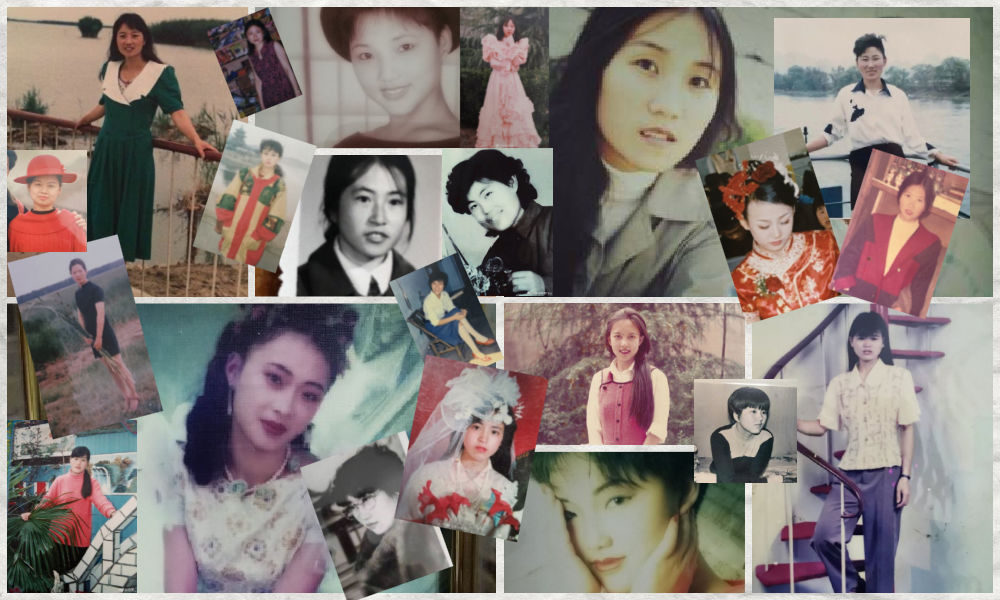 The movie Hi, Mom is all the rage in China, where social media is flooding with hashtags, photos, and texts celebrating moms and the bond between mothers and daughters. One big discussion is focused on all the things daughters would tell their younger moms: "Please don't marry dad."
If you could travel back in time and meet your mum before she had you, what would you say to her? What would you do?
This question is the idea behind Hi, Mom (Chinese title Hi, Li Huanying 你好,李焕英), the box office favorite in China this Spring Festival. The movie is directed by Jia Ling (贾玲), who also plays the female protagonist. For comedian Jia Ling, who is mostly known for her sketches during the Spring Festival Gala, this movie is her directorial debut.
Hi, Mom tells the story of Jia Xiaoling (Jia Ling) who is devastated when her mother Li Huanying has a serious accident one day. Jia is especially grief-stricken because she feels she has not become the daughter she wanted to be for her mother. When she finds herself transported back in time to the year 1981, she meets her young mother before she was her mum, and becomes her friend in the hopes of making her happy and change her life for the better.
Li Huanying is also the name of Jia Ling's own mother, who passed away when Jia was just 19 years old. Jia Ling reportedly did not make the movie because she wanted to be a director, but because she wanted to tell her mother's story.
The film has become super popular since its debut on February 12 and raked in 2.6 billion yuan (over $400 million) within five days. On day five alone, the movie earned $90 million.
The movie has sparked various trends on Chinese social media. One of them is an online 'challenge' for daughters to post pictures of mothers when they were young. The hashtag "Photo of My Mother When She Was Young" (#妈妈年轻时的照片#) received 120 million views on Weibo by Wednesday. Another hashtag used for this 'challenge' is "This is My Li Huanying" (#这是我的李焕英#). The hashtags have motivated thousands of netizens to post photos of their mother before she became a mom.
The trend has not just sparked an online movement to celebrate and appreciate mothers – it also offers an intimate glance into the lives of Chinese older women and shows just how different the times were when they were young. This also gave many daughters a new appreciation of their mothers.
"I used to have many wishes," one female Weibo user wrote: "But now I just hope to make my mum happy." Others praised their mother's beauty ("My mum is so pretty!") and said that they are proud to look like their mom, although some also complained that they had not inherited their mother's looks.
The trend has also provided an opportunity for a moment of self-reflection for some. Seeing the unedited photos of their younger mothers, some called on female web users to stop losing themselves in 'beautifying' photo apps that alter their facial features, saying they will not have normal photos of themselves in the future that show their true (and unedited) natural beauty.
"Don't marry dad, don't believe his sweet talk."
There is also another hashtag trending in light of Hi, Mum. It is "If You Could Go Back to Before Your Mum Married" (#如果穿越回妈妈结婚前#) and started with one popular fashion influencer (@一扣酥) asking her followers what they would want to tell her.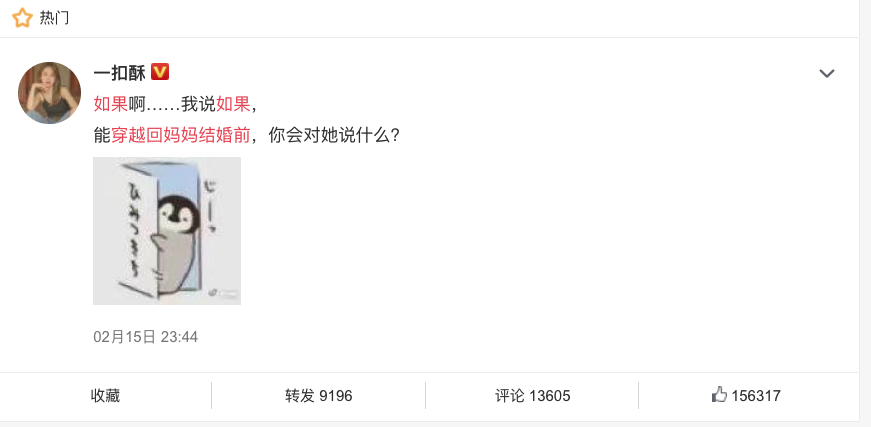 "Don't marry dad. Don't believe his sweet talk," one person replied, with many others also writing that they would want to tell their younger mom not to marry their fathers: "I would tell her to look for someone who loves her, and not for someone she loves," one person responded.
"Please leave dad," another Weibo user writes, adding that her father drank too much and would hit her mother.
"Don't feel like you need to marry because you're older," another daughter writes: "Don't get into a 'lightning wedding' and don't care so much about what other people say."
"Live for yourself for once," a blogger named 'Zhi Zhi El' wrote, with another young woman named Yumiko writing: "Don't close your bookshop, be independent and confident, don't listen to everything dad says, and don't become a housewife."
But there are also those who are happy with the way things turned out: "Mum! Marry dad! He's good!"
In the end, most commenters just want one thing. As this Weibo user (@·__弑天) writes: "Mum, I just hope you have a happy life."

By Manya Koetse
with contributions by Miranda Barnes
Follow @whatsonweibo
Spotted a mistake or want to add something? Please let us know in comments below or email us. First-time commenters, please be patient – we will have to manually approve your comment before it appears.
©2021 Whatsonweibo. All rights reserved. Do not reproduce our content without permission – you can contact us at info@whatsonweibo.com.