Who's to Blame for Hangzhou Toddler's Deadly Fall from 8th Floor Window?
Nanny was distracted by her phone, the open window was easily accessible; both factors played a role in the fatal fall of the Hangzhou child.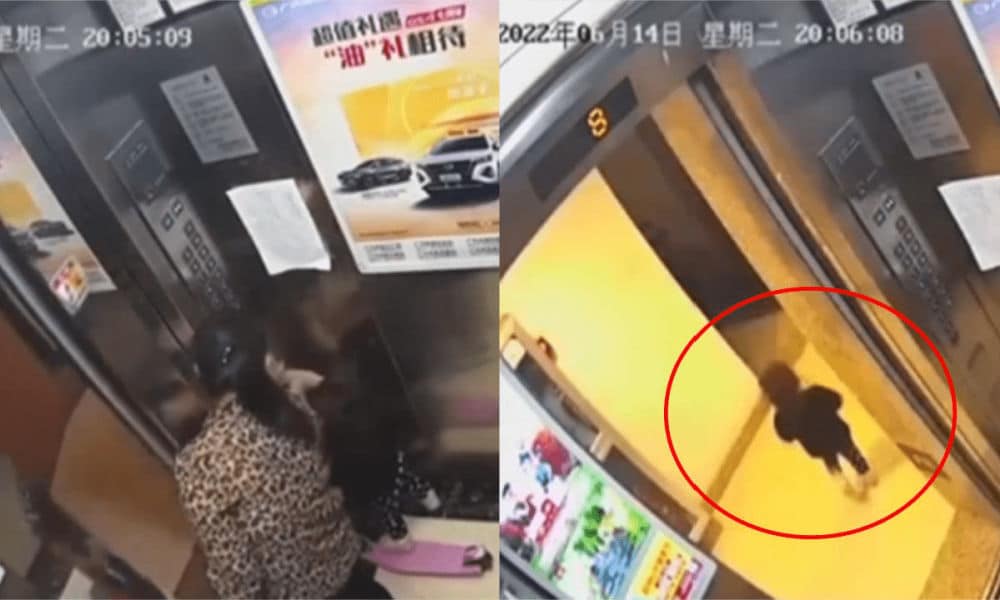 A tragic incident that happened in Hangzhou, Zhejiang province, has become a trending topic on Weibo this week.
On June 14, a 21-month-old girl in the city's Gongshu District was left in an elevator by herself while her nanny was not paying attention. The elevator went up to the building's 8th floor, where the toddler walked out and ended up falling from a window. The little girl unfortunately did not survive the fall.
The details surrounding this tragedy have triggered much discussion on social media, where a security camera footage from the elevator was posted by the girl's father on June 25.
The video shows the girl and the nanny getting into the elevator together on the 15th floor at 20:04. While the elevator goes down, the nanny is seemingly distracted and watches her phone while the little girl is playing on her little pink scooter.
When the elevator arrives at the first floor, the nanny steps out and takes the pink scooter with her, probably assuming that the toddler is right behind her. But then the elevator doors close and the little girl is left behind alone in the elevator, which automatically goes up to the 8th floor.
The footage shows that the little girl, Xiaotao (小桃), is crying after she is locked inside the elevator. Once the elevator stops and opens on the 8th floor, she can be seen exiting and walking into the hallway.
According to Xiaotao's father, he received a call from the nanny after 20.00 that night, saying that she could not find the little girl. The father was at home at their 3rd floor apartment that evening. His daughter and the nanny had gone to the apartment of Xiaotao's grandparents, who live on the 15th floor of the same building.
Rushing out to search for his daughter, the father inspected every floor of the building. The nanny had reportedly first told him she thought Xiaotao might be on the 8th floor, but later she changed her story and said she might be on the first floor.
The father later stated he did not trust what the nanny was saying. She had only been working for the family for seven days, and they had agreed to pay her a monthly wage of 8000 yuan (US$1195) for her services.
After he knocked on their doors, some neighbors on the 8th floor told the father they had heard a child crying. Going outside in search of Xiaotao, the father eventually discovered her body lying on the 2nd floor terrace right below the window on the 8th floor.
The question of whether the nanny can be held legally responsible for the deadly incident is one that is being discussed on Weibo. Although the nanny has stated that she very much blames herself for what has happened, many people also think those overseeing the construction and property management of the building should be held accountable.
An image of the window in question shows that children can easily climb up to the windows and that there are no safety bars.
"This is a major design fault by the developers," one commenter writes: "It's the developer who is the main culprit. The nanny is the second."
One Weibo user from Shanghai writes: "This kind of property management is life-threatening for any young child. These high-rise buildings have a barbarous design. In the end, it's a matter of architectural design in China that doesn't take the protection of young children into consideration at all."
Many others also agree that the building's construction and property management is mainly responsible for the deadly accident: "The window has a serious safety problem, that comes first. Second comes the nanny, who was too careless."
Recently, there have been multiple news stories about young children falling from windows across China. On June 19, an 8-year-old child fell from the 17th floor of an apartment building in Chenzhou, Hunan.
"One mistake, one human life, such huge consequences"
While the Hangzhou case is currently being investigated by local authorities, the toddler's mother spoke out in the media on June 27th that she felt that before exploring the criminal liability of the property management, the nanny's legal responsiblity should be looked into first.
The hashtag "Mother of Hangzhou Girl Who Fell Out of Building Speaks Out" (#杭州坠楼女童母亲发声#) received over 180 million views on Monday. Xiaotao's mother openly wonders why it took the nanny a total of eight minutes before she called to say she could not find Xiaotao. She also accuses the nanny of lying about why she was watching her phone while she was in the elevator; the nanny had allegedly claimed that she had received a message from Xiaotao's parents about running some errands, but the mother says such messages were never sent.
The problem of caregivers not paying attention to their children because they are more focused on their phone has become a trending topic on Chinese social media before. In 2017, the shocking footage of a woman playing on her phone while her 4-year-old son drowned in the pool just a few meters away from her sparked discussions on the dangers of being a 'smartphone addict' (低头族).
There are also many commenters on Weibo who think the nanny is the main culprit. One commenter (@DareGoos__) wrote: "She is a high-end nanny, looking after the child is her job. I am unmarried and childless, and even I know that you're supposed to hold a child with you when you're taking the elevator, isn't this common knowledge among adults?"
"I am more careful with my cat than she is with this child," one commenter wrote. "One mistake, one human life, such huge consequences," another person said.
But many people do not agree, suggesting that the elevator doors automatically closed way too fast, and that checking one's phone on an elevator is a normal thing to do.
Others reacting to the Hangzhou news also say the parents bear some responsibility for this tragedy in handing over the care of their young child to this nanny. "When my mother gave birth to me, she stopped working and made our family – taking care of me – her job. The mom and dad should follow their kid closely, especially if it's just two years old," one Weibo user (@李佑嘉的前女友) wrote.
"I feel so sorry for the child," a typical comment said: "This totally could have been avoided."
For some, the Hangzhou case brought back memories of another tragedy that took place in Hangzhou which also involved a nanny. In 2017, a mother and her three children died in a fire on the 18th floor of a luxurious high-rise building in Hangzhou. After the fire broke out in the early morning around 5.00, the mother saw the fire and then alerted the nanny, asking her to run and seek for help. The nanny, who escaped the fire and survived, later turned out to be responsible for starting the fire (read more here).
By Manya Koetse
Get the story behind the hashtag. Subscribe to What's on Weibo here to receive our weekly newsletter and get access to our latest articles:
Spotted a mistake or want to add something? Please let us know in comments below or email us. First-time commenters, please be patient – we will have to manually approve your comment before it appears.
©2022 Whatsonweibo. All rights reserved. Do not reproduce our content without permission – you can contact us at info@whatsonweibo.com.
The Story of Li Jun & Liang Liang: How the Challenges of an Ordinary Chinese Couple Captivated China's Internet
"Liang Liang and Li Jun are just the tip of the iceberg; there are thousands of couples facing similar challenges."
Two years after they first started sharing their story on Chinese social media, millions of netizens are engrossed in the struggles of the Chinese young parents Li Jun and Liang Liang, whose journey of starting a family and buying an apartment in the city at a time of economic downturn turned into an emotional rollercoaster.
The struggles faced by an ordinary young Chinese couple have recently become a major topic on Chinese social media.
For some, their story has unfolded like a compelling movie, "starring Li Jun and Liang Liang." Others think they could be protagonists in a novel, perhaps one written by Victor Hugo or Lao She.
Here, we explain their story thus far and why it has become such a big topic of discussion on Chinese social media.
A PROMISING FUTURE
"Among tens and thousands of lights in the city, finally there's a light that only shines for me."
In 2022, the couple, Zhang Liliang (张艺亮, the husband, also called 'Liang Liang') and Dong Lijun (董丽君, the wife, referred to as Li Jun), first became popular on Chinese social media as they shared their journey of buying a property and building a life in Zhengzhou, Henan Province, on their account 'The Couple Liang Liang & Li Jun' (亮亮丽君夫妇).
Their first social media post had appeared in November of 2021. In this video, they shared their excitement about buying an apartment and starting their new life as home owners.
They previously put a deposit on an off-planned apartment, eagerly anticipating its delivery in 2024. They regularly updated their progress on Douyin, showcasing their savings efforts and monthly visits to the construction site. "Among tens and thousands of lights in the city, finally there's a light that only shines for me," they said ("从此万家灯火,终有一盏只为我而亮").
The couple took out a mortgage amount of 1.02 million RMB ($143.660) for the Zhengzhou apartment, which had a total floor area of 1,055 sqft / 98 sqm. They made a downpayment of 450k RMB ($63.370), and agreed to a monthly – relatively high-interest rate – payment of 6293 RMB ($886), while also paying the monthly rent for their apartment (1500 RMB/$211). This meant the budget for other expenses was very tight already, since the couple had an approximate monthly combined income of only 9000 RMB ($1267).
They mainly paid for the downpayment with money that Liang Liang had been saving over the past five years, along with monetary gifts from their wedding and some support from their parents. In order to generate some extra income, Liang also became a taxi driver (Didi) at night.
As the couple gained more popularity online, mainly on Douyin and Bilibili, some Chinese media outlets also began taking notice. In July of 2022, Sanlian Life Weekly (三联生活周刊) featured an interview with the couple, bringing their story to the attention of a wider audience.
THE SPARK IS GONE
"This is our life now, the life of mortgage slaves."
However, things did not go as planned. Months into the construction process, the developer, Sunac China Holdings Limited (融创中国), encountered financial difficulties. In May of 2022, Sunac made headlines as it didn't meet its payment obligations on a dollar bond, making it one of the major Chinese property companies failing to fulfill its financial commitments.
Li Jun and Liang went to check on how the construction was going every month, and found that Sunac's financial woes were causing a standstill in construction. Their apartment was located on the 22nd floor of a 33-story-building, but the construction was suspended from the 13th floor up.
Their daughter was also born during this tumultuous time, in October 2022, adding to the financial strain of rent and mortgage payments without a clear move-in date. "This is our life now, the life of mortgage slaves," they said in one of their videos.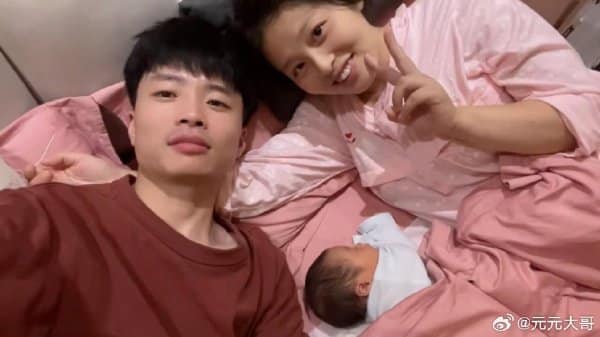 Adding to their challenges, Li Jun experienced a pay cut, reducing their monthly income by 2000 RMB ($282). With the cut leaving them with insufficient funds for essential expenses, they resorted to using their credit card.
In later Douyin videos, fans noticed how frustrated and disillusioned the couple now looked. Some made comparisons to their earlier videos, concluding that the "spark" they previously had in their eyes was gone.
Li Jun and Liang Liang feared that their house might join the ranks of millions of homes in China categorized as "烂尾楼" (làn wěi lóu), referring to 'rotting' unfinished buildings. In such cases, apartments that have been sold are abandoned and are not delivered due to financial struggles or other challenges faced by the developers.
After the pay cut they desperately needed more money to get by. They started doing some e-commerce on Douyin and tried to get the rebate that was promised to them when purchasing their apartment-the initial contract included a 20,000 RMB ($2775) special rebate for buyers, which they qualified for.
But no matter how many times they went back and forth to the sales center, the couple faced rejection and insults when demanding their payment. Desperate, Li Jun and Liang Liang turned to their social media fans and livestream followers to put more pressure on the company, but the staff just shut down the lights, closed the doors, and refused to pay them the money that was promised to them.
SILENCED ON SOCIAL MEDIA
"Instead of pursuing justice, I'd rather have a peaceful life."
In November 2023, the story of Li Jun and Liang Liang gained prominence as they shared dramatic details of their struggles to retrieve their money. On November 15, the couple claimed to have been physically assaulted by staff members of the sales center while demanding their money. Liang ended up in the hospital with minor injuries, and Li, attempting to record the incident, had her phone snatched and the livestream was cut off.
The couple later posted a video later explaining what happened, but that video was soon taken down. Strange things kept happening, and people suspected the couple might have been threatened and bribed.
Because two days later, Li Jun and Liang Liang suddenly shared that the police were now involved, stating that "everything was sorted" and that they were content with the solution provided. This claim of police involvement was confirmed on November 19 by local authorities, who announced penalties for those responsible for beating the couple.
Yet, the last video they posted suddenly became unavailable, and their Douyin account was blocked from updating. Additionally, their other social media accounts on Weibo and Bilibili were both banned from posting (@亮亮和丽君夫妇).
Li Jun still had her personal social media account, revealing on November 22 that the couple had chosen to return to their hometown with their daughter. Liang expressed his desire for justice, but Li Jun emphasized, "But now we have our daughter. I'd rather have a peaceful life." (#亮亮丽君决定离开郑州回老家#)
The idea that Li Jun and Liang Liang felt defeated enough to (temporarily) give up their dream of building their life in the city saddened and angered many netizens, and their story went viral.
But through all their trials and tribulations, the story of Li Jun and Liang Liang may not conclude with an unhappy ending after all.
Their Zhengzhou apartment is apparently not destined to remain an 'unfinished building' — the government has intervened to ensure the delivery of the building. In November of 2023, news also came out that Sunac had met conditions for a long-awaited debt restructuring deal, reportedly reducing its total debt by $4.5 billion. The construction of the building has resumed.
In late November, the story of Li Jun and Liang took another unexpected turn when a new video surfaced, suggesting that the couple – despite saying they would relocate to their rural hometown – would give it another shot in Zhengzhou by starting their own business.
Many online users found this twist confusing, suspecting that local authorities might have intervened to reshape the couple's narrative, possibly to ensure a positive outcome in the public eye (#亮亮丽君决定在郑州创业#).
"Perhaps I should become an internet sensation too," one commenter responded. "Maybe then my unfinished three-room apartment will finally be delivered to me as well."
ORDINARY CHINESE DUPED
"Three years of Covid did not break our spirit; it's our unfinished property that brought us down."
There are numerous reasons why so many people are invested in the story of Liang Liang and Li Jun. Their journey, documented on social media, deeply resonated with millions who are dealing with similar struggles or are finding it hard to start a life in the city, build a family and pay a mortgage.
Their Douyin videos reflected the emotional rollercoaster of an ordinary Chinese couple facing setbacks despite diligently following the conventional path of education, hard work, marriage, savings, property ownership, and family-building.
Many wondered if their lives would have taken a different turn if they had chosen to 'lie flat' or go against the norm. Who is responsible for the fact that, despite their hard work and dedication, their pursuit of the 'Chinese dream' seemed unattainable?
Beyond this issue of ordinary families struggling to get by and pay for a mortgage, a central issue in Li Jun and Liang's story was also the problem with their unfinished apartment.
Concerns about Chinese real estate developers grappling with substantial debts have have consistently dominated headlines in recent years, sparked by the difficulties faced by Evergrande Group and other Chinese property developers, such as Country Garden, Kaisa Group, Fantasia Holdings, Sinic Holdings, Modern Land, and Sunac – the property owner from whom Li and Liang purchased their apartment.
Regular people like Liang Liang and Li Jun are the ones most affected by this ongoing property crisis, often facing severe consequences. For many, this once hopeful young couple, now disillusioned, represents a larger social and economic problem within China's real estate industry.
"Liang Liang and Li Jun are just the tip of the iceberg; there are thousands of couples facing similar challenges," one Weibo blogger (@鸿蒙钊哥) wrote.
Another Weibo user wrote: "We all know the story of Liang Liang and Li Jun, and we want to help them because they represent numerous urban residents. Three years of Covid did not break our spirit; it's our unfinished property that brought us down. So far I did not see official media speaking up for them, is it that they do not know or that they are worth helping? Or, perhaps, they feel ashamed?"
Despite this aspect of Li Jun and Liang's story, which highlights both the trap of mortgage slavery and the problem of ordinary Chinese duped by the country's property woes, the young couple has become a subject of public contention. Not everyone agrees with the choices they made.
Some bloggers, such as Lao Liang (老梁不郁闷), argue that their story was exaggerated for clout, and that their apartment actually never qualified as a 'rotten' unfinished building (烂尾楼 làn wěi lóu) since construction was only temporarily halted but never really abandoned.
While many express sympathy for the couple, others deem it unwise for them to have purchased an apartment with an already strained monthly budget, let alone to have a child under such uncertain circumstances. Critics suggest the couple lacked a proper life plan, didn't assess risks, and ended up in this situation through their own fault.
These critics also view the couple's recent change of plans as evidence that they may have fabricated parts of their story to garner attention and financial support.
However, there are widely different opinions on this issue. Some label these critics as proponents of Social Darwinism (社会达尔文主义), accusing them of being selfish and cold-hearted. They argue that the blame should not be on the couple, striving for a better life, but on the developer who breached the contract and made life so hard for them.
The couple's chosen path, moving from small towns to study and work in big cities, reflects a common value not only in China but worldwide. They argue that society should appreciate those working hard despite facing challenges and insecurities, instead of condemning them for the bold choices they make.
Those supporting the young couple seemingly also do not care if their story has somehow become entwined with (local) propaganda efforts. As their narrative is now shifting from representing defeated Chinese youth in a complex economic situation to showcasing the strength of Chinese urban workers in a revitalized nation, many people simply wish them the best.
As one commenter writes: "If they want to start a business in Zhengzhou now, let them go for it. They've made positive use of the attention they've received. They don't need to live up to the expectations that others have them. All the luck to you!"
By Manya Koetse & Miranda Barnes
Get the story behind the hashtag. Subscribe to What's on Weibo here to receive our newsletter and get access to our latest articles:
Spotted a mistake or want to add something? Please let us know in comments below or email us. First-time commenters, please be patient – we will have to manually approve your comment before it appears.
©2023 Whatsonweibo. All rights reserved. Do not reproduce our content without permission – you can contact us at info@whatsonweibo.com.
Sick Kids, Worried Parents, Overcrowded Hospitals: China's Peak Flu Season on the Way
"Besides Mycoplasma infections, cases include influenza, Covid-19, Norovirus, and Adenovirus. Heading straight to the hospital could mean entering a cesspool of viruses."
In the early morning of November 21, parents are already queuing up at Xi'an Children's Hospital with their sons and daughters. It's not even the line for a doctor's appointment, but rather for the removal of IV needles.
The scene was captured in a recent video, only one among many videos and images that have been making their rounds on Chinese social media these days (#凌晨的儿童医院拔针也要排队#).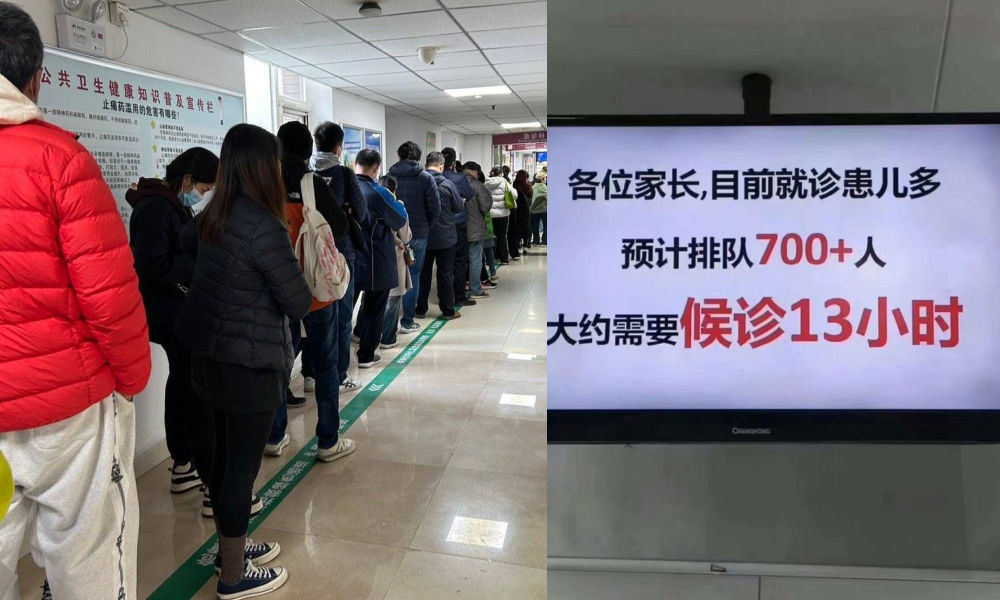 One photo shows a bulletin board at a local hospital warning parents that over 700 patients are waiting in line, estimating a waiting time of more than 13 hours to see a doctor.
Another image shows children doing their homework while hooked up on an IV.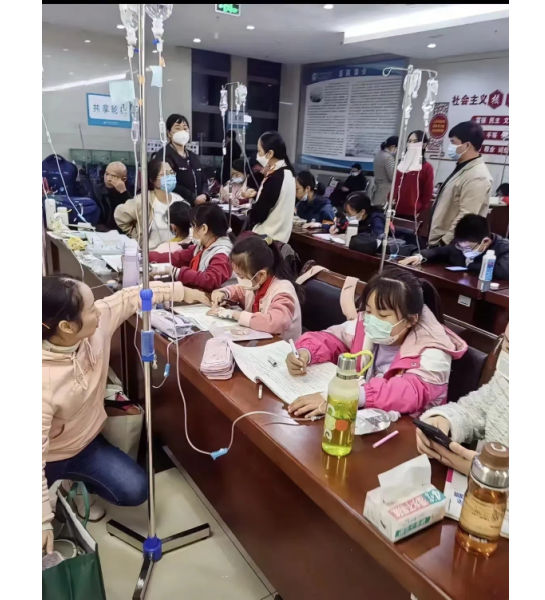 Recent discussions on Chinese social media platforms have highlighted a notable surge in flu cases. The ongoing flu season is particularly impacting children, with multiple viruses concurrently circulating and contributing to a high incidence of respiratory infections.
Among the prevalent respiratory infections affecting children are Mycoplasma pneumoniae infections, influenza, and Adenovirus infection.
The spike in flu cases has resulted in overcrowded children's hospitals in Beijing and other Chinese cities. Parents sometimes have to wait in line for hours to get an appointment or pick up medication.
According to one reporter at Haibao News (海报新闻), there were so many patients at the Children's Hospital of Capital Institute of Pediatrics (首都儿科研究所) on November 21st that the outpatient desk stopped accepting new patients by the afternoon. Meanwhile, 628 people were waiting in line to see a doctor at the emergency department.
Reflecting on the past few years, the current flu season marks China's first 'normal' flu peak season since the outbreak of Covid-19 in late 2019 / early 2020 and the end of its stringent zero-Covid policies in December 2022. Compared to many other countries, wearing masks was also commonplace for much longer following the relaxation of Covid policies.
Hu Xijin, the well-known political commentator, noted on Weibo that this year's flu season seems to be far worse than that of the years before. He also shared that his own granddaughter was suffering from a 40 degrees fever.
"We're all running a fever in our home. But I didn't dare to go to the hospital today, although I want my child to go to the hospital tomorrow. I heard waiting times are up to five hours now," one Weibo user wrote.
"Half of the kids in my child's class are sick now. The hospital is overflowing with people," another person commented.
One mother described how her 7-year-old child had been running a fever for eight days already. Seeking medical attention on the first day, the initial diagnosis was a cold. As the fever persisted, daily visits to the hospital ensued, involving multiple hours for IV fluid administration.
While this account stems from a single Weibo post within a fever-advice community, it highlights a broader trend: many parents swiftly resort to hospital visits at the first signs of flu or fever. Several factors contribute to this, including a lack of General Practitioners in China, making hospitals the primary choice for medical consultations also in non-urgent cases.
There is also a strong belief in the efficacy of IV infusion therapy, whether fluid-based or containing medication, as the quickest path to recovery. Multiple factors contribute to the widespread and sometimes irrational use of IV infusions in China. Some clinics are profit-driven and see IV infusions as a way to make more money. Widespread expectations among Chinese patients that IV infusions will make them feel better also play a role, along with some physicians' lacking knowledge of IV therapy or their uncertainty to distinguish bacterial from viral infections (read more here)
To prevent an overwhelming influx of patients to hospitals, Chinese state media, citing specialists, advise parents to seek medical attention at the hospital only for sick infants under three months old displaying clear signs of fever (with or without cough). For older children, it is recommended to consult a doctor if a high fever persists for 3 to 5 days or if there is a deterioration in respiratory symptoms. Children dealing with fever and (mild) respiratory symptoms can otherwise recover at home.
One Weibo blogger (@奶霸知道) warned parents that taking their child straight to the hospital on the first day of them getting sick could actually be a bad idea. They write:
"(..) pediatric departments are already packed with patients, and it's not just Mycoplasma infections anymore. Cases include influenza, Covid-19, Norovirus, and Adenovirus. And then, of course, those with bad luck are cross-infected with multiple viruses at the same time, leading to endless cycles. Therefore, if your child experiences mild coughing or a slight fever, consider observing at home first. Heading straight to the hospital could mean entering a cesspool of viruses."
The hashtag for "fever" saw over 350 million clicks on Weibo within one day on November 22.
Meanwhile, there are also other ongoing discussions on Weibo surrounding the current flu season. One topic revolves around whether children should continue doing their homework while receiving IV fluids in the hospital. Some hospitals have designated special desks and study areas for children.
Although some commenters commend the hospitals for being so considerate, others also remind the parents not to pressure their kids too much and to let them rest when they are not feeling well.
Opinions vary: although some on Chinese social media say it's very thoughtful for hospitals to set up areas where kids can study and read, others blame parents for pressuring their kids to do homework at the hospital instead of resting when not feeling well. pic.twitter.com/gnQD9tFW2c

— Manya Koetse (@manyapan) November 22, 2023
By Manya Koetse, with contributions from Miranda Barnes
Get the story behind the hashtag. Subscribe to What's on Weibo here to receive our newsletter and get access to our latest articles:
Spotted a mistake or want to add something? Please let us know in comments below or email us. First-time commenters, please be patient – we will have to manually approve your comment before it appears.
©2023 Whatsonweibo. All rights reserved. Do not reproduce our content without permission – you can contact us at info@whatsonweibo.com.
Subscribe to our newsletter
Stay updated on what's trending in China & get the story behind the hashtag
Sign up here to become a premium member of What's on Weibo today and gain access to all of our latest and premium content, as well as receive our exclusive Weibo Watch newsletter. If you prefer to only receive our free newsletter with an overview of the latest articles, you can subscribe for free here.
Would you like to become a contributor, or do you have any tips or suggestions for us? Get in touch with us here.