"You Can Have Four Kids Now!" – Draft to China's Population Planning Law No Longer Penalizes Having More Children
Those who have four kids or more will no longer be punished.
On Thursday, the news that a draft to China's family planning law no longer includes punishment for those who have more kids went viral on Weibo using the slogan "The family planning law is revised! You can have four kids now!" ("计划生育法修订,可以生四孩了")
China's Population and Family Planning Law is undergoing significant changes in order to allow Chinese couples to have more than two children. The new draft amendment that was released on August 17 stirred online discussions for canceling fines for parents who have more children than permitted.
The draft law amendment has been widely reported in Chinese state media this week, and is said to be a key legal move in allowing each couple to have three children according to the new "three-child policy" that was announced earlier this year.
But since the new law cancels restrictive measures such as fines for those who have more children, many on social media see the change as opening up the possibility to have even more than three children.
One person on Weibo wrote: "Translated, [it says], if you want a fourth kid you can go ahead, but the state won't help you raise it."
Another commenter said: "Actually, this is like canceling all birth restrictions altogether, it just doesn't clearly say so."
"Is the next step going to be a tax requirement for single people?", others wondered.
On August 19, a law blog titled "The Family Planning Law Will Be Amended! You Can Have Four Children Now!" [计划生育法将修订!可以生四孩了!] circulated around Chinese social media and was widely shared (also under the account of legal expert blogger Weifaguan @微法官), explaining that although the new law clearly implements the policy of allowing three children and supportive measures, it basically also allows for having more children. Even if a fourth or fifth child would be born, there will be no more penalties according to the national law.
The blog does explain that this does not necessarily mean that all penalties are removed, since there are still local Family Planning policies in place with disciplinary measures against Party and government employees exceeding the birth limits. These regulations would need to be modified in order to stay in line with the revised national law.
"How many kids are you planning on having?", one blogging account asked its followers on Weibo.
"Let me first find a boyfriend, then I can think about it," a top comment said.
Others expressed their hopes of having two children, although many commenters also wrote that they wouldn't have the financial means to raise more children: "I don't even own a house, would I raise them on the streets?"
Facing a rapidly aging population, China has been loosening its previous 'one-child policy' for years. China initiated the one-child policy in 1979 with an aim to control the nation's rapid population growth.
Since 2013, couples were allowed to have a second child if they themselves were an only child. If they could afford to do so, some families could also choose to have a second child and simply pay the high fine they would get for having another baby.
In October of 2015, the Communist Party of China (CPC) issued an official statement that all couples would be allowed to have two children. That law went into effect on 1 January 2016.
Although the new policy led to a brief 'baby boom' – birth rates in China rose to their highest level since 2000 – the number still fell short of government estimation's and the birth rates soon dropped again. In 2019, the birth rate of 10.48 per thousand marked the lowest number since 1949.
On May 31 of 2021, Chinese authorities announced that all married couples would be allowed to have three children.
Every time the government announced a loosening of its family planning policies, there have been mixed reactions from social media users. The dominating sentiment is that people cannot phantom how to carry the financial burdens of having more than one child. Another recurring concern is that of women facing more pressure to have more children, leading to a potentially disadvantaged position of women in the job market.
One commenter wrote: "Four kids!? [laughing/crying emoji] Let's say you're an ordinary girl around the age of 22, 23 years old. Once you graduate, you're immediately married and start a family. If you have four kids, you'd basically reach the age of 30 and then be left without any working experience and no life of your own – if you're not pregnant you're carrying around a baby!"
But there are also those commenters in online discussions who do not understand what all the fuss is about: "You don't need to have four kids, it just means you can have as many kids as you like." "If you want kids, you can have them; if you don't want kids, you can not have them."
By Manya Koetse (@manyapan)
With contributions by Miranda Barnes
Spotted a mistake or want to add something? Please let us know in comments below or email us. First-time commenters, please be patient – we will have to manually approve your comment before it appears.
©2021 Whatsonweibo. All rights reserved. Do not reproduce our content without permission – you can contact us at info@whatsonweibo.com.
The 'Zhenlouqi' Floor Shaker: The Chinese Noise Machine to Take Revenge on Your Noisy Upstairs Neighbors
Noisy upstairs neighbors? The zhenlouqi is a way more effective revenge than hitting your broom against the ceiling.
How to deal with noisy upstairs neighbors? Some Chinese e-commerce sellers say they have found the solution for you: get back at them by making their floors vibrate! The zhènlóuqì is marketed as a 'magical tool', but in reality, it seems to only make problems worse.
It is called the zhènlóuqì (震楼器), the 'floor shaker', a device designed to get back at noisy upstairs neighbours. Over the past weeks, the zhènlóuqì has been popping up more frequently in stories on Chinese social media.
Due to various local Covid-related lockdowns across China over the past weeks, many people have again been spending a lot of time at home. For those living in residential apartments, neighbors making noise can be a real nuisance – especially if it is the upstairs neighbors who can leave you feeling powerless and annoyed with their heavy walking, stomping, pushing chairs, or loud music.
To put an end to the suffering of downstairs neighbors, there is the 'floor shaker' (also called 'vibration motor' 振动马达), an electrical device that can be attached to the ceiling and will drive your upstairs neighbors crazy by creating floor vibrations.
The device was first sold on Chinese e-commerce site Taobao in 2015 as a "magical object" to deal with noisy upstairs neighbors and has become more popular over the past few years with many different online stores selling them. Its original intended use is actually not to torment neighbors; electric vibration motors are used in many different industrial applications, including in product quality control and mining operations.
Together with a supporting pole, a small zhènlóuqì can be placed against the ceiling. Once it is turned on (remote control included) the floor above the ceiling will start to shake.
Unsurprisingly, various social media stories and videos prove that the zhènlóuqì is not really the magical device it claims to be, as it often only worsens the relations between neighbors.
One video posted on Weibo recently showed security footage from a residential building where one man angrily came to the door of his downstairs neighbor with a long knife, asking if they had installed a 'floor shaker.' The woman at the door then answered that there's always noise coming from his apartment, with him responding that all they hear every day is the vibrating of the floor shaker. The man's partner then suddenly appears out of nowhere and the altercation turns into a physical fight.
What are they fighting about? It's about a vibrating device that was installed by the lady downstairs to take revenge on her noisy upstairs neighbors. It can drive people crazy and the noise can make them dizzy (and apparently very agressive)… pic.twitter.com/1RRGzqPaKJ

— Manya Koetse (@manyapan) January 25, 2022
Another story is that of Mrs. Chen who moved into a new apartment in Hangzhou in 2020 together with her husband, little son and mother-in-law. Although the family was leading a normal life without making a lot of noise, the downstairs neighbor kept complaining about their stomping and the moving of furniture. Although they tried to be as quiet as they could, the downstairs neighbor eventually installed a floor shaker which would be turned on every night from 8 pm to midnight. Besides the fact that the family was bothered by the shaking floor, the noise also stressed them out and affected their sleep.
Although the use of the zhènlóuqì is not necessarily illegal in itself, it does create a noise problem and also might do damage to the structures of the buildings – enough reasons for neighbors to call the police when they think their downstairs neighbors have installed such a device.
This is probably also why zhènlóuqì has now been flagged as a 'sensitive word' on Taobao, although the device can still be bought under other names for approximately 168 yuan ($26). The device is often not advertised as 'taking revenge on neighbors,' but as an effective method to create a quiet home, picturing a sleeping baby or someone relaxing in bed while the zhènlóuqì is turned on.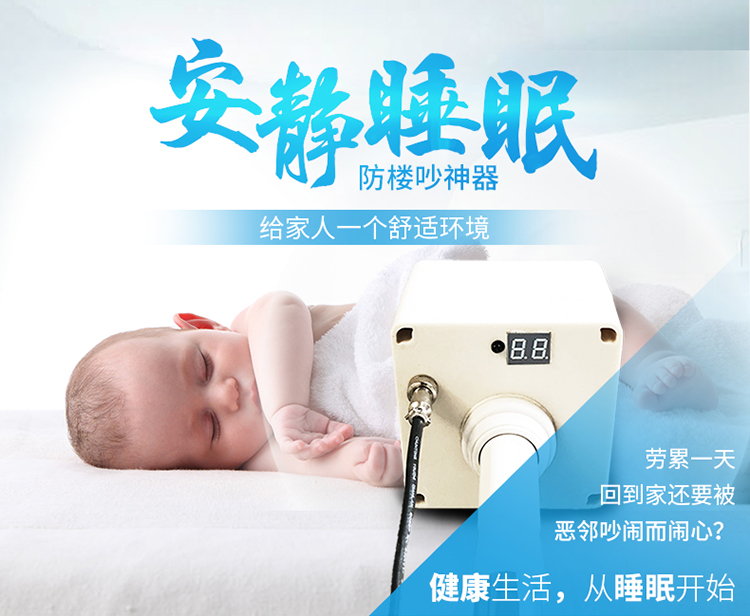 Some 'floor shaker' models even come with wifi and an app, so users can turn it on via their smartphone and annoy their neighbors – even when they're not home themselves.
Another 'magical object' that recently went viral on Chinese social media is an 'anti-square-dancing device' that helps local residents find some peace and quiet when dancing grannies take over their public squares with loud music.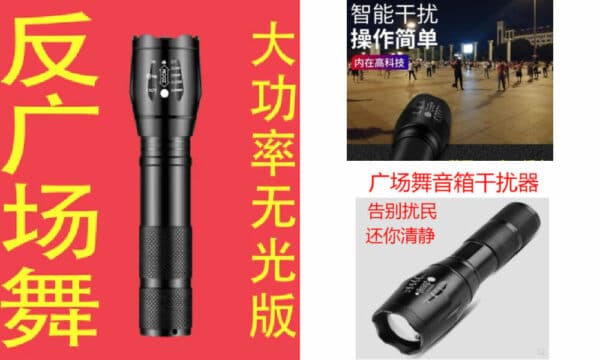 The device is a remote control that can stop any speaker at a distance of 50-80 meters, leading to much confusion among those dancing on the streets why their music keeps stopping.
Although installing a zhènlóuqì might lead to worsening relations between neighbors, there are many people on Weibo expressing the wish to buy one: "I am lying awake again because of the noise the upstairs lady is making, I really want to buy one!"
With the 'floor shaker' becoming more well-known, the threat of buying one hopefully should be enough to make a noisy upstairs neighbor calm down.
For those who feel installing such a device would definitely be too extreme, there is always the classic broom or even a special extendable soft hammer sold on Taobao – which is also much cheaper than the zhènlóuqì– to make your neighbors aware that they are being too loud.
By Manya Koetse
Spotted a mistake or want to add something? Please let us know in comments below or email us. First-time commenters, please be patient – we will have to manually approve your comment before it appears.
©2022 Whatsonweibo. All rights reserved. Do not reproduce our content without permission – you can contact us at info@whatsonweibo.com.
Shaanxi Domestic Violence Incident Caught on Home Security Camera, Sparks Online Outrage
The man, a deputy director at a state-owned company, has been fired after the video of the domestic abuse went viral online.
Home security footage showing a man brutally beating his wife in front of their young child has drawn widespread criticism on Chinese social media. The man, a deputy director at a state-owned company, has now been fired.
A shocking video of a domestic violence incident taking place inside a home in Xi'an, Shaanxi Province, has sparked anger across Chinese social media over the past week.
The video, recorded in the family's living room, shows a man severely beating his wife while their toddler is with them in the room (a blurred video published by The Paper can be viewed here, viewer discretion is advised).
Although stories of domestic violence often go trending on Chinese social media, this case is especially noteworthy due to the fact that the incident was recorded by indoor home security cameras. Security cameras inside the home have become more popular in China over the past few years, especially for families with kids or pets to keep tabs on what is going on inside the living room or other home areas.
The video first shows the man frantically hitting the woman on her head over a dozen times while she is sitting on the couch with the child on her lap. The woman then stands up and seemingly tries to get her daughter somewhere safe while the child cries out for her mum. The man then violently drags the woman away again and resumes to frantically beat her. When the child cries out, the mum tells her "don't be scared darling" while the abuse continues – the man slaps the woman on her face and pushes her down.
At one point, another woman, who is said to be the man's mother, steps into the room and takes the young child away without stopping the violence or saying anything at all.
The video of the incident sparked major outrage on Thursday, January 20, as it went viral on Chinese social media and became a hot search topic.
The video supposedly surfaced online because the domestic abuse victim posted it herself on WeChat, although this is not entirely clear as her identity and social media information are kept private. The video was posted on Weibo by someone within her Wechat friends group on January 19.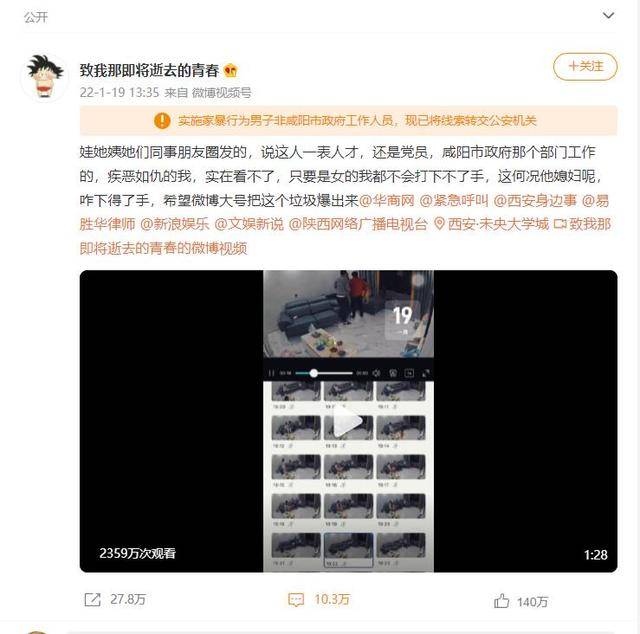 In screenshots that have also gone viral online, the victim speaks about the abuse, claiming it was not the first time for her to suffer abuse at the hands of her husband. She writes that she was also abused, both psychically and mentally, during her pregnancy and shortly afterward and that her husband has also been aggressive with their child.
Many Weibo users who watched the video of the incident already commented that they could tell domestic abuse was normalized inside the Wang family home due to the grandmother's seemingly calm and indifferent response to the violence.
The man in the video was identified as Wang Pengfei (王鹏飞), a deputy director at the state-owned Shaanxi Airport New Silk Road Trading Company. The company opened up a brand-new Weibo account to post a public statement on the matter, condemning the behavior of Mr. Wang and saying he was suspended from his duties. They later added another post that Wang was fired from his job.
On Thursday, the police also posted on social media to inform netizens that the case was under investigation. Two days later, local authorities from the Baqiao District in Xi'an, Shaanxi, issued a statement regarding the case.
According to the police statement, the 28-year-old Mrs. Wang and the 34-year-old Mr. Wang had an argument on the night of January 18 over a household matter. Mrs. Wang allegedly reacted in an "extreme" way and the conflict between the two escalated, leading to Mr. Wang beating up his wife. Mrs. Wang reported the incident to the police on January 19th.
The police statement said that "both spouses recognized their mistakes" and that, in accordance with the law, Mr. Wang received a five-day prison sentence and Mrs. Wang received "educational criticism." Being a Party member, Mr. Wang was also given a "severe disciplinary warning" within the Party.
Over the past few years, domestic violence has been a recurring topic on Chinese social media with many voices trying to raise public awareness about this widespread social problem.
In 2019, the Chinese makeup influencer Yuya Mika shared her story as a survivor of domestic abuse in a video that went viral on Weibo. That video contained shocking footage of Yuya's ex-boyfriend trying to violently drag her out of an elevator – a moment that was also caught on security cameras.
The tragic story of a Tibetan vlogger named Lamu (拉姆, Lhamo in Tibetan) also triggered many discussions on Chinese social media in 2020, after she was set on fire by her ex-husband who previously abused her for years. Lamu did not survive, and her death sparked an online movement advocating for better laws and support systems for domestic abuse victims in China (for more on this story, check out our podcast on Lamu here).
This week, the Xi'an incident again led to online discussions about how Chinese authorities deal with domestic violence. Many commenters argued that the five-day detainment sentence was too light, and others wondered why the wife was "re-educated" by the police while being the victim in this matter, and why it was suggested that her "extreme" response to their argument was what led to the beating.
"As if she deserved the beating due to her lack of good communication," one person wrote.
Various Chinese state media, including CCTV, condemned domestic violence and stressed that it was never just a "family issue."
Weibo blogger 'Marcus Says' (@马库斯说) posted a commentary on the incident, arguing that it is useless for Chinese state media to claim there is "zero tolerance" for domestic violence in China when the law still does not do enough to punish the wrongdoers and to protect the vulnerable people in these kinds of situations. The post was shared over 7000 times.
But there were also many Weibo users who claimed that it was Mrs. Wang who first hit her husband, arguing that the problem of domestic violence often comes from both sides and that there should be more awareness about women abusing men. Commenter @voiceyaya wrote: "Again we're talking about domestic abuse and we generally and repeatedly say we shouldn't blame the victim and that it's never the victim's fault, but I don't think it's very meaningful. Why can't we face the reality that many cases of domestic violence involve violence on both sides and that there is a problem of both parties hitting each other?"
There are also those who blame Mrs. Wang for punishing her husband too severely by exposing his behavior online, arguing that he will never get another job now that his name and photo are widely known.
Despite some online disagreements about the case, most people agree that the child's well-being should be prioritized above anything else. "How tragic for the child, will this really be the last time she sees her daddy hit her mum? She is so small to be immersed in such a frightening scene. This will continue to haunt her for a long time."
It is currently not known if the couple will divorce, or if Mr. Wang and his wife will be reunited after his five days of detainment are over.
By Manya Koetse
Spotted a mistake or want to add something? Please let us know in comments below or email us. First-time commenters, please be patient – we will have to manually approve your comment before it appears.
©2022 Whatsonweibo. All rights reserved. Do not reproduce our content without permission – you can contact us at info@whatsonweibo.com.