The Legendary Lao Gan Ma: How Chili Sauce Billionaire Tao Huabi Became a 'Chinese Dream' Role Model
The story of Lao Gan Ma founder Tao Huabi.
You might know the chili sauce Lao Gan Ma, a household name in China. But perhaps you're less familiar with the story behind the sauce and its founder, which has inspired millions of people and has made 'Old Godmother' Tao Huabi a notable figure in Chinese contemporary culture today. For many, the successful businesswoman and 'chili sauce queen' is an embodiment of the 'Chinese dream.'

This is the "WE…WEI…WHAT?" column by Manya Koetse, original publication in German by Goethe Institut China (forthcoming), visit Yi Magazin: WE…WEI…WHAT? Manya Koetse erklärt das chinesische Internet.

Lao Gan Ma t-shirts, Lao Gan Ma phone covers, Lao Gan Ma bracelets, and even Lao Gan Ma airpod cases – Lao Gan Ma is more fashionable than ever in China today.
The celebrated brand is one of the country's most well-known chili sauce labels, and it pops up in Chinese media and online culture every single day; not just because of its tasty condiments and other food products, but also because of the company's remarkable history and evolution.
Besides the popularity of Lao Gan Ma's crispy chili oil, it is the story of founder Tao Huabi (陶华碧) that plays a crucial role in the brand's contemporary success. It is her face you see on the recognizable packaging design that has become a household product and is now also famous in many countries outside of China.
The brand name 'Lao Gan Ma' (老干妈) literally means 'Old Godmother' and refers to Tao Huabi herself. She is the creator of the famous chili sauces who has, over time, become the embodiment of the 'Chinese dream.' By following her own path and relying on her business instinct, Tao rose from poverty and became one of China's richest women.
In order to explain why Tao Huabi is such an iconic figure in China today, let's look at this famous female entrepreneur by highlighting the different stages of her Lao Gan Ma journey.
1: The Young Tao Huabi: "If I Hadn't Been Strong, I Would've Starved"
"There are many successful businesses entrepreneurs who have experienced hardships, but there are few whose starting point was as low as Tao's." These are the opening lines of a popular book about Tao Huabi, written by Zhang Nali (张丽娜), telling the story of her life.1
Tao Huabi was born in 1947 in a small village in Meitan County, Guizhou, one of China's poorest provinces. She was the eighth daughter in her family (her parents had actually hoped to finally have a son), and her parents struggled to feed and clothe their children, let alone give them proper education. Tao was not taught how to read and write.
The biography about Tao Huabi describes how Tao spent her younger years chopping wood, cooking and farming. The title of the book is If I Hadn't Been Strong, I Would've Starved (我不坚强,就没得饭吃), and it is telling of how Tao's younger years were all about being hungry and finding ways to keep on going.
During the Great Chinese Famine (1959-1961), Tao dug for wild vegetables and tried various ways to eat plant roots, using whatever she had to try and make the little food they had taste better. This is how poverty and hunger drove the young Tao to make her very first chili sauce. The natural sauce, made from medicinal plants from the mountains and home-grown chili peppers, was loved by the entire family.
When Tao was 20 years old, she married her husband, who worked as an accountant with the local geological team. They had two sons together. But the happy life of the young family did not last long as just a few years into their marriage, Tao's husband became seriously ill with liver disease.
Tao now found herself in an incredibly difficult situation; she was uneducated, illiterate, and had no official working experience. But she needed to provide income for her family as they had no money to cover her husband's medical costs and pay for the food and education of their two sons. The 30-yuan monthly income of her husband was nowhere near enough to help the family.
The situation led Tao to head out of the countryside for the first time in her life to go to the city of Guangzhou to find a factory job as a migrant worker. She brought her own homemade chili sauce with her to the faraway city and used it to flavor her steamed buns when she couldn't afford any other food. She also shared it with her co-workers, who found her chili sauce to be delicious.
Unfortunately, Tao's efforts could not save her husband's life. She soon became widowed and, heartbroken, had to return back to Guizhou to take care of her two young boys. Now that she had become the sole caregiver and provider of her family, she started selling rice curd and also set up a street stall selling vegetables at all hours of the day, often working until 4 in the morning.
Her passion for cooking kept following Tao wherever she went. One day, when Tao's sons were already grown up, she visited a noodle shop after work and complained to the female shop owner that their cold noodles were not authentic enough. After Tao gave the lady her tips and tricks on how to improve the noodles using chili oil, she was offered a job at the noodle stall. The experience at the shop eventually gave Tao the idea to start her own business.
2: Inspirational Business Journey: "Selling the Flavor"
In 1989, when Tao was 42, she set up her own little "Economical Restaurant" ("实惠饭店") in the Nanming District of Guiyang, Guizhou. Although she just served simple noodles, she mixed them with her own spicy hot sauce with soybeans. Tao was beloved in the neighborhood, where she became a 'godmother' to poor students whom she would always give discounts and some extra food.
With many local students and patrons visiting her little diner, the noodle shop business soon flourished, but not because of her noodles – it was the chili sauce that kept people coming back for more.
Tao Huabi came to understand the popularity of her condiments when customers came in to purchase the sauce by itself, without the noodles. One day, when her sauce had sold out, she found that customers would not even eat her noodles without the chili. When Tao learned that other noodle shops in the neighborhood were all doing good business by using her home-made sauce in their noodles, she finally realized the true potential of her product.
By the early 1990s, more truck drivers passed by Tao's shop due to the construction of a new highway in the area. Tao took this as a chance to promote her condiments outside the realm of her own neighborhood and started giving out her sauces for free for the truckers to take home. This form of word-of-mouth marketing soon paid off when people from outside the city district came to visit Tao's shop to buy her chili sauces and other condiments.
By late 1994, Tao had stopped selling noodles and had turned her little restaurant into a specialty store called 'Tao's Guiyang Nanming Food Shop' ("贵阳南明陶氏风味食品店"), with the chili oil sauce being the number one product.
Two years later, at the age of 49, Tao took the plunge to rent a house in Guiyang, recruited forty workers, and set up her own sauce factory called 'Old Godmother': 'Lao Gan Ma' (老干妈). Since the factory initially had no machines, the chili chopping was all done manually. Tao herself, wearing her apron, would also cut chilis at the factory tables together with her workers.
In 1997, the company was officially listed and open for business. Although Tao never had any formal education, she turned out to have a natural talent for managing her flourishing company. Tao's two sons later also joined the Lao Gan Ma company.
Although the Lao Gan Ma brand became successful almost immediately after its launch, Tao Huabi still struggled for years as a handful of competitors launched fake Lao Gan Ma sauces with similar packaging, and nearly ruined her business. In 2001, when Tao Huabi was 54, the high court in Beijing finally ruled that other similar products could not use the "Lao Gan Ma" name nor imitate her packages. She received 400,000 RMB in compensation ($60,000).
Lao Gan Ma eventually employed over 2000 factory workers and became the largest producer and seller of chili products in China, reaching a point where the company produced 1.3 million bottles of chili sauce every day. Besides the iconic Fried Chili in Oil and Chili Crisp Sauce, Lao Gan Ma also produces Black Beans Chili Sauce, Tomato Chili Sauce, hot pot soup base, and other condiments.
By now, Tao's 'chili empire' has gone international, as her condiments are sold from the USA to Africa. Tao Huabi once famously said that she does not know all the countries outside of China where Lao Gan Ma is sold, but that she does know that Lao Gan Ma is sold wherever there are Chinese people.
In 2019, Lao Gan Ma was selected as one of the top 100 brands in China, together with other famous national brands such as China Mobile, Huawei, Tik Tok, Tsingtao, and Alibaba.
What is striking about the Lao Gan Ma business model is that it does not follow the usual marketing strategy tactics. The company rarely advertises, there are no celebrity endorsements, no social media accounts or campaigns, the website hasn't been updated for years, and the Lao Gan Ma packaging has never modernized: it's been the same old-fashioned logo for decades.
It is a marketing strategy that follows Tao's no-nonsense line of thinking: if your product is good enough, people will buy it again. "We're selling the flavor, not the packaging," Tao herself once said.
3: The Old Godmother: "Labor Builds the Chinese Dream"
In the eyes of many, Tao Huabi is an embodiment of the 'Chinese dream.' A few years ago, Chinese state broadcaster CCTV produced a TV series titled "Labor Builds the Chinese Dream" (劳动铸就中国梦), and one of its episodes featured Tao Huabi, who is now 74 years old.
The main narrative of the documentary is that all people built on a country's wealth together with each other as a collective goal – not an individual one. The idea of the 'China Dream' has been especially ubiquitous in Chinese official media since Xi Jinping became president in 2013. The concept refers to "the great rejuvenation of the Chinese nation." In his first address to the nation in March of 2013, Xi emphasized that in order to realise the "Chinese road": "(..) we must spread the Chinese spirit, which combines the spirit of the nation with patriotism as the core and the spirit of the time with reform and innovation as the core."
Tao's story fits this idea of the Chinese shared 'road to prosperity' dream. She started out poor but created her own business in spite of all obstacles. Along the way, she was always prepared to help out others while she herself rarely relied on her network or other people's money to reach her goals.
Throughout her business journey, Tao has stayed true to her province, earning her the "Miracle of Guizhou" nickname. Despite the many offers she had throughout her career to set up her business elsewhere, she always refused to leave her home base – much to the delight of local government officials who have continuously shown their support for Tao. The businesswoman is a blessing for the province; not just because her brand has become known as a unique 'product of Guizhou', but mainly because she offers employment to nearly 5000 staff members, and directly and indirectly generates income for ten-thousands of local farmers.
Tao is also a Party member, and she is politically active as, among others, a representative of the Standing Committee of the Guizhou Provincial People's Congress. She attended the National People's Congress in Beijing multiple times.
While Lao Gan Ma is one of China's national brands, Tao Huabi is often also seen as a patriotic entrepreneur. Lao Gan Ma's condiments are much more expensive outside in foreign countries than in China. While a two-pack of Lao Gan Ma is sold for only 9.9 yuan ($1.5) on Chinese e-commerce platform Taobao, the same pack is sold in the US for 13 up to 18 dollars on the American Amazon: eight to twelve times more expensive than the Chinese price. When asked about the enormous Lao Gan Ma price difference between China and other countries, Tao said: "I'm Chinese. I don't make money off of Chinese people. I want to sell Lao Gan Ma to foreign countries and make money off of foreigners."
Lao Gan Ma's popularity outside of China has risen over the past decade. On Facebook, there is even a public group called "The Lao Gan Ma (老干妈) Appreciation Society," where the group members (over 4000!) share their love for the brand.
Meanwhile, on Chinese social media platform Weibo, Lao Gan Ma and Tao Huabi's story often pop up in people's posts: "Old Godmother is an example that you can still make it in life without any education."
Perhaps there is no better person to embody the Chinese dream than Tao Huabi, who has experienced life in China from so many different angles. A poor farmer's daughter, a young struggling widow, a migrant factory worker, a loving mother, a roadside peddler, a business manager, a loyal Party member, and even an unexpected fashion icon – Tao Huabi has seen and been it all. There is one thing she will always be: China's chili sauce queen.
By Manya Koetse
Follow @whatsonweibo
1 Zhang Nali 张丽娜. 2019 (2016). Tao Huabi, Founder of Lao Gan Ma: If I Wouldn't Have Been Strong, I Would've Starved [老干妈创始人陶华碧 我不坚强就没得饭吃] (in Chinese). Beijing: Chinese Publishing House. ISBN 978-7-5075-4451-0.
Featured image by Ama for Yi Magazin.
This text was written for Goethe-Institut China under a CC-BY-NC-ND-4.0-DE license (Creative Commons) as part of a monthly column in collaboration with What's On Weibo.
Spotted a mistake or want to add something? Please let us know in comments below or email us. First-time commenters, please be patient – we will have to manually approve your comment before it appears.
Fangcang Forever: China's Temporary Covid19 Makeshift Hospitals To Become Permanent
China's temporary 'Fangcang' shelter hospitals are here to stay.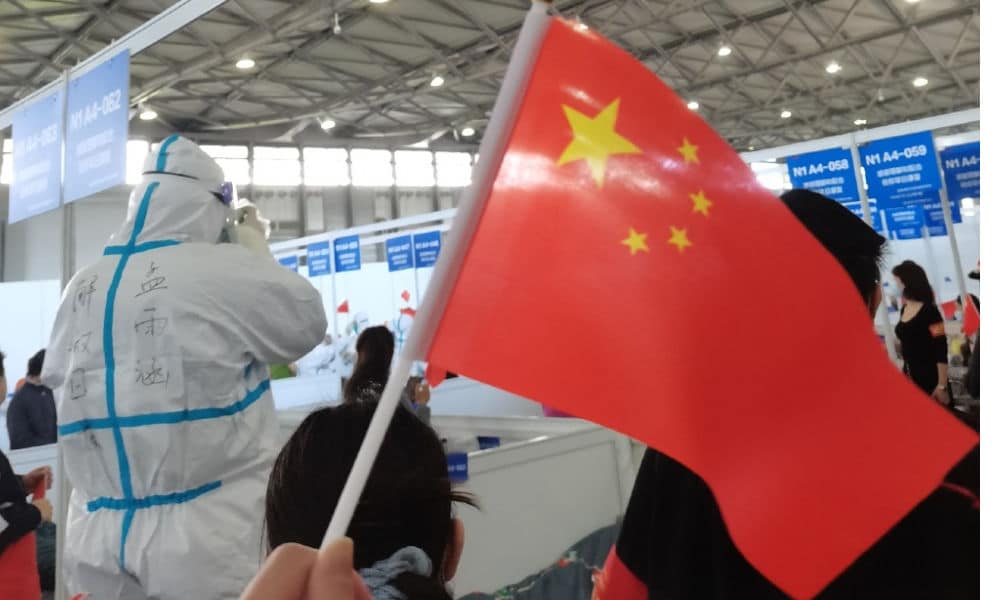 A new term has been added to China's pandemic lexicon today: Permanent Fangcang Hospital. Although China's 'Fangcang' shelter hospitals are, by definition, temporary, these healthcare facilities to isolate and treat Covid patients are now becoming a permanent feature of China's Zero-Covid approach.
Over the past few days, Chinese authorities have emphasized the need for China's bigger cities to build or renovate existing makeshift Covid hospitals, and turn them into permanent sites.
So-called 'Fangcang hospitals' (方舱医院, square cabin hospitals) are large, temporary makeshift shelter hospitals to isolate and treat Covid-19 patients. Fangcang shelter hospitals were first established in China during the Wuhan outbreak as a countermeasure to stop the spread of the virus.
They have since become an important part of China's management of the pandemic and the country's Zero-Covid policy as a place to isolate and treat people who have tested positive for Covid-19, both asymptomatic and mild-to-moderate symptomatic cases. In this way, the Fangcang hospitals alleviate the pressure on (designated) hospitals, so that they have more beds for patients with serious or severe symptoms.
On May 5th, Chinese state media reported about an important top leadership meeting regarding China's Covid-19 situation. In this meeting, the Politburo Standing Committee stressed that China would "unswervingly adhere to the general Zero-Covid policy" and that victory over the virus would come with persistence. At the meeting, chaired by Xi Jinping, the seven-member Politburo Standing Committee also declared that China would fight against any words or acts that "distort, doubt, or deny" the country's dynamic Zero-Covid policy.
Following the meeting, there have been multiple official reports and statements that provide a peek into China's 'zero Covid' future.
On May 13, China's National Health Commission called on all provinces to build or renovate city-level Fangcang hospitals, and to make sure they are equipped with electricity, ventilation systems, medical appliances, toilets, and washing facilities (Weibo hashtag ##以地级市为单位建设或者改造方舱医院#).
On May 16, the term 'Permanent Fangcang Hospital' (Weibo hashtag #永久性方舱医院) became a trending topic on Weibo after Ma Xiaowei (马晓伟), Minister of China's National Health Commission, introduced the term in Qiushi (求是), the leading official theoretical journal of the Chinese Communist Party.
The term is new and is somewhat contradictory as a concept, since 'Fangcang hospitals' are actually defined by their temporary nature.
Ma Xiaowei stressed the need for Chinese bigger cities to be ready for the next stage of China's Covid control. This also includes the need for some central 'Fangcang' makeshift hospitals to become permanent ones.
In order to 'normalize' the control and monitoring that comes with living in Zero-Covid society, Chinese provincial capitals and bigger cities (more than ten million inhabitants) should do more to improve Covid testing capacities and procedures. Ma proposes that there should be nucleic acid sample collection points across the city within a 15-minute walking distance radius, and testing frequency should be increased to maximize efficient control and prevention.
Cities should be prepared to take in patients for isolation and/or treatment at designated hospitals, centralized isolation sites, and the permanent Fangcang hospitals. The recent Covid outbreak in Shanghai showed that local authorities were unprepared to deal with the outbreak, and sites that were used as Fangcang hospitals often lacked proper facilities, leading to chaotic scenes.
The hashtag "Permanent Fangcang Hospitals" received over 140 million views on Weibo on Monday.
One of the Weibo threads by state media reporting on the Permanent Fangcang hospitals and the publication by Ma Xiaowei received nearly 2000 comments, yet the comment section only displayed three comments praising the newly announced measures, leaving out the other 1987 comments.
Elsewhere on Weibo, people shared their views on the Permanent Fangcang Hospitals, and most were not very positive – most commenters shared their worries about China's Covid situation about the stringent measures being a never-ending story.
"We're normalizing nucleic acid test, we're introducing permanent fangcang hospitals, [but] why isn't the third Covid vaccination coming through?" one person wondered.
"If there was still a little bit of passion inside me, it was just killed by reading these words 'Permanent Fangcang Hospital,'" another commenter writes, with one Weibo user adding: "I feel desperate hearing the words 'Permanent Fangcang Hospital.'"
"Building permanent Fangcang? Why? Why don't you use the resources you're now spending on normalizing testing to create more hospital beds, more medical staff and more medications?"
Another commenter wrote: "China itself is one giant permanent Fangcang hospital."
"The forever Fangcang are being built," one Weibo user from Guangdong writes: "This will never end. We'll be locked up like birds in a cage for our entire life."
For more articles on the Covid-19 topics on Chinese social media, check here.
By Manya Koetse, with contributions by Miranda Barnes
Get the story behind the hashtag. Subscribe to What's on Weibo here to receive our weekly newsletter and get access to our latest articles:
Featured image via user tongtong [nickname] Weibo.com.
Spotted a mistake or want to add something? Please let us know in comments below or email us. First-time commenters, please be patient – we will have to manually approve your comment before it appears.
©2022 Whatsonweibo. All rights reserved. Do not reproduce our content without permission – you can contact us at info@whatsonweibo.com.
'Hard Isolation' is Shanghai's New Word of the Day
In line with a new 'hard isolation' measure, the entrances of some Shanghai residential buildings were fenced up.
While some Shanghai households have already endured weeks of isolation, a new word was added to their epidemic vocabulary today: 'hard isolation' or 'strong quarantine' (yìng gélí 硬隔离)
The word popped up on Chinese social media on April 23rd after some Shanghai netizens posted photos of fences being set up around their community building to keep residents from walking out.
"New word: hard isolation. Shanghai is rotten to the core," one commenter wrote.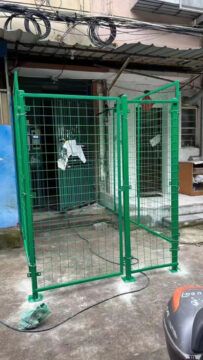 The word soon turned into a hashtag page where people started commenting on the issue of fences being placed around residential buildings, voicing concerns on what a fence around buildings would mean for fire safety, especially after online rumors suggested that there had been a fire at one community in Pudong on Saturday night.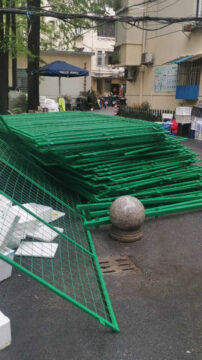 An official document regarding the 'hard isolation' measure was also shared online on Saturday. It is dated April 23, 2022, and its source is the Pudong New Area Office for Epidemic Control.
The document states that in line with the guidelines for the city's epidemic prevention and control, the division between areas or zones that are in certain risk categories should be 'optimized,' with those in the high-risk category requiring a 'hard isolation.' Security guards should also be on duty 24 hours a day at the entrance of the buildings.
Earlier this month, Shanghai adopted "3-level control measures" after its initial phased lockdown. It means that local areas will be classified as "locked-down," "controlled" or "precautionary," based on their Covid19 risk.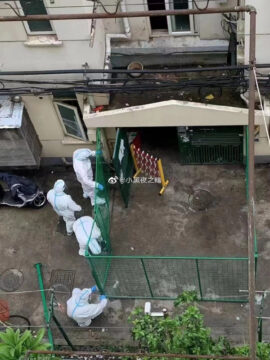 "Could we also put fences around the homes of Shanghai leaders?", one person suggested, while others posted images from the Walking Dead to mock the situation.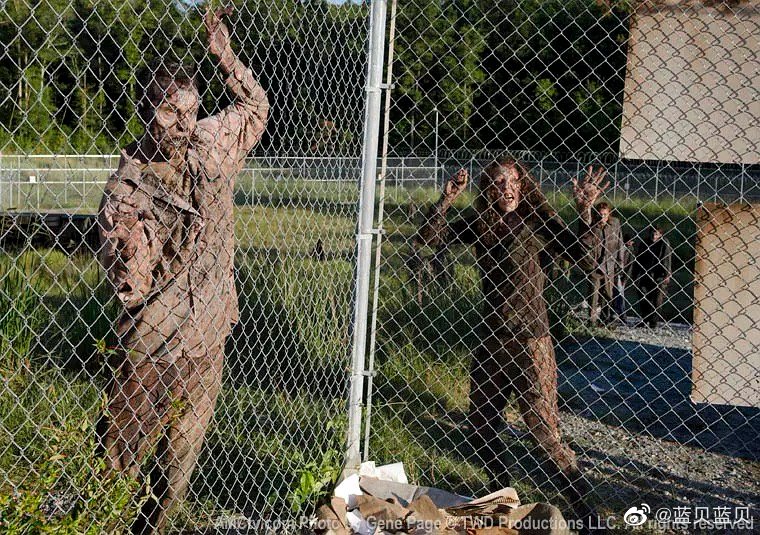 In the hope of Shanghai soon tackling the Covid situation, not everybody disagreed with the decision to fence some buildings or communities in the Pudong area: "I don't disagree with it, as long as there is always someone there to open the fence in case of fire," one person stated.
Although having a fence around their building is currently not a reality for most in Shanghai, the online photos of some communities seeing their buildings being fenced up is a reason to worry for some: "It's been 40 days, and now they start hard isolation? This actually scares me. Before we know it, it's June."
One Weibo user asked: "Why is it possible to implement this hard isolation now? Was this created by the same persons who also implemented the rule to separate children from parents at isolation sites?"
"I truly can't imagine why some people thought this is a good idea," others wrote.
For more articles on the Covid-19 topics on Chinese social media, check here.
By Manya Koetse
Get the story behind the hashtag. Subscribe to What's on Weibo here to receive our weekly newsletter and get access to our latest articles:
Spotted a mistake or want to add something? Please let us know in comments below or email us. First-time commenters, please be patient – we will have to manually approve your comment before it appears.
©2022 Whatsonweibo. All rights reserved. Do not reproduce our content without permission – you can contact us at info@whatsonweibo.com.