The Legendary Lao Gan Ma: How Chili Sauce Billionaire Tao Huabi Became a 'Chinese Dream' Role Model
The story of Lao Gan Ma founder Tao Huabi.
You might know the chili sauce Lao Gan Ma, a household name in China. But perhaps you're less familiar with the story behind the sauce and its founder, which has inspired millions of people and has made 'Old Godmother' Tao Huabi a notable figure in Chinese contemporary culture today. For many, the successful businesswoman and 'chili sauce queen' is an embodiment of the 'Chinese dream.'

This is the "WE…WEI…WHAT?" column by Manya Koetse, original publication in German by Goethe Institut China (forthcoming), visit Yi Magazin: WE…WEI…WHAT? Manya Koetse erklärt das chinesische Internet.

Lao Gan Ma t-shirts, Lao Gan Ma phone covers, Lao Gan Ma bracelets, and even Lao Gan Ma airpod cases – Lao Gan Ma is more fashionable than ever in China today.
The celebrated brand is one of the country's most well-known chili sauce labels, and it pops up in Chinese media and online culture every single day; not just because of its tasty condiments and other food products, but also because of the company's remarkable history and evolution.
Besides the popularity of Lao Gan Ma's crispy chili oil, it is the story of founder Tao Huabi (陶华碧) that plays a crucial role in the brand's contemporary success. It is her face you see on the recognizable packaging design that has become a household product and is now also famous in many countries outside of China.
The brand name 'Lao Gan Ma' (老干妈) literally means 'Old Godmother' and refers to Tao Huabi herself. She is the creator of the famous chili sauces who has, over time, become the embodiment of the 'Chinese dream.' By following her own path and relying on her business instinct, Tao rose from poverty and became one of China's richest women.
In order to explain why Tao Huabi is such an iconic figure in China today, let's look at this famous female entrepreneur by highlighting the different stages of her Lao Gan Ma journey.
1: The Young Tao Huabi: "If I Hadn't Been Strong, I Would've Starved"
"There are many successful businesses entrepreneurs who have experienced hardships, but there are few whose starting point was as low as Tao's." These are the opening lines of a popular book about Tao Huabi, written by Zhang Nali (张丽娜), telling the story of her life.1
Tao Huabi was born in 1947 in a small village in Meitan County, Guizhou, one of China's poorest provinces. She was the eighth daughter in her family (her parents had actually hoped to finally have a son), and her parents struggled to feed and clothe their children, let alone give them proper education. Tao was not taught how to read and write.
The biography about Tao Huabi describes how Tao spent her younger years chopping wood, cooking and farming. The title of the book is If I Hadn't Been Strong, I Would've Starved (我不坚强,就没得饭吃), and it is telling of how Tao's younger years were all about being hungry and finding ways to keep on going.
During the Great Chinese Famine (1959-1961), Tao dug for wild vegetables and tried various ways to eat plant roots, using whatever she had to try and make the little food they had taste better. This is how poverty and hunger drove the young Tao to make her very first chili sauce. The natural sauce, made from medicinal plants from the mountains and home-grown chili peppers, was loved by the entire family.
When Tao was 20 years old, she married her husband, who worked as an accountant with the local geological team. They had two sons together. But the happy life of the young family did not last long as just a few years into their marriage, Tao's husband became seriously ill with liver disease.
Tao now found herself in an incredibly difficult situation; she was uneducated, illiterate, and had no official working experience. But she needed to provide income for her family as they had no money to cover her husband's medical costs and pay for the food and education of their two sons. The 30-yuan monthly income of her husband was nowhere near enough to help the family.
The situation led Tao to head out of the countryside for the first time in her life to go to the city of Guangzhou to find a factory job as a migrant worker. She brought her own homemade chili sauce with her to the faraway city and used it to flavor her steamed buns when she couldn't afford any other food. She also shared it with her co-workers, who found her chili sauce to be delicious.
Unfortunately, Tao's efforts could not save her husband's life. She soon became widowed and, heartbroken, had to return back to Guizhou to take care of her two young boys. Now that she had become the sole caregiver and provider of her family, she started selling rice curd and also set up a street stall selling vegetables at all hours of the day, often working until 4 in the morning.
Her passion for cooking kept following Tao wherever she went. One day, when Tao's sons were already grown up, she visited a noodle shop after work and complained to the female shop owner that their cold noodles were not authentic enough. After Tao gave the lady her tips and tricks on how to improve the noodles using chili oil, she was offered a job at the noodle stall. The experience at the shop eventually gave Tao the idea to start her own business.
2: Inspirational Business Journey: "Selling the Flavor"
In 1989, when Tao was 42, she set up her own little "Economical Restaurant" ("实惠饭店") in the Nanming District of Guiyang, Guizhou. Although she just served simple noodles, she mixed them with her own spicy hot sauce with soybeans. Tao was beloved in the neighborhood, where she became a 'godmother' to poor students whom she would always give discounts and some extra food.
With many local students and patrons visiting her little diner, the noodle shop business soon flourished, but not because of her noodles – it was the chili sauce that kept people coming back for more.
Tao Huabi came to understand the popularity of her condiments when customers came in to purchase the sauce by itself, without the noodles. One day, when her sauce had sold out, she found that customers would not even eat her noodles without the chili. When Tao learned that other noodle shops in the neighborhood were all doing good business by using her home-made sauce in their noodles, she finally realized the true potential of her product.
By the early 1990s, more truck drivers passed by Tao's shop due to the construction of a new highway in the area. Tao took this as a chance to promote her condiments outside the realm of her own neighborhood and started giving out her sauces for free for the truckers to take home. This form of word-of-mouth marketing soon paid off when people from outside the city district came to visit Tao's shop to buy her chili sauces and other condiments.
By late 1994, Tao had stopped selling noodles and had turned her little restaurant into a specialty store called 'Tao's Guiyang Nanming Food Shop' ("贵阳南明陶氏风味食品店"), with the chili oil sauce being the number one product.
Two years later, at the age of 49, Tao took the plunge to rent a house in Guiyang, recruited forty workers, and set up her own sauce factory called 'Old Godmother': 'Lao Gan Ma' (老干妈). Since the factory initially had no machines, the chili chopping was all done manually. Tao herself, wearing her apron, would also cut chilis at the factory tables together with her workers.
In 1997, the company was officially listed and open for business. Although Tao never had any formal education, she turned out to have a natural talent for managing her flourishing company. Tao's two sons later also joined the Lao Gan Ma company.
Although the Lao Gan Ma brand became successful almost immediately after its launch, Tao Huabi still struggled for years as a handful of competitors launched fake Lao Gan Ma sauces with similar packaging, and nearly ruined her business. In 2001, when Tao Huabi was 54, the high court in Beijing finally ruled that other similar products could not use the "Lao Gan Ma" name nor imitate her packages. She received 400,000 RMB in compensation ($60,000).
Lao Gan Ma eventually employed over 2000 factory workers and became the largest producer and seller of chili products in China, reaching a point where the company produced 1.3 million bottles of chili sauce every day. Besides the iconic Fried Chili in Oil and Chili Crisp Sauce, Lao Gan Ma also produces Black Beans Chili Sauce, Tomato Chili Sauce, hot pot soup base, and other condiments.
By now, Tao's 'chili empire' has gone international, as her condiments are sold from the USA to Africa. Tao Huabi once famously said that she does not know all the countries outside of China where Lao Gan Ma is sold, but that she does know that Lao Gan Ma is sold wherever there are Chinese people.
In 2019, Lao Gan Ma was selected as one of the top 100 brands in China, together with other famous national brands such as China Mobile, Huawei, Tik Tok, Tsingtao, and Alibaba.
What is striking about the Lao Gan Ma business model is that it does not follow the usual marketing strategy tactics. The company rarely advertises, there are no celebrity endorsements, no social media accounts or campaigns, the website hasn't been updated for years, and the Lao Gan Ma packaging has never modernized: it's been the same old-fashioned logo for decades.
It is a marketing strategy that follows Tao's no-nonsense line of thinking: if your product is good enough, people will buy it again. "We're selling the flavor, not the packaging," Tao herself once said.
3: The Old Godmother: "Labor Builds the Chinese Dream"
In the eyes of many, Tao Huabi is an embodiment of the 'Chinese dream.' A few years ago, Chinese state broadcaster CCTV produced a TV series titled "Labor Builds the Chinese Dream" (劳动铸就中国梦), and one of its episodes featured Tao Huabi, who is now 74 years old.
The main narrative of the documentary is that all people built on a country's wealth together with each other as a collective goal – not an individual one. The idea of the 'China Dream' has been especially ubiquitous in Chinese official media since Xi Jinping became president in 2013. The concept refers to "the great rejuvenation of the Chinese nation." In his first address to the nation in March of 2013, Xi emphasized that in order to realise the "Chinese road": "(..) we must spread the Chinese spirit, which combines the spirit of the nation with patriotism as the core and the spirit of the time with reform and innovation as the core."
Tao's story fits this idea of the Chinese shared 'road to prosperity' dream. She started out poor but created her own business in spite of all obstacles. Along the way, she was always prepared to help out others while she herself rarely relied on her network or other people's money to reach her goals.
Throughout her business journey, Tao has stayed true to her province, earning her the "Miracle of Guizhou" nickname. Despite the many offers she had throughout her career to set up her business elsewhere, she always refused to leave her home base – much to the delight of local government officials who have continuously shown their support for Tao. The businesswoman is a blessing for the province; not just because her brand has become known as a unique 'product of Guizhou', but mainly because she offers employment to nearly 5000 staff members, and directly and indirectly generates income for ten-thousands of local farmers.
Tao is also a Party member, and she is politically active as, among others, a representative of the Standing Committee of the Guizhou Provincial People's Congress. She attended the National People's Congress in Beijing multiple times.
While Lao Gan Ma is one of China's national brands, Tao Huabi is often also seen as a patriotic entrepreneur. Lao Gan Ma's condiments are much more expensive outside in foreign countries than in China. While a two-pack of Lao Gan Ma is sold for only 9.9 yuan ($1.5) on Chinese e-commerce platform Taobao, the same pack is sold in the US for 13 up to 18 dollars on the American Amazon: eight to twelve times more expensive than the Chinese price. When asked about the enormous Lao Gan Ma price difference between China and other countries, Tao said: "I'm Chinese. I don't make money off of Chinese people. I want to sell Lao Gan Ma to foreign countries and make money off of foreigners."
Lao Gan Ma's popularity outside of China has risen over the past decade. On Facebook, there is even a public group called "The Lao Gan Ma (老干妈) Appreciation Society," where the group members (over 4000!) share their love for the brand.
Meanwhile, on Chinese social media platform Weibo, Lao Gan Ma and Tao Huabi's story often pop up in people's posts: "Old Godmother is an example that you can still make it in life without any education."
Perhaps there is no better person to embody the Chinese dream than Tao Huabi, who has experienced life in China from so many different angles. A poor farmer's daughter, a young struggling widow, a migrant factory worker, a loving mother, a roadside peddler, a business manager, a loyal Party member, and even an unexpected fashion icon – Tao Huabi has seen and been it all. There is one thing she will always be: China's chili sauce queen.
By Manya Koetse
Follow @whatsonweibo
1 Zhang Nali 张丽娜. 2019 (2016). Tao Huabi, Founder of Lao Gan Ma: If I Wouldn't Have Been Strong, I Would've Starved [老干妈创始人陶华碧 我不坚强就没得饭吃] (in Chinese). Beijing: Chinese Publishing House. ISBN 978-7-5075-4451-0.
Featured image by Ama for Yi Magazin.
This text was written for Goethe-Institut China under a CC-BY-NC-ND-4.0-DE license (Creative Commons) as part of a monthly column in collaboration with What's On Weibo.
Spotted a mistake or want to add something? Please let us know in comments below or email us. First-time commenters, please be patient – we will have to manually approve your comment before it appears.
Key Players, Digital Trends & Deep Dives: China Internet Report 2021
SCMP just launched its latest China Internet Report. (And What's on Weibo readers can get a 30% discount on the Pro Edition!)
As China's tech sector has been facing an ongoing crackdown by Beijing regulations, a lot has been changing in the country's digital environment over the past year. The new China Internet Report 2021 by SCMP gives an overview of the latest trends and developments.
When it comes to China's online landscape, nothing ever stays the same. Over the past year, political, economic, and social developments and measures have once again changed the Chinese digital environment.
Giving a comprehensive overview of the key leaders and major trends dominating the Chinese online field, South China Morning Post (SCMP) issued its fourth annual China Internet Report.
China's internet population has now risen to 989 million – last year's report indicated an internet population of 904 million. By now, there are 853 million mobile payment users, which indicates that over 86% of the entire mobile internet population uses mobile as a way to pay.
As China's internet population is still growing, and new online startups are still popping up every day, there have been tightening regulations on multiple fronts.
As laid out in SCMP's report, regulations mainly focus on the four areas of antitrust, finance, cybersecurity, and data privacy. Regulatory actions targeting the monopolistic behaviours of China's biggest internet companies are still ongoing, and the new Data Security Law came into effect on September 1st of this year.
While Chinese tech companies are seeing increased scrutiny at home, they have also been facing intensifying geopolitical tensions between China and other countries. Over the past year, the various probes and shutdowns into Chinese companies by countries such as the US and India have meant a serious blow to the market share of Chinese apps.
Meanwhile, the SCMP report highlights the trend of various older and newer Chinese (e-commerce) apps "downplaying" their Chinese origins when entering foreign markets. Shein is a good example of this development, but other players including Zaful, Urbanic, and Cider are also experiencing more success outside of China while not explicitly marketing themselves as Chinese e-commerce apps.
Another noteworthy trend explained in the new report is how China's shifting demographics are creating new niche segments to compete over. The COVID-19 crisis is partially a reason why China has seen an increase in senior internet users, with an increasing number of online products and content catering to the elderly.
China's Ministry of Industry and Information Technology (MIIT) even issued special guidelines earlier this year for web pages and mobile apps to carry out so-called "elderly friendliness modifications." Since this user group is still expected to see significant growth, the "silver economy" is an area that will only become more important in the years to come.
To check out all the main trends for 2021, China's latest internet statistics, its top tech competitors, internet companies, and more, here's a link to the free report.
The free report is 55 pages long and gives an overview of China's latest internet numbers and players, covers the top cross-sector trends for 2021, including the tightening regulations and the bumpy road ahead for China's tech IPOs.
The Pro Edition of China's Internet Report 2021, also launched by SCMP, is 138 pages long and provides a deep-dive into ten relevant sectors – featuring insightful and useful analysis, data, and case studies relating to China's e-commerce market, content & media, gaming, blockchain, fintech, online education, healthtech, smart cars, 5G, and Artificial Intelligence.
The China Internet Report Pro Edition is priced at US$400, but the team at SCMP has kindly reached out and made it possible for us to offer a special 30% discount to What's on Weibo readers.
You'll get the discount by using the discount code: WHATSONWEIBO30, or by clicking this link that will automatically include your discount code.
By Manya Koetse
Spotted a mistake or want to add something? Please let us know in comments below or email us. First-time commenters, please be patient – we will have to manually approve your comment before it appears.
©2021 Whatsonweibo. All rights reserved. Do not reproduce our content without permission – you can contact us at info@whatsonweibo.com.
Goodbye 996? Weibo Discussions on Changes in Overtime Work Culture
Beijing made it clear that working overtime is illegal, but netizens are concerned about the realities of changing working schedules.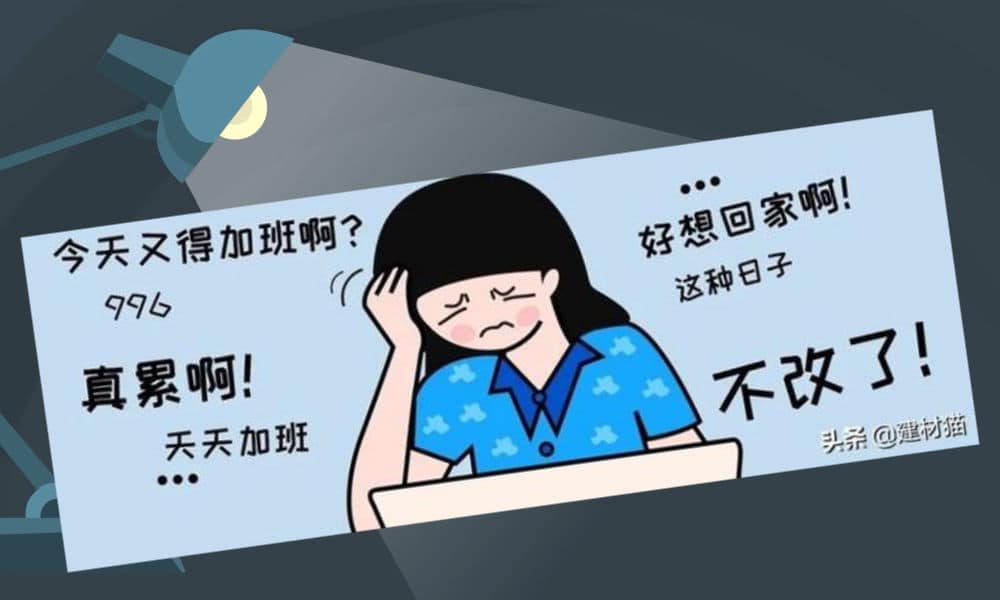 Many people are tired of being forced to log long hours, but are also worried about how a national crackdown on '996' working culture could impact their workload and income.
In late August of 2021, China's Ministry of Human Resources & Social Security (人社部) and the Supreme People's Court issued a joint clarification on the country's legal standards of working hours and overtime pay.
Their message was clear: the practices of '996' (working 9am-9pm, six days per week) and '007' (working 24 hours seven days per week, referring to a flexible working system worse than 996) are illegal, and employers are obliged to obey the national working-time regime.
On Weibo, China's state broadcaster CCTV published a 10-minute long video illustrating the 10 typical cases of overtime work laid out by the ministry and the top court. The moment was marked as the first time for the state-owned broadcaster to publicly comment on overtime work practices.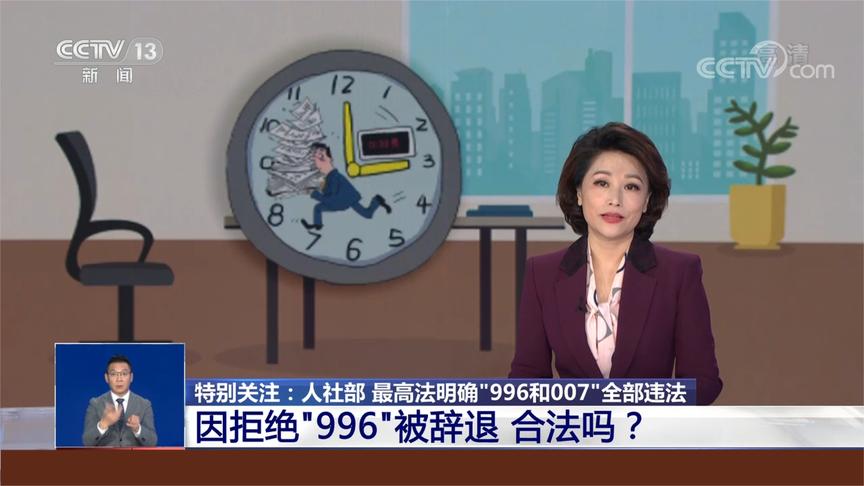 The Weibo post pointed out that "striving for success is not a shield companies can use to evade legal responsibilities," and made it clear that employees have the right to "say no to forced overtime."
The topics of overtime work and China's 996 work culture generated many discussions on Weibo, with the hashtag "Ministry of Human Resources & Social Security and the Supreme Court Clarify 996 and 007 Are Illegal" (#人社部最高法明确996和007都违法#) generating over 420 million views on the social media platform.

"Without implementation and enforcement, the law is useless"

The current labor law in China bars employees from working more than 44 hours a week, and any overtime work must be paid.
Although the 996 practice is technically prohibited by law, many companies still enforce the hours informally.
Many employees revealed online that, although the 996 practice is legally prohibited, they were nevertheless being assigned job tasks that exceeded the prescribed working hours.
"I wonder if the workload will decrease after all. If it doesn't change, it means people will now have to work voluntarily," one Weibo user commented.
People also indicated that, since the start of the pandemic, remote work has become a new norm. Many companies have moved from office to working at home, making it harder to draw the line between regular working hours and overtime hours.
"What really matters is whether working from home includes overtime hours," one Weibo user wrote. Many netizens complained that their companies wouldn't explicitly stipulate a 996 schedule; instead, most of them disguise the overtime hours as 'voluntary' work.
"These regulations are good, but they are basically impossible to implement. Even if they ban '996' and '007' there is no way to regulate the so-called 'voluntary work,'" one Weibo user wrote.
Some people said that their companies have various performance assessments and that they feared that refusing to work more hours would make them lose their competitive advantage: "The burn-out (内卷 nèijuǎn, 'involution') is severe. It is too difficult for us. I have only one day off during the week and I'm so tired," one person commented.

"We don't need those who comfortably work 8 hours"

China's 996 work culture has been championed by tech leaders and denounced by workers for years, and it has become an unwritten standard – not just in the tech sector but also in other industries.
While working long hours has been ingrained in Chinese workplace culture since the early days of the country's internet boom, it later also started to represent 'a road to success' for Chinese tech entrepreneurs.
Many Chinese netizens blame Alibaba's Jack Ma for praising the '996' work system. In 2019, Ma called the 12-hour working day a "huge blessing," causing much controversy online. During his talk at Kyiv International Economic Forum, Ma said: "(..) '996 is the spirit that I encourage Alibaba people to follow. If you want to have a bright future, (..) if you want to be successful, you have to work hard."
On another occasion, the tech mogul reportedly said: "If you join Alibaba, you should get ready to work 12 hours a day, otherwise why do you come to Alibaba? We don't need those who comfortably work 8 hours."
However, after the shocking death of one Chinese delivery man working for food delivery platform Ele.me and the widespread discussions about the '996 ICU' project – which called on tech workers to add names and evidence of excessive hours to a 'blacklist,' – the 996 work culture has come under increased scrutiny.
Some people argue that the overtime culture is draining employees and creating an unhealthy work-life balance; others argue that they work for themselves and believe that putting in extra hours will eventually translate to individual success.
While economic growth has slowed down during the pandemic, most companies are persisting with long working hours because they are under pressure to achieve results.
According to an online survey conducted by an influential tech blogging account (@IT观察猿), more than one-third of participants claimed to have one day off per week, and more than one quarter claimed they didn't have any weekend days off.

"The workload is the same, but the income has reduced"

Starting from August 1st, ByteDance, the Chinese company behind the popular short-form video app TikTok, dropped its 'big and small week' (大小周) – a schedule that previously required employees to work six days in a row every other week.
ByteDance is not the only Chinese tech company that has begun to cut back on its long working hours. More and more companies have decided to drop grueling work schedules.
Kuaishou, another Chinese short-form video app company, stopped scheduling weekend work in July. Since early June, Tencent – China's largest game publisher – has encouraged people to clock out at 6 pm every Wednesday.
Although these changes seem to signal a positive development, there are also many people who do not support the new measures. When Bytedance announced the changes to its working schedule, news came out that one-third of the employees did not support the decision (#字节跳动1/3员工不支持取消周末加班#).
Those relying on overtime pay said abolishing overtime work will cut their take-home pay by around 20%. Indeed, the first pay-out after the new implementation at Bytedance showed an overall drop of 17% in employees' wages.
"The workload is the same, but the income has reduced," one Weibo commenter complained.
One trending discussion on Weibo focused on the question "Do companies need to make up for employees' financial loss after the abolition of weekend work?" Many comments revealed the situation faced by thousands of struggling workers who value free time but value their income more.
Many on Weibo still wonder whether a company that abolishes '996' will come up with an alternative to compensate those employees who will otherwise inevitably lose vital income.
By Yunyi Wang
Follow @whatsonweibo
Spotted a mistake or want to add something? Please let us know in comments below or email us. First-time commenters, please be patient – we will have to manually approve your comment before it appears.
©2021 Whatsonweibo. All rights reserved. Do not reproduce our content without permission – you can contact us at info@whatsonweibo.com.