Zhang Xifeng's "Countryside Pig" Speech Still Lingers on Social Media
"I was born to be a rural pig, but I'm determined to snatch cabbages in the city."
Ever since Zhang Xifeng delivered his emotional speech on a Chinese TV show, he has remained a hot and controversial topic on Chinese social media.
"I was born to be a rural pig, but I'm determined to snatch cabbages in the city" ("我就是一只来自乡下的土猪,也要立志去拱大城市里的白菜").
This is the sentence that took Chinese social media by storm after the 17-year-old student Zhang Xifeng (张锡峰) first said it during his ten-minute speech for the Super Orators (超级演说家) TV show in late May of this year (see video here).
In Zhang's passionate and emotional speech, titled "Small World, Big You" (小小的世界大大的你), the high school student talks about his childhood in the countryside, the wide gap between China's urban and rural areas, and educational inequality.
He also mentions his experiences as a student at the prestigious Hengshui High School (衡水中学) in Hebei province, and how he and his fellow classmates were feverishly preparing for the gaokao, the National College Entrance Exam, in order to "change their fate."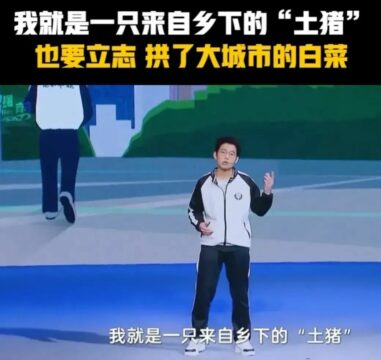 One point made by Zhang is how he believes that rural people like himself are destined to lead an average life and how they are behind children from middle-income and rich families with access to better educational resources.
This summer, Zhang's speech generated a series of popular hashtags on Chinese social media, and the student even became a so-called 'super topic' on Weibo – an online community where fans post daily updates about Zhang and why they admire him.

Inspirational or Selfish?

Zhang's speech left netizens divided. There were those who found his speech to be truthful and inspirational. One fan (@是冰羽啊) wrote: "I want to become someone like you who dares to chase one's dream. You are a beam of light that shines through the darkness for me." Another fan wrote: "I will work hard and try to become just like him!"
But there were also many who criticized Zhang, blaming him for having "distorted values" and actually looking down on people from the countryside. Others said Zhang was wrong for measuring one's success in life solely based on whether or not they attended a well-known school.
Some comments point out that Zhang is essentially selfish, as his main aspiration is to climb the social ladder. Hengshui High School is also being blamed: "This school's education is really a failure. Maybe students achieve high grades, but they fail at making valuable contributions to society."
Zhang studies at Hengshui High School, a high school notorious for its regimented and even militaristic style of preparing students to get high scores in the gaokao – the school is even called "a gaokao factory." In his speech, Zhang refuted the stereotype of Hengshui High School students: "We are not gaokao machines, we're just kids from poor households who want to make their parents proud!"
Another point of criticism is that the really poor families in China would not be able to send their children to a famous school such as Hengshui High School, making people doubt the veracity of Zhang's story.
These doubts became stronger when Zhang was spotted getting into an expensive car at the school entrance on the last day of his exams.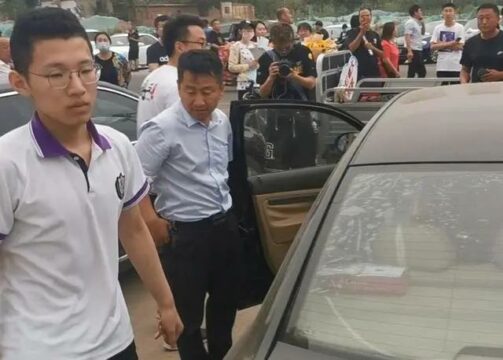 After his speech went viral and Zhang went famous overnight, he reportedly succeeded in obtaining a relatively high score for the National College Entrance Exam and was accepted into Zhejiang University. He did not make it into the more prestigious Tsinghua or Peking University.

The Countryside Pig Controversy

By now, Zhang's speech and his "countryside pig" comment have become one of those trends that seem to stick around on Chinese social media.
The "countryside pig" comment especially managed to become a recurring sentence in the online media spheres because of how Zhang used it.
As explained by Alice Yan in SCMP, the saying "good cabbages snatched by pigs" (好白菜被猪拱了) can refer to resources being destroyed, but more often refers to good girls being ruined by bad boys – this was one of the reasons why that part of his speech was particularly controversial.
In the context of Zhang's speech, however, the student used the sentence to convey the meaning of rural people trying to find a way to the (educational) resources and capital offered in China's cities.
One Weibo blogger (@历史冷幽默) recently also wrote about how Zhang's comments triggered controversy, but perhaps should be viewed in another light.
By mockingly comparing himself to a "pig from the countryside," going into the city to "snatch the cabbage," Zhang had actually wanted to express that even a poor and common student can achieve the results he wants through his own efforts.
He meant to encourage students not to give up on their dreams, and to take their fate into their own hands. But because his "countryside pig" metaphor was considered inappropriate, he was subjected to a wave of criticism.
"It's not fair to describe poor people as 'pigs'," one Weibo commenter said: "This is just full of disdain for ordinary people."
Other netizens however seem to take Zhang's comment more lightly, and jokingly refer to themselves as "countryside pigs."
"He only used symbolism to express how desperate he hopes for success," another Weibo user wrote: "If you misinterpreted his words, it's just because you don't understand what that feels like."
By Susanna Sun & Manya Koetse
Follow @whatsonweibo
Spotted a mistake or want to add something? Please let us know in comments below or email us.
©2021 Whatsonweibo. All rights reserved. Do not reproduce our content without permission – you can contact us at info@whatsonweibo.com.
Wandering Earth 2 Production Costs: Why Director Frant Gwo is Nicknamed 'Master in Begging for Alms'
Contributing to the Wandering Earth 2 production without getting paid? It's "powering up Chinese sci-fi with love."
Wandering Earth director Frant Gwo (Guo Fan) is also nicknamed the 'Master in Begging for Alms' (化缘大师) on social media. His efforts to convince actors and companies to contribute to the movie has kept production costs relatively low.
With the sci-fi blockbuster The Wandering Earth II, directed by Guo Fan (郭帆 aka Frant Gwo) taking center stage during this Spring Festival movie season, there have been many social media discussions about the film and how it has been reviewed (read here), as well as about the production of the film, or more particularly, about the total production costs for this film.
Based on a story written by Liu Cixin, author of the award-winning sci-fi novel The Three-Body Problem, The Wandering Earth II is the prequel to the 2019 blockbuster hit The Wandering Earth, China's all-time highest-grossing sci-fi film and the fifth highest-grossing non-English film of all time.
It is reported that the production investment costs for The Wandering Earth II reached approximately 600 million yuan ($88.5 million). Compared to the production budget of American sci-fi hit films such as Interstellar ($165 million) or Inception ($160 million), Chinese audiences had expected The Wandering Earth II to have much higher production costs than the reported budget, especially considering the spectacular scenes featured in the film.
The relatively lower production costs sparked discussions on Chinese social media, where the hashtag "Guo Fan – the Master in Begging for Alms" (#郭帆 化缘大师#) went trending, gaining in popularity as multiple insiders shared more stories about the production of the movie.
The hashtag, which suggests that Director Guo is a 'Fundraising Master' for keeping production costs low, has received over 70 million views at the time of writing. The Chinese 化缘 huàyuán means to raise funds for something or to 'beg alms' (like Buddhist monks or Taoist priests do).
Guo's strict budget control already became a hot topic after the 2019 release of The Wandering Earth. One of the most famous stories is that of the movie's main star Wu Jing (吴京), as he allegedly began as a guest celebrity and ended up as the leading actor without getting paid, while investing approximately 60 million yuan ($8.85 million) in the film's production.
A female presenter recently also shared her story on Weibo about her free participation in the production of The Wandering Earth in 2019, which apparently showed the film's tight production budget. In her post, she wrote: "They didn't fool me, instead, they just told me directly that I wouldn't get paid." Considering the rare opportunity to act in a Chinese sci-fi production, she went to the set at her own expense and filmed scenes, including outdoor scenes in the snow and freezing cold, only to end up being featured less than a second in the finished film. Nonetheless, she said she was still proud to be a part of the landmark Chinese sci-fi film.
Perhaps the idea of taking part in a groundbreaking Chinese science fiction film has made many individuals, companies, and organizations willing to work with Guo's team, even if no additional compensation or payment was provided.
XCMG Machinery (Xuzhou Construction Machinery Group Co, Ltd), China's premier company in industrial design, is also one of these companies. The company set up a team of a total of 319 XCMG staff members to support the project and provided a wide range of operational and transformable machinery equipment for the UEG (United Earth Government) in the film. They called this "powering up Chinese Sci-fi with love."
Chinese netizens already nicknamed Wandering Earth (流浪地球) "Little Broken Ball" (小破球) back in 2019. The "Ball" refers to the Earth – the second character (球) of Earth in Chinese (地球) literally means ball. It was the director himself who initially referred to his film this way, and this nickname was then popularized among netizens to describe how the Earth is in crisis in the film, but it also refers to how difficult it was for Guo to produce the film.
The fact that Guo managed to produce Wandering Earth II with a relatively limited budget compared to other big international sci-fi movies has instilled some pride among netizens. One popular blogger (@秦祎墨) suggested the actual production value of the movie went far beyond the quoted $88.5 million thanks to the collective spirit of Chinese companies who did all they could to turn this film into a mega hit.
Others praised Guo for being able to get so many people and companies involved, claiming that if it wasn't for him, the movie would have ended up costing at least twice as much.
Some are already looking forward to a potential Wandering Earth III, saying that the 'Little Broken Ball' series has already managed to gather such a strong team of companies, technical support, post-production innovation and experts, that the 'Wandering Earth universe' should not stop after two films.
Reflecting on being nicknamed the 'Master of Begging for Alms,' director Guo himself reportedly expressed his gratitude toward everyone who worked on the film who was "tricked" by him, saying it is their generosity that eventually made the production of The Wandering Earth II possible.
By Wendy Huang, with contributions by Manya Koetse
Follow @whatsonweibo
Spotted a mistake or want to add something? Please let us know in comments below or email us. Please note that your comment below will need to be manually approved if you're a first-time poster here.
©2023 Whatsonweibo. All rights reserved. Do not reproduce our content without permission – you can contact us at info@whatsonweibo.com
U.S. Embassy Launches WeChat Stickers Featuring Cartoon Eagle
A Weibo hashtag about the eagle stickers, that feature some phrases previously used by China's Foreign Ministry, has now been taken offline.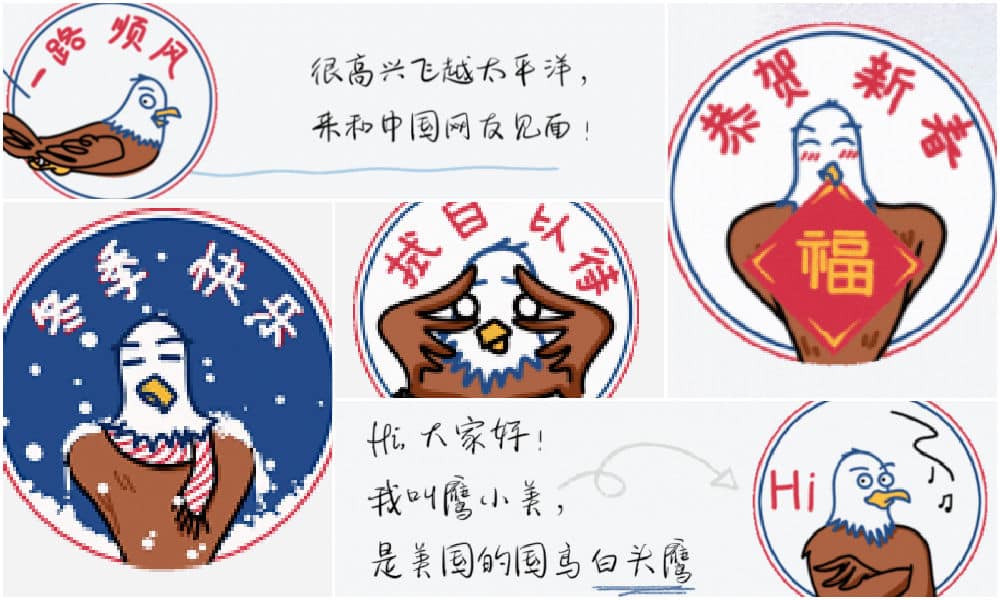 On January 30, the American Embassy in China announced the launch of its very own series of social media gifs, a special 'emoticon collection' (表情包), featuring a little, somewhat silly cartoon eagle.
The U.S. Embassy launched the eagle series on WeChat and also announced the series on their Weibo account, writing that the eagle made its first public appearance in light of the festivities surrounding the Chinese New Year.
The eagle is called "Xiaomei" or "Little Mei" (鹰小美). The 'mei' is part of 美国 Měiguó, Chinese for the 'United States,' but měi also means beautiful and pretty.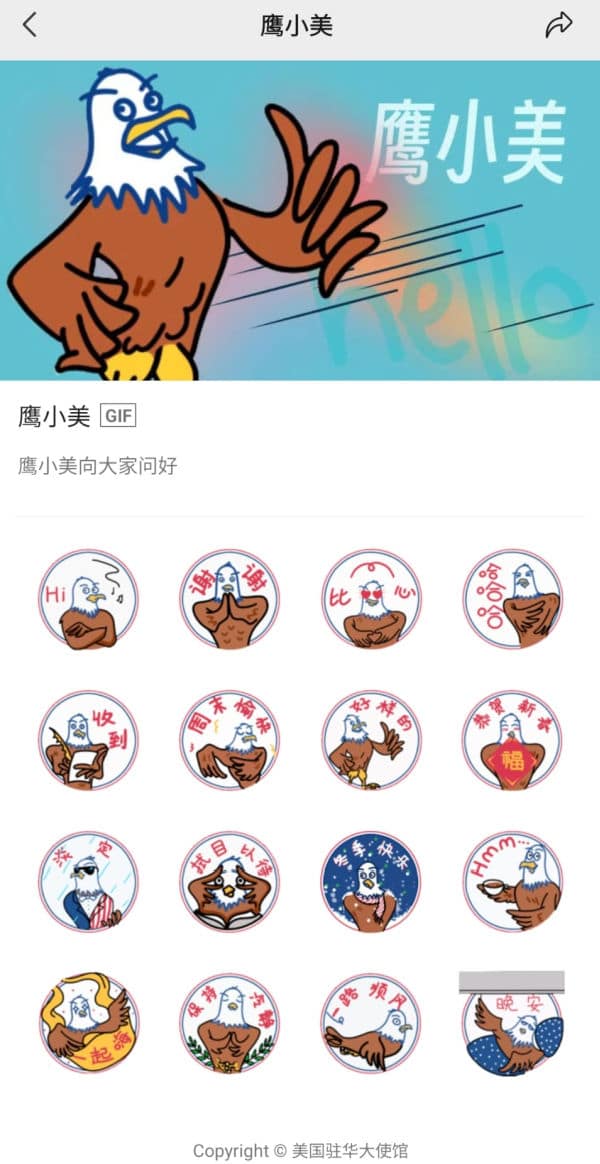 The American embassy issued a total of 16 different animated stickers, and they're intended to be used on Tencent's WeChat, where users can download all kinds of different emoticons or stickers to use in conversations.
WeChat users often use many different animated stickers in conversations to express emotions, make jokes, or increase the festive mood (by sending out celebratory New Year's or birthday etc gifs). Users can download new and preferred sticker packages through the app's sticker section.
One sticker shows Xiaomei with a festive decoration with 福 (fú) for blessing and prosperity, wishing everyone a happy start to the Chinese Lunar New Year. There are also stickers showing the texts "happy winter," "hi," and "thank you."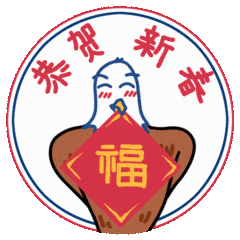 Another sticker in the series that has triggered some online responses is one that shows the eagle with a surprised look, wiping its eyes, with the words "wait and see" written above. The Chinese expression used is 拭目以待 shìmù yǐdài, to eagerly wait for something to happen, literally meaning to wipe one's eyes and wait.
This same expression was often used by the Chinese Foreign Ministry spokesperson Zhao Lijian (赵立坚) during press conferences, and he also used it in 2022 when responding to questions related to Nancy Pelosi's controversial visit to Taiwan and how the Chinese military would respond (e.g. he first used "wait and see" in the context of waiting to see if Pelosi would actually dare to go to Taiwan or not). But Zhao also used "please wait and see" (请大家拭目以待) when foreign reporters asked him how China would respond to the announced U.S. boycott of the Winter Olympics in 2021.
The Little Mei emoji triggered the most responses as some netizens felt it was meant as a sneer to the Chinese Foreign Ministry.
One of Little Mei's quotes is also "remain calm" (保持冷静 bǎochí lěngjìng), which was – perhaps coincidentally – also often used by Zhao in the context of the war in Ukraine and to refer to other international conflicts or tensions ("all parties should remain calm"). The animated sticker also has olive branches growing behind the eagle.
It recently became known that Zhao, who became known as the 'Wolf Warrior' diplomat, was removed as the Foreign Ministry spokesperson and was moved to the Department of Boundary and Ocean Affairs.
Especially in the context of Zhao leaving his post, some wondered why the U.S. Embassy would use phrases related to his press conferences for their new emoticons.
Although some people suggested the WeChat stickers were not launched in China with good intentions, others appreciated the humorous visuals and felt it was funny. Some also joked that America was infiltrating Chinese social media with its cultural export ("文化输出"), and others wondered if they could not also introduce some other stickers with more Chinese Foreign Ministry popular phrases on them.
A hashtag related to the topic made its rounds on Weibo on Tuesday (#美驻华大使馆上线鹰小美表情包#), but the topic suddenly was taken offline on Tuesday evening local time, along with some of the media reports about the remarkable WeChat series.
The WeChat stickers are still available for downloading by scanning the QR code below through WeChat.
By Manya Koetse , with contributions by Miranda Barnes
Get the story behind the hashtag. Subscribe to What's on Weibo here to receive our newsletter and get access to our latest articles:
Spotted a mistake or want to add something? Please let us know in comments below or email us. First-time commenters, please be patient – we will have to manually approve your comment before it appears.
©2023 Whatsonweibo. All rights reserved. Do not reproduce our content without permission – you can contact us at info@whatsonweibo.com.