Zhang Xifeng's "Countryside Pig" Speech Still Lingers on Social Media
"I was born to be a rural pig, but I'm determined to snatch cabbages in the city."
Ever since Zhang Xifeng delivered his emotional speech on a Chinese TV show, he has remained a hot and controversial topic on Chinese social media.
"I was born to be a rural pig, but I'm determined to snatch cabbages in the city" ("我就是一只来自乡下的土猪,也要立志去拱大城市里的白菜").
This is the sentence that took Chinese social media by storm after the 17-year-old student Zhang Xifeng (张锡峰) first said it during his ten-minute speech for the Super Orators (超级演说家) TV show in late May of this year (see video here).
In Zhang's passionate and emotional speech, titled "Small World, Big You" (小小的世界大大的你), the high school student talks about his childhood in the countryside, the wide gap between China's urban and rural areas, and educational inequality.
He also mentions his experiences as a student at the prestigious Hengshui High School (衡水中学) in Hebei province, and how he and his fellow classmates were feverishly preparing for the gaokao, the National College Entrance Exam, in order to "change their fate."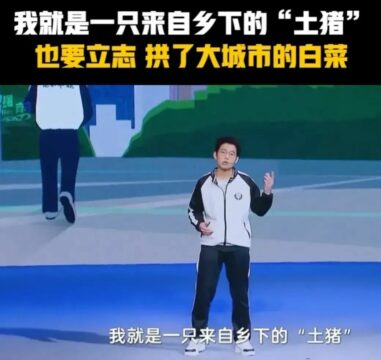 One point made by Zhang is how he believes that rural people like himself are destined to lead an average life and how they are behind children from middle-income and rich families with access to better educational resources.
This summer, Zhang's speech generated a series of popular hashtags on Chinese social media, and the student even became a so-called 'super topic' on Weibo – an online community where fans post daily updates about Zhang and why they admire him.

Inspirational or Selfish?

Zhang's speech left netizens divided. There were those who found his speech to be truthful and inspirational. One fan (@是冰羽啊) wrote: "I want to become someone like you who dares to chase one's dream. You are a beam of light that shines through the darkness for me." Another fan wrote: "I will work hard and try to become just like him!"
But there were also many who criticized Zhang, blaming him for having "distorted values" and actually looking down on people from the countryside. Others said Zhang was wrong for measuring one's success in life solely based on whether or not they attended a well-known school.
Some comments point out that Zhang is essentially selfish, as his main aspiration is to climb the social ladder. Hengshui High School is also being blamed: "This school's education is really a failure. Maybe students achieve high grades, but they fail at making valuable contributions to society."
Zhang studies at Hengshui High School, a high school notorious for its regimented and even militaristic style of preparing students to get high scores in the gaokao – the school is even called "a gaokao factory." In his speech, Zhang refuted the stereotype of Hengshui High School students: "We are not gaokao machines, we're just kids from poor households who want to make their parents proud!"
Another point of criticism is that the really poor families in China would not be able to send their children to a famous school such as Hengshui High School, making people doubt the veracity of Zhang's story.
These doubts became stronger when Zhang was spotted getting into an expensive car at the school entrance on the last day of his exams.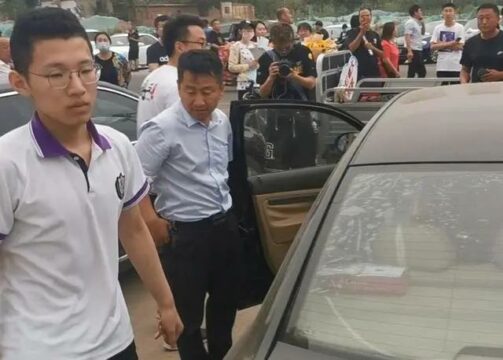 After his speech went viral and Zhang went famous overnight, he reportedly succeeded in obtaining a relatively high score for the National College Entrance Exam and was accepted into Zhejiang University. He did not make it into the more prestigious Tsinghua or Peking University.

The Countryside Pig Controversy

By now, Zhang's speech and his "countryside pig" comment have become one of those trends that seem to stick around on Chinese social media.
The "countryside pig" comment especially managed to become a recurring sentence in the online media spheres because of how Zhang used it.
As explained by Alice Yan in SCMP, the saying "good cabbages snatched by pigs" (好白菜被猪拱了) can refer to resources being destroyed, but more often refers to good girls being ruined by bad boys – this was one of the reasons why that part of his speech was particularly controversial.
In the context of Zhang's speech, however, the student used the sentence to convey the meaning of rural people trying to find a way to the (educational) resources and capital offered in China's cities.
One Weibo blogger (@历史冷幽默) recently also wrote about how Zhang's comments triggered controversy, but perhaps should be viewed in another light.
By mockingly comparing himself to a "pig from the countryside," going into the city to "snatch the cabbage," Zhang had actually wanted to express that even a poor and common student can achieve the results he wants through his own efforts.
He meant to encourage students not to give up on their dreams, and to take their fate into their own hands. But because his "countryside pig" metaphor was considered inappropriate, he was subjected to a wave of criticism.
"It's not fair to describe poor people as 'pigs'," one Weibo commenter said: "This is just full of disdain for ordinary people."
Other netizens however seem to take Zhang's comment more lightly, and jokingly refer to themselves as "countryside pigs."
"He only used symbolism to express how desperate he hopes for success," another Weibo user wrote: "If you misinterpreted his words, it's just because you don't understand what that feels like."
By Susanna Sun & Manya Koetse
Follow @whatsonweibo
Spotted a mistake or want to add something? Please let us know in comments below or email us.
©2021 Whatsonweibo. All rights reserved. Do not reproduce our content without permission – you can contact us at info@whatsonweibo.com.
China Association of Performing Arts Issues Online Influencer 'Warning List' with 88 Names
China's canceled celebrities won't be able to turn to live streaming once they're on this black list.
On November 23rd, the China Association of Performing Arts issued a so-called "warning list" of 88 names of internet personalities who have been reported and registered for their bad behavior. The people on the list have either violated the law or their actions have allegedly negatively impacted society and public order.
The moral responsibility of Chinese idols became a much-discussed topic earlier this year when various celebrities came under fire for sexual misconduct, tax evasion, or other controversies.
Chinese celebrities Wu Yifan (吴亦凡, aka Kris Wu), Zheng Shuang (郑爽), and Zhang Zhehan (张哲瀚) are also on the current version of the list. They previously made headlines in China; Chinese-Canadian pop star Wu Yifan was detained over rape allegations, actress Zheng Shuang was caught up in a surrogacy scandal and was fined $46 million for tax evasion, and actor Zhang Zhehan caused controversy over photos of him posing at historically sensitive places in Japan.
This is the ninth list issued by the live streaming branch of the China Association of Performing Arts, which first started its "blacklist management system" ("黑名单"管理制度) in February of 2018.
According to an interview by People's Daily with a spokesperson of the association, they further revised the management system in 2020 and then formed the so-called "Management Measures for the Warning and Return of Online Hosts" (网络主播警示与复出管理办法).
This year, Chinese (online) entertainers have faced tighter scrutiny since China's Propaganda Department and other authorities have placed more importance on their societal influence as role models.
Although the list issued by the Association's livestreaming branch focuses on online presenters and bloggers, it also includes other performers who already had a bad record. Chinese celebrities who have faced controversy will sometimes switch from acting or singing to the live streaming industry in order to generate an income. The new measures make it more difficult for 'canceled celebrities' to make a comeback as a live streamer.
This also means we won't be seeing Zhang Zhehan, Kris Wu, or Zheng Shuang on live streaming channels any time soon, as their inclusion on the list has basically banned them from the industry.
The China Association of Performing Arts issued this blacklist with 88 names of Chinese online celebrities, among them are also Kris Wu, Zheng Shuang, and Zhang Zhehan, whose return to the entertainment circles has now become highly unlikely: https://t.co/jhz6ajiglk pic.twitter.com/mB9ABG95D1

— Manya Koetse (@manyapan) November 23, 2021
Since 2018, a total of 446 online celebrities/streamers have been put on one of these blacklists.
The topic became top-trending on Sina Weibo on Tuesday, where one hashtag page about the list received over 180 million views, and another one – specifically referring to Wu, Zheng, and Zhang being shut out from the industry – receiving over 630 million clicks (#吴亦凡郑爽张哲瀚被封禁#).
Many commenters wondered about why some names weren't on the list, such as Chen Lingtao (@Cloud_陈令韬), who recently came under fire for cheating. "Of all the 88 people on the list, there are 85 I don't know," one commenter said.
Besides the three biggest celebrities, there are also names on the current list such as Tik Tok (Douyin) celebrity Tie Shankao (铁山靠) or online streamer 'Teacher Guo' (郭老师). Guo was popular on Tik Tok (Douyin) for rejecting standard beauty norms.
Guo was removed from Chinese social media in September of this year during the major crackdown on Chinese celebrity circles. Now that she is included on the list together with 87 others, her return to the livestreaming industry is very unlikely.
Update: Read Li Xuezheng Defies Online Celebrity 'Blacklist,' Says He'll Help Zhang Zhehan File Lawsuit
By Manya Koetse
Spotted a mistake or want to add something? Please let us know in comments below or email us. First-time commenters, please be patient – we will have to manually approve your comment before it appears.
©2021 Whatsonweibo. All rights reserved. Do not reproduce our content without permission – you can contact us at info@whatsonweibo.com.
The Dissertation Acknowledgement That Went Viral on Chinese Social Media
"I knew I would always remember the sacrifice my brother made for me. But looking back, it was just the first of many sacrifices my brother would make."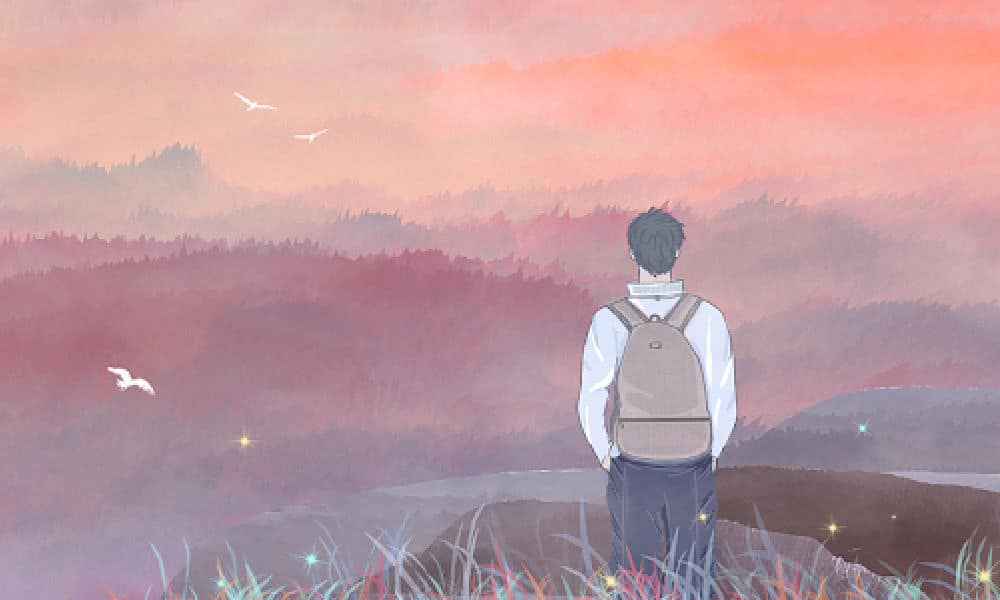 A 'thank you' section in a PhD thesis has gone viral on Chinese social media these days, moving many netizens to tears.
The dissertation acknowledgments by Southeast University PhD student Zhong Jitao (仲济涛) started circulating on Weibo and beyond. The thank-you section was written by the Civil Engineering PhD candidate Zhong Jitao (仲济涛), who is now an associate professor at the Shandong University of Science and Technology. It was published in People's Daily 'Nightly Reading' column before it went viral.
By now, the hashtag dedicated to the dissertation acknowledgment has been viewed over 170 million times on Weibo (#这篇博士论文致谢刷屏了#).
This is a translation of the acknowledgment (translation by What's on Weibo*):
————————————————
1. Studying By Heart
"My hometown is a small rural village in the east of the Shandong Peninsula. When I was young, the village saw its first PhD graduate. In the depths of my carefree childhood memories, that was one of the few intense spiritual shocks.
When I attended my second year of high school, my dad fell ill and I experienced a sudden increase in stress. By the time I was a third-year student, I started to withdraw and I didn't feel like going to university anymore. Later I couldn't stand to see the disappointed expressions on my family's face and I reluctantly entered an undergraduate program. I thought I would start working as soon as I graduated from college.
Later, my dad's condition gradually improved, and I continued my studies as a graduate student. I thought I would stop studying as soon as I'd finish graduate school, and that I would hurry to find a job to share some of the burdens with my older brother. Eventually, I still continued my studies as a PhD student. If I look back on this curious turn of events, I feel guilty about my own selfishness and callousness. Step by step up to today, if the external factor was the relentless support of my parents and brother, behind their silence, then the internal factor perhaps was that one moment of spiritual shock.
2. My Brother as Father
The grass can't repay the kindness of the warm sun. There are not enough words to thank my parents. Besides them, I'd like to express my thanks to my brother, who is seven years older than me. Perhaps it's because he is so many years older than me that I've always felt that my older brother is somewhat like a father to me.
In the third year of elementary school, my brother faced the choice of getting into senior high school or getting into a vocational secondary school. If he'd go to senior high school, he would be able to get into university, but it would take several years of studying and several years of paying tuition fees. If he'd go to vocational school, there would be less tuition fees and he could start working earlier. It would also mean he'd miss out on the chance of getting into university. Based on my brother's grades at the time, he could've picked either. But to alleviate the financial burden on our family, and mostly for the future studies of me as his little brother, my big brother, without hesitation, went to vocational school at the cost of his own future.
I felt that I would always remember the sacrifice my brother made for me at this time. But looking back on how life unfolded afterward, it was just the beginning of the many sacrifices my brother would make.
Because in the second year of high school, dad fell ill, and my brother, who had just started working, took on all the burden. I didn't see my brother tossing and turning in bed during all of the sleepless nights, I didn't see my brother take our dad to all the big and small hospitals in the province and in the city, I just saw my brother's eyes sinking deeper every day, I saw how he was skin and bones, how his face was as pale as paper, how his hair was disheveled and ash-colored.
And while all of this was happening, I was studying in a warm and quiet classroom, because my brother had assumed all responsibilities.
3. The Lake and Sea Come Together
If I say that besides my dad, my brother is the number one guardian angel in my life, I must also acknowledge my wife and my former classmates.
As I prepared to do my PhD in Nanjing, my then-girlfriend, now wife, just completed her master's degree. She had to make a choice. Going back to her hometown would mean going to a different place, coming to Nanjing would mean leaving her home. While the situation had me ruminating, my wife's ticket to Nanjing dispelled all of my worries. We got married during the first year of my PhD. My wife worked every day, I studied every day. The faculty, the dining hall, and the home were our three frontline places. Every weekend, if we weren't busy, we would go out strolling. If I was busy with studying, my wife would keep me company at the faculty, while also pretending to be a PhD student.
Living in a place far away from home, you'll always run into people and situations that will upset you, and sometimes you have to deal with a sense of dispiritedness and disappointment. But all the grievances, frustrations, and depressions were dissolved by my wife's comfort.
Ever since I met my wife, I found my ultimate trust and my home in her. She gave me inner strength, but also helped me grow a sense of responsibility.
4. Don't Forget the Original Intention
Someone said, even if you can't change the world, you also cannot let the world change the innocent you. This is perhaps my most lucky point – although time brings great changes and is unpredictable, and I have long ceased to be innocent, I am still me, still with a grateful heart.
Recently, on my train back to school, I was chatting with my brother on WeChat about our concerns regarding dad's health. My brother replied to me saying: we are the ones to continue our parents' lives and spirits. The best thing we can do to repay them is to live well and to keep on going. While reading that sentence on a train filled with snoring sounds at 2AM in the morning, tears started streaming down my face. I know my brother wanted to comfort me, and he also wanted to guide me in life. What I can do is definitely not let down those who love me and have placed their hopes in me, yes, I won't disappoint them.
Time is like electricity, it slips through our fingers like sand. From starting my PhD to defending my dissertation, like a goose's footprint in the snow – it's already a part of my past. It's useless to dwell on past mistakes, but we can still change the future.
In the end, I rarely drink but I will raise my glass; one to honor my parents and the bitter hardships they faced; one to my brother's iron shoulder; and one to my wife and her steadfast loyalty and unfailing companionship."
————————————————
Many people on social media comment how moved they are by Zhong's words, and some share their own experiences.
"I'm also a PhD from Shandong Peninsula," one commenter (@xiaolei雨田) writes: "While I was studying for my PhD, my mum passed away. I always felt guilty towards my parents, and like the author, I felt that studying for my doctorate was selfish, like I was only pursuing my own goals while the people who had silently supported me were passing away. After graduation, I was determined to go back to my hometown to help and take care of the family, making up for those years of regret."
"This acknowledgment is heartfelt and resonates with so many people," others write.
There are also those who, while praising Zhong Jitao's dedication, also worry about the future prospects of other PhD candidates in China who come from impoverished families who have to sacrifice so much for one degree that might not even guarantee a well-paid job in China's current-day competitive job market.
"This really moved me," another commenter says: "It's not easy to complete your PhD, and there's always people who have your back and support you. When you feel like giving up, it's their support that keeps you going."
If you liked this story, you might also like "I Am Fan Yusu" (我是范雨素) (Full Translation) here.
By Manya Koetse
* Please note that this is a translation by What's on Weibo, not all parts of the text are literal translations and that some sentences have been loosely translated.
Spotted a mistake or want to add something? Please let us know in comments below or email us. First-time commenters, please be patient – we will have to manually approve your comment before it appears.
©2021 Whatsonweibo. All rights reserved. Do not reproduce our content without permission – you can contact us at info@whatsonweibo.com.