China's Crackdown on Tutoring Schools: Concerned Parents and Teachers on Weibo
The unprecedented crackdown on China's private education has generated many online discussions.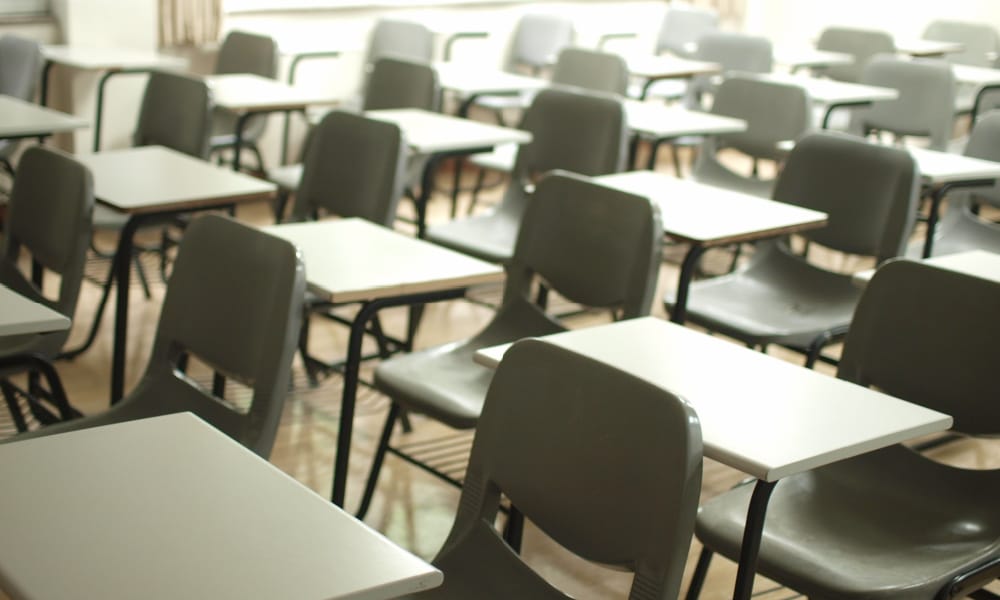 Regulatory reforms in China's private education sector have triggered concerns among parents and teachers on what the changes will mean for them and their children.
The rumors on China implementing new regulations for private tutoring were already circulating for a long time, with official media reporting on a toughening of rules for off-campus training since March of this year.
The rule changes finally became a reality when Chinese regulators announced new reforms on July 24 that will radically alter how private firms teaching school curriculum will operate.
The new guidelines are also called the 'Double Reduction' (双减) rules for targeting "excessive homework" and off-campus tutoring for students in the mandatory nine-year education system.
Most importantly, the new regulations impose stricter regulations on existing private education institutions and force them to register as non-profit organizations. Any foreign investment in the sector will be banned.
The rules specifically apply to those private institutions offering tutoring on the school curriculum. New tutoring companies will no longer be able to get a license. It will also no longer be allowed for tutoring firms to provide after-school tutoring during weekends, public holidays, and school holidays.
Beijing, Shanghai, Shenyang, Guangzhou, Chengdu, Zhengzhou, Changzhi, Weihai and Nantong are selected as national pilot cities to implement the latest guidelines.
CHINA'S BOOMING TUTORING INDUSTRY
"If you come, we'll educate your kid, if you don't, we'll educate the competitors of your kid"
When talking about education in China, one of the first things that often comes to mind is the culture of fierce competition, rankings, scores, and exams. The highly competitive nature of the gaokao (高考), the National College Entrance Examinations, has fuelled a private tutoring boom.
Companies offering off-campus training often provide very specific guidance to help students grasp the study materials taught at school. They help children with homework, and will generally work through all the subjects until they are completely prepared to take their exams.
Over the past decade, China has seen a surge in the number of private tutoring agencies. Due to the pandemic, that number saw a sharp rise in 2020. According to market research platform Qianzhan, there were approximately 340,000 more education-related enterprises in China in 2020 compared to the year before.
The market is enormous – there are nearly 200 million students in China's K12 age group, and about 75% of them attend, or have attended, after-school tutoring classes.
One of the reasons that is mentioned in Chinese media for the crackdown on after-school tutoring is that educational companies were putting profits above anything else, and were feeding off parents' anxiety while increasing the pressure on children to drive their business.
Most Chinese parents are willing to invest a large amount of money in their children's education, as they generally fear that their children will be left behind if they don't. The ubiquitous advertising of after-school tutoring agencies and their cunning marketing strategies have also exacerbated parents' anxiety about their children's future.
A telling and well-known example is that of a private tutoring school putting up a sign saying: "If you come to us, we'll educate your child. If you don't come to us, we'll educate your child's competitors" ("您来,我们培养您孩子;您不来,我们培养您孩子的竞争对手").
Earlier this year, Chinese TV drama A Love for Dilemma (小舍得) reignited an ongoing debate about the problem of the extreme competitive education climate in Chinese society today. That problem is also referred to as 'involution,' where China's ever-growing middle class is now facing the question of how they and their children can remain in the middle class in a situation where everyone is continuously working harder and doing all they can to rise above the rest.
MORE OR LESS WORRIES FOR PARENTS?
"This is not alleviating the burden on parents, this is forcing parents on a road of despair"
There are many people and experts in China who argue that the implementation of the 'Double Reduction' policy will solve existing problems in the tutoring industry and help alleviate the financial pressures on parents who feel they need to send their children to off-campus training schools.
But there are also those who say that China's crackdown on tutoring leaves parents facing new problems. Some worry that the new policy will further increase educational inequality because richer families can always find ways to let their children have off-campus tutoring, while families with heavier financial burdens have no alternative options.
"Without extracurricular training, children can only rely on one-on-one tutoring in the future. It will be even more unaffordable. This is not alleviating the burden on parents, this is forcing parents on a road of despair," one worried commenter wrote.
Another Weibo user published the following post:
"All of the bigger and smaller online influencers are talking about how it is right that off-campus training is canceled and they support it, but isn't it true that you are knowledgeable and experienced enough to tutor your own kids or that you have wonderful public school resources? Before you write down your opinions, have you considered that there are parents out there in the remote towns and villages who haven't attended middle and high school, and who are raising their whole family in the hope that their children will be able to test their way out of these sad towns? Have you ever considered that the English teacher in some cities' public schools are art graduates retrained to teach literature, language, and math at the same time, and have to manage classes of 50 children? The children of these ordinary families (..), they do not have good public school resources, and all hopes are pinned on their extra-curricular tutoring as a small step forward. Have you ever thought about that? Perhaps you will argue that only the state can guarantee fairness for the majority, but eventually, there is social stratification. Perhaps you will also say that children know how to study themselves, it's stronger than anything, and that they will practically eat their way through the study material, and that it won't be a problem for them to do the exam and get into a notable university. But don't you know that without good public school resources, children don't even have a direction for their studies? Their parents are at a loss because they are exhausted from working from 9 to 9, seven days per week."
Higher education is greatly valued in China, as it is often perceived as the key to future opportunities and climbing the social ladder. Many Chinese families believe in "winning at the starting line" and in the idea of "ten years of study to secure an entry key to a good university."
There is a popular term in China – 'jiwa' (鸡娃), literally 'chicken babies', which refers to the phenomenon that today's middle-class parents in Chinese cities tend to arrange all kinds of training courses for their children so that they have a competitive edge over other children.
However, the reality is not just about hard work and being good students; many families believe that their children have to be the best, or at least, be able to stand out from the crowd.
The admission rate of normal high schools in China is only 50%, which means that most students will have to choose between two paths in the future: one is to go to university and the other is to go to a vocational school, which is seen as less prestigious. This is a cause of anxiety for countless Chinese parents. A lot of people say that even if the extracurricular class is banned, the hyper-competitive environment is not going to change in the foreseeable future.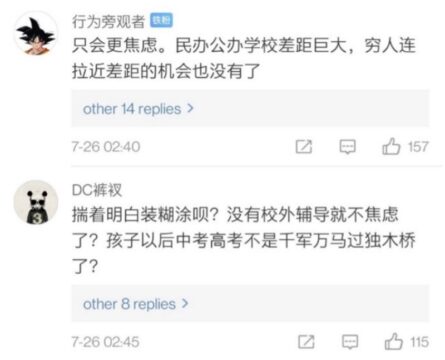 One Weibo user commented: "We are likely to be [even] more anxious. The difference between private schools and public schools is huge, and now people who are poor don't even have a chance to catch up." Another user added: "Are you pretending not to know the reality? Are you saying that we won't have off-campus tutoring now and we're all going to be less anxious? Won't our kids still face a fiercely competitive struggle for the gaokao?"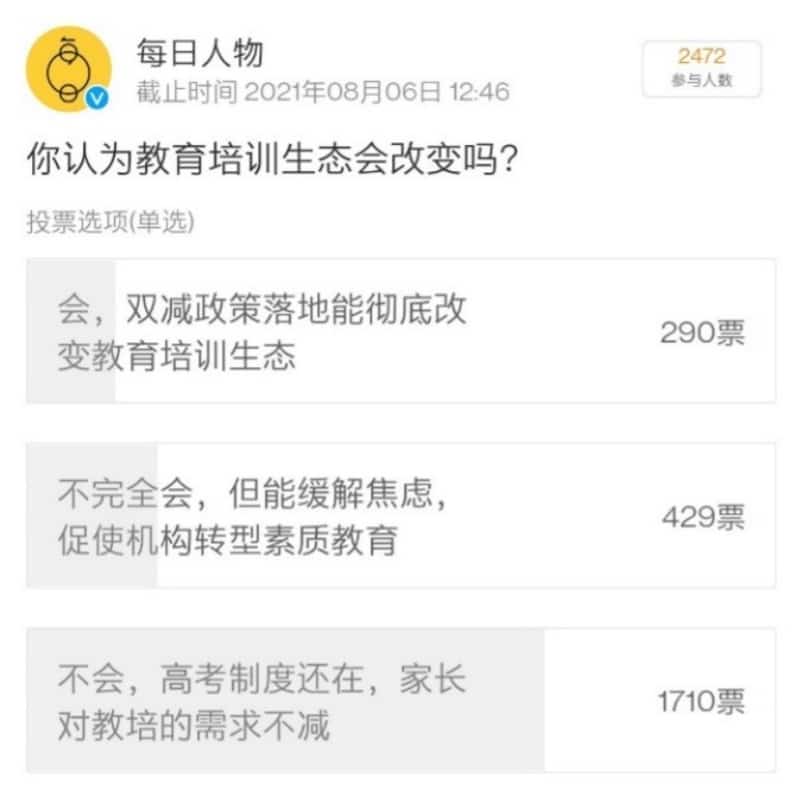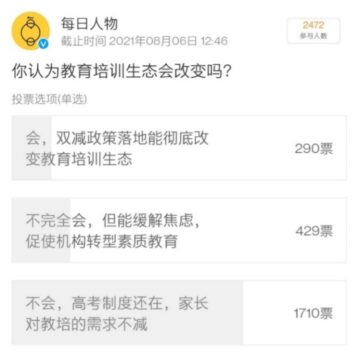 One online survey conducted by a Weibo account posed the question 'Do you think the nature of educational institutions can be changed?' The response shows that more than half of the participants voted 'no, because of the gaokao system, parents' needs for educational training won't be affected.' Less than one-eighth of respondents thinks the situation will actually change.
TEACHERS AND THEIR WORKLOAD
"We need to let teachers catch their breath"
Since China's new education policy emphasizes the responsibilities of regular schools, there are also those who worry about the increased pressure on teachers, of whom many have already voiced concerns about the excessive workloads and unrealistic expectations of parents.
Chinese state media outlet Xinhua reported that, to fill the gap of the private tutoring schools, all compulsory education institutions in China will provide their students with after-school services starting fall semester 2021.
"I have a relative who is a teacher," one social media user writes: "I know she has to work even during the break. She has to actively participate in social work. She needs to be in school at 7am, and after she gets back from school, she needs to reply to all the parents' messages until 9pm. She also has to do online and face-to-face training, and to plan lessons and prepare homework."

"Now, everyone is focused on reducing the workload of students, [but] we also need to let the teachers catch their breath. They deserve a better life, and the overall education quality can only be really improved if they have more energy for their everyday teaching," one commenter said.
But it is not just the teachers at the regular schools who are seeing increased pressure. Many teachers who work at private education facilities are facing grim perspectives. In light of the new regulations, companies laid off hundreds of employees and shut down after-school tutoring schools in order to comply.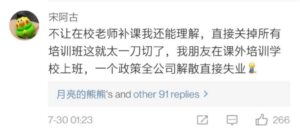 "My friend worked at one of the after-school training institutions. The whole company shut down after the new policy was released, and all of the employees lost their jobs," one person said.
"Don't tell me I just started my new job and already lost it within a month," one teacher wrote: "This year is just too difficult!"
BUT WILL THE BAN BRING MORE BABIES?
"I can't consider having a third child, I can't even have a second"
China's ban on after-school tutoring is directly tied to its recent decision to relax the country's birth control policy, now allowing parents to have three children in light of the country's rapidly aging society.
Reducing education costs is just one policy within a range of measures intended to combat falling birth rates and make it easier for parents to have multiple children, state media outlet CGTN reported.
Although many on social media do say they think that the new policy will reduce the burden for the younger generation, they do not necessarily believe it will ease the burden for this generation of (soon-to-be) parents.
These parents, after all, are often still working long hours themselves while also worrying about their child's performance in a score-based education system.
"I can't consider a third child," one parent wrote on Weibo: "I can't even consider a second child. (..) If I can save money [at all], I'll spend it on one-on-one tutoring for my kid. After all, the gaokao college admission exam system is still here."
"Nowadays, students have a lot of pressure, teachers face a lot of pressure, and parents also have a lot of pressure," one Weibo concluded.
Facing the new regulations, some tutoring schools are trying to keep their head above water by training parents of K12 children now, instead of their kids. The Beijing New Oriental company has recently launched their "excellent parenting" (优质父母) training class to help parents train their kids.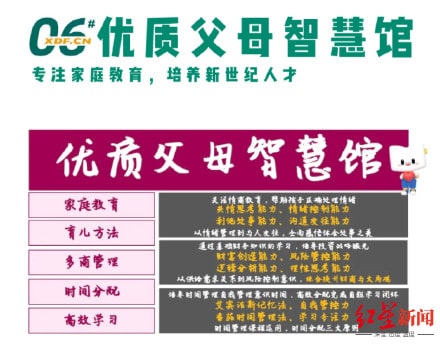 "They had to take tutoring classes when they were young, and now they have to take tutoring classes again, this generation is really suffering!", one commenter half-jokingly said.
For now, it seems clear that the burden on students and teachers has not been alleviated by this single policy move, even though Beijing's strike against the private tutoring industry has rattled the market. Many parents will continue to spend huge amounts on their children's future success, no matter what the cost.
By Yunyi Wang & Manya Koetse
Follow @whatsonweibo
Featured image: MChe Lee
Spotted a mistake or want to add something? Please let us know in comments below or email us. First-time commenters, please be patient – we will have to manually approve your comment before it appears.
©2021 Whatsonweibo. All rights reserved. Do not reproduce our content without permission – you can contact us at info@whatsonweibo.com.
Fangcang Forever: China's Temporary Covid19 Makeshift Hospitals To Become Permanent
China's temporary 'Fangcang' shelter hospitals are here to stay.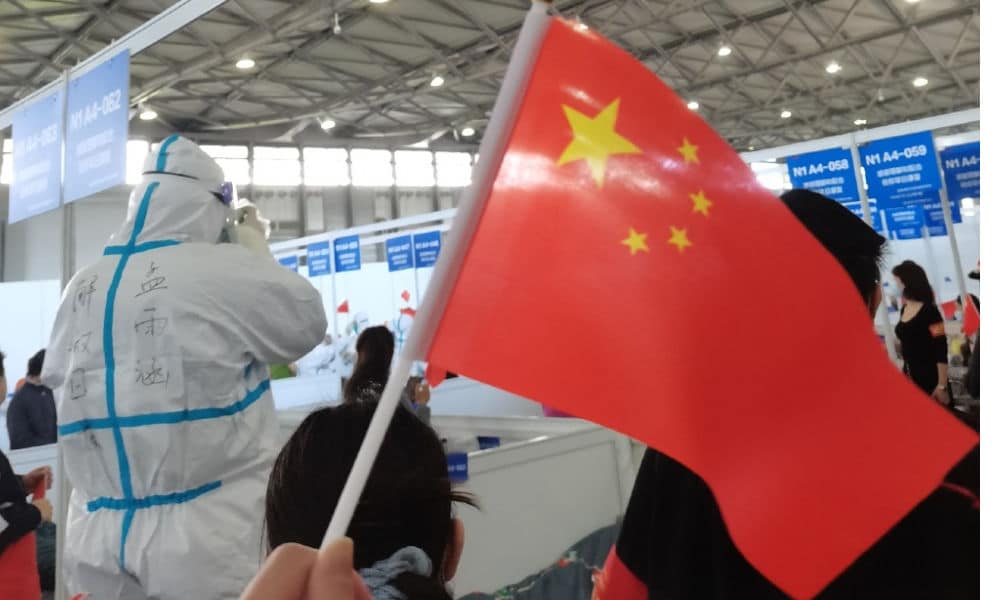 A new term has been added to China's pandemic lexicon today: Permanent Fangcang Hospital. Although China's 'Fangcang' shelter hospitals are, by definition, temporary, these healthcare facilities to isolate and treat Covid patients are now becoming a permanent feature of China's Zero-Covid approach.
Over the past few days, Chinese authorities have emphasized the need for China's bigger cities to build or renovate existing makeshift Covid hospitals, and turn them into permanent sites.
So-called 'Fangcang hospitals' (方舱医院, square cabin hospitals) are large, temporary makeshift shelter hospitals to isolate and treat Covid-19 patients. Fangcang shelter hospitals were first established in China during the Wuhan outbreak as a countermeasure to stop the spread of the virus.
They have since become an important part of China's management of the pandemic and the country's Zero-Covid policy as a place to isolate and treat people who have tested positive for Covid-19, both asymptomatic and mild-to-moderate symptomatic cases. In this way, the Fangcang hospitals alleviate the pressure on (designated) hospitals, so that they have more beds for patients with serious or severe symptoms.
On May 5th, Chinese state media reported about an important top leadership meeting regarding China's Covid-19 situation. In this meeting, the Politburo Standing Committee stressed that China would "unswervingly adhere to the general Zero-Covid policy" and that victory over the virus would come with persistence. At the meeting, chaired by Xi Jinping, the seven-member Politburo Standing Committee also declared that China would fight against any words or acts that "distort, doubt, or deny" the country's dynamic Zero-Covid policy.
Following the meeting, there have been multiple official reports and statements that provide a peek into China's 'zero Covid' future.
On May 13, China's National Health Commission called on all provinces to build or renovate city-level Fangcang hospitals, and to make sure they are equipped with electricity, ventilation systems, medical appliances, toilets, and washing facilities (Weibo hashtag ##以地级市为单位建设或者改造方舱医院#).
On May 16, the term 'Permanent Fangcang Hospital' (Weibo hashtag #永久性方舱医院) became a trending topic on Weibo after Ma Xiaowei (马晓伟), Minister of China's National Health Commission, introduced the term in Qiushi (求是), the leading official theoretical journal of the Chinese Communist Party.
The term is new and is somewhat contradictory as a concept, since 'Fangcang hospitals' are actually defined by their temporary nature.
Ma Xiaowei stressed the need for Chinese bigger cities to be ready for the next stage of China's Covid control. This also includes the need for some central 'Fangcang' makeshift hospitals to become permanent ones.
In order to 'normalize' the control and monitoring that comes with living in Zero-Covid society, Chinese provincial capitals and bigger cities (more than ten million inhabitants) should do more to improve Covid testing capacities and procedures. Ma proposes that there should be nucleic acid sample collection points across the city within a 15-minute walking distance radius, and testing frequency should be increased to maximize efficient control and prevention.
Cities should be prepared to take in patients for isolation and/or treatment at designated hospitals, centralized isolation sites, and the permanent Fangcang hospitals. The recent Covid outbreak in Shanghai showed that local authorities were unprepared to deal with the outbreak, and sites that were used as Fangcang hospitals often lacked proper facilities, leading to chaotic scenes.
The hashtag "Permanent Fangcang Hospitals" received over 140 million views on Weibo on Monday.
One of the Weibo threads by state media reporting on the Permanent Fangcang hospitals and the publication by Ma Xiaowei received nearly 2000 comments, yet the comment section only displayed three comments praising the newly announced measures, leaving out the other 1987 comments.
Elsewhere on Weibo, people shared their views on the Permanent Fangcang Hospitals, and most were not very positive – most commenters shared their worries about China's Covid situation about the stringent measures being a never-ending story.
"We're normalizing nucleic acid test, we're introducing permanent fangcang hospitals, [but] why isn't the third Covid vaccination coming through?" one person wondered.
"If there was still a little bit of passion inside me, it was just killed by reading these words 'Permanent Fangcang Hospital,'" another commenter writes, with one Weibo user adding: "I feel desperate hearing the words 'Permanent Fangcang Hospital.'"
"Building permanent Fangcang? Why? Why don't you use the resources you're now spending on normalizing testing to create more hospital beds, more medical staff and more medications?"
Another commenter wrote: "China itself is one giant permanent Fangcang hospital."
"The forever Fangcang are being built," one Weibo user from Guangdong writes: "This will never end. We'll be locked up like birds in a cage for our entire life."
For more articles on the Covid-19 topics on Chinese social media, check here.
By Manya Koetse, with contributions by Miranda Barnes
Get the story behind the hashtag. Subscribe to What's on Weibo here to receive our weekly newsletter and get access to our latest articles:
Featured image via user tongtong [nickname] Weibo.com.
Spotted a mistake or want to add something? Please let us know in comments below or email us. First-time commenters, please be patient – we will have to manually approve your comment before it appears.
©2022 Whatsonweibo. All rights reserved. Do not reproduce our content without permission – you can contact us at info@whatsonweibo.com.
'Hard Isolation' is Shanghai's New Word of the Day
In line with a new 'hard isolation' measure, the entrances of some Shanghai residential buildings were fenced up.
While some Shanghai households have already endured weeks of isolation, a new word was added to their epidemic vocabulary today: 'hard isolation' or 'strong quarantine' (yìng gélí 硬隔离)
The word popped up on Chinese social media on April 23rd after some Shanghai netizens posted photos of fences being set up around their community building to keep residents from walking out.
"New word: hard isolation. Shanghai is rotten to the core," one commenter wrote.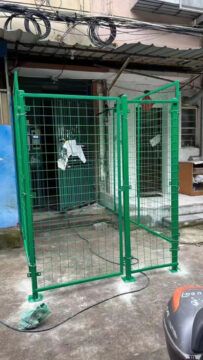 The word soon turned into a hashtag page where people started commenting on the issue of fences being placed around residential buildings, voicing concerns on what a fence around buildings would mean for fire safety, especially after online rumors suggested that there had been a fire at one community in Pudong on Saturday night.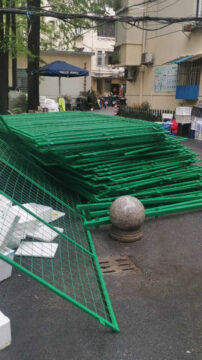 An official document regarding the 'hard isolation' measure was also shared online on Saturday. It is dated April 23, 2022, and its source is the Pudong New Area Office for Epidemic Control.
The document states that in line with the guidelines for the city's epidemic prevention and control, the division between areas or zones that are in certain risk categories should be 'optimized,' with those in the high-risk category requiring a 'hard isolation.' Security guards should also be on duty 24 hours a day at the entrance of the buildings.
Earlier this month, Shanghai adopted "3-level control measures" after its initial phased lockdown. It means that local areas will be classified as "locked-down," "controlled" or "precautionary," based on their Covid19 risk.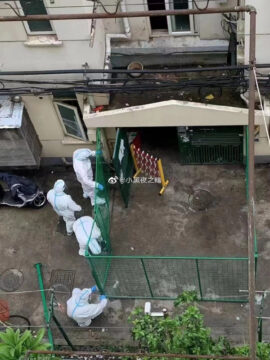 "Could we also put fences around the homes of Shanghai leaders?", one person suggested, while others posted images from the Walking Dead to mock the situation.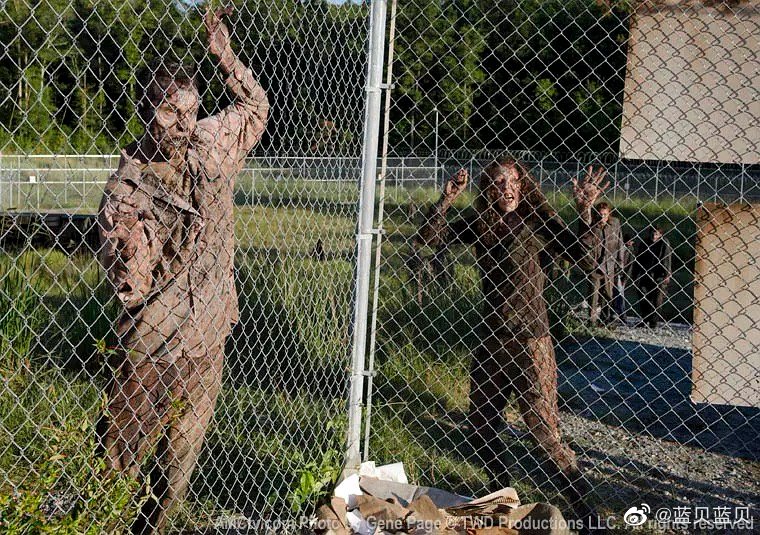 In the hope of Shanghai soon tackling the Covid situation, not everybody disagreed with the decision to fence some buildings or communities in the Pudong area: "I don't disagree with it, as long as there is always someone there to open the fence in case of fire," one person stated.
Although having a fence around their building is currently not a reality for most in Shanghai, the online photos of some communities seeing their buildings being fenced up is a reason to worry for some: "It's been 40 days, and now they start hard isolation? This actually scares me. Before we know it, it's June."
One Weibo user asked: "Why is it possible to implement this hard isolation now? Was this created by the same persons who also implemented the rule to separate children from parents at isolation sites?"
"I truly can't imagine why some people thought this is a good idea," others wrote.
For more articles on the Covid-19 topics on Chinese social media, check here.
By Manya Koetse
Get the story behind the hashtag. Subscribe to What's on Weibo here to receive our weekly newsletter and get access to our latest articles:
Spotted a mistake or want to add something? Please let us know in comments below or email us. First-time commenters, please be patient – we will have to manually approve your comment before it appears.
©2022 Whatsonweibo. All rights reserved. Do not reproduce our content without permission – you can contact us at info@whatsonweibo.com.