Huawei Phone with Built-In Muslim Prayer Function Stirs Controversy
Huawei's response to criticism over its Mate 10 Pro's special alarm function for Muslim prayers has spiraled into a 'PR crisis.'
The built-in Muslim prayer reminder function on one of Huawei's latest smartphone models has stirred controversy online. But Huawei's response to the issue has now become a bigger controversy than the function itself.
A commercial for Huawei's popular smartphone model the 'Mate 10 Pro' has been met with harsh criticism earlier this week.
Chinese English-language media outlet Sixth Tone reports on Friday that controversy around the Huawei phone started when a Chinese poster for the new model showed the Mate 10 Pro's prayer reminder for Muslims alongside a function to locate nearby mosques. Author Lin Qiqing notes that "Chinese Islamophobes take issue with Huawei's new smartphone" and that its prayer alarm feature "irks the irreligious and intolerant." (The article has since been removed from the Sixth Tone website.)
Huawei, however, believed that netizens' "vicious attack" on the company was the result of a targeted campaign by people who deliberately "distorted the facts." They described the angry commenters as an "Internet water army" (shuijun 水军): a group of online ghostwriters paid to post comments to manipulate a company's public relations. They also threatened to take legal actions against these commenters.
The company issued the statement on November 16, saying that the model with the alarm function would not be available on the Chinese market and that the alarm function is specifically designed for customers in overseas regions. They later removed the commercial from their website and from all other online platforms.
"Don't discredit netizens by labeling us as a 'water army.'"
Online commenters denied the criticism on Huawei was part of a larger conspiracy against the brand. "Don't discredit netizens by labeling us as a 'water army,'" one popular comment on Weibo by microblogger @Zhuzhou (@煮肘) says. The netizen, who received much backing, also writes that "companies should not contribute to spreading religion."
Huawei is one of China's most popular smartphone brands. Its model Huawei Mate 10, the follow-up to last year's Mate 9 along with the Huawei Mate 10 Pro, became a trending topic on Weibo in October, with the hashtag #华为Mate10# receiving over 480 million views in some days time.
On Weibo, many commenters say that they feel that brands such as Huawei should maintain a neutral image.
One blogger wrote: "That Huawei has added a smartphone function to remind Muslims to pray is actually a small thing, causing a big wave [of controversy] online. Technology companies should indeed take a neutral position in their design, and should not build in this kind of special religious (..) functions. It is really easy to design an app for prayer reminder; Huawei is doing more than it should."
"A recurring keyword in these online discussions is 'halalification.'"
The latest Huawei controversy follows consecutive online controversies in China over the past years concerning companies or institutions adapting to the diet or lifestyle of Muslim communities.
Earlier this year, delivery app Meituan sparked online anger when it introduced separate boxes for its halal food deliveries. Many netizens said the measure discriminated against non-Muslims, or said that if there are special boxes for food for Muslims, there should also be special boxes for food for Buddhists, Daoists, atheists, etc.
In September last year, the introduction of special "Muslim-only" shower cabins at a Chinese university also provoked anger about alleged "Muslim privilege."
A recurring keyword in these kinds of online discussions is "qīngzhēn fànhuà" (清真泛化). It basically means 'halal-ification' or 'halal generalization,' but because qīngzhēn also means 'Islamic,' it can also imply 'Islamization.'
Those who oppose the spread of halal food or special services for Muslims in the PRC connect the normalization of Islamic dietary laws and lifestyle to an alleged greater societal shift towards Islam.
In response to heated discussions and growing online anti-Islamic sentiment, Chinese authorities blocked various online words that are considered demeaning to Muslims in September of this year for "undermining ethnic unity."
"I do not understand why a customized service for Saudi Arabia would appear on the official Chinese Huawei website."
On Weibo, the 'Huawei incident' or 'Mate 10 Incident' (mate10事件) has become a much-discussed topic, especially after Huawei issued its statement that the phone with the built-in prayer and mosque locator function was designed for overseas usage.
Many netizens are angry about Huawei's response to the issue, not just because they took the criticism as an organized attempt to smear the brand's image, but also because they did not explain why a function meant for overseas markets would be advertised within China.
Netizen @GoogleMuqin (@google木沁) writes:
"This is my attitude about the mate10 incident:
1. I do understand that Huawei releases customized products for Muslim countries such as Saudi Arabia, and I support that.
2. I do not understand why a customized service for Saudi Arabia would appear on the official Chinese Huawei website.
3. And I loathe the patronizing attitude of Huawei in responding to this issue."
The 'alarm clock incident' is triggering so much criticism online, that many people consider it a 'PR crisis' for Huawei.
"I think that people are not so much upset about whether or not the phone has this function or not, but they are more upset about Huawei's reaction to this issue," one commenter says: "If this function is not available in China, why did Huawei advertise it on so many platforms in China, is this not misleading conduct?"
There are also people who do not understand what all the fuss is about in the first place: "As a Huawei user, I am not offended at all by this function. I have many Muslim friends, and they respect my preferences and I respect their religion."
It's all just business, many also say: "There are 1.6 to 2.1 billion Muslims in this world. China also has some twenty million. As a commercial company, it is understandable that Huawei does this."
One netizen (@夜光边) writes: "This is not a sign of Huawei's friendly relations with Muslims (..), it is just a sign that they are targeting Muslims as their customers. If you're not Muslim, then just don't use this function. It won't affect you at all."
By Manya Koetse
@manyapan
Follow @whatsonweibo
Spotted a mistake or want to add something? Please let us know in comments below or email us.
©2017 Whatsonweibo. All rights reserved. Do not reproduce our content without permission – you can contact us at info@whatsonweibo.com.
From Tea Farmer to Online Influencer: Uncle Huang and China's Rural Live Streamers
'Cunbo' aka 'rural livestreaming' is all the rage. A win-win situation for farmers, viewers, and Alibaba.
This is the "WE…WEI…WHAT?" column by Manya Koetse, originally published in German by Goethe Institut China on Goethe.de: "VOM TEEBAUERN ZUM INFLUENCER: ONKEL HUANG UND CHINAS LÄNDLICHE LIVESTREAMER." 
The past year has been super tumultuous when it comes to the topics that have been dominating Chinese social media. The Coronavirus crisis was preceded by other big issues that were all the talk online, from the US-China trade war to the protests in Hong-Kong, the swine flu, and heightened censorship and surveillance.
Despite the darker side to China's online environment, however, there were also positive developments. One of the online trends that became popular this year comes with a term of its own, namely cūnbō (村播): rural livestreaming.  Chinese farmers using livestreaming as a way to sell their products and promote their business have become a more common occurrence on China's e-commerce and social media platforms. 

The social media + e-commerce mix, also called 'social shopping,' is booming in the PRC. Online platforms where the lines between social media and e-commerce have disappeared are now more popular than ever. There's the thriving Xiaohongshu (小红书Little Red Book) platform, for example, but apps such as TikTok (known as Douyin in China) also integrate shopping in the social media experience.
Over recent years, China's e-commerce giant Alibaba has contributed to the rising popularity of 'social shopping.' Its Taobao Live unit (also a separate app), which falls under the umbrella of China's biggest online marketplace Taobao, is solely dedicated to shopping + social media, mainly mobile-centered. It's a recipe for success: Chinese mobile users spend over six hours online per day, approximately 72% of them shop online, and nearly 65% of mobile internet users watch livestreaming.
Every minute of every day, thousands of online shoppers tune in to dozens of different channels where sellers promote anything from food products to makeup or pet accessories. The sellers, also called 'hosts' or 'presenters,' make their channels attractive by incorporating makeup tutorials, cooking classes, giving tips and tricks, chatting away and joking, and promising their buyers the best deal or extra presents when purchasing their products.                
Sometimes thousands of viewers tune in to one channel at the same. They can 'follow' their favorite hosts and can interact with them directly by leaving comments on the livestreams. They can compliment the hosts ("You're so funny!"), ask questions about products ("Does this also come in red?"), or leave practical advice ("You should zoom in when demonstrating this product!"). The product promoted in the livestreams can be directly purchased through the Taobao system.
Over the past year, Alibaba has increased its focus on rural sellers within the livestreaming e-commerce business. Countryside sellers even have their own category highlighted on the Taobao Live app. Chinese tech giant Alibaba launched its 'cūnbō project' in the spring of 2019 to promote the use of its Taobao Live app amongst farmers. The most influential livestreaming farmers get signed by Alibaba to elevate Taobao Live's rural business to a higher level.
One of these influential Chinese farmers who has made a name for himself through livestreaming is Huang Wensheng, a tea farmer from the mountainous Lichuan area in Hunan Province.
Huang, who is nicknamed 'Uncle Farmer,' sells tea through his channel, where he shows viewers his work and shares stories and songs from his village. He is also known to talk about what he learned throughout his life and will say things such as: "It is important to work hard; not necessarily so much to change the world , but to make sure the world does not change you."
With just three to five livestreaming sessions per week, 'Uncle' Huang reaches up to twenty million viewers per month, and, according to Chinese media reports, has seen a significant increase in his income, earning some 10,000 yuan (€1300) per week.
Huang is not the only farmer from his hometown using Taobao Live to increase their income; there are some hundred rural livestreamers in Lichuan doing the same.
The rural livestreaming category is significantly different from the urban fashionistas selling brand makeup and the latest must-haves: these hosts do not have the polished look, glamorous clothes, or stylish backgrounds. They usually film outside while doing their work or offer a glimpse into their often humble rooms or kitchens.
Viewers get to see the source of the products sold by these rural sellers; they often literally go to the fields to show where their agricultural products grow, or film themselves getting the eggs from their chickens or the oranges from the trees. From fruits to potatoes and flowers, and from fresh tea to home-made chili sauce – a wide range of products is promoted and sold through Taobao Live these days.
Some rural livestreamers are trying to stay ahead of their competition by coming up with novel concepts. A young farmer from Sichuan, for example, recently offered viewers the opportunity to "adopt" a rooster from his farm, allowing them to interact with 'their' rooster through social media and even throwing the occasional birthday party for some lucky roosters.
Examples such as these show that although the countryside livestreamers usually lack glitter and glam, they can be just as entertaining – or perhaps even more so – than their urban counterparts.
Who benefits from the recent 'cūnbō' boom? One could argue that the rising popularity of livestreaming farmers is a win-win situation from which all participants can profit in some way. The commercial interests are big for Alibaba. The company has been targeting China's countryside for years, as it's where China's biggest consumption growth will happen while mobile internet penetration is still on the rise. Alibaba earns profits from an increasing number of rural e-commerce buyers, as well as e-commerce sellers.
Alibaba's early focus on the countryside as a new home for e-commerce has previously also led to the phenomenon of so-called 'Taobao Villages,' where a certain percentage of rural residents are selling local specialties, farm products or other things via the Taobao platform with relatively little transaction costs.
Many Chinese villages and farmers are profiting from the further spread of Taobao in the countryside. Not only does Alibaba invest in logistics and e-commerce trainings in rural areas, these e-commerce channels are also a way to directly boost sales and income for struggling farmers.
Chinese media predict that the rural livestreaming trend will only become more popular in the years to come, bringing forth many more influential farmers like Huang.
But besides the commercial and financial gains that come from the rising popularity of rural livestreamers, there is also a significant and noteworthy social impact.  At  a time in which China's rapidly changing society sees a widening gap between urban and rural areas, these rural channels serve as a digital bridge between countryside sellers and urban consumers, offering netizens a real and unpolished look into the lives of farmers in others parts of the country, and gives online buyers more insight and understanding of where their online products came from.
Taobao Live is actually like a traditional "farmers' market," but now it is digital, open 24/7, and accessible to anyone with a mobile phone. It's the Chinese farmers' market of the 21st century.
By Manya Koetse
Follow @whatsonweibo
Spotted a mistake or want to add something? Please let us know in comments below or email us. First-time commenters, please be patient – we will have to manually approve your comment before it appears.
This text was first published by Goethe-Institut China under a CC-BY-NC-ND-4.0-DE license (Creative Commons) as part of a monthly column in collaboration with What's On Weibo.
WeChat's New Emoji Are Here (Including a Watermelon-Eating and Doge One)
WeChat's new emoji are based on popular memes.
On January 14, Tencent's Wechat introduced new emoji to its existing emoji set. The new emoji include, among others, a watermelon-eating emoji and a smiling Shiba Inu.
On Weibo, the new emoji have become a topic of discussion under the hashtags "WeChat's New Emoji" (#微信上线新表情#), "WeChat's Watermelon Eating Emoji" (#微信上线吃瓜表情#), and "WeChat's Dog Emoji" (#微信上线狗头表情#).
Different from the Unicode emoji (see Emojipedia), WeChat and Weibo have their own sets of emoji, although there is overlap.
The reason why especially the watermelon-eating and dog emoji are being discussed on social media, is because these emoji are based on popular internet memes.
"Eating watermelon" (吃瓜 chī guā) is an online expression that comes from "watermelon-eating masses" (吃瓜群众 chī guā qúnzhòng), which describes a common mentality of Internet users who have no idea what is actually going on but are still commenting or following online stories for their enjoyment – perhaps comparable to the "popcorn memes" that are ubiquitous on Western social media platforms.
The smiling dog has been around since 2013 and is known as the doge meme, based on a photo of a Shiba inu. The meme was originally spread on social media platforms such as Reddit, but then also became hugely popular in China, where it became a symbol of sarcasm (also read this Abacus article on this topic).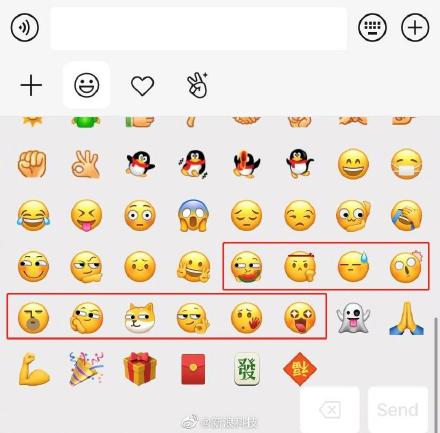 Other new emoji are the "wow" emoji, and others to express "ok," "add oil," "emm," "oh!"
There's also a "shehui shehui" (社会社会, lit. "society society") emoji, which also comes from online culture and is a way among friends to (self-mockingly) talk about being 'gangsters,' 'brothers.' or 'scoundrels.'
As the new emoji are still in their testing phase, not all WeChat users can use the new emoji yet, so you might have to wait a bit before being able to try them out.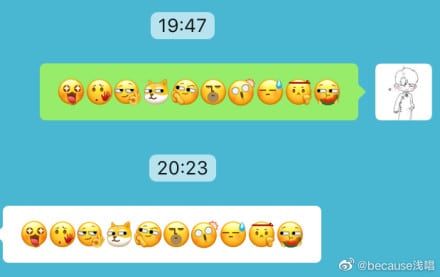 By Manya Koetse, with thanks to @caaatchina
Follow @whatsonweibo
Spotted a mistake or want to add something? Please let us know in comments below or email us. First-time commenters, please be patient – we will have to manually approve your comment before it appears.
©2020 Whatsonweibo. All rights reserved. Do not reproduce our content without permission – you can contact us at info@whatsonweibo.com.