These are the 20 'Uncivilized' Chinese Tourists Who Are Banned from Traveling
China's National Tourist Bureau recently issued new public travel regulations that restrict or blacklist Chinese tourists from traveling if they behave 'uncivilized'. At present, these 20 Chinese tourists are already blacklisted.
China's National Tourist Bureau recently issued new public travel regulations that restrict or blacklist Chinese tourists from traveling if they behave 'uncivilized'. At present, these 20 Chinese tourists are already blacklisted.
China's National Tourist Office (国家旅游局) has recently issued its new travel regulations (旅行社条例) that state that when Chinese tourists behave 'uncivilized' whilst traveling, they will be restricted or banned from future travels.
The topic "20 tourists enter the blacklist" (#20名游客入黑名单#) became trending on Sina Weibo on August 20.
A popular Weibo blog by state broadcaster CCTV answered the questions many netizens wanted to know: who are these 20 blacklisted travelers, and what did they do?
What did those 20 blacklisted travelers do?
CCTV did not only provide details over the incidents that triggered these travelers' blacklisting, they also provided their full names and cities of residence.
50% of all cases on the blacklist related to arguments over seating arrangements. 60% of banned passengers were blacklisted due to their behavior on an airplane or at the airport. Out of all the cases, 40% took place while traveling within mainland China. Out of the travelers, 9 are female and 11 are male. These are the 20 cases:
Number 1 & 2: Two Chinese passengers lashed out at the crew of an Air Asia flight en route from Bangkok to Nanjing in a dispute over their seating in late 2014. The angry passengers caused so much havoc on board, even scalding the stewardess with hot noodles, that the plane had to return to Bangkok to kick the passengers off the aircraft.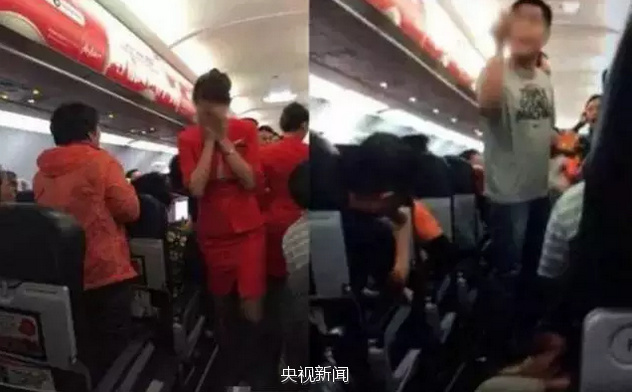 The two passengers on the blacklist are a man from Jiangsu province named Mr. W. and a woman from Anhui named Mrs. Z.
Number 3: Beijing resident Z. (male) tried to open an emergency door on an airplane awaiting takeoff to Beijing at Yunnan's Kunming airport in 2015. This was not the only case; there have been multiple cases of Chinese tourists opening up airplane emergency exits over the past few years.
Number 4: Mr. L. from Shaanxi will no longer be able to travel after he climbed the statue of a Red Army soldier at Shaanxi province memorial park to take a picture in April 2015. The photograph later went viral on Chinse social media.
Number 5 & 6: Two Chinese women will no longer be able to travel after causing so much chaos on an airplane from Dalian to Shenzhen, that the plane from Shenzhen Airlines had to make an emergency landing. The women allegedly were unsatisfied about their seating.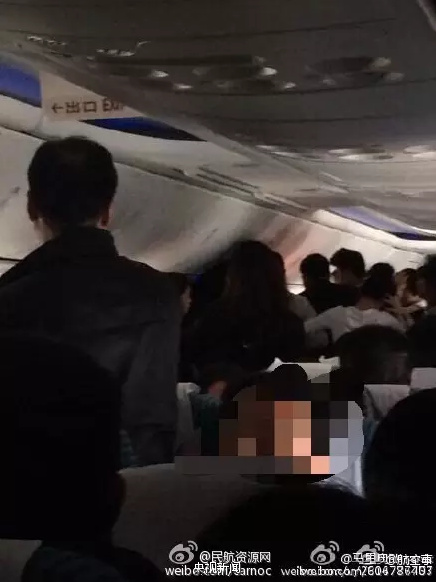 Number 7: A young man from Sichuan decided to climb one of the main statues at the Qinghai scenic park to take a picture. He later uploaded the picture to social media, which, according to CCTV, "brought about a nasty influence on society".
Number 8, 9, 10, 11: Three women and one man from Sichuan and Chongqing are put on China's traveling blacklist when refusing to board their plane and singing the national anthem at Bangkok airport, after their flight had a 10-hour-delay due to bad weather conditions. Together with other Chinese tourists, the four created major uproar at the airport.
Number 12: One male traveler from Hunan joining a day tour to Qingcheng Mountain was so upset that he had to pay a children's ticket for his child that was over 1.2 meters tall, that he got angry with local staff and injured a tour guide.
Number 13: Mr. R. from Shanghai is on the blacklist after getting into an argument with a convenience store employee in Sapporo, Japan. When he opened up a package of food in the store before paying, local staff informed him and his wife that it was not allowed to eat within the store. Mr. Rong allegedly attacked the man, who then suffered injuries in his face.
[rp4wp]
Number 14, 15, 16: Two women and a man from Sichuan were banned from traveling after being thrown off an airplane in Cambodia for creating havoc over their seating.
Number 17: Mr. Y. from Hubei insulted and abused the tour guide of a travel tour going to Taiwan when he was unsatisfied with the dinner seating arrangements.
Number 18: A Yunnan male traveler participated in a Taiwan travel group when he illegally took a total of 0.5 kilo living coral and violated local environmental laws in Taiwan's Taidong County.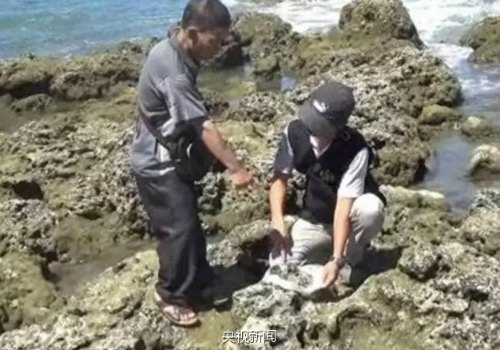 Number 19 & 20: A man and woman from Heilongjiang threatened to kill their tour guide during an argument over their bus seating arrangements in the city of Sanya in China's Hainan province. The incident was captured on video and went viral on Chinese social media.
The blacklisted travelers will not be able to travel for a minimum period of three years, during which multiple organizations and institutions, such as customs, inspection & quarantine, and border control offices will be informed about their actions. These institutions will then be able to prevent these individuals from going abroad, boarding an airplane, or joining a tour group. Other places, such as national scenic parks, will also have the right to refuse these individuals entrance to their premises.
Many Weibo netizens applaud the blacklist, and think that it should be changed to a permanent travel ban for people showing extreme behavior while traveling. "We should've implemented this rule much earlier," one netizen says: "These people really are an embarrassment."
– By Manya Koetse
Follow @WhatsOnWeibo
©2016 Whatsonweibo. All rights reserved. Do not reproduce our content without permission – you can contact us at info@whatsonweibo.com.
[showad block=1]
Surprise Attack: CCTV6 Unexpectedly Airs Anti-American Movies as China-US Trade War Intensifies
"They have no new anti-American films, so they're showing us the old ones instead."
First published
CCTV 6, the movie channel of China's main state television broadcaster, has gone trending on Chinese social media today for changing its schedule and playing three anti-American movies for three days in a row.
Some suggest the selection for the movies is no coincidence, and that it's sending out a clear anti-US message while the trade war is heating up.
The three movies are the Korean war movies Heroic Sons and Daughters (英雄儿女, 1964), Battle on Shangganling Mountain (上甘岭, 1954), and Surprise Attack (奇袭, 1960), airing from May 17-19 during prime time at 20:15.
Ongoing trade tensions between China and the United States heightened when Trump raised an existing 10 percent tax on many Chinese imports to 25 percent earlier this month. Chinese authorities responded by raising taxes on many American imports.
Over the past week, anti-American propaganda has intensified in Chinese state media, with the slogan "Wanna talk? Let's talk. Wanna fight? Let's do it. Wanna bully us? Dream on!"* ("谈,可以!打,奉陪!欺,妄想!") going viral on Chinese social media.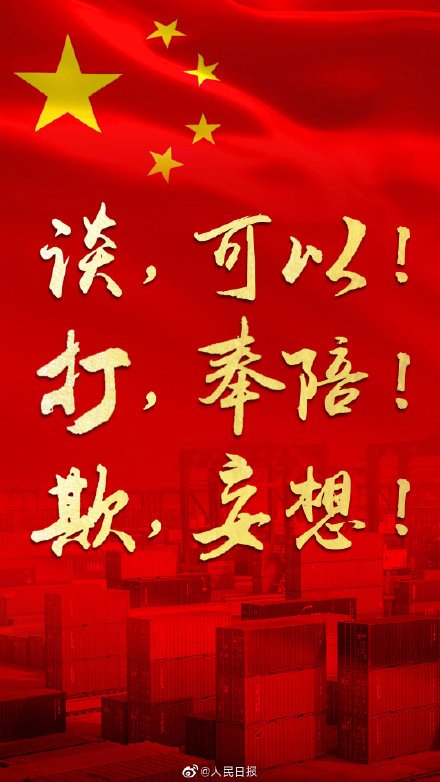 The movies broadcasted by CCTV these days are so-called "Resist America, Help North Korea" movies ("抗美援朝影片").
The 'Resist the USA, Help North Korea' (or: "Resist American Aggression and Aid North Korea") was a propaganda slogan launched in October 1950 during the Korean War (1950-1953). China came to the assistance of North Korea after the war with the South had broken out in June that year and the UN forces intervened in September.
The government, led by Mao Zedong, sent troops to fight in the war. Mao's own son, Mao Anying, was killed in action by an air strike a month after the start of this 3-year war against US aggression in support of North Korea. The war ended with the armistice of July 1953.
All three movies aired on CCTV6 are set during the "War to Resist US Aggression and Aid Korea."
Battle on Shangganling Mountain focuses on a group of Chinese People's Volunteer Army soldiers who are holding Triangle Hill for several days against US forces.
Heroic Sons and Daughters tells the story of a political commissar in China's volunteer army who finds his missing daughter on the Korean battlefield.
Surprise Attack revolves around the mission of the Chinese army to blow up the strategic Kangping Bridge, cutting off supplies to the American army and allowing the Chinese to engage in a full attack.
On Chinese social media, the unexpected decision of the CCTV to change its original schedule and to air the three historical films has become a much-discussed topic, with many people praising CCTV6 for showing these movies.
The issue was also widely reported on by Chinese media, from Sohu News to Global Times, which called the broadcast programming itself a "Surprise Attack."
Not all netizens praise the initiative, however, with some commenting: "It seems that there are no new anti-American TV series or movies now, so they've come up with these old films to brainwash us." Others said: "This kind of brainwashing is not useful."
Many Weibo users, however, just enjoy seeing classic movies, saying "They don't make movies like this anymore," and "It's good for the younger generation to also see these classics."
If you're reading this article on Saturday night China Central Time, you're still in time to watch the airing of Battle on Shangganling Mountain on CCTV6 here.
Update 18th May CST: It seems that a fourth movie has been added to the series now. This might just become the CCTV6 Anti-American movies month! We'll keep you updated.
By Manya Koetse and Miranda Barnes
*Translation suggested by @kaiserkuo.
Spotted a mistake or want to add something? Please let us know in comments below or email us.
©2019 Whatsonweibo. All rights reserved. Do not reproduce our content without permission – you can contact us at info@whatsonweibo.com
The Lawyers Are Here: Chinese State Media Popularize 'Rule of Law'
The Chinese TV show 'The Lawyers are Here' is "helping the people through the rule of law."
First published
The Lawyers are Here (律师来了) is a weekly television program by state broadcaster CCTV that focuses on the legal struggles of ordinary Chinese citizens. The program educates through entertainment, and in doing so, propagates core socialist values such as equality, justice, and rule of law.
You just bought a new house when you discover its locks have been changed and you're denied access. Together with five colleagues, you've been working in a factory when your boss suddenly lays you off without explanation. You won a lawsuit but still have not received the settled compensation. What to do? What kind of rights do you have as a Chinese citizen?
These kinds of legal cases are at the center of a weekly Chinese TV show called The Lawyers Are Here (律师来了), which was first aired on CCTV's Legal Channel in 2017 as a follow-up to the 2016 I am a Barrister (我是大律师).
The Lawyers Are Here introduces a different legal issue every week. The problems range from the aforementioned examples to people wanting custody over their child or a former patient fighting a negligent hospital for financial compensation.
Besides the TV host (Cao Xuanyi 曹煊一) and the people involved in the case, every 45-minute episode features various topic experts and four lawyers who offer their views and advice on the matter.
Each show begins with a short video explaining the story behind the case, after which the participants analyze the different legal aspects. One person provides further clarification at certain moments throughout the show by reading from Chinese legal texts.
Once everybody has a clear picture of the current situation, the show enters its most thrilling stage. Background music heightens the tension as the lawyers have to answer the most crucial question of the night: are they willing to take this case? It is then up to the party involved in the case to choose the lawyer they trust the most to win their case.
The Lawyers Are Here describes itself as "China's first legal media public service platform." It does not only offer help to the common people on the show who are caught up in legal issues, but it also informs viewers on how to handle certain problems, and educates people on China's legal system.
One 2018 episode featured a female nurse from Beijing who was seeking help in getting divorced from her abusive husband. The woman only wanted a divorce if she could get full custody over her 15-month-old son. The lawyers on the show explained that if the woman could prove she suffered from abuse at the hands of her husband, she had a stronger case in getting full custody.
The woman, visibly upset, tells that she has never reported the abuse to the police, but that she did go to the hospital and took photos of her injuries. Although the lawyers on the show predicted that the pictures and hospital records would be sufficient evidence for the court, they also strongly advised all viewers to always report these incidents to the police.
Legal advice on the show goes beyond family-related issues. In another episode, a victim of a fraudulent car dealer was reprimanded by the lawyers for signing a contract before thoroughly reading it. "Never sign a contract before reading it completely", the show warned, also telling viewers never to be pressured into signing a contract.
The Lawyers Are Here also often shows how the people featured on the show receive help from their lawyer after filming, and how a dispute is finally settled in court.
Popularizing Rule of Law
Every episode of The Lawyers Are Here starts with the slogan "The law is the rule, help is the intention" or "Helping the people through the rule of law" ("法为绳墨, 助为初心").
By clearly reinforcing the message of 'live by the law and justice will prevail,' The Lawyers Are Here serves as a media tool to propagate the idea of 'Governing China with Rule of Law,' which is emphasized by the Party leadership.
"Rule of law" is one of the 14 principles of 'Xi Jinping Thought' and one of the 12 Core Socialist Values. This idea is clearly promoted throughout the show, along with other socialist values such as equality, justice, and integrity.
An important aspect of promoting the idea of a nation that is ruled by law is educating people on Chinese law, and, perhaps more importantly, creating more trust in legal institutions among the people.
Besides news media and other forms of propaganda, TV shows such as The Lawyers Are Here are effective tools for doing so. Not only does it present legal cases in a popular and modern way, even adding a game factor to it, it also personalizes it by letting the people tell their emotional stories – sometimes even moving the TV host to tears – and showing that the law can resolve complex family or business problems in an efficient matter.
On social media, people compliment the CCTV show for "bringing justice to ordinary people" and "standing up for the weak."
"I hope we can have more programs such as these," one Weibo commenter writes.
The Lawyers are Here is broadcasted every Saturday on 18:00 at CCTV12.
Spotted a mistake or want to add something? Please let us know in comments below or email us.
©2019 Whatsonweibo. All rights reserved. Do not reproduce our content without permission – you can contact us at info@whatsonweibo.com