Hot Pot Paradise? This is China's First 24/7 Digital Self-Service Hot Pot Supermarket
Chinese restaurant chain Wodi Hotpot (卧底火锅) is the new kid on the block in hot pot land. The start-up is China's first digital self-service hot pot supermarket and restaurant. Combining China's new digital trends with traditional tasty cuisine, Wodi is the typical post-1985 generation's place to be.
Chinese restaurant chain Wodi Hotpot (卧底火锅) is the new kid on the block in hot pot land. The start-up is China's first digital self-service hot pot supermarket and restaurant. Combining China's new digital trends with traditional tasty cuisine, Wodi is the typical post-1985 generation's place to be. What's on Weibo tried it out for you. [This is a premium content article.]
Hot pot cravings can come at any time. For those who want a tasty and affordable hot pot, whether it is in the wee hours of the morning or in the late hours of the night, there is a new popular Chinese 24-hour hot pot self-service supermarket & restaurant where digital is key.
It is not just its 24/7 opening hours and digital order-and-pay system that make this place special; their online-to-offline business model, supplier dynamics and revenue model all make Wodi Hot Pot (卧底火锅) a pioneering company in the wonderful world of Chinese hot pot.
'Hot pot' in Chinese is huǒguō (火锅), literally: 'fire pot'. It has a history of over 1000 years, and it is generally agreed that the Chinese hotpot tradition must have come from Mongol warriors who camped outside and had dinner together circled around a pot on the fire. The idea is that while the hot pot brew is kept boiling, fresh ingredients are placed into the pot and are cooked at the table. Nowadays, hot pot tastes vary greatly across different regions in China, but what matters most is its enjoyment: sitting with friends and family around the boiling stew, sharing food, eating slowly, and talking.
The founder of Wodi, Qiu Xingxing (邱星星), once had the most delicious hotpots for 30 days straight in Chongqing and Sichuan. He then jokingly told his friend he would one day start his own hotpot restaurant. And it came true. The "digital self-service restaurant" Wodi Hot Pot first opened its doors to hot pot lovers in Beijing in January of 2016. The online platform of Wodi was established in October of 2015, with the offline supermarket/restaurant following a few months later.
Wodi's Qiu Xingxing (see picture) is a post-1985 Chinese online entrepreneur who also co-founded the successful WOWO (55tuan.com), which is also known as 'the Groupon of China'. Qiu is no stranger to e-commerce and its extreme potential; WOWO was the first Chinese company of its kind to be listed on the NASDAQ stock exchange in 2015.
In a way, Wodi is a typical Chinese post-1980 or post-1985 generation outlet. The post-1980s is a generation that is known for still valuing tradition but also being creative and innovative and not afraid to try out new things.
Wodi is described as a "Hot Pot Online to Offline Platform" (火锅O2O平台) by Chinese media, as its online business lies at the core of the company. On Weibo, Wodi calls itself "the world's biggest online hotpot platform" (全球最大的互联网火锅平台), through which customers are driven to visit their offline stores. Wodi is well-known for its online food delivery services. Although ordering in hot pot is popular and convenient, going to the actual Wodi "offline restaurant" (线下门店) for some hot shopping and dining is far more exciting.
"It's fu*king cheap!"
Dining at this new hot pot chain is not just a nice experience, it is also surprisingly affordable. "It's fu*king cheap!" allegedly is a catchphrase often used by Wodi's young customers, founder Qiu Xingxing tells Ebrun magazine.
So much to choose from in the Wodi Hotpot supermarket.
One of the main reasons the Wodi Hotpot supermarket is relatively inexpensive is because Qiu decided to drastically change the supplier/supermarket dynamics in the Wodi outlet. [blendlebutton] Instead of working with the typical distribution system, where supermarket owners purchase from food suppliers and then resell to customers at a (much) higher rate, Wodi lets suppliers directly sell their food to its consumers. Because there is no intermediary profit, the prices at Wodi are exceptionally low.
The supermarket has a wide selection of products, offering all kinds of hotpot ingredients, such as a variety of mushrooms, fish, tofu, thin-sliced beef, etc. Besides the classic hotpot ingredients, they also sell sodas, beer, candy and snacks, and even Wodi's own hotpots to take home (32¥/±4,8US$), all priced at a much lower rate than other well-known hotpot places such as Haidilao (海底捞).
You're probably wondering – if Wodi does not make much profit from the food it sells, then how do they make money? Enterpreneur Qiu has thought of a new business model for this to be able to provide customers with low-priced qualitative food while still having a profitable business.
"The world's 2nd time-based hotpot restaurant."
Wodi's success formula lies in the original concept of the outlet, that has a supermarket area and a separate dining area. When you have purchased hotpot ingredients in the supermarket, you sit and eat in the Wodi restaurant at a hotpot table – which you rent for a time-based price.
The time-based costs vary on the size of the table and if it is peak hour or not. For a 2-4 person table during quiet hours, customers pay 5¥ (±0.75$) per 15 minutes or 20¥ (±3$) per hour. During the peak hours (17.30-22.30) this is 32¥ (±4.8$) per hour. For larger groups up to 8 people, quiets hours are rated at 40¥ (±6$) and busy hours at 60¥ (±9$). Private rooms are also available for 60¥ (±9$) and 80¥ (±12$).
By working with rentable hotpot tables, Qiu is a pioneer in his field. If you walk into the Wodi venue, a slogan on the wall reads "the world's 2nd time-based hotpot restaurant" ("全国第二家按用餐时长收费的火锅"). When a journalist from the 36kr.com business news site asked founder Qiu where the world's 1st time-based hotpot was based, he told them: "There is none. It is just that China's advertising laws don't allow companies to use the term 'the first'/'number one' ('第一'), so we turned it into 'the second'. Actually, we're the first."
The first Wodi restaurant in Beijing's Chaoyang is over 1000 square meter and offers 206 seatings, with maximum table turnover possibilities since the place is opened 24 hours. The Wodi restaurant became popular and packed right after its opening.
"You just need to bring your mobile phone."
Stepping into the Wodi near the Worker's Stadium in Beijing, visitors are immediately directed towards the supermarket that has baskets and trolleys for people to put their hotpot food on. The first stop is the touch-screen ordering system for the kind of hotpot you want, which is where one employer gives us a Wodi card that we need to swipe when ordering.
There are multiple types of hotpot stew to choose from – from extremely spicy to non-spicy, from a tomato-base stew to a garlic-based one, or better: have a half/half one so that you can combine two flavors. Most of the stews are priced around 30-35¥ (±4.5-5US$).
Supermarket entrance.
Customers can select and order their favorite hot pot stews through touch screens.
After the order for the hotpot stew is completed, the shopping can begin. The supermarket offers a variety of fresh foods – some great mushrooms and vegetables, soft and hard tofu kinds, noodles, intestines, fish heads, octopus, shrimps, and more. Meat can be ordered and cut at the center counter.
The supermarket counter where an employee slices the meat for you.
Once you've collected all you want to eat (no worries, you can always hop back in and out to get more food and drinks), the food is scanned at the special Wodi check out counter, where again you swipe the card to "pay" for it.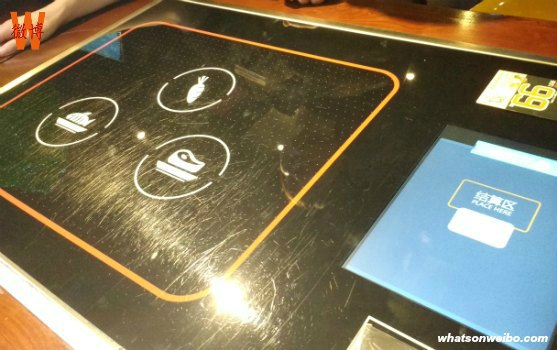 Wodi's supermarket checkout system.
Wodi has a great selection of different hotpot sauces that are all free. The most common one in Beijing is the plain majiang (sesame paste) dipping sauce, but there are many other options available at Wodi including ways to make your hotpot sauce more exciting by adding cilantro, garlic, chili, etc.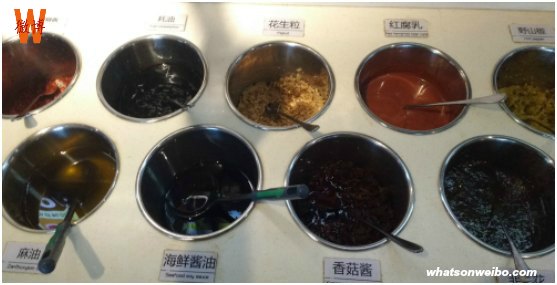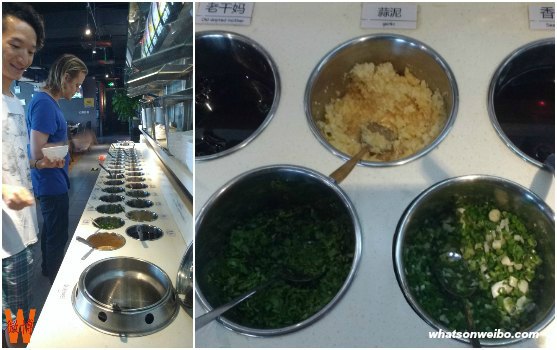 Once at the table, your ordered hotpot is prepared by the Wodi staff and hot potting can start. Except for the hot pot placement, Wodi is completely self-service as there are no employees who will serve you drinks or food. You will have to step back into the supermarket to get your own stuff, and cook your own food in the pot.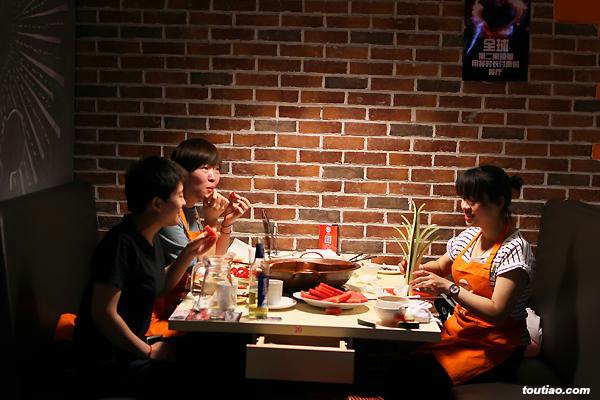 Wodi does all it can to make their customers as comfortable as possible to make them stay longer at the rented table. Tables have outlets to recharge mobile phones, there is free wifi, hair bands to keep the hair out of your face, and aprons to protect clothes from hotpot stains. In the meantime, the time for the table is counted by every 15 minutes you use it.
When food is finished and the bellies are full, it is time to pay. In a digital-focused store like Wodi, WeChat pay is the way to go, although there are other payment options available. As long as you have WeChat credit, "you just need to bring your mobile phone", as my fellow hotpotters say, and you're done. You give employees the Wodi card which you used for the supermarket and the table-time costs are added to it. For three persons spending multiple hours at Wodi eating and drinking, we spent a total of 240¥ (36US$)
For the true hotpot connoisseurs, Wodi might not be your hotpot heaven for its tastes are classic but not as refined as renowned hot pot restaurants in China. But for its price, quality, cleanliness, comfort, and above all, its no-nonsense, self-service, digital approach, Wodi is the place to go.
According to its founder, this is still the "1.0 phase" of Wodi, with the future "2.0 Wodi" offering customers more digital options and services. Keep an eye on this one – it might just be the hot pot paradise China's digital-loving hot pot foodies have been waiting for.
– By Manya Koetse
Follow @WhatsOnWeibo
Wodi Hotpot Address:
Beijing, Chaoyang,
East Gongti Road 工体东路20号春平广场
1st Floor Chunping Plaza
Branch in Beijing, Wangjing
悠乐汇C座3楼359室
Youlehui C/Building 3, 359
©2016 Whatsonweibo. All rights reserved. Do not reproduce our content without permission – you can contact us at info@whatsonweibo.com.
[/blendlebutton]
From Tea Farmer to Online Influencer: Uncle Huang and China's Rural Live Streamers
'Cunbo' aka 'rural livestreaming' is all the rage. A win-win situation for farmers, viewers, and Alibaba.
This is the "WE…WEI…WHAT?" column by Manya Koetse, originally published in German by Goethe Institut China on Goethe.de: "VOM TEEBAUERN ZUM INFLUENCER: ONKEL HUANG UND CHINAS LÄNDLICHE LIVESTREAMER." 
The past year has been super tumultuous when it comes to the topics that have been dominating Chinese social media. The Coronavirus crisis was preceded by other big issues that were all the talk online, from the US-China trade war to the protests in Hong-Kong, the swine flu, and heightened censorship and surveillance.
Despite the darker side to China's online environment, however, there were also positive developments. One of the online trends that became popular this year comes with a term of its own, namely cūnbō (村播): rural livestreaming.  Chinese farmers using livestreaming as a way to sell their products and promote their business have become a more common occurrence on China's e-commerce and social media platforms. 

The social media + e-commerce mix, also called 'social shopping,' is booming in the PRC. Online platforms where the lines between social media and e-commerce have disappeared are now more popular than ever. There's the thriving Xiaohongshu (小红书Little Red Book) platform, for example, but apps such as TikTok (known as Douyin in China) also integrate shopping in the social media experience.
Over recent years, China's e-commerce giant Alibaba has contributed to the rising popularity of 'social shopping.' Its Taobao Live unit (also a separate app), which falls under the umbrella of China's biggest online marketplace Taobao, is solely dedicated to shopping + social media, mainly mobile-centered. It's a recipe for success: Chinese mobile users spend over six hours online per day, approximately 72% of them shop online, and nearly 65% of mobile internet users watch livestreaming.
Every minute of every day, thousands of online shoppers tune in to dozens of different channels where sellers promote anything from food products to makeup or pet accessories. The sellers, also called 'hosts' or 'presenters,' make their channels attractive by incorporating makeup tutorials, cooking classes, giving tips and tricks, chatting away and joking, and promising their buyers the best deal or extra presents when purchasing their products.                
Sometimes thousands of viewers tune in to one channel at the same. They can 'follow' their favorite hosts and can interact with them directly by leaving comments on the livestreams. They can compliment the hosts ("You're so funny!"), ask questions about products ("Does this also come in red?"), or leave practical advice ("You should zoom in when demonstrating this product!"). The product promoted in the livestreams can be directly purchased through the Taobao system.
Over the past year, Alibaba has increased its focus on rural sellers within the livestreaming e-commerce business. Countryside sellers even have their own category highlighted on the Taobao Live app. Chinese tech giant Alibaba launched its 'cūnbō project' in the spring of 2019 to promote the use of its Taobao Live app amongst farmers. The most influential livestreaming farmers get signed by Alibaba to elevate Taobao Live's rural business to a higher level.
One of these influential Chinese farmers who has made a name for himself through livestreaming is Huang Wensheng, a tea farmer from the mountainous Lichuan area in Hunan Province.
Huang, who is nicknamed 'Uncle Farmer,' sells tea through his channel, where he shows viewers his work and shares stories and songs from his village. He is also known to talk about what he learned throughout his life and will say things such as: "It is important to work hard; not necessarily so much to change the world , but to make sure the world does not change you."
With just three to five livestreaming sessions per week, 'Uncle' Huang reaches up to twenty million viewers per month, and, according to Chinese media reports, has seen a significant increase in his income, earning some 10,000 yuan (€1300) per week.
Huang is not the only farmer from his hometown using Taobao Live to increase their income; there are some hundred rural livestreamers in Lichuan doing the same.
The rural livestreaming category is significantly different from the urban fashionistas selling brand makeup and the latest must-haves: these hosts do not have the polished look, glamorous clothes, or stylish backgrounds. They usually film outside while doing their work or offer a glimpse into their often humble rooms or kitchens.
Viewers get to see the source of the products sold by these rural sellers; they often literally go to the fields to show where their agricultural products grow, or film themselves getting the eggs from their chickens or the oranges from the trees. From fruits to potatoes and flowers, and from fresh tea to home-made chili sauce – a wide range of products is promoted and sold through Taobao Live these days.
Some rural livestreamers are trying to stay ahead of their competition by coming up with novel concepts. A young farmer from Sichuan, for example, recently offered viewers the opportunity to "adopt" a rooster from his farm, allowing them to interact with 'their' rooster through social media and even throwing the occasional birthday party for some lucky roosters.
Examples such as these show that although the countryside livestreamers usually lack glitter and glam, they can be just as entertaining – or perhaps even more so – than their urban counterparts.
Who benefits from the recent 'cūnbō' boom? One could argue that the rising popularity of livestreaming farmers is a win-win situation from which all participants can profit in some way. The commercial interests are big for Alibaba. The company has been targeting China's countryside for years, as it's where China's biggest consumption growth will happen while mobile internet penetration is still on the rise. Alibaba earns profits from an increasing number of rural e-commerce buyers, as well as e-commerce sellers.
Alibaba's early focus on the countryside as a new home for e-commerce has previously also led to the phenomenon of so-called 'Taobao Villages,' where a certain percentage of rural residents are selling local specialties, farm products or other things via the Taobao platform with relatively little transaction costs.
Many Chinese villages and farmers are profiting from the further spread of Taobao in the countryside. Not only does Alibaba invest in logistics and e-commerce trainings in rural areas, these e-commerce channels are also a way to directly boost sales and income for struggling farmers.
Chinese media predict that the rural livestreaming trend will only become more popular in the years to come, bringing forth many more influential farmers like Huang.
But besides the commercial and financial gains that come from the rising popularity of rural livestreamers, there is also a significant and noteworthy social impact.  At  a time in which China's rapidly changing society sees a widening gap between urban and rural areas, these rural channels serve as a digital bridge between countryside sellers and urban consumers, offering netizens a real and unpolished look into the lives of farmers in others parts of the country, and gives online buyers more insight and understanding of where their online products came from.
Taobao Live is actually like a traditional "farmers' market," but now it is digital, open 24/7, and accessible to anyone with a mobile phone. It's the Chinese farmers' market of the 21st century.
By Manya Koetse
Follow @whatsonweibo
Spotted a mistake or want to add something? Please let us know in comments below or email us. First-time commenters, please be patient – we will have to manually approve your comment before it appears.
This text was first published by Goethe-Institut China under a CC-BY-NC-ND-4.0-DE license (Creative Commons) as part of a monthly column in collaboration with What's On Weibo.
WeChat's New Emoji Are Here (Including a Watermelon-Eating and Doge One)
WeChat's new emoji are based on popular memes.
On January 14, Tencent's Wechat introduced new emoji to its existing emoji set. The new emoji include, among others, a watermelon-eating emoji and a smiling Shiba Inu.
On Weibo, the new emoji have become a topic of discussion under the hashtags "WeChat's New Emoji" (#微信上线新表情#), "WeChat's Watermelon Eating Emoji" (#微信上线吃瓜表情#), and "WeChat's Dog Emoji" (#微信上线狗头表情#).
Different from the Unicode emoji (see Emojipedia), WeChat and Weibo have their own sets of emoji, although there is overlap.
The reason why especially the watermelon-eating and dog emoji are being discussed on social media, is because these emoji are based on popular internet memes.
"Eating watermelon" (吃瓜 chī guā) is an online expression that comes from "watermelon-eating masses" (吃瓜群众 chī guā qúnzhòng), which describes a common mentality of Internet users who have no idea what is actually going on but are still commenting or following online stories for their enjoyment – perhaps comparable to the "popcorn memes" that are ubiquitous on Western social media platforms.
The smiling dog has been around since 2013 and is known as the doge meme, based on a photo of a Shiba inu. The meme was originally spread on social media platforms such as Reddit, but then also became hugely popular in China, where it became a symbol of sarcasm (also read this Abacus article on this topic).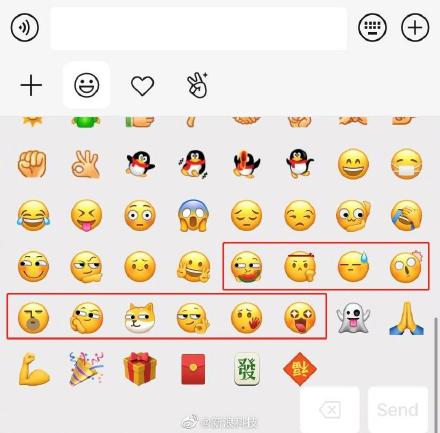 Other new emoji are the "wow" emoji, and others to express "ok," "add oil," "emm," "oh!"
There's also a "shehui shehui" (社会社会, lit. "society society") emoji, which also comes from online culture and is a way among friends to (self-mockingly) talk about being 'gangsters,' 'brothers.' or 'scoundrels.'
As the new emoji are still in their testing phase, not all WeChat users can use the new emoji yet, so you might have to wait a bit before being able to try them out.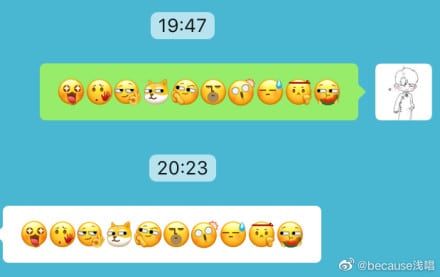 By Manya Koetse, with thanks to @caaatchina
Follow @whatsonweibo
Spotted a mistake or want to add something? Please let us know in comments below or email us. First-time commenters, please be patient – we will have to manually approve your comment before it appears.
©2020 Whatsonweibo. All rights reserved. Do not reproduce our content without permission – you can contact us at info@whatsonweibo.com.