What's Not on Weibo – The 2014 APEC in Beijing
In this new column, we highlight the offline effects of online topics on people's everyday life in China. This week: The 2014 APEC in Beijing. Interview with Ryan Myers: "Most of the time we have no clue of what is really happening and the measurements that are taken."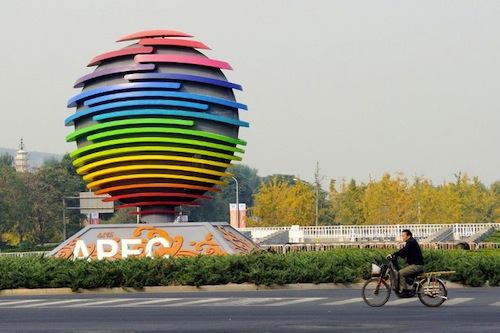 Over the past week, Weibo and Chinese media were overflowing with all news concerning the Nov 8-10 Asia-Pacific Economic Cooperation (APEC). Even stories that were not actually related to the contents of the summit, like Obama chewing gum or Putin handing a warm shawl to Mrs. Xi Jinping, became much discussed topics online. This year's theme of the APEC Economic Leaders' Meeting was "Shaping the Future through Asia-Pacific Partnership". The APEC leaders, including the presidents of China, America, Russia and South Korea, came together at Beijing's Yanqi Lake.
The event was also noticeable for those living in the center of Beijing who are not active on social media or news sites. "I surely noticed APEC was going on, both in the week preceding it as during the last week", says Ryan Myers: "I did not like it at all." Myers, a U.S. citizen who has been based in Beijing as a Chinese language specialist and teacher since 2007, lives in the center of the city's embassy district. He describes how the APEC influenced his daily surroundings over the past week: "There were actually very few people on the streets," Myers says: "A lot of my favorite restaurants were closed, so I had to eat at restaurants I normally would not eat at. On my way home from work, there was police and military everywhere. I had to wait for ten minutes at one intersection where the military police came through on motorcycles. I had actually never seen that before."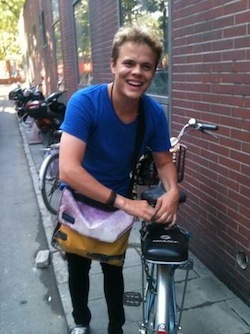 Ryan Myers, Chinese language specialist and teacher in Beijing since 2007.
The Beijing government has become much more proactive in security matters over the recent years.
The presence of security guards, police and military was noticeable in Beijing before and during the APEC. "Near to my house there is a little hutong [traditional alley] I always take as a shortcut home," Myers explains: "I walk there everyday. And one day over the past week there was suddenly a group of forty policemen standing in the road. I don't even know what they were doing there." In some parts of the city near the third ring road, people were told to stay clear of windows due to heightened security. "One of my friends received a message from her company kindly asking her not to lean out of the windows during these days. It said there were snipers working for national security and they would not want to mistake people leaning out of windows for their target." According to Myers, the Beijing government has become much more proactive in security matters over the recent years. They also sent out a message to people before Halloween, telling them not to dress up in costumes on the subway for security reasons. The APEC event and its safety measures displays how China is increasingly taking charge of security issues.
Most of the time we have no clue of what is really happening and the measurements that are taken.
Myers smilingly tells how some diplomats visiting Beijing over the previous week made remarks over the limited amount of cars on the streets, thinking that the city's roads were always this quiet. In fact, it is a far cry from the hectic traffic on average Beijing days; the government took half of all cars off local roads to avoid smog and jammed traffic. The countermeasure had its upside, says Myers: "Everybody said you would never be able to get a taxi during the APEC. But because the roads were clear, people got to their destination more quickly and efficiently. It was actually much easier for me to get taxi's than normally. And I did not end up getting stuck in traffic." Taking the subway was a different story. Due to the limited amount of cars allowed on the streets, the subway traffic became extra heavy: "It was extraordinarily crowded. One passenger was actually crushed to death the weekend before the summit when she became stuck between the subway doors."
"I thought there was thunder on the night Obama arrived," Myers says: "I later found out it was actually fireworks. I never really know these things because I do not spend a lot of time online. But honestly, I think those of us living in Beijing never know what is going on during these events. Most of the time we have no clue of what is really happening and the measurements that are taken. I don't think anybody knows. Not even the international media."
Feature image from Radio Free Asia, 2014 (http://www.rfa.org/english/news/china/shutters-11042014141641.html).
Appreciate this article and want to help us pay for the upkeep costs of What's on Weibo or donate a cup of (green) tea? You can do so here!
[box type="bio"]
About the Author: Manya Koetse is the editor of What's on Weibo. She's a Sinologist who splits her time between the Netherlands and China. She earned her bachelor's degrees in Literary Studies, Japanese & China Studies and completed her MPhil in Asian Studies. Contact: manya@whatsonweibo.com, or follow on Twitter.[/box]
©2014 Whatsonweibo. All rights reserved. Do not reproduce without permission – you can contact us at info@whatsonweibo.com.
Separated by Fence, These Chinese Students Still Manage to Have Hotpot Together
Social life and entertainment in times of closed-off campuses.
Over the past two weeks, universities across China have welcomed back their students, but campus life is not back to how it was in pre-COVID19 times.
Many universities have implemented strict anti-virus measures, with some promoting 'closed-off management' (封校管理), making it difficult for students to leave campus to go out.
This week, the popular Wechat account "Newsbro" (新闻哥) reported how a student in Baoding, Hebei province, made the best of his fenced-off campus situation by meeting his girlfriend for hotpot through the fence.
A video of the get-together was shared on social media by Fengmian News.
On Weibo, some commenters suggested the scene was "like a prison", while others thought it looked like a "pet owner feeding its pet."
Although some think the hotpot scene is staged, 'Newsbro' reports that there are multiple examples of "love in times of closed-off schools" ("封校时期的爱情"), with the account sharing a photo of another scene where lovebirds hug each other through the school fence.
Newsbro (新闻哥) also shares some gifs of people entertaining themselves at the dorms (see Twitter thread below).
Due to anti-virus measures, some Chinese universities have a 'closed campus', making it hard for students to leave the campus to go out. What to do on a boring night in the dorm? How about turning it into a catwalk! This guy nails it. pic.twitter.com/mvWz4Zyi8y

— Manya Koetse (@manyapan) September 15, 2020
In the article on dorm life in times of COVID19, Newsbro also shows that some people find creative ways to still get a haircut (image below).
Weibo Video also shared a post that showed that parents and new students still keep in touch through the fence. Parents bring their children food, and some families still manage to share dinners through the fence.
It is common for parents to see off their college freshman children at the start of a new semester. The so-called 'tents of love' custom, where parents actually stay on campus to help their children settle into their new life at university, is impossible due to COVID19 measures.
Recent photos and videos on Weibo and Wechat show that, despite the 'new normal' of Chinese campus life, people still find plenty of creative ways to keep their social life and late-night entertainment going.
Also read: The "Tents of Love" Phenomenon: Chinese Parents Sleep in Tents At Their Kids' New University
Read more about COVID19 in China here.
By Manya Koetse and Miranda Barnes
Follow @WhatsOnWeibo
Spotted a mistake or want to add something? Please let us know in comments below or email us. First-time commenters, please be patient – we will have to manually approve your comment before it appears.
©2020 Whatsonweibo. All rights reserved. Do not reproduce our content without permission – you can contact us at info@whatsonweibo.com.
Famous Goubuli Restaurant Calls Police for Getting Roasted Online, Gets Kicked Out of Franchise Group
Goubuli Wangfujing shows how NOT to address a social media crisis.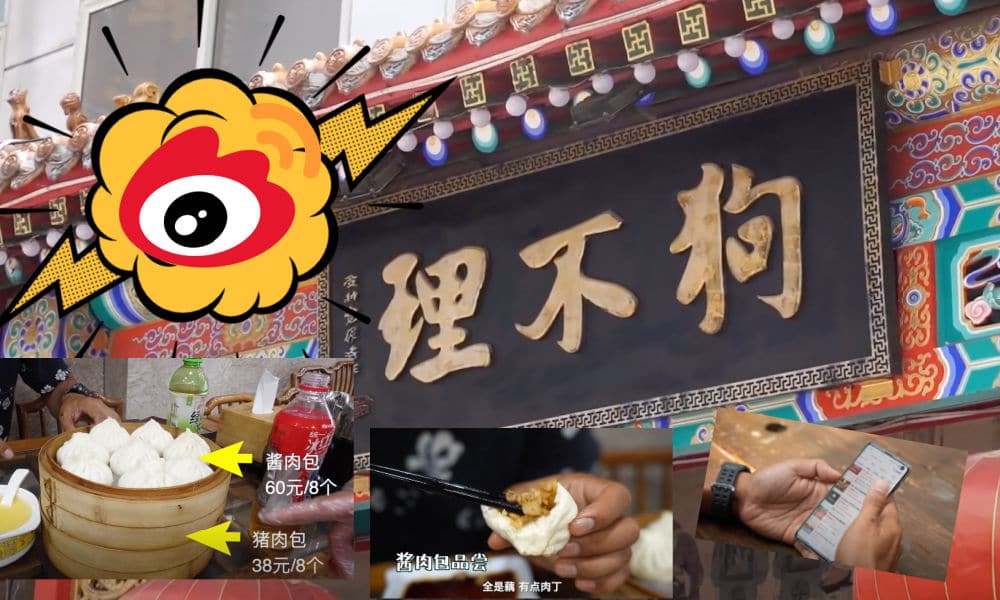 The well-known Goubuli Wangfujing restaurant just got a bit more famous this week. The branch, which specializes in steamed buns, is now not just known as one of Beijing's worst-rated restaurants, but also as a business that shot itself in the foot by handling a social media crisis the wrong way.
The famous Wangfujing main branch of Goubuli Steamed Buns (狗不理包子) is caught up in a social media storm since responding to a blogger's negative video of their restaurant by contacting the police.
The video, Goubuli's response to it, and the following consequences have hit the top trending topic lists on Weibo today.
Goubuli, sometimes transcribed as Go Believe, is a well-known franchise brand of steamed stuffed buns (baozi) from Tianjin that was founded in 1858. The brand now has more than 80 restaurants in mainland China, 12 of them in Beijing. Since Wangfujing is one of Beijing's most famous streets, the Wangfujing branch is popular with both foreign and Chinese visitors.
Gu Yue's "Visiting the Worst-Rated Restaurant" Video
The social media storm started on September 8, when Weibo blogger Gu Yue (谷岳) posted a video titled "Visiting the Worst-Rated Restaurant" ("探访评分最差餐厅"). Gu Yue is a travel blogger with over 1,7 million fans on Weibo.
In the video, Gu Yue starts by explaining he chose to visit Gubouli after searching for the restaurant that receives the lowest ratings in the Beijing Wangfujing and Dongdan areas on the super-popular Chinese mobile food app Dianping.
The blogger found that, out of the 1299 listed restaurants in the area, Wangfujing Goubuli Baozi was the worst-rated place. Ironically, the brand's name Gǒubùlǐ (狗不理) literally means 'dogs don't pay attention,' which makes the name 'Goubuli Baozi' sound like a place with stuffed buns that even dogs would not eat.
Complaining about the service, prices, and quality of food, many Dianping users rated the restaurant with just one out of five stars.
Gu Yue then sets out to visit the restaurant himself to see if Gubouli on Wangfujing really is as bad as Dianping users say. He orders some steamed braised pork dumplings, 60 yuan ($8.7) for 8, and regular pork dumplings, 38 yuan ($5.5) for 8.
The blogger concludes that Gubouli's dumplings are not worth the money: the dumplings are greasy, the dough is too sticky, and they do not have enough filling. Gu Yue's video also suggests that the restaurant's hygienic standards are not up to par, with loud coughing coming from the kitchen.
Gu Yue's video received over 97,000 likes and thousands of responses on Weibo, with many fans praising the idea of the blogger checking out the worst-rated restaurants.
Goubuli's Reaction Starts a Social Media Storm
The Wangfujing branch of Goubuli did not appreciate Gu Yue's video.
In an online statement on September 11, the branch accused the blogger of spreading lies about their restaurant and harming their reputation, and demanded a public apology.
Goubuli Wangfujing called the video "vicious slander" and stated they had contacted the police in relation to the matter.
The hashtag "Wangfujing Goubuli Responds to Netizen's Negative Video" (#王府井狗不理回应网友差评视频#) immediately went viral on Weibo, attracting some 430 million views.
Many Weibo users were outraged about the way the Goubuli branch handled the situation. "Aren't we even allowed to say if something is tasty or not?!" many commenters wondered, with others writing: "You are harming your own reputation!"
"Let's call the police over the quality of your food," others suggested.
There were also many netizens who commented that some Chinese Time-Honored brands, such as Goubuli, often only survive because of their history and fame rather than actually delivering good quality to their customers.
Following the major online backlash on its statement, the restaurant soon removed their post again. But the social media storm did not end there.
On September 15, the Goubuli Group issued a statement saying that it would directly terminate its franchise cooperation with the Goubuli Wangfujing branch over the incident.
With over 280 million views on its hashtag page (#狗不理解除与王府井店加盟方合作#), news of the franchise termination blew up on Weibo.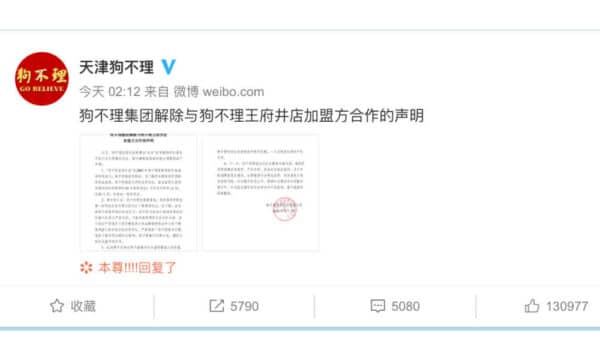 According to the latest Weibo reports on September 15, the Wangfujing Goubuli branch was closed for business on Tuesday (#狗不理包子王府井店门店关闭#).
"This is the power of clout," one person comments: "If it were not for the [Goubuli] restaurant's flawed marketing department, this would not have led to their closure."
"The restaurant has brought this on themselves. There's nothing wrong with posting a bad review."
Another person comments: "This is the first time I've seen a marketing department making something big out of something small, leading to their own closing."
Meanwhile, blogger Gu Yue says that he was not contacted by Goubuli, nor by the police. The social media controversy has only made him more popular.
"Gue Yue single-handedly crushed this restaurant," some say, appreciating how social media has increased the power of Chinese consumers to make or break a business.

Also read: Overview of the Dolce&Gabbana China Marketing Disaster Through Weibo Hashtags

By Manya Koetse
Follow @WhatsOnWeibo
Spotted a mistake or want to add something? Please let us know in comments below or email us. First-time commenters, please be patient – we will have to manually approve your comment before it appears.
©2020 Whatsonweibo. All rights reserved. Do not reproduce our content without permission – you can contact us at info@whatsonweibo.com.