What's Not on Weibo – The 2014 APEC in Beijing
In this new column, we highlight the offline effects of online topics on people's everyday life in China. This week: The 2014 APEC in Beijing. Interview with Ryan Myers: "Most of the time we have no clue of what is really happening and the measurements that are taken."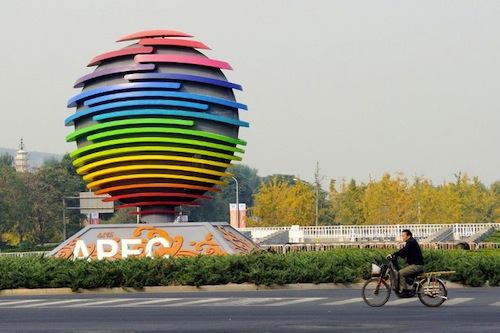 Over the past week, Weibo and Chinese media were overflowing with all news concerning the Nov 8-10 Asia-Pacific Economic Cooperation (APEC). Even stories that were not actually related to the contents of the summit, like Obama chewing gum or Putin handing a warm shawl to Mrs. Xi Jinping, became much discussed topics online. This year's theme of the APEC Economic Leaders' Meeting was "Shaping the Future through Asia-Pacific Partnership". The APEC leaders, including the presidents of China, America, Russia and South Korea, came together at Beijing's Yanqi Lake.
The event was also noticeable for those living in the center of Beijing who are not active on social media or news sites. "I surely noticed APEC was going on, both in the week preceding it as during the last week", says Ryan Myers: "I did not like it at all." Myers, a U.S. citizen who has been based in Beijing as a Chinese language specialist and teacher since 2007, lives in the center of the city's embassy district. He describes how the APEC influenced his daily surroundings over the past week: "There were actually very few people on the streets," Myers says: "A lot of my favorite restaurants were closed, so I had to eat at restaurants I normally would not eat at. On my way home from work, there was police and military everywhere. I had to wait for ten minutes at one intersection where the military police came through on motorcycles. I had actually never seen that before."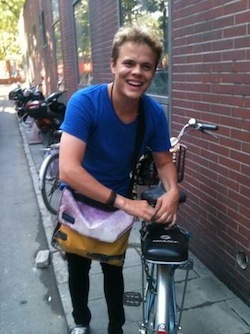 Ryan Myers, Chinese language specialist and teacher in Beijing since 2007.
The Beijing government has become much more proactive in security matters over the recent years.
The presence of security guards, police and military was noticeable in Beijing before and during the APEC. "Near to my house there is a little hutong [traditional alley] I always take as a shortcut home," Myers explains: "I walk there everyday. And one day over the past week there was suddenly a group of forty policemen standing in the road. I don't even know what they were doing there." In some parts of the city near the third ring road, people were told to stay clear of windows due to heightened security. "One of my friends received a message from her company kindly asking her not to lean out of the windows during these days. It said there were snipers working for national security and they would not want to mistake people leaning out of windows for their target." According to Myers, the Beijing government has become much more proactive in security matters over the recent years. They also sent out a message to people before Halloween, telling them not to dress up in costumes on the subway for security reasons. The APEC event and its safety measures displays how China is increasingly taking charge of security issues.
Most of the time we have no clue of what is really happening and the measurements that are taken.
Myers smilingly tells how some diplomats visiting Beijing over the previous week made remarks over the limited amount of cars on the streets, thinking that the city's roads were always this quiet. In fact, it is a far cry from the hectic traffic on average Beijing days; the government took half of all cars off local roads to avoid smog and jammed traffic. The countermeasure had its upside, says Myers: "Everybody said you would never be able to get a taxi during the APEC. But because the roads were clear, people got to their destination more quickly and efficiently. It was actually much easier for me to get taxi's than normally. And I did not end up getting stuck in traffic." Taking the subway was a different story. Due to the limited amount of cars allowed on the streets, the subway traffic became extra heavy: "It was extraordinarily crowded. One passenger was actually crushed to death the weekend before the summit when she became stuck between the subway doors."
"I thought there was thunder on the night Obama arrived," Myers says: "I later found out it was actually fireworks. I never really know these things because I do not spend a lot of time online. But honestly, I think those of us living in Beijing never know what is going on during these events. Most of the time we have no clue of what is really happening and the measurements that are taken. I don't think anybody knows. Not even the international media."
Feature image from Radio Free Asia, 2014 (http://www.rfa.org/english/news/china/shutters-11042014141641.html).
Appreciate this article and want to help us pay for the upkeep costs of What's on Weibo or donate a cup of (green) tea? You can do so here!
[box type="bio"]
About the Author: Manya Koetse is the editor of What's on Weibo. She's a Sinologist who splits her time between the Netherlands and China. She earned her bachelor's degrees in Literary Studies, Japanese & China Studies and completed her MPhil in Asian Studies. Contact: manya@whatsonweibo.com, or follow on Twitter.[/box]
©2014 Whatsonweibo. All rights reserved. Do not reproduce without permission – you can contact us at info@whatsonweibo.com.
What's Cooking? This Is What Putin and Xi Had for Dinner in Moscow
This was on the menu during the big dinner on Xi's first night in Moscow during the state visit to Russia.
WEIBO SHORT | Weibo Shorts are short articles on trending topics
While the state visit of Xi Jinping to Russia is in full swing, a smaller hashtag dedicated to the Xi-Putin meeting on Weibo is about what was served during the big dinner on Xi's first night in Moscow (#两国元首今晚吃什么#).
The hashtag was hosted by RT (Russia Today), the Russian state media outlet which also has an account on Weibo (@今日俄罗斯RT) with over 1,7 million followers.
The account has been posting a lot about the "Putin Xi Meeting" (普习会) over the past few days.
The menu was as follows:
◼︎ Far Eastern Seafood appetizer (远东海鲜开胃菜)
◼︎ Blini with Quail & Mushrooms (鹌鹑和蘑菇煎饼)
◼︎ Sturgeon Fish Soup with Pirog (鲟鱼汤配皮罗格馅饼)
Clear soup with sturgeon is a Russian traditional dish; pirog is a popular Russian pie and in this case filled with meat rather than something sweet.
◼︎ Pomegranate Sorbet (石榴冰露)
Frozen sorbet, generally made using lime and mint.
◼︎ Pechora Nelma Fish with Vegetables (伯朝拉河鲑鱼配蔬菜)
Siberian white salmon from the Pechora River with vegetables.
◼︎ Venison served with Cherry Sauce
◼︎ Pavlova Dessert
Dessert made of meringue, whipped cream, and berries.
◼︎ "East Slope" and "West Slope" wine
Russian news agency TASS reported that two 2020 wines from Russia's Divnomorskoye Estate winery were selected for the dinner.
On Weibo, the most popular comments were from those who said they wanted to see pictures of the dishes served.
Others wondered why vodka was not on the menu.
For more articles on China-Russian relations and related Weibo discussions, check our archives here.
Get the story behind the hashtag. Subscribe to What's on Weibo here to receive our newsletter and get access to our latest articles. Follow us on Twitter here.
Spotted a mistake or want to add something? Please let us know in comments below or email us. First-time commenters, please be patient – we will have to manually approve your comment before it appears.
©2023 Whatsonweibo. All rights reserved. Do not reproduce our content without permission – you can contact us at info@whatsonweibo.com.
Pregnancy Discrimination in the Workplace: Three Major Problems Faced by Chinese Female Workers
Weibo discussions about a woman from Wuhan who was fired after sharing news of her pregnancy for "inability" to do her job.
Workplace pregnancy and maternity discrimination is a deep-rooted problem that has recently triggered online discussions in China, where netizens highlight common ways in which companies still try to avoid dealing with pregnant workers.
The official Weibo account of Legal Daily (法治日报), a Chinese state-owned newspaper, recently launched a social media hashtag about employers not being allowed to terminate female employees because they are pregnant (#不得因怀孕辞退女职工#).
Legal Daily reported that a female employee in Wuhan was fired from her job due to her pregnancy earlier this year (#武汉一女子怀孕后遭公司辞退#). After returning to work after the Spring Festival break, the woman informed the company about her pregnancy. In early February, the company asked her to accept a demotion and salary reduction, which she declined. Later that month, she received a termination letter from the company, stating that the employee was being terminated due to her "inability to do her job."
Legal Daily's Weibo account cited Article 5 of the "Special Provisions on Labor Protection for Female Employees," which prohibits employers from reducing the wages of female employees or terminating their employment contract due to them being pregnant, giving birth, or breastfeeding. It also stipulates a basic maternity leave of 98 days.
The female employee in question is currently suing the company for terminating her job. While this case may have a positive outcome, the issue of workplace discrimination against female employees due to pregnancy is more complicated than it appears, regardless of the Chinese laws designed to protect female workers.
Despite legal prohibitions against pregnancy discrimination in employment, some employers still circumvent the rules in various ways and in doing so, continue to engage in discrimination against female workers. This topic has recently also generated discussions on Chinese social media about the problems women face in the workplace.

Problem #1: Companies Not Hiring Female Workers At All

"It [the law] is not very useful," one Weibo user wrote under the related hashtag: "Companies do not usually fire female workers who are pregnant. They will solve the problem from the beginning by not hiring female workers at all."
Some smaller private companies do not want to take the risk of dealing with potentially prolonged maternity leave and pregnant workers that they cannot fire nor reduce their wages.
They also fear that workers who are pregnant or are taking care of young children will have reduced energy and might face challenges in the workplace. To avoid the presumed risk that comes with hiring a female worker, Weibo commenters discuss how many companies would "rather hire men directly" to evade the issue of dealing with pregnant workers altogether.
Some voices note how female job-seekers are facing gender discrimination in hiring, regardless of their marital status or the number of children they have.
Another post under the same hashtag (#不得因怀孕辞退女职工#) mentioned:
"It is so hard for females to find jobs. [From the company's perspective:] 1. Unmarried female: they're here for the marriage leave; 2. Married but no children yet: they're here for the pregnancy leave; 3. Married and have one child: here to have their second child (and the maternity leave); 4. Married and have two children: here to have their third child (and the maternity leave); 5. Married and have three children: they have no time for work because need to take care of the family; 6. Do not want to marry: they are having problematic thoughts [思想有问题]."

Problem #2: Going to Extremes to Avoid Paying for Maternity Leave

Despite Chinse labor law prohibiting companies from reducing wages or terminating the contracts of pregnant employees, some companies still attempt to circumvent paying for maternity leave through various means, as was the case with the Wuhan company.
One extreme way to avoid dealing with maternity leave pay is to cancel the company's registration altogether, which is also called "dying together" ("同归于尽", also: "to perish together with one's foe").
A recent news story about a boss who canceled his company's registration overnight due to a female employee's pregnancy received widespread attention on the internet.
According to a March 5 report by Netease (网易), the woman informed her boss that she was three months pregnant right after signing her work contract. The boss was so afraid of the potential costs for maternity leave pay and other benefits that he decided to immediately cancel the company's registration.
While the boss claimed that the cancellation was due to the fact that the company was operating at a loss for the past two years, he reportedly spoke with each employee and compensated them accordingly. However, the pregnant female employee in question refused to leave. After the cancellation, the boss formed a new company including all the former employees – except for the pregnant one.
While some netizens expressed concerns over the extreme actions of the company, others also blamed the woman for "blackmailing" the company into supporting her pregnancy and childbirth. Additionally, many netizens argued that the woman's actions also make it more difficult for other job-seeking females to find employment, especially with small companies that may become more cautious about hiring female workers.

Problem #3: Maternity Harassment on the Workfloor

"Dying together" is not the only way for companies to get rid of "troublesome" pregnant workers. There are many other low-cost ways to avoid dealing with pregnant employees and working mothers, such as making life in the workplace so difficult for them that they will voluntarily resign.
In Chinese, this kind of 'maternity harassment' is also called "chuān xiǎo xié" (穿小鞋), which literally means giving someone tight shoes to wear and making them uncomfortable. The phenomenon is also widespread in Japan, where the word 'matahara' was coined as an abbreviated form of the words 'maternity' and 'harassment' to describe the unfair treatment of pregnant women and young mothers in the workforce.
By pushing employees to resign voluntarily, the company not only saves on the costs of female workers' maternity leave pay but also avoids paying for a severance package.
Under the report by Jingshi Live-Streaming (经视直播) about the woman in Wuhan who was fired from her job due to her pregnancy, one Weibo user commented that many companies fire female workers who are pregnant, but they usually do not state it upfront and instead secretly force them to leave.
This comment received over 1500 likes, with many sharing their own similar experiences. One person wrote: "I was in that situation. The company explicitly persuaded me to resign and covertly marginalized me."
Another person shared: "After I announced my pregnancy, my year-end bonus was reduced by more than half, and my colleagues immediately treated me with coldness." One woman mentioned that "companies overtly use polite language while covertly giving the lowest performance evaluation to force employees to resign."
One Weibo user complained about how female workers first face nagging questions about their future plans to have children, then face criticism from employees and colleagues after announcing their pregnancy and then have to worry about getting fired or seeing their salary reduced after giving birth.

No Way Out?

Despite laws and regulations requiring companies to provide maternity leave for female employees, there are still loopholes that are used by businesses to avoid responsibility. This leaves women in a vulnerable position in the workplace and limits economic opportunities. Weibo users come up with several suggestions in recent online discussions on how to solve the problems female workers face.
Some suggest that women should "just be realistic" and settle for a second-best option ("退而求其次"). One Weibo post argued that since it is difficult for women to secure permanent positions in both government institutions and big private companies, they should consider becoming temporary workers in government departments as a secondary option.
Others disagreed with this hot take, stating that the average wages and benefits for temporary workers in government departments are not enough to make a living.
Another suggestion raised to combat pregnancy discrimination is to offer equal parental leave to both men and women. However, this proposal was also met with resistance from some who argued that it does not solve anything since fathers have the option to forgo paternity leave, but women do not have that choice. They also cited examples of male colleagues who voluntarily waived their 15-day paternity leave.
Some are skeptical about finding a solution to the problem of women facing pregnancy discrimination in the workplace, and also raise the issue of this problem decreasing women's willingness to have babies at all. Some netizens jokingly comment: "Do women need to provide their certificate of sterilization from the hospitals?" or "I suggest females just remove the uterus [as a solution]."
Facing low fertility rates and a large aging population, boosting birthrates is a priority for Chinese authorities. While Chinese experts look for ways to motivate couples to have (more) children at an earlier age, combating pregnancy discrimination in the workplace is also more important than ever.
One Weibo user bitterly joked about the apparent contradiction of boosting national birth rates while also promoting equal positions in the workplace:
"Women say: "If I get pregnant, I will face workplace discrimination."
The government says: "How dare companies discriminate against women? I will fine them."
Companies say: "You're good at playing tricks. I won't hire women anymore."
Women say: "If I have a child, I can't even find a job. I won't have children in the future."
Society says: "China is getting old before it gets rich. What should we do?"
The media says: "There is news every day. It's great!"
By Zilan Qian
Get the story behind the hashtag. Subscribe to What's on Weibo here to receive our newsletter and get access to our latest articles. Follow us on Twitter here.
Relevant Vocabulary
◼︎ 同归于尽 Tóng guī yú jìn
Dying together; suffering a downfall together; perishing together with one's foe
◼︎ 穿小鞋 Chuān xiǎo xié
Giving someone tight shoes to wear; making things hard for someone by abusing one's power
◼︎ 退而求其次 Tuì ér qíu qí cì
To settle for the second best thing
Images in featured image:
http://www.xinqtech.com/startup/201806/291055.html
https://www.maxlaw.cn/n/20220316/10379852097730.shtml
https://www.maxlaw.cn/n/20180823/923419931554.shtml
https://www.sohu.com/a/325722786_120156585
http://k.sina.com.cn/article_2090512390_7c9ab00602000n007.html
Spotted a mistake or want to add something? Please let us know in comments below or email us. First-time commenters, please be patient – we will have to manually approve your comment before it appears.
©2023 Whatsonweibo. All rights reserved. Do not reproduce our content without permission – you can contact us at info@whatsonweibo.com