What's Not on Weibo – The 2014 APEC in Beijing
In this new column, we highlight the offline effects of online topics on people's everyday life in China. This week: The 2014 APEC in Beijing. Interview with Ryan Myers: "Most of the time we have no clue of what is really happening and the measurements that are taken."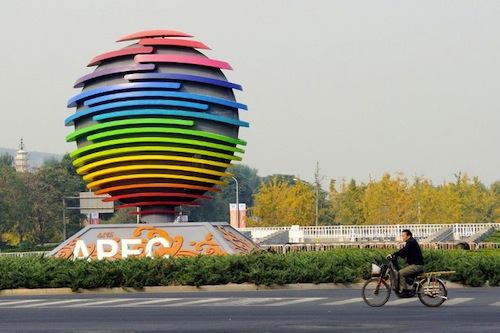 Over the past week, Weibo and Chinese media were overflowing with all news concerning the Nov 8-10 Asia-Pacific Economic Cooperation (APEC). Even stories that were not actually related to the contents of the summit, like Obama chewing gum or Putin handing a warm shawl to Mrs. Xi Jinping, became much discussed topics online. This year's theme of the APEC Economic Leaders' Meeting was "Shaping the Future through Asia-Pacific Partnership". The APEC leaders, including the presidents of China, America, Russia and South Korea, came together at Beijing's Yanqi Lake.
The event was also noticeable for those living in the center of Beijing who are not active on social media or news sites. "I surely noticed APEC was going on, both in the week preceding it as during the last week", says Ryan Myers: "I did not like it at all." Myers, a U.S. citizen who has been based in Beijing as a Chinese language specialist and teacher since 2007, lives in the center of the city's embassy district. He describes how the APEC influenced his daily surroundings over the past week: "There were actually very few people on the streets," Myers says: "A lot of my favorite restaurants were closed, so I had to eat at restaurants I normally would not eat at. On my way home from work, there was police and military everywhere. I had to wait for ten minutes at one intersection where the military police came through on motorcycles. I had actually never seen that before."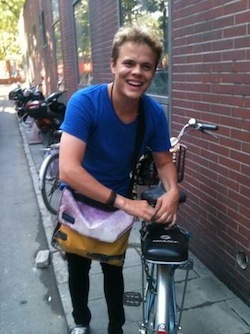 Ryan Myers, Chinese language specialist and teacher in Beijing since 2007.
The Beijing government has become much more proactive in security matters over the recent years.
The presence of security guards, police and military was noticeable in Beijing before and during the APEC. "Near to my house there is a little hutong [traditional alley] I always take as a shortcut home," Myers explains: "I walk there everyday. And one day over the past week there was suddenly a group of forty policemen standing in the road. I don't even know what they were doing there." In some parts of the city near the third ring road, people were told to stay clear of windows due to heightened security. "One of my friends received a message from her company kindly asking her not to lean out of the windows during these days. It said there were snipers working for national security and they would not want to mistake people leaning out of windows for their target." According to Myers, the Beijing government has become much more proactive in security matters over the recent years. They also sent out a message to people before Halloween, telling them not to dress up in costumes on the subway for security reasons. The APEC event and its safety measures displays how China is increasingly taking charge of security issues.
Most of the time we have no clue of what is really happening and the measurements that are taken.
Myers smilingly tells how some diplomats visiting Beijing over the previous week made remarks over the limited amount of cars on the streets, thinking that the city's roads were always this quiet. In fact, it is a far cry from the hectic traffic on average Beijing days; the government took half of all cars off local roads to avoid smog and jammed traffic. The countermeasure had its upside, says Myers: "Everybody said you would never be able to get a taxi during the APEC. But because the roads were clear, people got to their destination more quickly and efficiently. It was actually much easier for me to get taxi's than normally. And I did not end up getting stuck in traffic." Taking the subway was a different story. Due to the limited amount of cars allowed on the streets, the subway traffic became extra heavy: "It was extraordinarily crowded. One passenger was actually crushed to death the weekend before the summit when she became stuck between the subway doors."
"I thought there was thunder on the night Obama arrived," Myers says: "I later found out it was actually fireworks. I never really know these things because I do not spend a lot of time online. But honestly, I think those of us living in Beijing never know what is going on during these events. Most of the time we have no clue of what is really happening and the measurements that are taken. I don't think anybody knows. Not even the international media."
Feature image from Radio Free Asia, 2014 (http://www.rfa.org/english/news/china/shutters-11042014141641.html).
Appreciate this article and want to help us pay for the upkeep costs of What's on Weibo or donate a cup of (green) tea? You can do so here!
[box type="bio"]
About the Author: Manya Koetse is the editor of What's on Weibo. She's a Sinologist who splits her time between the Netherlands and China. She earned her bachelor's degrees in Literary Studies, Japanese & China Studies and completed her MPhil in Asian Studies. Contact: manya@whatsonweibo.com, or follow on Twitter.[/box]
©2014 Whatsonweibo. All rights reserved. Do not reproduce without permission – you can contact us at info@whatsonweibo.com.
Key Players, Digital Trends & Deep Dives: China Internet Report 2021
SCMP just launched its latest China Internet Report. (And What's on Weibo readers can get a 30% discount on the Pro Edition!)
As China's tech sector has been facing an ongoing crackdown by Beijing regulations, a lot has been changing in the country's digital environment over the past year. The new China Internet Report 2021 by SCMP gives an overview of the latest trends and developments.
When it comes to China's online landscape, nothing ever stays the same. Over the past year, political, economic, and social developments and measures have once again changed the Chinese digital environment.
Giving a comprehensive overview of the key leaders and major trends dominating the Chinese online field, South China Morning Post (SCMP) issued its fourth annual China Internet Report.
China's internet population has now risen to 989 million – last year's report indicated an internet population of 904 million. By now, there are 853 million mobile payment users, which indicates that over 86% of the entire mobile internet population uses mobile as a way to pay.
As China's internet population is still growing, and new online startups are still popping up every day, there have been tightening regulations on multiple fronts.
As laid out in SCMP's report, regulations mainly focus on the four areas of antitrust, finance, cybersecurity, and data privacy. Regulatory actions targeting the monopolistic behaviours of China's biggest internet companies are still ongoing, and the new Data Security Law came into effect on September 1st of this year.
While Chinese tech companies are seeing increased scrutiny at home, they have also been facing intensifying geopolitical tensions between China and other countries. Over the past year, the various probes and shutdowns into Chinese companies by countries such as the US and India have meant a serious blow to the market share of Chinese apps.
Meanwhile, the SCMP report highlights the trend of various older and newer Chinese (e-commerce) apps "downplaying" their Chinese origins when entering foreign markets. Shein is a good example of this development, but other players including Zaful, Urbanic, and Cider are also experiencing more success outside of China while not explicitly marketing themselves as Chinese e-commerce apps.
Another noteworthy trend explained in the new report is how China's shifting demographics are creating new niche segments to compete over. The COVID-19 crisis is partially a reason why China has seen an increase in senior internet users, with an increasing number of online products and content catering to the elderly.
China's Ministry of Industry and Information Technology (MIIT) even issued special guidelines earlier this year for web pages and mobile apps to carry out so-called "elderly friendliness modifications." Since this user group is still expected to see significant growth, the "silver economy" is an area that will only become more important in the years to come.
To check out all the main trends for 2021, China's latest internet statistics, its top tech competitors, internet companies, and more, here's a link to the free report.
The free report is 55 pages long and gives an overview of China's latest internet numbers and players, covers the top cross-sector trends for 2021, including the tightening regulations and the bumpy road ahead for China's tech IPOs.
The Pro Edition of China's Internet Report 2021, also launched by SCMP, is 138 pages long and provides a deep-dive into ten relevant sectors – featuring insightful and useful analysis, data, and case studies relating to China's e-commerce market, content & media, gaming, blockchain, fintech, online education, healthtech, smart cars, 5G, and Artificial Intelligence.
The China Internet Report Pro Edition is priced at US$400, but the team at SCMP has kindly reached out and made it possible for us to offer a special 30% discount to What's on Weibo readers.
You'll get the discount by using the discount code: WHATSONWEIBO30, or by clicking this link that will automatically include your discount code.
By Manya Koetse
Spotted a mistake or want to add something? Please let us know in comments below or email us. First-time commenters, please be patient – we will have to manually approve your comment before it appears.
©2021 Whatsonweibo. All rights reserved. Do not reproduce our content without permission – you can contact us at info@whatsonweibo.com.
Meet Sister Zhang and the Heilongjiang College Room Inspection Gang
The "six cadre members" of the dorm inspection team take college standards for cleanliness very seriously.
This scene featuring a room inspection team at a vocational college could be straight from a Tarantino movie – but these girls from Heilongjiang apparently just like to go about their duties in gang style.
A video showing the arrogant and authoritarian way in which a team of female students inspects the dorms at a vocational college in Heilongjiang, China, has gone viral on Chinese social media.
In the video, several girls wearing black suits can be seen stepping into one of the female students' dorms as 'the room inspection team' and announcing their arrival like army inspectors, giving a special mention to their leader Zhang.
"Clearly look at the faces of the six of us, we've come to inspect the beds," one of the young women says.
The team leader Zhang then brushes some of the other inspection members aside as she steps forwards and critically glances around the dorm room.
They then begin to give instructions to the female students in the room who stand by in their pajamas and humbly reply "OK," and "understood."
The snobbish room inspection 'tyrants' comment on the dust bins, the walls, telling the students they need to adhere to the "highest standards" of dorm cleanliness before exiting the dorm room again.
Some online commenters thought that all that was missing from the scene was a cigarette dangling from the team leader's mouth.
After the video leaked online on social media, as it was secretly recorded by one female students, it caused somewhat of a social media storm focused on the "six cadre members" of the dorm inspection team.
It did not take long before the first illustrations were created to ridicule the 'dorm sisters.'
One of the reasons the scene caused such a viral storm was because it perfectly illustrated the hierarchy within the dorm inspection team, with lady A first appearing, without much to say, and lady B being most familiar with all the guidelines relating to bed-checking, and 'Sister Zhang' having the final say in all of it, having the power to silence everyone else in the room.
After the video became a viral hit, the Heilongjiang Vocational College issued a statement saying that the video was actually recorded in October of last year and that the six student members involved have since been informed of all the criticism and corrected their behavior.
The video also led to some media articles diving deeper into the history of student unions in Chinese college campus life, with student-led organization becoming more professional and more rigorous throughout the decades; some even require written tests and interviews before fresh students are allowed to join.
Sometimes, students in certain leadership positions feel a sense of superiority and self-righteousness.
In this case, leader Zhang displayed the most extreme and dramatic 'bad boss behavior,' turning her into an overnight internet celebrity.
According to one entertainment blog (金牌娱乐) on Sohu.com, team leader Zhang Meiyu (张美玉) has temporarily left the campus and went home to escape all the attention.
Meanwhile, some hashtags related to the video (#黑龙江职业学院回应查寝视频#) have already received 150 million views on Weibo.
By Manya Koetse, with contributions by Miranda Barnes
Spotted a mistake or want to add something? Please let us know in comments below or email us. First-time commenters, please be patient – we will have to manually approve your comment before it appears.
©2021 Whatsonweibo. All rights reserved. Do not reproduce our content without permission – you can contact us at info@whatsonweibo.com.