What's Not on Weibo – The 2014 APEC in Beijing
In this new column, we highlight the offline effects of online topics on people's everyday life in China. This week: The 2014 APEC in Beijing. Interview with Ryan Myers: "Most of the time we have no clue of what is really happening and the measurements that are taken."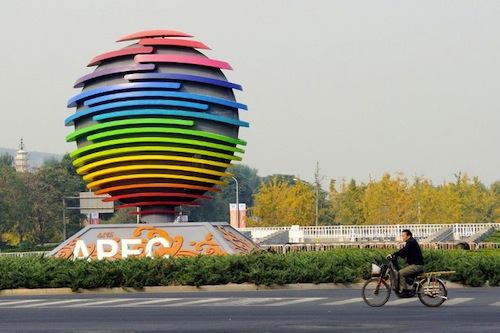 Over the past week, Weibo and Chinese media were overflowing with all news concerning the Nov 8-10 Asia-Pacific Economic Cooperation (APEC). Even stories that were not actually related to the contents of the summit, like Obama chewing gum or Putin handing a warm shawl to Mrs. Xi Jinping, became much discussed topics online. This year's theme of the APEC Economic Leaders' Meeting was "Shaping the Future through Asia-Pacific Partnership". The APEC leaders, including the presidents of China, America, Russia and South Korea, came together at Beijing's Yanqi Lake.
The event was also noticeable for those living in the center of Beijing who are not active on social media or news sites. "I surely noticed APEC was going on, both in the week preceding it as during the last week", says Ryan Myers: "I did not like it at all." Myers, a U.S. citizen who has been based in Beijing as a Chinese language specialist and teacher since 2007, lives in the center of the city's embassy district. He describes how the APEC influenced his daily surroundings over the past week: "There were actually very few people on the streets," Myers says: "A lot of my favorite restaurants were closed, so I had to eat at restaurants I normally would not eat at. On my way home from work, there was police and military everywhere. I had to wait for ten minutes at one intersection where the military police came through on motorcycles. I had actually never seen that before."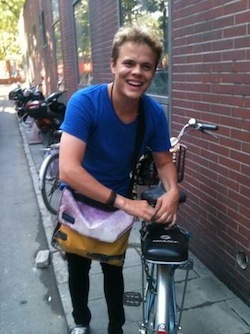 Ryan Myers, Chinese language specialist and teacher in Beijing since 2007.
The Beijing government has become much more proactive in security matters over the recent years.
The presence of security guards, police and military was noticeable in Beijing before and during the APEC. "Near to my house there is a little hutong [traditional alley] I always take as a shortcut home," Myers explains: "I walk there everyday. And one day over the past week there was suddenly a group of forty policemen standing in the road. I don't even know what they were doing there." In some parts of the city near the third ring road, people were told to stay clear of windows due to heightened security. "One of my friends received a message from her company kindly asking her not to lean out of the windows during these days. It said there were snipers working for national security and they would not want to mistake people leaning out of windows for their target." According to Myers, the Beijing government has become much more proactive in security matters over the recent years. They also sent out a message to people before Halloween, telling them not to dress up in costumes on the subway for security reasons. The APEC event and its safety measures displays how China is increasingly taking charge of security issues.
Most of the time we have no clue of what is really happening and the measurements that are taken.
Myers smilingly tells how some diplomats visiting Beijing over the previous week made remarks over the limited amount of cars on the streets, thinking that the city's roads were always this quiet. In fact, it is a far cry from the hectic traffic on average Beijing days; the government took half of all cars off local roads to avoid smog and jammed traffic. The countermeasure had its upside, says Myers: "Everybody said you would never be able to get a taxi during the APEC. But because the roads were clear, people got to their destination more quickly and efficiently. It was actually much easier for me to get taxi's than normally. And I did not end up getting stuck in traffic." Taking the subway was a different story. Due to the limited amount of cars allowed on the streets, the subway traffic became extra heavy: "It was extraordinarily crowded. One passenger was actually crushed to death the weekend before the summit when she became stuck between the subway doors."
"I thought there was thunder on the night Obama arrived," Myers says: "I later found out it was actually fireworks. I never really know these things because I do not spend a lot of time online. But honestly, I think those of us living in Beijing never know what is going on during these events. Most of the time we have no clue of what is really happening and the measurements that are taken. I don't think anybody knows. Not even the international media."
Feature image from Radio Free Asia, 2014 (http://www.rfa.org/english/news/china/shutters-11042014141641.html).
Appreciate this article and want to help us pay for the upkeep costs of What's on Weibo or donate a cup of (green) tea? You can do so here!
[box type="bio"]
About the Author: Manya Koetse is the editor of What's on Weibo. She's a Sinologist who splits her time between the Netherlands and China. She earned her bachelor's degrees in Literary Studies, Japanese & China Studies and completed her MPhil in Asian Studies. Contact: manya@whatsonweibo.com, or follow on Twitter.[/box]
©2014 Whatsonweibo. All rights reserved. Do not reproduce without permission – you can contact us at info@whatsonweibo.com.
Mourning Jiang Zemin, Weibo Turns Black and White
Since the rise of Chinese social media, Jiang Zemin became a recurring part of Chinese memes.
Following the announcement that Jiang Zemin (江泽民), the former president of the PRC, has passed away, various Chinese online platforms have turned into 'grey' mode as a sign of mourning. Jiang Zemin died due to leukemia and organ failure. He was 96 years old.
Besides Weibo, the home page of major Chinese websites such as Baidu, Sogou, Taobao, Alipay, Xinhua, People's Daily, The Paper, and many others all turned into black-and-white mourning mode on Wednesday.
On Weibo, one post about Jiang Zemin's passing received a staggering one million reposts and over two million 'likes.' The hashtag "Comrade Jiang Zemin Passed Away at the Age of 96 in Shanghai" (#江泽民同志在上海逝世享年96岁#) had received over 2,5 billion clicks by Wednesday night.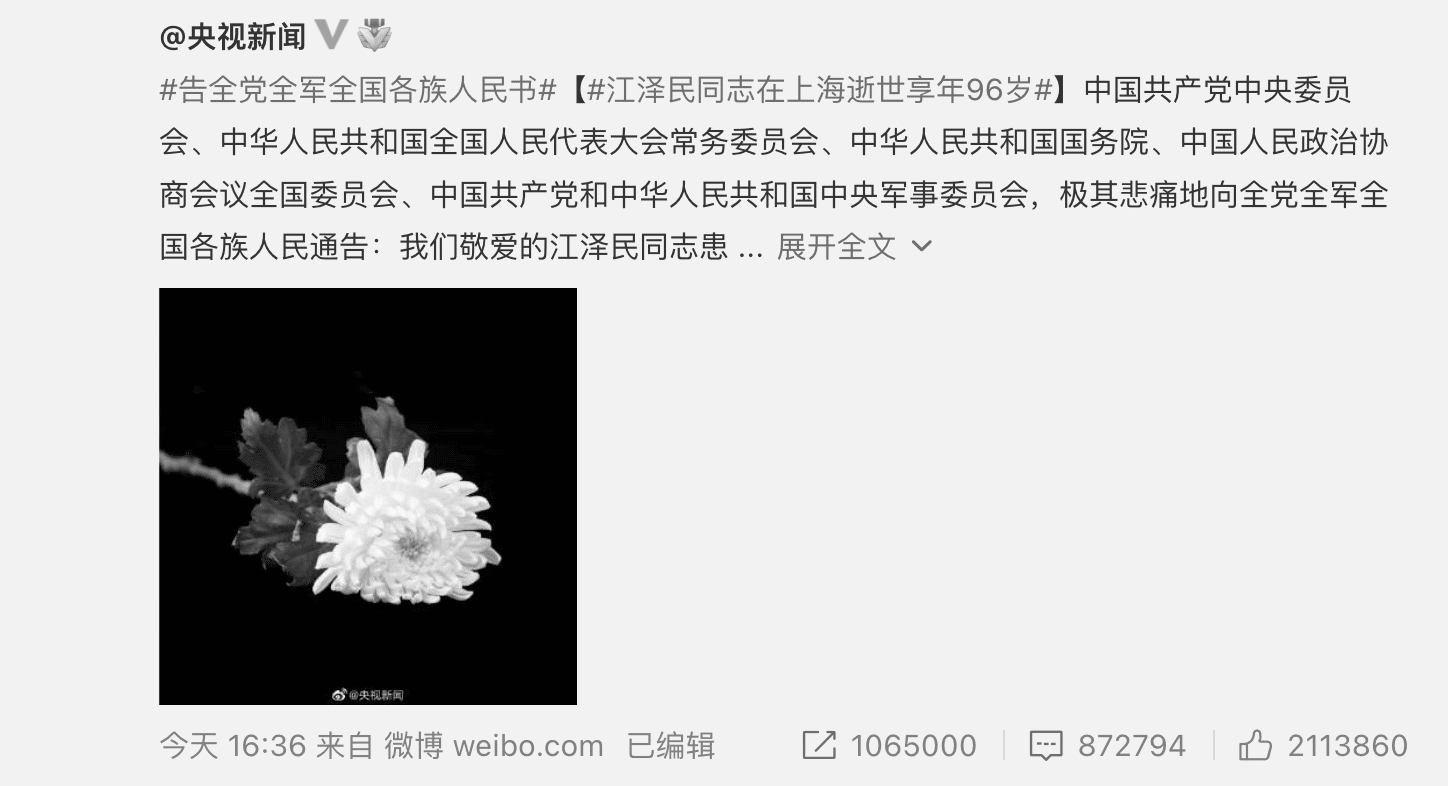 Jiang Zemin was appointed as President of the People's Republic of China in 1993. In the years before, the former Shanghai Party chief already held official positions as the chairman of the Central Military Affairs Commission and general secretary of the Party. In 2003, Jiang Zemin retired and was replaced by Hu Jintao (Sullivan 2012).
Since the rise of Chinese social media, Jiang became a recurring part of Chinese memes. Jiang had created a wide group of online fans, who are commonly referred to as 'toad worshippers' as the online phenomenon of 'worshipping' Jiang Zemin is called mo ha (膜蛤), 'toad worship' (Fang 2020, 38). The entire phenomenon has become its own subculture that is called 'mo ha culture' (móhá wénhuà, 膜蛤文化).
What started as a joke – nicknaming Jiang a 'toad' due to his big glasses, signature pants, and wide smile, – became an actual online movement of people who were appreciative of Jiang Zemin.
They loved him, not only because the former leader spoke many languages and other talents, and because of his unique appearance, but mainly because he was not scared to show his emotions, was very expressive, and good at telling stories.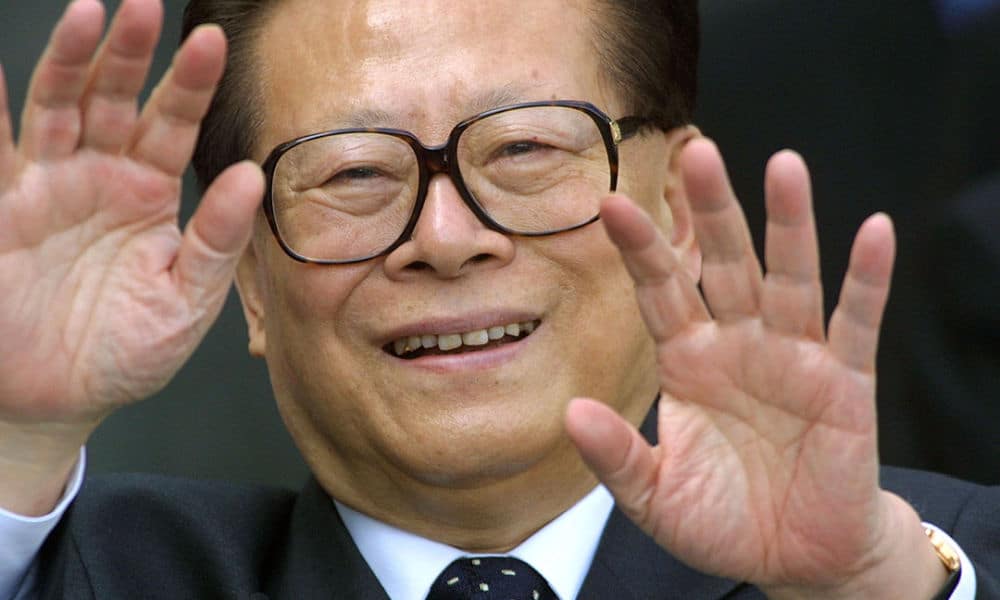 One famous example of this, is when Jiang Zemin got upset with a Hong Kong journalist in 2000 and told them off using three languages (link to video, also here). The much-repeated quote "too young, too simple, sometimes naive" comes from this noteworthy moment as Jiang told journalists that they still had a lot to learn, whereas he had gone through "hundred of battles," saying "I've seen it all." This also led to Jiang later being called 'the Elder' (长者) by netizens.
A famous moment when Jiang did not conceal his personal emotions and told off a HK journalist using three languages https://t.co/kX5Z3e0Goa

— Manya Koetse (@manyapan) November 30, 2022
Another popular Jiang Zemin video is when he met with American journalist Mike Wallace in August of 2000 in Beidaihe. During the interview, the two discussed sensitive topics including the Falun Gong and Tiananmen protests. The interview reportedly was one of the longest ever between an American journalist and a Chinese head of state (watch here).
When Jiang Zemin met Mike Wallace. The interview took place exactly 22 years ago today, August 15 2000, in Beidaihe. Here, Jiang expresses his best wishes to the American people, in English. See part of interview (better quality) here: https://t.co/8NwqYvbzkh pic.twitter.com/V3q3NbrOOJ

— Manya Koetse (@manyapan) August 15, 2022
A study by Kecheng Fang (2020) about 'China's toad worship culture' suggests that for many online fans of Jiang, the cult around him is apolitical, playful, and part of a shared digital cultural tradition.
For some, however, it does hold some political meaning to 'worship' Jiang, who only became a popular online meme around 2014, after Xi Jinping took power as a conservative strongman who is not as emotionally expressive. Fang describes how one meme creator said: "We couldn't express our criticism through normal channels, so we turned to other indrect ways, including lauding Jiang's personality and characteristics in various ways" (2020, 45).
Although Jiang became popular among younger Chinese on online platforms over the past decade, he was not necessarily that popular at the time of his leadership, and opinions vary on the legacy he leaves behind. Jiang continuously pushed for reform and opening-up after Deng Xiaoping's rule.
As summarized by Foreign Policy, Jiang oversaw two crucial transitions that shaped and improved the lives of the people of China: "First, he peacefully guided his country out of the shadow of China's founding revolutionaries, who had spent decades purging one another and at times caused great pain and sorrow for everyone else. Second, although hesitant at first, Jiang came to embrace the market economy."
As various places across China have seen unrest and protests over the past few days, the announcement of Jiang's death comes at a sensitive time.
Many on Chinese social media are burning virtual candles in memory of Jiang Zemin today. "I will fondly recall your style and manners," some say.
By Manya Koetse , with contributions by Miranda Barnes
If you appreciate what we do, please subscribe here or support us by donating.
References:
Fang, Kecheng. 2020. "Turning a communist party leader into an internet meme: the political and apolitical aspects of China's toad worship culture." Information, Communication & Society, 23 (1): 38-58.
Sullivan, Lawrence R. 2012. Historical Dictionary of the Chinese Communist Party. Lanham: The Scarecrow Press. See page: 3-43, 208.
Get the story behind the hashtag. Subscribe to What's on Weibo here to receive our newsletter and get access to our latest articles:
Spotted a mistake or want to add something? Please let us know in comments below or email us. First-time commenters, please be patient – we will have to manually approve your comment before it appears.
©2022 Whatsonweibo. All rights reserved. Do not reproduce our content without permission – you can contact us at info@whatsonweibo.com.
"Why Is It Always the BBC That Has Problems?" – Chinese Response to Arrest of Foreign Reporter
China's Ministry of Foreign Affairs blamed the BBC for distorting facts and painting China in a bad light.
Chinese media reports about the official response to the arrest of a UK reporter during protests in Shanghai has gone viral on Chinese social media, without explicitly mentioning the circumstances in which the incident occurred. Chinese netizens are now demanding videos to 'expose' how the situation unfolded.
News about the arrest of BBC journalist Edward Lawrence while covering the second night of protests in Shanghai on November 27 has not only made headlines in English-language media, it also became a trending topic on Chinese social media.
On Tuesday, China's Ministry of Foreign Affairs spokesperson Zhao Lijian (赵立坚) responded to the incident in a regular press conference. A day earlier, UK Prime Minister Rishi Sunak denounced the arrest of the BBC journalist as "shocking and unacceptable."
BBC Statement on Ed Lawrence pic.twitter.com/wedDetCtpF

— BBC News Press Team (@BBCNewsPR) November 27, 2022
But according to Zhao, the incident has been distorted by Western media to paint China in a bad light. The Chinese side claims that Lawrence refused to cooperate with the police and failed to show his credentials. "There are many foreign media in China, why is it always the BBC that has problems at the scene? This is a question that must be seriously considered."
Zhao's comments went viral on Weibo in two hashtags, namely "Zhao Lijian Presents the Truth about the BBC Reporter Who Was Taken Away" (#赵立坚介绍BBC记者被带离真相#), and "Why Is It Always BBC That Has Problems at the Scene?"(#为什么每次都是BBC在现场出问题#).
A translation of the full statement by Zhao was also posted on the official website of the Chinese Embassy in the UK. Part of the statement said:
"On the night of November 27, to maintain public order, local police in Shanghai asked people who had gathered at a crossroads to leave. One of  those at the scene is a resident journalist from the BBC. Though the  police made it clear to the journalist and others that they needed to leave, the journalist refused to go and in the entire time did not identify himself as a journalist. The police then took him away from the scene. After verifying his identity and informing him of pertinent laws  and regulations, the police let him leave. Everything was conducted within legal procedures. This BBC journalist refused to cooperate with the police's law enforcement efforts and then acted as if he were a victim. The BBC immediately twisted the story and massively propagated  the narrative that its journalist had been "arrested" and "beaten" by police while he was working, simply to try to paint China as the guilty party. This deliberate distortion of truth is all too familiar as part of the BBC's distasteful playbook."
On Weibo, the statement by Zhao, including video, was published by state media outlet Global Times (环球时报), which did not explicitly report that the incident happened during demonstrations in Shanghai. Instead, they reported about 'the scene' and that it allegedly happened "in the course of his work" "记者在工作中").
One top comment on Weibo said: "The BBC is always making up rumors, there are engaged in an anti-Chinese campaign. They should be punished." That comment received over 6700 likes.
"Are BBC reporters really reporting on the news, or are they making the news up?" another popular reply said.
The idea that Western mainstream media outlets are 'creative' in their reporting has been a long-standing one on Chinese social media. In a well-known example from 2017, social media users accused American broadcaster CNN of staging an anti-ISIS protest in London after a Twitter user uploaded a video that showed how police and TV producers directed a group of Muslim women to stand in line with their protest signs behind the TV anchor. The BBC was also widely criticized for using the allegedly "staged" CNN footage.
Although many netizens gave their thumbs up for Zhao's remarks about the arrest of Lawrence, there were also some who wanted to know more about the incident.
One popular comment said: "Was there just one BBC reporter at the scene? Why would take away a hard-working journalist? What was the BBC reporter recording? Were there also Chinese reporters? If so, can you give us the real recordings of what was happening at the scene?"
"Domestic reporters wouldn't dare to post it," someone replied: "The scene was too electrifying."
There were also those who made sarcastic comments relating to the 'outside force' narrative that became ubiquitous in China's online media sphere in response to the (censored) protests that have been taking place across China.
"Give us the irrefutable evidence to expose these 'outside forces,'" some said.
The idea that "outside forces" or "external forces" (外部势力) had something to do with the protests first started increasingly popping up in social media discussions on late Sunday night, and it was also raised in an online column by the political commentator Hu Xijin (read here).
Zhao Lijian also reiterated this idea in Monday's press conference in by talking about "forces with ulterior motives" who had connected the Urumqi fire, which initially triggered the unrest, with the local response to Covid-19.
"Thousands of people are protesting, they must all be foreigners. CNN and BBC are fully responsible. Except for us and North Korea, the whole world is watching these news channels. The entire world – except for us – is wrong," one commenter wrote.
Many commenters kept asking for video proof of the incident: "I demand you make the video public so we can all denounce them, we will resolutely denounce them" one person wrote, adding a melon-eating emoji (吃瓜 'eating melon' is frequently used as a humorous reference to standing by and watching the scene unfold).
"We firmly denounce disturbing editing, give us the original video!"
Despite the banter, there were also some more serious comments. One Weibo user wrote: "Foreign reporters often do not have good intentions, they are often distorting the facts, and I hate that. But domestic reporters do not dare to face the epidemic situation and only report on the good news."
"So who can actually give us the truth?" others wondered.
Read more about the "11.24" unrest or "white blank paper protests" in China here.
By Manya Koetse , with contributions by Miranda Barnes
If you appreciate what we do, please subscribe here or support us by donating.
Featured image via Zhejiang Daily.
Get the story behind the hashtag. Subscribe to What's on Weibo here to receive our newsletter and get access to our latest articles:
Spotted a mistake or want to add something? Please let us know in comments below or email us. First-time commenters, please be patient – we will have to manually approve your comment before it appears.
©2022 Whatsonweibo. All rights reserved. Do not reproduce our content without permission – you can contact us at info@whatsonweibo.com.