Liaoning's 'Prison' University
Trending on Sina Weibo this week was Liaoning's prison-like university of business & economics, where the rules are so strict that students feel they are actually living in a prison. Most students feel like a "free man" after starting university. At this Liaoning University, however, student life is not what you might expect.
Trending on Sina Weibo this week was the topic "Prison-like University" (#大学监狱式管理#), referring to a university in Liaoning where the rules are so strict that students feel they are actually living in a prison.
Most students feel like a "free man" after starting university. At Liaoning University of International Business and Economics (LUIBE), however, students feel anything but free. Over the past week, the strict rules of the university were exposed, triggering massive discussions on Internet. The stern campus rules led students to describe LUIBE as "a Nazi concentration camp rather than a university", where life conditions are "worse than any prison outside of China". Many of Sina's netizens express sympathy for the LUIBE students because they agree that some of the exposed house rules are "ridiculous".

A student's picture of some of the rules prescribed by the Liaoning university, including 'penalty points' for breaking them.
The rules, for example, state that students living on campus will be punished through "point deduction" if they do not make their bed, have an untidy bookshelf, or use a hair-dryer within their rooms. Since these points are linked to a student's education record, losing points can significantly affect their academic career. LUIBE students collectively voice that the university should improve the on-campus facilities to make everyone's life easier.
Not all rules are considered ridiculous by Weibo's netizens. Many agree that the use of personal cookers and heaters within one's dorm should indeed be prohibited, as these appliances often do not meet safety requirements. Also many agree that it is reasonable to prohibit students from smoking and drinking in their room. All in all, netizens say, it is not so much the rules but the attitude of the LUIBE management that is the university's main problem. Basically, there is a lack of trust between the students and the university. It is mentioned that LUIBE used to charge students' bank accounts without official notice or invoice, and refused to give details or provide a receipt. Under this circumstances, students become agitated –  both their academic and private lives are strictly controlled by rules that often do not make sense. Although the LIUBE website states that "campus life for our 10,000 students is enriched by diversified student activities," the majority of the students seem to feel deprived of the joys of student-life.
Liaoning University of International Business and Economics.
LIUBE is not the only Chinese university with a bad reputation. Check out our article on China's Worst Dormitories to know more.
.[box] This is Weiblog: the What's on Weibo short-blog section. Brief daily updates on our blog and what is currently trending on China's biggest social medium, Sina Weibo.[/box]
Calls for Action against School Violence in China after Group Attack on 12-Year-Old Girl Video Goes Viral
Another incident shows the gravity of China's school bullying problem.
First published
Footage showing a brutal beating of a 12-year-old girl in Yunnan has sparked anger on Chinese social media, leading to widespread calls to step up the fight against school violence in China.
A bystander video showing various boys beating up a girl in Chuxiong, Yunnan, has gone viral on Chinese social media.
The footage (link – viewer discretion advised) shows how at least three different young men kick and beat the girl while laughing, continuing their assault when she is laying on the ground.
One hashtag page relating to the topic received over 500 million views on Weibo today.
According to various Chinese media reports, the incident occurred on May 25 in Lufeng county, Chuxiong, Yunnan Province. Four boys from 14 to 15 years old attacked the 12-year-old girl after they had an argument at school. The beating took place right after schooltime at an off-campus location.
Since May 27, the video started circulated online through chat groups on Chinese messenger app WeChat before it went viral on Weibo.
Yunnan Police stated on social media that the boys' guardians have since apologized to the girl, who has now received medical care. The incident is still under investigation.
Thousands of Weibo commenters have responded to the incident with anger and disbelief. "What's wrong with these boys?! How could they beat a young girl with so many of them?!", a typical comment said.
Many Chinese netizens place the video in a larger framework, expressing outrage over the continuing problem of "campus violence" (校园暴力) in China.
"Stand up against campus violence!", many say: "When will this finally stop?"
An epidemic of school violence
China has been dealing with an epidemic of school violence for years, with so-called 'campus violence videos' (校园暴力视频) being a concerning trend on Chinese social media.
Several factors may explain the emergence of extreme bullying or 'campus violence' (校园暴力) in China over the past years, including peer pressure, broken families, feelings of insecurity and increased time spent online.
In 2016, Chinese netizens already urged authorities to address the problem of bullying in schools. In previous years, the prevention and punishment of this kind of violence have increasingly become a topic of focus for the Chinese government and state media.
Netizens are mainly outraged over the continuing trend of campus violence and the extreme bullying videos for both legal and cultural reasons.
Legally, perpetrators often barely face legal consequences for their actions. Although schools will generally punish perpetrators and make them apologize, minors under the age of 16 rarely face criminal punishment for their actions.
Culturally, school bullying is often not seen as a serious one, with parents downplaying violent incidents as 'small fights' between kids.
With the Yunnan incident being yet another among so many over the past years, many netizens are calling for urgent action and warn that young people who display such violent behavior now, will continue to do so as adults.
"When can campus violence finally end," one Weibo commenter (@草莓配糖) writes: "They are just using their status as minors as a protective umbrella."
It is not yet known if the boys involved in this incident will face legal punishments. It would not be the first time for underage perpetrators in campus violence incidents to be sentenced.
In 2017, a Beijing court sentenced a group of 'school bullies' to prison for assaulting classmates and posting a video of their abuse online. In November of 2016, three female students were also sentenced six to eight months in prison for assaulting classmates and uploading a video of it on the internet.
Read more on school bullying and campus violence in China here:
By Manya Koetse
Follow @WhatsOnWeibo
Spotted a mistake or want to add something? Please let us know in comments below or email us. First-time commenters, please be patient – we will have to manually approve your comment before it appears.
©2020 Whatsonweibo. All rights reserved. Do not reproduce our content without permission – you can contact us at info@whatsonweibo.com.
'Two Sessions' Proposed Ban on Single Women Freezing Their Eggs
Weibo talks egg freezing.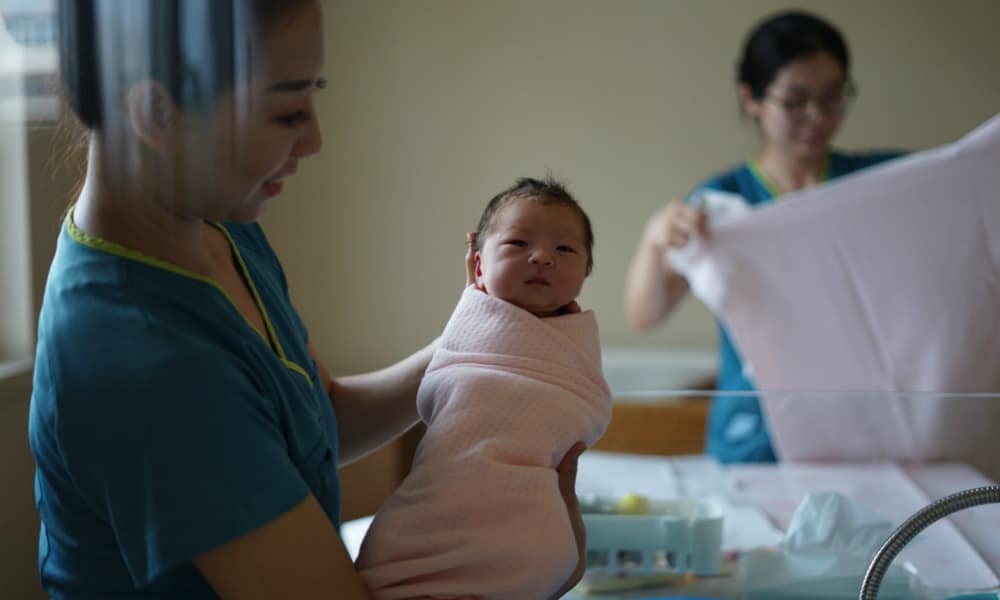 It was the number one trending topic of the day on Weibo earlier this week: the proposal to make it illegal for hospitals and clinics in China to provide the service of freezing eggs to unmarried women.
Chinese physician Sun Wei (孙伟), National People's Congress delegate, is the person to raise the issue of no longer allowing medical facilities in China to freeze eggs. She is the director of the Reproductive Medicine Unit at the No.2 Affiliated Hospital of Shandong University of Traditional Chinese Medicine.
Sun Wei submitted the proposal during the Two Sessions (lianghui), China's largest annual legislative meetings, in order to encourage Chinese citizens to "marry and reproduce at the appropriate age." Sun also mentions potential health risks as a reason to ban egg freezing services.
On Weibo, one news post reporting on the issue received nearly 835,000 likes. The hashtag "Proposal to Prohibit Single Women From Freezing Their Eggs" (#建议禁止单身女性冷冻卵子#) received over 710 million views.
The proposal goes against the proposition of a National Committee member during the lianghui, that of Peng Jing (彭静), that supports single women's rights in freezing their eggs.
It also comes after the 31-year-old Teresa Xu (Xu Zaozao) filed a lawsuit against a Beijing medical facility in December of 2019 for refusing her the treatment of freezing her eggs, arguing it was effectively discriminating against single women. In doing so, Xu challenged China's regulations on human assisted reproduction, which bar single women from getting the procedure.
Artificial insemination itself is not illegal in China when it is done by a married couple; it is only against the law when done by those who are not lawfully married.
It is not the first time the discussion on egg freezing erupts on Chinese social media. In 2015, Chinese actress and director Xu Jinglei (徐静蕾) stated in an interview that she had nine eggs frozen in the United States at the age of 39, calling them her "back-up plan."
Xu's statement made artificial insemination an issue of public interest, especially because unmarried women in China cannot carry out this procedure.
Although single women in China technically could have their eggs frozen – if they have the financial capacity to do so – they would not be able to have them inseminated unless they provide three certificates: their identification card, their marriage certificate, and their 'zhunshengzheng' (准生证 ) – the 'Permission to give Birth', which would not be issued without the marriage certificate. In short: single women would not be able to have a baby through artificial insemination, because they would not be able to get the required legal papers to go through with the procedure.
At the time of the 2015 discussion, the famous Chinese blogger and writer Han Han (韩寒) shared his thoughts on the issue: "Why can't women decide for themselves whether or not they want to have children? And what if an unmarried woman does get pregnant, and they don't get a 'Permission to give Birth'? Then the child cannot even get a residence registration."
"Why should having a baby be bound together with marriage? Even I, a simple straight guy, cannot see the logic in this," Han Han wrote.
In the discussions that are going around Chinese social media this week, there are many netizens that take a similar stance as Han Han did, arguing that single women should have the right to freeze their eggs, and wondering why they would not be allowed to do so in the first place.
Various Weibo commenters write that individuals should have the right to make their own decisions about whether or not they would like to have children. One Weibo thread where people are asked about their opinion on the matter, the majority of the 16,000+ responses say they support single women being able to freeze their eggs.
However, there are also some web users opposing this idea, arguing that it is "not morally right" and does not provide a "normal family environment" to children.
Whether Sun Wei's proposal will lead to actual changes in the law is yet to be seen, although it would virtually not alter the current situation regarding egg freezing in China. It already is virtually impossible for unmarried women to freeze their eggs as a "back up plan" and it would just make the impossible even more impossible.
By Manya Koetse
With contributions from Jialing Xie
Follow @WhatsOnWeibo
Featured image Photo by 东旭王
Spotted a mistake or want to add something? Please let us know in comments below or email us. First-time commenters, please be patient – we will have to manually approve your comment before it appears.
©2020 Whatsonweibo. All rights reserved. Do not reproduce our content without permission – you can contact us at info@whatsonweibo.com.