Story of 7-Year-Old Delivery Boy Raises Awareness for China's Uneducated Migrant Children
After a young boy from Yunnan went viral on Chinese social media earlier this week for his "icy looks" after walking 4.5 kilometers to school in the freezing cold while his parents are out working in the city, the story of another young Chinese migrant child is now making its rounds on Weibo.
This time it concerns the 7-year-old boy named Chang Jiang (长江) who works as a 'kuaidi' (快递) express delivery boy in a district of Qingdao city.
Chinese media outlet Pear Video (@梨视频) reports that the boy's father has passed away due to illness and that his mother has been remarried, and has since been out of touch with her son.
The boy is now living with his father's former colleague, his "uncle," whom he started helping in his daily work as a kuaidi. After a while, Chang Jiang got so experienced in delivering packages that he is now doing the work by himself.
The boy is delivering around 30 packages a day in Qingdao's Shibei district and has become somewhat of a local celebrity. Chang Jiang told reporters that he was happy doing his job and still wants to be a delivery man when he grows up.
Since a video on Chang Jiang's story has gained wide attention in the Chinese media, local authorities stated that they would look into how to get Chang Jiang to go to school, and that they are helping the boy to get back in touch with his mother. The boy has a rural 'hukou' (household registration) and has no access to public education in Qingdao.
"First the ice boy, now the kuaidi boy," a typical comment on Weibo said: "How many of these children are out there?"
Although a nine-year education is compulsory in China, children with a rural hukou (registration) have restricted access to public schools and social services in urban areas; this means that many children of migrant workers in the cities receive no formal education.
It also is one of the reasons why some parents leave their children behind in their hometowns to be looked after by grandparents or elder siblings when they go out to work in urban areas.
According to the latest reports, Chang's mother has not been found yet. One school in Qingdao, however, has offered to take Chang in as a student.
On Weibo, many people speak out in support for Chang Jiang and his 'uncle,'; they also condemn the boy's mother: "The mother does not take any responsibility – what a poor kid! I just hope a bright future awaits him."
By Manya Koetse
Follow @whatsonweibo
Spotted a mistake or want to add something? Please let us know in comments below or email us.
©2018 Whatsonweibo. All rights reserved. Do not reproduce our content without permission – you can contact us at info@whatsonweibo.com.
Rocking it for a Decade, Beijing Band Namo Catches the Spirit of Their Generation
Beijing band Namo, that brings a fresh sound by mixing rock with Chinese traditional music influences, is celebrating its ten-year anniversary this year.
Mixing traditional Chinese music with Western rock influences, Beijing-based band NAMO is one of Beijing's new generation's go-to bands. This fall, the band celebrates its ten-year anniversary with a new tour all across China. A short introduction (video here!) to Namo and its style by What's on Weibo.
Although the Beijing-based ban Namo (Nanwu 南无乐队) has been already rocking it for over a decade, their star has especially been on the rise recently, with their upcoming anniversary tour, titled 'Ruyi' (如一) bringing them to concert halls all across China.
The start of 'Namo' – a term from Buddishm showing reverence and devotion – takes us back to late 2007, when lead singer Liu Xiangsong (刘相松, 1984), who was born and raised in Shandong, had come to Beijing and founded the band after graduating from the Sichuan Music Academy.
Liu's education has had a profound impact on the band, with his focus on guitar performance, classical guitar, and Chinese opera. Liu also has a strong interest in Chinese traditional culture and Buddhism, which clearly shines through in Namo.
Through the years, the band has seen some shifts in its line-up and now is a perfect coming-together of six people with their own strengths and backgrounds.
Besides Liu, the band consists of Zhang Lan (also known as Lanzi 张岚) on guitar and keys, Chen Ying (陈颖) on flute, percussion by Zhang Shuo (张硕), Daniel (丹尼奥) on bass, and drums by Shenzi Jun (申子俊) (主唱:刘相松/吉他手:张岚/笛子:陈颖/贝斯:丹尼奥/鼓手:申子俊/民打:张硕).
A little over two years after the band first came together, they were the first music group to perform at the Famen Temple (法门寺), one of China's most prestigious pagoda temples, to open for renowned Chinese pop star Faye Wong. Shortly after, they became the first Chinese band ever to play at Japan's Summer Sonic in 2011.
Namo won the "Best Newcomer Award" at Midi 2010. Since then, the band signed with the SX Music (视袭音乐) label, and have made quite a name for themselves, performing at music festivals across China, Japan, and Korea.
In 2014, Namo was invited to perform for the CCTV Spring Gala, where they played their song 'Spring is Here' (春来了).
In the first season of Chinese reality TV show 'Sing My Song' (中国好歌曲), in 2014, Liu Xiangsong also performed the same song on stage (see video below), which then gained in popularity.
Their music is inspired by Chinese music, but also uses influences from Western music styles, resulting in an original style that is both charming and humorous at times.
At Beehype, William Griffith describes the band as follows: "Combining Chinese culture obsessed, 80s nostalgic, vigorous lyric-based melodies, and crosstalk rock, a traditional Chinese comedic performance style, the band is a creation of their generation of youth."
Namo is a representation of the Chinese post-80s generation (bālínghòu 八零后) in multiple ways. Their songs reflect on the urban stories of China's modern-day society and the lives of young Chinese, and the overall style of the band also corresponds with what characterizes China's post-80s; they are formed by traditional Chinese culture, but also grew up in a China that was quickly modernizing, transforming, and impacted by Western influences. Noteworthy is that Namo's band members come from all across China.
Social Media & Online Channels
Recently, Namo and its band members have been growing more popular on Chinese social media. Their official Weibo account @南无乐队微博 has over 48,500 fans, but the individual members also have quite a following.
* Lead singer Liu Xiangsong currently has approximately 74,000 fans on his Weibo account: @南无刘相松.
* Band member Lanzi: @南无岚子 (48,400 fans).
* Namo's Chen Ying: @陈颖小卡 (30,100 fans)
* Shenzi Jun: @申子俊 (10,150)
* Zhang Shuo: @南无张叫母 (4270 fans)
* Daniel: @丹尼奥帅牛哈哈 (2000 fans)
Listen to Namo on Xiami here.
On Douban here.
QQ channel here.
Tour Dates
Although the band has already been touring over the past year, they will still perform in many Chinese cities for the weeks to come. For those interested, we've listed the tour dates with links to further information on venues, times, and tickets.
November 9: Xi'an
November 10: Chengdu
November 11: Chongqing
November 14: Nanning
November 16: Guangzhou
November 17: Shenzhen
November 18: Xiamen
November 21: Wenzhou
November 23: Shanghai
November 24: Nanning
November 25: Wuhan
Don't forget to check out What's on Weibo's latest video on Namo here.
Interested to read more? You might be interested in the following:
* Rock Hotpot: Why Chinese Celebrities are Opening Up their Own Hotpot Places
* The Early Days of Rock in China – Interview with Sinologist & Hardrocker Jeroen den Hengst: From copied tapes to a unique rock scene – Jeroen den Hengst was part of the Beijing rock scene when it first awakened.
By Manya Koetse
Follow @whatsonweibo
Directly support Manya Koetse. By supporting this author you make future articles possible and help the maintenance and independence of this site. Donate directly through Paypal here. Also check out the What's on Weibo donations page for donations through creditcard & WeChat and for more information.
Spotted a mistake or want to add something? Please let us know in comments below or email us.
©2018 Whatsonweibo. All rights reserved. Do not reproduce our content without permission – you can contact us at info@whatsonweibo.com.
How China's New Anti-Crime Policy Made a Hunt for Two Jailbreak Fugitives Go Viral
The CPC actively involves and rewards citizens in their new policy on combatting crimes.
In early October of 2018, a major manhunt on two jailbreak fugitives from a Liaoning prison dominated the news for days and caused a sensation on the Chinese internet. With the 100,000 yuan (US$14,500) reward notice going viral, it marked the first grand online exposure of the Chinese government's policy to involve its citizens in combatting crime actively, but many netizens question how safe it is for citizens to meddle in criminal affairs.
News about a prison escape of two convicted criminals captured the attention of netizens for days in the first week of October, with the fugitives' background information, the thrilling chase, and the 100,000 yuan (US$14,500) reward notice all turning out to be the perfect ingredients to keep people hooked on the story, that also happened to occur during the National Day holiday.
The incident was extra special because it was the first major case in which the Chinese government's 'new' method on battling crime by actively involving the public, received massive attention.
Timeline of the Chase
* Thursday, October 4th, morning:
News comes out that two prisoners have managed to escape from Lingyuan Third Prison in Liaoning province. According to the Beijing Youth Daily, the two criminals stole prison guards' uniforms and used the attached security cards to get out of the building.
The fugitives, two men by the names of Zhang Guilin (33, 张贵林) and Wang Lei (39, 王磊), were both sentenced to life imprisonment for, respectively, armed robbery and the involvement in kidnapping and murder of an 11-year-old child. Zhang, also nicknamed "Flying Zhang," gained a reputation for previous prison escapes in 2011 and 2012; the October jailbreak marks his third successful prison escape.
*October 4th, morning:
Soon after the criminals escaped from prison, the Lingyuan Municipal Public Security Bureau issues a notice sharing the identity of the fugitives, asking the public to provide clues about their whereabouts. They also announce the clue leading to their arrest will be rewarded with a staggering US$14,500.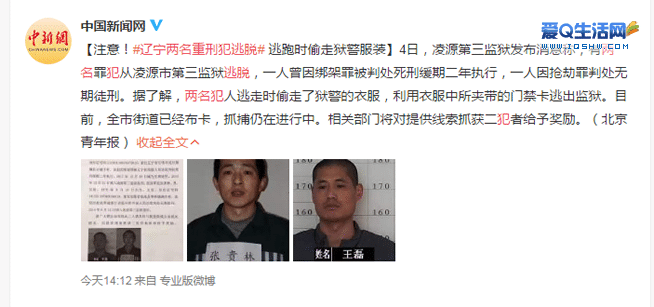 The news quickly spreads on Chinese social media, and within no time, the hashtag "Two heavy criminals escaped from prison" #两名重刑犯逃脱# goes viral and receives 170 million views.
*October 4th, 11 am:
The first tip-off: Beijing News publishes crucial surveillance camera footage that was given to police by a small shop in Songzhangzi, only 20 kilometers away from Lingyuan Third prison. It shows the two fugitives buying some food, beverages, and cigarettes, just hours after their escape from prison.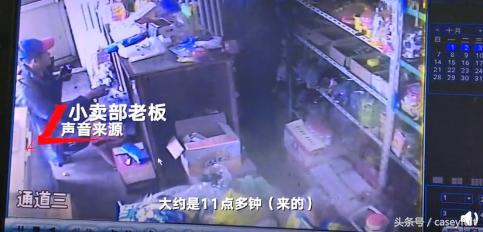 *October 4th, 5 pm:
Wang is spotted at another shop in a village in Pingquan County, in neighboring Hebei province, where he stays for about 10 minutes to buy liquor, beer, mineral water, and sausages.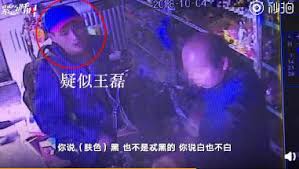 Police rush to the kiosk shortly after. According to China Daily, about 800 police quickly arrive and nearly 1,000 villagers assist in the manhunt, searching the area from north to south.
*Friday, October 5th:
On the second day of the nationwide manhunt, a fatal crash occurs with a police car involved in the chase for the fugitives. The police car, with four police officers from the Hebei Police Department, was on its way to catch the breakers when it crashed into a tree. Two police officers did not survive the crash.
On Friday night, 430 officers are dispatched to Pingquan, along with 100 prison guards.
*Saturday afternoon, October 6th:
Within 50 hours of their escape, Wang and Zhang are captured. Police in the Hebei city of Chengde dispatch drones to scour the area and spot the convicts in the village of Taitoushan.
According to news reports, Zhang is arrested when he stops to ask a villager for directions. His fellow escapee is caught 20 minutes later.
The hashtags "Two escaped criminals from Liaoning are caught" #逃犯落网视频曝光# and "Video showing arrested fugitives" 逃犯落网视频曝光 are viewed millions of times.
Authorities in Liaoning launch an investigation, and the warden of Lingyuan Prison is dismissed from his position.
"Public Reporting on Crime"
The Lingyuan jailbreak fugitive case is the first example of a reward notice going viral since the PRC government launched a new trial policy in combatting corruption and other illegal practices earlier in 2018.
The 'new' policy is called "Public Reporting on Crime" (群众举报黑恶势力违法犯罪), and aims at actively involving and rewarding citizens in providing information about the whereabouts of criminals.
The policy was featured in various media reports in summer of 2018, as a method introduced by the State Council of the People's Republic of China, the Supreme's People's Court, Ministry of Public Security, and the Ministry of Justice.
The policy defines 11 categories in which citizens can report illegal practices, including the misuse of (political) power, illegal gambling practices, fraud in various industry sectors, and extortion.
The official document in which the role of the public in the combat of illegal activities was especially stressed, was already issued by authorities in February of 2018 ("关于依法严厉打击黑恶势力违法犯罪的通告", see Pkulaw.cn).
Amongst the first provinces to experiment with the police are, among others, Henan province, Hainan, and Liaoning province, where the method seems fruitful. In August, the Hainan Police department issued a notice asking for the public's help in finding 17 fugitives. Attached to the notice where their names, addresses, and photographs. Within two days, 11 of these 17 fugitives were caught by the police.
In Liaoning province, the police started a campaign providing digital and non-digital information about the new policy and the criminals they were looking for. According to local media, they soon received 300 clues and 158 fugitives who turned themselves in.
Possibly as a result of the first successes of the trial policy, the Ministry of Public Security of the People's Republic of China, wrote an extension on the policy concerning drugs. On the official website of the Ministry, they published a list of rewards for providing information about 'drugs practices'. On the list, it says precisely what people can earn for providing clues about several kinds of drugs, where clues relating to soft drugs such as marihuana will receive a lower reward than those relating to hard drugs such as heroin.
State media have been actively propagating the measure in 2018, also reporting on occasions where people are rewarded for giving clues to the police. To protect their identity, these people will commonly wear masks – sometimes even cute panda ones.
Scepticism on Safety
Wearing panda masks or not, there is ample skepticism online on whether or not providing information to the police is a dangerous move for those involved.
In the case of the Liaoning fugitives, many worried about the identity of the shopkeepers who provided the police with clues and security footage after the fugitives had visited their shops.
After the first sighting of the two criminals in the small store in Songzhangzi, Chinese media reported details on the shop and its owner, which led to much criticism on Weibo. Some commenters wrote: "You brain-dead media, how can you bring out information like this, and who is going to take responsibility when people retaliate against this man?"
Many others expressed their worries, saying: "Isn't is dangerous to expose the boss [of the shop] like this?", and "Please do protect this shop owner, thank you!"
Other netizens wrote: "After seeing this news, I know for sure, I will never report on crimes. It's too dangerous, I don't want to die."
The public reporting policy states that the personal safety and confidentiality of 'whistleblowers' is guaranteed and that those who turn against these people will be punished severely. According to a post on Weibo by Beijing News, the small shopkeeper in question also received 24-hour police protection in front of his shop.
Concerning the case of the two escaped prisoners, so far, it is not yet clear if the main reward has been given out to citizens for giving the main clue that led to their recapture.
What does seem evident in this case, is that people, despite some worries about their safety, are more than willing to report illegal practices to the police when they know there might be a big reward waiting for them.
By Gabi Verberg and Manya Koetse
Follow @whatsonweibo
Spotted a mistake or want to add something? Please let us know in comments below or email us.
©2018 Whatsonweibo. All rights reserved. Do not reproduce our content without permission – you can contact us at info@whatsonweibo.com.