Story of 7-Year-Old Delivery Boy Raises Awareness for China's Uneducated Migrant Children
After a young boy from Yunnan went viral on Chinese social media earlier this week for his "icy looks" after walking 4.5 kilometers to school in the freezing cold while his parents are out working in the city, the story of another young Chinese migrant child is now making its rounds on Weibo.
This time it concerns the 7-year-old boy named Chang Jiang (长江) who works as a 'kuaidi' (快递) express delivery boy in a district of Qingdao city.
Chinese media outlet Pear Video (@梨视频) reports that the boy's father has passed away due to illness and that his mother has been remarried, and has since been out of touch with her son.
The boy is now living with his father's former colleague, his "uncle," whom he started helping in his daily work as a kuaidi. After a while, Chang Jiang got so experienced in delivering packages that he is now doing the work by himself.
The boy is delivering around 30 packages a day in Qingdao's Shibei district and has become somewhat of a local celebrity. Chang Jiang told reporters that he was happy doing his job and still wants to be a delivery man when he grows up.
Since a video on Chang Jiang's story has gained wide attention in the Chinese media, local authorities stated that they would look into how to get Chang Jiang to go to school, and that they are helping the boy to get back in touch with his mother. The boy has a rural 'hukou' (household registration) and has no access to public education in Qingdao.
"First the ice boy, now the kuaidi boy," a typical comment on Weibo said: "How many of these children are out there?"
Although a nine-year education is compulsory in China, children with a rural hukou (registration) have restricted access to public schools and social services in urban areas; this means that many children of migrant workers in the cities receive no formal education.
It also is one of the reasons why some parents leave their children behind in their hometowns to be looked after by grandparents or elder siblings when they go out to work in urban areas.
According to the latest reports, Chang's mother has not been found yet. One school in Qingdao, however, has offered to take Chang in as a student.
On Weibo, many people speak out in support for Chang Jiang and his 'uncle,'; they also condemn the boy's mother: "The mother does not take any responsibility – what a poor kid! I just hope a bright future awaits him."
By Manya Koetse
Follow @whatsonweibo
Spotted a mistake or want to add something? Please let us know in comments below or email us.
©2018 Whatsonweibo. All rights reserved. Do not reproduce our content without permission – you can contact us at info@whatsonweibo.com.
Ai Fukuhara's Rumored Divorce: Weibo Users Show Support to 'China's Most Favorite Japanese Girl'
Weibo's love for Ai Fukuhara is strong. "How could anyone make Little Ai sad?"
When the Japanese table tennis star Ai Fukuhara (福原爱) was tying the knot back in 2016, all of Weibo wanted to know how the marriage to Taiwanese table tennis player Chiang Hung-Chieh (江宏傑), a fellow Olympian, would work out. Now that rumors of Fukuhara getting divorced have begun to appear on Chinese social media, the popular Japanese athlete is once again the topic of the day.
The rumor of Fukuhara's divorce went trending on Weibo after two reports about her were published on the same day. On March 3, Japanese site News Post Seven reported that Ai Fukuhara and an unnamed man stayed overnight in a hotel in Japan's Yokohama City, hinting that she was having an affair.
Following this report, Shukan Bunshun, another Japanese media site, published a report with sources saying that Ai Fukuhara has made up her mind to get a divorce as she has allegedly is suffering from verbal abuse by her husband, Chiang Hung-Chieh.
Ai Fukuhara then responded to the report of News Post Seven, admitting that she had a 'meeting' with "one of her supportive friends", but she emphasized that the two were staying overnight in different rooms. When asked if the separation from her husband is a result of verbal abuse, she did not respond to the question, but she did say that a potential divorce is a decision that needs to be taken as a couple.
After Shukan Bunshun's article spread online, many Weibo users in China expressed their sympathy and support for Fukuhara, whom they had seen growing up since she was a young girl. Fukuhara began playing table tennis at the age of 3, and started her professional career at the age of 10.
One of the reasons why the Japanese Ai Fukuhara is so popular in China is her fluent Chinese. She was trained in the north-eastern part of China since she was a teenager and acquired the local accent. Fukuhara is often called 'Ai Jiang' by Chinese fans, which equals the Japanese endearing 'Ai Chan' ("Little Ai"). Fukuhara is also active on Weibo (@福原愛AiFukuhara), where she has over 5,1 million fans.
"Ai Fukuhara is always right no matter what she has done"
On Weibo, the hashtag "[People on] My Timeline Have All Agreed on One Thing" (#首页都在一件事上达成了一致#) went to the top search lists after a user published a post saying:
"People I follow have been fighting against each other on various topics every day, but today, whether it is a woman or a man, a sweet Douhua supporter or a salty Douhua supporter, a left-winger or a right-winger, a liberal, a conservative or a centrist, all have reached an agreement on one thing – that Ai Fukuhara is always right no matter what she has done."
In the comment area of this post, a comment that received the most likes also expressed full support for her: "Even if Ai Jiang (爱酱) is having an affair, it must be because her husband has done something bad to her."
More support for Fukuhara was flooding in under a hashtag "How Could Anyone Make Ai Jiang Sad"(#怎么会有人舍得让爱酱难过#). Weibo users shared various videos of Ai Fukuhara, including documentary videos about her life-long table tennis career and her interviews on variety shows in China and Japan.
While praising her for her cuteness and hard work, Weibo users also expressed their dissatisfaction with her husband because of Shukan Bunshun's report. The hashtag has received more than 220 million views so far.
Late on March 4, Ai Fukuhara issued a hand-written statement to address the ongoing rumors about her alleged affair. In the letter, Fukuhara apologizes for "the concerns and troubles brought about" by her own "reckless behavior."
Fukuhara also clarified her overnight stay with a male friend, saying it was a respected friend who helped her in starting a company. The two had indeed taken a break from work to relax, Fukuhara emphasized that they did not share a room. She further added that together with her husband, they will deal with their problems together and come up with the best solution for their child. Fukuhara and Chiang Hung-chieh have one daughter, who is now three years old.
At time of writing, the hashtag "Ai Fukuhara's Apology Statement" (#福原爱道歉声明#) has reached over 570 million views on Weibo.
By Wendy Huang
Follow @whatsonweibo
Spotted a mistake or want to add something? Please let us know in comments below or email us. Please note that your comment below will need to be manually approved if you're a first-time poster here.
©2021 Whatsonweibo. All rights reserved. Do not reproduce our content without permission – you can contact us at info@whatsonweibo.com
"Remember Their Faces": An Online Tribute to the Chinese Soldiers Killed in Border Clash with India
"My love is crystal clear, it is only for China" – quotes and images; this is how the PLA soldiers are remembered on Weibo.
Quotes, photos, music, and posters; this is how the four Chinese soldiers killed at the Galwan Valley clash are being remembered on Chinese social media.
In June of 2020, four Chinese soldiers of the People's Liberation Army (PLA) were killed during a bloody border clash with Indian troops. The battle in the Galwan River Valley, in the disputed frontier region of Ladakh, was the deadliest border clash between the two countries in four decades.
News of the Chinese casualties was not released until late February of this year. Directly after the clash last year, Indian authorities said 20 of its troops had been killed. After the clash, a lot of fake news about the incident was circulating online.
That allegedly also played a role in why details about the deaths were revealed now, with Chinese Foreign Ministry spokeswoman Hua Chunyin (华春莹) stating that the truth about the incident was "distorted and misled international public opinion." She also said that "China's disclosure of the truth about the border confrontation in June 2020 helps people understand the facts and show respect for the martyrs."
Hua suggested that China initially did not report on the news to promote the "cooling and relaxation of the situation." According to Foreign Policy, it is rare for the People's Liberation Army to admit its casualties.
The four Chinese soldiers who were killed on June 15 of 2020 are Chen Hongjun (陈红军), 33, Xiao Siyuan (肖思远), 24, Wang Zhuoran (王焯冉), 24 and Chen Xiangrong (陈祥榕), 18.
Their commanding officer Qi Fabiao (祁发宝), 41, was badly injured during the clash. The four killed soldiers were posthumously awarded honorary and first-class merit citations. The injured regimental commander was also conferred with an honorary title.
On social media platform Weibo, the hashtag "Four PLA Soldiers Died in China-India Border Clashes" (#4名解放军官兵在中印边境冲突中牺牲#) had received 1,2 billion views by early March. Another hashtag, 'The Central Military Commission Honors the Five Heroic Officers and Soldiers Guarding the Borders' (#中央军委表彰5名卫国戍边英雄官兵#) received 250 million views on Weibo.
Chinese state media outlets made noteworthy efforts to shape the ways in which the soldiers are to be remembered, merging the political and the personal, and praising their patriotic commitment. Various official media accounts such as CCTV and People's Daily have posted several images on social media to pay respect to the officers and soldiers, including the images below, using the phrases "The place where I stand is China" ("我站立的地方是中国") and "I will defend the motherland with my life" ("我的祖国,我用生命捍卫守护").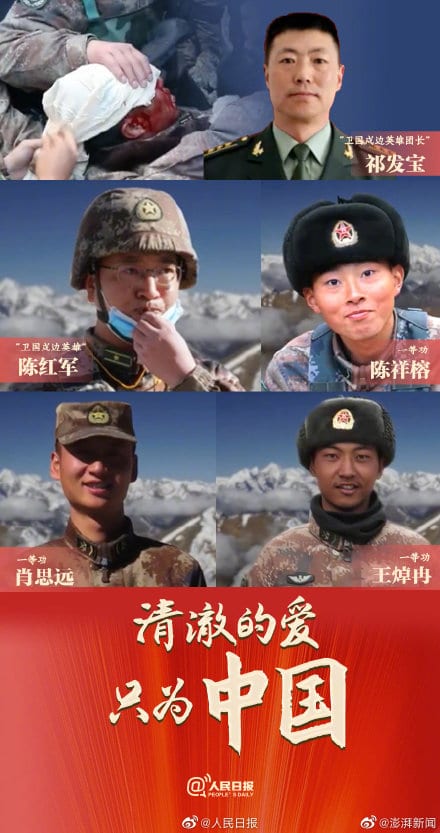 The phrase "We can't lose an inch of our motherland" (#祖国山河一寸不能丢#) was also used in posts dedicated to the remembrance of the killed soldiers.
People's Daily also published a video paying tribute to the soldiers along with the text "Please remember their faces" ("请记住他们的面孔"). The song "China Is Where I Stand" accompanies the images and footage of PLA soldiers in the video.
China Daily also published the quotes of the honored soldiers.
They are the following:
Qi Fabao: "Not everyone can understand my choice, but I have no regrets."("不是所有人都能理解我的选择,但我却无怨无悔").
According to Chinese media reports, Colonel Qi was the first one during the border clash who went forward along with just a few other soldiers and officers to negotiate with the Indian troops. He supposedly approached them with open arms when he was met with violence and was attacked with steel pipes and stones. He suffered serious injuries to the head.
Chen Hongjun: "No matter what post I hold, I will contribute my utmost."("党把自己放在什么岗位上,就要在什么岗位上建功立业".
As a battalion commander, Chen allegedly immediately came to the rescue when he saw Qi was being attacked, bringing other soldiers into what is described as a "rain of stones." Chen leaves behind his wife, who was five months pregnant at the time.
Chen Xiangrong: "My love is crystal clear, it is only for China."("清澈的爱,只为中国"). 
According to Chinese media reports on this confrontation, Chen Xiangrong rushed to the front and used his body as a shield to protect his comrades behind him. He was only 18 when he died.
Xiao Siyuan: "We are the boundary markers of our country. Every inch of soil under our feet is part of the motherland." ("我们就是祖国的界碑,脚下的每一寸土地都是祖国的领土"). 
Xiao reportedly also used his body to protect his comrades from stones, sticks, and pipes. He held a photo in his wallet of his girlfriend, with whom he was preparing to get married.
Wang Zhuoran: "Mum and dad, I may not be there until the end, but if there is an afterlife, I will still be a filial child and care for you well." ("爸妈,儿子不孝,可能没法给你们养老送终了。如果有来生,我一定还给你们当儿子,好好报答你们.")
Wang reportedly drowned while crossing a river to rescue his comrades.
After the details of these soldiers were released, many netizens on Weibo expressed their gratitude to them and praised the men.
"The battalion commander saved the regimental commander, the soldier saved the battalion commander, and the squad leader saved the soldiers. I pay my utmost tributes to you heroes!"
"Chen Xangrong, he is only an 18-year-old kid! I really don't want to call him a martyr. So heartbreaking!"
"Remember their names: Qi Fabao, Chen Hongjun, Chen Xiangrong, Xiao Siyuan and Wang Zhuoran! Salute!"
While hundreds of comments and posts on Chinese social media remember the soldiers, the ways in which they are remembered and the border clash is recounted remains a sensitive issue.
It has been reported that former Economic Observer journalist Qiu Ziming (仇子明), along with two other bloggers, have been detained for "insulting" the Chinese soldiers under a law against "defaming heroes." Qiu, who had 2.4 million fans on his (now-deleted) Weibo page, made remarks questioning the number of casualties China said it suffered in the border clash. News of his arrest received over 460 million views on the hashtag page (#辣笔小球被批捕#).
By early March, video footage came out showing a detained Qiu expressing remorse over his comments.
Meanwhile, on Weibo, the tribute to the PLA soldiers continues: "Thank you to our heroes," hundreds of commenters write: "We pay our respects to all those soldiers who are guarding the frontier!"

By Vivian Wang and Manya Koetse
Follow @whatsonweibo
Spotted a mistake or want to add something? Please let us know in comments below or email us. First-time commenters, please be patient – we will have to manually approve your comment before it appears.
©2021 Whatsonweibo. All rights reserved. Do not reproduce our content without permission – you can contact us at info@whatsonweibo.com.