About Yang Jiechi's Instant Noodle Lunch at the US-China Talks in Alaska
Chinese state media want to make sure that you know that top diplomat Yang Jiechi had instant noodles for lunch during the top-level US-China talks in Alaska.
A 12-second video in which top diplomat Yang Jiechi said he had an instant noodle lunch became a topic of discussion in China, where one hashtag on the issue attracted over 270 million views. It's about more than noodles alone.
The high-level talks between U.S. and Chinese officials in Alaska concluded on Friday. While international media describe the talks as "tough" and exposing the "depth of tensions" between the United States and China, many netizens also focus on the smaller events that occurred during the talks.
Besides the cool and collected way in which Chinese interpreter Zhang Jing (张京) went about her job, the fact that Chinese top diplomat Yang Jiechi (杨洁篪) had remarked he had instant noodles for lunch also triggered discussions on Weibo.
Chinese state media outlet CGTN published a short video showing how Chinese State Councilor and Foreign Minister Wang Yi (王毅) and Yang walk to enter a session of the high-level talks, with Wang asking Yang "Have you had lunch?" Yang then answers: "Yes, instant noodles."
The relevant stuff you need to know about the #USChina strategic dialogue: Yang Jiechi tells Wang Yi he had instant noodles for lunch before entering a session of the high-level meeting. pic.twitter.com/5pI3WzIjyX

— Manya Koetse (@manyapan) March 21, 2021
The topic was discussed on Weibo in multiple threads and under the hashtags "Yang Jiechi Had Instant Noodles for Lunch" (#杨洁篪午饭吃泡面#) and "The Instant Noodles Yang Jiechi Had for Lunch" (#杨洁篪午饭吃的泡面#). The latter received had 270 million views on Weibo by Sunday evening.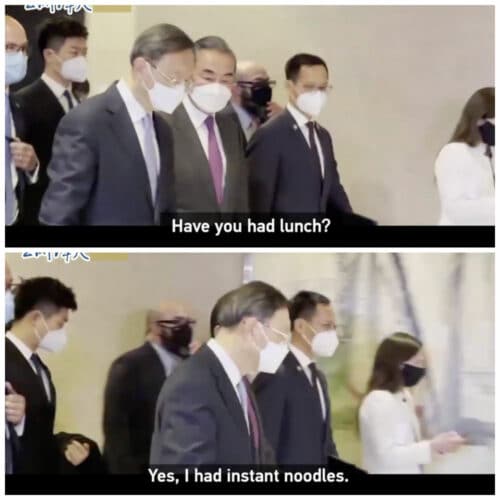 Noteworthy enough, the hashtag page "Yang Jiechi Had Instant Noodles for Lunch" was initiated by Party newspaper People's Daily. Together with the video published by CGTN, this shows that state media are purposely bringing 'noodle gate' to the attention of readers – both inside and outside of China.
Some Chinese news outlets reported that no formal dinner was arranged for the Chinese diplomats at the strategic dialogue due to COVID19, and that their lunch apparently consisted of simple noodles.
On Twitter, Christian Goebbels (@Chri5tianGoebel), Professor of Modern China Studies at the University of Vienna, commented: "My first thought when seeing this was: this is a complaint that the hosts didn't even serve their guests a proper lunch, which Chinese viewers (and the guests!) would consider incredibly rude. If they wanted to create a good atmosphere, they should've served up a banquet."
Jonathan Sullivan, Associate Professor of Contemporary Chinese Studies at University of Nottingham, called the noodle incident a "meaningful detail" on Twitter (@jonlsullivan), writing: "It fits the narrative that the US is inhospitable & disrespectful, incapable of treating China as a power of equal standing."
Many netizens on Weibo take a similar stance, writing: "The American etiquette is unsatisfactory," and: "Let's not pay attention to food, they completely lack etiquette."
"Jeez, these Americans don't even care about food," others wrote.
"It's extremely insulting," one blogger wrote: "This is a superpower, their strategy is despicable, to send our diplomatic staff off with a bucket of noodles!"
On Twitter, George Washington University Law Professor Donald Clarke called 'noodle-gate' a "non-story," saying: "A reliable source tells me that China agreed on no joint meals for Covid reasons. Thus, no big banquet. If someone wants to order noodles instead of a proper meal from room service, they can do that, but it's their choice, not something forced on them."

But meanwhile, on Weibo, commenters are adding that plenty of restaurants in Alaska are still operating, suggesting that there would have been options to socialize safely.
In Chinese culture, it is a custom to hold a banquet for business, diplomatic, or even trivial events, with meal gatherings being used as a social lubricant; a way to build and maintain relations.
With food and meal gatherings being such an important part of communicative practices in relationship-building in China, Yang Jiechi having instant noodles by himself for lunch is much more than just that. From the perspective of many Chinese, it shows little consideration for the Chinese cultural background and not a lot of hospitality from the Americans towards their Chinese guests.
The fact that the US-China talks were icy does not help. State media outlet Global Times said that American National Security Advisor Jake Sullivan and Secretary of State Anthony Blinken "unjustifiably attacked and accused China's domestic and foreign policies" and "seriously prolonged its opening remarks."
The Chinese delegation blamed the Americans, who invited the Chinese to Anchorage to have the strategic dialogue, for lacking "hospitable [and] good diplomatic etiquette."
The noodle incident already led to one Guancha blogger coining the term 'noodle diplomacy' ("泡面外交").
"The decline of the US starts with a bowl of instant noodles," some said on Weibo.
"Let's at least hope it was a 'unifying' beef noodle that he had," some on Weibo jokingly commented.
Although many see the noodle lunch as a symbol of American inhospitality, there are also many commenters who see it as a practical and safe way to have lunch: "It's good this way – at least nobody can poison him."
"I want to know which brand [of instant noodles] he's having, I want it too!"
By Manya Koetse
Featured image by Miguel Andrade.
Spotted a mistake or want to add something? Please let us know in comments below or email us. First-time commenters, please be patient – we will have to manually approve your comment before it appears.
©2021 Whatsonweibo. All rights reserved. Do not reproduce our content without permission – you can contact us at info@whatsonweibo.com.
Dutch Olympic Committee Warns Athletes Not To Bring Phones to China, Hu Xijin: "They've Watched Too Many Movies"
"These people are participating in the Winter Olympics as if they're entering a cave with wolves and tigers."
News about Dutch Olympic athletes being advised by the country's Olympic Committee not to bring their own smartphone or laptops to the Winter Olympics in China has become a much-discussed topic on Chinese social media.
On January 11, Dutch newspaper De Volkskrant reported that NOCNSF, the umbrella organisation for sports in the Netherlands, issued a warning to partipating Dutch athletes that they should not bring their personal smartphones, tablets, or laptops with them to the Beijing Olympics to avoid Chinese espionage.
NOCNSF spokesman Geert Slot said cybersecurity was part of the risk assessment made but declined to further comment on specific measures. In the article, the advice is described as a "precautionary move" related to concerns over potential cybersecurity safety issues in China.
The Dutch CEO of security company Zerocopter, Erik Ploegmakers, calls the move a "very wise" one, referring to the difficulties of using a VPN within China and mentioning how all online traffic would flow via Chinese internet infrastructure, saying that "China is able to view and manipulate all internet traffic, 'so you basically carry your past information with you,' including old messages, training schedules, medical data, contact details, and photos."
On Chinese social media site Weibo, Global Times commentator Hu Xijin (@胡锡进) commented on the Dutch 'precautions.' Until recently, Hu was also the editor-in-chief and party secretary of the state media outlet, and he has over 24 million followers on his Weibo account. He writes:
"According to Dutch media reports, the Dutch Olympic Committee has called on Dutch athletes participating in next month's Winter Olympics in Beijing to leave their mobile phones and laptops at home to avoid having their personal information intercepted by Chinese surveillance systems. Last month, the Australian newsgroup quoted a Canberra security expert as saying foreign athletes' movements and communication in China would all be monitored around the clock.
This cracks me up. These people are participating in the Winter Olympics as if they're entering a cave with wolves and tigers. They've watched too many movies. Is this is how they look at China, which the IOC entrusted to serve athletes from all around the world? They must think they're all that. Athletes are just common people once they're off the field, what kind of intelligence value do they have? Even if a western athlete wanted to 'defect' and would shout out "I have information for you!", the Chinese would probably still ask them to leave.
This entire issue reflects the degree to which Western public opinion has demonized China. It has eroded people's common sense. How can China have the manpower and resources to build such a gigantic surveillance system? To do what? Western people are looking at China through an American lens. The Winter Olympics are mirroring the ghostly appearance of some Western extremist powers.
Ordinary Chinese people have a good impression of the Netherlands and welcome Dutch athletes to Beijing. The extremists should stop pouring cold water over the warm mutual friendship between the Dutch and Chinese people."
Hu's post received over 7000 likes and hundreds of comments.
"Do people from around the world think we're like North Korea or something?" one person responded. Another commenter wrote: "They'd better not come. All of our snowflakes are equipped with small 5G chips, they will be monitored as long as they participate, it's mainly to see if they'll pick up things to eat from the floor, to see what they do when it rains, and to check if their urine and stool is showing any irregularities and stuff."
In other Weibo posts, users said: "I wonder what the Dutch and the Belgian people have to hide?"
The Belgian Interfederal Olympic Committee has also recommended that all Belgian athletes traveling to the Beijing Olympics leave personal laptops and smartphones at home.
The nationalistic blogger GuyanMuchan (@孤烟暮蝉), who has over 6 million Weibo fans, also responded to the issue, writing: "Ridiculous, this is just shameless. As an athlete, what kind of classified information do you have that China would steal from you? Are you all spies with a second identity?"
This is not the first time Dutch people are advised not to bring their regular smartphones or laptops with them to China. In 2018, before a Cabinet delegation went on a trade mission to China, the Dutch Ministry of Foreign affairs also advised travelers to only bring devices without personal data to China. The same advice was also issued for those traveling to Russia, Iran, or Turkey.
By Manya Koetse
With contributions by Miranda Barnes.
Spotted a mistake or want to add something? Please let us know in comments below or email us. First-time commenters, please be patient – we will have to manually approve your comment before it appears.
©2021 Whatsonweibo. All rights reserved. Do not reproduce our content without permission – you can contact us at info@whatsonweibo.com.
Will Weibo Become 30% State-Media Owned?
Alibaba is allegedly ready to give up its Weibo shares to SMG.
Bloomberg recently reported that Chinese e-commerce giant Alibaba is preparing to sell its 30% stake in social media platform Weibo. According to people familiar with the matter, Alibaba is negotiating with the state-owned Shanghai Media Group (SMG).
News about Alibaba planning to sell all of its Weibo shares has triggered some online discussions on the Chinese social media platform. Bloomberg was the first to report that the Chinese e-commerce and IT enterprise is talking to the state-owned Shanghai Media Group (SMG) to sell all of its 30% stake in Weibo.
According to Bloomberg, the move relates to regulators wanting to curb the influence of Chinese tech giants in the media sphere. The Bloomberg article claims that SMG, as one of China's largest state-owned media and cultural conglomerates, stands a higher chance of gaining the approval of Chinese authorities than a private acquirer.
SMG is a large state-owned enterprise with over a dozen TV and radio stations, many newspapers and magazines, various drama & film production and distribution businesses, and more. The company has a major media influence, not only in Shanghai but throughout the country.
According to Weibo's 2020 annual reports, New Wave held a 45% stake in Weibo, followed by Alibaba with its 30%. New Wave is the holding company by Weibo chairman Charles Chao.
"Weibo will change into another channel for SMG," some Weibo users predict, with others also sharing their fear that Weibo would become more and more like a platform for official media ("微博现在越来越官方化").
"This would be a big milestone in the crumbling of Alibaba's media empire," another commenter wrote. Some wonder if the developments have more to do with Weibo as a platform, or with Alibaba and its media influence.
In March of 2021, the Wall Street Journal already reported that the Chinese government asked the Alibaba Group to dispose of its media assets due to concerns over the company's influence in the sensitive media sphere.
"When Alibaba exits and state-owned capital enters, Weibo is expected to magnificently transform into a 'state-owned enterprise'," another Weibo user wrote.
Although some commenters worry that Weibo will change for the worse and that there will be more censorship, others see a sunnier future for the social media platform: "It would be good for Weibo to be 'state-owned' so that it won't be controlled by capital to influence public opinion anymore."
Chinese tech site 36kr also reported about the issue on January 1st, but neither Weibo nor Alibaba or SGM have officially responded yet.
By Manya Koetse
With contributions by Miranda Barnes.
Spotted a mistake or want to add something? Please let us know in comments below or email us. First-time commenters, please be patient – we will have to manually approve your comment before it appears.
©2021 Whatsonweibo. All rights reserved. Do not reproduce our content without permission – you can contact us at info@whatsonweibo.com.