An Overview of Chinese Nominations at Busan Film Festival (Part I)  
These are the Chinese films that have been nominated for the Busan Film Festival.
From Chinese dissident filmmakers to government-funded films, you can find it all at Busan, Asia's biggest film festival. In the weeks leading up to the event, What's on Weibo's Gabi Verberg provides an overview of the Chinese nominees. This week: part I.
On the 4th of October, the 23th Busan International Film Festival in South Korea will roll out its red carpet to open this year's film festival season in Asia. With the screening of 323 films from 79 countries, it is one of Asia's biggest international film festivals, with China as one of the main suppliers of films.
Popular sections of the festival include:
– 'A Window on Asian Cinema', which showcases new and representative films by Asian filmmakers;
– 'New Current', which features the first or the second work by future directors of Asian cinema; and
– 'Wide Angle', an assembly of documentaries, short films, Cinekid, and showcases.
It is these three sections in which most Chinese directors received their nominations.
In the upcoming weeks, we will provide you with more in-depth information on the Chinese films nominated for the festival. Please note that most of these films have not been officially released yet, so it might take some time before the (subtitled) films are available for all audiences.
This week, we will introduce to you to the first five of the Chinese nominees.
1. Savages (Xuěbào 雪暴)
China Mainland
Genre: Drama, Action, Crime, Suspense
Selected in the category: New Currents
Director: Siwei Cui (崔斯韦)
Weibo hashtag: #雪暴# (240.000+ views)
Premiere: October 2018, Busan International Film Festival
Starring: Chen Chang (张震), Nini (倪妮), Fan Liao (廖凡), Jue Huang (黄觉), Hua Liu (刘桦), Guangjie Li (李光洁), Taili Wang (王太利), Xiaojun Yue (岳小军), Yicong Zhang (张弈聪)
About the Director:
Siwei Cui is best known for his successes as a screenwriter. In 2009, he got nominated for best screenplay at the Chinese Film Media Awards, and for best script at the Taipei Golden Horse Film Festival for his work Crazy Racer (疯狂的赛车). Other works he wrote include The Island ( 一出好戏), which is selected in the A Window on Asian Cinema section at this year's Busan Film Festival, and No Man's Land (无人区). Siwei Cui once before directed a film in 2013 in cooperation with Zusong Lü (吕祖松) named Piano Trojan (钢琴木马). Savages will be his second work as a director.
Storyline:
Set against the backdrop of a desolate mountain village in the midst of a snow storm, a confrontation between the police and a criminal gang goes down.
Why you should watch it:
It is interesting to see how a relatively unexperienced director assembled so many well-known actors, including Nini (20 million followers on Weibo), Guangjie Li (5.51 million followers on Weibo), Jue Huang (3.73 million followers on Weibo) and Chen Chang (1.69 million followers on Weibo).
2. Vanishing Days (Mànyóu 漫游)
China Mainland
Genre: Drama
Selected in the category: New Currents
Director: Xin Zhu (祝新)
Premiere: October 2018, Busan International Film Festival
Main Characters: Yan Jiang (姜郦), Jing Huang (黄菁), Yan Chen (陈燕), Xiaoxing Li (李小杏), Haiqing Luo (骆海清), Jiehe Lu (卢嘉禾), Jiajun Zhao (赵家俊)
About the Director:
The young director Xin Zhu was born in 1996 and recently graduated from the Film and Television Department of the China Academy of Art. His first short film Community (午山社区) was nominated for an Exploration Award at the Amphibia Youth Film Festival (双栖青年影展). Other works of Xin Zhu are the short films A Folk Song (山野之歌) and Homesick (嘉年华). Vanishing Days is Xin Zhu's first feature film.
Storyline:
The film is set in a crazy hot summer in 2009. Li Senlin struggles with her essay project, when Aunt Qiuqiu suddenly pays a visit. Reality and memory entangle as her aunt recalls a strange homicide case on a deserted island, while everyone else seems more concerned about the heat.
Why you should watch it:
Xin Zhu is amongst the youngest directors at the Busan Film Festival, and instead of professionals, Xin casted amateur actors for this film. The blog Deep Focus also mentions director Xin Zhu when they talk about the start of 'a new wave' of Chinese directors – those born after 1995. Xin Zhu uses an unclear tone to, presumably, let the viewers again experience the feeling of novelty, surprise, and doubt we had when we were younger. The film is full of mismatched stories, dreams and fantasy.
3. A Family Tour (Zìyóu xíng 自由行)
Taiwan/China Mainland/Hong Kong/Singapore/Malaysia
Genre: Drama
Selected in the category: A Window on Asian Cinema
Director: Liang Ying (应亮)
Premiere: 1st August 2018 on Locarno International Film Festival
Main Characters: Zhe Gong (宫哲), An Nai (耐安)
About the Director:
It's not the first time Liang Ying attends an international film festival. In 2012, he was nominated for a Golden Leopard Award and won an award for best direction at the Locarno International Film Festival for his film When Night Falls (我还有话要说). It is this award-winning film that caused Liang Ying to flee the country after the government allgedly intimidated him and his family members to sell the government the rights of the film. Liang Ying refused, and then continued to live in exile in Hong Kong. A few years later, he won an award at the Taipei Golden Horse Film Festival for his work A Sunny Day (九月二十八日·晴) in the category Best Short Feature Film. Liang Ying's other famous works include The Other Half (另一半), and Taking Father Home (背鸭子的男孩) – which both received nominations from film festivals worldwide.
Storyline:
The film revolves around Yang Shu, a Chinese director, who has been exiled from Hong Kong for making a film that offended the government. After 5 years, she desperately wants to reunite with her ailing mother who is visiting Taiwan and let her hold the grandson she misses.
Why you should watch it:
The story is semi-biographical from the director's experiences since his exile from China in 2012. Variety wrote about the film: "[it is an] intelligently affecting story of exile and displacement," and said it is "Ying Liang's most highly polished film to date." Indiewire called the film "heartbreaking." The film was nominated for the Golden Leopard Award at the 71st Locarno International Film Festival.
4. The Enigma of Arrival (Dǐdá zhī mí 抵达之谜)
Mainland China
Genre: Crime
Selected in the category: A Window on Asian Cinema
Director: Song Wen (宋文)
Reads on Weibo: 35000 (#抵达之谜#)
Premiere: October 2018, Busan International Film Festival
Starring: Xian Li (李现), Borui Dong (董博睿), Xuan Gu (顾璇)
About the Director:
Some might know director Song Wen as the founder of FIRST International Film Festival, a festival for young directors, which celebrated its 12th edition this year. In 2015 Song Wen started his career as a producer and director. The Enigma of Arrival is his first work.
Storyline:
After many years, a group of high school friends reunites. They have not seen each other since the disappearance of Dondong, a girl they all secretly fancied. The circumstances of her disappearance cause the end of their friendship. Although a long time has passed, there are still things unspoken about what exactly happened during those crucial years.
Why you should watch it:
The main character in the film is played by the popular young actor Xian Li (李现), who currently has over 3.8 million followers on Weibo. He is best known for his roles in Chinese TV dramas such as Medical Examiner Dr. Qin. The second reason to watch this film is the contribution of Berlin Film Festival and The Golden Rooster award-winning producer Fei Xie (谢飞). He and Song Wen have been closely cooperating for this work for over three years.
5. Jinpa (Zhuàng Sǐle Yī Zhǐ Yáng 撞死了一只羊)
China Mainland
Genre: Drama
Selected in the category: A Window on Asian Cinema
Director: Pema Tseden (万玛才旦)
Weibo Reads: 340.000 (#撞死了一只羊#)
Premiere: 4th September 2018, Venice International Film Festival
Leading Actors: Jinpa (金巴), Genden Phuntsok (更登彭措), Sonam Wangmo (索朗旺姆)
About the Director:
Pema Tseden is an acknowledged director, screenwriter, producer and writer from Tibet. He started his career as a writer and started publishing stories in 1991. In the years that followed he published more than forty short stories in Tibetan and Chinese. His writing has been acknowledged with many awards. In 2002. he first entered the film industry as editor of the film The Silent Holy Stone (静静的嘛呢石) which received international attention. This is where Pema Tseden's film career took off. His famous other works include The Search (寻找智美更登) and Tharlo (塔洛) which both received several nominations from in and outside China.
Storyline:
On a dusty highroad in Tibet, a truck-driver gives a young man a ride. As he chats with the hitchhiker, he notices a knife strapped to his leg…
Why you should watch it:
The film is an adaption of the short story Killer (杀手) by Cirenluobo (次仁罗布), and from a short story of the director himself. They are both rewarded writers from Tibet who give a rare glimpse into the lives of the Tibet people. Jinpa was shortlisted for this year's 75th Venice International Film Festival in the Orizzonti section.
Stayed tuned for more! Meanwhile, also check out our must-see Chinese film list of 2017 here.
By Gabi Verberg
Follow @whatsonweibo
Spotted a mistake or want to add something? Please let us know in comments below or email us.
©2018 Whatsonweibo. All rights reserved. Do not reproduce our content without permission – you can contact us at info@whatsonweibo.com.
China's Top Mobile Gaming Apps
In a booming online gaming market, these are some of the apps most appreciated by Chinese online gamers today.
China has the largest mobile gaming market in the world. It's an exciting market not just for game-lovers, but also for those into marketing and advertising.
One of the key drivers behind this online gaming environment is the fact that China is a mobile-first country. China's average mobile user owns a relatively cheap but high-performance mobile phone, which enables them to play mobile games. As the quality of China's smartphones keeps on rising, so are the possibilities and developments within China's mobile gaming market.
The Chinese gaming industry is flourishing, but also highly controlled. Online games are allowed to be imported, but have to pass the content censorship procedures and must be 'ideologically compatible' for the Chinese market. Many games, such as this year's Resident Evil 2, are not allowed into mainland China.
To gain more insights in this enormous market, we list five of the mobile apps that currently play an important role in the mobile gaming industry. We made our selection based on the data from the Android app stores Tencent, Baidu, Huawei, and Zhushou360. We tried our best to give you a representative overview of a variety of apps that are currently most used in China, but want to remind you that these lists are by no official "top 5" charts.
This article is part of a series of five articles, listing popular Chinese apps in the categories of short video & live streaming, news, health & sports, and knowledge & education. We'll list the other categories for you below this article, but let's move over to review these popular mobile gaming apps now.
#1 PlayerUnknown's Battlegrounds 绝地求生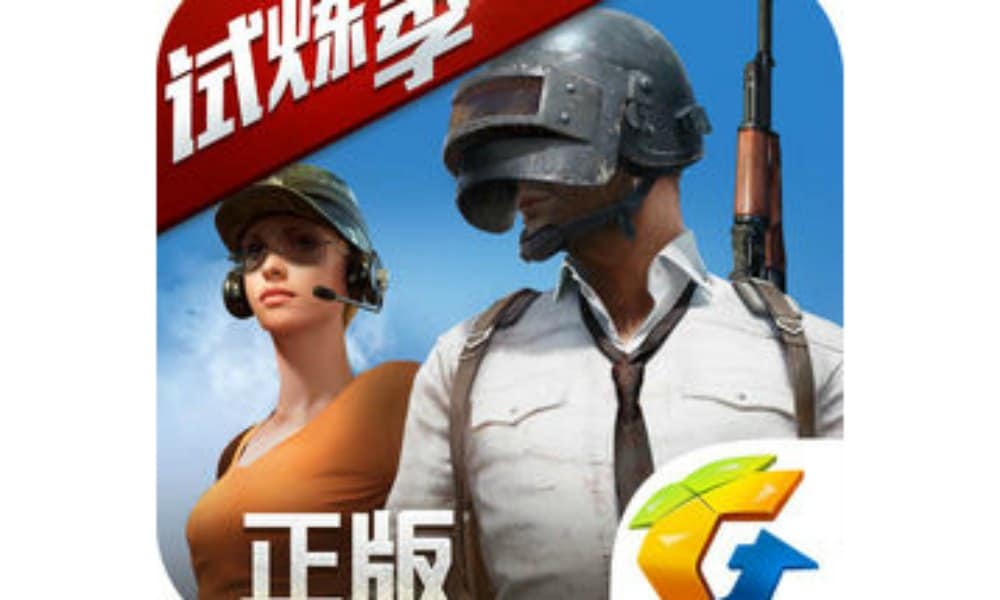 PlayersUnknown's Battleground (PUGB) is a so-called 'sandbox style' survival game, which basically means that gamers are allowed to freely roam and change the game, that does not have a set storyline, and that they are required to do all they can to survive as long as possible by eliminating its competitors.
In this online multiplayer game, that is called a Fortnite rival, players are placed together with up to 100 other players on an island. As the game proceeds, the battlefield gradually shrinks, putting more pressure on its players. The users have to assemble weapons and other necessities, and in doing so, need to kill their competitors and take their possessions. The last person left is the winner.
PUBG, which is currently the most popular mobile phone game app in China, was created by the South Korean Bluehole. In 2017, Chinese gaming giant Tencent launched the mobile app version of the game. The Chinese version is not entirely the same: it has been adapted to make sure it aligns with 'socialist values.'
At the moment, there are two versions of PUGB games: Exciting Battlefield (刺激战场) and Full Ahead (全军出击). The games Exciting Battlefield and Full Ahead subsequently ranked most and third most popular game app in the Chinese Apple stores in 2018, with Exciting Battlefield reaching 14,9 million daily active users at the end of 2018. Currently, Exciting Battlefield still ranks the most popular game app in both the Tencent and Zhushou360 app stores.
#2 Honor of Kings or Kings of Glory 王者荣耀
Honor of Kings is a game developed and published by Tencent which was first launched in 2015. The game is a multiplayer online battle arena game, where players have to team up for a five-to-five battle.
Every user can personally assemble their hero and equip it with certain features such as appearance, powers, etc. The goal of the game is to destroy the opponent's base.
In 2018, Honor of Kings was the second most popular game app in the Chinese Apple store with 53,8 million daily active users in the last quarter. This year, the game especially rose in popularity during the Chinese Lunar New Year: in the week from 4-10 February, Honor of Kings reached 92 million daily active users.
But the game's popularity isn't limited to China. In 2017, Tencent launched an international adaption of the game called Arena of Valor. The game was adopted as one of the games at the eSport Demonstration Event at the 2018 Asian Games, where the Chinese team won the gold medal.
#3 Speed QQ / QQ飞车
Speed QQ is a 3D game that combines both casual and competitive racing. The game has three kingdoms: wind, fire, and fantasy.
In each kingdom, there are different kinds of races, and players can move up levels if they beat other players. In the end, the strongest player of all will be crowned 'king.' To prove their skills, the best players of each kingdom can also race against each other in races played on racetracks on the border of the several kingdoms.
The game can be played by either a single player or multiplayer, with a maximum of six players.
Speed QQ, just as Honor of Kings and PUBG, is a game by Tencent  – it is the world's largest game distributor by revenue. Speed QQ was first launched in January 2008 as a PC version, and it was not until 2017 that the mobile app version was released.
In 2018, it became the fourth most popular game app in Chinese Apple stores, with nearly 25 million downloads in that same year.
#4 Identity V 第5人格  
Identity V is a so-called asymmetric warfare game, meaning that the game is a wargame between individuals or a group of players and their hostile opponent.
The horror game, designed in gothic art style, is a one-versus-four multiplayer game. Later in the game, players can decide whether they want to play either the hunter or one of the four survivors.
However, the game is mainly a survivor-based game. The player first enters the game as a detective who receives a mysterious letter inviting the player to investigate an abandoned estate and search for a missing girl. As the player is searching for clues about the missing girl, a hunter will try to catch the player and strap it to a rocket ready for blast off. This is where the three other survivors come in; those are the ones who can free their fellow-survivor from the racket. But if they are too late, the player will be fired off and lose.
Identity V is the newest game app in our selection as it was launched in April of last year by NetEase. Despite its short period on the market, the game gained significant success. The app was the fifth most popular game app in Chinese Apple stores in 2018, with over 26 million downloads.
#5 Mini World 迷你世界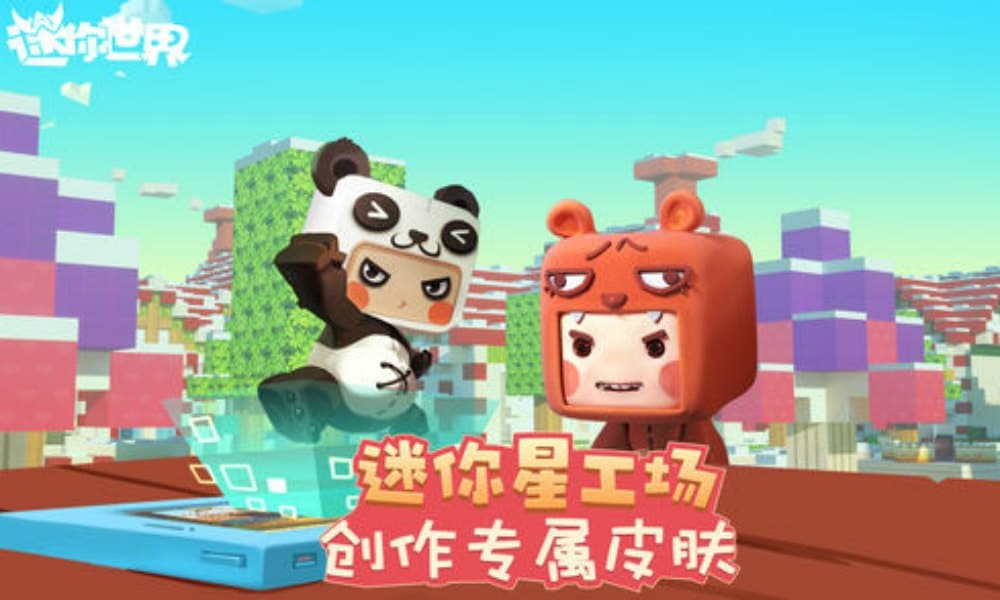 Mini World is a 3D sandbox style game, allowing its users to roam around in the virtual world of the game.
Mini World, also called a block art game, allows its players to build their world by moving around blocks and placing other elements. They can do this alone, but they can also invite friends and create a dream world together. The game closely resembles the Swedish game Minecraft (我的世界), which is also available in China.
Mini World was first launched in December 2015 by a Shenzhen based company. A couple of years later, the game was available in both Android and Apple stores. In 2018, Mini World became the fourth most popular game app in China with 3.7 million daily active users in the third quarter.
At the beginning of this year, Mini World released a new version of its game, which brings it back in the top ten most popular apps in both the Zhushou360 Appstore and Baidu Appstore.
Also see:
By Gabi Verberg, edited by Manya Koetse
Spotted a mistake or want to add something? Please let us know in comments below or email us.
©2019 Whatsonweibo. All rights reserved. Do not reproduce our content without permission – you can contact us at info@whatsonweibo.com
Here Comes Trump the Chinese Opera, Starring Mao Zedong and Kim Jong-un
In "Trump the Opera", Trump sings and plays ping pong.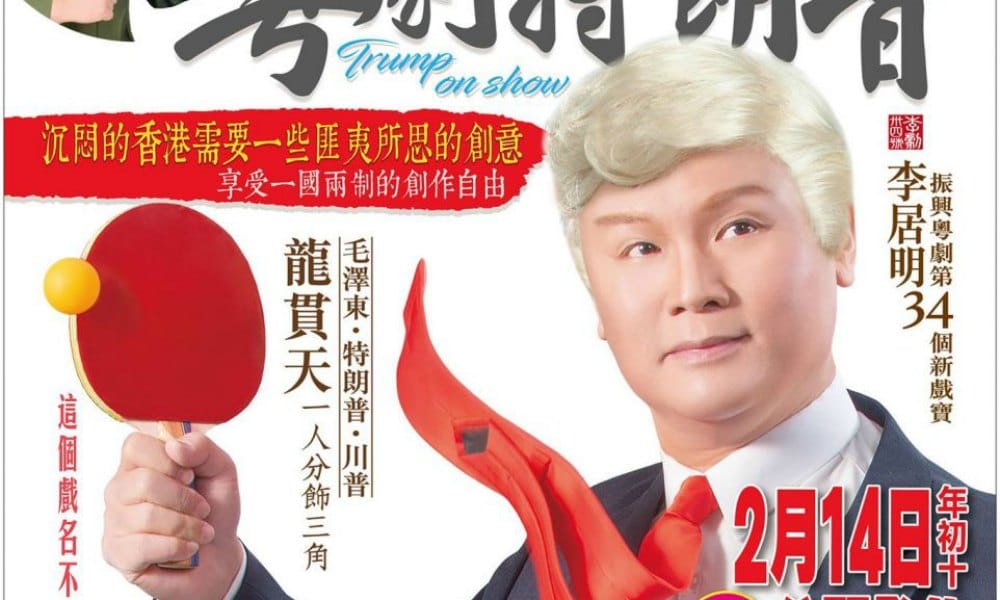 First published
Hong Kong playwright Li Kuiming is not afraid to take on sensitive topics in his productions. After an opera about Mao Zedong, this upcoming Cantonese opera focuses on US President Trump and explores China-US relations.
"Enjoy this 'one country, two systems' creative freedom," is one of the slogans promoting a new Hong Kong opera production that features US President Trump – played by the same actor who also played Mao Zedong – and North-Korean leader Kim Jong-un, presenting a story revolving around the modern history and current situation of China-US relations and international politics in the form of traditional Chinese art.
The opera, titled "Cantonese Opera Trump" (粵劇特朗普) was written by Fengshui master and playwright Li Kuiming (李居明), who likes to mix up traditional opera with creative new storylines. In this production, 'Trump' allegedly will not just be singing; he'll be playing ping-pong, too.
Promotion posters for the show have attracted the attention of some Weibo netizens, with some calling it "unimaginable."
This opera is the 34th production made by Li Kuiming, who has some 1,4 million fans on Weibo. Three years ago, Li made headlines for his controversial Chairman Mao opera that explored the private life of Mao Zedong and also featured a scene in which Mao comes back from the dead to talk to Chiang Kai-shek.
The current opera is a sequel to the 2016 production, featuring the same actor, Long Guantian (龍貫天), as President Trump. The role of Kim Jong-un will be performed by Chen Hongjin (陳鴻進).
The press conference for the new opera took place on March 1st, just after the Trump-Kim summit in Hanoi ended without a deal. The actors taking on the roles of Trump and Kim, however, posed together shaking hands.
Despite the somewhat controversial theme of the opera, the Singtao Daily writes that Li Kuiming's production "avoids politically sensitive topics as much as possible."
"Through this opera, I want to analyze China-USA relations," Li told reporters: "China and the US have had very good relations for a long time (..), Nixon's [1972] visit to China marked the friendship between the two countries. At present, the China-US friendship has turned into a struggle."
Li called it "a gift from heaven" that he was able to get performer Long Guantian to play Mao Zedong previously, praising his "enormous flexibility" in the roles he is able to take on. "For [his] role of Trump, I've read many books and thoroughly researched the life and thinking of Trump."
One reason for the opera to stir some discussions on Chinese social media, is the fact that its promotional poster states that the "three roles" of "Trump, Trump, and Mao Zedong" are all performed by the same actor (Long Guantian).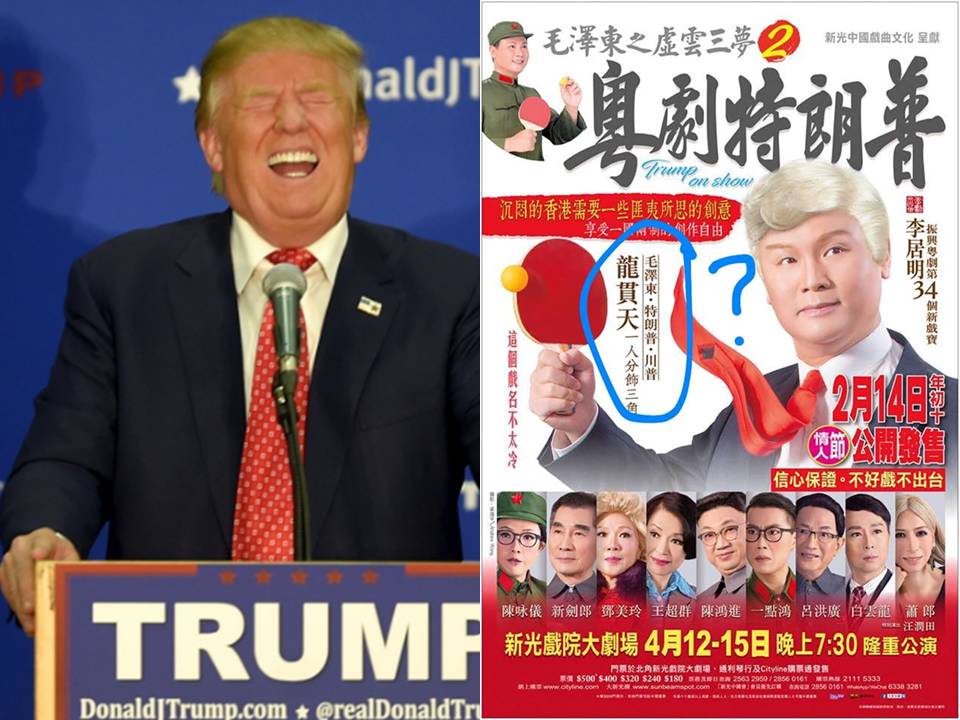 The name of 'Trump' is written in two different ways on the poster, causing much confusion among netizens, who write: "I thought there was only one Trump?!" (To understand more about the two Chinese names of Trump, check this article).  It is not clear if there will indeed be two 'Trumps' starring in the production or why the poster mentions the name of Trump two times.
The Mingpao newspaper reported that Li has high hopes for this production, quoting: "I have a friend who knows Trump, and who suggested bringing this opera to the White House so that Trump can enjoy it. We could translate it. If I'd ever be invited, of course, I wouldn't say no." He also added that he "wouldn't have the courage" to perform the opera in North Korea.
The opera will be performed at the Hong Kong Sunbeam Theatre from April 12 to April 15. "I guarantee it will be good," Li says: "If it wouldn't be good, I wouldn't put it on stage."
By Manya Koetse 
Spotted a mistake or want to add something? Please email us.
©2019 Whatsonweibo. All rights reserved. Do not reproduce our content without permission – you can contact us at info@whatsonweibo.com.