An Overview of Chinese Nominations at Busan Film Festival (Part I)  
These are the Chinese films that have been nominated for the Busan Film Festival.
From Chinese dissident filmmakers to government-funded films, you can find it all at Busan, Asia's biggest film festival. In the weeks leading up to the event, What's on Weibo's Gabi Verberg provides an overview of the Chinese nominees. This week: part I.
On the 4th of October, the 23th Busan International Film Festival in South Korea will roll out its red carpet to open this year's film festival season in Asia. With the screening of 323 films from 79 countries, it is one of Asia's biggest international film festivals, with China as one of the main suppliers of films.
Popular sections of the festival include:
– 'A Window on Asian Cinema', which showcases new and representative films by Asian filmmakers;
– 'New Current', which features the first or the second work by future directors of Asian cinema; and
– 'Wide Angle', an assembly of documentaries, short films, Cinekid, and showcases.
It is these three sections in which most Chinese directors received their nominations.
In the upcoming weeks, we will provide you with more in-depth information on the Chinese films nominated for the festival. Please note that most of these films have not been officially released yet, so it might take some time before the (subtitled) films are available for all audiences.
This week, we will introduce to you to the first five of the Chinese nominees.
1. Savages (Xuěbào 雪暴)
China Mainland
Genre: Drama, Action, Crime, Suspense
Selected in the category: New Currents
Director: Siwei Cui (崔斯韦)
Weibo hashtag: #雪暴# (240.000+ views)
Premiere: October 2018, Busan International Film Festival
Starring: Chen Chang (张震), Nini (倪妮), Fan Liao (廖凡), Jue Huang (黄觉), Hua Liu (刘桦), Guangjie Li (李光洁), Taili Wang (王太利), Xiaojun Yue (岳小军), Yicong Zhang (张弈聪)
About the Director:
Siwei Cui is best known for his successes as a screenwriter. In 2009, he got nominated for best screenplay at the Chinese Film Media Awards, and for best script at the Taipei Golden Horse Film Festival for his work Crazy Racer (疯狂的赛车). Other works he wrote include The Island ( 一出好戏), which is selected in the A Window on Asian Cinema section at this year's Busan Film Festival, and No Man's Land (无人区). Siwei Cui once before directed a film in 2013 in cooperation with Zusong Lü (吕祖松) named Piano Trojan (钢琴木马). Savages will be his second work as a director.
Storyline:
Set against the backdrop of a desolate mountain village in the midst of a snow storm, a confrontation between the police and a criminal gang goes down.
Why you should watch it:
It is interesting to see how a relatively unexperienced director assembled so many well-known actors, including Nini (20 million followers on Weibo), Guangjie Li (5.51 million followers on Weibo), Jue Huang (3.73 million followers on Weibo) and Chen Chang (1.69 million followers on Weibo).
2. Vanishing Days (Mànyóu 漫游)
China Mainland
Genre: Drama
Selected in the category: New Currents
Director: Xin Zhu (祝新)
Premiere: October 2018, Busan International Film Festival
Main Characters: Yan Jiang (姜郦), Jing Huang (黄菁), Yan Chen (陈燕), Xiaoxing Li (李小杏), Haiqing Luo (骆海清), Jiehe Lu (卢嘉禾), Jiajun Zhao (赵家俊)
About the Director:
The young director Xin Zhu was born in 1996 and recently graduated from the Film and Television Department of the China Academy of Art. His first short film Community (午山社区) was nominated for an Exploration Award at the Amphibia Youth Film Festival (双栖青年影展). Other works of Xin Zhu are the short films A Folk Song (山野之歌) and Homesick (嘉年华). Vanishing Days is Xin Zhu's first feature film.
Storyline:
The film is set in a crazy hot summer in 2009. Li Senlin struggles with her essay project, when Aunt Qiuqiu suddenly pays a visit. Reality and memory entangle as her aunt recalls a strange homicide case on a deserted island, while everyone else seems more concerned about the heat.
Why you should watch it:
Xin Zhu is amongst the youngest directors at the Busan Film Festival, and instead of professionals, Xin casted amateur actors for this film. The blog Deep Focus also mentions director Xin Zhu when they talk about the start of 'a new wave' of Chinese directors – those born after 1995. Xin Zhu uses an unclear tone to, presumably, let the viewers again experience the feeling of novelty, surprise, and doubt we had when we were younger. The film is full of mismatched stories, dreams and fantasy.
3. A Family Tour (Zìyóu xíng 自由行)
Taiwan/China Mainland/Hong Kong/Singapore/Malaysia
Genre: Drama
Selected in the category: A Window on Asian Cinema
Director: Liang Ying (应亮)
Premiere: 1st August 2018 on Locarno International Film Festival
Main Characters: Zhe Gong (宫哲), An Nai (耐安)
About the Director:
It's not the first time Liang Ying attends an international film festival. In 2012, he was nominated for a Golden Leopard Award and won an award for best direction at the Locarno International Film Festival for his film When Night Falls (我还有话要说). It is this award-winning film that caused Liang Ying to flee the country after the government allgedly intimidated him and his family members to sell the government the rights of the film. Liang Ying refused, and then continued to live in exile in Hong Kong. A few years later, he won an award at the Taipei Golden Horse Film Festival for his work A Sunny Day (九月二十八日·晴) in the category Best Short Feature Film. Liang Ying's other famous works include The Other Half (另一半), and Taking Father Home (背鸭子的男孩) – which both received nominations from film festivals worldwide.
Storyline:
The film revolves around Yang Shu, a Chinese director, who has been exiled from Hong Kong for making a film that offended the government. After 5 years, she desperately wants to reunite with her ailing mother who is visiting Taiwan and let her hold the grandson she misses.
Why you should watch it:
The story is semi-biographical from the director's experiences since his exile from China in 2012. Variety wrote about the film: "[it is an] intelligently affecting story of exile and displacement," and said it is "Ying Liang's most highly polished film to date." Indiewire called the film "heartbreaking." The film was nominated for the Golden Leopard Award at the 71st Locarno International Film Festival.
4. The Enigma of Arrival (Dǐdá zhī mí 抵达之谜)
Mainland China
Genre: Crime
Selected in the category: A Window on Asian Cinema
Director: Song Wen (宋文)
Reads on Weibo: 35000 (#抵达之谜#)
Premiere: October 2018, Busan International Film Festival
Starring: Xian Li (李现), Borui Dong (董博睿), Xuan Gu (顾璇)
About the Director:
Some might know director Song Wen as the founder of FIRST International Film Festival, a festival for young directors, which celebrated its 12th edition this year. In 2015 Song Wen started his career as a producer and director. The Enigma of Arrival is his first work.
Storyline:
After many years, a group of high school friends reunites. They have not seen each other since the disappearance of Dondong, a girl they all secretly fancied. The circumstances of her disappearance cause the end of their friendship. Although a long time has passed, there are still things unspoken about what exactly happened during those crucial years.
Why you should watch it:
The main character in the film is played by the popular young actor Xian Li (李现), who currently has over 3.8 million followers on Weibo. He is best known for his roles in Chinese TV dramas such as Medical Examiner Dr. Qin. The second reason to watch this film is the contribution of Berlin Film Festival and The Golden Rooster award-winning producer Fei Xie (谢飞). He and Song Wen have been closely cooperating for this work for over three years.
5. Jinpa (Zhuàng Sǐle Yī Zhǐ Yáng 撞死了一只羊)
China Mainland
Genre: Drama
Selected in the category: A Window on Asian Cinema
Director: Pema Tseden (万玛才旦)
Weibo Reads: 340.000 (#撞死了一只羊#)
Premiere: 4th September 2018, Venice International Film Festival
Leading Actors: Jinpa (金巴), Genden Phuntsok (更登彭措), Sonam Wangmo (索朗旺姆)
About the Director:
Pema Tseden is an acknowledged director, screenwriter, producer and writer from Tibet. He started his career as a writer and started publishing stories in 1991. In the years that followed he published more than forty short stories in Tibetan and Chinese. His writing has been acknowledged with many awards. In 2002. he first entered the film industry as editor of the film The Silent Holy Stone (静静的嘛呢石) which received international attention. This is where Pema Tseden's film career took off. His famous other works include The Search (寻找智美更登) and Tharlo (塔洛) which both received several nominations from in and outside China.
Storyline:
On a dusty highroad in Tibet, a truck-driver gives a young man a ride. As he chats with the hitchhiker, he notices a knife strapped to his leg…
Why you should watch it:
The film is an adaption of the short story Killer (杀手) by Cirenluobo (次仁罗布), and from a short story of the director himself. They are both rewarded writers from Tibet who give a rare glimpse into the lives of the Tibet people. Jinpa was shortlisted for this year's 75th Venice International Film Festival in the Orizzonti section.
Stayed tuned for more! Meanwhile, also check out our must-see Chinese film list of 2017 here.
By Gabi Verberg
Follow @whatsonweibo
Spotted a mistake or want to add something? Please let us know in comments below or email us.
©2018 Whatsonweibo. All rights reserved. Do not reproduce our content without permission – you can contact us at info@whatsonweibo.com.
Living the Dream: Chinese Architect Designs Stunning Six-Story Communal Living Space
This architect from Guangzhou turned her dream of living together with friends in a creative workspace into reality. The building is a hit on Chinese social media.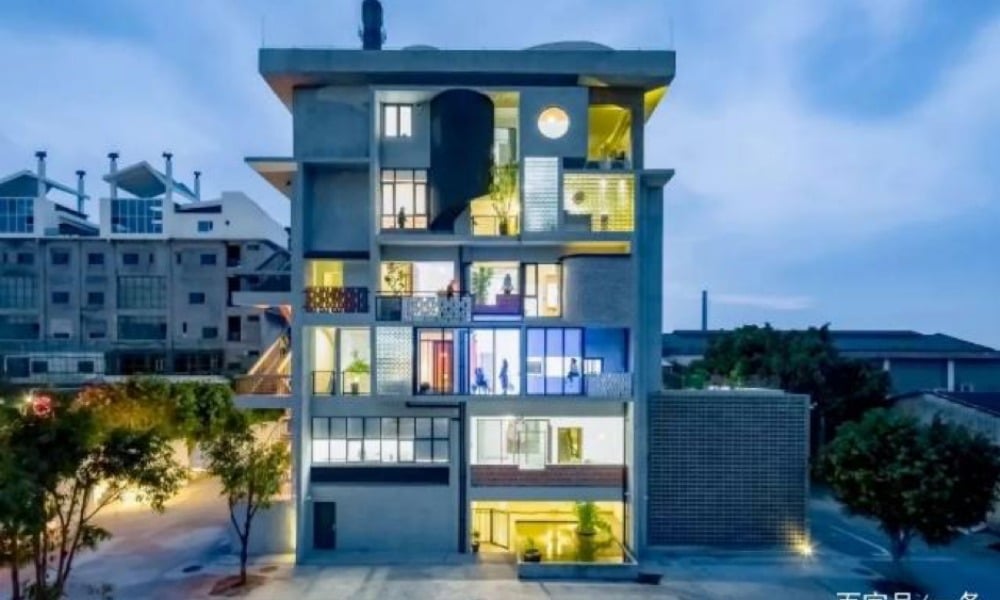 While living together with your best friends in one big house might be a dream of many people, this Chinese architect turned the idea into reality by transforming an old factory into a modern museum-like work- and living space. Through her work, the architect aims to change views on China's urban living spaces.
Guangzhou architect "Michelle" (米歇尔 or Mi Xiao 米笑) and most of her friends work in creative industries. A few years ago, they found that their work and lifestyle required a more flexible and multi-purpose living space; a place where they could live and work together as a small community while also showcasing what they do.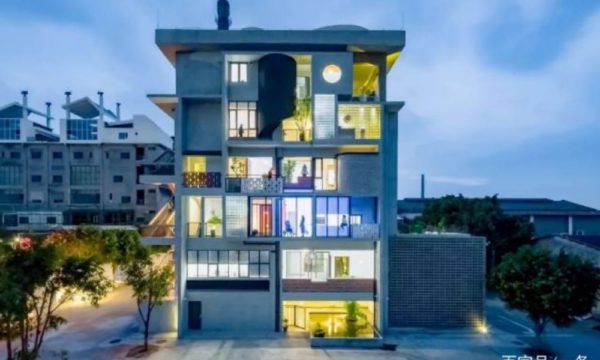 In 2012, the six friends found a workshop in an old abandoned sugar factory, built in the 1950s, located in Guangzhou's Panyu district. More than five years later, they had succeeded in transforming it into a modern six-story work- and living space.
A news story and a video of the building are now attracting major attention on Chinese social media. On Weibo, the hashtag "Six Friends Transform a Building" (#6个好友改造一栋楼#) has been viewed more than 250 million times.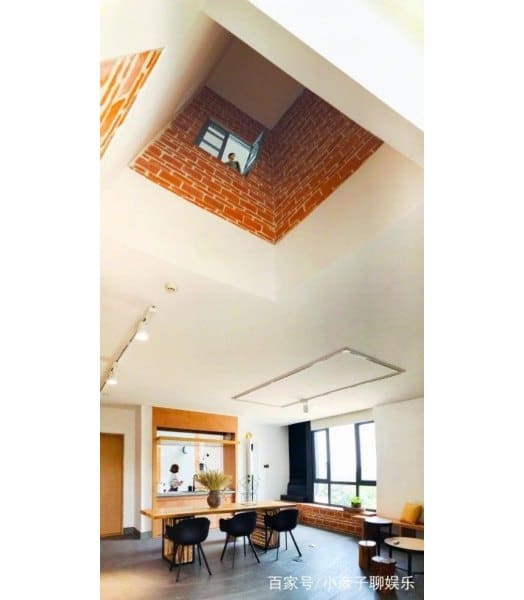 The communal living space, that has been named Boundless Community (无界社区), covers about 1500 square meter and has six completely separate rooms. Originally, the building was made up of only three stories, each with a ceiling height of six to nine meters high.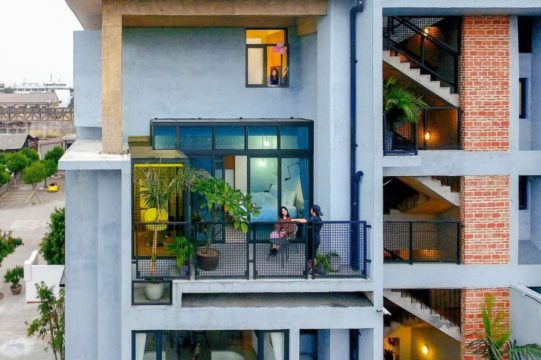 With the reconstruction of the building, the architect reportedly "wanted to break with the traditional urban types of dwellings," where many people live behind locked doors in small spaces. Michelle intended to design the space as a small "village," where people share their living space.
At the same time, the space also allows people to be creative and share their work with the outside world. All of these ideas resulted in a transparent "museum building."
The building itself is almost like a museum by allowing people from outside to look into the various studios.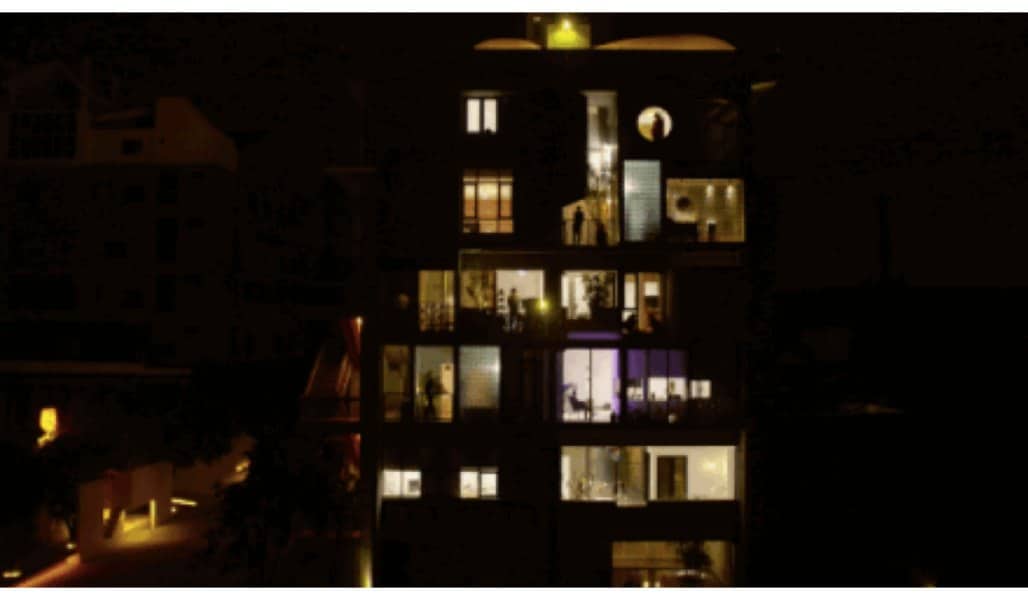 The popular architect is not the only one who is in favor of sharing a living space with her friends. A recent poll on Weibo shows that more than 90% of respondents would also like to live together with their friends; only 10% of the people prefer privacy over a communal living space with good friends.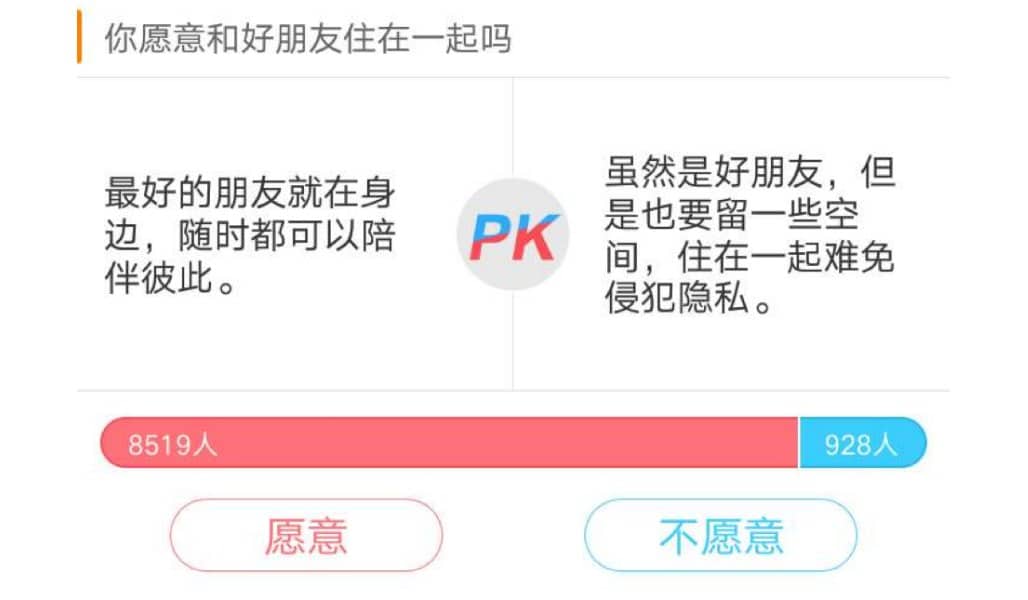 "This is my dream!", many commenters say, with others calling it "simply magical."
To read more about changing attitudes on home and living in China, also check out this article by What's on Weibo. 
By Gabi Verberg
Images via https://sjz.news.fang.com/open/31234746.html.
Spotted a mistake or want to add something? Please let us know in comments below or email us.
©2019 Whatsonweibo. All rights reserved. Do not reproduce our content without permission – you can contact us at info@whatsonweibo.com
When Ad Breaks Get Weird: Branded Content in Chinese TV Dramas Is Ruining It For the Viewers
China's ubiquitous inserted ad marketing is alienating viewers from their favorite TV drama characters.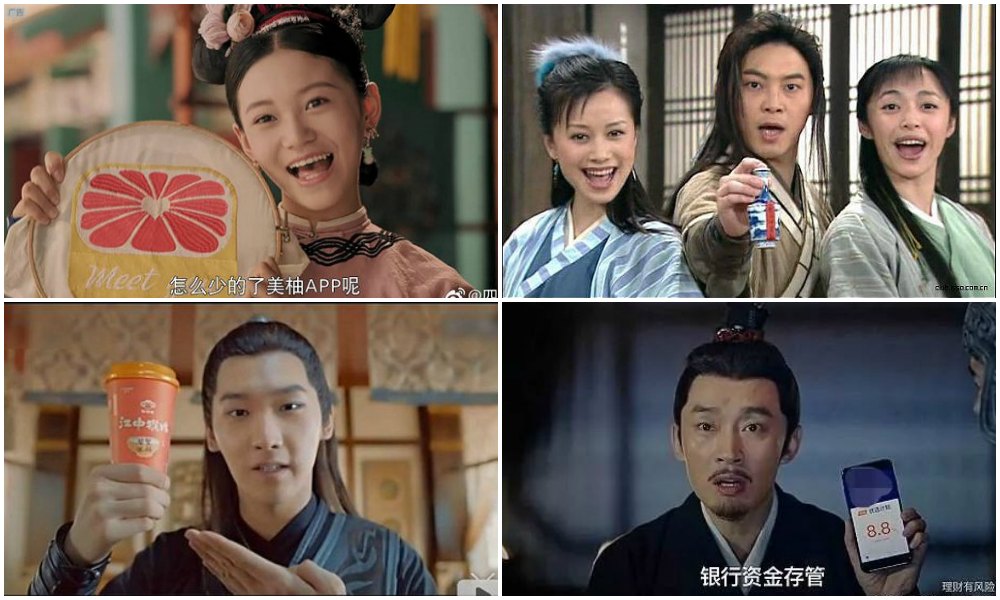 Ad breaks can be annoying, but when it's the main character of your favorite historical drama promoting the latest smartphone, it can actually ruin the viewer experience. In recent online discussions, China's ubiquitous 'Inserted Ad Marketing' (中插广告), that goes beyond product placement, is being attacked by netizens and media.
A 2017 Ad Age article on the high levels of branded content in China's online TV argues that Chinese viewers generally do not mind embedded marketing. They have allegedly become so used to to all kinds of branded distractions in TV shows, dramas, and films, that it is just "another part of the entertainment" (Doland 2017). But recent discussions on Chinese social media signal that the general sentiments regarding inserted sponsored content are changing.
On January 6, Chinese author Ma Boyong (@马伯庸, 4.5 million followers) posted an article on Weibo in which he criticized the phenomenon of inserted ad content in Chinese television series, saying the marketing style often does not suit the characters and is making the actors less credible.
Although Ma does not oppose to embedded marketing per se, he argues it hurts the credibility of TV dramas and the viewer's experience when it does not blend in with the style of the TV drama and its characters.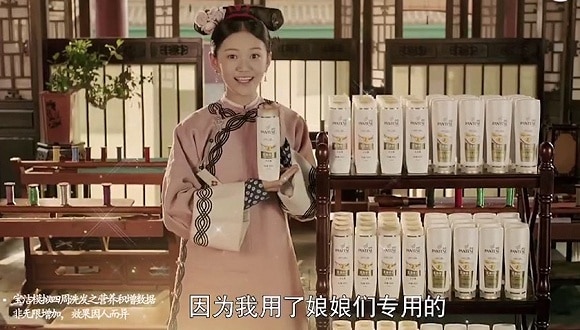 One of the TV dramas where the sponsored segments 'hurt' the show, according to Ma, is Mystery of Antiques (古董局中局, 2018) that is based on one of the author's novels. The actor Qiao Zhenyu (乔振宇), who plays the leading role, allegedly "looks like a fool" because of the inserted ad.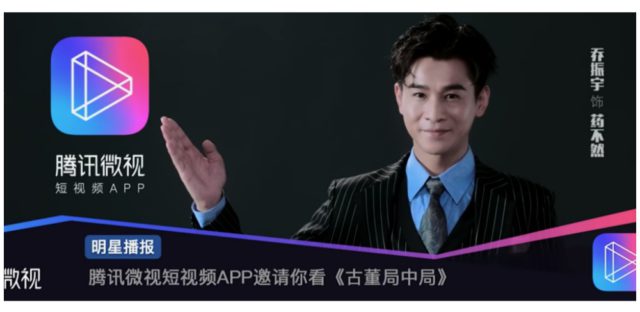 The type of advertising, that is central to this recent discussion, goes beyond product placement; it is the type of ad that appears inside (online) TV shows in which the actors, in character, straightforwardly promote a certain brand and product, sometimes in a scene dialogue ('storyline ads'), but also often while looking directly into the camera (see example here or here, Chinese term: zhōngchā guǎnggào 中插广告).
The hashtag 'Ma Boyong Roasts Inserted Ad Marketing' (#马伯庸吐槽中插广告#) had received more than 50 million views on Weibo by Sunday night, with the overall majority of people supporting the author's stance.
"Finally someone says this," one commenter said: "When it just started out, it was new, and I could endure it, but now it just really annoys me." "It is really disruptive," others agree.
A New Kind of Money-Making Machine
China's history of TV advertisement is not a long one; it wasn't until 1979 that China's first TV commercial was aired. Since then, the industry has blossomed, and branded content has become ubiquitous; the first TV drama incorporating product placement was broadcasted in 1991 (Li 2016).
Product placement is known as a powerful marketing tool since it is inescapable, has a long shelf life, is inexpensive, and unobtrusive (Huan et al 2013, 508). But as China's product placement has been turning into 'branded entertainment' within the settings of the show, it is losing its 'unobtrusiveness.'
Unsurprisingly, this is not the first time this type of advertising receives criticism. In 2017, various Chinese media, such as People's Daily, noted the rise of inserted product ads, stating that TV dramas were "shooting themselves in the foot" with these ad campaigns.
When the protagonist of a dynastic costume drama suddenly promotes a new smartphone app during an inserted ad break, he falls out of character, and the entire drama loses credibility. Do you remember those weird ad breaks in the famous American movie The Truman Show? Even Truman did not fall for that!
In China, this particular type of advertising can be traced back to the 2006 TV drama My Own Swordsman (武林外传), in which the characters suddenly turn to the camera in promoting a "White Camel Mountain" medicinal powder (watch the famous segment here).
Although that scene was for entertainment purposes only (the product was non-existent), it became reality in 2013, when the TV series Longmen Express (龙门镖局) first started using this kind of 'creative' advertising. Many online dramas then followed and started to use these inserted ads, especially since 2015 (Beijing Daily 2017). The promoted products are often new apps or money lending sites.
In the beginning, many people appreciated the novel way of advertising, and as the online video industry rose, so did the price of such advertisements. In a timeframe of roughly two years, their price became ten times higher. These type of 'ad breaks' have become an important and relatively easy money-making machine for drama productions (Beijing Daily 2017). In 2016 alone, Chinese TV drama productions made 800 million rmb (±116 million USD) through this marketing method – a figure that has been on the rise ever since.
The V-Effect: From Vips to Verfremdung
In China's flourishing online streaming environment, one of the problems with inserted ad campaigns is that even 'VIP members' of popular video sites such as iQiyi cannot escape them, nor 'skip' them, even though they pay monthly fees to opt out of commercials (similar to YouTube Premium).
"The reason I signed up for a VIP membership is to avoid ads, and now we get this," many annoyed netizens comment on Weibo.
Although that is one point that many people are dissatisfied with, the biggest complaint on social media regarding the inserted ad phenomenon is that it breaks down audience engagement in the show they are watching, and alienates them from the character, which is also known as verfremdungseffekt, distancing effect, or simply the 'V-effect,'  a performing arts concept coined by German playwright Bertolt Brecht in the 1930s.
The Brechtian "direct address" technique, one of the characteristics that made the American TV series House of Cards so successful, is employed to "break the fourth wall" – the imaginary wall between the actors and audience  – and serves a clear purpose: it makes viewers less emotionally attached to the characters and the narrative, it makes them more conscious and less likely to 'lose themselves' in the show they are watching, and is meant to provoke a social-critical audience response.
But this is exactly the faux pas China's ubiquitous 'creative inserted ads' make in letting popular TV drama characters promote a new app or soda; it is not meant to provoke a social-critical response, it is meant to advertise a product. But by alienating audiences from the show for a commercial and non-meaningful purpose, they actually reach the opposite effect of what their marketing objective is. Audiences become annoyed, less engaged, and 'exit the show' (in Chinese, the term '出戏' [disengage from the performance] is used).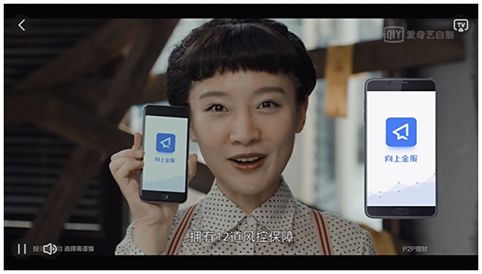 "These kind of ads make the entire drama seem so low," a typical comment on Weibo says. "What can we do? As long as people pay for it, they'll do it," others say.
Despite the recent attack on China's 'branded entertainment,' there is no sign of a change in these marketing techniques. Perhaps, if critique persist, this might change in the future. For now, disgruntled viewers turn to social media to vent their frustrations: "These ads completely make me lose interest in the story, they need to be criticized. I'm happy someone stood up to say it."
By Manya Koetse
Follow @whatsonweibo
References
Beijing Daily (北京日报). 2017. "创意中插广告泛滥,唯独缺了创意" [The Overflow of Creative Inserted Ads, Only They're Lacking Creativity] (in Chinese). Beijing Daily, Oct 18. Available online http://bjrb.bjd.com.cn/html/2017-10/18/content_183998.htm [Jan 6th 2019].
Doland, Angela. 2017. "China's online TV pushes product placement to crazy levels. Even crazier: Viewers don't mind." Ad Age, May 16. Vol.88(10), p.0030.
Huan Chen , En-Ying Lin , Fang Liu & Tingting Dai. 2013. "'See Me or Not, I Am There': Chinese White-Collar Moviegoers' Interpretation of Product Placements in Chinese Commercial Movies." Journal of Promotion Management, 19:5, 507-533.
Li, Hongmei. 2016. Advertising and Consumer Culture in China. Cambridge: Polity Press.
Spotted a mistake or want to add something? Please let us know in comments below or email us.
©2019 Whatsonweibo. All rights reserved. Do not reproduce our content without permission – you can contact us at info@whatsonweibo.com