Editorial: Behind SK-II's China's "Change Destiny" Campaign
Some call the recent ad campaign of skincare brand SK-II hypocritical. Is it?
The ad campaign of skin care brand SK-II has been all over the news, both in and outside China, since it was launched on April 7 – triggering much discussion on the phenomenon of China's 'leftover women' and the ad itself, with some calling it 'hypocritical'. But is it?
Japanese skin care brand SK-II has caused quite a stir in China with its latest ad campaign that focuses on unmarried women over the age of 25 in China, who have been labeled 'leftover women' by Chinese media for years. The video, that is part of the brand's worldwide 'Change Destiny' campaign, has been watched over 10 million times within ten days of its release.
"A wrinkled past in China"
It's not the first time SK-II has caused commotion in China, where the brand has a somewhat of a wrinkled past. In 2005, the company was suspected of deceiving consumers with its anti-wrinkle products, according to Chinese state media. Even before this news, Chinese netizens were already calling for a boycott of the Japanese SK-II in 2004.
In 2006, SK-II producer Procter & Gamble (宝洁) stopped the import of all SK-II products in China after the use of banned substances was detected by Chinese inspectors, followed by much controversy and media attention. According to an 2006 Ad Age article, the manufacturer defended the chemicals in SK-II as the same traces were found in other comparable products by companies such as Lancome or Estee Lauder – yet they suffered no consequences in their China sales. This left some industry observers wondering whether or not the brand was purposely picked on by the Chinese government for its Japanese origin, linking it to anti-Japanese sentiment that has existed in China since World War II.
A decade later, SK-II has launched its major 'Change Destiny' (#改写命运#) brand campaign that features, according to the brand: "(..) strong and independent women who have chosen to pursue their dreams instead of being pressured into marrying for the sake of it" (SK-II website).
SK-II 'change destiny' campaign. See the video here.
"I won't be happy if I marry for the sake of marrying"
The company chose the successful Swedish ad company Fordman & Bodenfors to produce their campaign video. This ad agency also produced the video for H&M's world recycle week featuring MIA, that received nearly a million views on Youtube within a week after its release.
The SK-II 4-minute-video titled 'Marriage Market Takeover' features several unmarried Chinese women who talk about the pressure they experience from their family and society at large to get married, and the stigmatization they face for being single.

After talking about their current situation, the women go to a so-called 'marriage market' – a well-known event in China that is generally held on Sundays in urban parks. This is a place where parents stand with 'ads' that tell the age, profession, income, and other details about their son or daughter, in the hopes of finding a suitable match for them.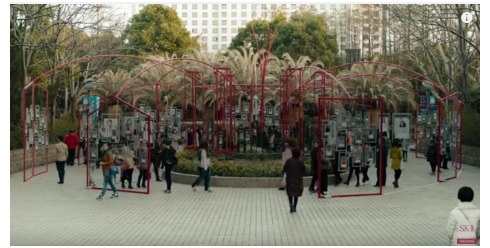 Shot of the 'marriage market' in th Shanghai Park in the video.
Instead of coming to the market in search of a partner, they come there to see their own 'ad'. The park in Shanghai where the 'marriage market' is normally held now has a wall of ads that are likely placed there for the SK-II campaign film. These 'ads' show the portraits of the different women, with an accompanying text saying things like: "I won't be happy if I marry for the sake of marrying".

Their parents then arrive at the market and see their daughter's picture and read her message to them. They are seemingly moved, and then express their understanding for their daughter's situation.

"There is a word for advertising like this, and that word is 'hypocrisy'."
The SK-II campaign video proved to be a huge success – it had already hit 1.2 million views on Youku within the first day of launching. The reactions on Chinese social media were overall very positive, as mainly female netizens recognized their own experiences in the video. Some exemplary netizens' reactions were: "Whether I'm married or not is nobody's business," or: "I won't stop pursuing my dreams because of pressure from society," and: "Marriage is about feeling, not about age."
But the ad also had critics. Although women's rights activist Zheng Churan generally welcomed the ad despite its commercial motives, she did criticize how it focused on the stereotype of the "leftover woman", ignoring "the struggles of poor, less-educated women". As she said: "We only see white-collar, elite women in this ad, but an 18-year-old factory girl pressed into marriage still has no voice" (Japan Times).
State media outlet Xinhua news quoted online female writer Gu Yingying saying that the ad "splashes a bottle of dirty water onto (women's) independence and confidence", and that it was "full of sentiments of depression and messages about society's intolerance and conservatism".
China's state broadcaster CCTV reported on the video being "welcomed across China", but also called it an ad for "pro-singledom".
Outside the China media sphere, Quartz writer Annalisa Merelli responded to the campaign with an article titled "Another viral ad tries to "empower" women while selling them products to look young forever". In this article, Merelli writes: "There is a word for advertising like this, and that word is "hypocrisy". To this, she adds:
"No matter the amount of moving music and public displays of support, there is simply no way a beauty brand should be able to both profit from a growing huge market ($191.7 billion projected globally for anti-aging alone) that feeds off the idea that you look too dark-skinned and too old, and also play fairy godmother of female empowerment" (Quartz, April 12).
"The exclusion of the '18-year-old factory girl' is understandable: she is not SK-II's target audience."
But how 'hypocritical' is this ad for addressing China's 'leftover women' phenomenon while having commercial interests? First, the brand does not hide the video's commercial aspect. On the contrary, the SK-II brand logo is clearly marked in the ad and the video was released from official SK-II channels. Second, the women represented in the video are the brand's intended consumers. Within China, it's mostly the highly educated and urban women who buy SK-II kinds of brands and suffer pressure from society for being unmarried- in that way, there simply and very apparently is a way that a beauty brand can profit from a huge market while encouraging their "female empowerment".
The exclusion of the '18-year-old factory girl' is understandable from a commercial perspective: she is not SK-II's target audience. An SK-II moisturizer currently is priced around 1370 RMB (±211 US$) on Tmall. According to China Labour Bulletin, the minimum wages in China vary across China, from 850 RMB per month (131 US$ )to 2030 RMB (313 US$). SK-II products simply are an unattainable luxury for many women in China, except for those women who generally have a solid educational background, a blossoming career, and the access to high-end stores that sell SK-II – which are often the same women facing the 'leftover' pressure.
Commercial motives aside, the pressure China's unmarried women suffer is real. About 80% of China's bachelorettes over the age of 24 experience pressure by their families to get married, whilst a Zhenai survey pointed out that 50% of Chinese men think women are already 'leftover' when they are unmarried by the age of 25.
The pressure, being both familial and societal, comes from all angles. Parents, coming from a completely different generation, often lack the understanding that their daughter is waiting for 'the one'. As the dad in the video says: "In our days, matchmaking was simple: you got matched, you got married." They then suffer extra pressure because those born after 1978 were children of China's one-child policy, which means they are often their parents' only child able to give them a grandchild.
In society at large, the pressure is also double-faced. Besides deeply-rooted Confucian ideas about respecting one's parents by getting married and fulfilling one's role as "good wife and wise mother", there is also an existing unbalance in male/female ratio. With millions of men left without an eligible partner and an aging China, there is ample societal need for single women to settle down and get married – which makes being 'leftover' all the more difficult. The fact that there are Chinese writers and academics calling on women to set some of their personal happiness aside to get married "for the country and for society" does not make things easier.
"By choosing the 'leftover' issue and turning it into a positive message, SK-II has rebranded itself in the PRC as a progressive and empowering brand name."
SK-II was not hypocritical in being a commercial company releasing an empowering message, nor is the pressure on women it pictures unrealistic. The parents' swift transformation after seeing their daughter's ad, however, could be said to be somewhat starry-eyed; their sudden understanding for their daughter's situation is unlikely to change traditional perceptions on China's unmarried women overnight. This does not make SK-II hypocritical; it just makes the video the commercial that it is. Luxury brands are supposed to give consumers a mental connection to positivity, confidence, and bright possibilities; not leave us pessimistic about the future.
The brand's choice for the topic of 'leftover women' is a strategic one. SK-II had to make up for some of its wrinkled past in China. The consumers it mainly needs to win over are also the women who often face pressure in everyday China. By choosing the 'leftover' issue and turning it into a positive message, SK-II has rebranded itself in the PRC as a progressive and empowering brand name. It also profits from one of the world's most important markets by doing so. Through this video, SK-II has won the sympathy of an audience of millions who have cash to spend on the luxury items SK-II promotes.
An additional reason why SK-II's campaign focus is a smart strategic move, is that the phenomenon of 'leftover women' is also a popular recurring topic internationally; the struggles of single Chinese women have captured the interest of the mainstream Western media for some years now. The ad campaign therefore went viral both in and outside – killing two birds in one stone.
All in all, Forsman & Bodenfors have done a great job at what they do: SK-II's brand name is all over the web, the majority of Chinese netizens welcomed the 'change destiny' message with open arms, and they have reiterated what the product behind the campaign is all about. After all, who doesn't want a pressure-free life, a wrinkle-free face, and a happy end to a troubled story?
– By Manya Koetse
Follow @WhatsOnWeibo
©2016 Whatsonweibo. All rights reserved. Do not reproduce our content without permission – you can contact us at info@whatsonweibo.com.
Chinese Social Media Users Stand up Against Body Shaming
Recent photos of famous actress Gong Li that showed her curvier figure have gone viral on Sina Weibo, receiving over 850 million clicks. With Gong Li's weight gain becoming all the talk on Weibo, the public's focus on her appearance has sparked an online wave of body positivity posts, with web users rejecting the all-too-common phenomenon of body shaming on Chinese social media.
First, there was the 'A4 Waist' hype, then there was the 'iPhone6 Legs' trend, the 'belly button backhand,' and the online challenge of putting coins in your collarbone to show off how thin you are (锁骨放硬币). Over the past five years, China has seen multiple social media trends that propagated a thin figure as the ruling beauty standard.
But now a different kind of trend is hitting Weibo's hotlists: one that rejects body shaming and promotes the acceptance of a greater diversity in body sizes and shapes in China.
On August 26, Weibo user @_HYIII_ from Shanghai posted several pictures, writing:
"Reject body shaming! Why should we all have the same figure? Tall or short, thin or fat, all have their own characteristics. Embrace yourself, and show off your own unique beauty!"
The post was soon shared over 900 times, receiving more than 32,000 likes, with the "body shame" phrase soon reaching the top keyword trending list of Sina Weibo.
Gong Li Weight Gain
The body positivity post by '_HYIII_' is going viral on the same day that the apparent weight gain of Chinese actress Gong Li (巩俐) is attracting major attention on Chinese social media platforms such as Weibo and Douyin.
The 54-year-old actress, who is known for starring in famous movies such as Farewell My Concubine, To Live, and Memoirs of a Geisha, was spotted taking a walk with her husband in France on August 24. The photos went viral, with media outlets such as Sina Entertainment noting how Gong Li had become "much rounder" and had put on some "happy fat" (幸福肥).
By now, the hashtag page "Gong Li's Figure" (#巩俐身材#) has received more than 850 million (!) views on Weibo, with thousands of people commenting on the appearance of the actress. In the comment sections, there were many who lashed out against the focus on Gong Li's weight gain.
"She just has a regular female body shape. Stop using 'white / skinny / young' as the main beauty standard to assess other people," one commenter said, with another person writing: "Why do you all keep focusing on her figure, did she steal your rice and eat it?!"
"Why do you all keep focusing on her figure, did she steal your rice and eat it?"
Some people suggested that the COVID19 pandemic might have to do with Gong Li's weight gain, with others writing: "If she is healthy is what matters, skinny or fat is not the way to assess her beauty."
What stands out from the discussions flooding social media at this time, is that a majority of web users seem to be fed up with the fact that a skinny body is the common standard of women's beauty in China today – and that accomplished and talented women such as Gong Li are still judged by the size of their waist.
Say No to Body Shaming
In light of the controversy surrounding Gong Li's recent photos and the following discussions, posts on 'body shaming' (身材羞辱) are now flooding Weibo, with many Weibo users calling on people to "reject body shaming" (拒绝#body shame#) and to stop imposing strict beauty standards upon Chinese women.
The pressure to be thin, whether it comes from the media or from others within one's social circle, is very real and can seriously affect one's self-esteem. Various studies have found an association between body dissatisfaction and social pressure to be thin and body shaming in Chinese adolescents and young adults (Yan et al 2018).
The main message in this recent Weibo grassroots campaign against body shaming, is that there are many ways in which women can be beautiful and that their beauty should not be merely defined by limited views on the ideal weight, height, or skin color.
Over the past decades, women's beauty ideals have undergone drastic changes in China, where there has been a traditional preference for "round faces" and "plump bodies." In today's society, thin bodies, sharp faces, and a pointy chin are usually regarded as the standard of female ideal beauty (Jung 2018, 68). China's most popular photo apps, such as Meitu or Pitu, often also include features to make one's face pointier or one's legs more skinny.
This is not the first time Weibo sees a growing trend of women opposing strict beauty standards. Although the word 'body shaming' has not often been included in previous trends, there have been major trends of women opposing popular skinny challenges and even one social media campaign in which young women showed their hairy armpits to trigger discussions on China's female aesthetics.
Especially in times of a pandemic, many netizens now stress the importance of health: "Skinny or fat, it really doesn't matter how much you weigh, as long as you're healthy – that's what counts."
Also read:
By Manya Koetse
Follow @WhatsOnWeibo
References
Jung, Jaehee. 2018. "Young Women's Perceptions of Traditional and Contemporary Female Beauty Ideals in China." Family and Consumer Sciences Research Journal 47 (1): 56-72.
Yan, Hanyi ; Wu, Yingru ; Oniffrey, Theresa ; Brinkley, Jason ; Zhang, Rui ; Zhang, Xinge ; Wang, Yueqiao ; Chen, Guoxun ; Li, Rui ; Moore, Justin. 2018. "Body Weight Misperception and Its Association with Unhealthy Eating Behaviors among Adolescents in China." International Journal of Environmental Research and Public Health 15 (5): 936.
Spotted a mistake or want to add something? Please let us know in comments below or email us. First-time commenters, please be patient – we will have to manually approve your comment before it appears.
©2020 Whatsonweibo. All rights reserved. Do not reproduce our content without permission – you can contact us at info@whatsonweibo.com.
"Living a Nightmare" – Chinese Beauty Guru Yuya Mika Shares Shocking Story of Domestic Abuse
Famous makeup artist Yuya Mika shared her story in a video that has since gone viral on Weibo.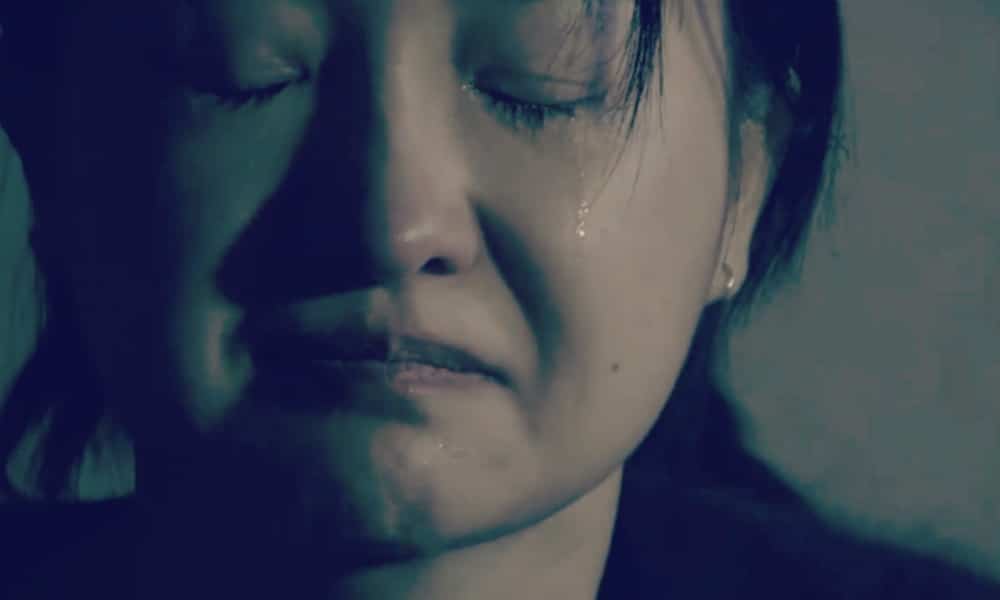 First published
Chinese famous makeup vlogger Yuya Mika has come out and shared her experience of being physically abused by her former boyfriend. Yuya's story – told in a documentary-style video that is now going viral – does not just raise online awareness about the problem of domestic violence, it also shows the raw realness behind the glamorous facade of China's KOLs' social media life.
Fashion and makeup blogger He Yuyong, better knowns as Yuya (宇芽) or Yuya Mika (@宇芽YUYAMIKA), has gone viral on China's social media platform Weibo for sharing her personal story of suffering domestic abuse at the hands of her ex-partner.
On Monday afternoon, November 25 – which is the International Day for the Elimination of Violence against Women – Yuya, a KOL (Key Opinion Leaders/online influencer) who has over 800,000 followers on her Weibo account, wrote: "I'm a victim of domestic violence. The past six months, I feel like I've been living a nightmare. I need to speak up about domestic violence here!"
With her post, Yuya shared a 12-minute documentary-style video in which she tells how she has been abused by her partner of one year, with whom she has now separated.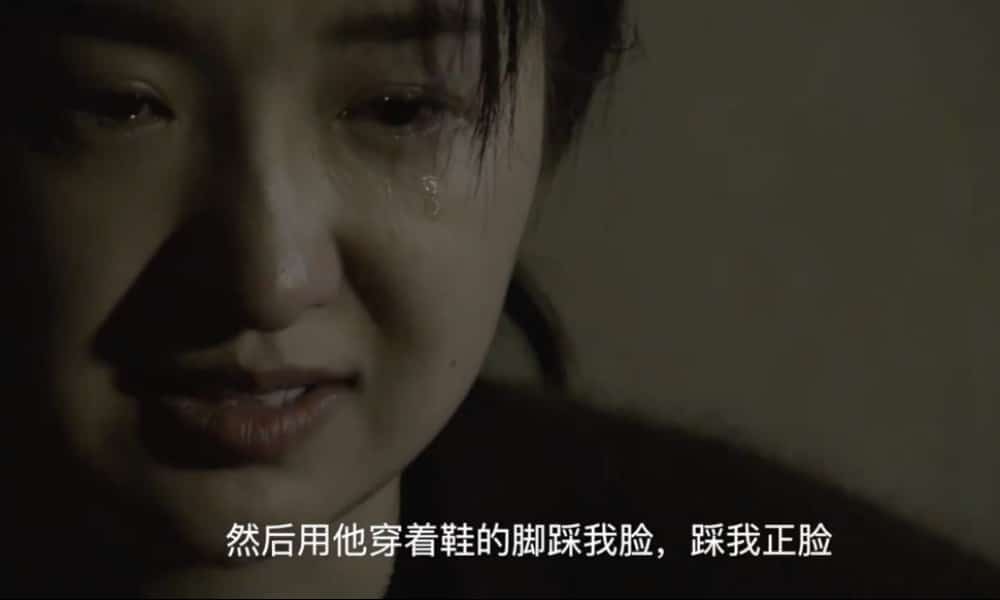 The short doc does not just tell Yuya's story, it also features the experiences of her former partner's ex-wives, who allegedly also suffered domestic violence at his hands.
Besides the shocking accounts of the women, the video contains also footage of Yuya's ex-boyfriend trying to violently drag her out of an elevator – a moment that was caught on security cameras in August of this year.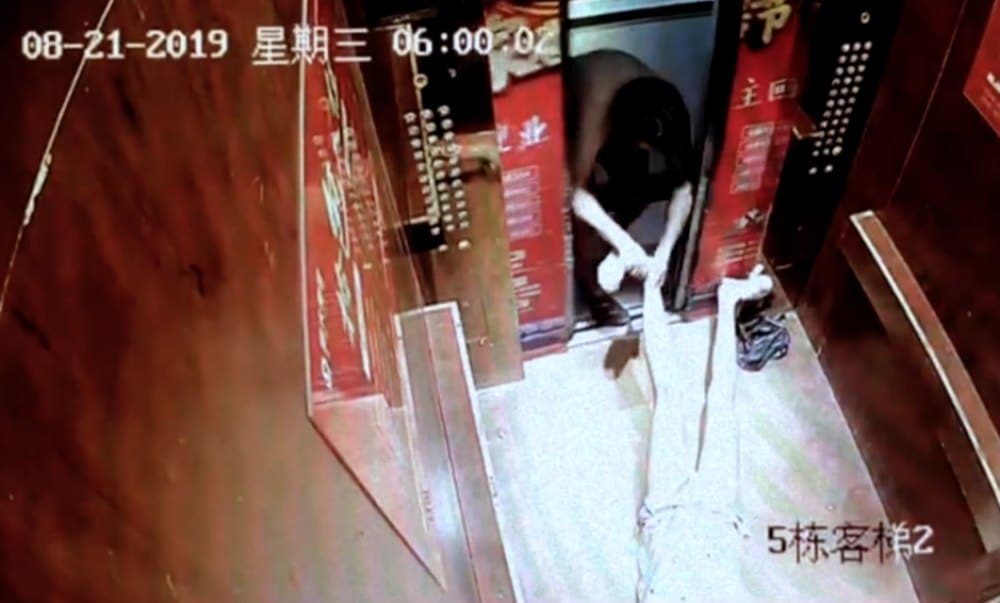 Yuya identifies her former boyfriend and abuser as the 44-year-old artist and Weibo blogger 'Toto River' (@沱沱的风魔教), who was married three times before starting a relationship with the famous beauty blogger.
The two met each other through social media, and Yuya initially fell for his talent and kindness. But, as she says, his perfect social media image soon turned out to be nothing but a fake facade, and the nightmare began.
The beauty blogger explains that the domestic violence went hand in hand with mental abuse, with Yuya being brainwashed into believing she was lucky to be with a man such as her boyfriend.
As the abuse became a regular occurrence, Yuya tearfully explains how she sometimes could not work for a week because her face was too bruised for shooting videos.
Yuya also writes on Weibo that she shares her story so that the experiences she and her ex-boyfriend's former wives suffered will not happen to other women, and to warn others from ending up in a similar situation.
Meanwhile, the Weibo account of Yuya's former boyfriend has been closed for comments.
Yuya Mika is not just popular on Weibo and video ap Tiktok. The beauty guru – famous for doing imitation makeup of celebrities and famous icons such as Mona Lisa – also has over 750k fans on her Instagram account and thousands of subscribers on her YouTube Channel, where she posts makeup tutorials.
Yuya is part of the company of Papi Jiang (aka Papi Chan), a Chinese vlogger and comedian who became an internet celebrity in 2016. On Tuesday, the Papi Jiang company also responded to Yuya's video, saying they fully support the makeup artist in coming forward with her story.
At time of writing, Yuya's story has been shared over 425,000 times, with a staggering thread of more than 280,000 comments on Weibo.
Many commenters respond in shock that the tearful woman in the video is actually Yuya, as the makeup artist is usually always smiling and shining in front of the camera. Other Weibo users express their hopes that Yuya's ex-boyfriend will be punished for what he did.
With over 160 million views, the hashtag "Yuya Suffers Domestic Abuse" (#宇芽被家暴#) is now in the top five of most-discussed topics on Weibo.
Over the past few years, the issue of domestic violence has received more attention on Chinese social media, especially since China's first national law against domestic violence came into effect on March 1, 2016. More women have come forward on Chinese social media to share their personal experiences with domestic abuse.
According to Chinese media reports of Tuesday afternoon, local authorities are currently investigating Yuya's story.
By Manya Koetse, with contributions from Miranda Barnes
Follow @whatsonweibo
It's almost Black Friday! We've already listed the best VPN deal for you here.
Spotted a mistake or want to add something? Please let us know in comments below or email us. First-time commenters, please be patient – we will have to manually approve your comment before it appears.
©2019 Whatsonweibo. All rights reserved. Do not reproduce our content without permission – you can contact us at info@whatsonweibo.com.