Editorial: Behind SK-II's China's "Change Destiny" Campaign
Some call the recent ad campaign of skincare brand SK-II hypocritical. Is it?
The ad campaign of skin care brand SK-II has been all over the news, both in and outside China, since it was launched on April 7 – triggering much discussion on the phenomenon of China's 'leftover women' and the ad itself, with some calling it 'hypocritical'. But is it?
Japanese skin care brand SK-II has caused quite a stir in China with its latest ad campaign that focuses on unmarried women over the age of 25 in China, who have been labeled 'leftover women' by Chinese media for years. The video, that is part of the brand's worldwide 'Change Destiny' campaign, has been watched over 10 million times within ten days of its release.
"A wrinkled past in China"
It's not the first time SK-II has caused commotion in China, where the brand has a somewhat of a wrinkled past. In 2005, the company was suspected of deceiving consumers with its anti-wrinkle products, according to Chinese state media. Even before this news, Chinese netizens were already calling for a boycott of the Japanese SK-II in 2004.
In 2006, SK-II producer Procter & Gamble (宝洁) stopped the import of all SK-II products in China after the use of banned substances was detected by Chinese inspectors, followed by much controversy and media attention. According to an 2006 Ad Age article, the manufacturer defended the chemicals in SK-II as the same traces were found in other comparable products by companies such as Lancome or Estee Lauder – yet they suffered no consequences in their China sales. This left some industry observers wondering whether or not the brand was purposely picked on by the Chinese government for its Japanese origin, linking it to anti-Japanese sentiment that has existed in China since World War II.
A decade later, SK-II has launched its major 'Change Destiny' (#改写命运#) brand campaign that features, according to the brand: "(..) strong and independent women who have chosen to pursue their dreams instead of being pressured into marrying for the sake of it" (SK-II website).
SK-II 'change destiny' campaign. See the video here.
"I won't be happy if I marry for the sake of marrying"
The company chose the successful Swedish ad company Fordman & Bodenfors to produce their campaign video. This ad agency also produced the video for H&M's world recycle week featuring MIA, that received nearly a million views on Youtube within a week after its release.
The SK-II 4-minute-video titled 'Marriage Market Takeover' features several unmarried Chinese women who talk about the pressure they experience from their family and society at large to get married, and the stigmatization they face for being single.

After talking about their current situation, the women go to a so-called 'marriage market' – a well-known event in China that is generally held on Sundays in urban parks. This is a place where parents stand with 'ads' that tell the age, profession, income, and other details about their son or daughter, in the hopes of finding a suitable match for them.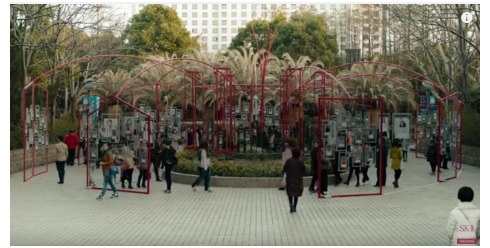 Shot of the 'marriage market' in th Shanghai Park in the video.
Instead of coming to the market in search of a partner, they come there to see their own 'ad'. The park in Shanghai where the 'marriage market' is normally held now has a wall of ads that are likely placed there for the SK-II campaign film. These 'ads' show the portraits of the different women, with an accompanying text saying things like: "I won't be happy if I marry for the sake of marrying".

Their parents then arrive at the market and see their daughter's picture and read her message to them. They are seemingly moved, and then express their understanding for their daughter's situation.

"There is a word for advertising like this, and that word is 'hypocrisy'."
The SK-II campaign video proved to be a huge success – it had already hit 1.2 million views on Youku within the first day of launching. The reactions on Chinese social media were overall very positive, as mainly female netizens recognized their own experiences in the video. Some exemplary netizens' reactions were: "Whether I'm married or not is nobody's business," or: "I won't stop pursuing my dreams because of pressure from society," and: "Marriage is about feeling, not about age."
But the ad also had critics. Although women's rights activist Zheng Churan generally welcomed the ad despite its commercial motives, she did criticize how it focused on the stereotype of the "leftover woman", ignoring "the struggles of poor, less-educated women". As she said: "We only see white-collar, elite women in this ad, but an 18-year-old factory girl pressed into marriage still has no voice" (Japan Times).
State media outlet Xinhua news quoted online female writer Gu Yingying saying that the ad "splashes a bottle of dirty water onto (women's) independence and confidence", and that it was "full of sentiments of depression and messages about society's intolerance and conservatism".
China's state broadcaster CCTV reported on the video being "welcomed across China", but also called it an ad for "pro-singledom".
Outside the China media sphere, Quartz writer Annalisa Merelli responded to the campaign with an article titled "Another viral ad tries to "empower" women while selling them products to look young forever". In this article, Merelli writes: "There is a word for advertising like this, and that word is "hypocrisy". To this, she adds:
"No matter the amount of moving music and public displays of support, there is simply no way a beauty brand should be able to both profit from a growing huge market ($191.7 billion projected globally for anti-aging alone) that feeds off the idea that you look too dark-skinned and too old, and also play fairy godmother of female empowerment" (Quartz, April 12).
"The exclusion of the '18-year-old factory girl' is understandable: she is not SK-II's target audience."
But how 'hypocritical' is this ad for addressing China's 'leftover women' phenomenon while having commercial interests? First, the brand does not hide the video's commercial aspect. On the contrary, the SK-II brand logo is clearly marked in the ad and the video was released from official SK-II channels. Second, the women represented in the video are the brand's intended consumers. Within China, it's mostly the highly educated and urban women who buy SK-II kinds of brands and suffer pressure from society for being unmarried- in that way, there simply and very apparently is a way that a beauty brand can profit from a huge market while encouraging their "female empowerment".
The exclusion of the '18-year-old factory girl' is understandable from a commercial perspective: she is not SK-II's target audience. An SK-II moisturizer currently is priced around 1370 RMB (±211 US$) on Tmall. According to China Labour Bulletin, the minimum wages in China vary across China, from 850 RMB per month (131 US$ )to 2030 RMB (313 US$). SK-II products simply are an unattainable luxury for many women in China, except for those women who generally have a solid educational background, a blossoming career, and the access to high-end stores that sell SK-II – which are often the same women facing the 'leftover' pressure.
Commercial motives aside, the pressure China's unmarried women suffer is real. About 80% of China's bachelorettes over the age of 24 experience pressure by their families to get married, whilst a Zhenai survey pointed out that 50% of Chinese men think women are already 'leftover' when they are unmarried by the age of 25.
The pressure, being both familial and societal, comes from all angles. Parents, coming from a completely different generation, often lack the understanding that their daughter is waiting for 'the one'. As the dad in the video says: "In our days, matchmaking was simple: you got matched, you got married." They then suffer extra pressure because those born after 1978 were children of China's one-child policy, which means they are often their parents' only child able to give them a grandchild.
In society at large, the pressure is also double-faced. Besides deeply-rooted Confucian ideas about respecting one's parents by getting married and fulfilling one's role as "good wife and wise mother", there is also an existing unbalance in male/female ratio. With millions of men left without an eligible partner and an aging China, there is ample societal need for single women to settle down and get married – which makes being 'leftover' all the more difficult. The fact that there are Chinese writers and academics calling on women to set some of their personal happiness aside to get married "for the country and for society" does not make things easier.
"By choosing the 'leftover' issue and turning it into a positive message, SK-II has rebranded itself in the PRC as a progressive and empowering brand name."
SK-II was not hypocritical in being a commercial company releasing an empowering message, nor is the pressure on women it pictures unrealistic. The parents' swift transformation after seeing their daughter's ad, however, could be said to be somewhat starry-eyed; their sudden understanding for their daughter's situation is unlikely to change traditional perceptions on China's unmarried women overnight. This does not make SK-II hypocritical; it just makes the video the commercial that it is. Luxury brands are supposed to give consumers a mental connection to positivity, confidence, and bright possibilities; not leave us pessimistic about the future.
The brand's choice for the topic of 'leftover women' is a strategic one. SK-II had to make up for some of its wrinkled past in China. The consumers it mainly needs to win over are also the women who often face pressure in everyday China. By choosing the 'leftover' issue and turning it into a positive message, SK-II has rebranded itself in the PRC as a progressive and empowering brand name. It also profits from one of the world's most important markets by doing so. Through this video, SK-II has won the sympathy of an audience of millions who have cash to spend on the luxury items SK-II promotes.
An additional reason why SK-II's campaign focus is a smart strategic move, is that the phenomenon of 'leftover women' is also a popular recurring topic internationally; the struggles of single Chinese women have captured the interest of the mainstream Western media for some years now. The ad campaign therefore went viral both in and outside – killing two birds in one stone.
All in all, Forsman & Bodenfors have done a great job at what they do: SK-II's brand name is all over the web, the majority of Chinese netizens welcomed the 'change destiny' message with open arms, and they have reiterated what the product behind the campaign is all about. After all, who doesn't want a pressure-free life, a wrinkle-free face, and a happy end to a troubled story?
– By Manya Koetse
Follow @WhatsOnWeibo
©2016 Whatsonweibo. All rights reserved. Do not reproduce our content without permission – you can contact us at info@whatsonweibo.com.
Turning Drinks into Fashion – Chinese Designer Yang Yang Personifies Popular Beverages
Personified beverage fashion – trending because it's cool.
Every now and then there are posts on Weibo that just seem to keep on making their rounds. The 'beverage fashion' drawings collection by Yang Yang (杨杨) is one of these posts, first popping up on Chinese social media in June of this year.
Yang Yang is a 28-year-old designer from Anhui, who started drawing when she was 13 years old. She has been active in the fashion business for eight years now and has become popular on Kuaishou, China's popular short video and live-streaming app.
If Coca Cola were a fashionista, what would she look like? In the eyes of Yang Yang, this would be her:
Wahaha (哇哈哈) purified water, produced by the largest beverage company in China, is personified here:
Energy drink brand Red Bull China, a Sino-foreign joint venture company, uses different colors than cans in the US or Europe.
One particularly striking illustration by Yang Yang is that of Nongfu icea tea drink Cha π (茶兀).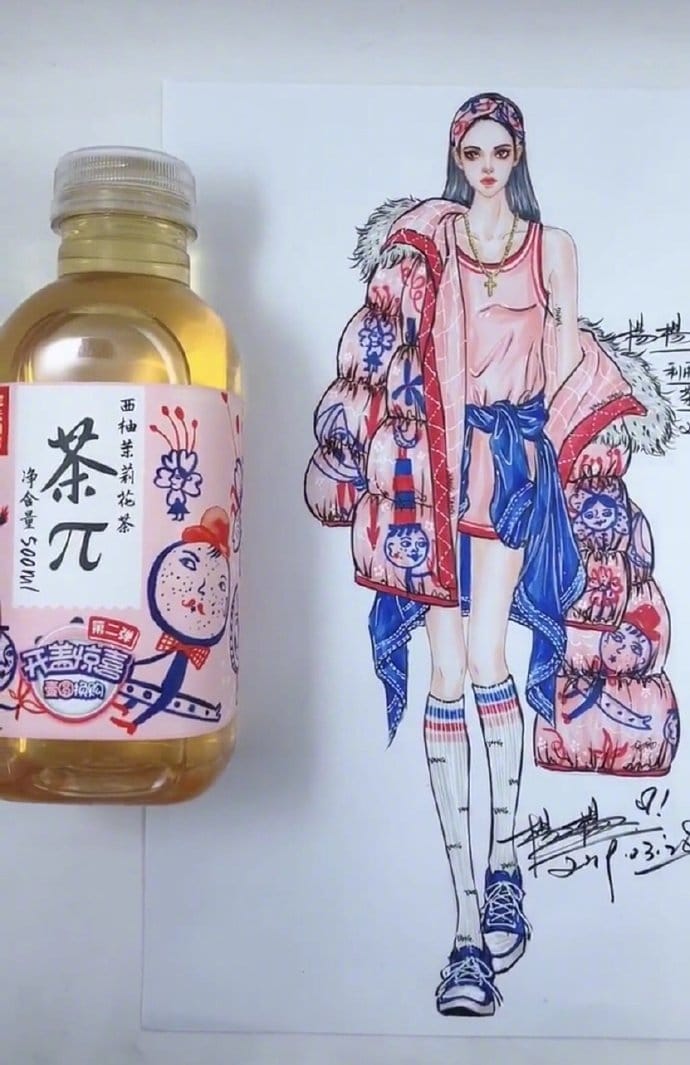 Nongfu Spring, one of the most common brands of bottled water in China, suddenly seems very trendy now.
This is the fashion version of Sea Crystal Lemon, known for its bright blue and yellow.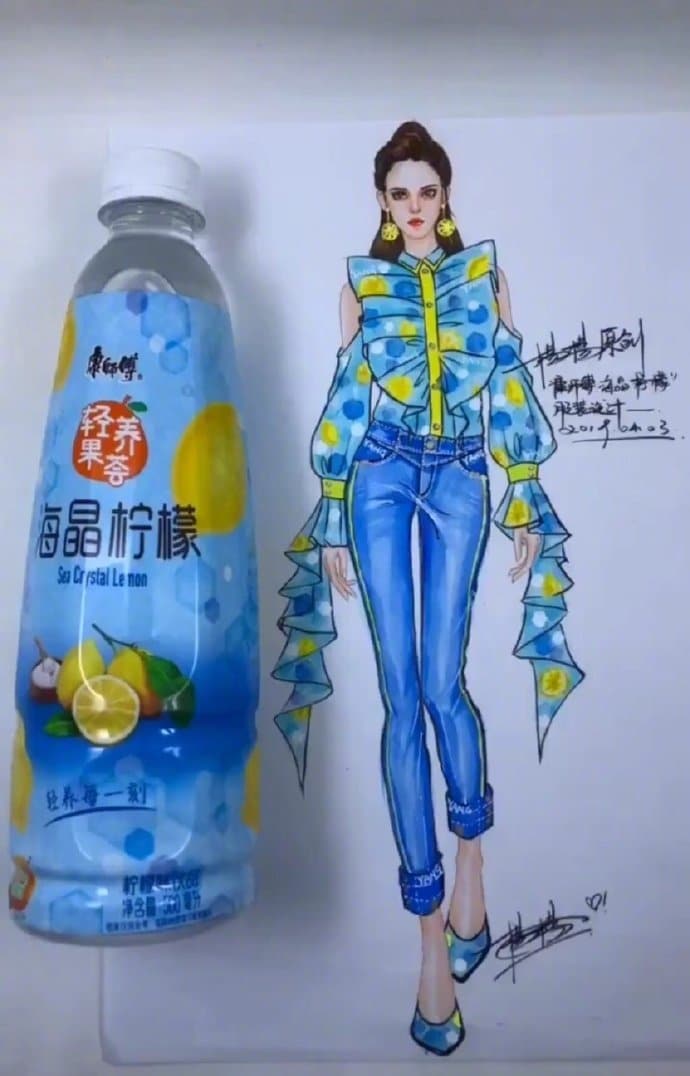 Following the various Weibo posts that are making their rounds with the illustrations by Yang Yang, more drawings seem to have been added later via other channels, including that of Pepsi, Wong Lo Kat, and Snow Beer.
Although Yang Yang's designs have gone viral this year, it is not known if they will have a chance to be turned into wearable fashion. As for Yang, she says she was just "playing around" to keep a creative mind.
Also read: From Stay-at-Home Dad to Fashion Designer – 'Super Dad' Rises to Fame
By Manya Koetse
Sources:
https://k.sina.com.cn/article_1872762823_p6fa017c702700xosj.html
https://new.qq.com/rain/a/20190619A0POST
Spotted a mistake or want to add something? Please let us know in comments below or email us. First time commenters, please be patient – we will have to manually approve your comment before it appears.
©2019 Whatsonweibo. All rights reserved. Do not reproduce our content without permission – you can contact us at info@whatsonweibo.com
The Mulan Makeup Challenge: Traditional Chinese Makeup Goes Trending
Recreating the Mulan make-up look was the biggest beauty challenge on Chinese social media this July.
Will traditional Chinese make-up make a comeback because of Disney's Mulan?
Since Disney released the official trailer for its live-action Mulan movie earlier this month, Mulan is recurringly appearing in the top trending lists on Chinese social media.
Among all the different topics relating to the upcoming Mulan movie, the Mulan make-up challenge is one that jumps out this month.
The Disney live-action trailer showed a scene in which Mulan, played by Chinese American actress Crystal Liu Fei (刘亦菲), has a full face of betrothal makeup. The original animated Disney movie also features a full makeup Mulan.
Although there was also online criticism of the 'exaggerated' makeup, there are many people who appreciate Mulan's colorful makeup look.
On Weibo, many showed off their skills in copying Mulan's makeup look this month.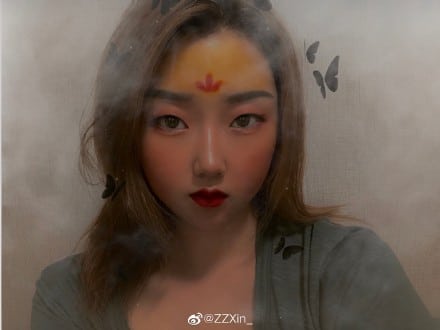 By now, the hashtags "Mulan Makeup Imitation" (#花木兰仿妆#) and "Mulan Makeup Imitation Contest" (#花木兰仿妆大赛#) have attracted over 300 million views.
Makeup such as lipstick has been used in China as far back as two or three thousand years ago.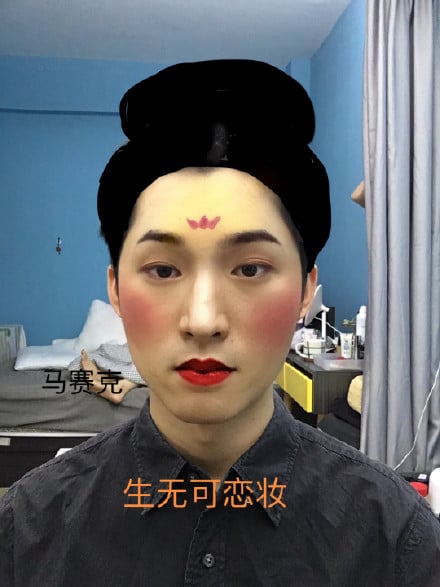 Makeup vlogger Emma Zhou explains more about Tang Dynasty (618-907) makeup customs here; the skin would be whitened with rice flower, followed by the application of 'blush' (pigment of strong-colored flowers) to the cheeks and eyes in a round shape, to emphasize the roundness of the face.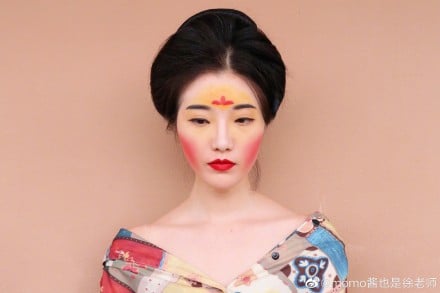 A floral-like decoration would be placed in between the eyebrows.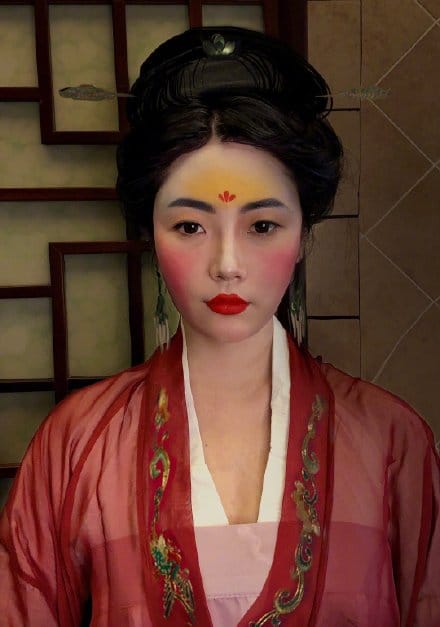 The yellow forehead, as can be seen in the live-action Mulan, is also known as "Buddha's makeup," and was especially popular among ladies during the Tang Dynasty. A yellow aura on the forehead was believed to be auspicious (Schafer 1956, 419).
Although contemporary Chinese makeup trends are much different than those depicted in Mulan, traditional makeup seems to make somewhat of a come-back because of the Disney movie, with hundreds of Chinese netizens imitating the look.
Beauty bloggers such as Nico (@黎千千Nico, image below) receive much praise from Weibo users for their makeup look. Nico wrote: "I even opened the door for the delivery guy this way!"
It is not just girls imitating the look; there are also some boys showing off their Mulan makeup.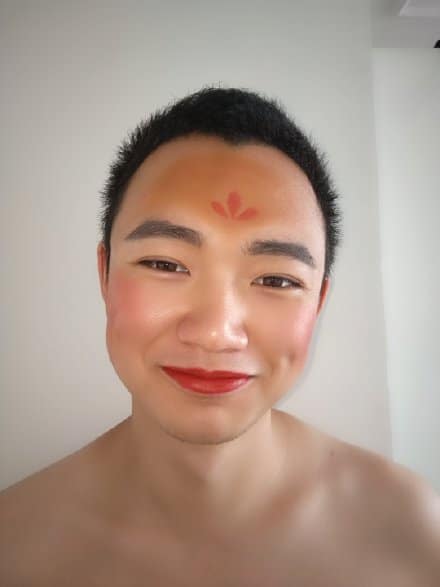 Although many still find the Mulan makeup look exaggerated and even "laughable," there are also those who think it looks really "cool" – of course, depending on whether or not the application is successful.
Want to try it out for yourself? There are various amateur tutorials available on Youtube (in Chinese), such as here, here, or here.
The Mulan make-up hype will probably continue in 2020; the Mulan movie will come out in late March.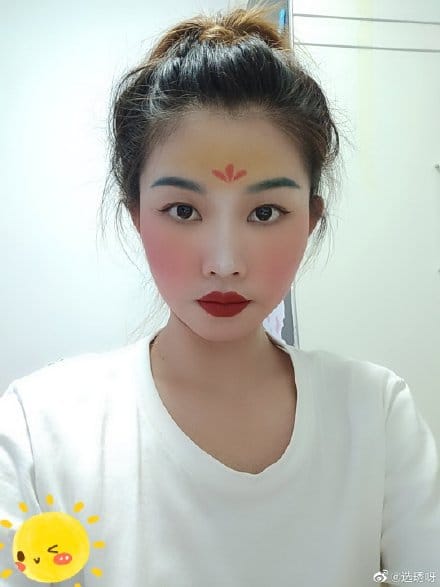 To read more about Mulan, please see our latest feature article on Mulan here.
By Manya Koetse
Follow @whatsonweibo
References
Schafer, Edward H. 1956. "The Early History of Lead Pigments and Cosmetics in China." T'oung Pao, Second Series, 44, no. 4/5: 413-38. http://www.jstor.org/stable/4527434.
Spotted a mistake or want to add something? Please let us know in comments below or email us. Please note that your comment below will need to be manually approved if you're a first-time poster here.
©2019 Whatsonweibo. All rights reserved. Do not reproduce our content without permission – you can contact us at info@whatsonweibo.com