Editorial: Behind SK-II's China's "Change Destiny" Campaign
Some call the recent ad campaign of skincare brand SK-II hypocritical. Is it?
The ad campaign of skin care brand SK-II has been all over the news, both in and outside China, since it was launched on April 7 – triggering much discussion on the phenomenon of China's 'leftover women' and the ad itself, with some calling it 'hypocritical'. But is it?
Japanese skin care brand SK-II has caused quite a stir in China with its latest ad campaign that focuses on unmarried women over the age of 25 in China, who have been labeled 'leftover women' by Chinese media for years. The video, that is part of the brand's worldwide 'Change Destiny' campaign, has been watched over 10 million times within ten days of its release.
"A wrinkled past in China"
It's not the first time SK-II has caused commotion in China, where the brand has a somewhat of a wrinkled past. In 2005, the company was suspected of deceiving consumers with its anti-wrinkle products, according to Chinese state media. Even before this news, Chinese netizens were already calling for a boycott of the Japanese SK-II in 2004.
In 2006, SK-II producer Procter & Gamble (宝洁) stopped the import of all SK-II products in China after the use of banned substances was detected by Chinese inspectors, followed by much controversy and media attention. According to an 2006 Ad Age article, the manufacturer defended the chemicals in SK-II as the same traces were found in other comparable products by companies such as Lancome or Estee Lauder – yet they suffered no consequences in their China sales. This left some industry observers wondering whether or not the brand was purposely picked on by the Chinese government for its Japanese origin, linking it to anti-Japanese sentiment that has existed in China since World War II.
A decade later, SK-II has launched its major 'Change Destiny' (#改写命运#) brand campaign that features, according to the brand: "(..) strong and independent women who have chosen to pursue their dreams instead of being pressured into marrying for the sake of it" (SK-II website).
SK-II 'change destiny' campaign. See the video here.
"I won't be happy if I marry for the sake of marrying"
The company chose the successful Swedish ad company Fordman & Bodenfors to produce their campaign video. This ad agency also produced the video for H&M's world recycle week featuring MIA, that received nearly a million views on Youtube within a week after its release.
The SK-II 4-minute-video titled 'Marriage Market Takeover' features several unmarried Chinese women who talk about the pressure they experience from their family and society at large to get married, and the stigmatization they face for being single.

After talking about their current situation, the women go to a so-called 'marriage market' – a well-known event in China that is generally held on Sundays in urban parks. This is a place where parents stand with 'ads' that tell the age, profession, income, and other details about their son or daughter, in the hopes of finding a suitable match for them.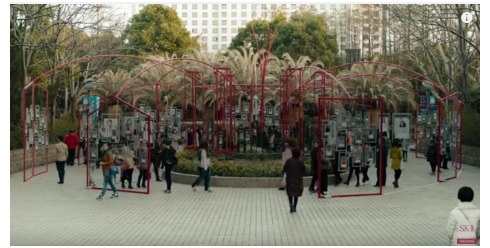 Shot of the 'marriage market' in th Shanghai Park in the video.
Instead of coming to the market in search of a partner, they come there to see their own 'ad'. The park in Shanghai where the 'marriage market' is normally held now has a wall of ads that are likely placed there for the SK-II campaign film. These 'ads' show the portraits of the different women, with an accompanying text saying things like: "I won't be happy if I marry for the sake of marrying".

Their parents then arrive at the market and see their daughter's picture and read her message to them. They are seemingly moved, and then express their understanding for their daughter's situation.

"There is a word for advertising like this, and that word is 'hypocrisy'."
The SK-II campaign video proved to be a huge success – it had already hit 1.2 million views on Youku within the first day of launching. The reactions on Chinese social media were overall very positive, as mainly female netizens recognized their own experiences in the video. Some exemplary netizens' reactions were: "Whether I'm married or not is nobody's business," or: "I won't stop pursuing my dreams because of pressure from society," and: "Marriage is about feeling, not about age."
But the ad also had critics. Although women's rights activist Zheng Churan generally welcomed the ad despite its commercial motives, she did criticize how it focused on the stereotype of the "leftover woman", ignoring "the struggles of poor, less-educated women". As she said: "We only see white-collar, elite women in this ad, but an 18-year-old factory girl pressed into marriage still has no voice" (Japan Times).
State media outlet Xinhua news quoted online female writer Gu Yingying saying that the ad "splashes a bottle of dirty water onto (women's) independence and confidence", and that it was "full of sentiments of depression and messages about society's intolerance and conservatism".
China's state broadcaster CCTV reported on the video being "welcomed across China", but also called it an ad for "pro-singledom".
Outside the China media sphere, Quartz writer Annalisa Merelli responded to the campaign with an article titled "Another viral ad tries to "empower" women while selling them products to look young forever". In this article, Merelli writes: "There is a word for advertising like this, and that word is "hypocrisy". To this, she adds:
"No matter the amount of moving music and public displays of support, there is simply no way a beauty brand should be able to both profit from a growing huge market ($191.7 billion projected globally for anti-aging alone) that feeds off the idea that you look too dark-skinned and too old, and also play fairy godmother of female empowerment" (Quartz, April 12).
"The exclusion of the '18-year-old factory girl' is understandable: she is not SK-II's target audience."
But how 'hypocritical' is this ad for addressing China's 'leftover women' phenomenon while having commercial interests? First, the brand does not hide the video's commercial aspect. On the contrary, the SK-II brand logo is clearly marked in the ad and the video was released from official SK-II channels. Second, the women represented in the video are the brand's intended consumers. Within China, it's mostly the highly educated and urban women who buy SK-II kinds of brands and suffer pressure from society for being unmarried- in that way, there simply and very apparently is a way that a beauty brand can profit from a huge market while encouraging their "female empowerment".
The exclusion of the '18-year-old factory girl' is understandable from a commercial perspective: she is not SK-II's target audience. An SK-II moisturizer currently is priced around 1370 RMB (±211 US$) on Tmall. According to China Labour Bulletin, the minimum wages in China vary across China, from 850 RMB per month (131 US$ )to 2030 RMB (313 US$). SK-II products simply are an unattainable luxury for many women in China, except for those women who generally have a solid educational background, a blossoming career, and the access to high-end stores that sell SK-II – which are often the same women facing the 'leftover' pressure.
Commercial motives aside, the pressure China's unmarried women suffer is real. About 80% of China's bachelorettes over the age of 24 experience pressure by their families to get married, whilst a Zhenai survey pointed out that 50% of Chinese men think women are already 'leftover' when they are unmarried by the age of 25.
The pressure, being both familial and societal, comes from all angles. Parents, coming from a completely different generation, often lack the understanding that their daughter is waiting for 'the one'. As the dad in the video says: "In our days, matchmaking was simple: you got matched, you got married." They then suffer extra pressure because those born after 1978 were children of China's one-child policy, which means they are often their parents' only child able to give them a grandchild.
In society at large, the pressure is also double-faced. Besides deeply-rooted Confucian ideas about respecting one's parents by getting married and fulfilling one's role as "good wife and wise mother", there is also an existing unbalance in male/female ratio. With millions of men left without an eligible partner and an aging China, there is ample societal need for single women to settle down and get married – which makes being 'leftover' all the more difficult. The fact that there are Chinese writers and academics calling on women to set some of their personal happiness aside to get married "for the country and for society" does not make things easier.
"By choosing the 'leftover' issue and turning it into a positive message, SK-II has rebranded itself in the PRC as a progressive and empowering brand name."
SK-II was not hypocritical in being a commercial company releasing an empowering message, nor is the pressure on women it pictures unrealistic. The parents' swift transformation after seeing their daughter's ad, however, could be said to be somewhat starry-eyed; their sudden understanding for their daughter's situation is unlikely to change traditional perceptions on China's unmarried women overnight. This does not make SK-II hypocritical; it just makes the video the commercial that it is. Luxury brands are supposed to give consumers a mental connection to positivity, confidence, and bright possibilities; not leave us pessimistic about the future.
The brand's choice for the topic of 'leftover women' is a strategic one. SK-II had to make up for some of its wrinkled past in China. The consumers it mainly needs to win over are also the women who often face pressure in everyday China. By choosing the 'leftover' issue and turning it into a positive message, SK-II has rebranded itself in the PRC as a progressive and empowering brand name. It also profits from one of the world's most important markets by doing so. Through this video, SK-II has won the sympathy of an audience of millions who have cash to spend on the luxury items SK-II promotes.
An additional reason why SK-II's campaign focus is a smart strategic move, is that the phenomenon of 'leftover women' is also a popular recurring topic internationally; the struggles of single Chinese women have captured the interest of the mainstream Western media for some years now. The ad campaign therefore went viral both in and outside – killing two birds in one stone.
All in all, Forsman & Bodenfors have done a great job at what they do: SK-II's brand name is all over the web, the majority of Chinese netizens welcomed the 'change destiny' message with open arms, and they have reiterated what the product behind the campaign is all about. After all, who doesn't want a pressure-free life, a wrinkle-free face, and a happy end to a troubled story?
– By Manya Koetse
Follow @WhatsOnWeibo
©2016 Whatsonweibo. All rights reserved. Do not reproduce our content without permission – you can contact us at info@whatsonweibo.com.
Digitalizing China's Beauty Industry: Introducing Supermakeup's 'Beauty Charging Stations'
Are 'makeup charging stations' the next trend in China's beauty industry?
You're on the road and need a skin, make-up, or hair fix-up before your next appointment, but have no time for a spa session and would rather avoid dirty toilet rooms? These are the kinds of situations that Beijing's Supermakeup company has claimed to have found the solution for.
With its 'beauty charging stations' in public urban spaces, the Supermakeup company is trying to launch a new kind of beauty industry where women can use their self-service 'spa booths' and make-up product stores in the middle of a street or shopping mall.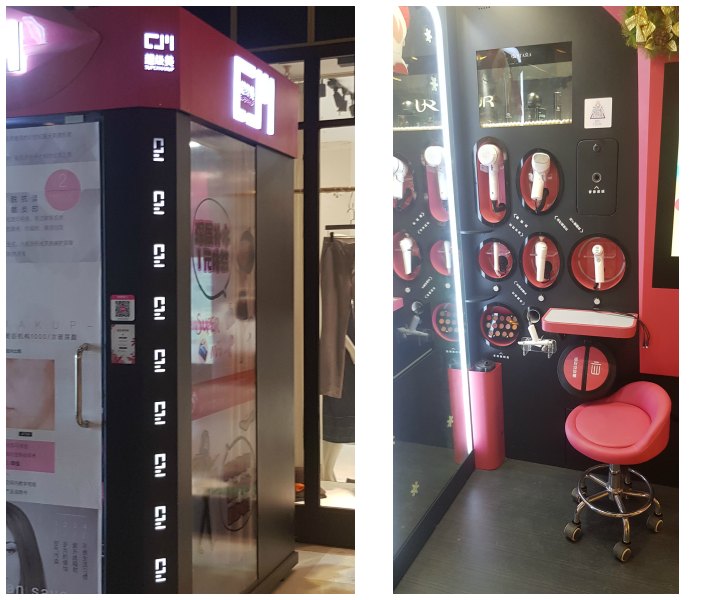 Access to the booths is provided through the Supermarket app or via its WeChat programme, and payment of products and access is done via WeChat Pay.
The Supermakeup Company (北京超级美科技有限公司) was established in March of 2018 and is headquartered in Beijing.
Will this be the big next trend that will further digitalize China's beauty industry? We tried it out for you, check out our latest video below.
By Manya Koetse 
Spotted a mistake or want to add something? Please email us.
©2019 Whatsonweibo. All rights reserved. Do not reproduce our content without permission – you can contact us at info@whatsonweibo.com.
Chinese Consumers Indifferent to Diplomatic Spat Between China and Canada as "Canada Goose Boycott" Backlashes
Despite Canada-China tensions, the Canada Goose store in Beijing is faring well.
Chinese consumers and netizens appear indifferent to the diplomatic tensions between China and Canada, a surprising reaction in light of the previous vitriol these two groups threw at governments, celebrities, or brands that offended or defied their country.
On December 28, Canada Goose opened its very first store in mainland China at a renowned Beijing shopping district, Sanlitun (三里屯), two weeks later than originally scheduled due to "ongoing construction." The announcement of the delay came amidst growing tensions between China and Canada following the arrest of Huawei chief financial officer Meng Wanzhou in Vancouver on December 1.
The Canadian brand, known for its luxury winter jackets and parkas, has been facing great difficulties since the arrest, with its shares dropping 37 percent in value according to Reuters.
The company's struggles have also received extensive coverage on Chinese social media. On Weibo, the hashtags "Canada Goose Value Crashing" (加拿大鹅暴跌) and "Canada Goose Mainland store opening canceled"(加拿大鹅内地开业取消) registered over 230 million and 170 million views, respectively, with some netizens calling for a boycott of the Canadian brand. The nationalist tabloid Global Times quoted 'experts' and 'consumers' in suggesting that "if Canada keeps detaining a senior Huawei executive in a complicit move to woo the US, the repudiation of Canadian goods will expand."
However, no boycott materialized as the brand's first Mainland store was packed with Chinese consumers on its opening day, to the point where store employees had to restrict entry, forcing many to wait over thirty minutes in -12oC temperatures.
The same Reuters article also revealed the store's popularity was no one-day fad; three days after the opening, consumers were still having to queue for an hour.
"Why would I boycott an enterprise that didn't do anything wrong?"
Such  "unpatriotic" consumerism has not been ignored by Chinese netizens, prompting many to ask about the much-trumpeted boycott. This time, however, calls for a boycott were by and large dismissed, with some defending the unassailable right of consumption ("why would I boycott Canada Goose? If Meng Wanzhou can buy houses and a Canadian residence permit, why can't I buy some Canadian clothes?") while others questioned the validity of making a Canadian company responsible for the Canadian government's action. ("Why would I boycott an enterprise that didn't do anything wrong?").
Unintended side-effects of patriotic shrilling for a boycott, namely increasing Canada Goose's brand awareness among Chinese consumers, were also mocked by netizens. As one Weibo user wrote: "Before the boycott, my colleague had never heard of the brand. Now my colleague is rushing to the new store to buy something. The irony."
More comic relief was provided by the self-mockery of some netizens who observed, tongue planted firmly in cheek, that they didn't boycott the brand but neither did they go to the store – long queues hide the fact that luxury products remain unaffordable to the vast majority of the Chinese people.
"Young people driven by fashion tastes, not politics."
All this accords with the prediction made by some pundits that the boycott would quickly blow over as the biggest buyers of the products in China are young people "driven by fashion tastes, not politics".
The numbers also show the slump in share value preceding the store opening was not fatal: On Monday 31, Canada Goose's stocks registered a 6 percent increase from the previous week.
Are Chinese consumers less patriotic than in the past? After all, Canada Goose's success is a marked contrast to the concerted effort Chinese consumers made to boycott South Korean products during the THAAD dispute between China and South Korea that began in September 2017 and lasted a whole year before a truce was called.
Perhaps luxury is patriotism's kryptonite; perhaps Canadian ambassadors of Chinese culture like entertainer Mark Rowswell, the first foreigner to ever perform comedy for a Chinese audience in Mandarin, have made netizens subconsciously more tolerant of the Canadian government. Whatever the reason, this whole episode shows that Chinese public opinion is not always boringly predictable and subservient to the Chinese state.
By Gabi Verberg, edited by Eduardo Baptista
Contributions by Miranda Barnes
Spotted a mistake or want to add something? Please let us know in comments below or email us.
©2019 Whatsonweibo. All rights reserved. Do not reproduce our content without permission – you can contact us at info@whatsonweibo.com