Editorial: Behind SK-II's China's "Change Destiny" Campaign
Some call the recent ad campaign of skincare brand SK-II hypocritical. Is it?
The ad campaign of skin care brand SK-II has been all over the news, both in and outside China, since it was launched on April 7 – triggering much discussion on the phenomenon of China's 'leftover women' and the ad itself, with some calling it 'hypocritical'. But is it?
Japanese skin care brand SK-II has caused quite a stir in China with its latest ad campaign that focuses on unmarried women over the age of 25 in China, who have been labeled 'leftover women' by Chinese media for years. The video, that is part of the brand's worldwide 'Change Destiny' campaign, has been watched over 10 million times within ten days of its release.
"A wrinkled past in China"
It's not the first time SK-II has caused commotion in China, where the brand has a somewhat of a wrinkled past. In 2005, the company was suspected of deceiving consumers with its anti-wrinkle products, according to Chinese state media. Even before this news, Chinese netizens were already calling for a boycott of the Japanese SK-II in 2004.
In 2006, SK-II producer Procter & Gamble (宝洁) stopped the import of all SK-II products in China after the use of banned substances was detected by Chinese inspectors, followed by much controversy and media attention. According to an 2006 Ad Age article, the manufacturer defended the chemicals in SK-II as the same traces were found in other comparable products by companies such as Lancome or Estee Lauder – yet they suffered no consequences in their China sales. This left some industry observers wondering whether or not the brand was purposely picked on by the Chinese government for its Japanese origin, linking it to anti-Japanese sentiment that has existed in China since World War II.
A decade later, SK-II has launched its major 'Change Destiny' (#改写命运#) brand campaign that features, according to the brand: "(..) strong and independent women who have chosen to pursue their dreams instead of being pressured into marrying for the sake of it" (SK-II website).
SK-II 'change destiny' campaign. See the video here.
"I won't be happy if I marry for the sake of marrying"
The company chose the successful Swedish ad company Fordman & Bodenfors to produce their campaign video. This ad agency also produced the video for H&M's world recycle week featuring MIA, that received nearly a million views on Youtube within a week after its release.
The SK-II 4-minute-video titled 'Marriage Market Takeover' features several unmarried Chinese women who talk about the pressure they experience from their family and society at large to get married, and the stigmatization they face for being single.

After talking about their current situation, the women go to a so-called 'marriage market' – a well-known event in China that is generally held on Sundays in urban parks. This is a place where parents stand with 'ads' that tell the age, profession, income, and other details about their son or daughter, in the hopes of finding a suitable match for them.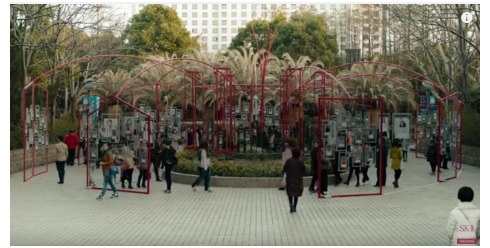 Shot of the 'marriage market' in th Shanghai Park in the video.
Instead of coming to the market in search of a partner, they come there to see their own 'ad'. The park in Shanghai where the 'marriage market' is normally held now has a wall of ads that are likely placed there for the SK-II campaign film. These 'ads' show the portraits of the different women, with an accompanying text saying things like: "I won't be happy if I marry for the sake of marrying".

Their parents then arrive at the market and see their daughter's picture and read her message to them. They are seemingly moved, and then express their understanding for their daughter's situation.

"There is a word for advertising like this, and that word is 'hypocrisy'."
The SK-II campaign video proved to be a huge success – it had already hit 1.2 million views on Youku within the first day of launching. The reactions on Chinese social media were overall very positive, as mainly female netizens recognized their own experiences in the video. Some exemplary netizens' reactions were: "Whether I'm married or not is nobody's business," or: "I won't stop pursuing my dreams because of pressure from society," and: "Marriage is about feeling, not about age."
But the ad also had critics. Although women's rights activist Zheng Churan generally welcomed the ad despite its commercial motives, she did criticize how it focused on the stereotype of the "leftover woman", ignoring "the struggles of poor, less-educated women". As she said: "We only see white-collar, elite women in this ad, but an 18-year-old factory girl pressed into marriage still has no voice" (Japan Times).
State media outlet Xinhua news quoted online female writer Gu Yingying saying that the ad "splashes a bottle of dirty water onto (women's) independence and confidence", and that it was "full of sentiments of depression and messages about society's intolerance and conservatism".
China's state broadcaster CCTV reported on the video being "welcomed across China", but also called it an ad for "pro-singledom".
Outside the China media sphere, Quartz writer Annalisa Merelli responded to the campaign with an article titled "Another viral ad tries to "empower" women while selling them products to look young forever". In this article, Merelli writes: "There is a word for advertising like this, and that word is "hypocrisy". To this, she adds:
"No matter the amount of moving music and public displays of support, there is simply no way a beauty brand should be able to both profit from a growing huge market ($191.7 billion projected globally for anti-aging alone) that feeds off the idea that you look too dark-skinned and too old, and also play fairy godmother of female empowerment" (Quartz, April 12).
"The exclusion of the '18-year-old factory girl' is understandable: she is not SK-II's target audience."
But how 'hypocritical' is this ad for addressing China's 'leftover women' phenomenon while having commercial interests? First, the brand does not hide the video's commercial aspect. On the contrary, the SK-II brand logo is clearly marked in the ad and the video was released from official SK-II channels. Second, the women represented in the video are the brand's intended consumers. Within China, it's mostly the highly educated and urban women who buy SK-II kinds of brands and suffer pressure from society for being unmarried- in that way, there simply and very apparently is a way that a beauty brand can profit from a huge market while encouraging their "female empowerment".
The exclusion of the '18-year-old factory girl' is understandable from a commercial perspective: she is not SK-II's target audience. An SK-II moisturizer currently is priced around 1370 RMB (±211 US$) on Tmall. According to China Labour Bulletin, the minimum wages in China vary across China, from 850 RMB per month (131 US$ )to 2030 RMB (313 US$). SK-II products simply are an unattainable luxury for many women in China, except for those women who generally have a solid educational background, a blossoming career, and the access to high-end stores that sell SK-II – which are often the same women facing the 'leftover' pressure.
Commercial motives aside, the pressure China's unmarried women suffer is real. About 80% of China's bachelorettes over the age of 24 experience pressure by their families to get married, whilst a Zhenai survey pointed out that 50% of Chinese men think women are already 'leftover' when they are unmarried by the age of 25.
The pressure, being both familial and societal, comes from all angles. Parents, coming from a completely different generation, often lack the understanding that their daughter is waiting for 'the one'. As the dad in the video says: "In our days, matchmaking was simple: you got matched, you got married." They then suffer extra pressure because those born after 1978 were children of China's one-child policy, which means they are often their parents' only child able to give them a grandchild.
In society at large, the pressure is also double-faced. Besides deeply-rooted Confucian ideas about respecting one's parents by getting married and fulfilling one's role as "good wife and wise mother", there is also an existing unbalance in male/female ratio. With millions of men left without an eligible partner and an aging China, there is ample societal need for single women to settle down and get married – which makes being 'leftover' all the more difficult. The fact that there are Chinese writers and academics calling on women to set some of their personal happiness aside to get married "for the country and for society" does not make things easier.
"By choosing the 'leftover' issue and turning it into a positive message, SK-II has rebranded itself in the PRC as a progressive and empowering brand name."
SK-II was not hypocritical in being a commercial company releasing an empowering message, nor is the pressure on women it pictures unrealistic. The parents' swift transformation after seeing their daughter's ad, however, could be said to be somewhat starry-eyed; their sudden understanding for their daughter's situation is unlikely to change traditional perceptions on China's unmarried women overnight. This does not make SK-II hypocritical; it just makes the video the commercial that it is. Luxury brands are supposed to give consumers a mental connection to positivity, confidence, and bright possibilities; not leave us pessimistic about the future.
The brand's choice for the topic of 'leftover women' is a strategic one. SK-II had to make up for some of its wrinkled past in China. The consumers it mainly needs to win over are also the women who often face pressure in everyday China. By choosing the 'leftover' issue and turning it into a positive message, SK-II has rebranded itself in the PRC as a progressive and empowering brand name. It also profits from one of the world's most important markets by doing so. Through this video, SK-II has won the sympathy of an audience of millions who have cash to spend on the luxury items SK-II promotes.
An additional reason why SK-II's campaign focus is a smart strategic move, is that the phenomenon of 'leftover women' is also a popular recurring topic internationally; the struggles of single Chinese women have captured the interest of the mainstream Western media for some years now. The ad campaign therefore went viral both in and outside – killing two birds in one stone.
All in all, Forsman & Bodenfors have done a great job at what they do: SK-II's brand name is all over the web, the majority of Chinese netizens welcomed the 'change destiny' message with open arms, and they have reiterated what the product behind the campaign is all about. After all, who doesn't want a pressure-free life, a wrinkle-free face, and a happy end to a troubled story?
– By Manya Koetse
Follow @WhatsOnWeibo
©2016 Whatsonweibo. All rights reserved. Do not reproduce our content without permission – you can contact us at info@whatsonweibo.com.
The Power of Peppa Pig: The Cultural Icon of China's 'Shehuiren' Punks
From children's icon to ganger pig, Peppa Pig is now banned from China's popular short video platform Douyin.
From innocent children's cartoon via subculture icon to banned topic; Peppa Pig has had a rollercoaster ride in China recently, and her own Peppa Theme Park has not even opened its doors in the PRC yet.
Over the past weekend, Chinese popular short video app Douyin (also known in English as Tik Tok) removed approximately 30,000 short videos relating to British cartoon Peppa Pig from its platform.
Douyin's "Peppa Ban" became a hot topic of debate on Chinese social media today, with the hashtag 'Douyin Blocks Peppa Pig" (#抖音封杀小猪佩奇#) receiving over 40 million views on Tuesday.
According to a list of Douyin's guidelines that have been surfacing online, Peppa is just one amongst various topics and themes banned from the platform. Other types of banned content include those relating to smoking, drinking, cross-dressing, cults or religion, and anything insulting the Chinese government.
Over the past few months, Peppa Pig has become a subversive symbol to a Chinese online youth subculture dubbed 'shehuiren' (社会人), literally 'society people', which is a group of young adults that is anti-establishment and somewhat 'punk' in their own way; going against mainstream values and, as state media outlet Global Times puts it, are "the antithesis of the young generation the Party tries to cultivate."
Shehuiren Subculture and Peppa
Now that the Peppa ban on Douyin is receiving ample attention on Chinese social media, so is the shehuiren subculture, with many people wondering what this subculture is and why Peppa Pig, a British children's cartoon, plays a part in it.
On various Chinese message boards, from Baidu Tieba to Zhihu, netizens are discussing the 'society people' – meaning not literally the people in society but the specific group of 'shehuiren' that mainly emerged from Chinese short video platforms such as Kuaishou and Douyin.
Their name derives from a meme and online slogan of "society, society" (社会社会) which basically means someone's been around the 'hood', is cool, are doing their business, know the right people, is a 'boss' or 'gangsta'.
These are some of their general characteristics:
They are usually born after 1995 (95后), aged between 17-23.
They belong to the lower class of society, have a low education and work temporary jobs.
They are active on online video platforms such as Kuaishou or Douyin and want to become internet celebrities like MC天佑 (MC Tianyou), a well-known Chinese live-streamer/rapper.
They are part of social circles run by a 'big brother' (大哥); they often hang around smoking cigarettes and playing cards.
With their hair gel and skin-tight shirts, their appearance is quite outspoken.
The shehuiren term generally refers to young men, but there are also girls and/or girlfriends, who have bleached hair and wear short skirts.
Earlier in March and April, some Chinese blogs and media (e.g. anruan.com, Sohu News) already reported on the fact that Peppa Pig had become an icon for these online youth, two years after the British cartoon entered the Chinese market in 2015.
Although you would expect golden chains and dangerous-looking tattoos on the shehuiren, the supermarket Peppa Pig plastic watches became a hit in March when live-streamers started buying and wearing them.
Peppa Pig was already known in the circles of parents and teachers before, but first really became known among Chinese netizens when a live-streamer on the Kuaishou app showed off a Peppa Pig tattoo.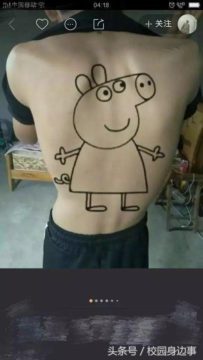 This livestreamer was actually not the first one with a Peppa Pig tattoo – in 2013, Italian footballer Alberto Giraldino also showed off a Peppa on his upper arm.
After the Kuaishou video and image with the Peppa tattoo became popular, it gradually become more adopted within the shehuiren community on other platforms such as Douyin and WeChat moments.
"Interesting Ordinary People"
As pointed out by one Baidu blogger, fervent users of the top short video apps Douyin and Kuaishou generally mostly like to see "interesting ordinary people."
Since most of them are young, generally under 24, and are not part of society in terms of having a family, being married, or having a stable job, they are looking for ways to identify themselves: tattoos and big watches being major topics of discussion.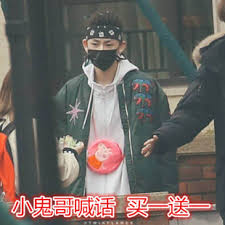 But since they are not actually gangsters, nor want to be really ordinary people, they have found in Peppa what they were looking for: by wearing Peppa watches and fake tattoos, they are mocking the big tattoos and Golden Rolex watches of the real tough guys, while also distinguishing themselves from mainstream culture and fashion.
The irony of the trend is that by ridiculing themselves through the use of the silly Peppa Pig, with her uncool and hairdryer-shaped head, they are now finally what they wanted to be all along: a pretty cool subculture, with a pretty gangster pig as an icon that has set a nationwide trend; according to Sixth Tone, more than 100,000 plastic watches and bracelets with various Peppa Pig designs were sold on Taobao in the last month.
The Peppa Ban on Douyin
With so much interest in Peppa Pig over the past month, it is no surprise that the recent ban on the piglet triggered waves of discussions on social media platforms such as Weibo, where Peppa has become a much-shared meme in all sort of varieties, with all kind of texts – often associated with dark humour.
Some people, however, say they have no idea what all the fuss is about and that it makes them feel old: "I was born in 1990 and I've never used Douyin and don't understand why Peppa Pig is so popular!"
Many commenters also said they do not understand why Peppa would be banned at all, if it has nothing to do with copyright issues. Douyin has not responded to the issue.
Douyin is a sister app of news platform Toutiao (owned by Bytedance), which was recently criticized by authorities for hosting inappropriate content. The company then vowed to hire 4,000 additional censors. Its recent new guidelines may be a sign that the company is not taking any risks in getting more warnings from authorities in hyping up subcultures or "vulgar content."
Despite the Douyin ban, hashtags relating to the pig have not been censored on Weibo, and if all goes as planned, Peppa will have her own theme parks in China opened in 2019 in Beijing and Shanghai, just before the Year of the Pig.
"I don't know what all this shehui is," another commenter said: "I just think Peppa is a cute pig."
Watch the What's on Weibo segment on BBC World Update on this issue here:
By Manya Koetse
Follow @whatsonweibo
Spotted a mistake or want to add something? Please let us know in comments below or email us.
Directly support Manya Koetse. By supporting this author you make future articles possible and help the maintenance and independence of this site. Donate directly through Paypal here. Also check out the What's on Weibo donations page for donations through creditcard & WeChat and for more information.
©2018 Whatsonweibo. All rights reserved. Do not reproduce our content without permission – you can contact us at info@whatsonweibo.com.
Why Paint Buckets Are This Spring Festival Travel Season's Hottest Item
Spotted at train stations and bus terminals: this Spring Festival travel season's 'magical object' is a plain paint bucket.
Spotted during the first days of the Spring Festival travel season: paint buckets. Why are so many people bringing plastic barrels with them on their travels home for the Chinese New Year?
During Chinese New Year, also known as Spring Festival, China's urban areas gradually become more deserted as people return to their native provinces and hometowns to celebrate the new year with their family and friends.
Many of those returning home are migrant workers, who struggle to make money all year long and often only return home during the Spring Festival.
'Chunyun' (春运), the Chinese term for the passenger transportation around Chinese New Year, is the biggest annual mass migration of the world. The travel season has kicked off this weekend and will last until approximately March 12. About 2.98 billion trips are expected to be made during the chunyun, Chinese state media reports.
With so many people on the move, it is easy to detect what objects and products are the trend or the 'chunyun magical tool' (春运神器). After the travel pillow with earphones, or the underwear with money pockets, this season's hot item is the paint bucket.
After one netizen named 'Little Grass' (@小小草) first noted the trend, various (media) accounts on Weibo, such as that of the Communist Youth League Shanghai, have starting reporting about it; the paint bucket has become such a popular product that some people are even taking more than two dozen with them.
Travelers have discovered that the big, plastic, empty painting buckets are very useful both during their travels and back home. As stations, trains, and buses get overcrowded during the chunyun, it is often impossible to find a seat – the paint buckets serve as an excellent 'stool', or as a 'table'.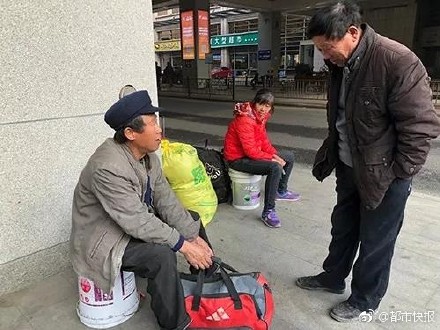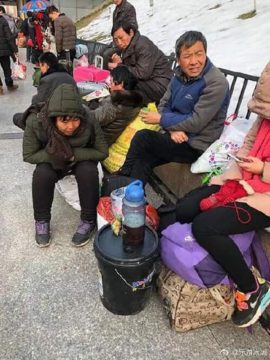 The buckets are also a solid and easy-to-carry 'trunk' to hold traveler's articles during transit. They're especially popular to put eggs in – because they won't break as easily in the bucket – or to transport large volumes of rice.
Plastic buckets are also a popular item to bring home to the rural areas because they can be used to store (animal) food and feed the pigs or to hold liquid to water the crops.
Because the buckets are cheap, light, and easy to stack, people can bring home many of them – enough to give away to family members and neighbors in their hometowns.
On Weibo, the latest paint bucket trend has set a discussion in motion, receiving thousands of comments.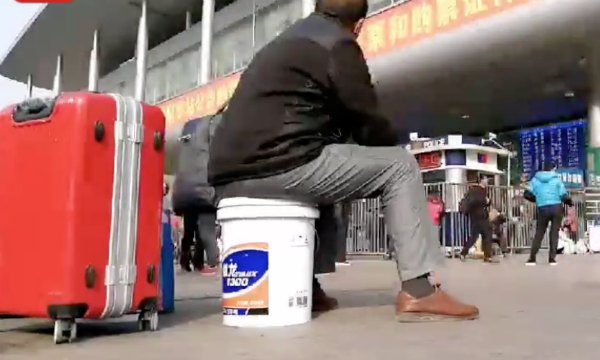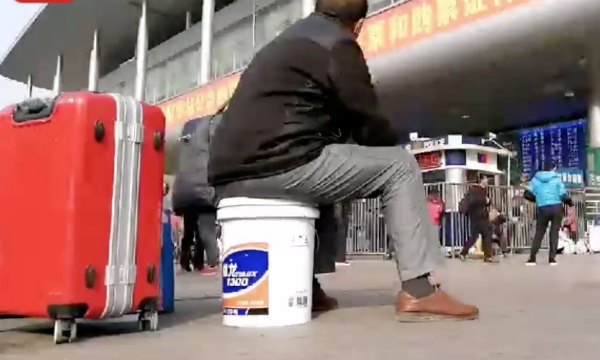 "These buckets are strong and practical, my family uses them as garbage bins," one commenter writes. Other people praise the multifunctional item for being eco-friendly in its re-use.
Some people note that the bucket trend is nothing new: "My dad has been using them for years."
"Nothing but good stuff to say about these buckets," one other person says: "They're durable and will last for years!"
By Manya Koetse
Follow @whatsonweibo
Spotted a mistake or want to add something? Please let us know in comments below or email us.
©2018 Whatsonweibo. All rights reserved. Do not reproduce our content without permission – you can contact us at info@whatsonweibo.com.