Beijing Evening News: Japan's "Lucky" Win over Colombia Despite "Deceptive Behaviour"
Some media attacked Japan's victory game, Chinese netizens called them out.
The behavior of the Japanese team during its World Cup 2-1 win over Colombia is called "disgraceful" by some Chinese media. Weibo netizens protest their "prejudiced stance."
Tuesday's 2-1 victory of Japan against Colombia marks the first time an Asian side has beaten a South American opponent at the World Cup. Some Chinese journalists, however, don't seem to be rejoicing in Japan's win.
On June 19, Japan played against a 10-man Colombian team; Colombian player Carlos Sanchez was already sent off in the third minute of the game after he had received a red card.
In a commentary published by popular news outlet Beijing Evening News (12+ million fans on Weibo), the Japanese soccer victory was called "disgraceful" (literally "disgraceful deceit":"不光彩的欺骗") due to the 'deceptive' actions by Japanese goalkeeper Eiji Kawashima.
In the 39th minute of the game, when the score was 1-0 for Japan, Colombian player Juan Quintero scored with a low free kick, but keeper Kawashima got a touch of the ball and then protested to the referee that he actually kept it out (see at 4:53 in video below), although, as Beijing Evening News puts it, "it was very clear that the ball had entered the goal."
According to Beijing Evening News, the referee did not take Kawashima's "unreasonable demands" into consideration, adding that the goalkeeper's "deceitful behavior" is a "disgrace for himself and for the Japanese team."
They concluded their article by calling Japan's victory mere "luck."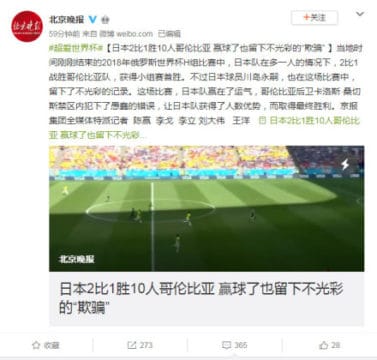 The Beijing Evening News article was viewed thousands of times on Weibo and was also quoted and mentioned by many other Chinese news outlets, of which many did not comment on it, but just republished the entire text.
The article was later removed from Weibo on June 20 after igniting discussions among netizens. Some argue that although Kawashima perhaps was not most "honest," the article obviously had a prejudiced stance.
"Japan has won, but it is Beijing Evening News that is being disgraceful!" some commented.
"Of course a goalkeeper will fight for the advantage of his own team," other commenters wrote, while one Weibo user simply called the column "retarded."
Although Anti-Japanese sentiments can, at times, flare up on Chinese social media, it mostly does so in response to events in Japan that relate to the Senkaku/Diaoyu islands dispute, the Second Sino-Japanese War, far right politics or the denial of war atrocities committed by Japanese troops in China.
Trending topics of the past have shown that random hateful actions or comments towards Japan are generally condemned by Chinese netizens and that they are not deemed "patriotic."
In this instance, not only did the majority of Weibo users commenting on the issue condemn the Beijing News for their column, they also praised Japanese fans for cleaning up the stadium after the game; the rows and seats were left meticulously clean as fans joined in cleaning up any trash that was left behind.
The hashtag "Japanese soccer fans clean up after game" (#日本球迷赛后捡垃圾#) received over 52 million views on Weibo today.
By Manya Koetse
HT via @sanverde
Follow @whatsonweibo
Spotted a mistake or want to add something? Please let us know in comments below or email us.
©2018 Whatsonweibo. All rights reserved. Do not reproduce our content without permission – you can contact us at info@whatsonweibo.com.
Mimeng and 'Self-Media' under Attack for Promoting Fake News Stories to Chinese Readers
Chinese 'zimeiti' or 'self media' have become a topic of discussion after this Mimeng scandal.
First published
China's "Queen of Self-media," Mimeng, is under attack after publishing a story that has been labeled 'fake news.' The scandal has triggered discussions on the status-quo of Zimeiti (自媒体/We Media) on the Chinese internet.
It was one of the most-discussed topics on Weibo and WeChat right before the Chinese New Year: the scandal involving Chinese blogging account 'Mimeng' (咪蒙), which sparked discussions on Mimeng herself and on the regulation and responsibility of 'we media' accounts on the Chinese internet.
Who or what is 'Mimeng'? First and foremost, Mimeng is an online social media account with an enormous fanbase: 13 million followers on WeChat, 2.6 followers on Weibo.
The person behind the Mimeng blogging account is Ma Ling (马凌), a Chinese female author and Literature graduate who was born in 1976 in Sichuan's Nanchong.
Over the past few years, 'Mimeng' has grown into a so-called 'we media' or 'self media' platform (zimeiti 自媒体), referring to private, independent, online publishing accounts that get their content across through blogs, podcasts, and other online channels. Mimeng is now more than Ma Ling alone: there's an entire team behind it.
Mimeng has been controversial for years because of its clickbait titles and controversial stances on various issues. The topics most addressed in Mimeng's publications are relationships between men and women, love, marriage, quarreling, and extramarital affairs.
Previous articles published by Mimeng, who is a self-labeled 'feminist' (and often mocked for it), include titles such as "This Is Why You're Poor," "Jealously Means Progress," "I Love Money, It's True," "Men Don't Cheat for Sex," or "How to Kill Your Wife."
Besides its content, there are also other reasons why Mimeng has triggered controversy in the past. The fact that Mimeng charges a staggering amount of money to advertisers, for example, is also something that previously became a topic of discussion – Mimeng allegedly charges some 750,000 yuan ($113,000) for a post mention.
SELLING FAKE STORIES
"As an influential We Media source, we must take on our social responsibility"
This time, however, Mimeng is hit by the biggest controversy thus far. The media group is under attack after publishing a story that turned out to be (partly) fabricated. The story was published on a WeChat account called Talented Limited Youth (才华有限青年), which is registered under the same legal entity as Mimeng. Its primary author, according to Sixth Tone, is a former intern of Ma Ling called Yang Yueduo.
The publication in question is a long story titled "The Death of a Top Scorer from a Poor Family" ("一个出身寒门的状元之死") which allegedly portrayed the short life of the author's old classmate: a young, bright mind, born in an impoverished family in Sichuan province. In the story, the protagonist did all he could to create a better life for him and his family.
He studied hard, got the best university entrance score of his city, and successfully graduated from university. But despite his efforts to start a life in the big city, he failed to succeed and tragically died of cancer at the young age of 24.
Shortly after publication, the moving and tragic story went viral on social media. However, several details made online readers doubt the story's authenticity. It did not take long before readers proved that several aspects of the story were indeed untrue.
In light of the fake news allegations, Talented Limited Youth quickly deleted the story from WeChat. They also issued a statement defending the story's authenticity, explaining that for privacy reasons, various details of the story were altered. According to Beijing News, Talented Limited Youth was then banned from posting on WeChat for 60 days.
In response to the allegations, Mimeng offered its "sincerest apologies" on Weibo on February 1st, saying: "The Mimeng Group has decided to completely withdraw from Weibo and take a two-month break from WeChat. We will use that time to carry out serious and profound self-reflection." The post continued saying that "as an influential We Media source, we must take on our social responsibility and pass on positive energy and values."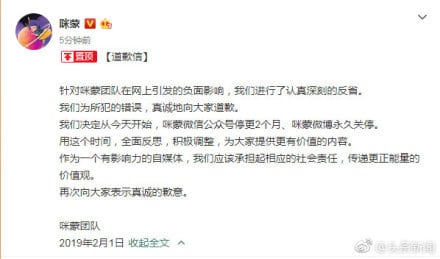 The announcement went trending under the hashtag "Mimeng Shuts Down Weibo Indefinitely" (#咪蒙微博永久关停#), which has received over 210 million views at time of writing.
POISONED CHICKEN SOUP
"Mimeng, for you, patriotism is only business"
On social media, there is a clear divide between those who support and oppose Mimeng. While some are calling for a "complete shutdown" of Mimeng, there are also those who say they will keep on following Mimeng and that they enjoy their publications.
The controversial Mimeng account has even brought about a so-called "Following Mimeng Rate" (含咪率), a number based on how many of your WeChat friends are following Mimeng's public WeChat account (by checking Mimeng's account on WeChat, WeChat users can see how many of their friends are following this account).
Mimeng opposers allege that the more friends you have that follow the Miming account, the more likely you are "to fail in life."
The official Weibo account of the Jiangsu Public Security's Bureau of 'Internet Safety' (@江苏网警) is also a clear Mimeng opposer. Last week, they lashed out against Mimeng in a post titled "Mimeng, for you, patriotism is only business."
The post hints at Mimeng's inconsistent stance on patriotism, and it included screenshots from two earlier Mimeng posts from 2013 and 2016, one in which patriotism is referred to as a kind of "forced love," and the other one saying: "I'll love my country forever, its greatness will forever move me to tears."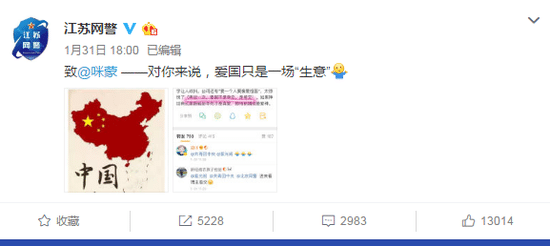 The post by the Jiangsu Bureau itself then also blew up on Weibo, with the hashtag "Jiangsu Internet Police calls out Mimeng" (#江苏网警点名咪蒙#) soon gaining over 210 million views. In the comment sections, many people criticize Mimeng for "deceiving people," "promoting negative values" and "using anything to get clicks."
One person wrote: "These self-regulated media only care about making money, they have no sense of social responsibility."
Others said that the fake news story was nothing but 'poisoned chicken soup' (毒鸡汤).
This is a term that is often used to describe Mimeng's content, and that of other self-media accounts, meaning that from the outside, it looks like "feel-good content" or "chicken soup [for the soul]" while it is actually 'poisonous' content with a marketing strategy or money-making machine behind it.
ZIMEITI CHAOS
"Self- media cannot become a spiritual pyramid scheme"
The Mimeng case has led to discussions in Chinese media on the status of 'we media' or 'self-media' platforms and their influence.
People's Daily responded to the Mimeng scandal with a post on February 1st titled "Self-media Cannot Become a Spiritual Pyramid Scheme" ("自媒体不能搞成精神传销"), which argued that unless self-media accounts such as Mimeng actually work on establishing "healthy social values," their apologies are only a way to temporarily dodge negative public attention.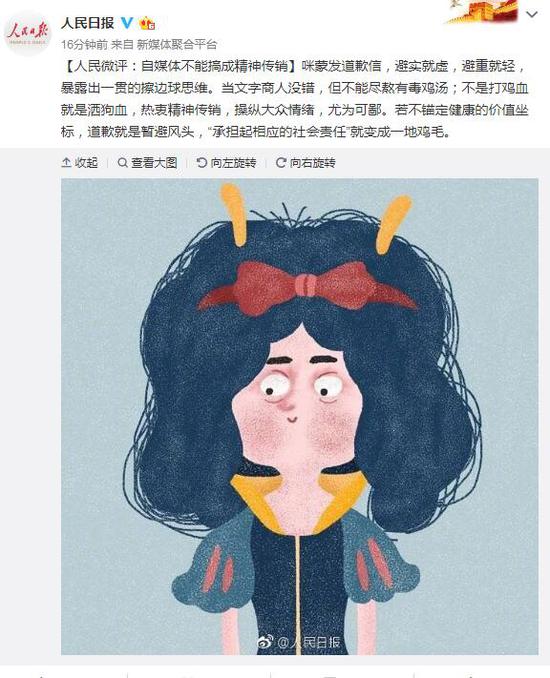 In late January, Chongqing Internet authorities launched an investigation into 48 'self-media' accounts, suspending two for spreading "fake news."
State media outlet China News published an article, also this week, that describes 'self-media' as a 'hypermarket' where publishers will go to extreme measures, such as selling 'fake news' for clicks, spreading negative influences and anxiety among the people.
But these discussions are somewhat blurred, as it is not entirely clear what 'self-media' actually is in this context. Generally speaking, the term could include any micro-blogger who identifies themselves as 'self-media' or 'we media' (zimeiti 自媒体). But in the current discussion, it seems to only relate to those publishing accounts that have a certain influence on social media and the (online) media environment, posing a challenge to traditional news outlets.
Some definitions of Chinese 'we media' say it is basically is "an umbrella term for self-posted content on social media platforms" (Qin 2016; Jiang & Sun 2017) – this suggests that everyone who is active on WeChat and Weibo or elsewhere is basically in 'self-media.'
A clearer description is given by Week in China, writing that "zimeiti typically operate as social media accounts run by individuals or as small firms established by a handful of former journalists."
What makes it different from any other social media account, is that in 'we-media' or 'zimeiti' "the blogging has been professionalized and that the authors can make a living from it" (WiC 2018). It is a trend that has become especially visible in China's online environment since 2012-2014.
This highly commercial side of 'we media' matters. If a publisher, such as Mimeng, charges advertisers exorbitant amounts of money, they also have to maintain a certain number of readers. They don't just post as a hobby, it is serious business.
In a highly competitive online media environment, where hundreds of media outlets are fighting over the clicks of China's online population of over 800 people, clickbait titles have almost become somewhat of a necessity for some of these publishers, with some even resorting to publishing "fake news" to get the attention – and the clicks.
China's Newsweek Magazine (新闻周刊) calls the situation at hand a "self-media chaos" (自媒体乱象) that poses an "unprecedented challenge" for governing society in the 3.0 era. They call for "healthy development of self-media" and better legislation to control the mushrooming zimeiti, that, despite strong online censorship, are not as tightly controlled as China's traditional media.
"Nowadays, we have less and less intellectuals, and more and more 'people selling words.' The chaos of self-media needs to be controlled," one commenter on Weibo says (@ZY盒子).
But other people deem that readers themselves should pick what they read instead of authorities regulating it for them: "The important thing is that every reader must have the independence to judge for themselves [what they read]; just let the 'poisonous chicken soup' [naturally] lose their market."
The Mimeng scandal shows that for social media accounts with a large following, one misstep can have huge consequences. This is something that Papi Jiang, a 'self-media' personality who became huge in 2015/2016, also experienced; she was reprimanded for disseminating "vulgar language and content" in April of 2016.
Very similar to Mimeng's statement, Papi also issued an apology at the time, saying she supported the requirement for correction, and that she would attempt to convey "positive power" (正能量) in the future. "As a media personality," she said, "I will watch my words and my image." Papi's CEO also expressed the company's willingness to produce "healthier contents." At the time, her videos were temporarily taken offline.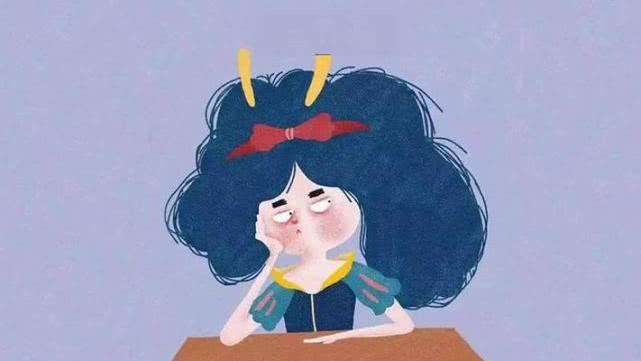 Meanwhile, some people think that the fact that Mimeng will stay silent for the coming two months is not necessarily a bad thing for the publisher: "They can take an extra long Spring Festival holiday." As for Mimeng's Weibo 'holiday' – that one is likely to be permanent.
By Gabi Verberg and Manya Koetse
References
-Qin, Amy. 2016. "China's Viral Idol: Papi Jiang, a Girl Next Door With Attitude." New York Times, 24 Aug https://www.nytimes.com/2016/08/25/arts/international/chinas-viral-idol-papi-jiang-a-girl-next-door-with-attitude.html [2.6.19].
-Sun, Yanran and Jiang. 2017. "A Study on the Effectiveness of We-Media as a Platform for Intercultural Communication." In New Media and Chinese Society, Ke Xue & Mingyang Yu (Eds.), 271-284. Singapore: Springer.
-WiC. 2018. "Headline earnings – Zimeiti hunt media profits but they still need to play by the rules." Week in China, 15 June https://www.weekinchina.com/2018/06/headline-earnings/ [2.6.19].
Spotted a mistake or want to add something? Please let us know in comments below or email us.
©2019 Whatsonweibo. All rights reserved. Do not reproduce our content without permission – you can contact us at info@whatsonweibo.com
The Huawei Case Sparks Anti-American, "Support Huawei" Sentiments on Weibo
"Ever since all the news came out on Meng Wanzhou's arrest I feel like this is Cold War 2.0," some commenters say.
First published
The latest developments in the Huawei case are a major topic of discussion on Chinese social media, sparking anti-American sentiments, along with hundreds of netizens calling for the support of Huawei.
The case involving Huawei and Meng Wanzhou is making international headlines today, now that the US Justice Department has officially filed charges against Chinese smartphone maker Huawei for allegedly stealing trade secrets from T-Mobile.
Among many other things, US prosecutors allege that Huawei launched a formal policy in which bonuses were offered to employees who succeeded in stealing confidential information from competitors (full papers here, page 19).
The Department also filed criminal charges against Meng Wanzhou (孟晚舟), who is the chief financial officer of Huawei and the daughter of the company's founder Ren Zhengfei (任正非). The US is seeking the extradition of Meng Wanzhou from Canada.
Meng was detained in Canada on December 1st of 2018 during transit at the Vancouver airport at the request of United States officials. She was released on bail on December 11. Meng's next court date is set for February 6, 2019, in Vancouver.
"To the Chinese who proclaim that the American lawsuit against Huawei makes sense, where's your conscience?"
Huawei responded to the accusations in state media on Tuesday, saying they were "very disappointed" about the charges, and denying that Huawei, nor its affiliates, had committed violations of US law.
China's Ministry of Foreign Affairs urged the US to revoke its charges against Meng and to "stop the unreasonable suppression of Chinese companies, including Huawei, and to treat Chinese enterprises objectively and fairly."
Meanwhile, on Chinese social media platform Weibo, the hashtag "Huawei responds to US accusations" (#华为回应美国指控#) received some 1,5 million views on Tuesday.
Among hundreds of comments, many netizens express their apparent belief that the United States is using the judicial system in a battle that is actually politically motivated, and that China's rise as a competing technological power plays a major role in this issue.
"America has no confidence in its own technological power anymore, and has come to a point of such weakness that China's technological strength is frightening to them," one commenter named 'Battle Wolf Wang Jie' (@战狼-王杰) said.
"The goal of the US clearly is to suppress Huawei and its 5G technology, it is a fight over leadership," one commenter wrote.
One popular Weibo tech blogging account (@科技阿宽) described the US as "a cornered dog jumping over a wall" ("狗急跳墙"), a Chinese idiom for describing desperate people resorting to desperate measures. This idiom was also used by other Weibo users commenting on the Huawei issue.
"Ever since all the news came out on the Meng Wanzhou arrest I feel like this is Cold War 2.0," a Weibo user named Wei Zhong (@卫中) wrote about the issue: "This arms race in the field of technology can't be avoided, and it will spread to other fields, posing a challenge to America's leading position."
But there are also commenters who want to know more about whether there are reasonable grounds to believe Huawei and Meng actually committed a crime: "So did they, or didn't they?"
"Huawei needs to operate in accordance with international laws, otherwise there will be no end to the trouble," some said, with others adding: "If they did nothing wrong, they shouldn't be afraid to face the Americans."
The editor-in-chief of the Chinese and English Global Times, Hu Xijin (胡锡进), called out those who suggested that the US might have sound legal grounds for the charges, writing on Weibo: "To the Chinese who proclaim today that the American lawsuit against Huawei makes sense, where's your conscience? Have your brains been eaten by the dogs?"
"Was the Canadian Ambassador sacked for speaking the truth?"
The Huawei case news story has been developing and has been a topic of discussion ever since Meng's arrest in December. A social media post issued by Meng shortly after her arrest became one of the biggest trending topics on Weibo of 2018.
The news that former Canadian diplomat Michael Kovrig was detained in Beijing on December 10th of 2018 also generated online discussions on the Huawei issue, with many linking his arrest to Meng's case.
Earlier this week, the dismissal of the Canadian ambassador to China, John McCallum, also became big news.
McCallum's exit was preceded by his different interview comments on the Meng Wanzhou case. He told Chinese-language journalists that Meng had "strong arguments that she can make before a judge," and reportedly told The Star's Joanna Chiu that it would be "great" if the US could drop the request for Meng's extradition.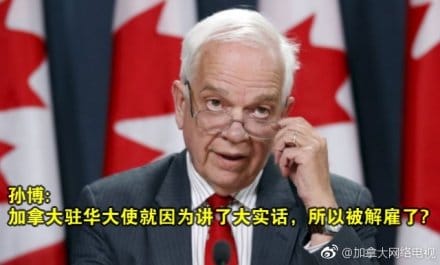 On social media, news of McCallum's dismissal was shared hundreds of times this week. In response to the case, Chinese columnist Sun Bo published an article titled "Was the Canadian Ambassador sacked for Speaking the Truth?" in The Observer (观察者). On Weibo, similar attitudes are expressed, with many arguing that McCallum was punished for simply "expressing his thoughts."
Some netizens argued that McCallum had been "set up" by the interviewer and that he had said nothing wrong. One Weibo user simply argued: "If America would no longer request Meng's extradition, then Canada would not need to detain Meng and would not need to become hostile with China, which would also be better for Canada."
A recurring sentiment expressed by netizens on the issue was that McCallum's dismissal clashed with Canada's "so-called freedom of speech," although there are also other voices stating: "When an ambassador for the government publicly issues their own personal views as they like, they do need to step down."
"He talked about how we should support Huawei, but sent it from his iPhone."
Amid all discussions on Weibo (where some comment threads jumped from having some hundreds comments to "no comments" and then reopened with some hundred comments again), the support for Huawei is one sentiment that stands out.
"I will stand by Huawei," many commenters write across various threads.
"I support Huawei! America and Canada need to set Meng free!"
Others call for a boycott on Apple and American products, urging Chinese netizens to purchase Huawei instead.
There are also some, however, who point out there is some hypocrisy behind some of these statements: "I just saw a 'Huawei defender,'", popular tech blogger 'Keji Xinyi' (@科技新一) writes: "He was talking about how we should support the made-in-China Huawei brand, and that Huawei is China's pride, that Huawei will astonish the world. Then I saw his Weibo post was sent from an iPhone."
Others joke around: "I support Huawei! I use the Honor 7 [device] by Huawei. I absolutely will not buy an iPhone. It's too expensive and I can't afford it."
Jokes aside, the Huawei case is certainly one that will continue to be discussed in many corners of Chinese social media, with many expressing concern on how this case will develop in the future – as it is not likely to blow over any time soon.
"The law will rule based on evidence," some commenters write: "So let's just wait and see."
By Manya Koetse
Spotted a mistake or want to add something? Please let us know through email.
©2019 Whatsonweibo. All rights reserved. Do not reproduce our content without permission – you can contact us at info@whatsonweibo.com