"Black Friday" – Chinese Reactions On 26/06 Deadly Attacks
Three gruesome terror attacks in France, Tunisia and Kuwait left the world shocked on June 26, making international headlines. Chinese netizens follow the news with horror.
Three gruesome terror attacks in France, Tunisia and Kuwait sent shock waves through the world on June 26, immediately making international headlines. Chinese netizens following the news take their shock and anger online.

On the morning of June 26, one man was beheaded and two injured near Grenoble, France, in a suspected Islamic attack on a gas facility. The attack immediately became international breaking news.
Reports suggest that two attackers drove into the factory carrying a flag with Arabic writing on it. French President Hollande stated a body had been found, along with a severed head with a message. He said a suspect had been arrested and identified by the anti-terror police, and is said to be known to police since 2006 as a person who could become radicalized and was in contact with Muslim fundamentalists.
The attack comes five months after the terrorist attack on French satire magazine Charlie Hebdo. France has seen a string of suspected and confirmed Islamist terrorist attacks in the past three years. Chinese media closely followed the Paris attacks in January, with 'Je Suis Charlie' ('Wo shi Chali' 我是查理) also becoming trending on Chinese social media.
The France attack was followed by the news of Islamic terror attack in Kuwait, where 25 people were killed. Around the same time, at least 28 37 tourists were killed on the beach of Sousse, a popular tourist destination in Tunisia. A suicide bomber allegedly attacked a resort with a Kalashinikov gun with another gunman, shooting at sunbathing tourists.
Financial Times reports that although the attack in Sousse has not yet been claimed, Isis spokesman Abu Muhammad al-Adnani reportedly urged followers to turn Ramadan into a time of "calamity for the infidels (…) Shia and apostate Muslims", in an audio broadcast on Tuesday, where he asked Muslims everywhere to "become exposed to martyrdom" (FT).
Within a couple of hours, June 26 has unfolded as an unprecedented day in terrorism.
"Only the fear of total extermination will make them step back."
The attacks were immediately covered by Chinese media (although other news on Xi Jinping and Li Keqiang dominated the main headlines). Weibo netizens reacted to the news in various ways, with some calling it "Black Friday" (黑色星期五), and many talking about the fear for Islamist violence, the failure of anti-terror measurements and the state of the world today.
"The world just gets less peaceful all the time," one user said. "So horrible, a massacre of unarmed people. Terrorism is the enemy of all of mankind!" says Maitian. "Eternally concealing and bending will not stop terrorism," user Youdaoyuxin (佑道余心) says: "Only the fear of total extermination will make them step back." "And this during Ramadan

!" one user angrily writes.
"The 21st century is the century of the rise of Islamist terrorism."
Many users foresee a grim future in terms of terrorism and preventing it. "France has five million Muslims," user StellaZhang200 says on the Grenoble attack: "and it is the country with the most severe terrorism. Since the attacks on Charlie Hebdo, the government has dispatched 1000 police and 10500 military staff to do 24 hour patrol of over 8000 places, including Jewish schools, railstations, media buildings and mosques, but it has not prevented this terrorist attack. It is clear that these anti-terrorism measures are useless."
There are also those who share their fears, worries or anger on the topic of Islam-related terrorism: "Every time something like this happens, I haven't seen a single Muslim coming out to denounce these barbarious acts, yet they do expect us to reflect on our wrongdoings," another user (南汀一水) says. One anonymous user (专心金融) says: "The 21st century is the century of the rise of Islamist terrorism. Attacks, explosions and massacres by Muslims. This is an irreversible trend in history, like Germany's Nazis's and Japan's militarism; when the people, the funds, the ideology and the military force all line up, a violent trend takes shape. This trend is that Islam declares war on all people, and won't stop until all religions are destroyed. China needs to be prepared." Another netizen (火山白杨) says: "I predict that this was all premeditated, and that it is only a rehearsal of a large-scale transnational attack.

"
"ISIS is also destroying Xinjiang."
Other Weibo users blame the US for today's events: "ISIS has come into existence due to America's support, and ISIS is also destroying Xinjiang. The real terrorist organization in this world is the United States of America." Xinijang is the region in the northwest of China, home to the majority of China's muslims. Xinjiang has seen a series of violent attacks in the recent years, that have been linked to ISIS.
"How did ISIS start?" another user says: "America? Saudi? Who is clear about this!?

"
Some netizens do not show their views – they simple light a cyber candle for the victims of this bloody black Friday 

.
By Manya Koetse
Follow @WhatsOnWeibo
Quotes:
"世界越来越不太平."
"太坏了。这完全是屠杀"手无寸铁"的人啊。恐怖主义是全人类的公敌."
"遮掩与奴颜婢膝永远不能阻挡恐怖袭击的发生,只有毁教灭族的恐惧能让他们却步"
"大斋月里的

"
"每次发生恐怖事件,就没见着个吧穆斯林站出来义正辞严地谴责那些畜生,他们却还要我们反思我们做错什么了."
"21世纪是伊斯兰教恐怖狂潮的世纪,穆斯林将会疯狂地屠杀、爆炸、袭击。这是不可逆转的历史趋势,就像德国纳粹和日本军国主义,当人员、资金、思想、武力 都齐备的时候,就是暴力趋势形成的时候。这个趋势最终的结果是伊斯兰教向全人类宣战,直至宗教毁灭才会停止。中国要全国排查穆斯林,做最坏准备。"
"估计是预谋好的,算是为日后更大规模跨国同发袭击做 Rehearsal

"
"ISIS是美国政府扶持起来的,祸害新疆的也是ISIS,美国真是世界上最大的恐怖组织."
"IS这个组织是怎么来的,美国、沙特比谁都清楚!

"
From Hong Kong Protests to 'Bright Future' – The Top 3 Most Popular Posts on Weibo This Week
These are the most-read posts on Weibo this week.
The three most-read posts on Weibo over the past week – an overview by What's on Weibo.
The protests in Hong Kong have been dominating Chinese social media throughout August, and the past week has been no different. Two out of three most-read posts on Weibo, one of China's most popular social media platforms, were about Hong Kong this week.
A wrap-up:
#1 Hundreds of Hong Kong Taxi's Flying Chinese National Flag
While Hong Kong is gearing up for the 13th consecutive weekend of mass anti-government demonstrations, there are no signs of the protests fizzling out any time soon.
The Hong Kong protests started in March and April of this year against an extradition bill that would allow local authorities to detain and extradite people wanted in mainland China, and have intensified over the past weeks.
Although authorities in mainland China initially remained quiet on the topic, the Hong Kong demonstrations have been dominating the trending streams on China's popular social media platforms for all of August.
Through videos, online posters, and slogans, Chinese state media have propagated a clear narrative on the situation in Hong Kong; namely that a group of "separatists" or "bandits" are to blame for the riots that aim to "damage public security" in Hong Kong and are "dividing the nation."
News outlets such as People's Daily and CCTV are sharing many stories that emphasize the One China principle and praise the Hong Kong police force. Those voices in Hong Kong speaking up for the police force and condemning protesters using violence have been amplified in Chinese media.
One story that became the number one trending post on Weibo this week is that of dozens of Hong Kong taxi drivers hanging the Chinese national flag from their cars (video).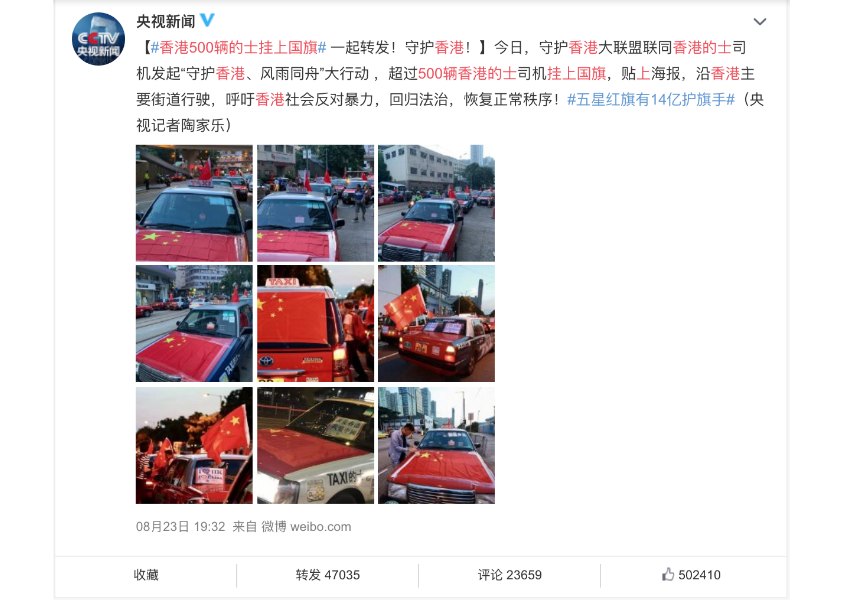 On August 23, the taxi drivers reportedly formed a rally against violence at Tsim Sha Tsui, waving the flags and putting up signs saying "I love HK, I love China."
The hashtag "500 Hong Kong Taxi's Hanging up Chinese National Flags" (#香港500辆的士挂上国旗#), hosted by CCTV, attracted over 700 million views on Weibo. The CCTV post reporting on the event received over half a million likes and 47000 shares.
The commenters mostly praise the Hong Kong taxi drivers for "standing up for Hong Kong" and flying the Chinese flag.
In English-language media, it has mostly been Chinese state media reporting on the rally. Xinhua, Women of China, ECNS, and Global Times all reported on the August 23 peace rally.
CNN only shortly reported how "a number of taxis have been spotted driving around the city displaying Chinese flags — something that has not happened on this scale during previous protests" (link).
#2 'Bright Future' Title Song for Upcoming Movie 'The Moon Remembers All'
Over 266.000 Weibo users have been sharing a post by Chinese actor Li Xian (李现) on the title track for the new Chinese movie The Moon Remembers All or River on a Spring Night (Chinese title: 春江花月夜).
The upcoming movie itself is a very popular topic on Weibo recently, attracting 430 million views on its hashtag page alone. The movie just finished shooting and will be released in 2020.
The song titled "Bright Future" (前程似锦) is sung by Taiwanese singer Chen Linong (陈立农) and Li Xian, who are both the leading actors in the fantasy movie. The song was released on August 29.
The Moon Remembers All is produced by Edko Films and directed by Song Haolin (宋灏霖), also known for Mr. Zhu's Summer (2017) and Fatal Love (2016).
#3 Interview with Hong Kong Pro-Beijing LegCo Member Junius Ho
The third most popular Weibo post of this week comes from Xia Kedao (侠客岛), a popular commentator account for the People's Daily Overseas Edition, and concerns a live broadcasted interview with Hong Kong lawmaker and Legislative Council (LegCo) member Junius Kwan-yiu Ho.
Junius Ho (何君尧) is known as being 'pro-Beijing' and stirred controversy earlier this summer when a viral video showed him shaking hands with men wearing white T-shirts who allegedly were linked to the mob attacking people at the Yuen Long MTR station on July 21.
Xia Kedao describes Junius Ho as a "straightforward" politician who "speaks out for justice" and denounces "reactionaries."
In the August 28 interview, that was live-streamed on Sina Weibo and later also written up, the Hong Kong legislator discussed the background of the protests.
Ho argues that the people with "ulterior motives" used the extradition bill for their own power struggle, distorting and exaggerating the facts behind the regulation.
The politician also partly links the protests to a "weak national consciousness" in Hong Kong due to its education curriculum and says that there have not been enough legal consequences for those participating in illegal activities and riots.
Thousands of commenters on Weibo write that they appreciate Ho for speaking out against the "pro-independence riot youth" and praise him for his "deep understanding" of mainland China.
By now, Junius Ho, who is also active on Weibo with his own account, has gathered more than half a million fans on his page.
By Manya Koetse
Follow @whatsonweibo
Spotted a mistake or want to add something? Please let us know in comments below or email us. Please note that your comment below will need to be manually approved if you're a first-time poster here.
©2019 Whatsonweibo. All rights reserved. Do not reproduce our content without permission – you can contact us at info@whatsonweibo.com
Exchange Student to Be Deported from China for Harassing Young Woman at University
An exchange student studying at the Hebei University of Engineering has been expelled and will soon be deported after harassing a female student.
An exchange student from Pakistan who was studying at the Hebei University of Engineering (河北工程大学) has been expelled and detained after harassing a female student at the same university.
The incident, that is attracting much attention on Chinese social media this week, adds to the wave of recent controversies over the behavior and status of overseas students in mainland China.
On July 31, a female student at the Hebei university filed a police report against a Pakistani student who allegedly harassed her and attempted to forcefully kiss her and touch her breasts.
Screenshots of a supposed WeChat conversation between the exchange student and the female student, in which the man apologizes and claims the interaction is a "requirement for friendship," are being shared on social media.
According to various reports, the police initially tried to mediate between the two students, which the female student refused.
Together with the school principal, the police then further investigated the case and found ample evidence of harassment after examining the university's surveillance system.
On August 1st, the Hebei University of Engineering announced that they had expelled the student and that he will be deported from China. The announcement received more than 14,000 reactions and 150,000 'likes' on Weibo.
The student is now detained at the local Public Security Bureau and is awaiting his deportation.
A photo of two officers together with a man in front of the detention center in Handan is circulating on social media in relation to this incident.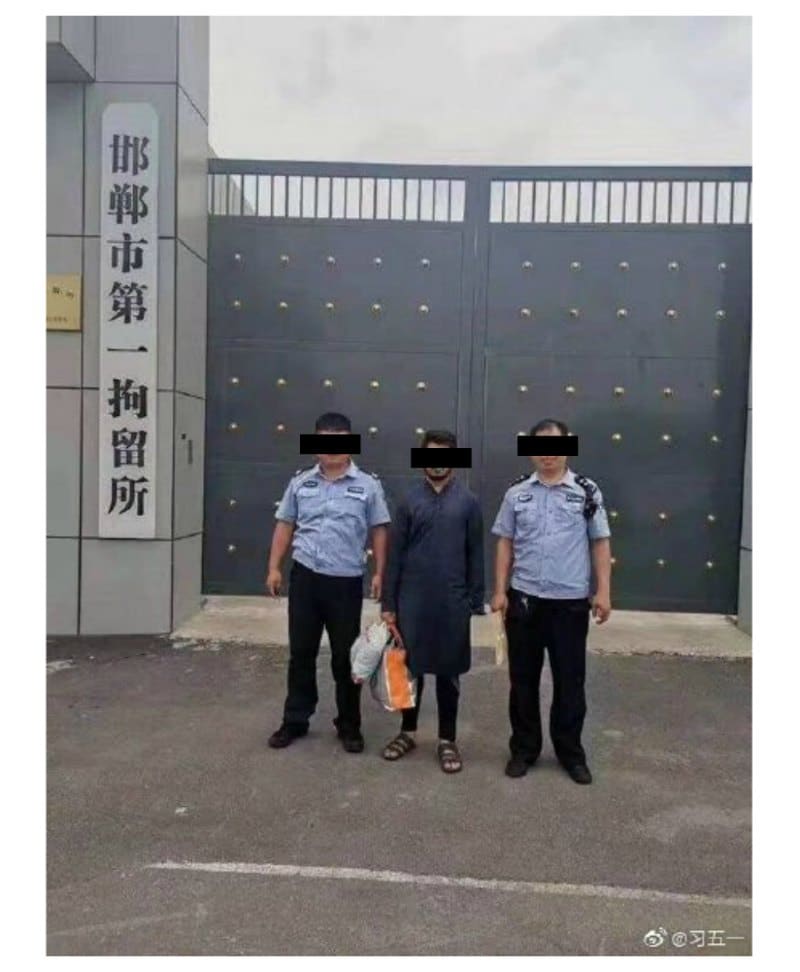 At time of writing, the hashtag page "Exchange Student to Be Deported after Molesting Female Student" (#留学生猥亵女学生将被遣送出境#) has been viewed over 310 million times on Weibo.
Among thousands of reactions, there are many who praise the Hebei university for supporting the female student after she reported the exchange student to the police.
"This may not be the best university, but at least they stand behind their students!", some say, with others calling the university "awesome."
Many say that the Hebei university should serve as an example for other Chinese universities to follow, with Shandong University being specifically mentioned by Weibo users.
Shandong University was widely criticized earlier this summer for its "buddy exchange program," which was accused of being a way to arrange Chinese "girlfriends" for male foreign students.
Another incident that is mentioned in relation to this trending story is that of an exchange student who displayed aggressive behavior towards a Chinese police officer in July of this year. The student was not punished for his actions, which sparked anger on Chinese social media.
By Manya Koetse
Follow @whatsonweibo
Spotted a mistake or want to add something? Please let us know in comments below or email us. Please note that your comment below will need to be manually approved if you're a first-time poster here.
©2019 Whatsonweibo. All rights reserved. Do not reproduce our content without permission – you can contact us at info@whatsonweibo.com