A Can of Beijing Smog: Here is the Smell of Home
For those longing for a breath of Beijing air, there is now a special can of 'Beijing air' available for purchase.
An extraordinary item listed on shopping platform Taobao has attracted the attention of Chinese netizens. For those longing for a breath of Beijing air, there is now a special can of 'Beijing air' available for purchase.
As winter approaches, inhabitants of Beijing and its surrounding areas fall victim to choking smog again. But as always, the infamous Beijing smog is a source of banter and jokes for Chinese netizens.
This time, the topic of their attention is a can of 'Beijing smog' that is sold on e-commerce platform Taobao for 28 RMB [±4 US$]. The can is supposed to give Chinese expats a nostalgic smell of home.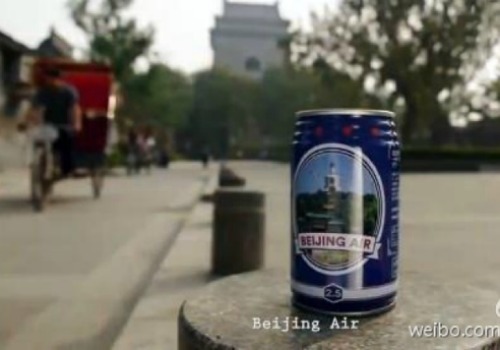 "When I really miss Beijing I will open a can and sniff it," hydropower engineer Mr. Zhang tells The Times in its recent article reporting on a Brit in China who is selling canned Beijing Air online.
Dominic Johnson-Hill, or 江森海 (@江森海), owns a creative clothes shop in Beijing (Plastered is a quirky T-shirt shop that is well-known amongst locals). But it is his most recent product, Beijing Air (北京空气), and not his clothes, that has attracted huge attention to his business.
On Dominic'sTaobao shop, a can of Beijing Air of 28 RMB [±4 US$] is described as:
We are very proud to introduce you to a new and unique product: Beijing Air. You can take your Beijing everywhere. Each can of Beijing Air contains a unique blend of Nitrogen, Oxygen and some other stuff. Naturally occurring and lovingly delivered in a beautiful can.
On the "item" tag of the can is the exact component of Beijing Air: Nitrogen 77%, Oxygen 20%, and others 3%. Other information on the can includes a slogan- "Hard to say I Love You", a short description- "Beijing Air- a must-breathe air", and the number 2.5 under a picture of Beijing.
Dominic has even created a video advertisement for his new product. In this 1-minute video, a traveling Beijinger says what he loves most about Beijing is the Beijing air, which, though coming from Beijing, belongs to the whole world.
Dominic's dark humor is echoed by many Chinese netizens.
"My friends in Beijing, congratulations!" one netizen writes: "You are now breathing stuff that is worth 28 RMB! What a deal!"
"We should mark the difference in fog price in every region of Beijing," comments another netizen, "breathing thousands of dollars of fog every day- this makes me really excited."
Some netizens also wonder: "Isn't this considered drug trafficking?"
Chinese netizens never fail to derive pleasure from the poor air quality air in many Chinese cities.
Last year, a WeChat game went viral during the worst smoggy days of Beijing. In this game, people are presented with pictures of heavy smog, among which they should find the one where Tiananmen Square is vaguely visible. Other games where players "kill the smog" were also popular.
WeChat game "Repel Smog"
More recently, "Take Smog for the People", a parody of "Service for the People" (a.k.a. "Serve the People") has become a popular online meme. "Service for The People", Wei Renmin Fuwu (为人民服务), is a famous slogan from the Mao-era. In Chinese, "take smog" (服雾) sounds exactly the same as "serve" (服务).
Behind the banter and joking, however, many Chinese still feel helpless and powerless on China's heavy air pollution. Smog is not only impacting the everyday lives of Beijingers, it is also posing a serious threat to people's lives. A GreenPeace report reveals that in 2013, death caused by high PM2.5 rate is 10 times higher than that caused by road accidents.
Jokes aside, serious measures must be taken to tackle the problem of air pollution, one netizen comments, "as smog blockades the city, it is really not something to joke about."
-By Diandian Guo
Follow on Twitter or Like on Facebook
©2016 Whatsonweibo. All rights reserved. Do not reproduce our content without permission – you can contact us at info@whatsonweibo.com.
'Welcome Home, Molly' – Chinese Zoo Elephant Returns to Kunming after Online Protest
One small step for animal protection in China, one giant leap for Molly the elephant.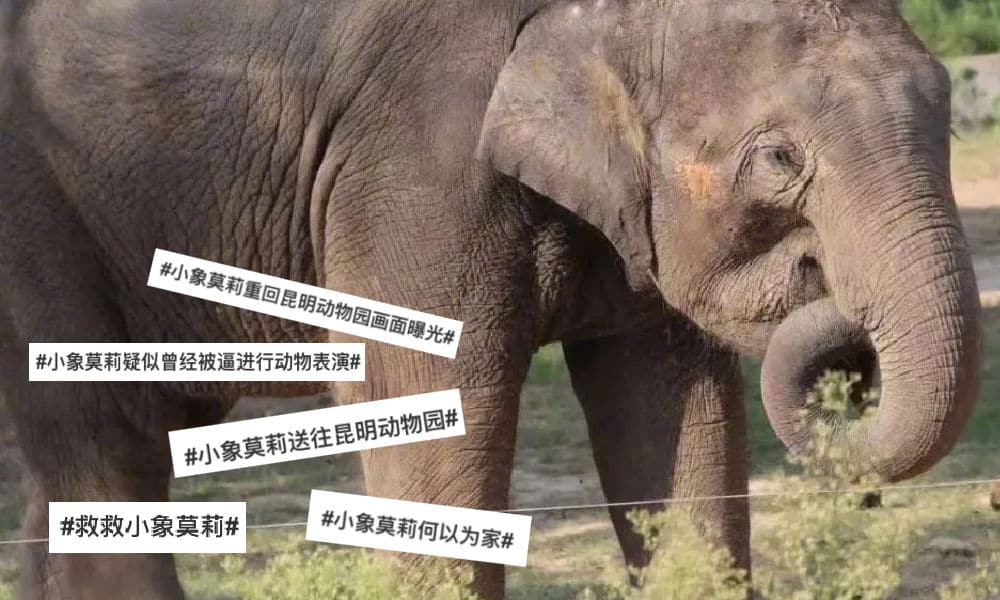 Following online protest and the efforts of animal activists, Molly has returned to the Kunming Zoo where she was born and where mother elephant Mopo is.
The little elephant named Molly is a big topic of discussion on Chinese social media recently.
The popular Asian elephant, born in the Kunming Zoo in 2016, was separated from her mother at the age of two in April of 2018. Molly was then transferred from Kunming Zoo to Qinyang, Jiaozuo (Henan), in exchange for another elephant. Over the past few years, fans of Molly started voicing their concerns online as the elephant was trained to do tricks and performances and to carry around tourists on her back at the Qinyang Swan Lake Ecological Garden (沁阳天鹅湖生态园), the Qinyang Hesheng Forest Zoo (沁阳和生森林动物园), the Jiaozuo Forestry Zoo (焦作森林动物园), and the Zhoukou Safari Park (周口野生动物世界).
Since the summer of 2021, more people started speaking out for Molly's welfare when they spotted the elephant chained up and seemingly unhappy, forced to do handstands or play harmonica, with Molly's handlers using iron hooks to coerce her into performing.
Earlier this month, Molly became a big topic on Chinese social media again due to various big accounts on Xiaohongshu and Weibo posting about the 'Save Molly' campaign and calling for an elephant performance ban in China (read more).
Due 2 pandemic prevention measures in China, Molly's zoo had been closed for long. It was just re-open & a Molly Group friend went to see her 2 days ago, shared a video and photos. The zoo was under much pressure from netizens, so no 🐘 shows, rides, at the moment. #FreeMolly pic.twitter.com/4BjoVk2DBC

— Diving paddler (@KU09814701) April 25, 2022
Although zookeepers denied any animal abuse and previously stated that the elephant is kept in good living conditions and that animal performances are no longer taking place, Molly's story saw an unexpected turn this week. Thanks to the efforts of online netizens, Molly fans, and animal welfare activists, Molly was removed from Qinyang.
On May 15, the Henan Forestry Bureau – which regulates the holding of all exotic species, including those in city zoos – announced that Molly would return to Kunming in order to provide "better living circumstances" for the elephant. A day later, on Monday, Molly left Qinyang and returned to the Kunming Zoo where she was born. In Kunming, Molly will first receive a thorough health check during the observation period.
Good news. After many people's working together for months, Molly's going back to Kunming Zoo to stay with her mom. Though Kunming Zoo has a very dark history, we will keep monitoring it to ensure Molly living in good condition. We will save other performing 🐘. #FreeMolly https://t.co/kC1uByyVpG pic.twitter.com/KhFlLpQgaa

— Diving paddler (@KU09814701) May 16, 2022
Many online commenters were happy to see Molly returning home. "Finally! This is great news," many wrote, with others saying: "Please be good to her" and "Finally, after four years of hardship, Molly will be reunited with her mother."
Besides regular Weibo accounts celebrating Molly's return to Kunming, various Chinese state media accounts and official accounts (e.g. the Liaocheng Communist Youth League) also posted about Molly's case and wished her a warm welcome and good wishes. One Weibo post on the matter by China News received over 76,000 likes on Monday.
Although many view the effective online 'Save Molly' campaign as an important milestone for animal welfare in China, some animal activists remind others that there are still other elephants in Chinese zoos who need help and better wildlife protection laws. Among them are the elephant Kamuli (卡目里) and two others who are still left in Qinyang.
For years, animal welfare activists in China and in other countries have been calling for Chinese animal protection laws. China does have wildlife protection laws, but they are often conflicting and do not apply to pets and there is no clear anti-animal abuse law.
"I'll continue to follow this. What are the next arrangements? What is the plan for Molly and the other elephants? How will you guarantee a safe and proper living environment?"
Another Weibo user writes: "This is just a first step, there is much more to be done."
To follow more updates regarding Molly, check out Twitter user 'Diving Paddler' here. We thank them for their contributions to this article.
To read more about zoos and wildlife parks causing online commotion in China, check our articles here.
By Manya Koetse
References (other sources linked to within text)
Arcus Foundation (Ed.). 2021. State of the Apes: Killing, Capture, Trade and Ape Conservation. Cambridge: Cambridge University Press.
China Daily. 2012. "Animal Rights Groups Seek Performance Ban." China Daily, April 16 http://www.china.org.cn/environment/2012-04/16/content_25152066.htm [Accessed May 1 2022].
Li, Peter J. 2021. Animal Welfare in China: Culture, Politics and Crisis. Sydney: Sydney University Press.
Get the story behind the hashtag. Subscribe to What's on Weibo here to receive our weekly newsletter and get access to our latest articles:
Spotted a mistake or want to add something? Please let us know in comments below or email us. First-time commenters, please be patient – we will have to manually approve your comment before it appears.
©2022 Whatsonweibo. All rights reserved. Do not reproduce our content without permission – you can contact us at info@whatsonweibo.com.
Huizhou Pet Dog Beaten to Death by Health Workers while Owners Are in Quarantine
First in Shangrao, now in Huizhou.
Last November, Chinese social media users were outraged after anti-epidemic workers in Shangrao killed a pet dog while its owner was undergoing quarantine at a nearby hotel. This week, a similar incident has again sparked outrage on Weibo.
On March 2nd, a Samoyed dog was beaten to death by anti-epidemic workers in Huizhou, Guangdong Province. Home security footage of the incident was shared by the dog's owner (有只雪球), who wrote about it on Weibo on March 4th. Her post was shared over 100,000 times on Saturday afternoon.
The 3-year-old dog named Snowball was left at home while its owners were quarantined elsewhere in Huizhou. The female owner's boyfriend was confirmed to have Covid-19 and was sent to a designated hospital on March 2nd, while the woman also needed to quarantine due to being a close contact.
That very same day, two epidemic prevention staff members entered the house to disinfect it. The dog owner shared screenshots of a WeChat conversation with the health workers, in which she told them in which room the dog was staying and also told them he was harmless and did not bite. The conversation suggests that the owner was under the assumption that the dog would just be tested for Covid19.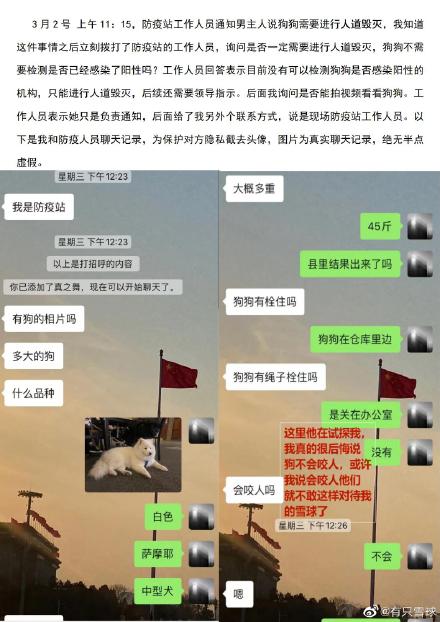 But much to the horror of the owners, their home security camera system allowed them to see how workers used a long stick to hit the dog, and how they continued to beat the dog to death. A video of the incident was also posted on Twitter by @realsexycyborg (warning, viewer discretion is advised, distressing footage and sound).
On March 5th, the official Weibo account of the Huizhou Propaganda Department released a statement on the incident, confirming that the incident had indeed occurred and apologizing for it.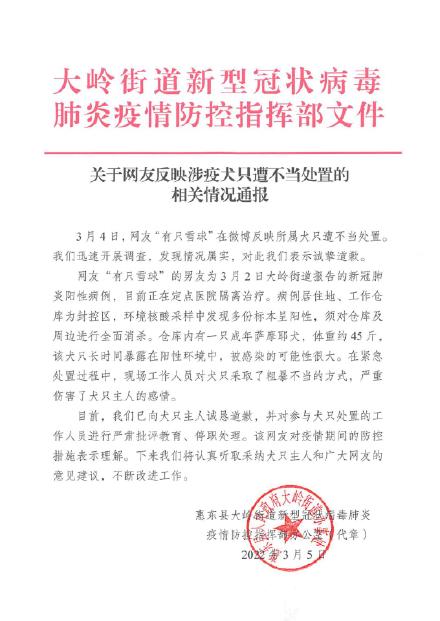 Although the statement said the anti-epidemic workers used a "cruel manner" to kill the dog, it also said that this large dog had been exposed to Covid19 for a prolonged period through its owner and that there allegedly was a high chance that the dog also had caught the Covid19 virus.
The statement further said that the health workers in question have been suspended from their duties and that authorities have contacted the dog's owners and apologized to them.
Many people on Weibo expressed anger and disbelief that such an incident had occurred again: "This epidemic has been going on for several years, why does this keep happening? First Shangrao, now Huizuo. It's heartbreaking."
"Snowball was so scared. I couldn't breathe when clicking on the video, and Paipai [pet dog] immediately scurried to me with his tail down when he heard the video, dogs can empathize with other dogs, Paipai could hear that Snowball was in danger."
Other commenters also claimed that more dogs were recently killed by health workers. Guangdong province recently saw a spike in Covid-19 cases, with virtually all cases originating from neighboring Hong Kong.
Some Weibo users pleaded for Chinese laws to prohibit the mistreatment of animals. For many years, animal welfare activists have been calling for better legal protection of animals in China. China currently has no laws preventing animal abuse but over the past few years, the voices calling for the legal protection of animals in China have become louder – in 2020, state media outlet CCTV also called for animal protection laws.
Online anger was further fuelled when hashtag pages relating to this incident were taken offline on Weibo, with the topic being left out of the top trending topics and hot search lists. The Huizhou authorities closed the comment sections underneath their statement.
"What? You're clamping down on this topic now? Do you think we're idiots?", one Weibo user wrote. Another person said "It's fine if this gets deleted. For communism, your dog is my dog, you beat my death to death, just apologize and it's ok."
Another person wrote: "As a Huizhou resident and a pet lover, I really feel horrible about this. Epidemic prevention is important, but it should protect life, not harm life. The loss of moral preventive measures and the indifferent attitude in which this incident was handled afterward is really a disgrace to Huizhou!"
This is ALL over Weibo-

Any Pro-China influencers avoiding it?
They're getting paid.

Any obfuscating, whatabouting or defending it?
They're getting paid.

You want to know who's getting fat envelopes of cash from🇨🇳? Ask them about this and you'll see.

JUSTICE FOR SNOWBALL! https://t.co/a5FIrcN6sC pic.twitter.com/UZu23pDlWh

— Naomi Wu 机械妖姬 (@RealSexyCyborg) March 5, 2022
By Manya Koetse
Spotted a mistake or want to add something? Please let us know in comments below or email us. First-time commenters, please be patient – we will have to manually approve your comment before it appears.
©2022 Whatsonweibo. All rights reserved. Do not reproduce our content without permission – you can contact us at info@whatsonweibo.com.