CCTV Spring Festival Gala 2018 (Live Blog)
It's time for the CCTV 2018 New Year's Gala – follow the highlights and the low points here.
It is time for the CCTV Spring Festival Gala, one of the most-watched, most-discussed, and most mocked lived television events in the world, taking place on the Lunar New Year's Eve. What's on Weibo discusses the ins & outs of the 2018 edition and the social media frenzy surrounding it in this live blog.
Check out our CCTV Spring Festival Gala 2019 Live Blog here.
The biggest live televised event in the world, the CCTV New Year's Gala, also known as the Spring Festival Gala or Chunwan (春晚), is a true social media spectacle. On February 15th 2018, the 36th edition of the 4-hour-long live production is taking place.
The show, that is organized and produced by the state-run CCTV since 1983, is not just a way for millions of viewers to celebrate the Lunar New Year (除夕); it is also an important opportunity for the Communist Party to communicate official ideology to the people and to showcase the nation's top performers.
Watch the live stream here on What's on Weibo (if you have no access to YouTube, please check the CCTV live stream here).
What's on Weibo provides you with the ins & outs of the 2018 Gala and its social media frenzy, with updates before, during and after the show. Follow our liveblog below (we recommend you keep your browser open – you'll hear a 'beep' when updated). (Note: this live blog is now closed, thank you!).

15/02 10:17 About the Gala (3,5 hours to go!)
Just 3,5 hours to go before the start of the show, so we have the time to tell you a bit more on the Gala if you're not so familiar with it. Since its very first airing in 1983, the Spring Festival Gala has captured an audience of millions. In 2010, the live Gala had a viewership of 730 million; in 2014, it had reached a viewership of 900 million, making the show much bigger in terms of viewership than, for example, the Super Bowl.
As viewer ratings of the show in the 21st century have skyrocketed, so has the critique on the show – which seems to be growing year-on-year. In 2016, the criticism was so overwhelming that CCTV's official Weibo account even temporarily shut the comment section on the show. The show lasts a total of 4 hours, and has around 30 different acts, from dance to singing and acrobatics. The acts that are both most-loved and most-dreaded are the comic sketches (小品) and crosstalk (相声); they are usually the funniest, but also convey the most political messages. (The controversial 2017 CCTV Spring Gala sketch 'Long Last Love' where a woman wants to divorce her husband for not being able to conceive.) For the general viewers and social media users, mocking the show has become so commonplace that the sentence "There'll never be a worst, just worse than last year" ("央视春晚,没有最烂,只有更烂") has become a well-known idiom connected to the Gala.

15/02 12:29 What can we expect of the CCTV Gala this year?
It's almost show time! Tonight's show will feature a total of 42 acts over a time span of 4 hours. Like last year, the show will be broadcasted from various places besides its main venue in Beijing's CCTV's No.1 Studio. Central to the theme of this year's Gala is China's rising power, reflecting on both the Silk Road and the 40 Year Anniversary of Deng Xiaoping's Reform Policy. What is noteworthy about tonight's programme is its many Taiwanese performers – a majority of tonight's big name singers are Taiwanese. Also noteworthy is that although "innovation " is key to the Gala's theme tonight, it has many of the same presenters as previous years. Also, one of the acts that drew a lot of attention last year, namely Jackie Chan performing a song named "Nation", seems to be repeated in a way: Jackie Chan will perform a song titled "China" tonight.. The song drew critique last year for being too political. According to many viewers, the spectacle generally is often "way too political" with its display of communist nostalgia, including the performance of different revolutionary songs such as "Without the Communist Party, There is No New China" (没有共产党就没有新中国). Although there are no titles of tonight's acts that explicitly mention the Party, we can probably expect the same complaints on Chinese social media.

15/02 12:28 Can You Spot 'CCTV Gala Brother Smile' Tonight?
The CCTV Gala is an annual source of memes on Chinese social media. One person who went viral last year is "'CCTV Gala Brother Smile' (#春晚笑脸哥#)". Directly after the ending of the CCTV Gala in 2017, many Weibo netizens discussed one person in the audience – observant viewers have spotted the very same man in the audience of the CCTV Gala every year since 1999. The man was nicknamed 'CCTV Gala Brother Smile' (#春晚笑脸哥#) because he always smiles.
Many netizens are extremely curious about the man, wondering how he came to sit from the back of the audience to the front crowd throughout the years. Some also compliment him for not having changed much over the past 18 years. If you spot him tonight, let us know!

15/02 12:57 Tonight's CCTV Gala Venues
Like last year, the show will be broadcasted from various places besides its main venue in Beijing's CCTV's No.1 Studio, namely from Qiandongnan, an autonomous prefecture in the southeast of Guizhou province, Zhuhai (Guangdong), Qufu (Shandong), Tai'an (Shandong), and Sanya (Hainan).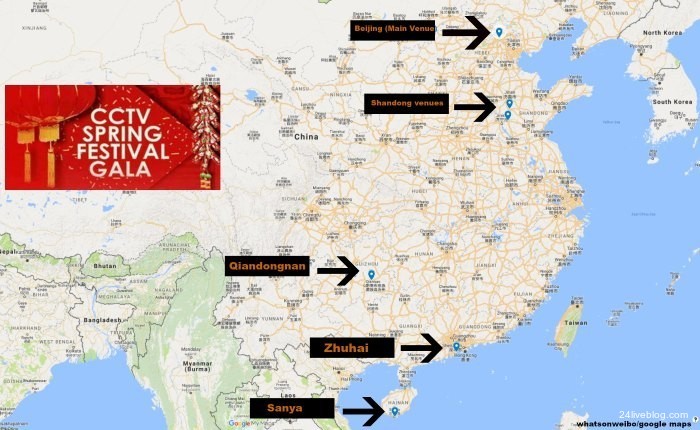 It is a tradition for the Gala to have subvenues where it broadcasts from. In 2016, the Gala was aired from Quanzhou, Xi'an, Guangzhou and Hulun Buir. In 2017, it was broadcasted from Harbin, Guilin, Shanghai and Liangshan. Every city has its own hosts, who often welcome the audiences in their own local dialect or language, with performances that are related to the region. In 2016, the spectacular performance of singer Sun Nan (孙楠) who danced with 540 moving robots, for example, reinforced the image of Guangdong as the home of China's tech startups.

15/02 13:07 Here We Go! "China's Colorful Years"
The show has begun! In this opening act, that presents the years of PRC history as "thousands of purples and reds" ("万紫千红中国年"), there are various artists from mainland China, Hong Kong, and Taiwan. From Hong Kong, there is the award-winning singer and actress Joey Jung (容祖儿). From Taiwan, there's the former F4 pop group member Vic Chou. Other artists in this opening act are Phoenix Legend (凤凰传奇), a Chinese popular music duo of female vocalist Yangwei Linghua and male rapper Zeng Yi, actress and TV anchor Hu Ke with husband actor Sha Yi, and others.

15/02 13:15 The Presenters
The presenters now welcome everyone to the Gala. This year's presenters of the Gala are Kang Hui (康辉), Zhu Xun (朱迅), Ren Luyu (任鲁豫), Li Sisi (李思思), and Nëghmet Raxman (尼格买). Three of them, namely Kang, Zhu, and Raxman, were also presenters in the 2017 New Year's Gala. All of the hosts are familiar CCTV faces.
The ladies:
Zhu Xun (1973) is a well-known presenter and actress from Suzhou, who is presenting the Gala for a 5th time now. Li Sisi (1986) is the youngest presenter tonight; she is a Chinese television host and media personality most known for her role as host of the Gala since 2012.
The gentlemen:
Kang Hui (1972) is a Hebei-born influential CCTV news anchor. Ren Luyu (1978) is a Chinese television host from Henan, and he has previously presented the Gala in 2010 and 2016. Nëghmet (1983) is a Chinese television host of Uyghur heritage who also is not a newcomer; he hosted the Gala since 2015.
In the subvenues, there will be different hosts, but most of them are also familiar faces (so far goes the "new" theme of tonight…):
Guizhou: Ma Yue (CCTV) and Dou Aili (Guizhou radio and television host).
Guangdong: Yang Fan (CCTV) and Gui Jiachen (Zhuhai TV).
Shandong (Qufu & Tai'an): Li Jiaming (CCTV), Li Yi (Shandong radio and television).
Hainan: Zhang Zequn (CCTV), Wang Si (Hainan radio and television host.

15/02 13:14 Director & Theme: Chinese Values, Chinese Power
While we are watching the spectacles across the different venues, a little bit about the director and theme of tonight's show. After themes such as the "Chinese Dream" and "Family Affinity", this year's theme revolves around "Chinese values, Chinese power." One of the most important dimensions of this year is that it commemorates the 40-year-anniversary of China's Economic Reform Policies (改革开放) initiated by Deng Xiaoping in 1978.
This year's director is Yang Dongsheng (杨东升) from Guangdong (see picture below), who is directing the Gala for the second year in a row. According to Sina News, the word "NEW" is central to this year's Gala. As we've seen in last years, with spectacular Avatar-like settings for dance and singing acts in 2017, and the 540-dancing-robots-act in 2016, the display of 'innovation' in entertainment has become an important new characteristic for the Gala.

15/02 13:19 "Happy Holiday" Dance (All Venues)
In this first act across all venues there are people from several countries, including China, Russia, and the UK. China's One Belt, One Road initiative also plays an important role tonight, so a more international programme can be expected. One of the main dancers here is Aoyue Zhang (张傲月), the winner of "So You Think You Can Dance China" and the "Most Popular Chinese Dancer."

15/02 14:17 Sketch: "Real or Fake Teacher"
This is the first comical sketch tonight, and we can expect many more to come. Last year, many people could not appreciate the message constructed in the Gala's sketches that emphasized the woman's role as mother and wife, such as the narrative where a woman depended on her husband's money or the one where a wife wanted to let her husband divorce her because she could not conceive children (which was in a sketch titled 'Long Last Love' 真情永驻). Many felt the sketches propagated women to have children, some said they depicted women as "breeding machines."
This sketch features a house cleaner who is hired by a young man to pretend to be his mother for a teacher's family visit, since his own parents work and live abroad. But then it turns out his father is not abroad at all- he pays his son a surprise visit. The boy is not doing well at school in terms of his behavior. A moral of the story is the student are not always to blame; the parents are also responsible.

15/02 13:39 "Chunwan Roast" Hashtag Censored on Weibo
The CCTV Gala has not even reached its first hour, and already the hashtag "Spring Festival Gala Roast" (春晚吐槽) has been censored on Weibo.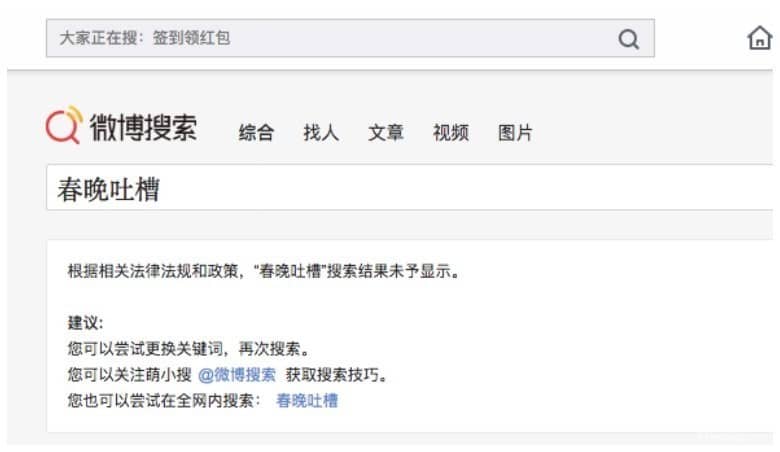 Mocking the CCTV Gala has become a tradition over the years. As aforementioned in this liveblog, "There'll never be a worst, just worse than last year," is an idiom that always comes up in relation to the Gala.
On Weibo, netizens are not happy that the hashtag used to mock the Gala has been censored.

15/02 13:47 Song "Praise The New Era"
The title of this song is representative of tonight's theme – CCTV is pushing the "new era" (新时代) as a concept on social media too – they even have a separate section for the hashtag on Weibo.
One of the singers here is the popular Chinese singer and actor Li Yifeng (1987), who broke into entertainment after competing in the "2007 My Hero" talent search. He is accompanied by actress Jing Tian (1988) and Maggie Jiang (Jiang Shuying, 1986).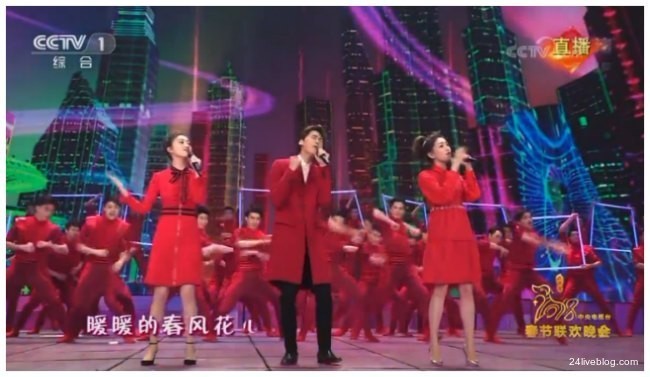 20/02 13:03 Sketch "Driving Class"
Another sketch, of which there will be many tonight. This one features famous actors Cai Ming, Jia Bing and Pan Changjiang.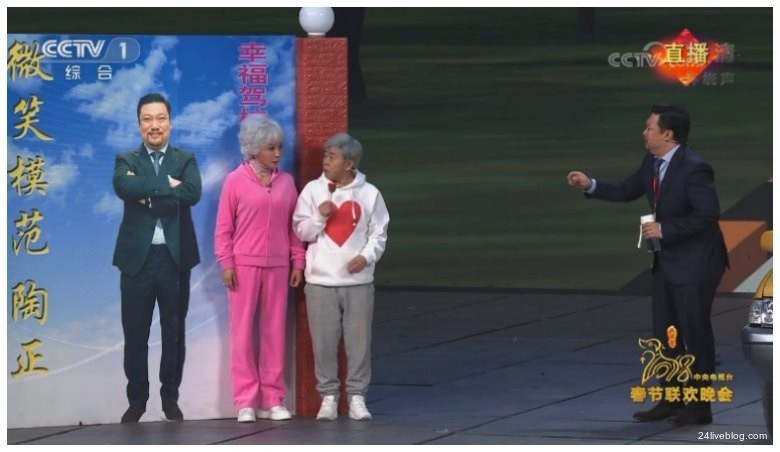 The sketch is about an older couple, whose love and relationship is inspiring a younger driving instructor. The older lady's husband only has another three months before he turns 70, and they want to learn how to drive a car in order to make a big magical road trip together. It encourages the driving instructor to convey his feelings to his true love.

15/02 14:03 Move over to Guizhou!
Guizhou's Qiandongnan is the first subvenue to be featured tonight. This first song, the "Joyous Song" was performed by the Liping County Singing Group, which belongs to the ethnic minority of Dong. The Kam a.k.a. Dong (侗) are a Kam–Sui people of southern China, and they are one of the 56 ethnic groups officially recognized by the People's Republic of China. They are famous for their carpentry skills, unique architecture, and sweet rice.
Amidst the spectacular scenes we see Taiwan singer Lin Zhixuan (林志炫), better known as Terry Lin (1966), who performs a song titled "The Drums of the Sun."
The singer Ayouduo (阿幼朵) is a famous Hmong/Miao singer, she sings the song titled the "Sunset Duet."

5/02 14:06 Jay Chou and Will Tsai
One of the most-anticipated acts tonight. The song "Love Confession Balloon" is a song by Jay Chou, who is on stage here. Jay Chou is a Taiwanese singer who is also called "Asia's King of Pop." He is joined here by Taiwanese-Canadian magician Will Tsai (蔡威泽), who participated in America's Got Talent in 2017.
Will Tsai magically makes Jay Chou appear on stage.

15/02 14:10 PUBLIC SERVICE AD: PROSPEROUS HOME COUNTRY
During the CCTV Gala, there will be several two-minute public service ads that reflect on important societal issues and propagate government messages. This is the first one, in which dogs play a central role, since, obviously, the Year of the Dog is about the start in just a few hours.

15/02 14:26 The Children's Song
Every year at the Gala, there will be a special performance focused on the kids. While it was dancing vegetables last year, this year sees dancing panda bears and dogs.

15/02 14:31 Comical Sketch: "Returning Home"
We've come to the 11th act of tonight, featuring Taiwanese actors Fang Fang, Zhang Chenguang, Du Zhulin, and also Wang Ji. This item is about coming home for New Year's, in which we see a familly who bought towels from Taiwan to give to their Shandong family – but the towels are actually made in Shandong.
Last year, the Gala drew some criticism for featuring too many northern Chinese dialects. This year is significantly different, as the various acts have already presented various different dialects from across China. The actors in this sketch use a Taiwanese accent/dialect.
In general, this year's show's focus on Taiwan is really remarkable; not just in terms of singers coming from Taiwan but also the sketches using storylines that include Taiwan. It is especially noteworthy that this sketch's title is "homecoming" or "returning home", suggesting the 'homecoming' of Taiwan to the mainland.
The moral of this sketch is that people from Taiwan have never forgotten their "Chinese roots", and that Taiwan and mainland China have an unbreakable connection.

15/02 15:01 The Reunion Between Faye Wong and Natasha Na
Another act tonight that was a much-anticipated one is this one featuring singer Wang Fei aka Faye Wong and Chinese vocalist Natasha Na (那英). The act is seen as a "reunion" between two of China's greatest singers after 20 years. In 1998, a cooperation between the two on the very same stage was a great success across China.

15/02 14:53 Silk Road Painting Returns to Beijing
A special item in today's program is the "homecoming" of a Chinese painting on the Silk Road – which clearly emphasizes the One Belt One Road theme. On stage are Chinese director Zhang Guoli and the Department Head of Palace Museum Shan Jixiang.
The painting is over 30 meters long and has been abroad for a long time. It is now "returning to the motherland" after it has been bought by the billionaire Xu Rongmao – he has donated it to the museum to "protect China's heritage." Those who are interested can watch the details of the painting the Palace Museum official website tomorrow.
The ensuing dance to this ceremony also focuses on the Silk Road.

15/02 15:12 Comical Sketch "Objections"
Depending on where you are live-streaming the Gala from (iQiyi, CCTV website, and YouTube channel all have some slight differences in airing the live event), we have now reached the 15th act of tonight, which is another comical sketch. This year, the Gala is featuring quite a lot of sketches; six in total.
Another genre is the 'crosstalk', which we'll see later in this show. This particular act critiques doing business through "taolu" (套路), Chinese routines to do certain things according to 'secret' rules instead of taking the official road; it also suggests that leaders are spending too much time talking and socializing rather than actually doing things. The female protagonist in this act is actually giving the good example, who is all about cutting down on useless meetings, keeping in touch with the common people, and being open to more suggestions.

15/02 15:11 Over to Zhuhai, Guangdong Now!
After Guizhou, it is now time to shine for the subvenue in Shandong's Qufu and Tai'an. While the song "Courage" is sung, we see some serious acts going on with motorcycles jumping through fire.
Really so many Taiwanese singers tonight! During this act we see Canadian-Taiwanese vocalist Pai Weijun (派伟俊) aka Patrick Brasca, who is a pop singer and songwriter known for singing the theme song "Try" of the film Kung Fu Panda 3.

15/02 15:22 "My Spring Festival, My Year"
It is remarkable how few traditional Communist-themed acts we've seen thus far. During the 17th act of the night, we see Wang Kai and Yang Yang with a sentimental song about the years passing by. It really suits the evening, which is also about looking back on the past 40 years since the Reform Policies and the "rise of China."
Noteworthy: the children on stage are so-called "left-behind children" (留守儿童) from rural areas who are separated from parents who are working in remote urban areas. Earlier this year, the case of the "Yunnan Ice Boy" increased awareness of the difficult and poor conditions many of these children are in.

15/02 15:18 Here Comes the Crosstalk
This is the night's first crosstalk (相声) scene. Different from the other sketches (小品), crosstalk usually involves two actors with one being the "joker" and the other being the "teaser".
The actor in the middle, Feng Gong (冯巩), is one of China's most renowned xiangsheng performers. He is best known for his performances in this CCTV New Year's Gala, and has made more appearances on the show than any other major performer.

15/02 15:29 Song "Mountain Laughter"
There are many young vocalists tonight, but Lu Jihong and Zhang Ye are among the more traditional singers tonight.

15/02 15:40 CHINA by Jackie Chan!
Here he is again together with Wu Jin! Last year, Jackie Chan's much-anticipated appearance on the show turned out to be somewhat cringeworthy. The Hong Kong singer and kung fu star showed his love for China through a song that was simply titled "Nation" (国家). In this act, the Hong Kong celebrity stood in front of an enormous Chinese flag together with students from the mainland, Taiwan, Hong Kong, as well as ethnic minorities.
Although the use of sign language by all the performers was praiseworthy, the song came after a night that had already seen many big flags, many dancing minorities, and the message of China's national unity was already – not so subtly – propagated at every possible opportunity. Many netizens, however, did like the performance; some even claimed it was their "favorite act of the night."
This time, Jackie again sings a somewhat cringeworthy song that is just titled "China" and which praises China and how much the singers love their motherland. The dancers in the back form the character 'Zhong" for Zhongguo (China).

15/02 15:35 Is This Show Really Live?
Is this really live? Yes it is. But although the Gala is a live broadcast from CCTV's No.1 Studio, and its other venues across China, every year's show has a taped version of the full dress rehearsal. The tape of the official rehearsal runs together with the live broadcast, so that in the event of a problem or disruption, the producers can seamlessly switch to the taped version without TV audiences noticing anything.

15/02 15:45 Moving Over To Shandong
After the Gala's traditional martial arts segment, we now move over to Shandong, where the song "Descendents of the Dragons" (龙的传人) is performed by Huang Xiaoming (黃曉明, 1977) and Hong singer Wallace Chung, Taiwan singer Jerry Yan, and Macao singer Xia Li'ao (夏利奥).
This is followed by the piano concert 'Ode to the Yellow River' played by the 35-year-old Chinese classical pianist Li Yundi and award-winning Chopin specialist Sa Chen (1979).

15/02 15:54 Piece of Africa?
Back to Beijing. Or well….dozens of African dancers join the stage with lions and zebras to do a Loin King type of act, but it seems somewhat misplaced? Wait, let's see…
It is a 'xiaopin', one of the night's short sketches, and it takes places in Africa, focusing on the new railway connections (emphasizing the One Belt, One Road intiative). On Twitter and Weibo, however, the sketch is receiving some critique.

15/02 16:15 Some more images of the Africa sketch
The title of the sketch is "Share the same Joy and Happiness"《同喜同乐》and is actually meant to promote China-Africa relations. Not sure if it worked…Many reactions on social media deeming the sketch "racist."

15/02 16:09 27th Act Tonight…
This is the night's first Chinese opera segment featuring one of China's leading Peking-Opera artists: Meng Guanglu.

15/02 16:13 Remembering 40th Anniversary of China's Reform & Opening-up
In this song, titled "Rise Again", China's Reform and Opening-up policy of 1978 is commemorated. The singer Han Lei is accompanied on stage by a group of young dancers wearing a red scarf. The images in the back display images representing a developing China.

15/02 16:44 Running from one act to the next
Just a bit more than 30 minutes to go before the clock strikes twelve! Meanwhile, tonight's 4-hour-show seems to proceed with unusual speed, moving from one item to the next within minutes or even seconds.
After a (very brief!) moment to honor some of China's "model workers", it is time for some acrobatics. The act "Above the Waves" features the athlete Hu Shi.
On Twitter, meanwhile, discussions on the Africa sketch continue…

15/02 16:27 "New Start of Happiness" Song
It is time for Sun Nan to hit the stage again. The Chinese mandopop singer stole the show in 2016 when he danced with 540 robotsduring the Gala. This time, no robots, just Tan Weiwei (谭维维) aka Sitar Tan, a famous Chinese singer and actress.

15/02 16:33 Time for the Last Subvenue: Sanya
Some spectacular and dreamy scenes from the city of Sanya, in Hainan. First on piano we hear the song "New Silk Road", completely in sync with tonight's themes, played while floating on water. This is followed by the song: "To Brave the Wind and the Billows" (乘风破浪).

15/02 16:37 Military Acrobatics?!
This scene featuring acrobatics and dance with Pan Yuexin (潘跃新) in the lead is quite noteworthy as it has a strong emphasis on China's military expansion.

15/02 17:18 China's "Promise with 2035"
This song, titled "I have a promise/meeting with 2035" is quite representative of tonight's gala, which is focused on China's past decades of development and its rise.
The song is brought by the TFBoys, who have been very successful in China over the past years. They also appeared at last year's Gala, and won the Weibo Awards for being the most popular on Chinese social media, for which they received nearly 63 million votes. Their performance here tonight might make it more appealing for younger audiences to watch the New Year's Gala, which generally has a somewhat stuffy image.
Chinese futurologists are planning for the PRC to surpass the US to become the most important country in the world by around 2035, when its socialist modernization is expected to be "completed."

15/02 16:56 A Different Chord Indeed!
In the last minutes before the new year, the swinging song "Not a Common Chord" is performed by Taiwanese singer Jam Hsiao, and exquisite vocalists Tia Ray and Dimash Kudaibergen. Actually a really funky song and uncommonly cool and danceable for the CCTV Gala.

15/02 17:06 A New Year, A New Era
Happy New Year everyone! Just before and after the twelve o'clock moment, there is a clear focus on "China's New Era", a theme that is reiterated throughout the Gala tonight – emphasizing that time does not just mark a new year but also a new phase in the modernization of China.

15/02 17:16 East, West, China is Best
The third – and last – public service ad of tonight was titled "Fragrant Hometown" and focused on people living abroad or away from home and coming back to their hometowns and families, where everything is warm, loving, and fragrant. The service ad sends out a message that there is no place like (Chinese) home.

15/02 17:35 "Bright Shoes" Dance Act
A pretty cool and original dance act in the final minutes of tonight's show, performed by the dancers of the Langzhong Spring Festival Culture and Folk Art Troupe, Xinghai Conservatory of Music, the Wuhan Art Troupe, and Sichuan University.

15/02 17:41 "I Love you China"
After the night's last segment of sketch comedy and dance act, the 42nd performance of tonight, and the last song before the Gala's traditional closing song, is by main singers Zhang Yingxi and Jin Tingting, accompanied by a group of international (opera) singers from, amongst others, Italy, USA, and Russia.
While the song is playing, we see images of people waving the Chinese flag and military staff.

15/02 17:44 It's a Wrap: Unforgettable Night
The last song of this night is "Unforgettable Night" (难忘今宵). It is sung by the 73-year-old singer and dancer Li Guyi (李谷一) together with Huo Yong, Liu Yuxin, and Tang Fei.
Li Guyi sings the same song every year at the end of this show. The last song ends with all performers of the Beijing venue on stage. The hosts wish everyone a happy new year. It's a wrap!
By Manya Koetse, with contributions via WeChat from Boyu Xiao, Diandian Guo, and Tim Peng
Follow @whatsonweibo
Spotted a mistake or want to add something? Please let us know in comments below or email us.
If you enjoy What's on Weibo and support the way we report the latest trends in China, we would appreciate your donation. It does not need to be much; we can use every penny to help pay for the upkeep, maintenance, and betterment of this site. See this page for more information.
©2018 Whatsonweibo. All rights reserved. Do not reproduce our content without permission – you can contact us at info@whatsonweibo.com.
Bizarre Buildings & Ambitious Architecture of Rural China: Here's Chinese Vlogger 'Schlieffen'
Chinese vlogger Schlieffen explores a bizarre and amazing side of rural China many have never seen before.
"Making Hebei great again" is one of his slogans. Schlieffen is China's first self-proclaimed 'agritourism' vlogger, showing Chinese netizens the unexpected sides of Hebei, an "almost invisible" province in Northern China. Anna Wang explains.
It all started in May of 2018 when Schlieffen (@史里芬Shǐlǐfēn) launched his first video titled "World's Biggest Tortoise" ("世界上最大的王八"), introducing a 1680-square-meter turtle-shaped sports venue at Hebei's Lake Baiyangdian.
Ever since that time, Schlieffen has grown out to become a popular Chinese vlogger and blogger who is active on various social media platforms. Focusing on unexpected architecture in lesser-known parts of China, he has a fanbase of thousands of followers, from Weibo to Bilibili.
His fourth video, "A Trip to Hogwarts Hebei" ("霍格沃茨河北分校之旅") launched him to stardom in his channel's first month.
The video documents the bizarre architecture of the Hebei Academy of Fine Arts, which has been compared to the 'Hogwarts' School of Witchcraft and Wizardry from Harry Potter due to its bizarre castle campus.
Schlieffen's 4-minute video shows the vlogger's exploration of the 'Hogwarts'-like area. After a long drive down a country road, he arrives at the so-called 'Empire Square', which is surrounded by three magnificent rococo, Renaissance and Gothic-style buildings.
The center building, adorned with dramatic towers and turrets, is the school's administration building. Imagine grading student work in a medieval castle in the middle of a cornfield!
Guiding the viewer through the premises, Schlieffen shows the hotel and conference center on the left; the interior is crammed with densely arranged pillars and painted ceilings  – which might be a homage to the Sistine Chapel, without the high ceilings.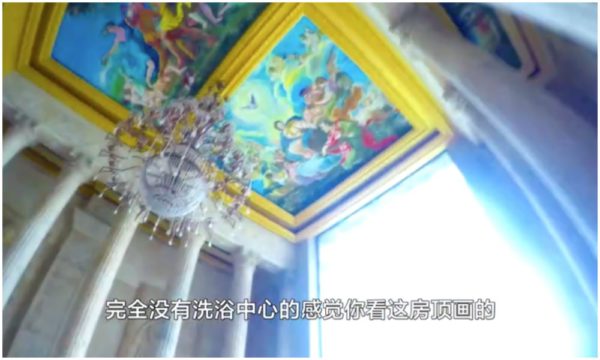 The pseudo-European buildings are somewhat laughable on their own, but there's a lot more. The campus is divided in two halves: one is European-themed, and the other one focuses on ancient China. The two are separated by a manmade "Mediterranean" lake complete with manmade islands covered in artificial palm trees.
Schlieffen's videos always follow a similar pattern. He often uses a wide-angle lens and speeds up the video to four or even eight times its normal speed, with quick edits – no shot lasts longer than 3 seconds. Each video begins with the vlogger getting off from a train or getting out of a car from where he starts his tour. "Please hold on and sit tight," is one of his signature phrases.
"They suddenly seemed to realize that there were parts of China they had no clue about."
"A Trip to Hogwarts Hebei" soon started making its rounds on Chinese social media, and was especially shared among well-educated netizens and white-collar workers, who suddenly seemed to realize that there were parts of China they had no clue about.
The Chinese term "shanzhai" (山寨) is a derogatory term for "knock-off goods," but it literally means "mountain village." The assumption is that people from rural mountain villages cannot afford real luxury goods, so they buy cheap counterfeits made in poorly run factories. The metropolitan middle class already knew about shanzhai Louis Vuitton bags, but they weren't aware that hillbillies were capable of building a 288-acre shanzhai Hogwarts.
Schlieffen's video on the noteworthy Hebei Academy of Fine Arts has currently been viewed over nine million times on Miaopai alone.
After the success of his initial videos, Schlieffen continued filming knock-off world wonders in Hebei. By now, he has made fifty vlogs, including those on wondrous places such as Hebei Jerusalem or Hebei Venice.
Through the course of his vlogging career, Schlieffen expanded his field of interest to include any attraction teetering on the thin line between ambitious and ridiculous.
Whether sharing images and videos on the world's largest cement elephant or the biggest turtle sculpture, Schlieffen's posts always attract hundreds of likes. One of his other popular videos explores the somewhat bizarre site of the Baoding Zoo.
"Hebei is an almost invisible province, as transparent as the air – I used that invisibility to make myself visible."
There are not many online influencers focusing on Hebei, a place that is not exactly known for its glamor and charm. At a December 2018 event hosted by Chinese tech news site Huxiu.com, Schlieffen said that "Hebei is an almost invisible province, as transparent as the air – I used that invisibility to make myself visible."
Hebei, a coastal province in Northern China, contains two municipalities under the direct control of the central government: Beijing and Tianjin. People often say that Beijing and Tianjin are the flavorful 'fillings of a dumpling' while Hebei is 'the plain wrapper.'
Under the current household registration system, being a resident of Beijing or Tianjin means better social welfare than the rest of Hebei. Thus, the 'brain drain' from Hebei to the cities has been ongoing for decades.
When people talk about Hebei, they usually describe it as an uneventful place, but Schlieffen's representation of Hebei completely changes their idea of the region, turning it into a place where people can be wildly ambitious.
Their ambitions can take on two forms: first, they are obsessed with huge, grand buildings. Second, they want to include every aesthetic they can think of, Chinese or European, ancient or contemporary. These ambitions come together in a brazenly unsophisticated form of architecture.
Schlieffen (1992) was born and raised in Hebei. After college, he went to England for graduate school until 2018.
While he was studying abroad, a new wave of Chinese vloggers launched their careers in mainland China. Many of them, such as the female vlogger Zhuzi (@你好_竹子), were studying abroad in Western countries. They shot and shared short videos of their daily lives, satisfying their audience's curiosity about life in a strange land.
Schlieffen began to seriously consider vlogging as a career after finishing his studies and returning to his hometown. He found that his prospective audience seemed to have grown tired of watching Chinese exchange students living happy, fashionable lives overseas. As a lover of traveling, he decided to start his own travel vlog.
In an interview with Li Dangxin for Huxiu.com, Schlieffen explains: "You have to ask yourself time and time again why the audience wants to watch your videos." Careful consideration led him to shoot the bizarre buildings in Hebei.
There are tens of thousands of Hebei natives working in big cities, Schlieffen thought; they care about what's going on in their hometowns, but they haven't necessarily seen these incredible buildings in person. They would be his first audience and if they shared his posts, his videos would surely go viral.
Things happened just as Schlieffen expected. Well-educated white-collar workers who had left their hometowns behind were stunned by Schlieffen's discoveries and collectively reposted his videos with their friends.
"Making Hebei great again."
Even after having produced dozens of vlogs and posts, Schlieffen is not worried about running out of stories. After his initial success, he also began covering stories in other provinces.
Schlieffen found that if a village's richest man happens to be the local party secretary and is also a Chinese People's Political Consultative Conference (CPPCC) member, you're sure to find ridiculous architecture in that village.
These locally powerful people often want to put up monuments and realize impressive structures to build on their legacy. Their power often goes largely unchecked in the various corners of Chinese -more rural- provinces, and their subordinates will not question them – those with the ability to challenge them aesthetically have probably already fled to bigger cities.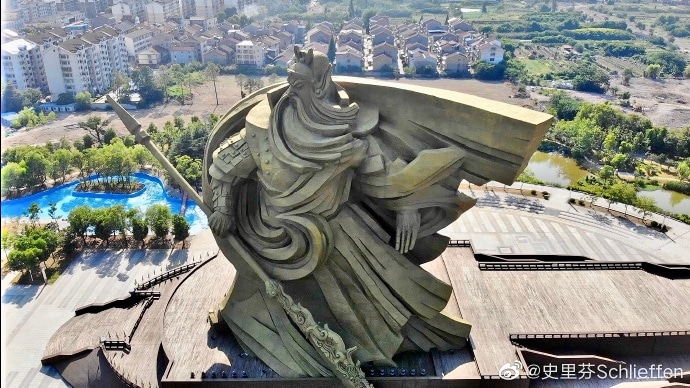 One example features in Schlieffen's video on the Long Wish Hotel International. Boasting an elevation of 328 meters, the hotel is ranked No. 8 in China and No. 15 worldwide in terms of height. It isn't in densely populated Beijing or Shanghai, but in Huaxi village in Jiangsu province. When asked why one would build such a gigantic hotel in a rural area, the village party secretary answered: "Because we can."
The hotel in Huaxi has nouveau riche written all over it. Every corner is decorated with glittering sculptures made with gold, silver or crystal. There are miniatures of Tiananmen, the White House and Arc De Triomphe in the village. On top of the White House stands a miniature Statue of Liberty.
In reporting on all these wondrous places and buildings, Schlieffen avoids making strong statements about them. Instead, he often makes playful or edgy comments. His slogan "Make Hebei great again" also means different things to different people. Some instantly understand his application of the phrase, while others simply take it literally.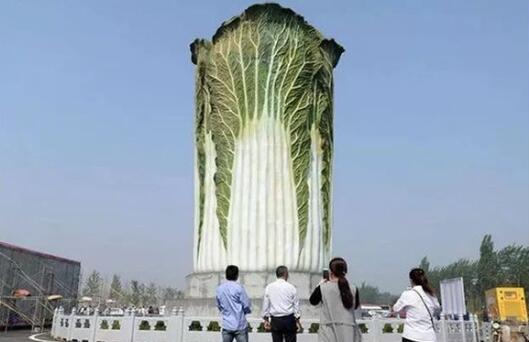 What is noteworthy is that Schlieffen rarely offends locals. He's welcomed wherever he visits. After he made a video about Wan Jia Li, a hotel/shopping mall in Hunan, the owner supposedly even invited Schlieffen to visit his home, saying: "My home is more fun than my business."
Being featured in one of Schlieffen's video can be lucrative for places in Hebei and elsewhere, as these places in rural areas will suddenly see a flux of visitors. Hebei Academy of Fine Arts has even become a popular destination for wedding photos.
Schlieffen is convinced he has found the right perspective from which to observe China's rapidly changing areas. Meanwhile, his next video is on its way. "Please hold on and sit tight," Schlieffen says again. Enjoy the ride. 
By Anna Wang
Follow @whatsonweibo
Spotted a mistake or want to add something? Please let us know in comments below or email us. Please note that your comment below will need to be manually approved if you're a first-time poster here.
©2019 Whatsonweibo. All rights reserved. Do not reproduce our content without permission – you can contact us at info@whatsonweibo.com
'First Lady of Hong Kong TV' Lily Leung Passes Away at Age 90
Chinese netizens pay their respects to veteran actress Lily Leung Shun-Yin (1929-2019), who passed away on August 13.
While the Hong Kong protests are dominating the headlines, the death of Hong Kong veteran actress Lily Leung Shun-Yin (梁舜燕) has become a top trending topic on social media site Sina Weibo under the hashtag "Hong Kong Actress Liang Shunyan Dies from Illness" (#香港演员梁舜燕病逝#).
The actress was born in Hong Kong in 1929. She starred in dozens of television series, including the first TV drama to be locally broadcasted. She became known as "the first lady of Hong Kong TV."
Leung acted for TVB and other broadcasters. Some of her more well-known roles were those in Kindred Spirit (真情) and Heart of Greed (溏心风暴).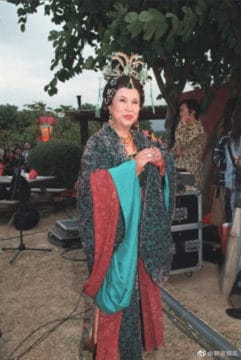 Leung, also nicknamed 'Sister Lily' (Lily姐), passed away on August 13. According to various Chinese media reports, the actress passed peacefully surrounded by family after enduring illness. She was 90 years old.
"I've seen so much of her work," many Weibo netizens say, sharing the favorite roles played by Leung. "I always watched her on TVB while growing up, and will cherish her memory," one commenter wrote.
Another well-known Hong Kong actress, Teresa Ha Ping (夏萍), also passed away this month. She was 81 years old when she died. Her passing away also attracted a lot of attention on Chinese social media (
#演员夏萍去世#).
Many people express their sadness over the fact that not one but two grand ladies from Hong Kong's 20th-century entertainment era have passed away this month.
"Those people from our memories pass away one by one, and it represents the passing of an era," one Weibo user wrote.
"Two familiar faces and old troupers of Hong Kong drama – I hope they rest in peace."
By Manya Koetse
Follow @whatsonweibo
Spotted a mistake or want to add something? Please let us know in comments below or email us. Please note that your comment below will need to be manually approved if you're a first-time poster here.
©2019 Whatsonweibo. All rights reserved. Do not reproduce our content without permission – you can contact us at info@whatsonweibo.com