CCTV Spring Festival Gala 2018 (Live Blog)
It's time for the CCTV 2018 New Year's Gala – follow the highlights and the low points here.
It is time for the CCTV Spring Festival Gala, one of the most-watched, most-discussed, and most mocked lived television events in the world, taking place on the Lunar New Year's Eve. What's on Weibo discusses the ins & outs of the 2018 edition and the social media frenzy surrounding it in this live blog. [Premium content]
Check out our CCTV Spring Festival Gala 2019 Live Blog here.
The biggest live televised event in the world, the CCTV New Year's Gala, also known as the Spring Festival Gala or Chunwan (春晚), is a true social media spectacle. On February 15th 2018, the 36th edition of the 4-hour-long live production is taking place.
The show, that is organized and produced by the state-run CCTV since 1983, is not just a way for millions of viewers to celebrate the Lunar New Year (除夕); it is also an important opportunity for the Communist Party to communicate official ideology to the people and to showcase the nation's top performers.
Watch the live stream here on What's on Weibo (if you have no access to YouTube, please check the CCTV live stream here).
What's on Weibo provides you with the ins & outs of the 2018 Gala and its social media frenzy, with updates before, during and after the show. Follow our liveblog below (we recommend you keep your browser open – you'll hear a 'beep' when updated). (Note: this live blog is now closed, thank you!).

15/02 10:17 About the Gala (3,5 hours to go!)
Just 3,5 hours to go before the start of the show, so we have the time to tell you a bit more on the Gala if you're not so familiar with it. Since its very first airing in 1983, the Spring Festival Gala has captured an audience of millions. In 2010, the live Gala had a viewership of 730 million; in 2014, it had reached a viewership of 900 million, making the show much bigger in terms of viewership than, for example, the Super Bowl.
As viewer ratings of the show in the 21st century have skyrocketed, so has the critique on the show – which seems to be growing year-on-year. In 2016, the criticism was so overwhelming that CCTV's official Weibo account even temporarily shut the comment section on the show. The show lasts a total of 4 hours, and has around 30 different acts, from dance to singing and acrobatics. The acts that are both most-loved and most-dreaded are the comic sketches (小品) and crosstalk (相声); they are usually the funniest, but also convey the most political messages. (The controversial 2017 CCTV Spring Gala sketch 'Long Last Love' where a woman wants to divorce her husband for not being able to conceive.) For the general viewers and social media users, mocking the show has become so commonplace that the sentence "There'll never be a worst, just worse than last year" ("央视春晚,没有最烂,只有更烂") has become a well-known idiom connected to the Gala.

15/02 12:29 What can we expect of the CCTV Gala this year?
It's almost show time! Tonight's show will feature a total of 42 acts over a time span of 4 hours. Like last year, the show will be broadcasted from various places besides its main venue in Beijing's CCTV's No.1 Studio. Central to the theme of this year's Gala is China's rising power, reflecting on both the Silk Road and the 40 Year Anniversary of Deng Xiaoping's Reform Policy. What is noteworthy about tonight's programme is its many Taiwanese performers – a majority of tonight's big name singers are Taiwanese. Also noteworthy is that although "innovation " is key to the Gala's theme tonight, it has many of the same presenters as previous years. Also, one of the acts that drew a lot of attention last year, namely Jackie Chan performing a song named "Nation", seems to be repeated in a way: Jackie Chan will perform a song titled "China" tonight.. The song drew critique last year for being too political. According to many viewers, the spectacle generally is often "way too political" with its display of communist nostalgia, including the performance of different revolutionary songs such as "Without the Communist Party, There is No New China" (没有共产党就没有新中国). Although there are no titles of tonight's acts that explicitly mention the Party, we can probably expect the same complaints on Chinese social media.

15/02 12:28 Can You Spot 'CCTV Gala Brother Smile' Tonight?
The CCTV Gala is an annual source of memes on Chinese social media. One person who went viral last year is "'CCTV Gala Brother Smile' (#春晚笑脸哥#)". Directly after the ending of the CCTV Gala in 2017, many Weibo netizens discussed one person in the audience – observant viewers have spotted the very same man in the audience of the CCTV Gala every year since 1999. The man was nicknamed 'CCTV Gala Brother Smile' (#春晚笑脸哥#) because he always smiles.
Many netizens are extremely curious about the man, wondering how he came to sit from the back of the audience to the front crowd throughout the years. Some also compliment him for not having changed much over the past 18 years. If you spot him tonight, let us know!

15/02 12:57 Tonight's CCTV Gala Venues
Like last year, the show will be broadcasted from various places besides its main venue in Beijing's CCTV's No.1 Studio, namely from Qiandongnan, an autonomous prefecture in the southeast of Guizhou province, Zhuhai (Guangdong), Qufu (Shandong), Tai'an (Shandong), and Sanya (Hainan).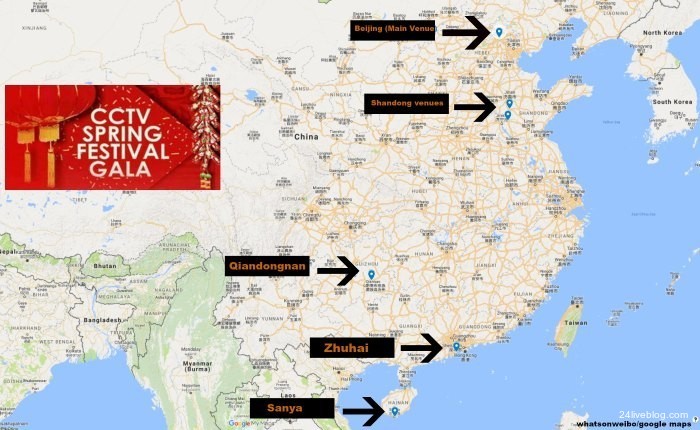 It is a tradition for the Gala to have subvenues where it broadcasts from. In 2016, the Gala was aired from Quanzhou, Xi'an, Guangzhou and Hulun Buir. In 2017, it was broadcasted from Harbin, Guilin, Shanghai and Liangshan. Every city has its own hosts, who often welcome the audiences in their own local dialect or language, with performances that are related to the region. In 2016, the spectacular performance of singer Sun Nan (孙楠) who danced with 540 moving robots, for example, reinforced the image of Guangdong as the home of China's tech startups.

15/02 13:07 Here We Go! "China's Colorful Years"
The show has begun! In this opening act, that presents the years of PRC history as "thousands of purples and reds" ("万紫千红中国年"), there are various artists from mainland China, Hong Kong, and Taiwan. From Hong Kong, there is the award-winning singer and actress Joey Jung (容祖儿). From Taiwan, there's the former F4 pop group member Vic Chou. Other artists in this opening act are Phoenix Legend (凤凰传奇), a Chinese popular music duo of female vocalist Yangwei Linghua and male rapper Zeng Yi, actress and TV anchor Hu Ke with husband actor Sha Yi, and others.

15/02 13:15 The Presenters
The presenters now welcome everyone to the Gala. This year's presenters of the Gala are Kang Hui (康辉), Zhu Xun (朱迅), Ren Luyu (任鲁豫), Li Sisi (李思思), and Nëghmet Raxman (尼格买). Three of them, namely Kang, Zhu, and Raxman, were also presenters in the 2017 New Year's Gala. All of the hosts are familiar CCTV faces.
The ladies:
Zhu Xun (1973) is a well-known presenter and actress from Suzhou, who is presenting the Gala for a 5th time now. Li Sisi (1986) is the youngest presenter tonight; she is a Chinese television host and media personality most known for her role as host of the Gala since 2012.
The gentlemen:
Kang Hui (1972) is a Hebei-born influential CCTV news anchor. Ren Luyu (1978) is a Chinese television host from Henan, and he has previously presented the Gala in 2010 and 2016. Nëghmet (1983) is a Chinese television host of Uyghur heritage who also is not a newcomer; he hosted the Gala since 2015.
In the subvenues, there will be different hosts, but most of them are also familiar faces (so far goes the "new" theme of tonight…):
Guizhou: Ma Yue (CCTV) and Dou Aili (Guizhou radio and television host).
Guangdong: Yang Fan (CCTV) and Gui Jiachen (Zhuhai TV).
Shandong (Qufu & Tai'an): Li Jiaming (CCTV), Li Yi (Shandong radio and television).
Hainan: Zhang Zequn (CCTV), Wang Si (Hainan radio and television host.

15/02 13:14 Director & Theme: Chinese Values, Chinese Power
While we are watching the spectacles across the different venues, a little bit about the director and theme of tonight's show. After themes such as the "Chinese Dream" and "Family Affinity", this year's theme revolves around "Chinese values, Chinese power." One of the most important dimensions of this year is that it commemorates the 40-year-anniversary of China's Economic Reform Policies (改革开放) initiated by Deng Xiaoping in 1978.
This year's director is Yang Dongsheng (杨东升) from Guangdong (see picture below), who is directing the Gala for the second year in a row. According to Sina News, the word "NEW" is central to this year's Gala. As we've seen in last years, with spectacular Avatar-like settings for dance and singing acts in 2017, and the 540-dancing-robots-act in 2016, the display of 'innovation' in entertainment has become an important new characteristic for the Gala.

15/02 13:19 "Happy Holiday" Dance (All Venues)
In this first act across all venues there are people from several countries, including China, Russia, and the UK. China's One Belt, One Road initiative also plays an important role tonight, so a more international programme can be expected. One of the main dancers here is Aoyue Zhang (张傲月), the winner of "So You Think You Can Dance China" and the "Most Popular Chinese Dancer."

15/02 14:17 Sketch: "Real or Fake Teacher"
This is the first comical sketch tonight, and we can expect many more to come. Last year, many people could not appreciate the message constructed in the Gala's sketches that emphasized the woman's role as mother and wife, such as the narrative where a woman depended on her husband's money or the one where a wife wanted to let her husband divorce her because she could not conceive children (which was in a sketch titled 'Long Last Love' 真情永驻). Many felt the sketches propagated women to have children, some said they depicted women as "breeding machines."
This sketch features a house cleaner who is hired by a young man to pretend to be his mother for a teacher's family visit, since his own parents work and live abroad. But then it turns out his father is not abroad at all- he pays his son a surprise visit. The boy is not doing well at school in terms of his behavior. A moral of the story is the student are not always to blame; the parents are also responsible.

15/02 13:39 "Chunwan Roast" Hashtag Censored on Weibo
The CCTV Gala has not even reached its first hour, and already the hashtag "Spring Festival Gala Roast" (春晚吐槽) has been censored on Weibo.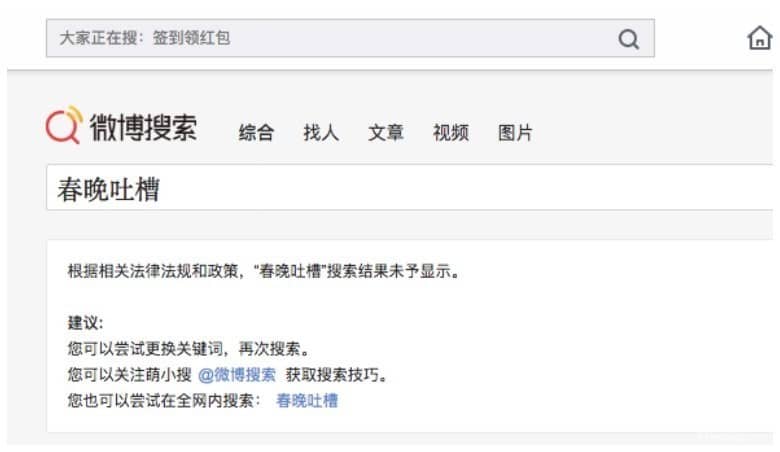 Mocking the CCTV Gala has become a tradition over the years. As aforementioned in this liveblog, "There'll never be a worst, just worse than last year," is an idiom that always comes up in relation to the Gala.
On Weibo, netizens are not happy that the hashtag used to mock the Gala has been censored.

15/02 13:47 Song "Praise The New Era"
The title of this song is representative of tonight's theme – CCTV is pushing the "new era" (新时代) as a concept on social media too – they even have a separate section for the hashtag on Weibo.
One of the singers here is the popular Chinese singer and actor Li Yifeng (1987), who broke into entertainment after competing in the "2007 My Hero" talent search. He is accompanied by actress Jing Tian (1988) and Maggie Jiang (Jiang Shuying, 1986).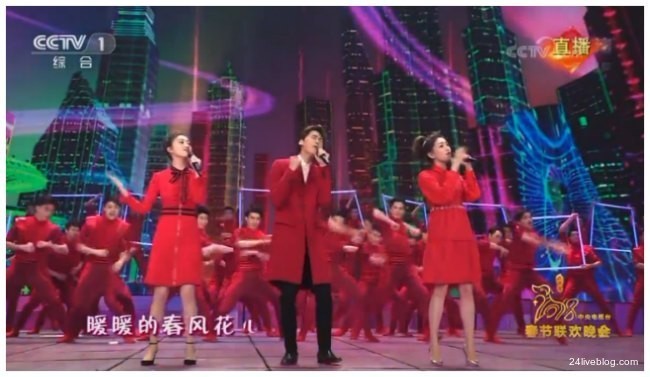 20/02 13:03 Sketch "Driving Class"
Another sketch, of which there will be many tonight. This one features famous actors Cai Ming, Jia Bing and Pan Changjiang.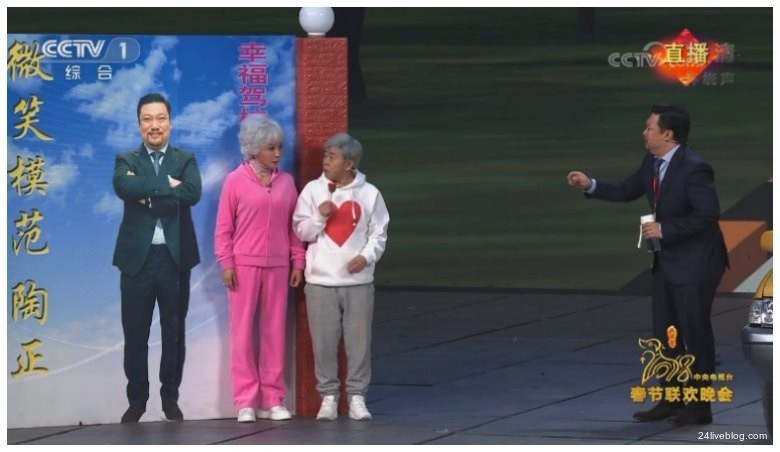 The sketch is about an older couple, whose love and relationship is inspiring a younger driving instructor. The older lady's husband only has another three months before he turns 70, and they want to learn how to drive a car in order to make a big magical road trip together. It encourages the driving instructor to convey his feelings to his true love.

15/02 14:03 Move over to Guizhou!
Guizhou's Qiandongnan is the first subvenue to be featured tonight. This first song, the "Joyous Song" was performed by the Liping County Singing Group, which belongs to the ethnic minority of Dong. The Kam a.k.a. Dong (侗) are a Kam–Sui people of southern China, and they are one of the 56 ethnic groups officially recognized by the People's Republic of China. They are famous for their carpentry skills, unique architecture, and sweet rice.
Amidst the spectacular scenes we see Taiwan singer Lin Zhixuan (林志炫), better known as Terry Lin (1966), who performs a song titled "The Drums of the Sun."
The singer Ayouduo (阿幼朵) is a famous Hmong/Miao singer, she sings the song titled the "Sunset Duet."

5/02 14:06 Jay Chou and Will Tsai
One of the most-anticipated acts tonight. The song "Love Confession Balloon" is a song by Jay Chou, who is on stage here. Jay Chou is a Taiwanese singer who is also called "Asia's King of Pop." He is joined here by Taiwanese-Canadian magician Will Tsai (蔡威泽), who participated in America's Got Talent in 2017.
Will Tsai magically makes Jay Chou appear on stage.

15/02 14:10 PUBLIC SERVICE AD: PROSPEROUS HOME COUNTRY
During the CCTV Gala, there will be several two-minute public service ads that reflect on important societal issues and propagate government messages. This is the first one, in which dogs play a central role, since, obviously, the Year of the Dog is about the start in just a few hours.

15/02 14:26 The Children's Song
Every year at the Gala, there will be a special performance focused on the kids. While it was dancing vegetables last year, this year sees dancing panda bears and dogs.

15/02 14:31 Comical Sketch: "Returning Home"
We've come to the 11th act of tonight, featuring Taiwanese actors Fang Fang, Zhang Chenguang, Du Zhulin, and also Wang Ji. This item is about coming home for New Year's, in which we see a familly who bought towels from Taiwan to give to their Shandong family – but the towels are actually made in Shandong.
Last year, the Gala drew some criticism for featuring too many northern Chinese dialects. This year is significantly different, as the various acts have already presented various different dialects from across China. The actors in this sketch use a Taiwanese accent/dialect.
In general, this year's show's focus on Taiwan is really remarkable; not just in terms of singers coming from Taiwan but also the sketches using storylines that include Taiwan. It is especially noteworthy that this sketch's title is "homecoming" or "returning home", suggesting the 'homecoming' of Taiwan to the mainland.
The moral of this sketch is that people from Taiwan have never forgotten their "Chinese roots", and that Taiwan and mainland China have an unbreakable connection.

15/02 15:01 The Reunion Between Faye Wong and Natasha Na
Another act tonight that was a much-anticipated one is this one featuring singer Wang Fei aka Faye Wong and Chinese vocalist Natasha Na (那英). The act is seen as a "reunion" between two of China's greatest singers after 20 years. In 1998, a cooperation between the two on the very same stage was a great success across China.

15/02 14:53 Silk Road Painting Returns to Beijing
A special item in today's program is the "homecoming" of a Chinese painting on the Silk Road – which clearly emphasizes the One Belt One Road theme. On stage are Chinese director Zhang Guoli and the Department Head of Palace Museum Shan Jixiang.
The painting is over 30 meters long and has been abroad for a long time. It is now "returning to the motherland" after it has been bought by the billionaire Xu Rongmao – he has donated it to the museum to "protect China's heritage." Those who are interested can watch the details of the painting the Palace Museum official website tomorrow.
The ensuing dance to this ceremony also focuses on the Silk Road.

15/02 15:12 Comical Sketch "Objections"
Depending on where you are live-streaming the Gala from (iQiyi, CCTV website, and YouTube channel all have some slight differences in airing the live event), we have now reached the 15th act of tonight, which is another comical sketch. This year, the Gala is featuring quite a lot of sketches; six in total.
Another genre is the 'crosstalk', which we'll see later in this show. This particular act critiques doing business through "taolu" (套路), Chinese routines to do certain things according to 'secret' rules instead of taking the official road; it also suggests that leaders are spending too much time talking and socializing rather than actually doing things. The female protagonist in this act is actually giving the good example, who is all about cutting down on useless meetings, keeping in touch with the common people, and being open to more suggestions.

15/02 15:11 Over to Zhuhai, Guangdong Now!
After Guizhou, it is now time to shine for the subvenue in Shandong's Qufu and Tai'an. While the song "Courage" is sung, we see some serious acts going on with motorcycles jumping through fire.
Really so many Taiwanese singers tonight! During this act we see Canadian-Taiwanese vocalist Pai Weijun (派伟俊) aka Patrick Brasca, who is a pop singer and songwriter known for singing the theme song "Try" of the film Kung Fu Panda 3.

15/02 15:22 "My Spring Festival, My Year"
It is remarkable how few traditional Communist-themed acts we've seen thus far. During the 17th act of the night, we see Wang Kai and Yang Yang with a sentimental song about the years passing by. It really suits the evening, which is also about looking back on the past 40 years since the Reform Policies and the "rise of China."
Noteworthy: the children on stage are so-called "left-behind children" (留守儿童) from rural areas who are separated from parents who are working in remote urban areas. Earlier this year, the case of the "Yunnan Ice Boy" increased awareness of the difficult and poor conditions many of these children are in.

15/02 15:18 Here Comes the Crosstalk
This is the night's first crosstalk (相声) scene. Different from the other sketches (小品), crosstalk usually involves two actors with one being the "joker" and the other being the "teaser".
The actor in the middle, Feng Gong (冯巩), is one of China's most renowned xiangsheng performers. He is best known for his performances in this CCTV New Year's Gala, and has made more appearances on the show than any other major performer.

15/02 15:29 Song "Mountain Laughter"
There are many young vocalists tonight, but Lu Jihong and Zhang Ye are among the more traditional singers tonight.

15/02 15:40 CHINA by Jackie Chan!
Here he is again together with Wu Jin! Last year, Jackie Chan's much-anticipated appearance on the show turned out to be somewhat cringeworthy. The Hong Kong singer and kung fu star showed his love for China through a song that was simply titled "Nation" (国家). In this act, the Hong Kong celebrity stood in front of an enormous Chinese flag together with students from the mainland, Taiwan, Hong Kong, as well as ethnic minorities.
Although the use of sign language by all the performers was praiseworthy, the song came after a night that had already seen many big flags, many dancing minorities, and the message of China's national unity was already – not so subtly – propagated at every possible opportunity. Many netizens, however, did like the performance; some even claimed it was their "favorite act of the night."
This time, Jackie again sings a somewhat cringeworthy song that is just titled "China" and which praises China and how much the singers love their motherland. The dancers in the back form the character 'Zhong" for Zhongguo (China).

15/02 15:35 Is This Show Really Live?
Is this really live? Yes it is. But although the Gala is a live broadcast from CCTV's No.1 Studio, and its other venues across China, every year's show has a taped version of the full dress rehearsal. The tape of the official rehearsal runs together with the live broadcast, so that in the event of a problem or disruption, the producers can seamlessly switch to the taped version without TV audiences noticing anything.

15/02 15:45 Moving Over To Shandong
After the Gala's traditional martial arts segment, we now move over to Shandong, where the song "Descendents of the Dragons" (龙的传人) is performed by Huang Xiaoming (黃曉明, 1977) and Hong singer Wallace Chung, Taiwan singer Jerry Yan, and Macao singer Xia Li'ao (夏利奥).
This is followed by the piano concert 'Ode to the Yellow River' played by the 35-year-old Chinese classical pianist Li Yundi and award-winning Chopin specialist Sa Chen (1979).

15/02 15:54 Piece of Africa?
Back to Beijing. Or well….dozens of African dancers join the stage with lions and zebras to do a Loin King type of act, but it seems somewhat misplaced? Wait, let's see…
It is a 'xiaopin', one of the night's short sketches, and it takes places in Africa, focusing on the new railway connections (emphasizing the One Belt, One Road intiative). On Twitter and Weibo, however, the sketch is receiving some critique.

15/02 16:15 Some more images of the Africa sketch
The title of the sketch is "Share the same Joy and Happiness"《同喜同乐》and is actually meant to promote China-Africa relations. Not sure if it worked…Many reactions on social media deeming the sketch "racist."

15/02 16:09 27th Act Tonight…
This is the night's first Chinese opera segment featuring one of China's leading Peking-Opera artists: Meng Guanglu.

15/02 16:13 Remembering 40th Anniversary of China's Reform & Opening-up
In this song, titled "Rise Again", China's Reform and Opening-up policy of 1978 is commemorated. The singer Han Lei is accompanied on stage by a group of young dancers wearing a red scarf. The images in the back display images representing a developing China.

15/02 16:44 Running from one act to the next
Just a bit more than 30 minutes to go before the clock strikes twelve! Meanwhile, tonight's 4-hour-show seems to proceed with unusual speed, moving from one item to the next within minutes or even seconds.
After a (very brief!) moment to honor some of China's "model workers", it is time for some acrobatics. The act "Above the Waves" features the athlete Hu Shi.
On Twitter, meanwhile, discussions on the Africa sketch continue…

15/02 16:27 "New Start of Happiness" Song
It is time for Sun Nan to hit the stage again. The Chinese mandopop singer stole the show in 2016 when he danced with 540 robotsduring the Gala. This time, no robots, just Tan Weiwei (谭维维) aka Sitar Tan, a famous Chinese singer and actress.

15/02 16:33 Time for the Last Subvenue: Sanya
Some spectacular and dreamy scenes from the city of Sanya, in Hainan. First on piano we hear the song "New Silk Road", completely in sync with tonight's themes, played while floating on water. This is followed by the song: "To Brave the Wind and the Billows" (乘风破浪).

15/02 16:37 Military Acrobatics?!
This scene featuring acrobatics and dance with Pan Yuexin (潘跃新) in the lead is quite noteworthy as it has a strong emphasis on China's military expansion.

15/02 17:18 China's "Promise with 2035"
This song, titled "I have a promise/meeting with 2035" is quite representative of tonight's gala, which is focused on China's past decades of development and its rise.
The song is brought by the TFBoys, who have been very successful in China over the past years. They also appeared at last year's Gala, and won the Weibo Awards for being the most popular on Chinese social media, for which they received nearly 63 million votes. Their performance here tonight might make it more appealing for younger audiences to watch the New Year's Gala, which generally has a somewhat stuffy image.
Chinese futurologists are planning for the PRC to surpass the US to become the most important country in the world by around 2035, when its socialist modernization is expected to be "completed."

15/02 16:56 A Different Chord Indeed!
In the last minutes before the new year, the swinging song "Not a Common Chord" is performed by Taiwanese singer Jam Hsiao, and exquisite vocalists Tia Ray and Dimash Kudaibergen. Actually a really funky song and uncommonly cool and danceable for the CCTV Gala.

15/02 17:06 A New Year, A New Era
Happy New Year everyone! Just before and after the twelve o'clock moment, there is a clear focus on "China's New Era", a theme that is reiterated throughout the Gala tonight – emphasizing that time does not just mark a new year but also a new phase in the modernization of China.

15/02 17:16 East, West, China is Best
The third – and last – public service ad of tonight was titled "Fragrant Hometown" and focused on people living abroad or away from home and coming back to their hometowns and families, where everything is warm, loving, and fragrant. The service ad sends out a message that there is no place like (Chinese) home.

15/02 17:35 "Bright Shoes" Dance Act
A pretty cool and original dance act in the final minutes of tonight's show, performed by the dancers of the Langzhong Spring Festival Culture and Folk Art Troupe, Xinghai Conservatory of Music, the Wuhan Art Troupe, and Sichuan University.

15/02 17:41 "I Love you China"
After the night's last segment of sketch comedy and dance act, the 42nd performance of tonight, and the last song before the Gala's traditional closing song, is by main singers Zhang Yingxi and Jin Tingting, accompanied by a group of international (opera) singers from, amongst others, Italy, USA, and Russia.
While the song is playing, we see images of people waving the Chinese flag and military staff.

15/02 17:44 It's a Wrap: Unforgettable Night
The last song of this night is "Unforgettable Night" (难忘今宵). It is sung by the 73-year-old singer and dancer Li Guyi (李谷一) together with Huo Yong, Liu Yuxin, and Tang Fei.
Li Guyi sings the same song every year at the end of this show. The last song ends with all performers of the Beijing venue on stage. The hosts wish everyone a happy new year. It's a wrap!
By Manya Koetse, with contributions via WeChat from Boyu Xiao, Diandian Guo, and Tim Peng
Follow @whatsonweibo
Spotted a mistake or want to add something? Please let us know in comments below or email us.
If you enjoy What's on Weibo and support the way we report the latest trends in China, we would appreciate your donation. It does not need to be much; we can use every penny to help pay for the upkeep, maintenance, and betterment of this site. See this page for more information.
©2018 Whatsonweibo. All rights reserved. Do not reproduce our content without permission – you can contact us at info@whatsonweibo.com.
Chinese Social Media Reactions to The New York Times Bad Review of 'Wandering Earth 2'
A New York Times bad review of 'Wandering Earth II' has triggered online discussions: "China's gonna save the world, the US can't stand it."
This Chinese Spring Festival, it's all about going to the movies. After sluggish years for China's movie market during the pandemic, Chinese cinemas welcomed millions of visitors back to the theaters during the weeklong Spring Festival holiday.
Much-anticipated new movies attracted Chinese moviegoers this festive season, including Full River Red by Zhang Yimou, the suspenseful Hidden Blade, or the animated Deep Sea by Tian Xiaopeng.
But the undisputed Spring Festival box office champion of 2023 is Frant Gwo's Wandering Earth II (流浪地球II), the sequel to China's all-time highest-grossing sci-fi epic Wandering Earth (2019), which also became the fifth highest-grossing non-English film of all time.
The narrative of the follow-up movie Wandering Earth II actually takes place before the events of the first film and focuses on the efforts by the United Earth Government (UEG) to propel the Earth out of the solar system to avoid planetary disaster. This so-called Moving Mountain Project – which later becomes the Wandering Earth Project – is not just met with protest (the majority of Americans don't believe in it), it also bans the Digital Life Project, which supports the idea that the future of humanity can be saved by preserving human consciousness on computers (backed by an American majority). The film is all about hope and resilience, human destiny, and geopolitics at a time of apocalyptic chaos.
Outside of China, the sequel was also released in, among others, North American, Australian, and UK cinemas.
Although the film, featuring movie stars Wu Jing and Andy Lau, received an 8.2 on the Chinese rating & review platform Douban, a 9.4 on movie ticketing app Maoyan, dozens of positive reviews on Bilibili, and was overall very well-received among Chinese viewers, a bad review by The New York Times triggered discussions on Chinese social media this weekend.
Chinese media outlet The Observer (观察者网) initiated a Weibo hashtag about "The New York Times's completely sour review of Wandering Earth II" (#纽约时报酸味拉满差评流浪地球2#, 6.2 million views at time of writing).
The New York Times review of Wandering Earth II, titled "The Wandering Earth II Review: It Wanders Too Far," was written by Brandon Yu and published in print on January 27, 2023.
Yu does not have a lot of good things to say about China's latest blockbuster. Although he calls the 2019 The Wandering Earth "entertaining enough," he writes that the sequel is a movie that is "audaciously messy" and has lost "all of the glee" its predecessor had:
"(..) the movie instead offers nearly three hours of convoluted storylines, undercooked themes and a tangle of confused, glaringly state-approved political subtext."
The topic was discussed on Chinese social media using various hashtags, including "The New York Times Gave Wandering Earth II a 3″ (#纽约时报给流浪地球打30分#, #纽约时报给流浪地球2打30分#).
Instead of triggering anger, the bad review actually instilled a sense of pride among many Chinese, who argued that the review showed the impact the movie has made. Some commenters pointed out that the movie is a new milestone in Chinese cinema, not just threatening America's domination of the movie industry but also setting a narrative in which China leads the way.
"We're gonna save the world, and America just can't stand it," one commenter replied.
That same view was also reiterated by other bloggers. The author and history blogger Zhang Yi'an (@张忆安-龙战于野) argued that The New York Times review was not necessarily bad; it actually shows that Americans feel threatened by the idea of China's important role in a new international world order, and by the fact that China actually will have the capacity to lead the way when it comes to, for example, space technology innovation, robotics, and artificial intelligence.
Zhang argues that if a similar movie had been made by India as a Bollywood blockbuster – including exploding suns and wandering earths – The New York Times would have been more forgiving and might have even called it cute or silly.
But because this is China, the film's success and its narrative plays into existing fears over China's rise, and it clashes with American values about what the international community should look like.
Zhang writes: "The China in the movie doesn't boast itself as the savior of the world, but in reality, China really is capable of saving the world. The United States is no longer able to do so (电影里的中国没有把自己吹嘘成救世主,现实中的中国真的有能力做救世主。而美国却已经不能了)."
One popular Film & TV account (@影视综艺君) also summarized the general online reaction to the bad review in the American newspaper: "Whenever the enemy gets scared, it must mean we're doing it right. Our cultural export has succeeded." That post received over 120,000 likes.
On Zhihu.com, some commenters also attached little value to the review and showed how the overseas reviews of Wandering Earth II widely varied in their verdict.
Meanwhile, a state media-initiated hashtag on Weibo claimed on January 28 that Wandering Earth II has actually "captured the hearts of many overseas audiences" (#流浪地球2海外上映获好评#), and that the film's "imaginative" and "wonderful" visuals combined with its strong storyline were being praised by moviegoers outside of China.
On IMDB, the movie has received 5.9/10; it has gotten a 70% Rotten Tomatoes score. The Guardian gave it 2/5. Meanwhile, on Weibo, one reviewer after the other gives the film 5/5 stars.
Weibo blogger Lang Yanzhi (@郎言志) writes: "Recently, we've seen a lot of attacks and slander directed at the China-made science fiction movie Wandering Earth 2, especially coming from Western media and pro-Western forces, because the film's "Chinese salvation" narrative made them uncomfortable. This was already the case when the first film in the series was released. It is very clear that Wandering Earth is not just a movie: it is a symbol of great influence."
By Manya Koetse , with contributions by Zilan Qian
Get the story behind the hashtag. Subscribe to What's on Weibo here to receive our newsletter and get access to our latest articles:
Spotted a mistake or want to add something? Please let us know in comments below or email us. First-time commenters, please be patient – we will have to manually approve your comment before it appears.
©2022 Whatsonweibo. All rights reserved. Do not reproduce our content without permission – you can contact us at info@whatsonweibo.com.
Behind the Short Feature Film of the Spring Festival Gala
The first-ever 'mini film' of the Spring Festival Gala struck a chord with viewers for its strong storytelling and authentic production.
This precious and powerful short film by Zhang Dapeng has touched the hearts of Spring Festival Gala viewers. But there is more to the short film than meets the eye. Here's the noteworthy story behind the 7-minute Spring Festival Mini Film.
On January 21, 2023, China's Spring Festival Gala, hosted by China Media Group, kicked off the Year of the Rabbit. The annual show, which featured forty different acts and performances, lasted over four hours and attracted millions of viewers worldwide (see our liveblog here, and see a top 5 highlight of the show here).
Traditionally, the Spring Festival Gala always shows several short public service ad films in between the performances, but this year was the first time the Gala featured a "mini-film" or "micro film" (微电影).
Titled Me and My Spring Festival Night ("我和我的春晚"), the 7-minute film was praised among viewers. On Weibo, one hashtag dedicated to the short film received over nine million clicks (#我和我的春晚#).
The film was directed by the Beijing director Zhang Dapeng (张大鹏). Born in 1984, Zhang is a Beijing Film Academy graduate who previously attracted wide attention for directing the Peppa Pig Celebrates Chinese New Year movie and the brilliant ad campaign that came with it. Titled What Is Peppa, that short ad film featured a grandfather living in rural China who goes on a quest to find out what 'Peppa' is. The promotional video became an absolute viral hit back in 2019 (see/read more here).
This time, Zhang's latest Chinese New Year film is about a hard-working former military man from China's countryside named Zhang Jianguo (张建国), for whom coming on the show to play the trumpet has been a dream for many years. By featuring his story, the film takes us from the Chinese 1980s, 90s, 00s – as we see him change jobs, move around, and start a family – up to the present.
The main idea behind the film was to honor all the ordinary viewers who have written – and are still writing – to the Gala ever since it first aired in the early 1980s, and to tell a story inspired by these personal letters and ordinary viewers.
Short Summary of "Me and My Chunwan"
At the start of the film, we see Zhang Jianguo dusting off his military honorary awards (光荣军属), putting on his jacket, grabbing his thermos flask and trumpet, and setting out on a journey in the midst of winter.
Riding an electric tricycle in the icy cold, his driver (actor Huang Bo 黄渤) asks him where he is going. "Can you keep your mouth shut?" Zhang replies ("你嘴严实不严实"). "I can," the driver says, and Zhang then says: "So can I."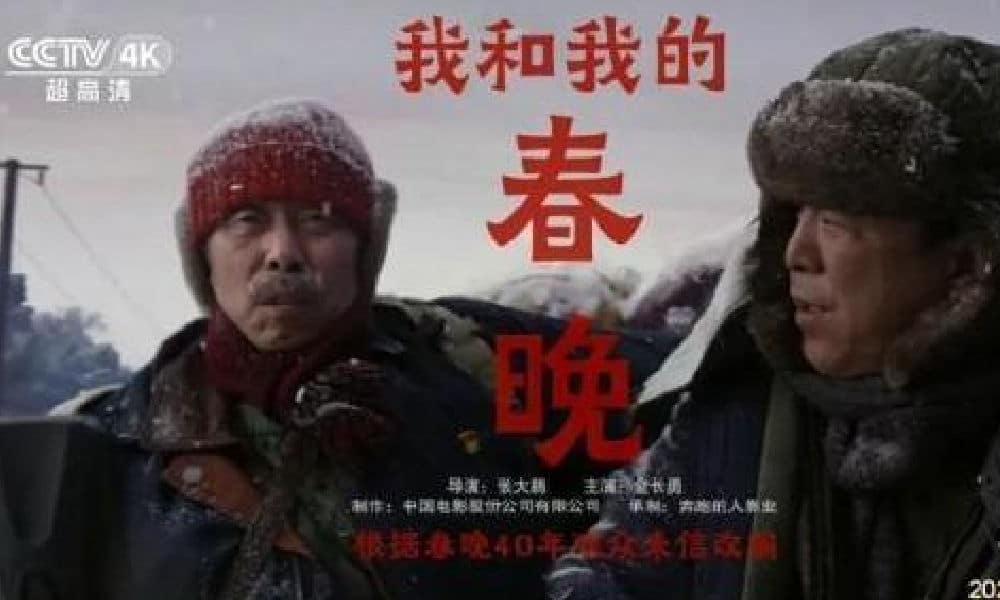 The voiceover narration, a first-person narrative by Zhang himself, explains that he has always been busy: "I never had time for the Spring Festival Gala. My Spring Festival fate is all because of something my captain said."
The film jumps to a scene showing Zhang as a young military man during the Chinese New Year's Eve, working outside while people are watching the Spring Festival Gala on a small black and white television inside. As his commander (played by Wu Jing 吴京) hands him his trumpet, he says: "Go and play your trumpet on the television."
"If the leader asks me to go on the Spring Festival Gala, it's a task I must complete," the voice-over says.
But in the military scene itself, duty calls and Zhang has to blow the trumpet to announce dinner time.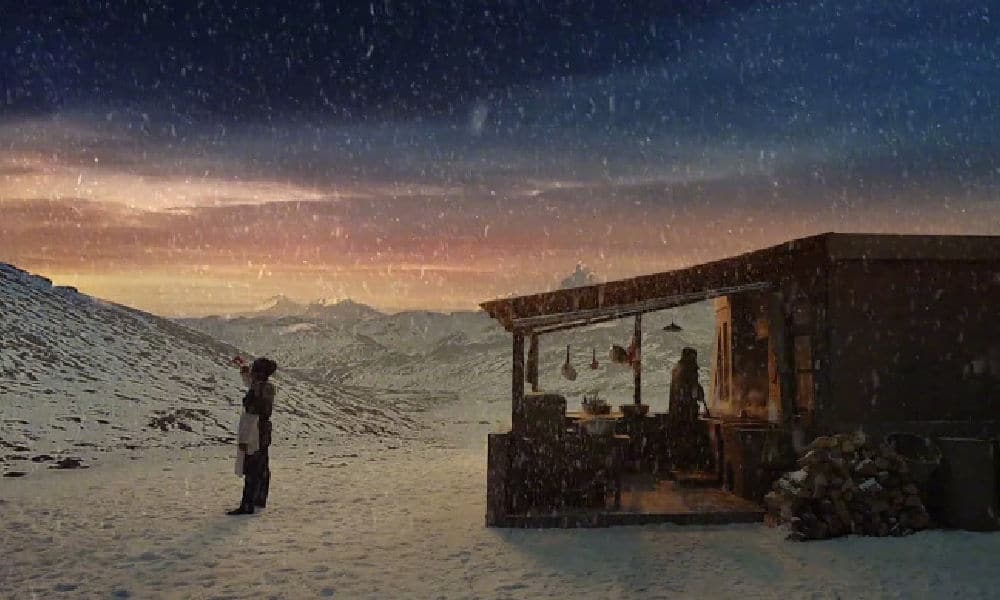 In the years that follow, Zhang is always busy during the Spring Festival Gala. Working in the factory, getting married, working on a train, farming cattle, taking care of his family, and always cooking. His trumpet is still there with him, to announce dinner time or hanging on the wall as a memory of times past.
As the years pass by, Zhang realizes that he has gradually forgotten about his commander's words. Time moves fast. First, he had a son, then his son grew taller than himself, and then his son had his own son. "And I still had never been to the Spring Festival Gala."
With his captain's words back on his mind, Zhang, now an older man, sets out on his journey without telling anyone. By foot, by electric tricycle, by bus, and by train, Zhang travels all the way to the famous Beijing Studio 1 to perform at the Spring Festival Gala after being "too busy" for forty years.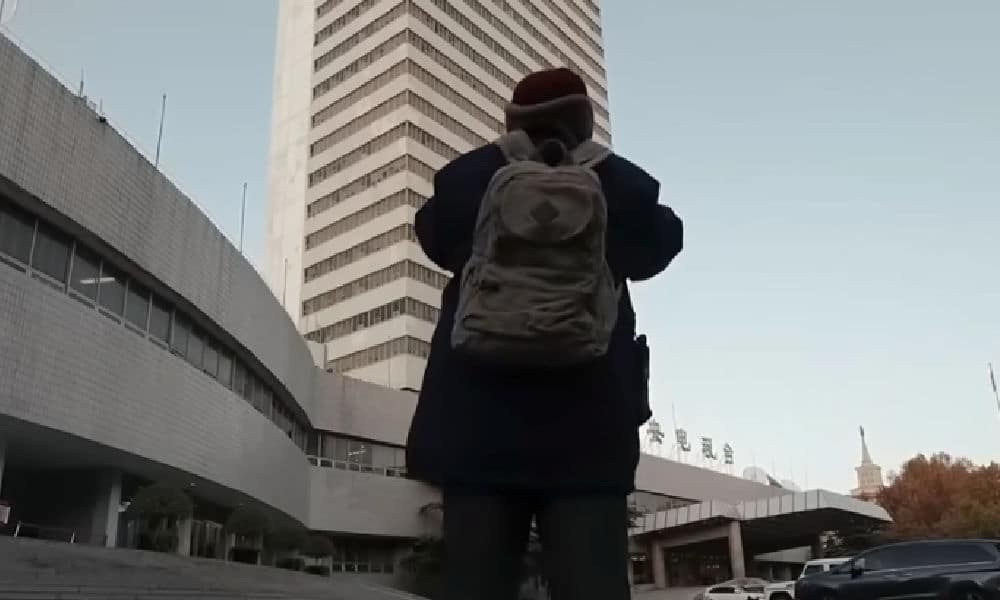 Backstage at the Spring Festival Gala, Zhang sits down with famous Chinese Spring Festival Gala performers (Ma Li 马丽 and Shen Teng 沈腾). While unpacking his lunchbox, he tells them he was finally not too busy to come on the show: "I wrote a letter and here I am." "It's that simple?" Ma Li wonders.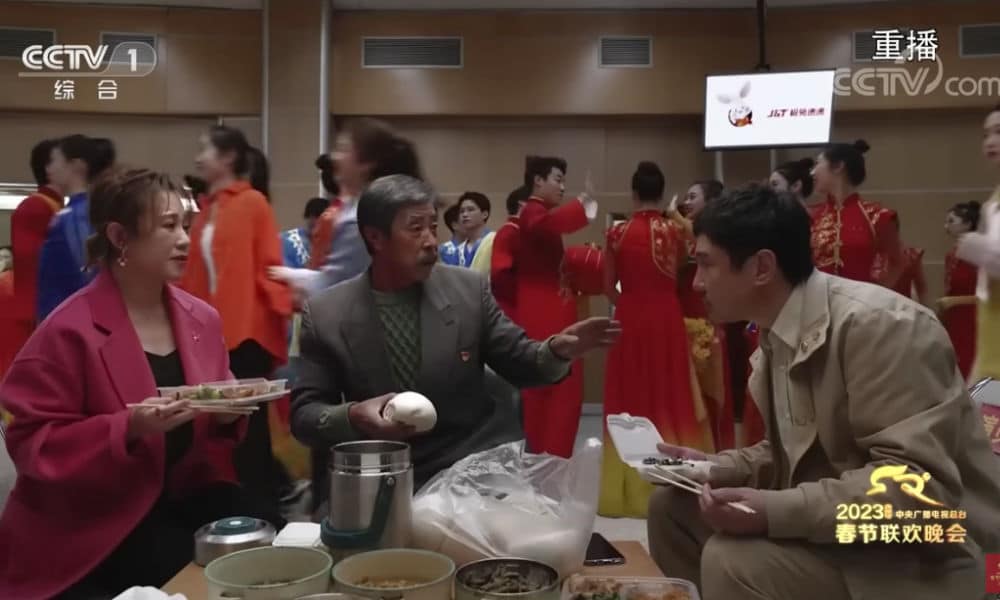 The producer then rushes to come and get Zhang, who bravely walks towards the stage with his old little trumpet.
A female voice-over then reads out a message, while we see various scenes throughout the years showing Zhang – from young to old – writing letters to CCTV from wherever he is.
The female narrator says: "Dear Uncle Zhang, we've received your letter regarding your hopes to realize your cherished stage dream. In this age of emailing, and knowing that you've been writing us for 39 years, we're moved and feel guilty. Our reply may be late, but not our sincerity.."
Meanwhile, we see a flashback to a mailman pulling up to old Zhang's home (the mailman is the actor Wang Baoqiang), and the old Zhang finally receives that much-anticipated letter from CCTV at his remote rural home.
The female narrator continues: "This year, we proudly invite you to be a guest at the Spring Festival Gala and to "ring the dinner bell" [play the sound announcing dinner]. Sincerely, the Spring Festival Director Committee."
In the final shot, we see Zhang blowing the trumpet at the Gala, with flashbacks showing him blowing that trumpet in all those decades before. He has finally made it to the big stage.
A Noteworthy Story
While Me and My Spring Festival Night received a lot of praise on Chinese social media, the story behind the film was not immediately clear to many viewers celebrating the Chinese New Year, but it was explained in several articles and interviews with director Zhang Dapeng.
During the live-televised Spring Festival Gala itself, the airing of Me and My Spring Festival Night was directly followed up by a shot featuring a person (a veteran) in the audience standing up and actually playing the trumpet.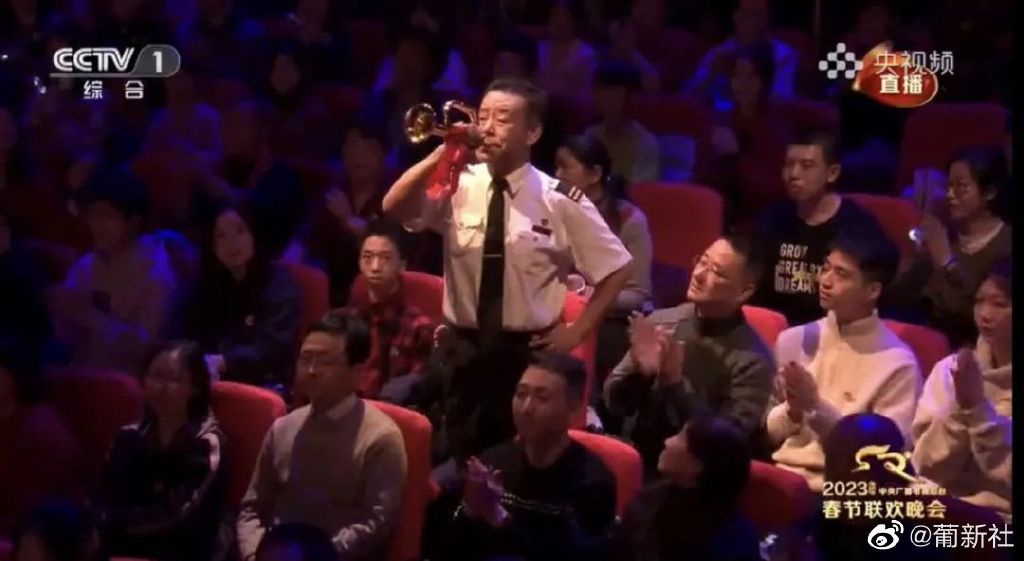 Directly after, the song "Goodmorning Sunshine" began, representing multiple people from all kinds of professions and social groups. About one minute into the song, the camera turns to another audience member: the person who plays 'Uncle Zhang' in the mini-film. Later in the song, we can see he is wiping away tears, visibly moved.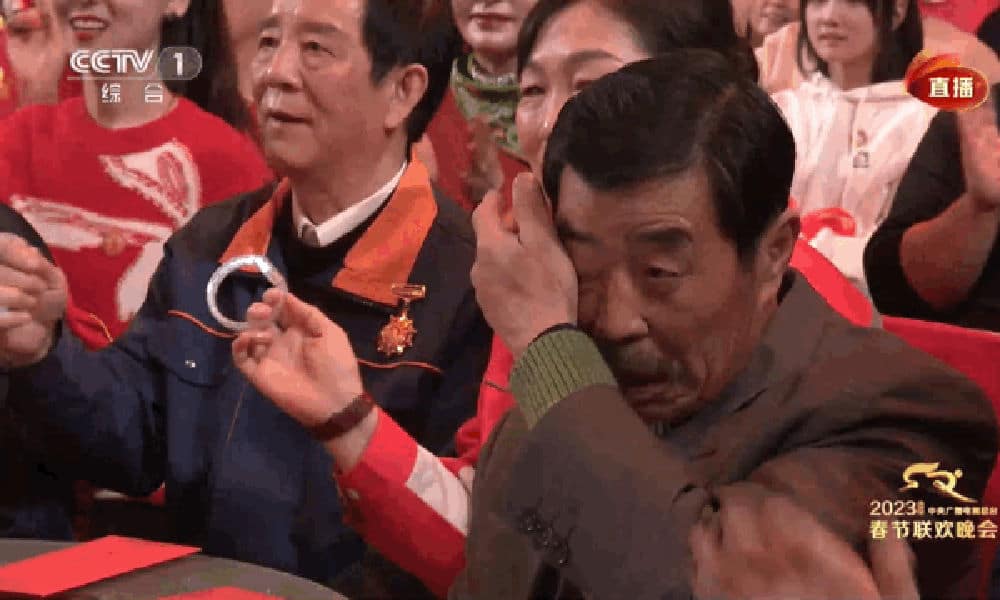 Why was he so moved? The older man in the audience, the main 'Uncle Zhang' actor in the film, is Jin Changyong (金长勇), and he actually is not a professional actor.
Somewhat similar to the character Zhang Jianguo, Jin Changyong or "Uncle Jin" (金叔) is a hardworking veteran from Hebei's Huailai County in Zhangjiakou.
Jin Changyong is a 63-year-old farmer who is also active at the Hebei Tianmo Film and TV Park doing security and logistics-related jobs. He served in the army for four years from the age of 19, as, among others, a military chef.
Director Zhang Dapdeng came across 'Uncle Jin' one day while shooting another film at the studio. While Jin was busy doing kitchen work, director Zhang saw him and, as he later recounts, was struck by his face that showed he had "lived through many changes" ("这种饱经沧桑的脸").
Zhang later invited Uncle Jin to star in the movie, and he also made sure Jin's own story played a role in the script.
This makes this short movie all the more special, something which has since been discussed on Chinese social media (#春晚微电影的主演是普通农民#).
The surprising twist in the story is how Zhang Jianguo tells other people he has just always been "too busy" to attend the Gala, while he had in fact already written to the show for 39 years with the hope of one day being invited.
Another noteworthy aspect of the film is how Zhang Dapeng chose to cast some of China's most celebrated actors as supporting roles to lift up the main character and actor, Jin, who was inexperienced and learnt from his fellow players.
In an interview, Jin expressed that the entire experience of playing in this short film left his overcome with emotion. After the filming had ended, he told reporters that he had sleepless nights because he had not received an actual invitation to the Spring Festival Gala yet, something which he so very much hoped for. Just one week before the show, that invitation finally came.
The fact that Jin, in a way, played a man like himself in the short movie has added to the film's popularity.
"I was sincerely moved by this film," one commenter wrote, with others saying: "This was the best program I've seen on the Gala over the past decade."
While some people also remarked that the short film seemed to have been influenced by The Grand Budapest Hotel by Wes Anderson, others praised it for its originality.
"This was just the best part of the night," several commenters said: "It made me cry."
"Zhang Pengda – a name to remember," others wrote.
You can watch the short film on Youtube here.
By Manya Koetse 
Get the story behind the hashtag. Subscribe to What's on Weibo here to receive our newsletter and get access to our latest articles:
Spotted a mistake or want to add something? Please let us know in comments below or email us. First-time commenters, please be patient – we will have to manually approve your comment before it appears.
©2023 Whatsonweibo. All rights reserved. Do not reproduce our content without permission – you can contact us at info@whatsonweibo.com.