CCTV Spring Festival Gala 2018 (Live Blog)
It's time for the CCTV 2018 New Year's Gala – follow the highlights and the low points here.
It is time for the CCTV Spring Festival Gala, one of the most-watched, most-discussed, and most mocked lived television events in the world, taking place on the Lunar New Year's Eve. What's on Weibo discusses the ins & outs of the 2018 edition and the social media frenzy surrounding it in this live blog. [Premium content]
Check out our CCTV Spring Festival Gala 2019 Live Blog here.
The biggest live televised event in the world, the CCTV New Year's Gala, also known as the Spring Festival Gala or Chunwan (春晚), is a true social media spectacle. On February 15th 2018, the 36th edition of the 4-hour-long live production is taking place.
The show, that is organized and produced by the state-run CCTV since 1983, is not just a way for millions of viewers to celebrate the Lunar New Year (除夕); it is also an important opportunity for the Communist Party to communicate official ideology to the people and to showcase the nation's top performers.
Watch the live stream here on What's on Weibo (if you have no access to YouTube, please check the CCTV live stream here).
What's on Weibo provides you with the ins & outs of the 2018 Gala and its social media frenzy, with updates before, during and after the show. Follow our liveblog below (we recommend you keep your browser open – you'll hear a 'beep' when updated). (Note: this live blog is now closed, thank you!).

15/02 10:17 About the Gala (3,5 hours to go!)
Just 3,5 hours to go before the start of the show, so we have the time to tell you a bit more on the Gala if you're not so familiar with it. Since its very first airing in 1983, the Spring Festival Gala has captured an audience of millions. In 2010, the live Gala had a viewership of 730 million; in 2014, it had reached a viewership of 900 million, making the show much bigger in terms of viewership than, for example, the Super Bowl.
As viewer ratings of the show in the 21st century have skyrocketed, so has the critique on the show – which seems to be growing year-on-year. In 2016, the criticism was so overwhelming that CCTV's official Weibo account even temporarily shut the comment section on the show. The show lasts a total of 4 hours, and has around 30 different acts, from dance to singing and acrobatics. The acts that are both most-loved and most-dreaded are the comic sketches (小品) and crosstalk (相声); they are usually the funniest, but also convey the most political messages. (The controversial 2017 CCTV Spring Gala sketch 'Long Last Love' where a woman wants to divorce her husband for not being able to conceive.) For the general viewers and social media users, mocking the show has become so commonplace that the sentence "There'll never be a worst, just worse than last year" ("央视春晚,没有最烂,只有更烂") has become a well-known idiom connected to the Gala.

15/02 12:29 What can we expect of the CCTV Gala this year?
It's almost show time! Tonight's show will feature a total of 42 acts over a time span of 4 hours. Like last year, the show will be broadcasted from various places besides its main venue in Beijing's CCTV's No.1 Studio. Central to the theme of this year's Gala is China's rising power, reflecting on both the Silk Road and the 40 Year Anniversary of Deng Xiaoping's Reform Policy. What is noteworthy about tonight's programme is its many Taiwanese performers – a majority of tonight's big name singers are Taiwanese. Also noteworthy is that although "innovation " is key to the Gala's theme tonight, it has many of the same presenters as previous years. Also, one of the acts that drew a lot of attention last year, namely Jackie Chan performing a song named "Nation", seems to be repeated in a way: Jackie Chan will perform a song titled "China" tonight.. The song drew critique last year for being too political. According to many viewers, the spectacle generally is often "way too political" with its display of communist nostalgia, including the performance of different revolutionary songs such as "Without the Communist Party, There is No New China" (没有共产党就没有新中国). Although there are no titles of tonight's acts that explicitly mention the Party, we can probably expect the same complaints on Chinese social media.

15/02 12:28 Can You Spot 'CCTV Gala Brother Smile' Tonight?
The CCTV Gala is an annual source of memes on Chinese social media. One person who went viral last year is "'CCTV Gala Brother Smile' (#春晚笑脸哥#)". Directly after the ending of the CCTV Gala in 2017, many Weibo netizens discussed one person in the audience – observant viewers have spotted the very same man in the audience of the CCTV Gala every year since 1999. The man was nicknamed 'CCTV Gala Brother Smile' (#春晚笑脸哥#) because he always smiles.
Many netizens are extremely curious about the man, wondering how he came to sit from the back of the audience to the front crowd throughout the years. Some also compliment him for not having changed much over the past 18 years. If you spot him tonight, let us know!

15/02 12:57 Tonight's CCTV Gala Venues
Like last year, the show will be broadcasted from various places besides its main venue in Beijing's CCTV's No.1 Studio, namely from Qiandongnan, an autonomous prefecture in the southeast of Guizhou province, Zhuhai (Guangdong), Qufu (Shandong), Tai'an (Shandong), and Sanya (Hainan).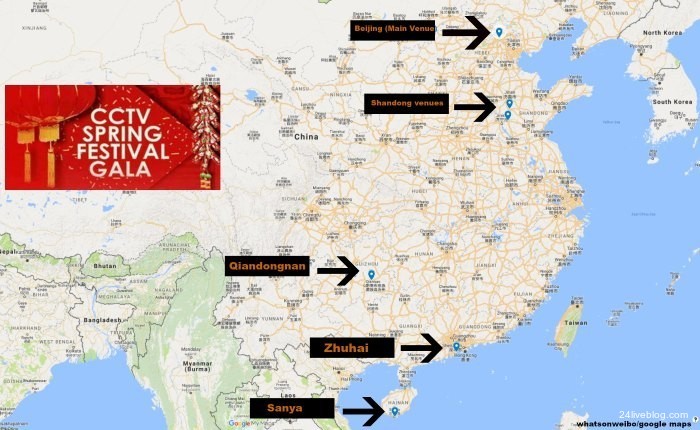 It is a tradition for the Gala to have subvenues where it broadcasts from. In 2016, the Gala was aired from Quanzhou, Xi'an, Guangzhou and Hulun Buir. In 2017, it was broadcasted from Harbin, Guilin, Shanghai and Liangshan. Every city has its own hosts, who often welcome the audiences in their own local dialect or language, with performances that are related to the region. In 2016, the spectacular performance of singer Sun Nan (孙楠) who danced with 540 moving robots, for example, reinforced the image of Guangdong as the home of China's tech startups.

15/02 13:07 Here We Go! "China's Colorful Years"
The show has begun! In this opening act, that presents the years of PRC history as "thousands of purples and reds" ("万紫千红中国年"), there are various artists from mainland China, Hong Kong, and Taiwan. From Hong Kong, there is the award-winning singer and actress Joey Jung (容祖儿). From Taiwan, there's the former F4 pop group member Vic Chou. Other artists in this opening act are Phoenix Legend (凤凰传奇), a Chinese popular music duo of female vocalist Yangwei Linghua and male rapper Zeng Yi, actress and TV anchor Hu Ke with husband actor Sha Yi, and others.

15/02 13:15 The Presenters
The presenters now welcome everyone to the Gala. This year's presenters of the Gala are Kang Hui (康辉), Zhu Xun (朱迅), Ren Luyu (任鲁豫), Li Sisi (李思思), and Nëghmet Raxman (尼格买). Three of them, namely Kang, Zhu, and Raxman, were also presenters in the 2017 New Year's Gala. All of the hosts are familiar CCTV faces.
The ladies:
Zhu Xun (1973) is a well-known presenter and actress from Suzhou, who is presenting the Gala for a 5th time now. Li Sisi (1986) is the youngest presenter tonight; she is a Chinese television host and media personality most known for her role as host of the Gala since 2012.
The gentlemen:
Kang Hui (1972) is a Hebei-born influential CCTV news anchor. Ren Luyu (1978) is a Chinese television host from Henan, and he has previously presented the Gala in 2010 and 2016. Nëghmet (1983) is a Chinese television host of Uyghur heritage who also is not a newcomer; he hosted the Gala since 2015.
In the subvenues, there will be different hosts, but most of them are also familiar faces (so far goes the "new" theme of tonight…):
Guizhou: Ma Yue (CCTV) and Dou Aili (Guizhou radio and television host).
Guangdong: Yang Fan (CCTV) and Gui Jiachen (Zhuhai TV).
Shandong (Qufu & Tai'an): Li Jiaming (CCTV), Li Yi (Shandong radio and television).
Hainan: Zhang Zequn (CCTV), Wang Si (Hainan radio and television host.

15/02 13:14 Director & Theme: Chinese Values, Chinese Power
While we are watching the spectacles across the different venues, a little bit about the director and theme of tonight's show. After themes such as the "Chinese Dream" and "Family Affinity", this year's theme revolves around "Chinese values, Chinese power." One of the most important dimensions of this year is that it commemorates the 40-year-anniversary of China's Economic Reform Policies (改革开放) initiated by Deng Xiaoping in 1978.
This year's director is Yang Dongsheng (杨东升) from Guangdong (see picture below), who is directing the Gala for the second year in a row. According to Sina News, the word "NEW" is central to this year's Gala. As we've seen in last years, with spectacular Avatar-like settings for dance and singing acts in 2017, and the 540-dancing-robots-act in 2016, the display of 'innovation' in entertainment has become an important new characteristic for the Gala.

15/02 13:19 "Happy Holiday" Dance (All Venues)
In this first act across all venues there are people from several countries, including China, Russia, and the UK. China's One Belt, One Road initiative also plays an important role tonight, so a more international programme can be expected. One of the main dancers here is Aoyue Zhang (张傲月), the winner of "So You Think You Can Dance China" and the "Most Popular Chinese Dancer."

15/02 14:17 Sketch: "Real or Fake Teacher"
This is the first comical sketch tonight, and we can expect many more to come. Last year, many people could not appreciate the message constructed in the Gala's sketches that emphasized the woman's role as mother and wife, such as the narrative where a woman depended on her husband's money or the one where a wife wanted to let her husband divorce her because she could not conceive children (which was in a sketch titled 'Long Last Love' 真情永驻). Many felt the sketches propagated women to have children, some said they depicted women as "breeding machines."
This sketch features a house cleaner who is hired by a young man to pretend to be his mother for a teacher's family visit, since his own parents work and live abroad. But then it turns out his father is not abroad at all- he pays his son a surprise visit. The boy is not doing well at school in terms of his behavior. A moral of the story is the student are not always to blame; the parents are also responsible.

15/02 13:39 "Chunwan Roast" Hashtag Censored on Weibo
The CCTV Gala has not even reached its first hour, and already the hashtag "Spring Festival Gala Roast" (春晚吐槽) has been censored on Weibo.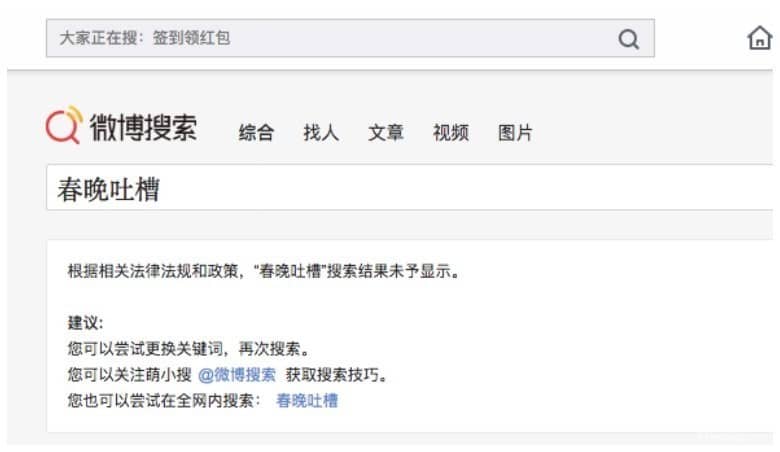 Mocking the CCTV Gala has become a tradition over the years. As aforementioned in this liveblog, "There'll never be a worst, just worse than last year," is an idiom that always comes up in relation to the Gala.
On Weibo, netizens are not happy that the hashtag used to mock the Gala has been censored.

15/02 13:47 Song "Praise The New Era"
The title of this song is representative of tonight's theme – CCTV is pushing the "new era" (新时代) as a concept on social media too – they even have a separate section for the hashtag on Weibo.
One of the singers here is the popular Chinese singer and actor Li Yifeng (1987), who broke into entertainment after competing in the "2007 My Hero" talent search. He is accompanied by actress Jing Tian (1988) and Maggie Jiang (Jiang Shuying, 1986).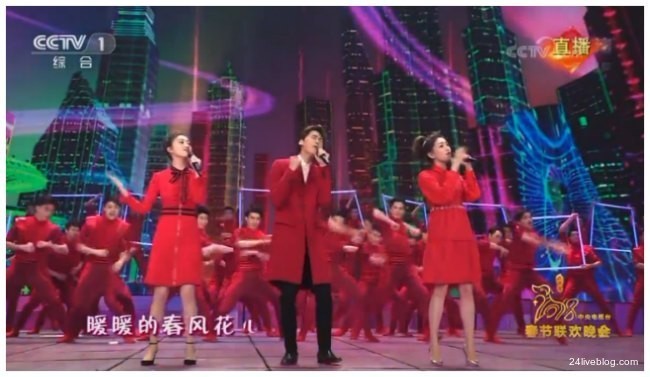 20/02 13:03 Sketch "Driving Class"
Another sketch, of which there will be many tonight. This one features famous actors Cai Ming, Jia Bing and Pan Changjiang.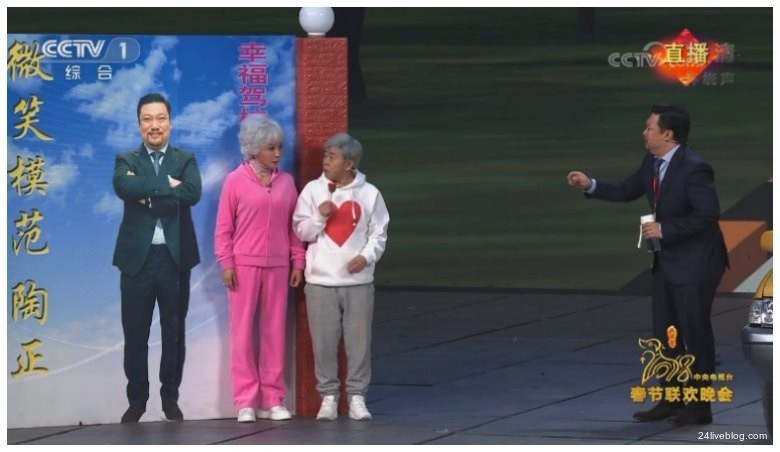 The sketch is about an older couple, whose love and relationship is inspiring a younger driving instructor. The older lady's husband only has another three months before he turns 70, and they want to learn how to drive a car in order to make a big magical road trip together. It encourages the driving instructor to convey his feelings to his true love.

15/02 14:03 Move over to Guizhou!
Guizhou's Qiandongnan is the first subvenue to be featured tonight. This first song, the "Joyous Song" was performed by the Liping County Singing Group, which belongs to the ethnic minority of Dong. The Kam a.k.a. Dong (侗) are a Kam–Sui people of southern China, and they are one of the 56 ethnic groups officially recognized by the People's Republic of China. They are famous for their carpentry skills, unique architecture, and sweet rice.
Amidst the spectacular scenes we see Taiwan singer Lin Zhixuan (林志炫), better known as Terry Lin (1966), who performs a song titled "The Drums of the Sun."
The singer Ayouduo (阿幼朵) is a famous Hmong/Miao singer, she sings the song titled the "Sunset Duet."

5/02 14:06 Jay Chou and Will Tsai
One of the most-anticipated acts tonight. The song "Love Confession Balloon" is a song by Jay Chou, who is on stage here. Jay Chou is a Taiwanese singer who is also called "Asia's King of Pop." He is joined here by Taiwanese-Canadian magician Will Tsai (蔡威泽), who participated in America's Got Talent in 2017.
Will Tsai magically makes Jay Chou appear on stage.

15/02 14:10 PUBLIC SERVICE AD: PROSPEROUS HOME COUNTRY
During the CCTV Gala, there will be several two-minute public service ads that reflect on important societal issues and propagate government messages. This is the first one, in which dogs play a central role, since, obviously, the Year of the Dog is about the start in just a few hours.

15/02 14:26 The Children's Song
Every year at the Gala, there will be a special performance focused on the kids. While it was dancing vegetables last year, this year sees dancing panda bears and dogs.

15/02 14:31 Comical Sketch: "Returning Home"
We've come to the 11th act of tonight, featuring Taiwanese actors Fang Fang, Zhang Chenguang, Du Zhulin, and also Wang Ji. This item is about coming home for New Year's, in which we see a familly who bought towels from Taiwan to give to their Shandong family – but the towels are actually made in Shandong.
Last year, the Gala drew some criticism for featuring too many northern Chinese dialects. This year is significantly different, as the various acts have already presented various different dialects from across China. The actors in this sketch use a Taiwanese accent/dialect.
In general, this year's show's focus on Taiwan is really remarkable; not just in terms of singers coming from Taiwan but also the sketches using storylines that include Taiwan. It is especially noteworthy that this sketch's title is "homecoming" or "returning home", suggesting the 'homecoming' of Taiwan to the mainland.
The moral of this sketch is that people from Taiwan have never forgotten their "Chinese roots", and that Taiwan and mainland China have an unbreakable connection.

15/02 15:01 The Reunion Between Faye Wong and Natasha Na
Another act tonight that was a much-anticipated one is this one featuring singer Wang Fei aka Faye Wong and Chinese vocalist Natasha Na (那英). The act is seen as a "reunion" between two of China's greatest singers after 20 years. In 1998, a cooperation between the two on the very same stage was a great success across China.

15/02 14:53 Silk Road Painting Returns to Beijing
A special item in today's program is the "homecoming" of a Chinese painting on the Silk Road – which clearly emphasizes the One Belt One Road theme. On stage are Chinese director Zhang Guoli and the Department Head of Palace Museum Shan Jixiang.
The painting is over 30 meters long and has been abroad for a long time. It is now "returning to the motherland" after it has been bought by the billionaire Xu Rongmao – he has donated it to the museum to "protect China's heritage." Those who are interested can watch the details of the painting the Palace Museum official website tomorrow.
The ensuing dance to this ceremony also focuses on the Silk Road.

15/02 15:12 Comical Sketch "Objections"
Depending on where you are live-streaming the Gala from (iQiyi, CCTV website, and YouTube channel all have some slight differences in airing the live event), we have now reached the 15th act of tonight, which is another comical sketch. This year, the Gala is featuring quite a lot of sketches; six in total.
Another genre is the 'crosstalk', which we'll see later in this show. This particular act critiques doing business through "taolu" (套路), Chinese routines to do certain things according to 'secret' rules instead of taking the official road; it also suggests that leaders are spending too much time talking and socializing rather than actually doing things. The female protagonist in this act is actually giving the good example, who is all about cutting down on useless meetings, keeping in touch with the common people, and being open to more suggestions.

15/02 15:11 Over to Zhuhai, Guangdong Now!
After Guizhou, it is now time to shine for the subvenue in Shandong's Qufu and Tai'an. While the song "Courage" is sung, we see some serious acts going on with motorcycles jumping through fire.
Really so many Taiwanese singers tonight! During this act we see Canadian-Taiwanese vocalist Pai Weijun (派伟俊) aka Patrick Brasca, who is a pop singer and songwriter known for singing the theme song "Try" of the film Kung Fu Panda 3.

15/02 15:22 "My Spring Festival, My Year"
It is remarkable how few traditional Communist-themed acts we've seen thus far. During the 17th act of the night, we see Wang Kai and Yang Yang with a sentimental song about the years passing by. It really suits the evening, which is also about looking back on the past 40 years since the Reform Policies and the "rise of China."
Noteworthy: the children on stage are so-called "left-behind children" (留守儿童) from rural areas who are separated from parents who are working in remote urban areas. Earlier this year, the case of the "Yunnan Ice Boy" increased awareness of the difficult and poor conditions many of these children are in.

15/02 15:18 Here Comes the Crosstalk
This is the night's first crosstalk (相声) scene. Different from the other sketches (小品), crosstalk usually involves two actors with one being the "joker" and the other being the "teaser".
The actor in the middle, Feng Gong (冯巩), is one of China's most renowned xiangsheng performers. He is best known for his performances in this CCTV New Year's Gala, and has made more appearances on the show than any other major performer.

15/02 15:29 Song "Mountain Laughter"
There are many young vocalists tonight, but Lu Jihong and Zhang Ye are among the more traditional singers tonight.

15/02 15:40 CHINA by Jackie Chan!
Here he is again together with Wu Jin! Last year, Jackie Chan's much-anticipated appearance on the show turned out to be somewhat cringeworthy. The Hong Kong singer and kung fu star showed his love for China through a song that was simply titled "Nation" (国家). In this act, the Hong Kong celebrity stood in front of an enormous Chinese flag together with students from the mainland, Taiwan, Hong Kong, as well as ethnic minorities.
Although the use of sign language by all the performers was praiseworthy, the song came after a night that had already seen many big flags, many dancing minorities, and the message of China's national unity was already – not so subtly – propagated at every possible opportunity. Many netizens, however, did like the performance; some even claimed it was their "favorite act of the night."
This time, Jackie again sings a somewhat cringeworthy song that is just titled "China" and which praises China and how much the singers love their motherland. The dancers in the back form the character 'Zhong" for Zhongguo (China).

15/02 15:35 Is This Show Really Live?
Is this really live? Yes it is. But although the Gala is a live broadcast from CCTV's No.1 Studio, and its other venues across China, every year's show has a taped version of the full dress rehearsal. The tape of the official rehearsal runs together with the live broadcast, so that in the event of a problem or disruption, the producers can seamlessly switch to the taped version without TV audiences noticing anything.

15/02 15:45 Moving Over To Shandong
After the Gala's traditional martial arts segment, we now move over to Shandong, where the song "Descendents of the Dragons" (龙的传人) is performed by Huang Xiaoming (黃曉明, 1977) and Hong singer Wallace Chung, Taiwan singer Jerry Yan, and Macao singer Xia Li'ao (夏利奥).
This is followed by the piano concert 'Ode to the Yellow River' played by the 35-year-old Chinese classical pianist Li Yundi and award-winning Chopin specialist Sa Chen (1979).

15/02 15:54 Piece of Africa?
Back to Beijing. Or well….dozens of African dancers join the stage with lions and zebras to do a Loin King type of act, but it seems somewhat misplaced? Wait, let's see…
It is a 'xiaopin', one of the night's short sketches, and it takes places in Africa, focusing on the new railway connections (emphasizing the One Belt, One Road intiative). On Twitter and Weibo, however, the sketch is receiving some critique.

15/02 16:15 Some more images of the Africa sketch
The title of the sketch is "Share the same Joy and Happiness"《同喜同乐》and is actually meant to promote China-Africa relations. Not sure if it worked…Many reactions on social media deeming the sketch "racist."

15/02 16:09 27th Act Tonight…
This is the night's first Chinese opera segment featuring one of China's leading Peking-Opera artists: Meng Guanglu.

15/02 16:13 Remembering 40th Anniversary of China's Reform & Opening-up
In this song, titled "Rise Again", China's Reform and Opening-up policy of 1978 is commemorated. The singer Han Lei is accompanied on stage by a group of young dancers wearing a red scarf. The images in the back display images representing a developing China.

15/02 16:44 Running from one act to the next
Just a bit more than 30 minutes to go before the clock strikes twelve! Meanwhile, tonight's 4-hour-show seems to proceed with unusual speed, moving from one item to the next within minutes or even seconds.
After a (very brief!) moment to honor some of China's "model workers", it is time for some acrobatics. The act "Above the Waves" features the athlete Hu Shi.
On Twitter, meanwhile, discussions on the Africa sketch continue…

15/02 16:27 "New Start of Happiness" Song
It is time for Sun Nan to hit the stage again. The Chinese mandopop singer stole the show in 2016 when he danced with 540 robotsduring the Gala. This time, no robots, just Tan Weiwei (谭维维) aka Sitar Tan, a famous Chinese singer and actress.

15/02 16:33 Time for the Last Subvenue: Sanya
Some spectacular and dreamy scenes from the city of Sanya, in Hainan. First on piano we hear the song "New Silk Road", completely in sync with tonight's themes, played while floating on water. This is followed by the song: "To Brave the Wind and the Billows" (乘风破浪).

15/02 16:37 Military Acrobatics?!
This scene featuring acrobatics and dance with Pan Yuexin (潘跃新) in the lead is quite noteworthy as it has a strong emphasis on China's military expansion.

15/02 17:18 China's "Promise with 2035"
This song, titled "I have a promise/meeting with 2035" is quite representative of tonight's gala, which is focused on China's past decades of development and its rise.
The song is brought by the TFBoys, who have been very successful in China over the past years. They also appeared at last year's Gala, and won the Weibo Awards for being the most popular on Chinese social media, for which they received nearly 63 million votes. Their performance here tonight might make it more appealing for younger audiences to watch the New Year's Gala, which generally has a somewhat stuffy image.
Chinese futurologists are planning for the PRC to surpass the US to become the most important country in the world by around 2035, when its socialist modernization is expected to be "completed."

15/02 16:56 A Different Chord Indeed!
In the last minutes before the new year, the swinging song "Not a Common Chord" is performed by Taiwanese singer Jam Hsiao, and exquisite vocalists Tia Ray and Dimash Kudaibergen. Actually a really funky song and uncommonly cool and danceable for the CCTV Gala.

15/02 17:06 A New Year, A New Era
Happy New Year everyone! Just before and after the twelve o'clock moment, there is a clear focus on "China's New Era", a theme that is reiterated throughout the Gala tonight – emphasizing that time does not just mark a new year but also a new phase in the modernization of China.

15/02 17:16 East, West, China is Best
The third – and last – public service ad of tonight was titled "Fragrant Hometown" and focused on people living abroad or away from home and coming back to their hometowns and families, where everything is warm, loving, and fragrant. The service ad sends out a message that there is no place like (Chinese) home.

15/02 17:35 "Bright Shoes" Dance Act
A pretty cool and original dance act in the final minutes of tonight's show, performed by the dancers of the Langzhong Spring Festival Culture and Folk Art Troupe, Xinghai Conservatory of Music, the Wuhan Art Troupe, and Sichuan University.

15/02 17:41 "I Love you China"
After the night's last segment of sketch comedy and dance act, the 42nd performance of tonight, and the last song before the Gala's traditional closing song, is by main singers Zhang Yingxi and Jin Tingting, accompanied by a group of international (opera) singers from, amongst others, Italy, USA, and Russia.
While the song is playing, we see images of people waving the Chinese flag and military staff.

15/02 17:44 It's a Wrap: Unforgettable Night
The last song of this night is "Unforgettable Night" (难忘今宵). It is sung by the 73-year-old singer and dancer Li Guyi (李谷一) together with Huo Yong, Liu Yuxin, and Tang Fei.
Li Guyi sings the same song every year at the end of this show. The last song ends with all performers of the Beijing venue on stage. The hosts wish everyone a happy new year. It's a wrap!
By Manya Koetse, with contributions via WeChat from Boyu Xiao, Diandian Guo, and Tim Peng
Follow @whatsonweibo
Spotted a mistake or want to add something? Please let us know in comments below or email us.
If you enjoy What's on Weibo and support the way we report the latest trends in China, we would appreciate your donation. It does not need to be much; we can use every penny to help pay for the upkeep, maintenance, and betterment of this site. See this page for more information.
©2018 Whatsonweibo. All rights reserved. Do not reproduce our content without permission – you can contact us at info@whatsonweibo.com.
China's Celebrity Weight Craze: Qin Hao's Viral Diet and Body Anxiety Behind the Weight-Loss Trend
The extreme diet of Chinese actor Qin Hao has sparked a trend of people sharing photos of their corn and egg meals. It's yet another celebrity weight-loss trend that is more about unrealistic expectations than healthy ways of shedding pounds.
Actor Qin Hao's remarkable weight loss has sparked waves of online excitement over a potential new diet plan. Qin is not the only Chinese celebrity whose weight loss journey has become an online hype. But behind the relentless pursuit of celebrity weight loss plans lies the issue of body anxiety, particularly among young Chinese women.
Why do we see so many photos with one ear of corn on Weibo these days? It has everything to do with Qin Hao (秦昊). The actor, renowned for his role in the highly acclaimed 2020 Chinese drama series "The Bad Kids" (隐秘的角落), has recently garnered significant attention for his appearance in another compelling series titled "The Long Wait" (漫长的等待).
This time, his surge in popularity is not just because of his exceptional acting abilities or the captivating character he portrayed, but mostly because of the remarkable diet plan he followed to lose weight during the filming of the series.
In his latest role, Qin played a middle-aged man with a chubby physique, round cheeks, and a beer belly. He had put on a lot of weight to play this character. However, later on, the director asked him to quickly lose weight and "sharpen up" ("必须瘦出棱角").
Qin's wife, Yi Nengjing (@伊能靜), discovered an online diet menu that helped Qin successfully lose over 20 pounds, resulting in a significant transformation in his appearance. Due to numerous inquiries from fans and followers, Yi decided to share the diet plan on her Weibo account.
The five-day diet plan consists of the following meals:
Day 1: Only unsweetened soy milk is consumed throughout the day.
Day 2: Each meal consists of one ear of corn.
Day 3: Breakfast includes dragon fruit, lunch consists of an apple, and dinner consists of blueberries.
Day 4: Breakfast consists of one boiled egg, while lunch and dinner consist of boiled shrimp.
Day 5: Breakfast includes broccoli, lunch consists of spinach, and dinner consists of lettuce.
On Weibo, many people trying out this diet are posting photos of their daily meals, resulting in dozens of photos of a single ear of corn being posted on the platform these days.
Despite the supposed effectiveness of the diet, Yi also issued a warning to her followers. "I want to emphasize once again that I do not recommend this menu to anyone," she wrote on Weibo. "The entire process is incredibly arduous, and Qin experienced weakness in his legs due to hunger for some days."
Despite the warning, the menu still managed to attract a significant number of netizens willing to give it a try. With titles like "Challenging Qin Hao's Diet Plan (挑战秦昊饮食法)" and "Losing 8 Pounds in Five Days (五天瘦八斤)," many people took to platforms such as WeChat, Bilibili, and Weibo to share videos, images and texts documenting their experiences with the same diet plan and the amount of weight they lost each day.
Among those who decided to try the diet plan was the renowned screenwriter and producer Yu Zheng (于正), known for his works such as "The Palace" (宫) and "The Story of Yanxi" (延禧攻略). Yu shared on his Weibo account that he successfully lost 10 pounds in just a few days by following Qin's diet plan. In doing so, he also inspired others to give it a try.
While some individuals recognize the extreme nature of Qin Hao's diet plan, they have made modifications by adding carbohydrates and proteins on certain days or incorporating other "diet foods" like cucumbers or healthy snacks.
However, many choose to strictly adhere to the original plan, expressing sentiments such as "As long as I'm not starving to death, I'll push myself to the limit" or "Even though I'm so hungry that I could eat a person, I'm still very happy with my progress."
EXTREME CELEBRITY DIETS
"You are truly too fat."
Qin is not the only celebrity whose weight loss journey has captured widespread attention. Earlier this year, another viral trend emerged among netizens, who urged director Guo Jingming (郭敬明) to establish a weight loss camp due to the noticeable weight loss among actresses who had worked on his film sets. On Weibo, this phenomenon was described as "no one can leave Guo Jingming's film crew without losing weight" ("没有人能够胖着走出郭敬明剧组").
Guo later disclosed his diet plan for actors and actresses during a television program. According to Guo, they were required to adhere to a diet that excluded oil, salt, and sugar. Additionally, he admitted that he would tell them "you are truly too fat (你真的太胖了)" on a daily basis, as a form of persuasion for those who were reluctant to follow the diet plan. Despite the extreme nature of this diet and his 'brainwashing' methods, many individuals continued to express their desire for Guo to realize an actual weight loss camp for them to join.
The trend of following celebrity diets for weight loss remains popular, with an increasing number of individuals adopting the diet plans promoted by celebrities like Yu Shuxin, IU, Zhang Tianai, and others.
These diets come in various forms, ranging from single-food diets like cucumber and egg or boiled broccoli with plain porridge, to more restrictive approaches that eliminate specific ingredients, such as carbohydrates, or advocate for skipping evening meals. The widespread popularity of these diets is evident on social media, where netizens, mostly female, try them out and document their weight-loss journeys, sharing their progress with a wider audience.
The majority of posts and short videos revolving around these diet plans often feature attention-grabbing titles like "losing xx pounds in xx days," accompanied by celebrities showcasing their slimmed body shapes.
CONCERNS SURROUNDING CELEBRITY CRASH DIETS
"Let me advise you: never, ever go down this terrible path."
With the increasing popularity of celebrity diets, concerns about their impact on (mental) health have arisen. Doctors have issued warnings against attempting Qin Hao's diet plan, cautioning that it can cause significant harm to the body and result in weight gain once discontinued.
Diets that severely restrict calorie intake, like this one, can have detrimental effects such as weakened immunity, decreased bone density, impaired memory, hair loss, and an increased risk of depression. Netizens commenting on posts of people trying these diets often warn others against blindly following their lead. One user offered a stern warning, saying: "To my sisters who haven't started dieting, let me advise you: never, ever go down this terrible path."
Despite the prevailing health concerns associated with celebrity diets, not everyone places their well-being above achieving a desired body shape. In response to a diet plan video by Kpop singer IU, one user acknowledged the potential harm it could cause but still said losing weight was their primary goal, as being overweight made them feel miserable: "I don't care if it's harmful to my body, as long as I can lose weight."
Other users argue that everyone has the right to do whatever they want with their body: "We are all adults and responsible for our own affairs. If you want to lose weight, eat less. If you don't want to lose weight, then continue to be overweight." 
PURSUIT OF THE PERFECT BODY
"For female celebrities, being fat destroys everything."
Behind the never-ending new celebrity diet plans is the question of why celebrities losing weight garners such significant attention. It appears that shedding pounds has become a convenient method for celebrities to attract public interest and enhance their overall image. Losing weight is often portrayed as a symbol of willpower and dedication to one's career.
For instance, Yuan Shanshan, who previously faced criticism for her appearance in certain TV series, received applause and positive attention after slimming down and achieving a V-line figure. Media reports frequently associate female celebrities' dietary practices with the concept of "self-discipline," utilizing titles such as "How self-disciplined are female celebrities?" to highlight their various weight-loss approaches.
On the other hand, when female celebrities gain weight, they are often accused of "betraying" their professional careers or "giving up" on their ambitions.
A quick online search reveals how numerous news articles and blog titles highlight female celebrities' self-discipline through their successful weight loss. These pieces often showcase extraordinary diet methods, like relying on single strands of noodle as a carbohydrate source or consuming plain, boiled vegetables without any additional ingredients.
SLIM LIKE A CELEBRITY
"Will your boss promote you because you're as thin as a celebrity?"
The public's scrutiny of celebrities' weight, often using it as a measure of willpower and success, is a common phenomenon, but celebrities themselves also influence the public's perception of the 'perfect' figure. On various variety shows, female celebrities' heights and weights are increasingly showcased, which inadvertently contributes to viewers' anxieties about their own bodies.
Articles on social media treat these measurements as if they represent the standard for the majority, presenting titles such as "After looking at the heights and weights of these female celebrities, I swear I will never eat again," or "The true heights and weights of female celebrities – a reference for weight loss," and: "How light is thin? Revealing female celebrities' heights and weights." These articles contribute to the idolization of specific body shapes and weights as symbols of beauty and perfection.
'Am I too fat weighing xx pounds?' 'What weight is considered "fat" in today's society?' 'Why do people care about women's weight so much?' 'Why am I so obsessed with my own weight?' As women track and critique the weight fluctuations of female celebrities, many are grappling with questions about body image on social media. They seek answers to their own concerns, shaped by constant exposure to the seemingly ideal body weights of these celebrities.
Amidst all the celebrity weight craze, more critical voices are emerging in the Chinese social media sphere. Witnessing people blindly following celebrities' weight loss journeys, one Zhihu user recently wondered: "Why should everyone strive to have the same bodies as the ones displayed by celebrities? Is there any tangible benefit for ordinary individuals to achieve the same level of thinness as these celebrities? Will your boss promote you or increase your salary simply because you're as slim as a celebrity?"
Many individuals also question the connection between weight loss, self-discipline, and professional success. They assert that celebrities' ability to maintain a slim figure is predominantly driven by financial incentives rather than exceptional personal qualities.
One Weibo user commented on Qin Hao's diet plan, highlighting the disparities between celebrity lifestyles and those of everyday individuals: "Most people don't have jobs that demand such extreme measures, nor do they lead a celebrity lifestyle with chauffeured transportation and dedicated services for nutrition and exercise management. Furthermore, everyday individuals don't need to rely on weight loss as a means to seek public attention or stay in the spotlight."
Chinese author Mao Li (毛利), in a Zhihu post, shared her perspective on the issue and acknowledged that she also has wasted valuable time on futile body image anxieties. She suggests breaking free from the media's "perfect body" hype, embracing self-acceptance, and finding joy in living together with our bodies. She encourages people to "accept it, enjoy it, and praise it."
By Zilan Qian
Get the story behind the hashtag. Subscribe to What's on Weibo here to receive our newsletter and get access to our latest articles:
Spotted a mistake or want to add something? Please let us know in comments below or email us. First-time commenters, please be patient – we will have to manually approve your comment before it appears.
©2023 Whatsonweibo. All rights reserved. Do not reproduce our content without permission – you can contact us at info@whatsonweibo.com.
From Comedy to Controversy: Behind the Li Haoshi Incident
Exploring the dynamics that led to the social storm involving Chinese comedian 'House' Li Haoshi.
The Li Haoshi scandal sheds light on a complex interplay of factors, including the working conditions within the Chinese comedy industry, the expectations placed on performers in China's entertainment realm, and the significant role of the People's Liberation Army (PLA) in shaping Chinese nationalism. A deep dive by What's on Weibo.
Humor is no joking matter. While the business of humor can be competitive and challenging no matter where you are in the world, there are some special considerations and implications for working in humor in China.
This week, Chinese comedian Li Haoshi (李昊石), who performs under the name 'House', experienced firsthand that there are strict limitations to what can be openly satirized or joked about in China today. When one of his jokes about two stray dogs described them by referencing a famous People's Liberation Army (PLA) slogan, he found himself at the center of a social media storm. One related hashtag received over 1.1 billion views on social media platform Weibo this week.
The phrases used in the comic skit, with Li saying they came to mind while watching the dogs chasing a squirrel, were: "Forge exemplary conduct, fight to win." The lines are part of the PLA slogan "Follow the Party! Fight to win! Forge exemplary conduct!" ("听党指挥,能打胜仗,作风优良!"), which was used by Xi Jinping in 2013.
Li Haoshi was not just socially canceled by angry netizens who defended the honor of Chinese soldiers and slammed the comedian for being so unpatriotic, he also saw his career go up in flames. His shows were called off, he was banned from social media, his employer was fined more than $2 million, he was blacklisted under orders of the China Performing Arts Association (CAPA), and he is now under official investigation.
Following the controversy, there were different views on Chinese social media regarding the issue (read more here). Although the majority of commenters argued that the PLA is never to be joked about, some people also lamented that online discussions lacked nuance.
This scandal sheds light on a complex interplay of factors, including the working conditions within the Chinese comedy industry, the expectations placed on performers in the Chinese entertainment world, and the important role played by the People's Liberation Army (PLA) in shaping Chinese nationalism.
HUMOR AND STAND-UP COMEDY IN CHINA
Humor has played a prominent role in Chinese language and culture for centuries, manifested through a diverse array of jokes and humorous texts. Professional comedians, who served to entertain the aristocrats, have been around since as early as 800 BC.
Although humor has always been there, it has not necessarily always been appreciated. Confucianism has played a significant role in devaluing humor in China, as it formally regarded humor and satire as inferior forms of aesthetic expression. Chinese rulers who did not tolerate criticism or dissent also could not appreciate jokes or comics which, in any way, went against their rule and authority (Sullivan & Sullivan 2021, 102; Yue 2008, 403-413).
In the early days of modern China, following the collapse of the Qing dynasty, there was a notable resurgence of various forms of humor and jokes that spanned two decades, including cross-talk (xiàngsheng 相声) and skits (xiǎopǐn 小品). It was during this period that the Mandarin word "yōumò" (幽默) was introduced, derived from the English term "humor." This term was coined by the renowned Chinese writer and translator Lin Yutang (林语堂), who faced the challenge of finding an exact Chinese translation for the English word (Hsu 2015, 2).
For decades, from the founding of People's Republic of China to the Anti-Rightists Movement and the Cultural Revolution and beyond, there was not much yōumò around. As described by David Moser (2004), the constraints imposed by the Party and political sensitivities severely limited the content and topics that comedians could explore.
The comparatively relaxed political atmosphere of the post-Mao era gave rise to novel forms of humor and comedy. In subsequent years, influenced by the United States, "stand-up comedy" (tuōkǒuxiù 脱口秀) also gained popularity. Initially originating in small bars or cafes in major cities such as Shanghai and Beijing, this comedic genre swiftly spread across the nation.
But similar to numerous other performance forms in China, stand-up comedy faces challenges in maintaining its spontaneity and provocative nature. Performers and comedy clubs are required to obtain licenses and gain script approval, while also navigating strict boundaries regarding politically sensitive topics that are strictly off-limits (Sullivan & Sullivan 2021: 102).
This does not mean that stand-up comedy is not thriving in China. On the contrary, the genre has only become more popular over recent years as stand-up comedy performers skillfully navigate the boundaries of what is acceptable by employing different techniques, such as irony, self-deprecation, and surreal humor to offer alternative perspectives within the permitted discourse (see: Chen and Gao 2023). In doing so, Chinese stand-up comedy has evolved beyond its American influences and embraced more traditional Chinese comedic language techniques from xiàngsheng and other performing arts.
In today's landscape, Chinese comedians face a multitude of boundaries beyond just political ones. Operating within an environment where cultural and commercial factors hold significant sway, it becomes almost inevitable for popular performers to encounter controversy at some point in their careers. Authorities, audiences, sponsors, or companies may take offense at the content of their comedic expressions, adding further complexity to their navigation of these boundaries.
The online comedian Papi Jiang (Papi酱), for example, saw her videos being taken offline in 2016 for containing "vulgar language and content," after which she vowed to choose her words more carefully in the future. Female stand-up comedian Yang Li (杨笠), also known as the "punchline queen," was dismissed as the spokesperson for American tech company Intel in 2021 for her jokes that allegedly insulted men. The popular talk show host and comedian Li Dan (李诞) sparked controversy for promoting female underwear brand Ubras with a slogan that was deemed sexist.
In such a working environment, it is difficult to fathom that the 31-year-old Li Haoshi, who had previously appeared on the immensely popular stand-up comedy competition show "Rock & Roast" Season Four, was unaware that his reference to a PLA slogan would surpass the acceptable boundaries. However, like many comedians, he may simply have been testing the limits.
THE POWER OF PERFORMERS
Another factor that comes into play when exploring the reasons behind the 'House' scandal is the special role attributed to Chinese performers.
Although Chinese performers and renowned names in the cultural industries have always been seen as fulfilling an exemplary role, this notion holds even greater significance in the era of social media, where Chinese performers and celebrities wield tremendous influence in an online environment with over one billion internet users. The rapid growth of online entertainment-focused apps and platforms has also created opportunities for unknown performers to achieve overnight fame.
There have been various studies about celebrities in China. One study from 2019 by Sullivan and Kehoe highlights the complexity of China's celebrity scene. Because while the industry flourishes, it still operates under strict regulations imposed by both the state and industry stakeholders. Additionally, moral values play a significant role in shaping the industry. Sullivan and Kehoe argue that the state, through media and cultural industries, retains control over the symbolic economy within which celebrities operate (2019, 242).
Channeling public opinion and safeguarding social stability are priorities for Chinese authorities, and the influence of Chinese celebrities is often used to promote Party ideology and policies. While authorities encourage Chinese famous performers to act as positive role models, negative news surrounding the country's popular stars is often perceived as having a "negative social impact" or a "bad influence on public morale."
There are some some noteworthy instances that exemplify the significance of moral values and the role of Chinese celebrities as role models. One such example occurred in 2019 when Roy Wang (Wang Yuan 王源), a young Chinese singer and actor widely regarded as one of the country's most influential teenagers, found himself embroiled in controversy after being caught smoking during a restaurant dinner in Beijing.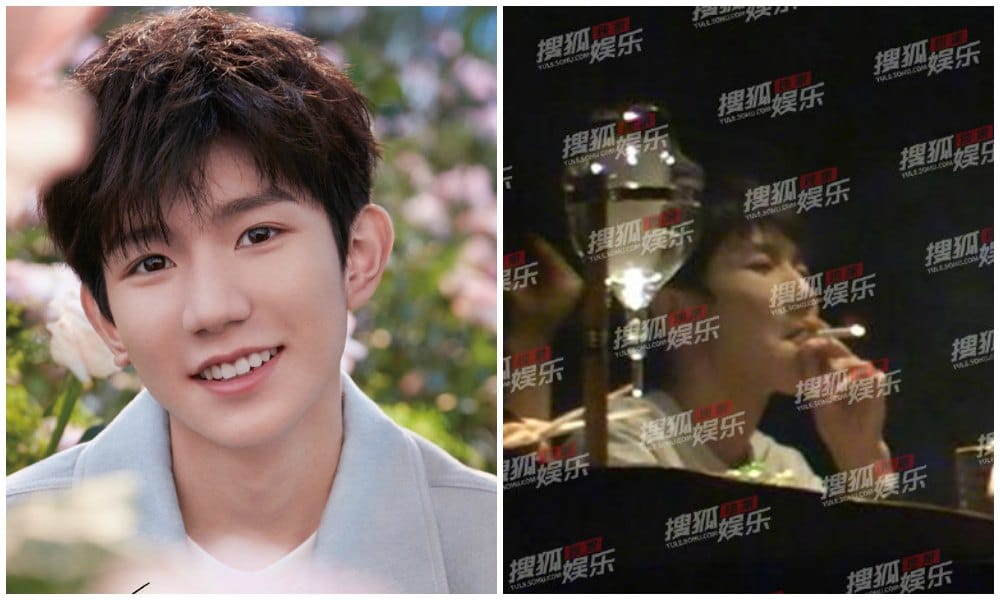 The incident surrounding Wang's smoking quickly ignited a firestorm on Chinese social media. The controversy stemmed from two main factors. Firstly, Beijing had implemented a ban on smoking in all public indoor spaces since 2015, making Wang's actions a violation of the law by lighting up in a restaurant. Additionally, as an influential teen icon, Wang held the responsibility of being a role model to his numerous fans, amplifying the impact of his behavior.
The idea that China should "raise the bar" for becoming a celebrity was widely propagated in 2021. In that same year, the China Association of Performing Arts (CAPA) officially released new guidelines for Chinese performers aimed at promoting adherence to the principles of "social morality." According to these guidelines, performers could face a permanent ban from their profession if they fail to comply.
The guidelines are meant to "promote the healthy development of the performer industry" and lay out the "practice norms," which stipulate that performers, among other things, should abide by national laws and regulations, should honor their contracts and comply with copyright laws. But they also stipulate that they should "love the motherland and support the Party's line and policies" ("热爱祖国,拥护党的路线方针政策"), "persevere in the orientation that literature and art should serve the people and socialism" ("坚持文艺为人民服务、为社会主义服务的方向"), and "actively uphold a positive image" ("积极树立正面形象").
By joking about the PLA, Li Haoshi violated some of the rules laid out by CAPA. His severe punishment not only demonstrates to the public that Chinese performers/celebrities should abide by the same laws as ordinary citizens – if not be held to even higher moral standards, – it also serves as a cautionary message to other entertainers, urging them not to overstep boundaries and to uphold their responsibility as public figures to positively impact public morale.
THE SACRED PLA
In addition to Li Haoshi's position as a stand-up comedian and his role as a performer/celebrity, another significant aspect of this controversy revolves around the status of the People's Liberation Army (PLA) in contemporary China. PLA soldiers are revered as the heroic "soldier sons of the people" who display unwavering loyalty to the Party and the nation.
The People's Liberation Army (PLA) was founded in 1927, with Mao Zedong counted among its founders. It played a crucial role in the rise of the Chinese Communist Party and the establishment of the People's Republic of China in 1949.
In addition to its core duty of protecting the country and conducting military operations, the PLA is also involved in other tasks such as peacekeeping efforts and disaster relief. However, its primary and most significant role is to serve as the military branch of the Chinese Communist Party (CCP) and ensure the CCP's continued leadership in China. By safeguarding China's sovereignty, territorial integrity, and unity, the PLA carries both a military and symbolic significance.
The PLA plays a major part in Chinese nationalist discourses, while simultaneously also playing a central role in driving nationalism in China. Whether it is the social media spectacle of China's Taiwan military exercises or '100.000 soldier loving girls' during the Wuhan floods, the PLA acts as "a bridge between nationalism as an abstract ideological concept and as an everyday concern of the people for the security of their country" (Ji 2004, 248).
Military propaganda, often disseminated online, is important in reinforcing the image of PLA soldiers as guardians of the nation. When four Chinese PLA soldiers were killed during a border clash with Indian troops in 2020, Chinese state media outlets made noteworthy efforts to shape the ways in which the soldiers are to be remembered, blending political and personal elements while lauding their unwavering patriotism. In doing so, they posted their photos along with phrases such as "The place where I stand is China" and "I will defend the motherland with my life."
Those insulting the PLA can face serious consequences under the "Heroes and Martyrs Protection Law" which was introduced in 2018. In 2021, former Economic Observer journalist Qiu Ziming (仇子明), along with two other bloggers, were the first persons to be charged under the new law as they were detained for "insulting" the Chinese soldiers. Qiu, who had 2.4 million fans on his Weibo page, made remarks questioning the number of casualties China said it suffered in the India border clash. He was sentenced to eight months in prison.
Li Haoshi's faux-pas is particularly sensitive because the lines used in his joke indirectly made a comparison between PLA soldiers and stray dogs, while also placing words famously used by Xi Jinping in a ridiculous context. Additionally, as highlighted by Chinese bloggers and China Digital Times editor Alexander Boyd, Li's joke potentially alludes to a scene from the 1956 Chinese war movie Battle on Shangganling Mountain (上甘岭) during the Korean War, where soldiers were depicted chasing after a squirrel. The intention of the scene was allegedly to showcase the kind-hearted nature of the brave soldiers of the Volunteer Army.
Was Chinese comedian Li Haoshi, with his controversial dog-chasing-squirrel joke, alluding to this squirrel-chasing scene from the famous 1956 Chinese Korean War movie "Battle on Shangganling Mountain"? Various Weibo bloggers claim that there is a connection. pic.twitter.com/2AjQKeIhVD

— Manya Koetse (@manyapan) May 21, 2023
Some people believe that Li Haoshi was purposely alluding to that scene with his joke, and in doing so, insulted China's Korean War 'martyrs,' which is illegal under the martyr defamation law. That would be a serious offense. In 2022, former investigative journalist Luo Changping was sentenced to seven months in prison and ordered to make a public apology for insulting Chinese soldiers portrayed in a blockbuster movie about the Korean War.
Whether or not Li intended to make such a connection or put much thought into his joke remains uncertain. However, many netizens are angry with Li for various reasons. Chinese nationalists defend the honor of their hero soldiers, while others blame Li for not respecting the boundaries within which he should operate.
Furthermore, Li's colleagues, Chinese stand-up comedians, are also upset that he took the risk of making a politically incorrect joke, which has put the entire industry under scrutiny. This incident has created more tension for other performers in an already challenging work environment.
On Chinese social Q&A platform Zhihu, one experienced stand-up comedian performer from Shandong shared his view on the matter, suggesting that Li has brought harm to their industry:
"For commercial performances, our lines have to first have to go through a script reading meeting, they will then go through 4-6 open rounds of 'polishing,' and then go through the script polishing of the copywriters working for the show. (..) Moreover, the words and phrases we use in our jokes must have a contextual understanding and source. Therefore, there is no way that Li Haoshi was not aware of the history and origin of the sentences he used.
At the same time, all of our jokes in commercial performances require approval. Therefore, Li Haoshi obviously knew that this particular joke wouldn't pass the approval, so he intentionally didn't submit it. This is not a case of ignorance, it is simply being malicious."
Overall, Li Haoshi's case serves as a warning to others to be cautious with their words, whether used during performances, talk shows, interviews, or online.
Jokes are not to be taken lightly in a media environment where every line carries weight. When humor becomes such a serious matter, it becomes increasingly challenging to stay funny.
By Manya Koetse
References (other online sources hyperlinked in text)
Chen, Dan, and Gengsong Gao. 2023. "The Transgressive Rhetoric of Standup Comedy in China." Critical Discourse Studies 20 (1): 1-17.
Hsu, Pi-ching. 2015. Feng Menglong's Treasury of Laughs. Leiden, The Netherlands: Brill.
Ji, You. 2004. "Nationalism, the Chinese Defence Culture and the People's Liberation Army." In: Leong H. Liew and and Shaoguang Wang (eds), Nationalism, Democracy and National Integration in China, pp. 247-268. London: RoutledgeCurzon.
Moser, David. 2004. "Stifled Laughter: How the Communist Party Killed Chinese the Chinese Humor Form of Xiangsheng." Danwei.org http://www.danwei.org/tv/stifled_laughter_how_the_commu.php, accessed via https://www.academia.edu/5929719/Stifled_Laughter_How_the_Communist_Party_Killed_Chinese_the_Chinese_Humor_Form_of_Xiangsheng [20 May 2023].
Sullivan, Lawrence R. and Nancy Sullivan. 2021. Historical Dictionary of Chinese Culture. New York and London: Rowman & Littlefield
Sullivan, Jonathan, and Séagh Kehoe. 2019. "Truth, Good and Beauty: The Politics of Celebrity in China." The China Quarterly 237 (March): 241–256.
Yue, Xiao Dong. 2008. "Exploration of Chinese Humor." Humor: International Journal of Humor Research 21 (4): 407-421.
Get the story behind the hashtag. Subscribe to What's on Weibo here to receive our newsletter and get access to our latest articles:
Spotted a mistake or want to add something? Please let us know in comments below or email us. First-time commenters, please be patient – we will have to manually approve your comment before it appears.
©2023 Whatsonweibo. All rights reserved. Do not reproduce our content without permission – you can contact us at info@whatsonweibo.com.
Subscribe to our newsletter
Stay updated on what's trending in China & get the story behind the hashtag
Sign up here to become a premium member of What's on Weibo today and gain access to all of our latest and premium content, as well as receive our exclusive newsletter. If you prefer to receive just our weekly newsletter with an overview of the latest, you can subscribe for free here.
Would you like to become a contributor, or do you have any tips or suggestions for us? Get in touch with us here.