China's Post '95 Generation's Average Age for First Love is 12
According to recent research by Beijing University, China's post-1995 adolescents are 12 when they first fall in love. On average, they have their first sexual experience at the age of 17.
According to recent research by Beijing University, China's post-1995 adolescents are 12 when they first fall in love. On average, they have their first sexual experience at the age of 17. China's post-95ers are early bloomers compared to the generations before them.
A recent survey by the Beijing Sociology Research Center in cooperation with Chinese dating site Baihe, published in the Chinese Love and Marriage Report (中国人婚恋状况调查报告), reveals that the post-95 generation on average have their first love experiences at the age of 12, and their first sexual experience at the age of 17,   Chinese media report.
The average age to fall in love for the first time for those born between 1980-1985 on average is 18.54. For those born after 1990, it is 15.18, and for the post 1995-ers, it is 12.17.
The first sexual experience of the post-95ers is also much earlier than those of the previous generations; for the post-1980ers, it is at the average age of 22, instead of 17.
The topic became trending on Weibo under the hashtag of "Chinese Love and Marriage Survey" (#中国人婚恋调查#), with thousands of people commenting on it.
Most netizens who respond do not seem to recognize themselves in the statistics. "I am thirty, where is my first love?!" one Weibo user wonders. "I'm lagging behind," one netizen responds: "I am 22 and still single, I've never hooked up with anyone." Another Weibo user also seems worried: "I am 26 and my sex life is non-existent," he says with crying emoticons.
For one netizen, reading all comments on this topic has done much good: "After seeing so many people of 21 who also don't have a boyfriend or girlfriend, I feel quite relieved," he says.
– By Manya Koetse
Follow @WhatsOnWeibo
Image: http://v.baidu.com/cube/68084.htm
©2016 Whatsonweibo. All rights reserved. Do not reproduce our content without permission – you can contact us at info@whatsonweibo.com.
Chinese Commentator Hu Xijin Expects to "Get Covid Within a Month" (and Why It Matters)
This Hu Xijin commentary can be seen as part of a wider trend of normalizing Covid in the Chinese online media sphere.
Hu Xijin (胡锡进), the Beijing-based retired editor-in-chief of the state-run Global Times, recently published a post on the Chinese social media platform Weibo about him getting mentally ready to be infected with Covid-19 soon.
The former journalist Hu, whose posts and statements often go trending and influence public opinion, also made a few other noteworthy comments.
On Sunday (Dec 4), Hu posted: "Over the past week, China has essentially ended widespread lockdowns, with places like Beijing and others beginning to allow home quarantine for many positive individuals, while reducing the scope of nucleic acid testing. These are amazing changes."
Four weeks ago, right before China introduced its twenty new Covid measures, Hu already argued that strict lockdowns are no longer sustainable and that China should aim for a more relaxed and local approach (which is exactly what happened).
Now, Hu Xijin says that he is "mentally preparing to be infected with Covid within the coming month" ("做好了在一个月之内被感染上的思想准备"), further writing:
"In order for young people to have a colorful young era, in order to save the livelihood of so many service industry workers, in order for people from all walks of life to avoid seeing their wages cut, in order for so many companies to get out of their predicaments, this 62-year-old 'Old Hu' is willing to participate in the risk of getting [a virus that] degenerated to only 2.5 per 10,000 rate of getting seriously ill."
Hu's post was published on December 2nd in the context of Hu Says, a regular video column by Hu Xijin.
A few months ago, such a comment coming from such a big account would have been unthinkable.
In May of this year, those who tested positive still complained about suffering from stigmatization in society.
But Hu's comments come at a time when there are more discussions about getting Covid and sharing the experiences of having Covid.
In the second week of November, shortly after Chinese authorities launched their updated Covid rules, the hashtag "What Is It Like to Catch Covid-19?" (#感染新冠是什么体验#) already went trending on Weibo, along with other hashtags informing Chinese netizens about what it's like to get Covid – a virus that so many in China never experienced first hand.
Since Hu Xijin (1960) ended his career as the editor-in-chief of Global Times in 2021, his role as a political commentator has arguably become even more important and more visible on Weibo than before, especially in China's challenging Covid times of 2021.
Some find him overly nationalistic, for others he is not nationalistic enough; there are those who find him reasonable, and then some say he is repetitive and just dancing to the tune of Party propaganda. But then there have also been some discussions – in light of Pelosi's controversial Taiwan visit – about Hu misleading public opinion by not matching the official stance.
Whichever it is, some things are certain: Hu has some 25 million followers on Weibo, and he is often the first major media account that is allowed to discuss in detail some major sensitive social topics, even if these online discussions are otherwise being tightly controlled (think of the Tangshan BBQ Restaurant incident, the future of zero Covid, the Urumqi fire, and the 11.24 protests across China.)
Hu's comments about 'catching Covid soon' can be seen as part of a wider trend of normalizing Covid in the Chinese online media sphere, preparing people to face a virus they are still unfamiliar with since 'zero Covid' has always been the main goal.
On December 3, Hu further clarified his comments about preparing to getting Covid. He explained he expects to catch the virus because he is active in the media environment, through which he unavoidably is in touch with many different people. He also promised that if he might get infected, he would share his Covid experience with all of his readers.
As the idea of catching Covid is becoming more normalized (there are more and more trending hashtags informing what to expect after getting Covid, e.g. #新冠发病7天内身体会发生什么变化#), people are also exchanging non-scientifical advice on how to prevent catching Covid, such as drinking licorice ginger soup, holding Sichuan peppercorns inside your mouth when going out, or getting silicon covers for the drains in the bathroom to prevent the virus coming through via neighboring apartments.
Some express their worries about catching the virus. "I'm really scared. I've already replaced all of my masks with K95 ones," one Weibo user wrote: "My immune system has been weak since I was little, and I have allergies. I have the feeling that if I get infected I might lose half my life, if I don't die (..) I'm in a state of panic."
Even though China is still far from 'opening up', some people are already preparing to 'live together with the virus,' reminding others that getting vaccinated, keeping social distance, and washing hands are all measures that will help in preventing getting Covid.
"I am worried about getting Covid but I also want to open up," some on Weibo said.
"As much as I wanted it all to end, this feels abrupt," one social media user from Inner Mongolia wrote: "It won't be the same as before. The thorough 'zero Covid' [policy] has gone. The country's protection of our health has gone up to this point. I hope everyone can now take care in prevention themselves, and protect themselves and their families. I hope the epidemic situation will end soon, that the world will be ok, and that we can have our freedom."
Meanwhile, Hu Xijin informed netizens on Saturday that he had some milk, boiled eggs, pastry and pickled mustard greens for breakfast. While working on his condition and nutrition, he says that if his Covid positive time comes, he will not get any VIP treatment. If allowed, he'll either recover from home or go to a centralized Covid location.
He will just have to wait and see what happens, just as millions of other Chinese citizens are waiting to see what this winter is going to bring.
By Manya Koetse , with contributions by Miranda Barnes
The featured images are all images that went viral recently in light of China opening up (including nucleic acid testing booths being taken away).
Get the story behind the hashtag. Subscribe to What's on Weibo here to receive our newsletter and get access to our latest articles:
Spotted a mistake or want to add something? Please let us know in comments below or email us. First-time commenters, please be patient – we will have to manually approve your comment before it appears.
©2022 Whatsonweibo. All rights reserved. Do not reproduce our content without permission – you can contact us at info@whatsonweibo.com.
Barbie Hsu, Wang Xiaofei, and the Mattress Incident: Weibo's Divorce Drama of the Year
The post-divorce fight between Wang Xiaofei and 'Big S' Barbie Hsu is taking place online, like a serialized drama going on for too long.
It's the messy divorce drama that just keeps going: Taiwanese actress Barbie Hsu ('Big S') and mainland Chinese businessman Wang Xiaofei got divorced last year and recently aired their dirty laundry on social media. Even the expensive mattress the couple once shared suddenly became the focus of public attention.
One of the biggest celebrity topics on Weibo recently is the divorce drama between Taiwanese actress and tv host Barbie Hsu (Xu Xiyuan 徐熙媛, also known as Big S/大S) (45) and her former partner, Chinese mainland businessman Wang Xiaofei (汪小菲) (41).
In June of 2021, 'Big S' and Wang announced that they were in the process of divorce. The two were married for over a decade, since March 2011, and have two children together, an eight-year-old daughter and six-year-old son.
Less than a year later, in March of 2022, Barbie Hsu tied the knot with her former flame, South Korean musician DJ Koo Jun-Yup.
In November of this year, 'Big S' accused her ex-husband of failing to pay alimony since March of 2022. The accumulated amount reportedly had reached more than NT$5 million (US$160,000). The court ruled that some of Wang Xiaofei's assets in Taiwan will be seized.
Wang Xiaofei then publicly responded to the accusations and aired the dirty laundry about the aftermath of the separation from Hsu.
Everyone and everything got involved afterward, from Wang's mother to Barbie Hsu's sister, and brother-in-law – the entire family got dragged into the drama.
The former couple's old mattress even got dragged out for everyone to see. Meanwhile, Chinese netizens were eating popcorn and staying online to watch the divorce drama unfold.
Here is a timeline of what has happened.

▶︎▶︎ In the morning of November 21, Taiwanese media first reported that 'Big S' had accused Wang Xiaofei of not complying with their divorce agreement and had not paid alimony since March of 2022 and that Barbie Hsu had already taken legal steps to enforce the court order.
Via her lawyer, Barbie Hsu issued a statement about the matter, which went absolutely viral on Weibo. One post including the statement received over one million likes (#大S发声明稿#).
In the statement, dated November 21, 'Big S' expressed hopes that the dispute between her and her ex-husband could be solved as soon as possible for the sake of the children.

▶︎▶︎ Wang Xiaofei publicly responded to the issue in over twenty angry and emotional posts on his Weibo account (@汪小菲), where he has over seven million followers.
Wang, who is based in Beijing, complained about being smeared and not being able to see his children. According to Wang, he paid more than enough – millions – for child support and maintenance. He wrote he was unwilling to pay for an electricity bill that is not his after paying for the house where Barbie Hsu is living in and the custom-made mattress she is sleeping on, which allegedly cost him over US$320,160.
"Someone else is living there, fine," he wrote: "Can you at least change the mattress, you wimp? Still letting me pay for the f*cking electricity bill."
When Wang vowed to personally go back to Taiwan, some commenters reminded him not to forget to bring back his mattress.
(It later turned out that Wang did not fly to Taiwan after all.)

▶︎▶︎ Wang Xiaofei claimed that Mike Hsu (Xu Yajun 许雅钧), husband of Barbie Hsu's sister and Taiwanese tv host Dee Hsu (徐熙娣 aka 'Little S' 小S) has a mistress (#汪小菲发博曝许雅钧养小三#).

▶︎▶︎ Wang Xiaofei's mother Zhang Lan (张兰) got involved in the drama and posted a lengthy statement on her own Weibo account on Tuesday, November 22.
Zhang Lan (@张兰俏江南创始人) is a billionaire business woman and the founder of the upscale restaurant chain South Beauty Group. She has her own livestream e-commerce channel.
Zhang accused her former daughter-in-law 'Big S' Barbie Hsu of hurting her son, not letting her see her grandchildren, while also caller her a liar and even suggesting she is a bad mother.
Zhang also accused her and her younger sister, Dee Hsu (徐熙娣), of having a history of drug abuse.

▶︎▶︎ On November 23, Barbie Hsu defended herself against drug abuse allegations in a social media post, stating both her and her sister suffer from bad hearts and are not even able to use drugs.

▶︎▶︎ The mother of Barbie Hsu and Dee Hsu also got involved, talking to the media and complaining that she has been scolded by Wang Xiaofei's mother Zhang Lan, and saying that Wang and his mother are more than welcome to see the children; they would just need to come over in order to meet with them.

▶︎▶︎ November 23 became 'Mattress D-day' after it became known that Barbie Hsu had delivered the much talked-about mattress to the S Hotel in Taipei, which Wang owns (the hotel was named after 'Big S' in 2017). As reported by Taiwan News, the hotel's general manager surnamed Lee (李) claimed the mattress arrived on Tuesday, and he stated that discarded mattresses are professionally destroyed.
On that Wednesday, the S Hotel held a press conference and allowed Taiwanese media to film and photograph the mattress being destroyed by workers.
The hashtag "Taiwan Media Live-Broadcasts the Handling of Wang Xiaofei & Big S Mattress" #台媒直播汪小菲大S床垫处理过程# went viral on 23 November, receiving over 270 million views on Weibo in one single day. A 23-minute video showed Big S's mattress carried out of the hotel and being completely cut open by several men as a crowd of media stands by.
Some on Weibo said: "The drama is too much."

▶︎▶︎ On Mattress Day, Wang posted again on social media, claiming that he had lost his temper after Hsu sued him for not paying alimony. As reported by Taiwan News, he wrote: "I don't want to say anything anymore, burn the damn mattress, it's all in the past, let's not attack each other anymore." The post was deleted soon after.

▶︎▶︎ With the mattress incident going viral, many netizens soon guessed that if it was about such an expensive mattress, it must have been one by the Swedish Hästens company.
Hästens (海丝腾) itself then responded to the drama via Weibo with an older video that showed its mattresses are of such good quality that they will never go up in flames.
Hastens' post received nearly 20,000 likes on Weibo.

▶︎▶︎ On Thursday, November 24, Wang Xiaofei's mother Zhang Lan seized the opportunity to start selling mattresses on her livestream shopping channel (#张兰卖床垫#).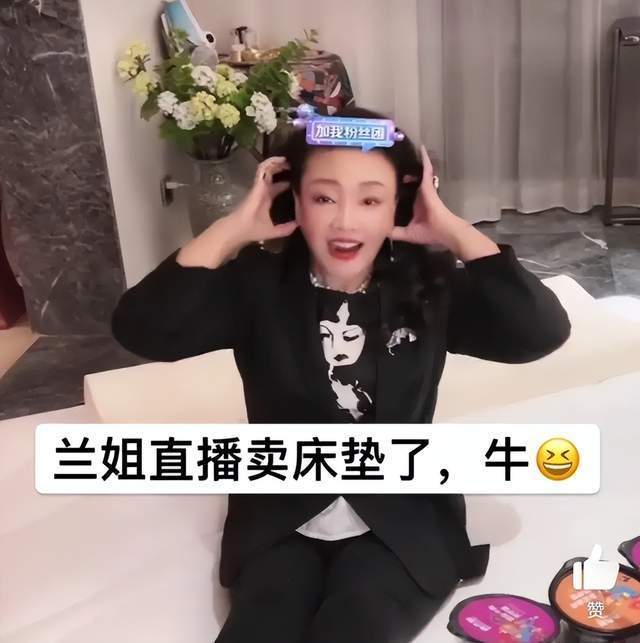 Besides all the personal drama, Zhang commercially profited from the current developments. According to recent reports, she did a total of nine live broadcasts from November 21 to 23, and saw 820,000 new followers flocking to her channel, with an average of 5.3 million viewers per livestream, and up to 25 million RMB ($3,5 million) in sales.

▶︎▶︎ On the same day, as reported by Singaporean Yahoo News, Wang Xiaofei declared that he wants to end the conflict with his wife, only to later delete the post from his Weibo account. Somewhere in all this, Wang also accused Big S of cheating on him since 2018.
He reportedly wrote: "I don't want to say anything anymore. The mattress is burned. It's over. We won't hurt each other anymore."
By that time, the drama was so big on social media that some netizens wrote: "I can't wait for Wang Xiaofei to be gone from my timeline!"

▶︎▶︎ On November 25, Wang Xiaofei started a livestream while laying in his bed, offering viewers a look into his private bedroom. He seemed to be pleased about getting so many views and some suggested he seemed to be drunk. During this livestream, an unknown woman suddenly seemed to lay down beside him, making the livestream comments explode. The livestream stopped shortly after.

▶︎▶︎ Another character stepped on this stage. Chinese actress Gina Zhang (Zhang Yingying 张颖颖) went online to defend Wang (who may be her good friend or something more), saying he is on the verge of a mental breakdown. She also wrote that she hoped to convince him to stop sharing all of his struggles on public platforms for the entire world to see.
She also turned out to be the woman in the livestream. Over 250,000 people liked her post.

▶︎▶︎ Meanwhile, Barbie Hsu publicly posted bank account statements from 2016 to prove her financial independence and that she had paid for the downpayment of their house at the time herself.

▶︎▶︎ On December 3, again another hashtag related to this divorce drama came out, getting up to 200 million views in a day (#大S再婚头纱是刷汪小菲信用卡买的#).
The trend relates to the story of 'Big S' reportedly asking Wang to leave his credit card after the separation, and that the veil that she wore during the wedding with her second husband, among other things, was bought with Wang's credit card.
On the same day, Wang's mother Zhang Lan again commented on the issue in one of her livestreams, saying that Wang and Barbie Hsu officially are not even divorced yet since their marriage was registered in Beijing and had not been dissolved yet (#张兰说大S和汪小菲还没有离婚#).

▶︎▶︎ On December 4, the hashtag "Wang Xiaofei or Big S – Who Is Telling Lies?" (#汪小菲大s谁在说谎#) went viral, getting an astonishing 560 million clicks on Sunday.
It is clear that two former have actually ruined their reputation by airing their dirty online like this. This especially matters for Big S, who used to do commercials for many brands.
"It's like we're watching a theater play," some said.
Others are also tired of their drama dominating social media topics: "I don't care which one is lying, I care about their kids."
"This serialized drama is going on for too long now," others wrote.
This is not the first big celebrity divorce drama to go viral on Weibo. In 2021, there was the big fall-out between Wang Leehom and Lee Jinglei. The separation between actor Wang Baoqiang and Ma Rong became one of the biggest trending topics on Weibo of all time.
Meanwhile, some netizens can't seem to get enough of the drama: "From the mattress to the veil, I'm just enjoying the spectacle."
By Manya Koetse 
Get the story behind the hashtag. Subscribe to What's on Weibo here to receive our newsletter and get access to our latest articles:
Spotted a mistake or want to add something? Please let us know in comments below or email us. First-time commenters, please be patient – we will have to manually approve your comment before it appears.
©2022 Whatsonweibo. All rights reserved. Do not reproduce our content without permission – you can contact us at info@whatsonweibo.com.