CCTV Reporter Taken Away by Police after Screaming & Slapping at UK Conference on Hong Kong Autonomy
CCTV and the Chinese embassy condemn how the Chinese journalist was treated.
A video in which a female CCTV reporter is seen screaming and lashing out at a pro-Hong Kong democracy event during the annual Conservative Party Conference in Birmingham, has triggered controversy on social media. A spokesperson of the Chinese embassy has since condemned the UK Conservative Party for its "interference in Hong Kong's internal affairs."
Video footage of a CCTV reporter shouting and refusing to leave during a Birmingham conference on Hong Kong is making its rounds on Twitter and Weibo today (For the 2.00 minute Weibo video check here).
The incident occurred on Sunday, September 30, during a Hong Kong-focused event of the annual Conservative Party Conference. The fringe event was themed around "the erosion of freedom, the rule of law and autonomy in Hong Kong."
Hong Kong Free Press (HKFP) reports that Enoch Lieu, a Hong Kong-born British graduate from Keele University, was slapped in the face twice by the female reporter while volunteering at the event in Birmingham.
On his Twitter account, Lieu (@enochcafe) writes that the event was focused on "China's continued suppression of Hong Kong, human rights, and China's breach of the Joint-Deceleration," and that the female journalist shouted from her seat, accusing people in the panel of "trying to separate China," saying they were "puppets" and "fake Chinese."
Lieu says the woman had a press pass, and that he later learned she works for the Chinese state broadcaster CCTV.
When Lieu, as he writes, told the woman she was no longer welcome at the conference and tried to escort her out, she allegedly turned violent and slapped Lieu in the face. When other people intervened and tried to get her to leave, she allegedly continued shouting and slapped Lieu again.
The woman was eventually removed by police, HKFP reports.
"I love my country, and this CCTV journalist is great."
On Weibo, one post that included the video of the incident was reposted more than 500 times at time of writing (and is quickly attracting more attention).
Blogger 'HuanYa SYHP' (@寰亚SYHP) writes: "This CCTV reporter is great! At a conference on Hong Kong issues held by the Conservative Party in Birmingham, she slapped a 'Hong Kong independence poison [political ]element' (港毒分子). At the conference hall, she criticized 'HK independence poison elements' saying: you are traitors, you are anti-Chinese. You want to separate Hong Kong from China, you are not Chinese, you are traitors."
The online slang term 'Gǎng dú fēnzǐ' ('港毒分子') literally means 'Hong Kong-poison-members' (or '[harmful] political elements') and is a derogatory term for those supporting Hong Kong independence. The characters for 'Hong Kong poison' (港毒 gǎngdú) have exactly the same pronunciation as those for 'Hong Kong independence' (港独 gǎngdú).
"Let's organize an event in Beijing to discuss Birmingham independence, too," some commenters jokingly say.
Author Xicheng Jiezi (@西城誡子), who has more than 800,000 fans on Weibo, wrote about the incident: "I love my country, and this CCTV journalist is great."
Although the journalist is praised by some on Weibo, there are also commenters that call her behaviour "shameless."
"The job of a journalist should be to do unbiased reporting of the news, and pay attention to their neutrality," an anonymous commenter wrote: "But this reporter deliberately put herself in the middle of the news, she is not a genuine journalist."
"Puzzling that the Chinese journalist should encounter obstruction in such a way."
On Monday, October 1st, CGTN (formerly CCTV International) published a response to the issue from a Chinese embassy's spokesperson, who was quoted as saying that "In a country that boasts freedom of speech, it is puzzling that the Chinese journalist should encounter obstruction in such a way," and that "The Human Rights Committee of UK Conservative Party should stop interfering in China's internal affairs and stop meddling in Hong Kong affairs."
The spokesperson further said that the organizer of the fringe event should apologize to the Chinese journalist.
Financial Times correspondent Ben Bland posted a response to the Chinese embassy's statement by human rights activist Benedict Rogers, who helped organise the Birmingham event, on Twitter (@benjaminbland):
State media outlet China Radio International published another article today that discloses the name of the reporter as the Europe correspondent Kong Linlin (孔琳琳). It further states that a CCTV spokesperson condemned the behavior of the people at the event towards their correspondent as "inacceptable." Just as the Chinese embassy, they demand an apology from the UK Conservative Party.
Kong Linlin describes herself as a Chinese TV journalist mainly focused on "Brexit UK" on her Twitter account. On Weibo, she has more than 60,000 followers on her account.
It is not the first time Kong's name comes up in an online controversy. In 2016, she accused a BBC correspondent John Sudworth of creating "fake news" and spreading "hate propaganda for BBC" on Twitter, as the blog China Change reported at the time.
By Manya Koetse
Follow @whatsonweibo
Editor's Note: for those interested in how Chinese foreign correspondents work we recommend this thoroughly researched and nuanced book by Pal Nyiri: Reporting for China – How Chinese Correspondents Work with the World.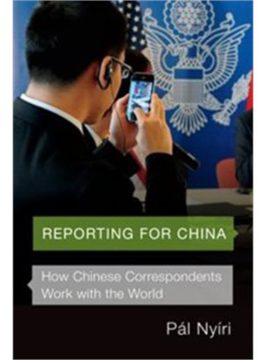 Spotted a mistake or want to add something? Please let us know in comments below or email us.
©2018 Whatsonweibo. All rights reserved. Do not reproduce our content without permission – you can contact us at info@whatsonweibo.com
Lost in Translation? UBS's "Chinese Pig" Comment Stirs Controversy
"Chinese pig" – much ado about nothing or an insulting remark?
A report by the UBS titled "Very Normal Inflation" caused controversy on Chinese social media on Thursday for containing the term "Chinese pig."
The UBS, a Swiss multinational investment bank, published the article on consumer price inflation on June 12. The author, economist Paul Donovan, wrote: "Chinese consumer prices rose. This was mainly due to sick pigs. Does it matter? It matters if you are a Chinese pig." The same text also appeared in a podcast on inflation in China.
Global Times (环球时报), a Chinese and English language media outlet under the People's Daily newspaper, lashed out against the USB for its "insulting" and "discrimatory" remarks.
Many netizens agreed with the Global Times, and see the "Chinese pig" remark as a joke with a double meaning, assuming that Donovan was both talking about pigs in China, as well as insulting Chinese people.
Some people suggest that if Donovan did not intend to make a pun, he could have written "it matters if it is a pig in China" instead. They argue that UBS and Donovan could have avoided using the term to begin with, and intentionally wrote it up like this to insult Chinese people.
There are also social media users who come to Donovan's defense. Author Deborah Chen (陈叠) writes on Weibo that she has known Paul for a long time and that she knows him as a straightforward and humorous commentator. "There is just one kind of translation for 'pigs of China' (中国的猪) and 'Chinese pigs' (中国猪) in English," she says: "If you look at the context, you'll see he's talking about farm animals, and is not humiliating the people of the nation."
On Weibo, multiple people called the reactions to the article "overly sensitive."
A commenter nicknamed "Taxpayer0211809" wrote: "The way I understood is just that China's consumer prices have inflated and that this is because of the swine fever. Is this thing important? It is important if you are a pig in China, or if you like eating pork, for the rest of the world there won't be a big influence."
Shortly after the controversy erupted, the UBS and Donovan sent their apologies, which were also published by Global Times: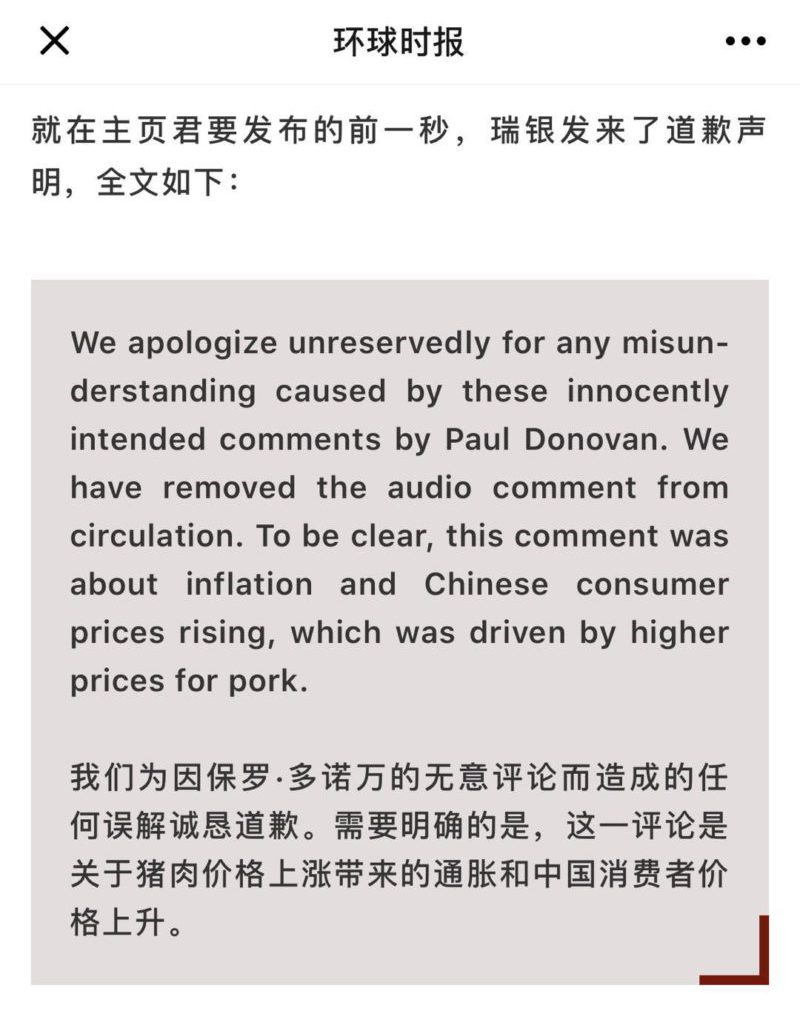 But some Chinese web users did not accept those apologies. One Chinese author wrote there was nothing "innocent" about the remarks made.
The article in question has since been removed from the USB website.

Also read: Bulgari's Noteworthy New China Marketing Campaign on a Happy 'Jew' Year of the Pig (Zhu)

By Manya Koetse and Miranda Barnes
Follow @whatsonweibo
Photo by Fabian Blank on Unsplash
Spotted a mistake or want to add something? Please let us know in comments below or email us. Please note that your comment below will need to be manually approved if you're a first-time poster here.
©2019 Whatsonweibo. All rights reserved. Do not reproduce our content without permission – you can contact us at info@whatsonweibo.com
On 30th Anniversary of the Tiananmen Protests, Weibo Completely Cracks Down on the T-Word
The T-word is the taboo subject, but not for the State Office.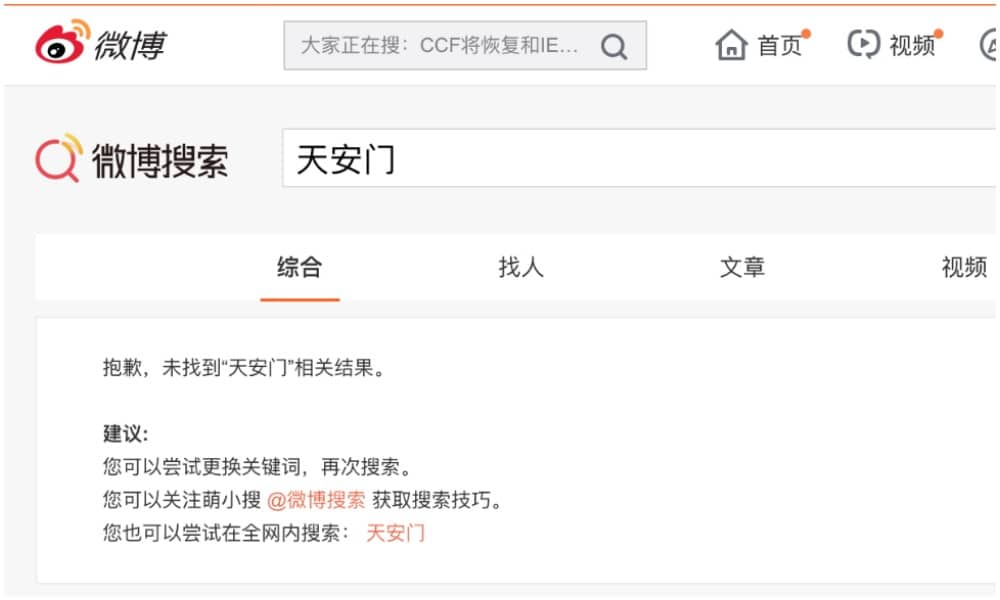 Nobody can mention the T-word on social media this week, except for the State Council Information Office.
It is the time of the year that censorship on Chinese internet intensifies, and this year the date carries even more weight, as it marks the 30th anniversary of the Tiananmen student protests that started in April 1989 and ended with the violent crackdown on June 4th of that year.
What is noticeable about this anniversary on Weibo this year? Whereas certain combinations of 'Tiananmen' together with 'protests' or '6.4' are always controlled on the social media site, searching for the Chinese word 'Tiananmen' now only shows a series of media posts about the celebration of the 70th anniversary of the People's Republic of China (#庆祝新中国成立70年#).
The posts all come from Chinese (state) media outlets and mention the word 'Tiananmen' in it, with different state media outlets all posting the same post after the other starting from Monday night local time (e.g. one posts at 19:35, the other at 19:36, 19:45, etc).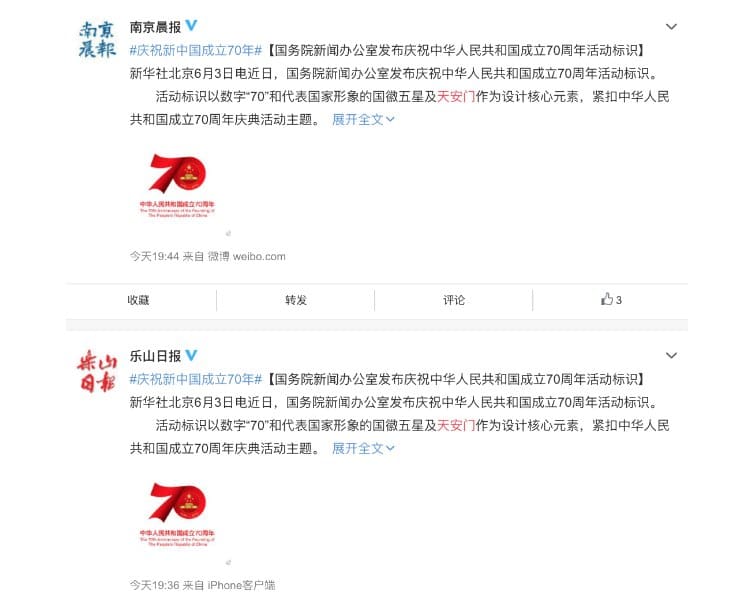 The post is a press release from the State Council Information Office that for the first time now shares the official logo to celebrate the 70th anniversary of the founding of the People's Republic of China.
The logo is the number "70" and the National Emblem of the People's Republic of China, which contains in a red circle a representation of Tiananmen Gate and the five stars of the national flag. The word 'Tiananmen' is mentioned twice in the official state media Weibo posts.
Earlier on Monday, shortly before the press release, searching for 'Tiananmen' on Weibo showed that there were over 18 million posts containing the word 'Tiananmen,' but when clicking the results page, it suddenly showed that there were "no results" at all, suggesting a complete shutdown of searches for this term.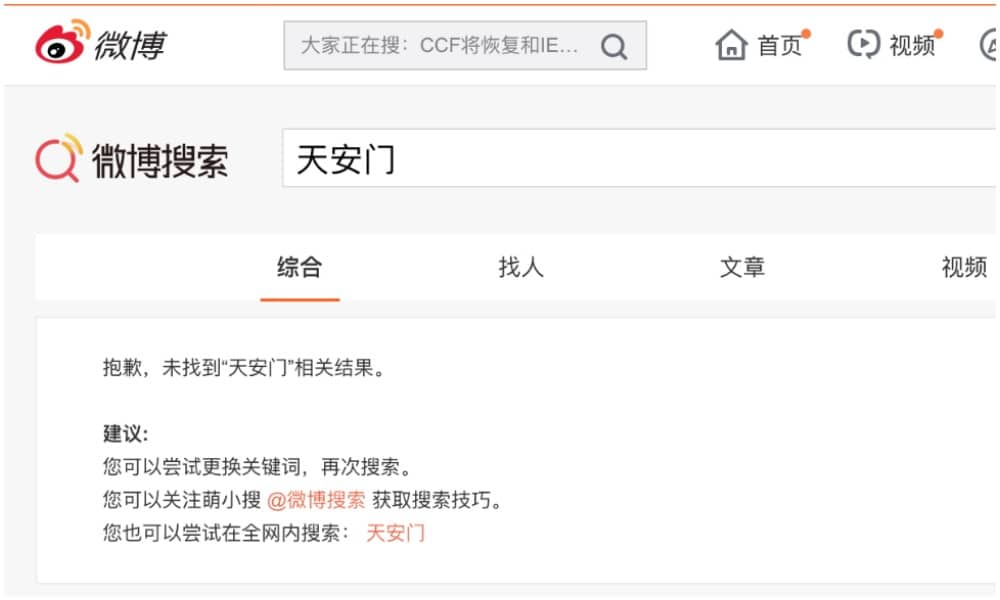 The hashtag page for #Tiananmen# (#天安门#) also comes up with zero results at time of writing.
For more on this subject, also read: Tiananmen Without the Tanks – The 1980s China Wants to Remember and the interview with musician Jeroen den Hengst, who was in Beijing in 1989.
By Manya Koetse
Follow @whatsonweibo
Spotted a mistake or want to add something? Please let us know in comments below or email us. Please note that your comment below will need to be manually approved if you're a first-time poster here.
©2019 Whatsonweibo. All rights reserved. Do not reproduce our content without permission – you can contact us at info@whatsonweibo.com