Communist Blasphemy: Red Scarf with Wanda Advertisement Goes Viral on Weibo
When marketing & capitalism meet communist symbols: "We might as well put billboards on Tiananmen."
A communist scarf with print ads from a local Wanda branch has gone viral on Chinese social media this weekend. "It's all about the money," some netizens write.
A locally issued red scarf, worn by the 'Young Pioneers of China' to symbolize loyalty to communism, became the topic of great online controversy this weekend.
The red scarfs worn by students in Heze (菏泽), Shandong, came with print advertising for Wanda, a Chinese multinational private real estate developer.
Photos of the print ad red scarfs, promoting a local branch of the Wanda branch, went viral on September 29. The scarfs were worn by third-grade students of the Danyanglu primary school.
The scarfs were reportedly handed out to the students in light of a road safety campaign on September 25. The school board allegedly did not notice the advertisement.
The 'Young Pioneers' (中国少年先锋队) are a youth organization for children from the ages of six to fourteen in China run by the Communist Youth League.
"Isn't this considered blasphemy to the martyrs of the revolution?", one popular comment said. Other commenters compared the scandal to being similar to if ads would be printed on the Chinese flag.
"What kind of example are we for the next generation?", others wondered: "Everything is about money, money, money!"
"How could you place your advertisements on a red scarf?!", others asked, writing: "We might as well put billboards on Tiananmen now."
"If you put advertisement on a red scarf, there's something wrong with your IQ," others wrote: "They need to be fired as soon as possible."
But there were also other voices on Chinese social media, writing: "Why shouldn't we be able to print advertisement on red scarfs? They are a tool for brainwashing, they don't have any meaning anymore. Print all you want."
According to the Chinese English-language media outlet ECNS (the English portal of China News Service), the school's headmaster was punished for the controversy on Saturday, receiving "serious warnings" from the Party committee of Heze.
Also on Saturday, Chinese online news outlet The Paper reported that the Chinese Wanda Group responded to the issue by sacking the CEO of the local Wanda branch. The person in charge allegedly did not receive any permissions to issue the red scarfs with the Wanda advertisement.
By Saturday night (China time), the hashtag "Advertisement on Red Neckscarf" (#红领巾上印广告#) had received more than 37 million views on Weibo.
By Manya Koetse
With contributions by Miranda Barnes
Follow @whatsonweibo
Spotted a mistake or want to add something? Please let us know in comments below or email us.
©2018 Whatsonweibo. All rights reserved. Do not reproduce our content without permission – you can contact us at info@whatsonweibo.com
Ofo's Bike Sharing Services Spark Outrage on Chinese Social Media for "Giving Privileges to Foreigners"
Apparently, all it takes is to be an American to get your deposit back from Ofo?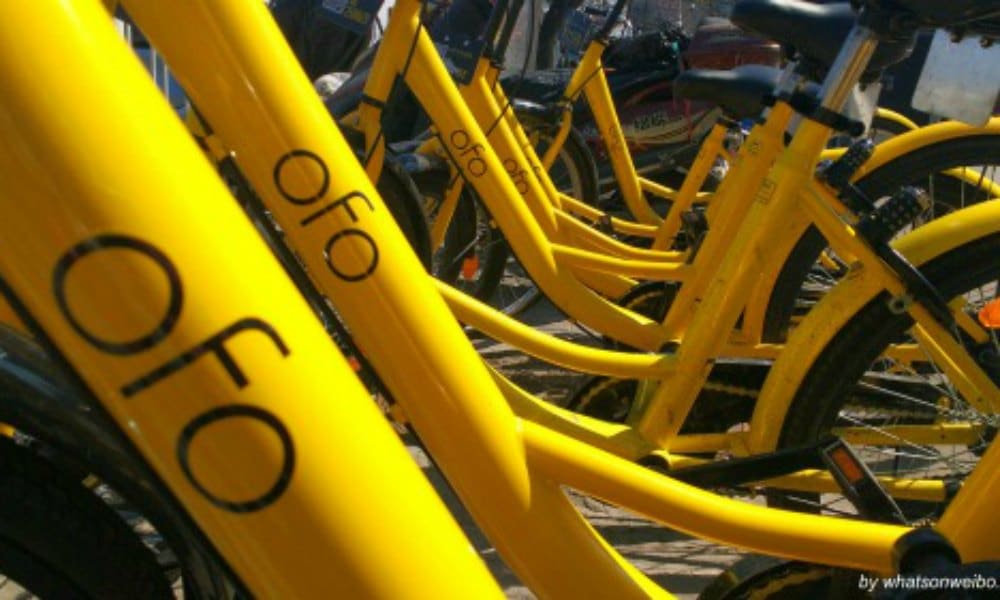 First published
When one man dreaded waiting forever on the phone with Ofo's customer service to get a deposit back, he decided the "foreigner reporting strategy," and it allegedly worked. It is a story that is now going viral on Chinese social media, where netizens are outraged about the company's "unfair treatment" of customers.
When one Chinese Ofo customer decided he did not feel like waiting forever on the phone to get his deposit of 199 yuan back, he decided to go "foreign." Changing his account details, he pretended to be a man from California living in China for the past three years and sent an email to Ofo in English, Tencent News and other Chinese media report. Not only did he immediately get his deposit back, the company even sent him an apology letter.
For over a year now, the Ofo bike sharing service company is facing financial troubles which have forced the company to lay off workers and have made it extra difficult for Ofo users to get a refund of their 199 yuan ($29) deposit.
As reported by Technode earlier this month, amidst recent reports on Ofo's alleged nearing bankruptcy and rumors of an acquisition by ride-hailing giant Didi, users have rushed to get their deposits back.
In the CCTV2 Economic News (经济信息联播) programme on December 3rd, Ofo users told reporters that the company's app now only has a "top up" credit button in its settings, and that the button for "getting a refund of deposit" had been removed. When people tried calling the service center of the company, many got no response, despite numerous attempts.
Ofo was founded in 2014 and first launched its services in Beijing in 2015. Ofo bikes can now be found in many cities across China, where users first pay a deposit and can then unlock and track bikes, which can be rented for one yuan by the hour, using the smartphone app.
Now, the news has gone viral of the Chinese man who not only got his deposit refunded, but even received an apology letter from Ofo. All it allegedly took for him to succeed is pretending to be a foreigner.
When the Chinese man, who goes by the username "@ztj93," had heard that he had to go through much trouble to get his deposit back, he pretended to be an American and used Gmail to write an email to Ofo in English, of which he took a screenshot and reposted it on his Weibo account. Within a day, the money was sent back to his Alipay-account, and a letter of apology was sent to his email.
The email from "ztj93" sent to Ofo on the 13th of December, at 3:51 pm, as shared on social media:
Ofo's reply on the 14th of December, at 10:03 am:
When the man shared his success online, news went viral immediately.
At the time of writing, the hashtag "Pretend to be foreign and Ofo refunds immediately" (#假装外国人ofo秒退押金#) has received over 140 million views on Weibo.
Many netizens praise the man for his clever approach and congratulate him with his success, while also condemning the Ofo company for their "unfair treatment" of customers, with some even expressing their hopes for the company to go bankrupt as soon as possible.
By now, the original poster has placed a letter on his Weibo account in which he expresses his surprise with the fact that Ofo actually responded to him and that he got his money back, but also with the fact that the news has blown up on Weibo as it has. The man also explains that he is a long-time user of Weibo and that he since long has used the international Weibo version (it not clear at time of writing where the man exactly adjusted his profile details and if it was on Ofo or on Weibo).
He writes that although initially, it was just funny to him, he now has mixed feelings about the entire incident; on the one hand, he is happy that he has his money back, he writes, but on the other hand, he says that it makes him "uncomfortable" knowing that Ofo might give a preferential treatment to foreigners.
While he understands people's anger about this, he writes, he also says that this anger should stay within "reasonable realms," which it, apparently, has not. The poster has since deleted his Ofo posts, saying he knew the power of Weibo, but that he did not expect his post to be so influential.
On Saturday night (China time), Chinese media outlet Pear Video published a video on the issue in which two spokespersons for Ofo state they do not know about the incident and will look into it. Later, the phone for Ofo's PR services was allegedly not able to be reached again.
Ofo often posts updates on its Weibo account responding to rumors or reports, so a statement could be expected to come out soon.
This story is still developing.
By Gabi Verberg, with contributions from Miranda Barnes
Follow @whatsonweibo
Spotted a mistake or want to add something? Please let us know in comments below or email us.
©2018 Whatsonweibo. All rights reserved. Do not reproduce our content without permission – you can contact us at info@whatsonweibo.com
Overview of the Dolce&Gabbana China Marketing Disaster Through Weibo Hashtags
The D&G China marketing crisis in hashtags.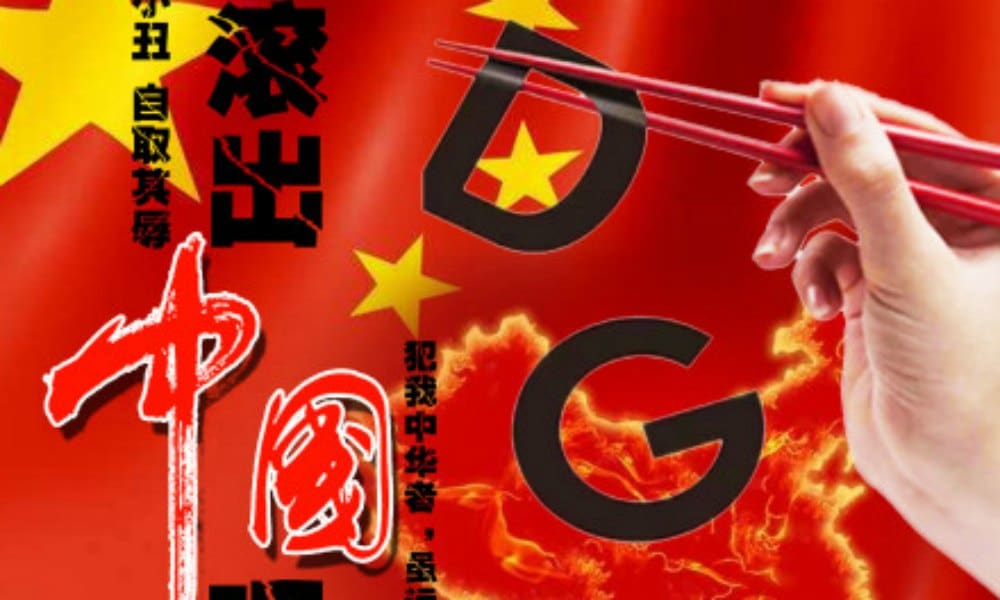 First published
The controversies surrounding Italian fashion brand D&G in China have been dominating Weibo's top trending lists this week. Because it's a somewhat messy affair, we'll explain the story hashtag by hashtag.
November of 2018 will go down in Dolce & Gabbana history for the China marketing nightmare that has been unfolding over the recent days.
The Italian fashion house, that has been founded in 1985 by designers Domenico Dolce and Stefano Gabbana, is now facing consumer outrage and backlash on Chinese social media. Chinese e-commerce sites have removed Dolce & Gabbana products and Chinese netizens are posting photos of empty D&G stores.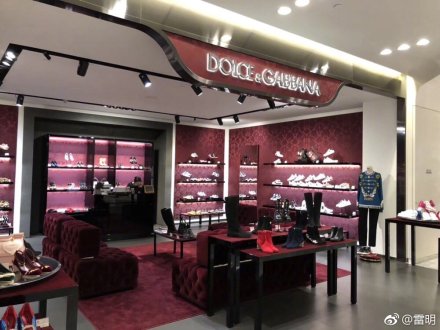 An overview of what has happened over the past week through Weibo hashtags:

SUNDAY, NOVEMBER 18
"DG LOVES CHINA" #DG爱中国#
15,7 MILLION VIEWS – On Sunday, November 18, Dolce & Gabbana posted three videos to social media in a series titled "Eating With Chopsticks" in light of its "DG Loves China" campaign, promoting its upcoming big fashion show in Shanghai that would take place on Wednesday, November 21st.
The brand had been doing quite well in China in the month before. The Digital Crew website wrote in October that D&G had "hit the nail on the right spot" with their recent move to cast Chinese celebrity Dilraba Dilmurat and Chinese stylist Han Huohuo at their Milan fashion show catwalk, receiving praise from Chinese netizens.
Its new video campaign, however, was not received with praise. The videos feature a Chinese-looking model dressed in D&G clothes using chopsticks to eat Italian dishes such as pizza, cannoli, and spaghetti. Unsuccessful at clumsily trying to eat these dishes, a male Chinese voice-over in the video then suggests things such as that the cannoli might be "too big" for the lady, and that she could try by digging in and eating smaller pieces with her chopsticks.
(Watch all clips here on Youtube and judge for yourself.)
The clips were not much appreciated for various reasons. Some Chinese netizens thought the campaign was making fun of Chinese chopsticks, others thought the comment of the Italian bread being "too big" for the Chinese model had a sexist undertone.
"A disgusting campaign," some called it.
Meanwhile, English-language media wrote that Dolce & Gabbana's latest campaign was called "racism" by Chinese. Although the ad was indeed called racist by some Chinese on Weibo, the majority of commenters were mainly upset about the portrayal of chopsticks in the series. The hashtag "D&G Ad" (#DG广告#) received 170 million views.

WEDNESDAY, NOVEMBER 23
"D&G SUSPECTED OF INSULTING CHINA" #DG涉嫌辱华#
410 MILLION VIEWS – The social media storm snowballed out of control after screenshots of comments attributed to fashion designer Stefano Gabbana went viral on Wednesday, also being reposted by major Chinese state media accounts such as Global Times.
Various Instagram screenshots showed how, from the account of Stefano Gabbana, statements were made about China being a "shit country" and other derogatory remarks.
The screenshots were posted by Instagram user Michaela Phuong Thanh Tranova (@michaelatranova), a fashion business student, although it is still unclear why this Instagram user would have a private Instagram conversation with Stefano Gabbana and whether or not they are acquainted.
The statements went viral on Chinese social media, where they led to waves of criticism and anger, with people defending China and calling for a boycott of D&G.
Amid the allegations, the designer on Wednesday said that his Instagram account had been hacked and posted an image with the words "NOT ME" written across one of Tranova's screenshots. The company similarly claimed to have been hacked in a statement posted on its official Instagram page. "We have nothing but respect for China and the people of China," the statement read.

WEDNESDAY, NOVEMBER 21
"DG BIG SHOW CANCELED" #DG大秀取消#
820 MILLION VIEWS – Later on Wednesday, the D&G issue hit the topic trending lists on Weibo, when it was announced that the big Shanghai fashion show was called off.
According to Jing Daily, it was China's Cultural and Tourism Department that ordered Dolce & Gabbana to cancel the event, just a few hours before it was scheduled to take place and amid reports that Chinese celebrities were canceling their attendance at the show for the fact that the brand was "insulting to China" (辱华).
The official D&G account did not mention the reason for the cancelation, nor who ordered it, but just wrote on Weibo: "The fashion show that was planned on November 21st at 20.00 has been rescheduled due to circumstances, we deeply regret any inconvenience caused."
By now, the online anger about D&G insulting China through its ad and Gabbana's statements had grown so big, that most people simply wished for the Italian fashion house to "get lost."

FRIDAY, NOVEMBER 23
"DG USES CHINESE TO APOLOGIZE" #DG用中文道歉#
360 MILLION VIEWS – On Friday afternoon, China time, Dolce and Gabbana released an apology video on its official Weibo account. The video shows Domenico Dolce and Stefano Gabbana sitting at a table with grave expressions on their face (see embedded Tweet below).
The founder of @dolcegabbana said sorry in Chinese to all Chinese people around the world, saying that they will respect Chinese culture more. The apology video was posted on its official Weibo account in China. pic.twitter.com/ADflYhMIhC

— Global Times (@globaltimesnews) 23 november 2018
The two speak in Italian as they say that they "feel very grieved" over what their "statements and actions" have brought about "for Chinese people and their country" over the past few days, and that they hope they can be forgiven for their "misunderstanding of [Chinese] culture."
They end the video by apologizing in Chinese, saying "duibuqi".
Before midnight, the video had received more than 166,000 comments and more than half a million shares. Over 100,000 people 'liked' the post.
Among the most popular comments, there were those inquiring if Gabbana's Instagram had been hacked or not, since the video does not mention it. "Were you hacked or not, because if you weren't, then I won't accept your apology," one of the most popular comments said.

FRIDAY, NOVEMBER 23
"Requesting D&G Money Back" #DG柜姐回应退预存金#
160 MILLION VIEWS – Meanwhile, a screenshot of a WeChat conversation between a customer seeking a refund and a representative from Dolce & Gabbana Hangzhou also has gone viral on Chinese social media, ending up in the top ten charts of the day.
The screenshots show that the woman demands back a deposit she paid D&G of 2400 yuan ($346), saying she no longer wants to wear the brand for fear people would "throw sh*t at her."
D&G Hangzhou then responded to the issue, saying that they would not refund money because of this "temporary crisis."
"A temporary storm can also turn into a permanent one," some commenters said.
Whether or not this "temporary" storm will indeed turn into a serious long-term China marketing crisis for D&G is yet to be seen. In the past, Daimler China also found itself at the center of a social media storm in China after using a Dalai Lama quote in its advertisement in March of this year (listen to this BBC news fragment here), which seemingly had little consequences for the brand, as it is still expanding in China.
The Lotte group also faced serious backlash in China in light of the THAAD crisis. The Lotte boycott of 2017 in the end turned out to be critical for the brand's presence in China, with the group losing $46 million every quarter due to the China situation.
By Manya Koetse, with contributions from Miranda Barnes
Follow @whatsonweibo
Spotted a mistake or want to add something? Please let us know in comments below or email us.
©2018 Whatsonweibo. All rights reserved. Do not reproduce our content without permission – you can contact us at info@whatsonweibo.com