Communist Blasphemy: Red Scarf with Wanda Advertisement Goes Viral on Weibo
When marketing & capitalism meet communist symbols: "We might as well put billboards on Tiananmen."
A communist scarf with print ads from a local Wanda branch has gone viral on Chinese social media this weekend. "It's all about the money," some netizens write.
A locally issued red scarf, worn by the 'Young Pioneers of China' to symbolize loyalty to communism, became the topic of great online controversy this weekend.
The red scarfs worn by students in Heze (菏泽), Shandong, came with print advertising for Wanda, a Chinese multinational private real estate developer.
Photos of the print ad red scarfs, promoting a local branch of the Wanda branch, went viral on September 29. The scarfs were worn by third-grade students of the Danyanglu primary school.
The scarfs were reportedly handed out to the students in light of a road safety campaign on September 25. The school board allegedly did not notice the advertisement.
The 'Young Pioneers' (中国少年先锋队) are a youth organization for children from the ages of six to fourteen in China run by the Communist Youth League.
"Isn't this considered blasphemy to the martyrs of the revolution?", one popular comment said. Other commenters compared the scandal to being similar to if ads would be printed on the Chinese flag.
"What kind of example are we for the next generation?", others wondered: "Everything is about money, money, money!"
"How could you place your advertisements on a red scarf?!", others asked, writing: "We might as well put billboards on Tiananmen now."
"If you put advertisement on a red scarf, there's something wrong with your IQ," others wrote: "They need to be fired as soon as possible."
But there were also other voices on Chinese social media, writing: "Why shouldn't we be able to print advertisement on red scarfs? They are a tool for brainwashing, they don't have any meaning anymore. Print all you want."
According to the Chinese English-language media outlet ECNS (the English portal of China News Service), the school's headmaster was punished for the controversy on Saturday, receiving "serious warnings" from the Party committee of Heze.
Also on Saturday, Chinese online news outlet The Paper reported that the Chinese Wanda Group responded to the issue by sacking the CEO of the local Wanda branch. The person in charge allegedly did not receive any permissions to issue the red scarfs with the Wanda advertisement.
By Saturday night (China time), the hashtag "Advertisement on Red Neckscarf" (#红领巾上印广告#) had received more than 37 million views on Weibo.
By Manya Koetse
With contributions by Miranda Barnes
Follow @whatsonweibo
Spotted a mistake or want to add something? Please let us know in comments below or email us.
©2018 Whatsonweibo. All rights reserved. Do not reproduce our content without permission – you can contact us at info@whatsonweibo.com
Famous Goubuli Restaurant Calls Police for Getting Roasted Online, Gets Kicked Out of Franchise Group
Goubuli Wangfujing shows how NOT to address a social media crisis.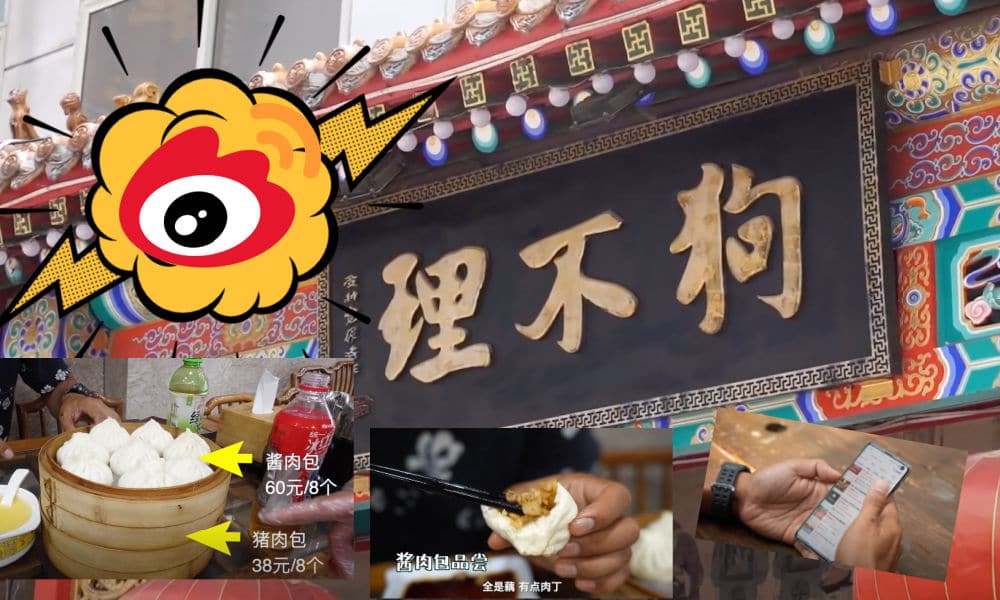 The well-known Goubuli Wangfujing restaurant just got a bit more famous this week. The branch, which specializes in steamed buns, is now not just known as one of Beijing's worst-rated restaurants, but also as a business that shot itself in the foot by handling a social media crisis the wrong way.
The famous Wangfujing main branch of Goubuli Steamed Buns (狗不理包子) is caught up in a social media storm since responding to a blogger's negative video of their restaurant by contacting the police.
The video, Goubuli's response to it, and the following consequences have hit the top trending topic lists on Weibo today.
Goubuli, sometimes transcribed as Go Believe, is a well-known franchise brand of steamed stuffed buns (baozi) from Tianjin that was founded in 1858. The brand now has more than 80 restaurants in mainland China, 12 of them in Beijing. Since Wangfujing is one of Beijing's most famous streets, the Wangfujing branch is popular with both foreign and Chinese visitors.
Gu Yue's "Visiting the Worst-Rated Restaurant" Video
The social media storm started on September 8, when Weibo blogger Gu Yue (谷岳) posted a video titled "Visiting the Worst-Rated Restaurant" ("探访评分最差餐厅"). Gu Yue is a travel blogger with over 1,7 million fans on Weibo.
In the video, Gu Yue starts by explaining he chose to visit Gubouli after searching for the restaurant that receives the lowest ratings in the Beijing Wangfujing and Dongdan areas on the super-popular Chinese mobile food app Dianping.
The blogger found that, out of the 1299 listed restaurants in the area, Wangfujing Goubuli Baozi was the worst-rated place. Ironically, the brand's name Gǒubùlǐ (狗不理) literally means 'dogs don't pay attention,' which makes the name 'Goubuli Baozi' sound like a place with stuffed buns that even dogs would not eat.
Complaining about the service, prices, and quality of food, many Dianping users rated the restaurant with just one out of five stars.
Gu Yue then sets out to visit the restaurant himself to see if Gubouli on Wangfujing really is as bad as Dianping users say. He orders some steamed braised pork dumplings, 60 yuan ($8.7) for 8, and regular pork dumplings, 38 yuan ($5.5) for 8.
The blogger concludes that Gubouli's dumplings are not worth the money: the dumplings are greasy, the dough is too sticky, and they do not have enough filling. Gu Yue's video also suggests that the restaurant's hygienic standards are not up to par, with loud coughing coming from the kitchen.
Gu Yue's video received over 97,000 likes and thousands of responses on Weibo, with many fans praising the idea of the blogger checking out the worst-rated restaurants.
Goubuli's Reaction Starts a Social Media Storm
The Wangfujing branch of Goubuli did not appreciate Gu Yue's video.
In an online statement on September 11, the branch accused the blogger of spreading lies about their restaurant and harming their reputation, and demanded a public apology.
Goubuli Wangfujing called the video "vicious slander" and stated they had contacted the police in relation to the matter.
The hashtag "Wangfujing Goubuli Responds to Netizen's Negative Video" (#王府井狗不理回应网友差评视频#) immediately went viral on Weibo, attracting some 430 million views.
Many Weibo users were outraged about the way the Goubuli branch handled the situation. "Aren't we even allowed to say if something is tasty or not?!" many commenters wondered, with others writing: "You are harming your own reputation!"
"Let's call the police over the quality of your food," others suggested.
There were also many netizens who commented that some Chinese Time-Honored brands, such as Goubuli, often only survive because of their history and fame rather than actually delivering good quality to their customers.
Following the major online backlash on its statement, the restaurant soon removed their post again. But the social media storm did not end there.
On September 15, the Goubuli Group issued a statement saying that it would directly terminate its franchise cooperation with the Goubuli Wangfujing branch over the incident.
With over 280 million views on its hashtag page (#狗不理解除与王府井店加盟方合作#), news of the franchise termination blew up on Weibo.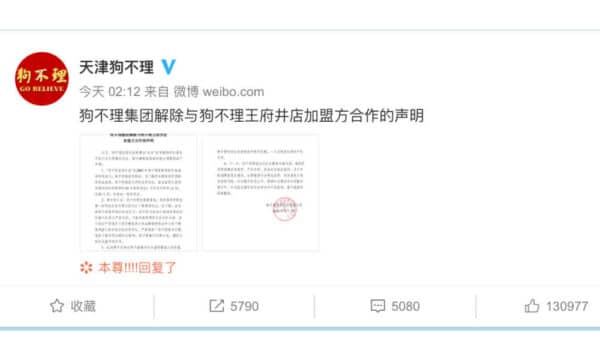 According to the latest Weibo reports on September 15, the Wangfujing Goubuli branch was closed for business on Tuesday (#狗不理包子王府井店门店关闭#).
"This is the power of clout," one person comments: "If it were not for the [Goubuli] restaurant's flawed marketing department, this would not have led to their closure."
"The restaurant has brought this on themselves. There's nothing wrong with posting a bad review."
Another person comments: "This is the first time I've seen a marketing department making something big out of something small, leading to their own closing."
Meanwhile, blogger Gu Yue says that he was not contacted by Goubuli, nor by the police. The social media controversy has only made him more popular.
"Gue Yue single-handedly crushed this restaurant," some say, appreciating how social media has increased the power of Chinese consumers to make or break a business.

Also read: Overview of the Dolce&Gabbana China Marketing Disaster Through Weibo Hashtags

By Manya Koetse
Follow @WhatsOnWeibo
Spotted a mistake or want to add something? Please let us know in comments below or email us. First-time commenters, please be patient – we will have to manually approve your comment before it appears.
©2020 Whatsonweibo. All rights reserved. Do not reproduce our content without permission – you can contact us at info@whatsonweibo.com.
Must-Read: SCMP's China Internet Report 2020
The China Internet Report brings order to the chaos of China's ever-changing digital environment.
First published
SCMP Research's China Internet Report 2020 is here, covering the country's biggest tech trends, breaking down the major players and key markets, and bringing some order to the chaos of China's rapidly changing digital environment.
Today, the South China Morning Post (SCMP) has launched its third edition of the China Internet Report – a super-comprehensive resource on China's technology landscape offering insights into the most important trends and players shaping the world's biggest internet community.
This year, China's online population has reached the staggering number of 904 million users, with the average daily time spent on the internet rising to 7.2 hours in March.
COVID-19 has significantly increased online media consumption across China.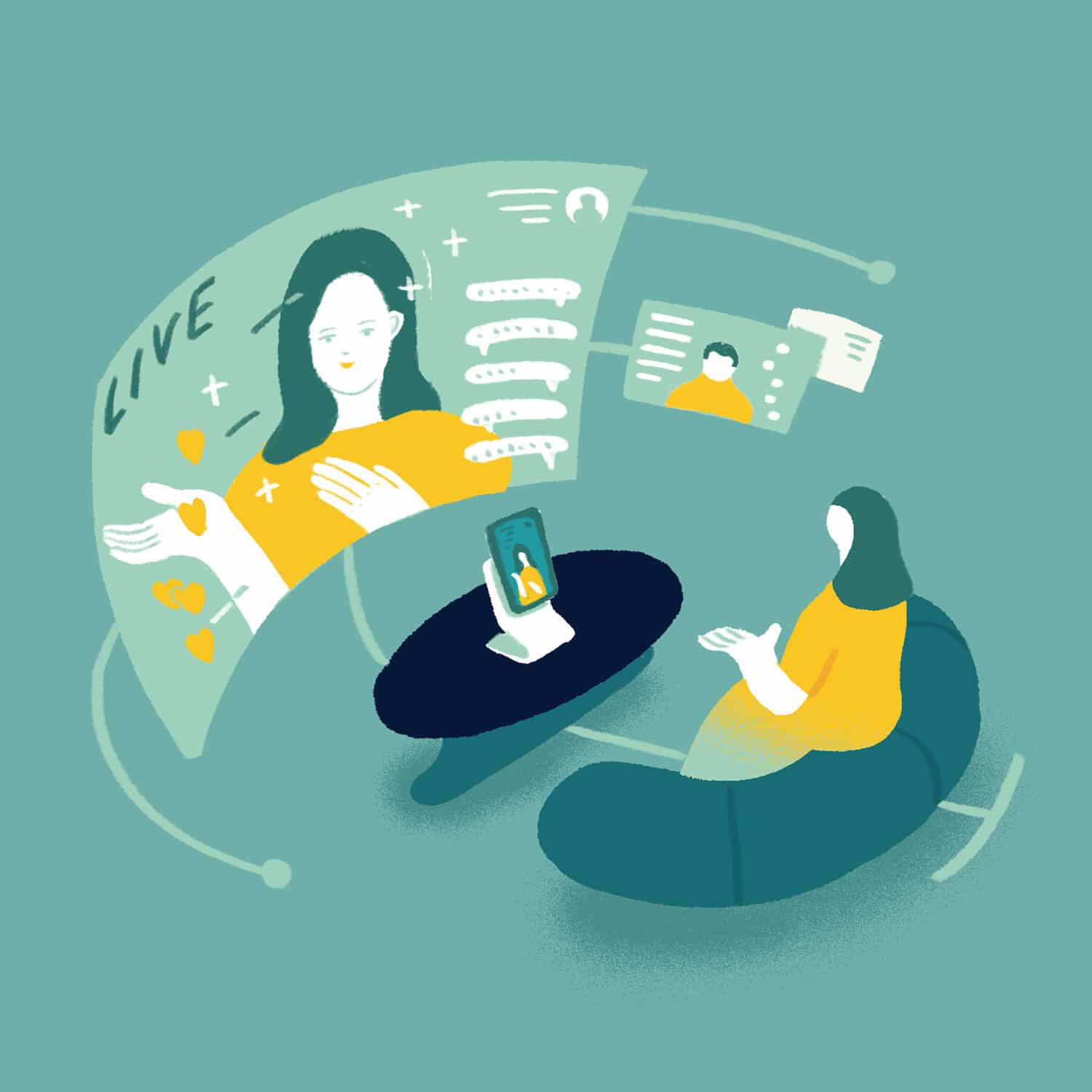 China's rapid digitization has not just radically altered Chinese society – it is also increasingly impacting the global internet ecosystem at large.
With yesterday's local startups becoming tomorrow's international tech leaders, and today's trends soon becoming worldwide shifts, understanding China's latest digital developments has never been more important.
The new coronavirus outbreak in China has not just temporarily affected people's online behavior, the report finds, suggesting that COVID-19 will have a lasting impact on China's tech sectors.
Besides social media platforms and other apps becoming a crucial tool of mass communication and information for Chinese netizens in times of COVID-19, the pandemic also changed how people in China started using technology in their everyday lives, from online learning to digital healthcare seeking. These trends have brought about permanent changes.
The accelerated digitization and the innovative tech use in times of the coronavirus crisis are listed as one of the major trends of 2020, among other vital digital shifts changing China's online landscape, from the mass adoption of 5G to live streaming in China reaching its third phase.
To check out the main trends for 2020, China's latest internet statistics, its top tech competitors, internet companies, and more, here's a link to the report.
This year, in addition to the free report, SCMP Research also introduces its Pro Edition (US$400) that features more than a hundred pages of deep-dive per sector – from e-commerce to healthtech, 5G and more – providing additional analysis, data, as well as access to six closed-door webinars with leading C-level executives of internet and technology companies in China.
The folks at SCMP have been kind enough to reach out and offer a special 30% discount on the Pro Edition report for What's on Weibo readers.
You'll get the discount by using the discount code: "WHATSONWEIBO", or by clicking this link that will automatically include your discount code.
By Manya Koetse
Follow @WhatsOnWeibo
Spotted a mistake or want to add something? Please let us know in comments below or email us. First-time commenters, please be patient – we will have to manually approve your comment before it appears.
©2020 Whatsonweibo. All rights reserved. Do not reproduce our content without permission – you can contact us at info@whatsonweibo.com.