Chinese PhD Student Goes Missing in London (Updated)
The 36-year-old female PhD student Yan has been missing for 10 days.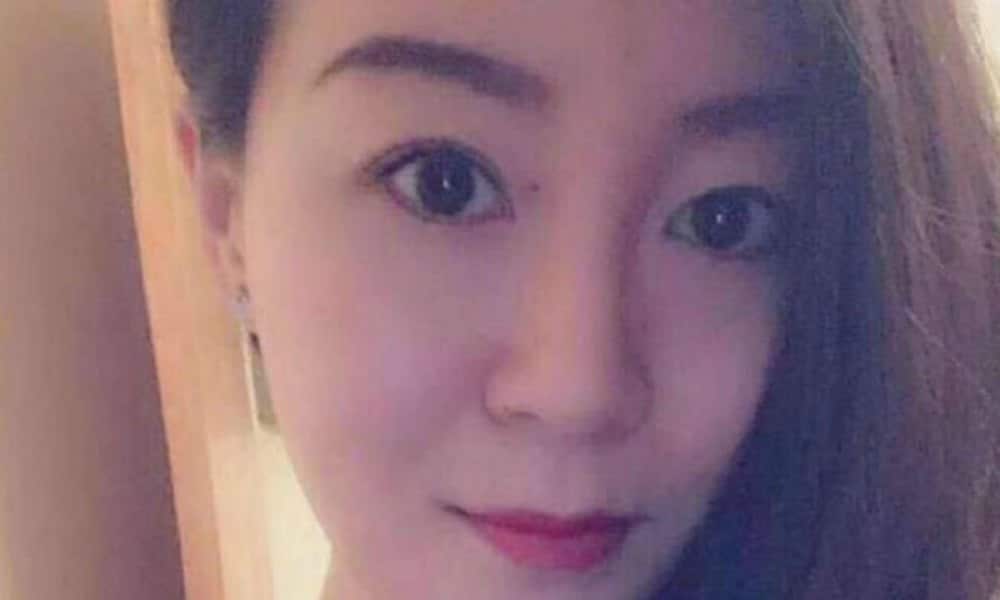 A 36-year-old woman from Shenyang, China, who is a PhD student at London's King's College, has been missing for ten days. Her mother is reaching out for help on Weibo.
This article has been updated to include new information since its initial posting. Police believe they have now found the body of Yan Sihong (see information at end of this article).
A Chinese female exchange student from Shenyang, studying at King's College in London, has been reported missing earlier this week. On Tuesday, the missing person case became one of the most-searched topics on Sina Weibo.
The woman's family turned to the Chinese Embassy in the United Kingdom on Monday after they were unable to reach her since February 17. She was reportedly also last seen on that day.
On February 27, various Chinese news sources reported about the missing student, whose name is Yan Sihong (闫思宏, 1982). Yan is affiliated to the Lau China Institute, a multi-disciplinary centre for the study of all aspects of China which is part of the London King's College.
London police are currently investigating the case. The Chinese Embassy in the UK, which posted a notice about Yan on their official website, is closely following the issue.
The news received a lot of attention on Chinese social media on Tuesday, as official state media such as CCTV, Global Times and People's Daily shared it through their official Weibo channels. The Chinese Ministry of Public Security also posted the missing person case on Weibo.
Yan's mother reached out for help on Weibo on Tuesday. In a blog post, the worried mother explains that Yan Sihong started her studies in the UK in September of 2016 and has always been in close touch with her family. They were not able to reach her again after their last Wechat conversation over Chinese New Year on the night of February 15 to February 16. "We have no idea what happened to her since," the mother writes.
Media outlet Chinese Weekly (@华闻周刊) wrote on Weibo that Yan may have fallen victim to kidnapping, although few other sources currently confirm if there is any truth to these speculations.
The Weibo account of the independent media source for overseas Chinese called 'This is Great Britain' (@这才是英国) does say that there are leads in this case signalling a kidnapping, which potentially includes a second person by the name of Rong Luqi (容露琦) – another student allegedly affiliated to the Faculty of Science and Engineering (not confirmed by other sources). The Weibo account posted screenshots of a WeChat conversation in which a person calls for help, saying they are being abducted. (Read more about this case here).
As more Chinese are studying abroad, news about Chinese students going missing in foreign countries is more often making headlines. The disappearance of Michelle Leung in Australia, which later turned out to be a homicide case, also became a trending topic on Weibo in 2016. The disappearance of Yingying Zhang in Illinois also made headlines last year.
"I hope she is okay," many Weibo netizens wrote about Yan, also expressing their hope that other Chinese students abroad take care of their safety. In response to the news, the Communist Youth League posted some information sheets on Weibo containing information for Chinese studying abroad, including warnings on getting intoxicated and leaving one's drink unattended. The sheets also warn student not to go out alone late at night.
At time of writing, no UK news websites, nor the King's College website, has yet mentioned anything about Yan's missing.
Chinese official media and the embassy are calling on people who know more about Yan's whereabouts to contact the local police in the UK.

UPDATE Wednesday 12:05 pm (London time): London police have issued a statement that officers investigating the disappearance of Yan have found a woman deceased at an address in Westminster. She is believed to be Yan Sihong. The death is being treated as non-suspicious. The family has been informed.
By Manya Koetse
Follow @whatsonweibo
Spotted a mistake or want to add something? Please let us know in comments below or email us.
©2018 Whatsonweibo. All rights reserved. Do not reproduce our content without permission – you can contact us at info@whatsonweibo.com.
News of Pelosi Bringing Son on Taiwan Trip Goes Trending on Weibo
News of 'Little Paul' quietly joining Pelosi to Taiwan received over 380 million views on Weibo on Friday.
Perhaps one would not expect Chinese state tabloid Global Times to care about American taxpayers' money being spent responsibly, but in today's trending headline on Weibo, they suggest they do:
"As American media have discovered, Pelosi's son Paul Pelosi Jr., who is not an official nor an adviser to her, has followed Pelosi around Asia at the expense of the American taxpayer," Global Times wrote.
The topic "Pelosi Secretly Brought her Son to Visit Taiwan" (#佩洛西窜台偷偷带儿子#) garnered over 380 million views on Weibo on Friday.
Earlier this week, various American media outlets, including The New York Post, reported that the 53-year-old Pelosi Jr. ​traveled together with Nancy Pelosi during her Asia trip, but his name was not included in the official list of officials on the trip released by the speaker's office.
The Chinese-language Global Times report on this issue is largely based on America's Fox News host Jesse Watters reacting to Nancy Pelosi bringing her son on the Asia trip in his 'Primetime' show, with many of his words being directly translated in the Chinese news report: "He is not an elected official, he is not an advisor Nancy, he doesn't even live in Washington, but he was greeted as royalty by the President of Taiwan."
Jesse Watters' suggested that Pelosi Jr. was involved in "shady" business, being on the payroll of two lithium mining companies and then visiting Taiwan, a world leader in lithium battery production. "Prince Pelosi will go wherever the money is," Watters said, a sentiment that was reiterated by Global Times.
During a press conference, Pelosi confirmed that her son had joined her on the trip, saying: "His role was to be my escort. Usually, we – we invited spouses. Not all could come. But I had him come. And I was very proud that he was there. And I'm thrilled – and it was nice for me."
When Pelosi was asked if her son had any business dealings while they were in Asia, she replied: "No, he did not. Of course, he did not."
In response to Pelosi's highly controversial visit to Taiwan, the Chinese government took sanctions against Pelosi and her immediate family.
According to Global Times, this might also affect Paul Pelosi Jr., who allegedly sought business opportunities in China via two companies, International Media Acquisition Corp and Global Tech Industries Group.
Some Chinese online satire showing Tsai Ing-wen crying, Taiwan surrounded by the Chinese military, and a smiling Pelosi with her long tall hat flying away on her broom with a U.S. flag cape saying "I standed [sic] with Taiwan!" pic.twitter.com/4w5hdxhoPR

— Manya Koetse (@manyapan) August 12, 2022
Many netizens are also ridiculing 'Little Paulie' (小保罗), especially because, based on the reports, they had somehow expected Pelosi's son to be a child or young man instead of a 52-year-old. Part of the confusion stems from the Chinese translation for "Jr.", xiǎo (小), which also means "little."
"He's 52! I though we were talking about a little kid," some wrote, with others calling him a 'mama's boy.'
"That entire family will just do anything for money," others wrote.
More than a week after Pelosi's visit, news of 'Little Paul' joining her on the controversial trip just reinforces existing narratives on Chinese social media, led by official media, that Pelosi's Taipei decision was more about self-interest than serving her country – and its taxpayers.
By Manya Koetse
Get the story behind the hashtag. Subscribe to What's on Weibo here to receive our weekly newsletter and get access to our latest articles:
Spotted a mistake or want to add something? Please let us know in comments below or email us. First-time commenters, please be patient – we will have to manually approve your comment before it appears.
©2022 Whatsonweibo. All rights reserved. Do not reproduce our content without permission – you can contact us at info@whatsonweibo.com.
Chairman Rabbit vs Hu Xijin: Divided Nationalists on Weibo
Hu's personal opinions should not be mistaken for China's official stance nor guide Chinese online public opinion, Chairman Rabbit argues.
Political commentator Hu Xijin was an influential online voice in the days surrounding Pelosi's visit to Taiwan. Chinese blogging account Chairman Rabbit lashed out against Hu, saying he misled public opinion at a time when his statements should have matched the official stance.
On August 3rd, a day after Nancy Pelosi's visit to Taiwan, Chinese blogger Chairman Rabbit (兔主席) posted a long piece of text on Weibo rebuking political commentator Hu Xijin (胡锡进) for his overdosed hawkish claims leading up to Pelosi's controversial visit.
Following the post by Chairman Rabbit, grandson of a former CCP leader, Chinese social media saw many discussions and a wave of criticism against Hu and his overaggressive position.
In his since-deleted post, Chairman Rabbit demanded stricter regulation of Hu's public statements due to his perceived ties with the Chinese government.
Hu Xijin is a Chinese journalist and the former editor-in-chief and party secretary of Global Times, a Chinese and English-language media outlet under the auspices of the Chinese Communist Party's official People's Daily newspaper.
Although he retired from his job, Hu is still a very active commentator on political affairs via social media. With nearly 25 million fans on Weibo and over half a million followers on Twitter, his posts and statements often go trending and influence public opinions.
Chairman Rabbit argued that Hu has built a credible reputation in his field, both within China and abroad, where he is generally perceived as having certain authority to speak about China's political affairs – with some foreign media almost regarding him as some sort of spokesman for the Chinese government. Meanwhile, according to Chairman Rabbit, Hu uses this credibility to promote his own personal views.
"He was too loud. It would make the people think that [China's] actions are not enough, bringing about disappointment and distrust. This is damaging to the morale of the people and also to the credibility of the government," Chairman Rabbit wrote.
Two Political Commentators "Protecting China's National Interests"
Chairman Rabbit is the alias of Ren Yi (任意), a Harvard-educated Chinese blogger who currently has over 1.8 million followers on Weibo, where he calls himself a 'history blogger.' He is also the grandson of former Chinese politician Ren Zhongyi (任仲夷), who was a leader in China's reform period since the late 1970s. 'Chairman Rabbit' is known as a nationalist, conservative political commentator who often comments on US-related issues and current affairs (for more on his background, check out this article by Tianyi Xu).
The Chinese blogger's post came after a week in which Hu Xijin recurringly went trending for his strong condemnation of a potential visit to Taiwan by U.S. House Speaker Pelosi.
Hu suggested that a Taiwan visit by Pelosi would be a clear provocation of China, giving the PLA "good reason" for "waging a war." One of Hu's tweets, in which he voiced the view that U.S. military planes escorting Pelosi to Taiwan could potentially be shot down, was deleted by Twitter on July 30. Afterward, Hu reiterated his views on Weibo and criticized Western censorship.
Chairman Rabbit wrote about Hu:
"(..) as we can see time and again, he lacks judgment and accurate sources of information on some major issues (..), and he represents only his personal views, which may be misdirected. If his views were perceived as being purely personal, they would not receive nearly as much attention – his "authority figure" status is the key to everything, and he is perceived as having a special channel to represent authorities."
In the post, Chairman Rabbit accuses Hu of using his status to promote his own views and to influence the public debate and the international view of China to gain clout.
Hu Xijin responded to the post himself on his Weibo account, suggesting he felt betrayed and "deeply puzzled" to be attacked by someone he considered a "friend who worked together [with me] to defend China's national interests," writing: "I originally saw them as allies, yet right in the heat of the moment, I was surprised to find that that they suddenly turned their guns to aim it at me."
In the same post, Hu still defended his own words, arguing that despite his "limited power" he still does what he can to "protect China's national interests."
"Frisbee Hu"
The Chairman Rabbit vs Hu Xijin dispute caught the attention of Chinese netizens, including the liberals and conservatives on Chinese social media.
With his muscle-flexing language, Hu seemingly regained popularity amongst die-hard nationalists on Weibo after long being suspected of being a "gongzhi" (公知), a derogatory use of the term "public intellectual." The latest controversy shows that the interests of online nationalists do not always align with the official government stances.
It also shows a division between populist nationalists and the more elite or 'establishment' nationalists on Chinese social media. The former operate independently and are willing to pressure the government toward a more hostile foreign policy, while the latter follow the decisions of the government and respond to them.
Hu is known for commenting on political issues and tuning into official narratives, which even led to him being nicknamed "Frisbee Hu" (胡叼盘), suggesting he can catch the 'frisbees' thrown by the Communist Party like a dog catches his toy.
However, it seems he did not catch their 'frisbee' this time. For the CCP, it arguably would be not a wise choice to engage in any kind of military conflict at this time, knowing the unpredictable societal changes it may bring to its regime, especially ahead of Xi Jinping's bid for a third term in office at the 20th party congress later this year.
Authorities did emphasize that China would not "idly sit by" if Pelosi would visit Taiwan. Chinese Ministry of Foreign Affairs spokesperson Zhao Lijian warned the U.S. on August 1st that if the U.S. House speaker would visit Taipei, "the Chinese side will respond resolutely and take strong countermeasures to defend our sovereignty and territorial integrity."
But the aggressiveness of Hu Xijin's posts perhaps went beyond what the authorities had in mind. According to Chairman Rabbit, Hu "influenced public opinion, and China's international image as well. What he got in the end was traffic for his own account."
Instruments to Govern the Public Sphere
On social media, Hu still received a lot of support while others agreed with Chairman Rabbit that Hu was chasing clout and that his words have consequences. Although that is not necessarily bad – as his influence can mobilize and channel public rage in a time of strict Covid measures and a declining economy, – it can also backfire and reflect negatively on the government when they fail to meet the public's expectations.
Chairman Rabbit suggests that it might be better for Hu to put a disclaimer and clarification at the top of any statement to make it clear that his views are personal and do not represent the official view.
This is not the first time Hu gets caught up in a conflict between Chinese populist and establishment nationalists. In 2021, Hu had a public spat with Shen Yi, a professor at Fudan University. When Shen Yi defended a controversial post by the CCP Central Political and Legal Affairs Commission which put an image of the Chinese rocket launch besides that of a mass cremation in India, Hu argued that official accounts should not ridicule India's Covid deaths but "express sympathy for India, and place Chinese society firmly on the moral high ground" (read here).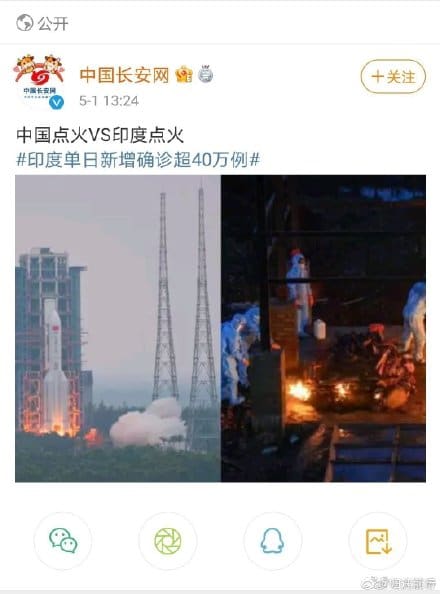 At that time, however, Hu sided with the so-called 'establishment nationalists' advocating for more decent public expressions from an official government account at a time when their neighboring country was mourning the victims of their Covid outbreak.
Disputes such as 'Hu vs Shen' and 'Hu vs Chairman Rabbit' could be seen as instruments to govern the public sphere, shifting the focus of attention amid online storms. The 'Hu vs Shen' public spat shifted the subject from whether it is moral to ridicule a neighboring country for its tragedy to whether it is good for an official government account to ridicule a neighboring country for its tragedy.
Similarly, the 'Hu vs. Chairman Rabbit' dispute shifted the subject from whether it is moral to wage a war over Pelosi's visit to whether it would be in China's best national interests to wage a war and to the influence of online public commentators within this matter.
Chairman Rabbit posted a second lengthy post regarding the dispute on August 4th, in which he again reiterated his stance that Hu Xijin's tone on social media did not match the official stance, and that Hu, with limited diplomatic and military knowledge, miscalculated his response to the Pelosi issue and guided public opinion in the wrong direction.
The dispute between the two influential commentators triggered discussions, with some bloggers wondering when the next round of bickering is going to take place. In doing so, Chairman Rabbit has also been instrumental in channeling nationalist sentiments and creating some calm after the online storm following Pelosi's visit.
"I think the Propaganda Department needs take responsibility, as they tacitly accepted Hu Xijin's influence on public opinion. They can't later shift all the blame to a person who's already retired," one popular comment said: "Those who are responsible should take responsibility! Our propaganda has always seen some problems, both internally as well as externally."
Other commenters think Hu Xijin is getting too much credit for being held responsible for shifting public opinion. "My friends don't even know who Hu Xijin is, yet they had also shifted in the 'prepare for war' direction," one Weibo user writes, with another person adding: "He's just saying out loud what I was thinking already. If everyone said it, it might be blocked, but he can speak for us."
"Hindsight is 20/20," others say: "And we might need hawkish expressions such as those published by Hu. I still support him."
By Xiuyu Lian and Manya Koetse
Get the story behind the hashtag. Subscribe to What's on Weibo here to receive our weekly newsletter and get access to our latest articles:
Spotted a mistake or want to add something? Please let us know in comments below or email us. First-time commenters, please be patient – we will have to manually approve your comment before it appears.
©2022 Whatsonweibo. All rights reserved. Do not reproduce our content without permission – you can contact us at info@whatsonweibo.com.