Chongqing Man Throws Golden Retriever and Cat from 21st Floor
A brutal case of pet killing has shocked Chinese social media users this week. On September 6, a man from the Shapingba district of Chongqing threw his golden retriever and a pregnant cat from the 21st floor of an apartment building. Both animals died.
Various Chinese media report that the man supposedly committed the cruel act after learning his wife was pregnant and not wanting her to keep pets in the house while expecting. After an argument with his wife, he allegedly threw the pets out of the window.
Shocked neighbors told reporters that the incident occurred around five o'clock on Thursday, when they heard a loud thump and found the animals on the pavement.
Some neighbours recognized the animals, as their own dog would play with the golden retriever. They called the pet owner, who said he no longer wanted anything to do with the dog and the cat. The neighbors, some crying, later gave the dog and cat a respectful burial.
On Weibo, the hashtag "Man Throws Dog and Cat from 21st Floor" (#男子21楼扔下一猫一狗#) was viewed almost three million times.
Animal cruelty often becomes a topic of debate on Weibo. One of the biggest social media trending cases of animal abuse of the past years is that of the dog Lion, who went missing in December of 2017 and was found by a woman named He Hengli who then blackmailed the dog's owner over its release.
When the 'hostage negotiations' reached a deadlock, the dog's owner finally went to He's apartment to fetch her dog together with police offers and reporters. While they knocked the door, Lion was thrown to his death from He's sixth story apartment.
As in many cases in which animal cruelty has been exposed on social media, Lion's killer became a target of the so-called 'human flesh search engine,' with people leaking her personal information online and threatening her at her workplace and home.
Such cases have previously even led to mob justice, with people dragging abusers out of their homes and beating them.
People often resort to this kind of 'jungle justice' because China currently has no laws preventing animal abuse. The voices calling for legal protection of animals in China have gotten louder over the past years.
"I just cannot understand these kinds of people's way of thinking," one commenter said: "They now throw a dog, what will they throw next time?"
"[If you no longer want your pets], you could just give them away, instead of cruelly throwing them to their death. Also – if someone would've walked there, they might have died, too," others wrote.
Some write: "If someone mistreats an animal it's a clear sign they're abnormal maniacs," with many others worrying about the future child of the pet killer: "He's surely not fit to be a father."
By Manya Koetse
Follow @whatsonweibo
Spotted a mistake or want to add something? Please let us know in comments below or email us.
©2018 Whatsonweibo. All rights reserved. Do not reproduce our content without permission – you can contact us at info@whatsonweibo.com.
Massive Fire Breaks Out Near Qipan Mountain in Shenyang
In the afternoon of April 17, local time, a massive fire broke out near Qipan Mountain in the city of Shenyang in China's northeast Liaoning Province.
Videos circulating on Chinese social media show how thick clouds of black smoke could be seen from a distance.
Thick clouds of smoke due to a blaze at Qipan Mountain in Shenyang today – pic.twitter.com/Jci65ruHwp

— Manya Koetse (@manyapan) 17 april 2019
News sources on Weibo say the fire broke out earlier in the afternoon and was soon spreading due to strong winds in the area.
People's Daily reports that over 1300 people are currently involved in a major operation to clear the area and fight the fire, including some 300 people from the fire department and 500 military staff.
The hashtag "Shenyang Qipan Mountain on Fire" (#沈阳棋盘山着火#) was one of the top trending topics on Chinese social media by Wednesday night.
Qipan Mountain is the biggest natural scenic zone in Shenyang, covering 190 square kilometers. According to China Daily, the zone includes plant and animal reserves, a water sports area, a ski area, a hunting area, and a villa area.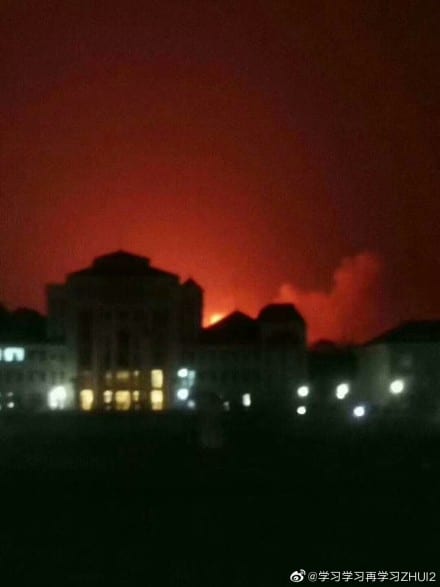 At time of writing, there are no sources confirming what caused the fire and if it is under control yet.
The nearby Shenyang Zoo, however, did confirm on Weibo that the fire had not spread to its area and that the necessary emergency measures were taken to protect the wellbeing of their animals.
Many netizens expressed their concerns over the safety of the animals earlier in the day. Photos of animals being burnt in the fire were refuted and labeled as 'fake news.'
Over 1300 people are involved in a major operation to get the fire under control. #沈阳棋盘山着火 (Also see: https://t.co/MvSb1swewJ) pic.twitter.com/mx4C4rHRc9

— Manya Koetse (@manyapan) 17 april 2019
By Manya Koetse
Spotted a mistake or want to add something? Please email us.
©2019 Whatsonweibo. All rights reserved. Do not reproduce our content without permission – you can contact us at info@whatsonweibo.com.
Online Controversy over Mandatory GPS Tracking Smartwatches for Chinese Street Cleaners
Being a street cleaner in 2019 China now involves wearing a mandatory smartwatch with GPS tracking.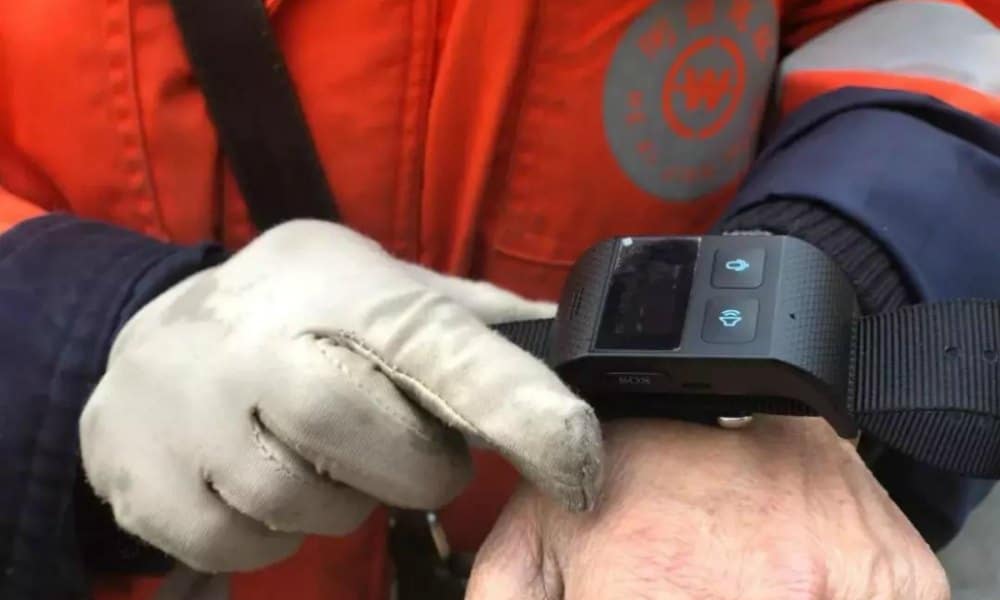 The times of chatting with the neighbors, taking a break, or doing some shopping during work hours are seemingly over for Nanjing's street cleaners now that their every move is monitored through a special smartwatch. News of the mandatory GPS tracking bracelets for sanitary workers triggered public outcry earlier this month. But it's not just Nanjing street cleaners that are subjected to this policy.
Earlier this month, the introduction of smartwatches tracking the movements of street cleaners in Nanjing attracted the attention of Chinese netizens and international media after the new policy was made public on April 3rd.
In March of this year, the sanitation department in the Hexi area of Nanjing, Jiangsu, started a pilot with a smartwatch that sanitation workers are obliged to wear. The watch has a built-in real-time GPS tracking system, allowing the Nanjing Hexi Smart Sanitation Center to monitor workers' movements.
In a short video published by Toutiao News, a spokesperson of the Smart Sanitation Command Center* explained that the smartwatch currently allows the company to assess the workers in three ways: they can register workers' attendance, collect statistics of workers leaving their designated work area, and report on workers that remain in the same position exceeding the allowed amount of time.
Sanitation workers also commented on their new working system. One person interviewed said: "Why wouldn't I be allowed to have a half-an-hour break? Look, the street is all clean, there is nothing to be cleaned up. They are crazy for making us move up and down the street for no reason."
Street cleaners also said that the system would automatically report them if they had been in the same spot for more than twenty minutes. The smartwatch would then subsequently encourage them to move, calling out "Jiayou! Jiayou!" ("Come on! Come on!").
That particular function was reportedly removed shortly after public outcry on the policy.
On Weibo, the hashtag "Smartwatch Automatically Yells 'Jiayou'" (#智能手表自动喊加油#) received over 2,5 million views, with the majority of commenters strongly rejecting the new approach.
Most commenters on this issue argued that the implementation of the smartwatch is "immoral" and that the Nanjing workers are "treated as criminals." Many others also pointed out that the workers, often senior citizens, should be able to rest for more than 20 minutes.
In light of the new policy, many people on social media also referred to the infamous fictional character Zhou "Bapi" (周扒皮). In the novel The Killing Wind, this landlord Zhou would stick his head into the henhouse stirring up the roosters to wake his laborers up earlier, so they would start working.
Some netizens came with an alternative solution, suggesting that the leaders of the company should wear the smartwatches themselves instead.
While the controversial function was eliminated, the GPS tracking function still stands.
Nanjing is not the first city to introduce GPS tracking smartwatches for its sanitary workers. Other cities where the same policy has been introduced are, for example, Chengdu, Hangzhou, Guangzhou, and Qingdao, according to Chinese media outlet Global Times.
In the summer of 2018, various Chinese media outlets already reported about the introduction of smartwatches for street cleaners in Guangzhou. At the time, the smartwatch policy was described as an innovative way to solve staff deployment and management problems, giving team leaders more insights into the real-time position of the street cleaners.
Whether or not the smartwatches do indeed improve work efficiency of street cleaners is still unclear, but there are no indications that the smartwatch policy will be changed at this point.
The tough work conditions of Chinese street cleaners, who work long hours and receive minimal pay, regularly become an issue of debate on Chinese social media. Besides praising the hard work of China's public cleaners, Chinese netizens often express their sympathy for the bad circumstances under which street sweepers have to work.
By Gabi Verberg
* (南京河西建环"智能环卫"综合调度监控指挥中心 Nanjing Hexi Jianhuan "Intelligent Sanitation" Integrated Dispatching Monitoring Command Center)
Spotted a mistake or want to add something? Please let us know in comments below or email us.
©2019 Whatsonweibo. All rights reserved. Do not reproduce our content without permission – you can contact us at info@whatsonweibo.com