CoCo Bubble Tea in Hot Water over Pro-Hong Kong Text on Receipts
Boycotting bubble tea? The popular CoCo Tea company is not so popular on Weibo this week.
One of China's most popular bubble tea brands is in hot water after one of its Hong Kong shops included an encouraging message to Hong Kong people on its receipts amidst ongoing demonstrations. The company's apologies are not sufficient, many netizens say.
Popular milk tea company CoCo (CoCo都可) is under fire in mainland China for displaying the text "Go Hong Kong People!" (or: "Add Oil, Hongkongers!") on the receipts of one of its shops in the Wanchai district of Hong Kong.
The receipt, dated June 16, started making its rounds on Chinese social media on August 6. Many take it as a sign that CoCo supports Hong Kong's pro-democracy movement.
CoCo also triggered controversy for supposedly listing 'Taiwan' as a country in its website's list of countries where the brand operates, separate from 'China'.
Some netizens are now vowing to boycott the brand for allegedly supporting both Hong Kong protesters and Taiwan independence.
CoCo is a global bubble tea brand that first opened in Taipei in 1997. Over the past two decades, CoCo has opened over 2000 stores worldwide with locations in countries such as the US, UK, Thailand, Korea, and Australia. It is one of the most popular milk tea chains in mainland China.
On August 9, the tea shop released a statement concerning the controversy. The hashtag "CoCo Statement" (#coco声明#) became the most-searched hashtag on Weibo on Friday, attracting 300 million views.
CoCo stated that the receipt in the Wanchai district shop was altered by the staff of this shop, and that their business is now suspended.
It further alleged that the screenshots of the 'Taiwan' listing circulating on social media are actually fake. They do not come from their official website, CoCo stated.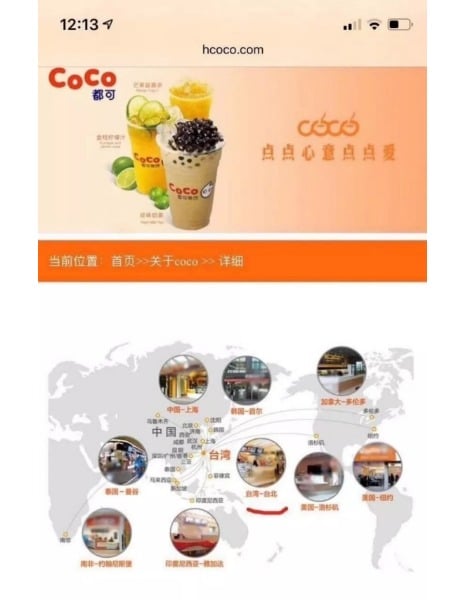 The company also added that "the Hong Kong region is an inseparable part of the People's Republic of China."
At time of writing, the official website of the CoCo Fresh Tea & Juice brand was not accessible.
CoCo is not the first bubble tea shop to trigger controversy this week. Another company, Yifang Fruit Tea, faced online backlash when it closed one of its Hong Kong shops for a day and put up a sign that said: "Stand together with Hong Kongers".
Many big milk tea brands are Taiwanese; pearl milk tea or bubble tea was first invented in Taiwan in 1988 and has since become an important part of Taiwanese food culture. Over the past decade, the bubble tea craze has also blown over to mainland China (read more here).
The Guardian reported on August 8 that the Yifang Fruit Tea controversy also spread to two other bubble tea brands.
In response to the issue, Taiwan's President Tsai Ing-wen posted a picture of flavored tea on social media, writing that "China's political power has invaded into various nonpolitical areas" and that "for people living in a society with freedom and democracy, we need to stay on high alert for issues like this."
Meanwhile, on Weibo, many netizens are not too satisfied with CoCo's apologies and demand that the brand also shares its statement on Twitter and Instagram – not just on Chinese social media.
Others complain that the company did not use an official seal for its apology statement, and have not indicated how it will handle this controversy.
But there are also those who say this supposed scandal is all a fuss over nothing. "Essentially, there's nothing wrong with them encouraging Hong Kong people," one commenter writes.
"Boycotting the stores in China will only hurt the position of Chinese franchise owners," some Weibo users argue.
This incident shows some similarities to another controversy that occurred in 2018 involving the Taiwanese company 85°C Bakery Café. When president Tsai Ing-wen paid a visit to a Los Angeles chain of the café during her United States trip, mainland netizens accused the company of supporting Taiwan independence.
To read more about general discussions on Chinese social media regarding the Hong Kong protests, check our latest here.
By Manya Koetse
Follow @whatsonweibo
Spotted a mistake or want to add something? Please let us know in comments below or email us. Please note that your comment below will need to be manually approved if you're a first-time poster here.
©2019 Whatsonweibo. All rights reserved. Do not reproduce our content without permission – you can contact us at info@whatsonweibo.com
Hard Measures for Durex in China after "Vulgar" Ads
One Durex sex toy ad gave off the wrong vibrations to Chinese regulators.
As if it wasn't already bad enough that fewer people are having sex during COVID19 lockdowns, leading to a decline in condom sales, condoms & sex toys brand Durex is now also (again) punished for the "vulgar" contents of its advertisements in China.
News of Durex facing penalties in China became top trending on Thursday, with one Weibo hashtag page about the matter receiving over 1,2 billion views.
Durex has over three million fans on its official Weibo account (@杜蕾斯官方微博), which is known for its creative and sometimes bold posts, including spicy word jokes. Durex opened its official Weibo account in 2010.
A post by Durex published on Wednesday about the release of Apple's super speedy new 5G iPhone, for example, just said: "5G is very fast, but you can take it slow," adding: "Some things just can't be quick." The post received over 900,000 likes.
Other ads have also received much praise from Chinese netizens. One ad's slogan just shows a condom package, saying "Becoming a father or [image of condom] – it's all a sign of taking responsibility."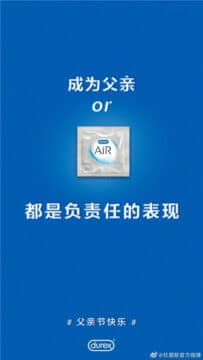 According to various Chinese news outlets, Durex has been penalized with a 810,000 yuan ($120,400) fine for failing to adhere to China's official advertisement guidelines, although it is not entirely clear to us at this point which fine was given for which advertisement, since the company received multiple fines for different ads over the past few years.
One fine was given to Durex Manufacturer RB & Manon Business (Shanghai) for content that was posted on e-commerce site Tmall, Global Times reports.
According to the state media outlet, "the ad used erotic words to describe in detail multiple ways to use a Durex vibrator." The fine was already given out in July of this year, but did not make headlines until now.
In another 2019 case, the condom brand did a joint social media campaign cooperation with Chinese milk tea brand HeyTea, using the tagline "Tonight, not a drop left," suggesting a connection between HeyTea's creamy topping and semen.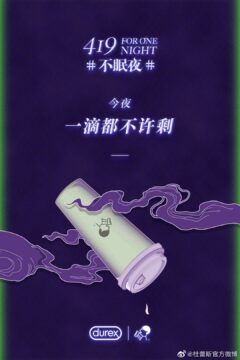 According to China's Advertisement Examination System (广告审查制度), there are quite some no-goes when it comes to advertising in China. Among many other things, ads are not allowed to be deceptive in any way, they cannot use superlatives, nor display any obscene, scary, violent or superstitious content.
Chinese regulators are serious about these rules. In 2015, P&G's Crest was fined $963,000 for "false advertising", at it promised that Crest would make your teeth whiter in "just one day."
However, advertisement censorship can be a grey area. Any ads that "disturb public order" or "violate good customs," for example, are also not allowed. For companies, it is not always clear when they are actually crossing a line.
On Weibo, there are also contrasting opinions on this matter. Many people, however, support Durex and enjoy their exciting ads and slogans. With the case dominating the top trending charts and discussions on social media the entire day, the latest penalty may very well be one of Durex's most successful marketing campaigns in China thus far.
By Manya Koetse
Follow @WhatsOnWeibo
Spotted a mistake or want to add something? Please let us know in comments below or email us. First-time commenters, please be patient – we will have to manually approve your comment before it appears.
©2020 Whatsonweibo. All rights reserved. Do not reproduce our content without permission – you can contact us at info@whatsonweibo.com.
Famous Goubuli Restaurant Calls Police for Getting Roasted Online, Gets Kicked Out of Franchise Group
Goubuli Wangfujing shows how NOT to address a social media crisis.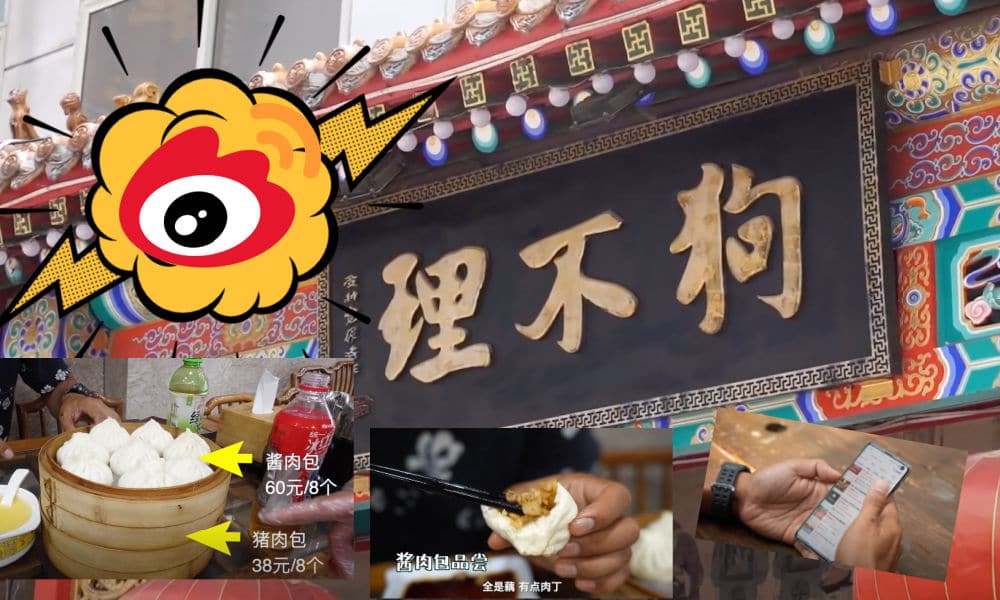 The well-known Goubuli Wangfujing restaurant just got a bit more famous this week. The branch, which specializes in steamed buns, is now not just known as one of Beijing's worst-rated restaurants, but also as a business that shot itself in the foot by handling a social media crisis the wrong way.
The famous Wangfujing main branch of Goubuli Steamed Buns (狗不理包子) is caught up in a social media storm since responding to a blogger's negative video of their restaurant by contacting the police.
The video, Goubuli's response to it, and the following consequences have hit the top trending topic lists on Weibo today.
Goubuli, sometimes transcribed as Go Believe, is a well-known franchise brand of steamed stuffed buns (baozi) from Tianjin that was founded in 1858. The brand now has more than 80 restaurants in mainland China, 12 of them in Beijing. Since Wangfujing is one of Beijing's most famous streets, the Wangfujing branch is popular with both foreign and Chinese visitors.
Gu Yue's "Visiting the Worst-Rated Restaurant" Video
The social media storm started on September 8, when Weibo blogger Gu Yue (谷岳) posted a video titled "Visiting the Worst-Rated Restaurant" ("探访评分最差餐厅"). Gu Yue is a travel blogger with over 1,7 million fans on Weibo.
In the video, Gu Yue starts by explaining he chose to visit Gubouli after searching for the restaurant that receives the lowest ratings in the Beijing Wangfujing and Dongdan areas on the super-popular Chinese mobile food app Dianping.
The blogger found that, out of the 1299 listed restaurants in the area, Wangfujing Goubuli Baozi was the worst-rated place. Ironically, the brand's name Gǒubùlǐ (狗不理) literally means 'dogs don't pay attention,' which makes the name 'Goubuli Baozi' sound like a place with stuffed buns that even dogs would not eat.
Complaining about the service, prices, and quality of food, many Dianping users rated the restaurant with just one out of five stars.
Gu Yue then sets out to visit the restaurant himself to see if Gubouli on Wangfujing really is as bad as Dianping users say. He orders some steamed braised pork dumplings, 60 yuan ($8.7) for 8, and regular pork dumplings, 38 yuan ($5.5) for 8.
The blogger concludes that Gubouli's dumplings are not worth the money: the dumplings are greasy, the dough is too sticky, and they do not have enough filling. Gu Yue's video also suggests that the restaurant's hygienic standards are not up to par, with loud coughing coming from the kitchen.
Gu Yue's video received over 97,000 likes and thousands of responses on Weibo, with many fans praising the idea of the blogger checking out the worst-rated restaurants.
Goubuli's Reaction Starts a Social Media Storm
The Wangfujing branch of Goubuli did not appreciate Gu Yue's video.
In an online statement on September 11, the branch accused the blogger of spreading lies about their restaurant and harming their reputation, and demanded a public apology.
Goubuli Wangfujing called the video "vicious slander" and stated they had contacted the police in relation to the matter.
The hashtag "Wangfujing Goubuli Responds to Netizen's Negative Video" (#王府井狗不理回应网友差评视频#) immediately went viral on Weibo, attracting some 430 million views.
Many Weibo users were outraged about the way the Goubuli branch handled the situation. "Aren't we even allowed to say if something is tasty or not?!" many commenters wondered, with others writing: "You are harming your own reputation!"
"Let's call the police over the quality of your food," others suggested.
There were also many netizens who commented that some Chinese Time-Honored brands, such as Goubuli, often only survive because of their history and fame rather than actually delivering good quality to their customers.
Following the major online backlash on its statement, the restaurant soon removed their post again. But the social media storm did not end there.
On September 15, the Goubuli Group issued a statement saying that it would directly terminate its franchise cooperation with the Goubuli Wangfujing branch over the incident.
With over 280 million views on its hashtag page (#狗不理解除与王府井店加盟方合作#), news of the franchise termination blew up on Weibo.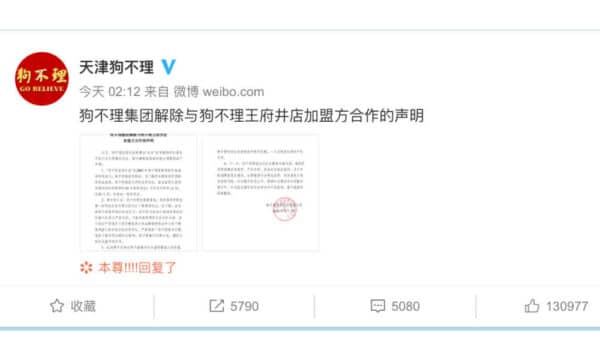 According to the latest Weibo reports on September 15, the Wangfujing Goubuli branch was closed for business on Tuesday (#狗不理包子王府井店门店关闭#).
"This is the power of clout," one person comments: "If it were not for the [Goubuli] restaurant's flawed marketing department, this would not have led to their closure."
"The restaurant has brought this on themselves. There's nothing wrong with posting a bad review."
Another person comments: "This is the first time I've seen a marketing department making something big out of something small, leading to their own closing."
Meanwhile, blogger Gu Yue says that he was not contacted by Goubuli, nor by the police. The social media controversy has only made him more popular.
"Gue Yue single-handedly crushed this restaurant," some say, appreciating how social media has increased the power of Chinese consumers to make or break a business.

Also read: Overview of the Dolce&Gabbana China Marketing Disaster Through Weibo Hashtags

By Manya Koetse
Follow @WhatsOnWeibo
Spotted a mistake or want to add something? Please let us know in comments below or email us. First-time commenters, please be patient – we will have to manually approve your comment before it appears.
©2020 Whatsonweibo. All rights reserved. Do not reproduce our content without permission – you can contact us at info@whatsonweibo.com.