China's Bubble Tea Boom: Top 10 of Popular Milk Tea Shops in the PRC
China's bubble tea (aka pearl milk tea) market is booming: these are the top 10 popular milk tea shops in the PRC.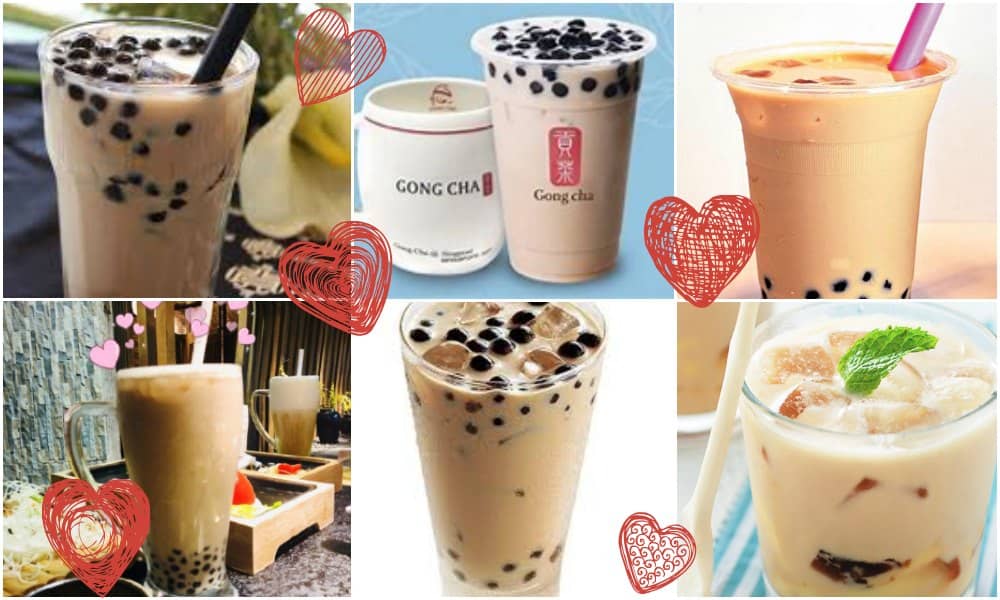 With an ancient historical tradition of drinking tea, Chinese consumers are now turning to a different cup of tea; the iced and creamy bubble tea is a national favorite that's also crossing borders and becoming more popular outside of Taiwan and mainland China. What's on Weibo provides an introduction to the bubble tea craze and a top 10 of milk tea shops in mainland China.
April 30 has recently been named National Bubble Tea Day by the US-based milk tea chain Kung Fu Tea, which aims to introduce bubble tea and its culture to consumers all around the world.
The launch of this brand-new 'National Bubble Tea Day' and the general growing presence of milk tea shops in various countries shows the attraction of bubble tea – both in and outside China.
More Milk Tea than Coffee
Pearl milk tea or bubble tea, also known as 'boba' (bōbà nǎichá 波霸奶茶/ zhēnzhū nǎichá 珍珠奶茶), was first invented in Taiwan in 1988 – and has since become an important part of Taiwanese food culture. Over the past decade, the bubble tea craze has also blown over to mainland China.
For those unfamiliar with the drink; most pearl milk tea products contain an iced tea base and milk, with chewy tapioca pearls and sugar. Although this is a standard recipe, China's many bubble milk tea shops and chains now have a growing selection of fruit flavored bubble tea or chocolate flavored bubble tea beside their original flavored bubble tea.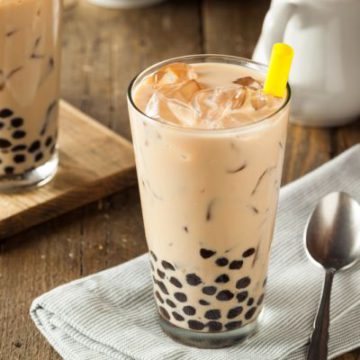 Since milk tea came to the mainland market in 1996, it has beaten coffee as a drink in terms of popularity. According to China marketing platform lbzuo.com (鹿豹座), Chinese now consume five times more milk tea than coffee. After the arrival of pearl milk tea to mainland China, coffee has taken a backseat, meaning that milk tea, in 15 years, beat what coffee in China did in 130 years. Bubble tea consumption continues to rise at a high rate each year.
Early on, pearl milk tea products were primarily targeted at young, female students between the ages of 15 and 25. Over recent years, however, the demographics have expanded as more men and working professionals are joining the craze.
The alternative to Starbucks
What makes pearl milk tea such a tantalizing drink to so many? Some say it is the combinations of having a drink and chewy snack in one, others claim the flavors are unrivaled, especially when compared to coffee; while western countries are immersed in the coffee lifestyle, China is more invested in milk tea. 
This also has to do with China's ancient tea culture. Although coffee has gradually become more popular in mainland China since the arrival of large chains such as Starbucks, some experts, such as tea entrepreneur Jiang Jiadao, say it is not about the coffee itself, but about new realities of modern life, where people want to pick up a quick drink or sit down somewhere with a friend in between meetings.
"It's not because they love the coffee," Jiang told SCMP: "The popularity of Starbucks doesn't have anything to do with changing tastes for coffee instead of tea, or more love of Western culture. I think we love the lifestyle it stands for. If we can offer a similar lifestyle and experience over tea, this would work."
And it seems to be working. People do not just love the drink's taste and texture, bubble tea has also become more popular in China – especially amongst the younger generations – because they love the style and image of China's new trendy tea house brands.
As reported by Caixin Global, Chinese bubble tea makers recently have been further building on their cool bubble tea image by merging with bookstores, popular clothing brands, or restaurant chains.
Mango Cheese Milk Tea
To attract more customers in a growingly competitive industry, milk tea brands now also add popular new flavors, snacks, and sweets to their menu. Recently, the so-called 'dirty [chocolate] bread' or 'zang zang bao' went viral as it was placed on the menu of various milk tea shops, conquering the hearts of Beijing's milk tea lovers.
Some milk tea stores are also staying ahead of their competition by releasing products that grab people's attention. The chain Happy Tea, for example, released their 'Mango Cheese Tea' after they found that many Chinese social media users search for both 'mangos' and 'cheese'.
On Chinese social media, the bubble tea trend is clear from the many photos posted of the drink every single minute. "After a long day of work, all I need is my bubble tea," are among the things written along with colorful and appealing pearl milk tea pics.
Some netizens express the sheer joy pearl milk tea can bring to people, with various celebrity idols now also endorsing China's major milk tea shops, such as Yi Dian Dian (1點點).
Netizen @CLSD writes: "Tonight on my way home from work I made a detour at Yi Dian Dian. As I waited in line a while, I could see everyone's smiles as they walked out with their milk tea. People who enjoy milk tea are so lovely. It's indescribable. My favorite singer is also a milk tea enthusiast…"
Others express their new-found love for the drink, writing: "I'm done for. I just started liking milk tea…"
Recently, long queues outside of milk tea shops have become a daily occurrence in major cities throughout China.* The craze for milk tea has been aided by strategic placement of stores nearby schools and office buildings. More often you can see milk tea brought into restaurants, schools, and offices. In contrast to coffee, milk tea is consumed virtually any time of the day.
The Most Popular Milk Tea Shops in China
Here is a top 10 of the most popular milk tea brands in China, of which many already have or will expand outside of Taiwan or mainland China. This list is compiled based on various sources, including Chinese online marketing magazines and Chinese food bloggers (e.g. 91yinpin.com, mroyal.cn, sina.com, sohu.com):
● #1 Yi Dian Dian (1點點 or 一点点奶茶)
Yi Dian Dian started in Taipei in 2010. The chain specializes in Taiwanese style milk tea, fruit tea, as well as desserts. Currently, Yi Dian Dian has over 600 stores in China and the Philippines. The company is expanding operations into countries such as England, Thailand, and Japan. Their main clientele is young students and professionals.
● #2 HEYTEA(喜茶)
HEYTEA, formerly called Royal Tea (皇茶), was founded in 2012 by the Guangdong-born Yunchen Nie (聂云宸), who aspired to launch a Starbucks-style brand in the tea market. It has worked; the company now has 80 outlets in 13 cities. HEYTEA is the innovator behind "cheese tea" (奶盖茶, sweet creamy tea). Since this creation, they have concentrated on finding and incorporating high quality tea into their line of products. In 2016, they received a 100 million yuan outside investment.
● #3 Coco (coco都可奶茶)
Coco first opened in Taipei in 1997. Over the last 20 years, they have opened over 2000 stores worldwide with locations in the US, UK, Thailand, and Korea among others. Coco offers customers a variety of beverages that meet a wide range of taste preferences. They also perform regular health and safety checks as well as fresh ingredients to put consumer worries at ease.
● #4 Gong Cha(薡御贡茶)
The milk tea shop with the most international exposure, Gong Cha started in Taiwan. Since 2006, this premium milk tea shop has become one of the largest in the world with more than 1,500 locations from Hong Kong to South Korea, New Zealand, Australia, USA, Singapore, and other countries.
● #5 Yunyang Royal (云仰皇茶)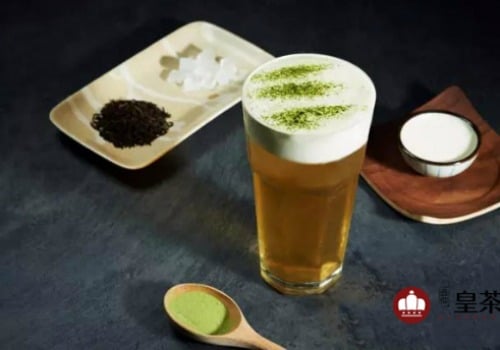 This brand has also been dubbed the "Hermes of the milk tea industry" because of its exquisite quality and higher price. It is a relatively new player in the milk tea market, only founded in 2016 in Dongguan, and has introduced a range of interesting flavors, including cheese rose Oolong, cheese cream cocoa, or milk salt mountain green tea.
● #6 China Fruit Time(鲜果时间)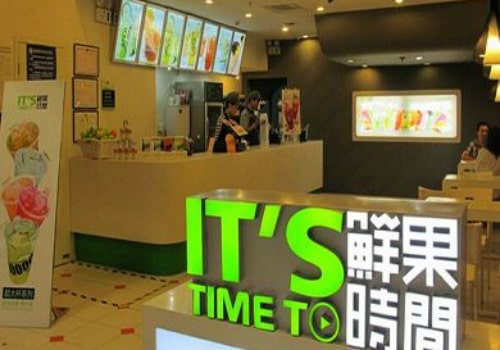 This shop was founded in Beijing in 2007, mainly focused on the take-out beverage market. It was an immediate success, with the franchise chain opening 40 new stores within a year after its founding. The brand mainly focuses on being "fresh, stylish, and healthy" and now has shops all over mainland China.
● #7 Utepia(乌茶邦)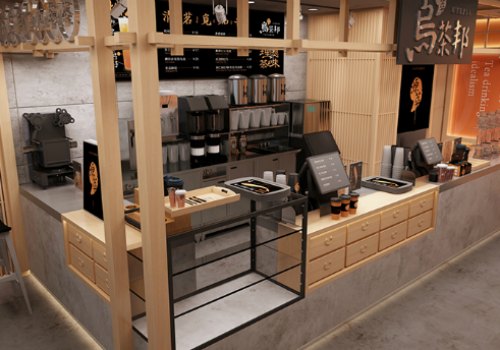 Utepia, Wu Cha Bang in Chinese, is a stylish milk tea franchise that is very new and based on the idea of being the "celebrity milk tea" – a very strong brand identity that is all about targeting young generations with a love for classy, traditional products. Although the company is new, some media predict 2018 will be the breakthrough year for this brand.
● #8 Happy Lemon(快乐柠檬)
Happy Lemon was founded in Shanghai in 2006, although its owner (Albert Wu) has been active in the tea business since the early 1990s in Taipei. The main company behind this brand, Yummy Town Holdings Corporation, also owns RBT Tea Cafe (仙踪林) and other brands, which have stores in many countries including mainland South Korea, Japan, Britain, the United States, Australia and Canada.
● #9 Dakasi(大卡司)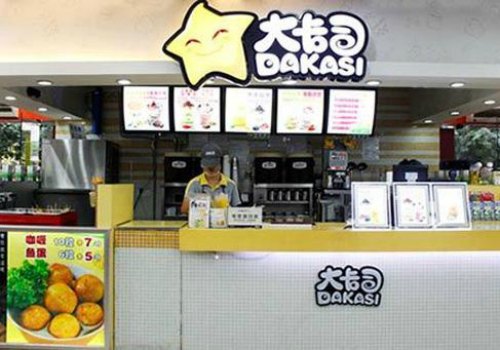 Dakasi is another milk tea shop with Taiwanese roots since 1990, which arrived in mainland China in 1999, where it set up its headquarters in Guangdong. It is a somewhat simple and classic milk tea brand that is especially loved by younger generations.
● #10 Attakai Kokoro Tea Shop(恋暖の初茶)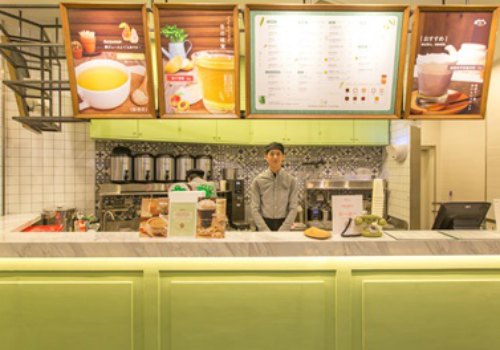 Although it has a Japanese name, this franchise tea shop is actually Chinese and just focuses on the fashionable Japanese style and quality ingredients, which the brand claims all come from Japan, Taiwan, and the US. It distinguishes itself from other brands by offering high-quality products at a relatively low price.
By Ryan Gandolfo and Manya Koetse
Follow @whatsonweibo
Spotted a mistake or want to add something? Please let us know in comments below or email us.
©2018 Whatsonweibo. All rights reserved. Do not reproduce our content without permission – you can contact us at info@whatsonweibo.com.
BBC: Extreme Eating Trends and the Rise of Eating Disorders in China
The Food Chain by the BBC investigates the rise of eating disorders in China.
The Food Chain by the BBC investigates the rise of eating disorders in China. What's on Weibo editor Manya Koetse talks about some of China's disturbing internet food trends in this recent episode.
The rise of eating disorders in China is the topic of a recent BBC online radio documentary episode (27 min) within the Food Chain series.
The Food Chain investigates the rise of eating disorders in China: is this an inevitable consequence of economic development? And if so, why are eating disorders still all too often seen as a rich white woman's problem?
In the first of two episodes to explore the rising prevalence of eating disorders outside of the western world, Emily Thomas speaks to women with the illness in China and Hong Kong, who explain how hard it is to access support for binge-eating disorder, bulimia and anorexia, because of attitudes to food and weight, taboos around mental health, and a lack of treatment options. They describe the pressure on women to be 'small' and 'diminutive', but still take part in the country's deeply entrenched eating culture.
A psychiatrist working in China's only closed ward for eating disorders blames an abundance of food in the country, parental attitudes and the competitiveness of Chinese society. She also warns of the dangers of the uncontrolled diet pill industry. From there BBC delves into the sinister world of 'vomit bars' with Manya Koetse.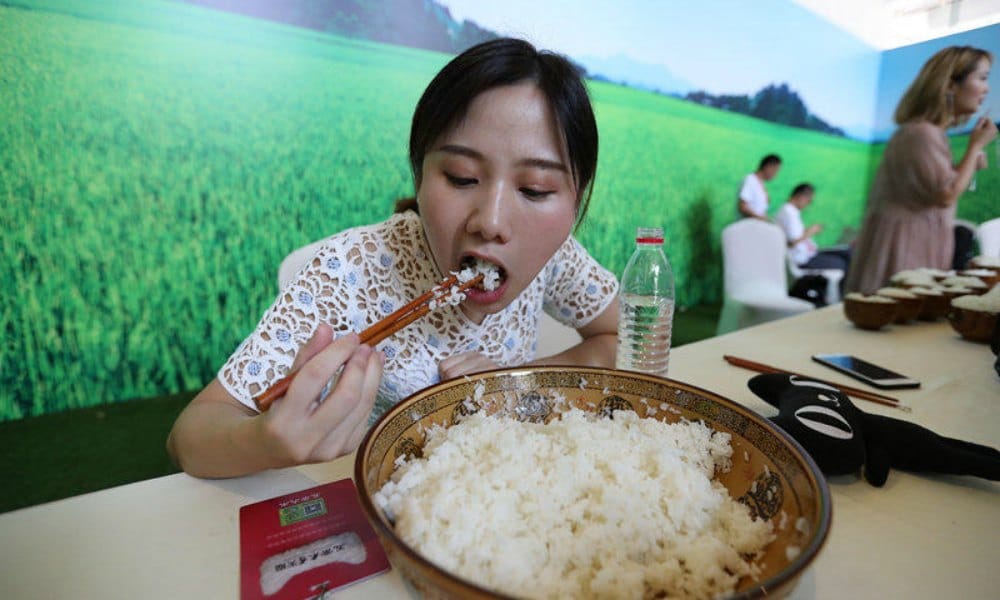 She tells Emily Thomas about the recent craze for live binge-eating among young Chinese women and how some of this is disturbingly followed by 'purging'. Why do they call themselves 'rabbits'? And why does no one use the term 'eating disorder' when talking about these trends?
BBC also explores the link between the rise of eating disorders and economic development. Does there need to be an abundance of food in a society before these problems develop?
To listen to a short fragment on China's binge-eating rabbits by Manya Koetse, click here: https://www.bbc.co.uk/radio/play/p06mw03b .
To listen to the full documentary, please click here: https://www.bbc.co.uk/radio/play/p06mw03b.
Also read: Anorexia in China, and our article on Extreme Eating Trends.
Spotted a mistake or want to add something? Please let us know in comments below or email us.
©2018 Whatsonweibo. All rights reserved. Do not reproduce our content without permission – you can contact us at info@whatsonweibo.com
Binging and Purging as Online Trend: From China's "Big Stomach Stars" to "Vomit Bars"
China's 'Big Stomach Stars' are all the rage – but is it really just harmless entertainment?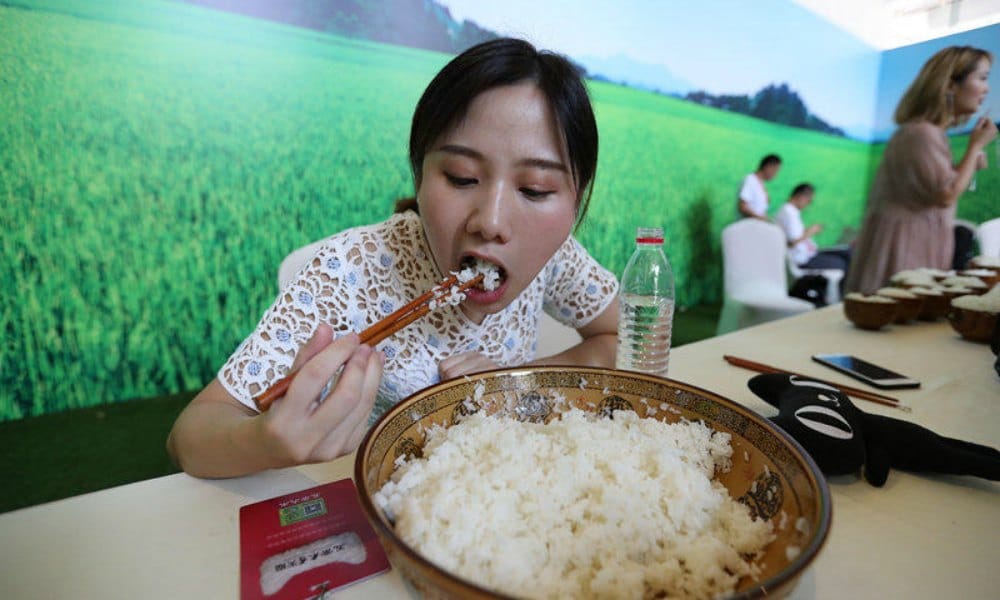 Skinny girls that eat a week's worth of food in one sitting: Chinese binge-eating vloggers are all the rage recently. But behind their cute image and happy fans, there are darker online discussions tying them to self-induced vomiting – something that is promoted in China's so-called 'vomit bars.' How innocuous is this social media extreme-eating trend?
Mimi Zhang (aka Mizi Jun 密子君) has over seven million fans on her Weibo page. She regularly hits the top trending lists on Chinese social media, and even has her own online fanclubs.
Unlike previous rising Chinese social media stars such as Papi Jiang, the 26-year-old Mimi from Chongqing did not become an online celebrity because of her comic skills or acting talent, nor for her singing voice or dance moves. Mimi Zhang became famous for eating 8 lb (4 kg) of rice in one sitting, during an eating challenge in 2016.
By now, Mimi is one of China's most successful 'Eating Broadcasting' hosts. Also called 'Big Stomach Star Eating Livestream' (大胃王吃播) or 'Livestream Eating Vlogging' (吃播女博主) in China, it is an online video genre in which hosts will consume extremely large amounts of food.
In South Korea, it is known as the 'mukbang' phenomenon, and the craze started there some years earlier, peaking in 2016. 'Eating Broadcasting' stars such as Kinoshita Yuka (video) and BJ The Diva (video) already had their moments of fame on the internet in South Korea, Japan, and beyond, but the genre only recently has become a real hype on Chinese social media.
Binging on Camera
Looking at the number of views and subscribers from YouTube to Twitch, or on platforms such as Kuaishou or Douyin, the 'Eating Broadcasting' genre obviously has millions of fans worldwide.
This online movement is innocuous in many ways. According to experts, people enjoy watching others eat because they feel a social connection, or want to stimulate their own appetite – it is one of the reasons why the craze is also dubbed 'social eating.'
For many, the genre is simply entertaining; hosts often eat unconventional dishes, they are descriptive with taste, play around with their expressions, take on challenges, talk, and make funny sounds while eating.
But what if 'social eating' becomes 'binge eating'? How harmless is the genre if it shows skinny women eating excessive amounts of food, inadvertently promoting unhealthy eating habits and unrealistic standards?
Along with Mimi Zhang, 'Big Stomach Mini'(@大胃mini) is one other among many Chinese livestreamers that has achieved online stardom by eating large amounts of food. The 24-year-old reportedly is 1,70 m. tall and only weights 47 kilograms (103lbs), yet recently managed to eat a staggering 17 kg (35 pounds) of meat (video).
More and more, netizens are starting to connect these live-streamers to a habit of purging. Ongoing rumors suggest a supposed connection between binge streaming and vomiting.
Recently, various accounts claimed that Mimi Zhang used to have an account (using the name 'Little Mi 360' 小密360) on an online forum where people, mainly women, encourage each other to binge and purge.
China's "Vomit Bar" (催吐吧) Community
China's so-called "Vomit Bars" (催吐吧), online forums focused on binging and purging, have formed a hidden community on Chinese internet for years.
The phenomenon already came to light in 2012, and started to receive news media attention within China in 2015 and 2016. Most of the bigger online forums got shut down in 2017, however, after rumors circulated that a member of a 'Vomit Bar' had reached such a low weight that her organs failed and she passed away.
Nevertheless, the online community consists of thousands of people, mainly women aged 14-40. A previously well-known forum on Baidu (now shutdown) had around 50,000 members called 'rabbits' (兔子) and over 5,5 million posts.
Since then, there are still some scattered forums, and a special Android app called 'Meet Like Rabbits' (相识于吐), where users can share their experiences and tips on message boards. On WeChat's group chats, members of the community have more freedom to talk in private with less risk of being shut down.
Members of the online 'purging community' are called 'rabbits' since the Chinese word for rabbit, tuzi (兔子), sounds similar to the word for 'purging' (tu 吐), and also because they eat all day, just like rabbits.
The main goal of these online forums is to share tips and tricks on how to lose weight by purging, while still binging on food. People also post photos of their binges or body, and share their hopes and fears in losing weight. "The way it is now, I could maintain a weight of around 46 kilograms," one 'rabbit' writes: "I think it's fat. My heart is filled with panic. I can only vomit."
Newcomers ask others about best ways to vomit, and some people who say they've been binging and purging for years share experiences about their painful stomach and tooth decay.
Doctor Ma Yongchun (马永春) from Zhejiang Tongde Hospital since long has been warning people that these kind of online forums are harmful. She told iFeng news that the so-called 'rabbits' get caught up in a vicious cycle of binging and purging, and in doing so are developing serious eating disorders that can become life-threatening.
Eating Disorders in China
The Chinese 'rabbit' community could perhaps be compared to the Western 'pro-ana' phenomenon, an online movement where people promote the behavior related to the eating disorder anorexia nervosa.
But there is one major difference; the 'pro-ana' community is connected to the term 'anorexia', suggesting that users of such forums are somewhat aware their behaviors are a sign of an actual eating disorder.
In these Chinese online communities, however, there seems to be a lesser acknowledgment that the cycle of binging and purging is one that belongs in the realm of a psychological disorder. Although people do complain that they feel they can no longer stop their irregular eating pattern, they talk more about their stomach aches and ulcers than they actually talk about suffering from an eating disorder.
This perhaps relates to the fact that there is little general awareness about eating disorders (ED) in China. Although there are no official statistics on the occurrence of bulimia, anorexia, or other ED in China, previous studies have found levels similar to Western countries (Tong et al 2014).
What various studies over the past years have also established is that there are major differences between Western countries and China in how eating disorders manifest themselves, suggesting they are not culture-bound but culture-reactive (Getz 2014, 749; Pike & Dunne 2015).
Because EDs are (1) traditionally conceptualized as a "Western mental health issue," because (2) there is a social stigma attached to mental health issues in general in Chinese society, because (3) there is little general awareness on EDs, because (4) there is a lack in Chinese healthcare facilities specialized in EDs, and because of (5) various cultural factors (e.g. a very strong food culture), Chinese patients are more prone to talk about their problems in the form of somatic symptoms such as an extreme (dis)taste for food or abdominal problems, than in the form of a psychological problem (Getz 2014, 746-750).
Growing Awareness?
Recently, Chinese media slowly seem to be promoting more awareness on eating disorders. The American video "I became Anorexic for Instagram" has gone viral on Chinese social media over the past month, as it was posted by various state media channels on Weibo.
Among thousands of reactions, many said: "It seems that this kind of disease doesn't occur much in China – we have too many tasty food!" Others said: "I want to lose weight too – I want an eating disorder like this!"
But there are also more and more people who are tying the rise of China's online unhealthy eating trends to more serious issues. "These girls who eat so much [on camera] do not just have big stomachs, they actually puke in order to eat so much. I don't find it entertaining to watch them anymore," one netizen (@有兔劳劳) says.
"I now find it sad to watch these 'big stomach stars' (大胃王)," another person says: "They definitely vomit – it's impossible for one person's stomach to hold so much food."
"What's up with all these 'big stomach stars' recently? It's not something they were born with, or something they were trained in doing; they are like those 'rabbits' and it is a disease, it's bulimic. I don't want to support them anymore by watching how they harm themselves," another commenter writes.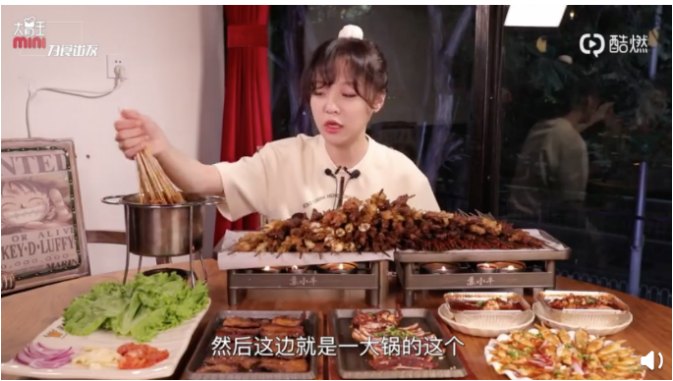 Meanwhile, China's binge-eating online stars seem to be unaffected by the online rumors that connect them to unhealthy trends and eating disorders.
This week, Mimi Zhang has posted her latest video in which she finishes a total of 15 desserts, while 'Big Stomach Mini' has posted a new video in which she eats, amongst others, 250 skewers of meat.
For some commenters, there is no issue at all: "She just has a great appetite."
Are you suffering from an eating disorder and need help? For information on eating disorders and how to help if you are worried about someone, Beat (UK) or ANAD (US) has advice for sufferers, friends and family.
By Manya Koetse
Follow @whatsonweibo
References (online references linked to in text)
Getz, M.J. 2014. "The Myth of Chinese Barbies: Eating Disorders in China including Hong Kong." Journal of Psychiatric and Mental Health Nursing 21: 746-754.
Pike, Kathleen M., and Patricia E. Dunne. 2015. "The Rise of Eating Disorders in Asia: a Review." Journal of Eating Disorders 3:33. Available online https://jeatdisord.biomedcentral.com/articles/10.1186/s40337-015-0070-2 [17.1.18].
Tong, J., Miao, S., Wang, J. et al. 2014. "A Two-stage Epidemiologic Study on Prevalence of Eating Disorders in Female University Students in Wuhan, China." Social Psychiatry and Psychiatric Epidemiology 49(3): 499-505.
Directly support Manya Koetse. By supporting this author you make future articles possible and help the maintenance and independence of this site. Donate directly through Paypal here. Also check out the What's on Weibo donations page for donations through creditcard & WeChat and for more information.
Spotted a mistake or want to add something? Please let us know in comments below or email us.
©2018 Whatsonweibo. All rights reserved. Do not reproduce our content without permission – you can contact us at info@whatsonweibo.com.