Why Paint Buckets Are This Spring Festival Travel Season's Hottest Item
Spotted at train stations and bus terminals: this Spring Festival travel season's 'magical object' is a plain paint bucket.
Spotted during the first days of the Spring Festival travel season: paint buckets. Why are so many people bringing plastic barrels with them on their travels home for the Chinese New Year?
During Chinese New Year, also known as Spring Festival, China's urban areas gradually become more deserted as people return to their native provinces and hometowns to celebrate the new year with their family and friends.
Many of those returning home are migrant workers, who struggle to make money all year long and often only return home during the Spring Festival.
'Chunyun' (春运), the Chinese term for the passenger transportation around Chinese New Year, is the biggest annual mass migration of the world. The travel season has kicked off this weekend and will last until approximately March 12. About 2.98 billion trips are expected to be made during the chunyun, Chinese state media reports.
With so many people on the move, it is easy to detect what objects and products are the trend or the 'chunyun magical tool' (春运神器). After the travel pillow with earphones, or the underwear with money pockets, this season's hot item is the paint bucket.
After one netizen named 'Little Grass' (@小小草) first noted the trend, various (media) accounts on Weibo, such as that of the Communist Youth League Shanghai, have starting reporting about it; the paint bucket has become such a popular product that some people are even taking more than two dozen with them.
Travelers have discovered that the big, plastic, empty painting buckets are very useful both during their travels and back home. As stations, trains, and buses get overcrowded during the chunyun, it is often impossible to find a seat – the paint buckets serve as an excellent 'stool', or as a 'table'.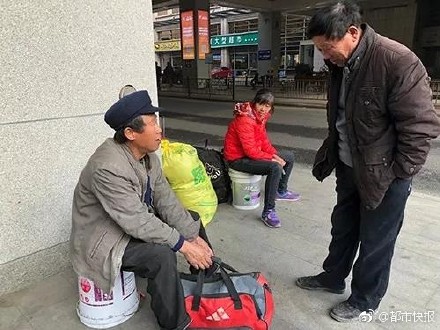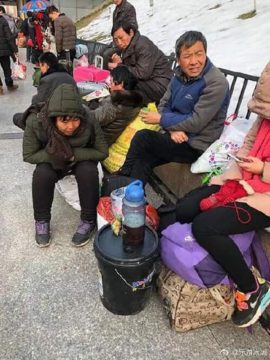 The buckets are also a solid and easy-to-carry 'trunk' to hold traveler's articles during transit. They're especially popular to put eggs in – because they won't break as easily in the bucket – or to transport large volumes of rice.
Plastic buckets are also a popular item to bring home to the rural areas because they can be used to store (animal) food and feed the pigs or to hold liquid to water the crops.
Because the buckets are cheap, light, and easy to stack, people can bring home many of them – enough to give away to family members and neighbors in their hometowns.
On Weibo, the latest paint bucket trend has set a discussion in motion, receiving thousands of comments.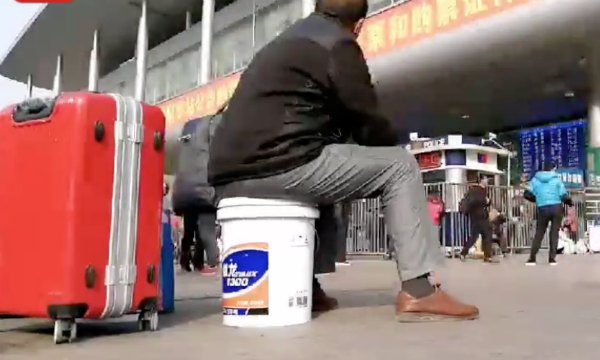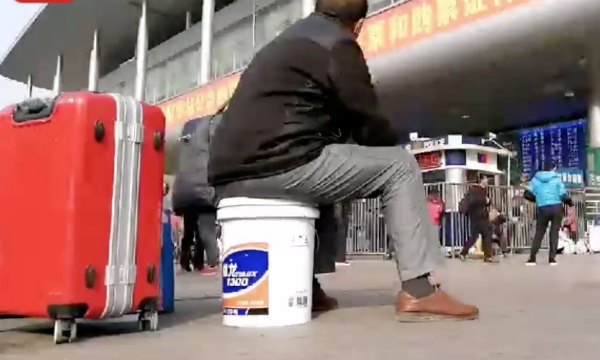 "These buckets are strong and practical, my family uses them as garbage bins," one commenter writes. Other people praise the multifunctional item for being eco-friendly in its re-use.
Some people note that the bucket trend is nothing new: "My dad has been using them for years."
"Nothing but good stuff to say about these buckets," one other person says: "They're durable and will last for years!"
By Manya Koetse
Follow @whatsonweibo
Spotted a mistake or want to add something? Please let us know in comments below or email us.
©2018 Whatsonweibo. All rights reserved. Do not reproduce our content without permission – you can contact us at info@whatsonweibo.com.
Mamianqun Gate: Dior Accused of Cultural Appropriation for Copying Design of Traditional Chinese Skirt
This is not just a matter of plagiarism, according to some, it's about Dior taking a traditional Chinese design and claiming it's theirs.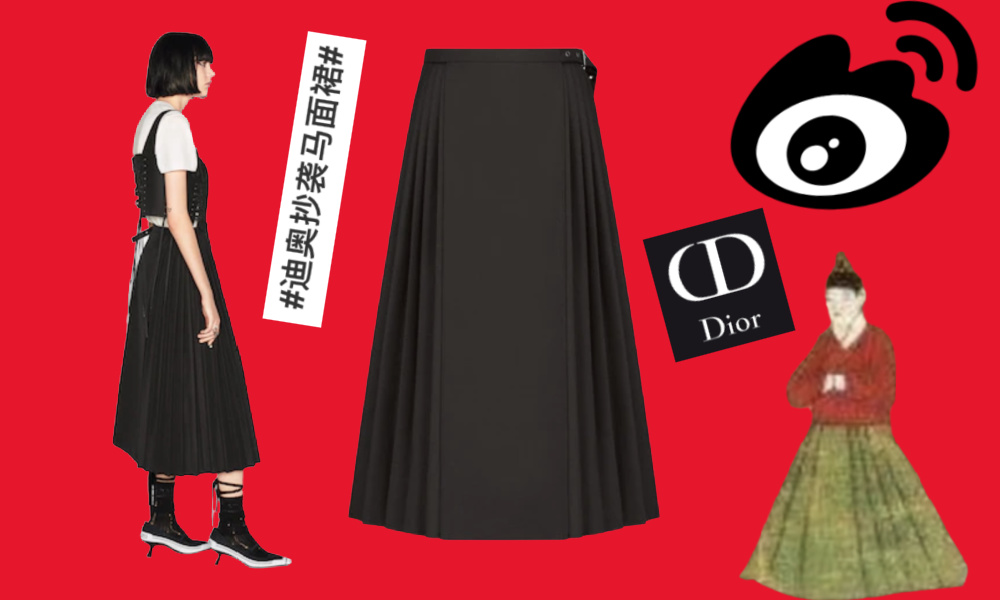 This article was first published by What's on Weibo on
French luxury fashion house Dior has come under fire on Chinese social media today for the design of one of the skirts in its 2022 Fall collection, which resembles a Chinese traditional skirt known as mǎmiànqún (马面裙).
On the Chinese version of the Dior official website, the French fashion brand describes it as a "mid-length skirt" that is an "all-new elegant and stylish piece based on the iconic Dior silhouette."
But many Chinese netizens do not agree, and say that the pleated skirt in question is actually a mǎmiànqún (马面裙): a wrapped, apron-like traditional Chinese skirt that was worn in China as early as the Song (960–1279) and Liao dynasties (916–1125) and became popular during the Ming Dynasty (1368-1644).
The literal translation of the word mǎmiànqún is 'horse face skirt.' The skirt is composed of two overlapping fabrics wrapped around the lower body: the two sides of the skirt are pleated, and there is a smooth section in the middle. The skirt is also known as mǎmiànzhěqún (马面褶裙), 'horse face pleated skirt.'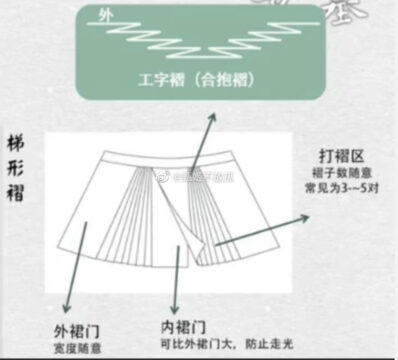 "It's just exactly the same," some commenters wrote. "They're copying China and then selling it to Chinese consumers, I don't know what to say." On the Chinese official Dior site, the skirt is priced at 29,000 yuan (US$4292).
"They're vilifying China and at the same time, they're stealing from Chinese culture. They're shameless," one Weibo user (@改改hj) wrote.
"Can't the propaganda department set up an organization to defend our legal rights?" other commenters write.
The influential history blogging account @Qinyimo (@秦祎墨, over 7 million fans) wrote: "I'm not even kidding. I hope that a lawyer specialized in copyright law and an expert in cultural preservation will jointly evaluate this matter, and pay attention to how nasty this is."
Some people are especially offended that Dior suggests the skirt's design is inspired by their own original Christian Dior skirt, without any reference to China at all. Others foresee greater problems for Chinese traditional dress if Dior is actually claiming this design is theirs.
The blogging account Qinyimo raised attention to this potential problem.
"This is not simply a matter of plagiarism," they write: "As traditional Chinese apparel, the mamianqun has historical origins in the Chinese traditional dress system which has continued to the present-day and has never been discontinued. If Dior has patented the version of their mamianqun design, this would mean that when the Chinese fashion industry uses this traditional technique, they could end up in an international legal dispute for doing so."
"What is ours is ours, I am confident about that. But if their patent is approved, it would mean our way out is blocked (..) This is not a joke, this requires serious attention."
Chinese traditional dress is increasingly popular among Chinese young people, especially due to the rise of the Hanfu Movement, which can be described as a social movement that supports the wearing of Han Chinese ethnic clothing (read more here).
"Dior, this is blatant cultural appropriation [文化挪用]," one Weibo user writes, receiving nearly 12,000 likes on their comment.
At the same time, not everyone agrees that Dior is guilty of plagiarism: "It's not plagiarism, don't be mistaken, the mamian skirt is not protected by copyright law so you can't really plagiarize it. It is, however, 100% cultural appropriation."
"They are misappropriating our traditional apparel," other commenters write.
It is not the first time for a Western luxury fashion brand to ignite controversy in China. In 2018, Italian fashion house D&G faced consumer outrage and backlash on Chinese social media for a marketing campaign featuring a Chinese-looking model clumsily using chopsticks to eat Italian dishes (read more here). Various other brands, including Versace and Givenchy, also came under fire in 2019 for for listing Hong Kong, Macau, and Taiwan as a separate countries or regions – not part of China – on their official websites or brand T-shirts.
However, it is rare for online controversies to come out in China accusing foreign brands of 'cultural appropriation.' In the past, China has been accused of cultural appropriation, especially when it comes to Korean traditions. Earlier this year, a performer at the opening ceremony of the Beijing Olympics drew condemnation in South Korea for wearing a traditional Korean dress known as hanbok.
Although 'cultural appropriation' is at the center of today's discussions, it is arguably a bit more nuanced than previous mainstream discussions regarding the issue of cultural appropriation outside of China. More than feeling offended about Dior using Chinese mamianqun design, it is about Dior claiming the design as being based on their own original classic. As one netizen writes: "Let's not be misunderstood, it's useless to talk about 'cultural appropriation' [文化挪用], we need to let people know that in the future if they'll wear a mamianqun, they could be told by foreigners that 'Chinese people just love to wear big fashion brands rip offs .' When our own international clothing brands use our own mamian skirt elements, it is likely they'll be sued by Dior for doing so."
At time of writing, the official Dior Weibo account has not responded to the controversy. They have, however, turned off the comment sections of their latest posts.
By Manya Koetse
Get the story behind the hashtag. Subscribe to What's on Weibo here to receive our weekly newsletter and get access to our latest articles:
Spotted a mistake or want to add something? Please let us know in comments below or email us. First-time commenters, please be patient – we will have to manually approve your comment before it appears.
©2022 Whatsonweibo. All rights reserved. Do not reproduce our content without permission – you can contact us at info@whatsonweibo.com.
KFC China's Psyduck Toy is a Viral Hit
As Psyduck goes viral, KFC Children's Day toys are deemed "too childish for children but just perfect for us adults."
American fast-food chain KFC recently introduced three new Pokémon toys to go with its kids' meals in various regions across China, with one of the toys, in particular, becoming a viral hit: Psyduck (可达鸭).
The new Pokémon toys were introduced on May 21st to celebrate Children's Day (June 1). As reported by Shanghai Daily, the toys are randomly distributed in Children's Day meals and will be released in different regions at different times.
Psyduck is a yellow duck-like Pokémon that is known to be confused because it's bothered by headaches. One of the reasons why the Psyduck toy might be more popular than its fellow (Pikachu) toys, is because it dances, with its arms going up and down, and because of the catchy tune that starts once it starts moving. Psyduck is also a bit more dopey and 'uncool' than Pikachu, which makes him all the cooler (remember the Peppa Pig craze?)
Since its release, many people have been going crazy over the KFC toy. Psyduck fans have been hunting for the KFC treasure, and some have even turned it into a side business: they offer their services in getting as many KFC meals as necessary before grabbing the Psyduck toy – you'll have to pay for their meal – and they'll send the toy to their 'customers' later on.
The #Psyduck hashtag saw the first spike on Weibo on May 21st, the day of its release, when it received nearly 135 million views.
Although the toys were released for Children's Day, most of these Psyduck fans are not kids at all. In one interview moment that went viral, an older man was asked about the Psyduck while he was standing in line at KFC. "I'm only here because my son wants it," the man says. When he is asked how old his boy is, he answers: "He's over thirty years old."
A popular comment about the craze over the kids' meal toys said: "This toy is perhaps too childish for children, but it's just perfect for us adults." The comment received nearly 20,000 likes.
If you buy a set meal including the toy, you will spend in between 59-109 yuan ($9-$16), but the reselling price of Psyduck has reportedly been as high as US$200 for just the Pokémon figure alone. KFC China has stated that it does not support this kind of reselling.
Especially among students, it has become popular to stick messages to the arms of the dancing Psyduck with motivational or humorous messages. Some students say the Psyduck keeps them company while they are studying.
Since short funny videos featuring Psyduck are going viral on Weibo and Douyin, a lot of Psyduck's appeal relates to its social media success and joining in on the hype. People post videos of themselves unboxing their Psyduck, introducing it to their cat, imitating it, or they use the Psyduck in various creative ways.
We need to talk about Psyduck. pic.twitter.com/MZSWqrNoTJ

— Manya Koetse (@manyapan) May 28, 2022
This is not the first time for KFC toys to become a national craze. Earlier this year, KFC came out with limited edition blind boxes in a collaboration with Chinese toymaker Pop Mart. To get one of the dolls, customers needed to buy a 99 yuan (US$15.5) family set meal.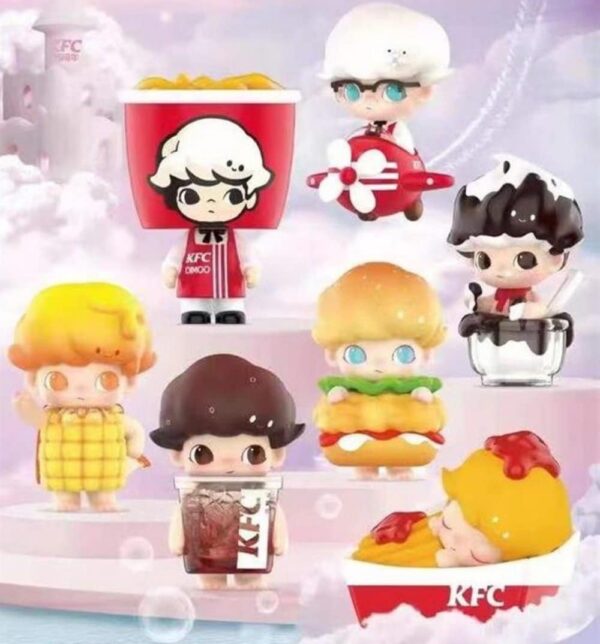 But the blind box sales also sparked criticism from China's Consumer Association for promoting over-purchasing of its food and causing food waste. In order to get all of the six collectible dolls, including the rarest ones, customers would start buying many meals just for the dolls. As reported by SCMP at the time, one customer went as far as to spend US$1,650 on a total of 106 meals to collect all six dolls.
KFC is the most popular fast-food chain in China. People outside of China are sometimes surprised to find that KFC is so hugely popular in the mainland.
As explained in the book written about KFC China's popularity ("Secret Recipe for Success"), its success story goes back to 1987, when the restaurant opened its first doors near Tiananmen Square in Beijing. Some reasons that contributed to KFC's success in China are the popularity of chicken in China, the chain's management system, the restaurant's adaptation to local taste, and its successful marketing campaigns.
Now, Psyduck can be added as one of the ingredients in KFC China's perhaps not-so-secret recipe for success.
By Manya Koetse
With contributions by Miranda Barnes
Featured image via @Baaaaaaaaal, Weibo.com
Get the story behind the hashtag. Subscribe to What's on Weibo here to receive our weekly newsletter and get access to our latest articles:
Spotted a mistake or want to add something? Please let us know in comments below or email us. First-time commenters, please be patient – we will have to manually approve your comment before it appears.
©2022 Whatsonweibo. All rights reserved. Do not reproduce our content without permission – you can contact us at info@whatsonweibo.com.