Why Paint Buckets Are This Spring Festival Travel Season's Hottest Item
Spotted at train stations and bus terminals: this Spring Festival travel season's 'magical object' is a plain paint bucket.
Spotted during the first days of the Spring Festival travel season: paint buckets. Why are so many people bringing plastic barrels with them on their travels home for the Chinese New Year?
During Chinese New Year, also known as Spring Festival, China's urban areas gradually become more deserted as people return to their native provinces and hometowns to celebrate the new year with their family and friends.
Many of those returning home are migrant workers, who struggle to make money all year long and often only return home during the Spring Festival.
'Chunyun' (春运), the Chinese term for the passenger transportation around Chinese New Year, is the biggest annual mass migration of the world. The travel season has kicked off this weekend and will last until approximately March 12. About 2.98 billion trips are expected to be made during the chunyun, Chinese state media reports.
With so many people on the move, it is easy to detect what objects and products are the trend or the 'chunyun magical tool' (春运神器). After the travel pillow with earphones, or the underwear with money pockets, this season's hot item is the paint bucket.
After one netizen named 'Little Grass' (@小小草) first noted the trend, various (media) accounts on Weibo, such as that of the Communist Youth League Shanghai, have starting reporting about it; the paint bucket has become such a popular product that some people are even taking more than two dozen with them.
Travelers have discovered that the big, plastic, empty painting buckets are very useful both during their travels and back home. As stations, trains, and buses get overcrowded during the chunyun, it is often impossible to find a seat – the paint buckets serve as an excellent 'stool', or as a 'table'.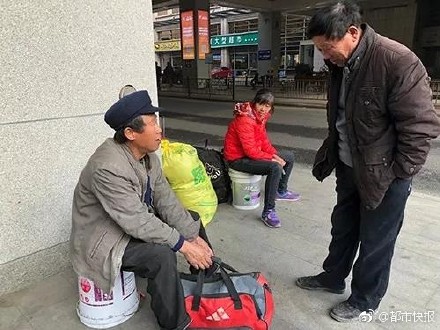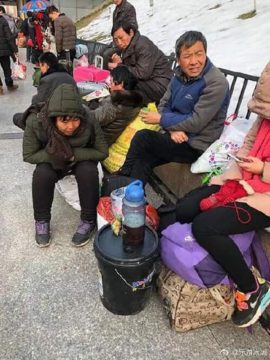 The buckets are also a solid and easy-to-carry 'trunk' to hold traveler's articles during transit. They're especially popular to put eggs in – because they won't break as easily in the bucket – or to transport large volumes of rice.
Plastic buckets are also a popular item to bring home to the rural areas because they can be used to store (animal) food and feed the pigs or to hold liquid to water the crops.
Because the buckets are cheap, light, and easy to stack, people can bring home many of them – enough to give away to family members and neighbors in their hometowns.
On Weibo, the latest paint bucket trend has set a discussion in motion, receiving thousands of comments.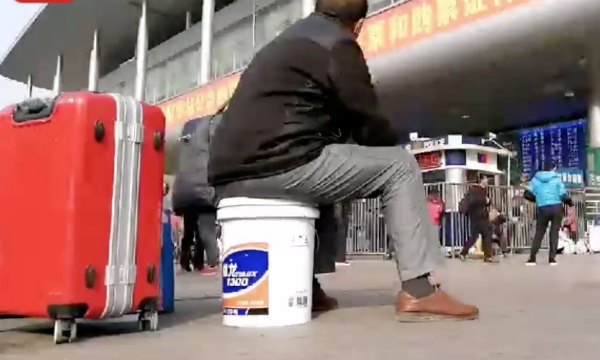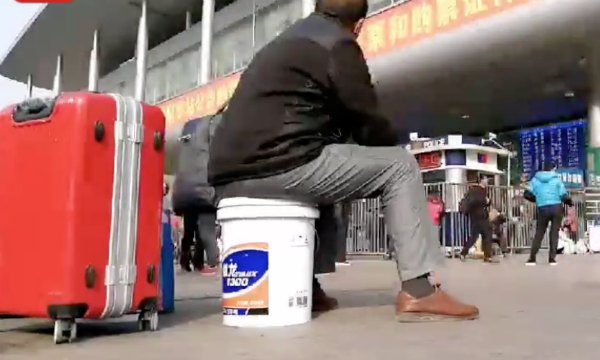 "These buckets are strong and practical, my family uses them as garbage bins," one commenter writes. Other people praise the multifunctional item for being eco-friendly in its re-use.
Some people note that the bucket trend is nothing new: "My dad has been using them for years."
"Nothing but good stuff to say about these buckets," one other person says: "They're durable and will last for years!"
By Manya Koetse
Follow @whatsonweibo
Spotted a mistake or want to add something? Please let us know in comments below or email us.
©2018 Whatsonweibo. All rights reserved. Do not reproduce our content without permission – you can contact us at info@whatsonweibo.com.
Would You Like Coffee with Your Sneakers? Chinese Sports Brand Li-Ning Registers Its 'Ning Coffee' Brand
Li-Ning enters the coffee market: "Will they sell sneaker-flavored coffee?"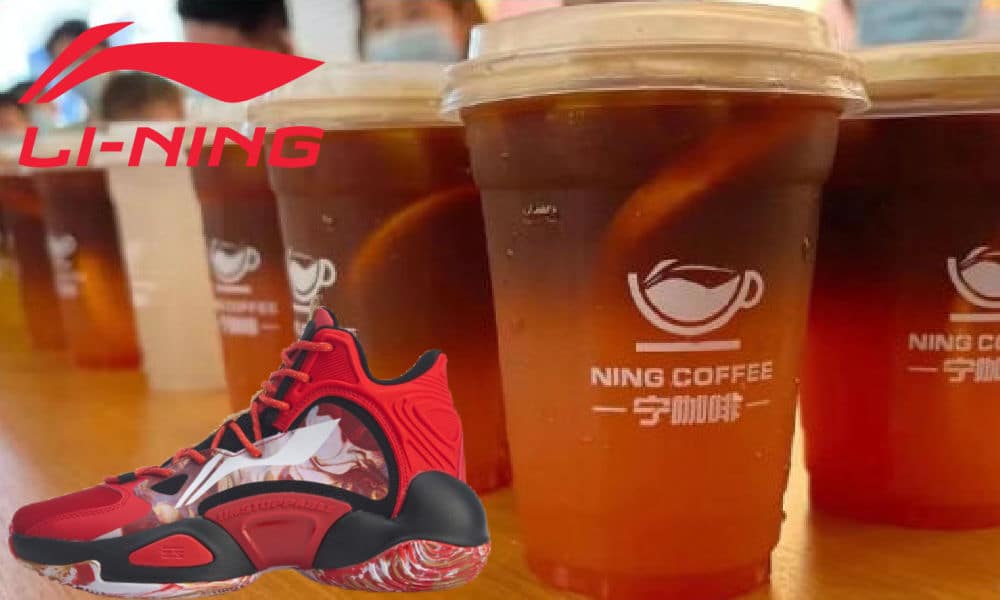 An unexpected competitor is joining China's coffee market. With over 7000 stores in the country, Li-Ning has the potential to become the biggest athletic coffee chain yet.
Another player is joining mainland China's growing coffee market. It's not an American coffee giant, nor a coffee house chain from Hong Kong – it is China's leading sportswear brand Li-Ning Sports (李宁体育).
Li-Ning registered its coffee brand under the 'NING COFFEE' trademark. As reported in an article written by 'Investment Group' (@投资界) and published by Toutiao News (@头条新闻), Li-Ning has confirmed on May 6 that it will provide in-store coffee services to enhance customers' shopping experiences in the near future.
The move means that Li-Ning could potentially become a big player in China's coffee market, competing with major brands such as Starbucks, Luckin Coffee, Costa and Pacific. If the in-store coffee cafes would roll out in most of its shops, there could be over 7000 Ning Coffee cafes in China in the future. By the end of 2021, Li-Ning Sports had a total of 7,137 stores in China.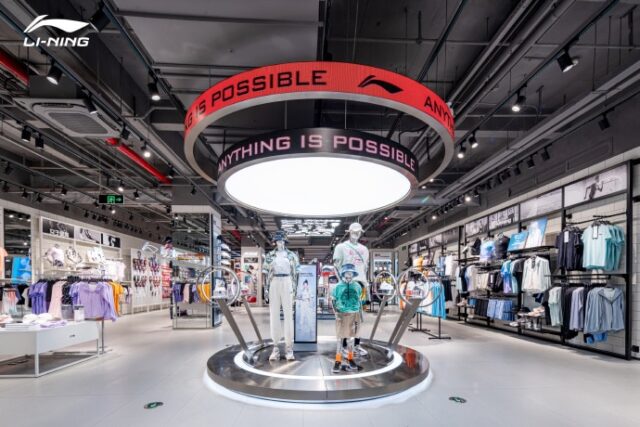 Starbucks has 5,400 stores in China. Leading domestic coffee chain Luckin Coffee expanded to over 6000 stores last year. Costa Coffee, although closing some of its China stores in 2021, announced that it aims to have a total of 1,200 stores open in China later this year. Looking at Li-Ning's presence across China, its in-store coffee cafes could be serious competition for the leading coffee chains in the country.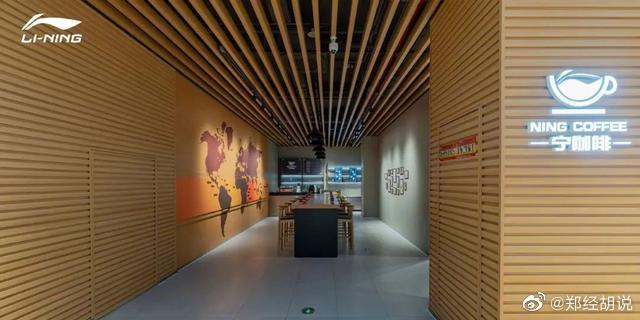 Over the past few years, various Chinese sportswear brands, including Anta Sports and Erke, have seen a rise in popularity, but Li-Ning is still China's most famous brand name for athletic apparel and shoes. The company was founded in the early 1990s by Chinese Olympic gymnast and business entrepreneur Li Ning (1963) and was generally seen as a Nike copycat – the original logo was even similar to the Nike swoosh. Although Li-Ning looked like Nike, the brand is more appealing to many Chinese consumers due to the fact that it is cheaper and made in China.
Li-Ning markets itself as being "deeply and uniquely Chinese" (Li Ning official website 2022), which has made it more popular in an era of "proudly made in China" (read more about that here). Moreover, it also promises to offer high-quality sportwear at a price that is cheaper than the American Nike or German Adidas.
Li-Ning's success is also owed to its marketing strategies. Besides being the official marketing partner of many major sports events, including the NBA in China, the brand has also contracted with many household athletes and famous global ambassadors.
Over a decade ago, marketing observers already noted that despite the remarkable success of Li-Ning in China, the brand still had a long way to go in order to strengthen its image as a long-term brand, recommending Li-Ning to "create excitement around the brand" by building more associations related to lifestyle and coolness to better resonate with younger Chinese customers (Bell 2008, 81; Roll 2006, 170).
With its latest move into the coffee market, it is clear that Li-Ning is moving its brand positioning more toward the direction of lifestyle, trendiness, and luxury. Although purchasing a coffee at Starbucks or Luckin is part of the everyday routine for many urban millennials, coffee is still viewed as a trendy luxury product for many, relating to both cultural factors as well as economic reasons. As noted by Cat Hanson in 2015, the price of a single cup of coffee was equal to a month's worth of home broadband internet (read more).
Previously, other fashion brands have also opened up coffee stores in China. As reported by Jing Daily, international luxury brands Prada, Louis Vuitton, and FENDI also opened up coffee cafes in mainland China.
Another unexpected coffee cafe is that of China Post, which opened its first in-store 'Post Coffee' in Xiamen earlier this year. On social media, many netizens commented that the brand image of the national post service clashed with that of a fairly expensive coffee house (coffee prices starting at 22 yuan / $3,3).
"The postal services are located in cities and in the countryside and are often used by migrant workers, and generally this demographic isn't buying coffee," one person commented, with another netizen writing: "This does not suit the taste of ordinary people, it would've been better if they sold milk tea."
On Weibo, Li-Ning's journey into the competitive coffee market was discussed using the hashtags "Li-Ning Enters the Coffee Race" (#李宁入局咖啡赛道#) and "Li-Ning Starts Selling Coffee" (##李宁开始卖咖啡##).
Like with China Post, many commenters say the combination of sportswear and coffee is not something they immediately find logical. "Will they also sell sneaker-flavored coffee?" one person wondered, with others thinking selling coffee – seen as a product from western countries – does not exactly match with Li-Ning as a 'proudly made-in-China' brand.
"How would you feel about trying on some clothes at Li-Ning while sipping on Li-Ning coffee? I understand Li-Ning is jumping on what's popular, and this time it's coffee," one Weibo user writes, with others also writing: "I think it has potential."
"I'm willing to try it out," various commenters write. For others, they want to see the menu first: "It all depends on the price."
For more about the coffee and tea market in China, check our other articles here.
By Manya Koetse
Get the story behind the hashtag. Subscribe to What's on Weibo here to receive our weekly newsletter and get access to our latest articles:
References
Bell, Sandra. 2008. International Brand Management of Chinese Companies. Heidelberg: Physia-Verlag.
Roll, Martin. 2006. Asian Brand Strategy: How Asia Builds Strong Brands. New York: Palgrave Macmillan.
Spotted a mistake or want to add something? Please let us know in comments below or email us. First-time commenters, please be patient – we will have to manually approve your comment before it appears.
©2022 Whatsonweibo. All rights reserved. Do not reproduce our content without permission – you can contact us at info@whatsonweibo.com.
Adapted to the Desert: This Yurt-Style KFC Opened in Inner Mongolia
Special KFC in Inner-Mongolia: "Is home delivery done by camelback?"
A KFC restaurant that has opened up in Ordos Prefecture, Inner-Mongolia, is attracting online attention in China for its yurt-style building.
The KFC restaurant is located in Xiangshawan, also known as Whistling Dune Bay, a tourist area – China's first desert-themed tourism resort – in the Kubuqi Desert.
Some web users praise the fast-food giant for "following local customs" ("入乡随俗"). Others jokingly wonder if their home delivery services are also done by camelback.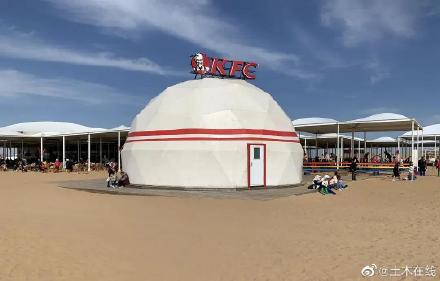 Although KFC is not China's first fast-food restaurant, it is one of the most popular ones. Nowhere else outside of the US has KFC expanded so quickly as in China. Since the first KFC opened in Beijing in 1987, the chain had an average of 50% growth per year.
With thousands of locations across the country, KFC often adapts its restaurants' style to the local environment. On Weibo, web users share various examples of local KFCs.
One Weibo user (@阳山花非花) points out that KFC is not the only chain to adapt to the local environment in Ordos. Chinese fast-food chain Dicos (德克士) apparently also has a special restaurant in the area.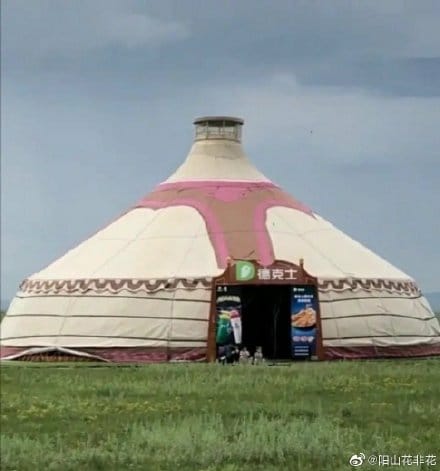 Besides adapting its buildings, KFC is also known to be quite localized in its product offerings. KFC China offers products such as Chinese-style porridge, Beijing chicken roll, and youtiao (deep-fried strip of dough commonly eaten for breakfast).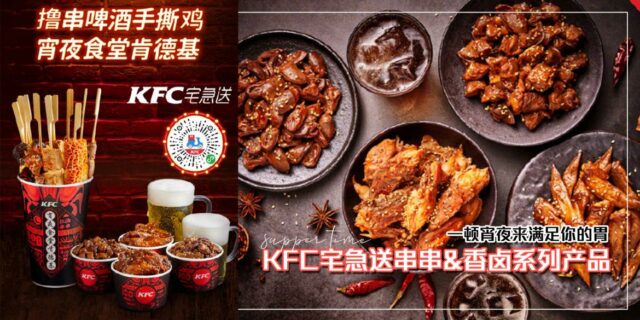 In 2019, KFC also made headlines in China for adding, among other things, hot and spicy skewers (麻辣串串) to its menu.
For now, the KFC yurt-style location is bound to gain more visitors who are coming to check it out. Already, various Weibo users are sharing their own pics of their KFC visit.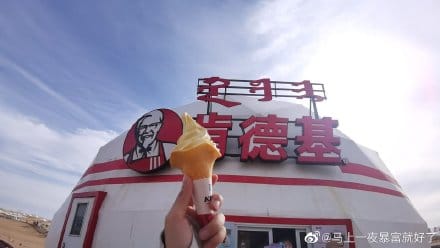 You might also like to read:
By Manya Koetse (@manyapan)
With contributions by Miranda Barnes
Spotted a mistake or want to add something? Please let us know in comments below or email us. First-time commenters, please be patient – we will have to manually approve your comment before it appears.
©2021 Whatsonweibo. All rights reserved. Do not reproduce our content without permission – you can contact us at info@whatsonweibo.com.