Douyin Delivered to Your Doorstep: China's TikTok App Launching Nationwide Food Delivery Services?
Watching videos on Meituan and ordering food from TikTok?
This week, TMT Post (钛媒体) reported that, starting on March 1st of this year, the Chinese TikTok app (Douyin) will roll out a nationwide food delivery service. The app is already running a trial in food delivery through group buying on its app in Shanghai, Beijing, and Chengdu ("团购配送").
Bytedance, the company behind TikTok, responded to the news by saying that it was indeed rolling out its food delivery services, but that there was no specific timetable for expansion yet. According to various reports, however, TikTok is busy recruiting staff for its food delivery business.
The topic went trending on Chinese social media on Tuesday, receiving over 320 million views on Weibo alone (#抖音将于3月1日上线全国外卖服务#), with another topic about what this move actually means garnering over 280 million views (#抖音入局外卖意味着什么#).
One related trending topic is about the Tencent-owned app Meituan, a dominant player in the Chinese food delivery market, and whether or not it should worry about TikTok entering the game (#抖音上线外卖美团慌了吗#). The Alibaba-backed Ele.me is another major player which could be affected if TikTok adds food delivery to its nationwide services.
Many commenters wondered if China's most popular apps would all now just become like 'super apps' mixing up their functions, such as TikTok delivering food and Meituan entering the short video market.
Others also said that it might be a good development, as the competition means customers have more options: "For the customer, it doesn't matter which app they order on; the one that has the best price-performance ratio is the one we'll favor," a typical comment said.
With over 700 million daily active users, Douyin is among the most popular social apps in China. Outside of China, its international TikTok version is also a global hit, but it is a completely separate app.
One popular comment on Weibo suggested that TikTok's food delivery function might give online influencers a new idea of live streaming while cooking the food that you can order to get delivered, guaranteeing it is freshly prepared.
Others also jokingly suggest that food delivery drivers could do TikTok videos and live streams at the same time on how they are doing deliveries for TikTok.
The enormous popularity of the topic on Chinese social media shows that people are curious to see which way TikTok is heading, and how its role within China's digital ecosystem might evolve in the time to come.
By Manya Koetse 
Get the story behind the hashtag. Subscribe to What's on Weibo here to receive our newsletter and get access to our latest articles:
Spotted a mistake or want to add something? Please let us know in comments below or email us. First-time commenters, please be patient – we will have to manually approve your comment before it appears.
©2023 Whatsonweibo. All rights reserved. Do not reproduce our content without permission – you can contact us at info@whatsonweibo.com.
TikTok CEO Shou Zi Chew Hailed as Asian "Solitary Hero" on Chinese Social Media
After the congressional hearing of the TikTok CEO, some called Shou Zi Chew "Mr. Perfect in the eye of the storm."
While there were enough people on Chinese social media swooning over celebrities this weekend during the Weibo Award Night, there were also many netizens admiring another person, namely Shou Zi Chew (周受资, Zhou Shouzi), the CEO of TikTok.
Earlier this week, Shou Zi Chew appeared before the House Energy and Commerce Committee in the United States, facing a four-and-a-half-hour hearing over data security and harmful content on the TikTok app.
The hearing took place in light of Washington's increasing concerns over TikTok "as a threat to national and personal security," with officials calling for a nationwide ban on the app's U.S. operations – unless Chinese owners sell their stake in the social media platform (more here).
TikTok is a super popular short video app by Chinese company Bytedance, which also runs Douyin, the Chinese counterpart of the international Tiktok app. TikTok has over 150 million users in the U.S. alone.
Being grilled about concerns over China's influence over the Beijing-based Bytedance and China's access to American data, Chew emphasized that ByteDance is a private business and "not an agent of China or any other country."
During the hearing, Chew faced various questions from officials. One clip that was shared a lot on Twitter showed Arizona Republican Congresswoman Debbie Lesko asking Shou Zi Chew:
– "Do you agree that the Chinese government has persecuted the Uyghur population?"
"It's deeply concerning to hear about all accounts of human rights abuse," Shou answered: "My role here is to explain – "
– "I think you're being pretty evasive. It's a pretty easy question. Do you agree that the Chinese government has persecuted the Uyghur population?"
"Congresswoman, I'm here to describe TikTok, and what we do as a platform, and as a platform, we allow our users to freely express their views on this issue and any other issue that matters to them," Shou replied.
– "Well, you didn't answer the question, " Lesko said while interrupting Shou.
Another moment that was widely shared was when Congressman Richard Hudson asked Shou Chew: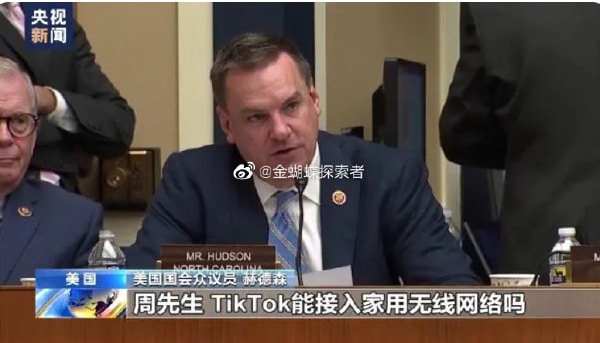 – "Does TikTok access the home WiFi network?"
"Only if the user turns on the wifi," Shou replied: "I'm sorry I may not understand the.."
– "So if I have TikTok on my phone, and my phone is on my home wifi, does TikTok access that network?", Hudson asked.
"It will have to access the network to get connected to the internet, if that is your question."
– "Is it possible then that it can access other devices on that home wifi network?" Hudson asked.
"Congressman, we do not do anything that is beyond any industry norms. I believe the answer to your question is no," Chew replied.
On Chinese social media, the hearing received extensive discussion and analysis.

A "Collective Cursing Activity"

Chinese blogger Chairman Rabbit (兔主席), a conservative political commentator who often comments on US-related issues (read more), analyzed the hearing in a recent blog.
According to Chairman Rabbit, the hearing was a one-way conversation from the Congress side, and was more like a "collective 'cursing' activity" ("一场集体"骂娘"活动") than dialogue, with the American officials not giving Shou the time to reply and basically – and rudely – answering their own questions.
The blogger also suggested that Chew was questioned as if he himself represented the Communist Party of China, even though he is Singaporean and the CEO of a private company. Regardless, the Americans seemed to take this time of questioning Shou as an opportunity to vent their anger at the Party and the Chinese government at large.
The main gist of Chairman Rabbit's blog was shared by many others on social media, with some calling the hearing not much more intelligent than a "kindergarten fight" ("比幼儿园吵架高明不了多少").
One meme making its rounds on Weibo and Wechat showed a photo of Apple CEO Tim Cook in China versus TikTok CEO Shou Zi Chew in the U.S., suggesting that while the Chinese side treated an American tech giant CEO with warmth and kindness, the American side had treated a Chinese tech giant CEO with coldness and paranoia.
Another image circulating on Weibo is a political cartoon by the Singaporean artist Heng that was also published on Twitter by Lianhe Zaobao, the largest Singaporean Chinese-language newspaper.
The image shows the TikTok CEO tied to a tree, and a pile of wood stacked around him. Three 'executioners,' including Uncle Sam, are about to burn Chew at the stake with the help of some "Anti-Chinese Sentiment" fuel.

Shou Zi Chew: Mr. Perfect in the Eye of the Storm

Meanwhile, Chew himself has become super popular on Chinese social media, including on Weibo, Douyin, and Xiaohongshu, where he has become idolized by some ("I won't even compare you with the stars, you're much better than the stars.")
Some bloggers and commenters noted how Chew fits the supposed idea of a 'perfect Asian' by staying calm despite unreasonable allegations and emphasizing business interests over culture. One Weibo user (@老叔开画) called Shou Zi Chew "Mr. Perfect in the eye of the storm."
Mostly, people admire how he stood up against Congress despite being "bullied" by American officials and "defended" China's interests although he is Singaporean himself. Some called him a "solitary hero" ("孤胆英雄").
Then there are those who praise the Singaporean businessman and entrepreneur for his career journey and his work ethic. The now 40-year-old studied in London and graduated from Harvard, he previously worked at Goldman Sachs and Xiaomi, and became the CEO of TikTok at 38 years old.
On the Xiaohongshu app, Chew is mentioned as a source of inspiration on how to remain calm and professional when facing a difficult situation.
Lastly, many fans just think Chew is "charming" and "handsome" – and they focus on details of Chew and his life that have nothing to do with the contents of the hearing. Some Weibo users pointed out how he came to his hearing well-prepared with four bottles of water, others discuss his personal life, including his wife Vivian Kao.

From Weibo to TikTok: Criticism from Two Sides

Besides receiving support from Chinese social media users, Chew's handling of the hearing was also praised on the TikTok app by international users, including many Americans.
One popular Chew quote during the U.S. congressional hearing that came up on TikTok is how Chew said:
"I don't think the [Chinese] ownership is the issue here, with a lot of respect, American social companies do not have a good track record when it comes to data security and privacy, just look at Facebook and Cambridge Analytica – and that's just one example."
Another popular quote was Chew defending TikTok, saying:
"There are more than 150 million Americans who love our platform, and we know we have a responsibility to protect them, which I'm making the following commitments to you and all our users. Number one: we will keep safety, particularly for teenagers, as a top priority for us. Number two: we will firewall protect the U.S. data from unwanted foreign access. Number three: TikTok will remain a place for free expression and will not be manipulated by any government. And fourth, we will be transparent and we will give access to third-party independent monitors to remain accountable for our commitments."
Many TikTok users are not just fond of the app – and do not want it to get banned, – they also criticize the U.S. officials for how they handled the hearing, with their lack of technological knowledge and unfamiliarity with the TikTok app shining through in their questions.
Some TikTok creators suggested that the officials missed an opportunity to gain actual knowledge of TikTok's data handling, and should have asked things like (suggested by TikTok user @sharonsaysso):
– "Are you collecting any passive data from the back end of the phones, even if the person isn't logged in?"
– "How long are you storing this data for?"
– "What data is being passed to advertisers?"
– "If a user would like to have their data expunged from your systems, is there a process in place with them to easily and fairly quickly have that done?"
– "Have you ever willingly or unwillingly relinquished any of your user data to the government of China or any other country?"
– "Please explain in detail what elements your algorithm considers in its optimization process?"
After American media outlet NBC reported about how TikTok users declared their support for the platform and its CEO after the hearing, screenshots of the article were also shared on Chinese social media.
Chinese political commentator Hu Xijin (@胡锡进) wrote a lengthy post about the TikTok hearing on Weibo, and he also criticized how Chew was facing questions that were already framed and filled with "imaginary accusations" against China.
Hu Xijin and others do not necessarily hail Chew as a "hero," but instead point out the arrogance and biased approach taken by U.S. official during the hearing.
"They give a dog a bad name and hang him," some say, with others agreeing that this matter is no longer about the actual facts regarding TikTok's operations, but about how American authorities have already set their agenda on how TikTok content is problematic and how the app is controlled by Beijing and cannot guarantee the security of U.S. users' data and privacy.
Some commenters are already predicting the outcome of this matter: "You should prepare for the possibility of being banned or forced to sell."
Watch a video of the hearing on YouTube here.

By Manya Koetse 
With contributions by Miranda Barnes and Zilan Qian
Get the story behind the hashtag. Subscribe to What's on Weibo here to receive our newsletter and get access to our latest articles:
Spotted a mistake or want to add something? Please let us know in the comments below or email us. First-time commenters, please be patient – we will have to manually approve your comment before it appears.
©2023 Whatsonweibo. All rights reserved. Do not reproduce our content without permission – you can contact us at info@whatsonweibo.com.
Lianghui on Weibo: 5 Themes That Stood Out on Chinese Social Media during the Two Sessions
The Two Sessions have been trending on Chinese social media all week, and some topics garnered more attention than others.
Dozens of themes were discussed during China's Two Sessions, with a handful generating significant buzz on social media this week. Here are five themes that were promoted by official accounts and garnered particular interest on Weibo.
The entire week Chinese social media have all been about the 'Two Sessions' (liǎnghuì 两会), China's annual parliamentary meetings. The meetings commenced at the Great Hall of the People in Beijing in the weekend of March 4-5, ending on March 13.
The annual gathering of the National People's Congress (NPC) and the Chinese People's Political Consultative Conference (CPPCP) is a major political happening that is closely followed by domestic and international media, especially because they lay out the policy priorities for the year to come and also because these are the first full sessions since the end of the Covid pandemic and the 20th Party Congress.
The CPPCC is an 'advisory' body of about 2200 delegates that was established by the Communist Party of China in 1949 and consists of both Party members and non-party intellectuals and prominent figures. The first session, addressing various affairs from social to economic realms, began on Saturday, March 4.
The NPC, which first convened in 1954, is China's top legislative body and national legislature, consisting of about 3000 deputies. Throughout the week, they reviewed government reports, engaged in policy debates, and appointed China's leaders for the next five years.
Despite its seemingly extensive power to amend the Constitution and make or change laws, the NPC is sometimes also referred to as a "rubber stamp" since the major authority still lies with the Party. The sessions of the 14th NPC Congress were opened on March 5 by Premier Li Keqiang, who read out the annual government work report (政府工作报告).
This week, a lot has been happening during the Two Sessions. Besides the CPPCP and the NPC daily schedule of meetings and the review of reports, there were also press conferences – some turned into trending topics.
The Two Sessions are attended by China's top leaders, including President Xi Jiping, whose third term was announced on March 10. Li Qiang was confirmed as the country's next Premier a day later.
On Chinese social media, news about the Two Sessions and related interviews were mostly published by state media accounts using various centralized hashtags, such as "Watching Lianghui in 2023" (#2023看两会#), "National Two Sessions" (#全国两会#), or just "Lianghui" (#两会#), a topic that already received over 210 million views on Weibo on the first day of the NPC.
As with any other major political event, the online discussions surrounding the Two Sessions are tightly controlled and state media accounts usually only allow selected comments to be displayed below their posts on the sessions.
On social media, there are a few themes that were particularly propagated and highlighted as hashtags in multiple posts.
Below are some of the most prominent themes on Chinese social media within the context of lianghui media reports that received a lot of shares and comments.
There are dozens of relevant themes mentioned during the Two Sessions, from economy and employment to education and environment, so the themes below are just the ones highlighted by What's on Weibo as we found them to be prominent on social media, propagated by state media accounts and receiving a lot of discussion throughout the week.
This list is not a reflection of the top themes discussed during the Two Sessions. For more about that, we also recommend visiting NPC Observer, an independent website offering original coverage of China's National People's Congress and its Standing Committee.
1. Taiwan Issue
"We Must Advance the Process of Peaceful Reunification with the Motherland" (#我们要推进祖国和平统一进程#) was one of the hashtags that especially garnered online attention earlier this week during the Two Sessions.
The prominent hashtag, published by CCTV on March 5, is about the Taiwan issue and persisting in carrying out the overall strategy of the Party in China's 'New Era' to settle the Taiwan issue and to promote unification and oppose "independence."
The hashtag was published in light of the annual government work report delivered by Chinese Premier Li Keqiang.
China's determination to achieve "peaceful reunification" with Taiwan was also one of the big themes during the 20th Party Congress and Xi Jinping's speech in October of 2022.
The wording used in the report was also not particularly new, as also reported by Global Times, and emphasized adhering to the one-China principle and the 1992 Consensus, firmly opposing Taiwan independence and promoting unification.
Since Pelosi's Taiwan visit in 2022, the Taiwan issue has returned to the forefront of public attention, especially in light of the war in Ukraine and the comparisons drawn between Russia and China.
2. Military Advancement
On March 8, Xi Jinping attended the plenary meeting of the delegation of the People's Liberation Army and People's Armed Police Force, and the hashtag "Accelerate Builing Our Army Into a World-Class Army" (#加快把我军建成世界一流军队#) went trending that day.
During this meeting, Xi emphasized the "strong military, strong country" idea. During the opening speech of the 20th Party congress, China's military development was also one of the most important themes.
The idea of building a strong military is directly related to the idea of the "great rejuvenation of the Chinese nation," as building a world-class military is seen as a prerequisite or building a socialist modernized country "in an all-round way."
3. Technological Self-Reliance
Building on self-reliance in China's science and technology was another key theme that surfaced during social media discussions and reports on the Two Sessions this week. One of the relevant hashtags was "Stimulate the Surging Force of Enterprises to Achieve Self-Reliance and Strength in Science and Tech" (#激发企业科技自立自强澎湃动能#).
The topic came up as part of a speech by Xi Jinping, who stressed the leading role of China's high-level science and technology and the importance of self-reliance.
Perhaps (un)coincidentally, it also came up in the same week when the Dutch government announced plans to restrict exports of pivotal chipmaking technology to "protect national security." This also led to more online discussions on the need for China to be self-reliant when it comes to tech and science.
4. Xi Jinping as Powerful Leader
The biggest topic on Chinese social media over the past week was related to how Xi Jinping secured his third term as president. A related hashtag received over 1.2 billion clicks on Weibo (#习近平当选中华人民共和国主席#).
The official appointment happened after the members of the National People's Congress (NPC) voted unanimously for Xi Jinping. There was no other candidate.
The appointment of Xi Jinping was widely propagated on Weibo, including reports on Xi Jinping putting the "people first," but it also went beyond those straightforward hashtags.
Chinese state media outlet People's Daily also posted a new propaganda video for the People's Republic of China, titled "This Is Me, the People's Republic of China" ("这就是我, 中华人民共和国"), in which Xi Jinping also was featured as the leader who helped China to get where it is today, and who is leading China to get where it wants to be.
5. Chinese Media in 'the New Era'
Another theme that was prominent on Chinese social media during the Two Sessions was one that was not necessarily discussed during the meetings themselves, but one that was featured on Chinese social media.
Chinese state media outlets published many posts about their own work during the Two Sessions, and the innovation and professionalization of their reporting.
One such example is how the broadcasting team issued a video of them directing a live broadcast, showing a rare view of the 'behind the scenes' production of the Two Sessions broadcasting.
Another example is how People's Daily introduced a special AI-driven virtual news anchor announcing all the latest news on the Two Sessions.
These kind of trends signal a new phase in China's mission to "tell China's stories well" as part of changing media strategies since Xi's rise to power.
For more on the Two Sessions, see our other articles here.
By Manya Koetse 
Get the story behind the hashtag. Subscribe to What's on Weibo here to receive our newsletter and get access to our latest articles:
Spotted a mistake or want to add something? Please let us know in comments below or email us. First-time commenters, please be patient – we will have to manually approve your comment before it appears.
©2023 Whatsonweibo. All rights reserved. Do not reproduce our content without permission – you can contact us at info@whatsonweibo.com.