Noteworthy Weibo Moment: Qingdao Government Account Shows Support for LGBT Community
"The best official account post I've ever seen on Weibo."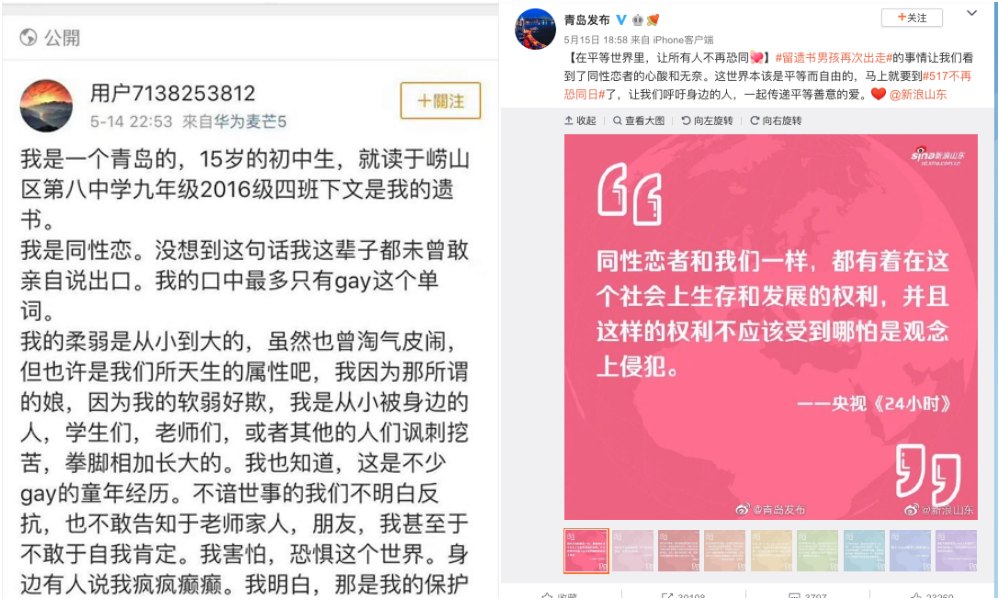 First published
Some netizens are moved to tears to see an official government account making a public statement in support of the gay community.
Just a day ahead of the 2019 International Day Against Homophobia, Transphobia, and Biphobia (May 17), a Qingdao government social media account has attracted the attention of Chinese netizens for showing support to the gay community.
On the night of May 15, the Information Office of Qingdao Municipal Government published the noteworthy post on its official Weibo account Qingdao Fabu (@青岛发布), which has over 3,8 million followers.
"In a world of equality, let all people turn away from homophobia" ("在平等世界里,让所有人不再恐同"), the post said, commenting on the recent trending news of a 15-year-old boy who came out as gay and posted a suicide note on his Weibo account.
"The incident shows us the difficulty and hopelessness homosexual people are suffering. The world should be equal and free, and as the International Day Against Homophobia (#517不再恐同日#) is nearing, let's call on the people around us to express our love of equality and kindness," the post said.
Within a day after it was published, the Qingdao Fabu post was shared over 30,000 times and received more than 23,000 likes.
A Weibo Suicide Note
The Weibo user referred to by the Qingdao local government account had posted a lengthy letter on the night of May 14. Using an anonymous Weibo account (@用户7138253812), the author, identifying himself as a 15-year-old boy from Qingdao, came out as gay and shared his pain and grievances over the pressure he faced.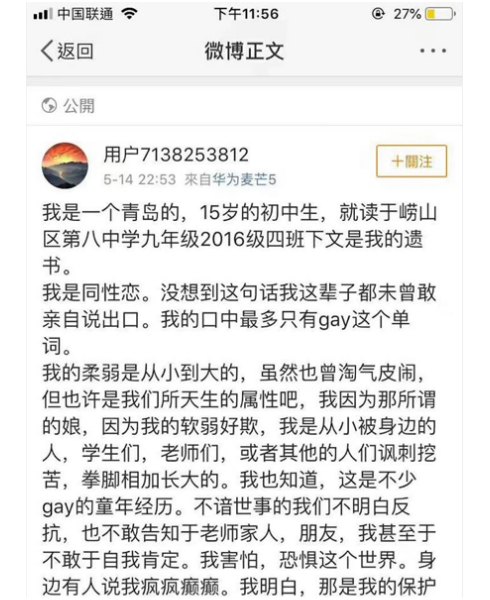 Because the boy wrote he wanted to "leave this world forever" and ended his post with a farewell, many people became worried about the boy's mental state and whereabouts.
In the early morning of May 15, the official Weibo account of Qingdao Police (@青岛公安) posted an update, stating that the boy was found safe after running away from home.
Later that day, another post was published on the same anonymous account saying: "Thank you everyone, everything is fine." The farewell note has since been deleted. See a full translation of the text below this article.
Qingdao Official Account Receives Praise
With its post supporting the young gay man and the LGBT community at large, the Qingdao Government official news account is receiving hundreds of comments praising them.
Besides their original post, the Qingdao government account also posted a total of nine different quotes relating to LGBT issues, including one from Taiwanese film director Ang Lee saying "There's a Brokeback Mountain in everyone's heart."
Another one stresses the fact that homosexuality is not a mental illness, with yet another quote mentioning that the Netherlands became the first country in 2001 to legalize same-sex marriage.
The reposted quotes were originally published on the Weibo account of Sina Shandong (@新浪山东), the official Weibo account of Sina's Shandong Province Branch.
As the Qingdao Weibo post is gaining more popularity on Weibo at time of writing, these are some of the popular comments below:
"This is so awesome for an Official Weibo account!"
"That an Official account would post this.. seeing this makes me tear up. I will always support equal rights."
 "I'm crying, this was really sent out by an Official account."
"This must be the best Official account post I've ever seen on Weibo."
"Let's give it up for Qingdao!"
"This means progress!"
"I'm not from Qingdao, but I will follow this account from now on. This [post] shows you have guts."
"I feel proud to be from Qingdao."
"I am so moved by your post. Thank you for your support. I hope your light will shine on all the people."
Over the past few years, Chinese social media have seen many times when gay content was censored.
One important moment occurred in 2017, when the China Netcasting Services Association (CNSA, 中国网络视听节目服务协会) issued new criteria to strengthen regulations over online audio-visual content on Chinese platforms. One of the new regulations regarded the removal of online content that "displays homosexuality" ("展示同性恋等内容"), grouping homosexuality together with incest and sexual perversity as "abnormal sexual behavior."
Although it is very noteworthy for an official government account to publish social media posts that strongly support the gay community, it is not the first time it has happened.
In July of 2017, the official account of the Communist Youth League of Fujian published a post that stated "Being gay is no disorder!" Many netizens at the time, like today, said the unexpected support moved them to tears.
Sometimes on Weibo, it's the little posts about big matters that seem to matter the most – especially when they come from a government-run source.
Full Translation of Suicide Note

The suicide note in question has been deleted from Weibo, but The Beijing LGBT Center translated the text and posted it on its Facebook page.
Please note that the following translation is not a What's on Weibo translation and that all credits for this translation go to the Beijing LGBT Center. Follow them on Facebook here:
"I am from Qingdao and am a 15-year-old student from Laoshan No.8 Secondary School.
I am a homosexual. I never expected I would be able to utter this word.
Growing up a frail and meek boy, I am that 'fem' everyone is referring to. An easy target, bullied, assaulted, teased, abused, and shunned by classmates and teachers alike. This is how I grew up, and so did many other gay children. Naive as I was, I did not fight back or told anyone about my feelings. I was afraid, and am still afraid of this world. I acted strangely and they called me lunatic, but I know that was my only way to protect myself. After I tried in vain to fit in, I chose to close myself from this world, and this is how I lived my childhood.
By sheer luck, I had a short childhood. I started to realize what's 'strange' with me in grade 5 or 6. I remember how I exulted when I first read about affirmative answers about gay on Zhihu (Chinese version of Quora). But I was soon overwhelmed by those derogatory, abusive, and hurtful answers. I cried the whole night and yet I put my mask back on the very next morning. What people saw as maturity in me was in fact avoidance and isolation.
Things got a little better in secondary school because I am a top student. There was less bullying but I reminded that fem guy teased and mocked at by everyone. Among the worst was my class teacher, Chen Feng. For two years he inflicted me with corporal punishments. Listening to him indoctrinating his banal views was pure suffering. I've got enough of his so-called masculinity values, his genders have their fixed roles, his homosexuals are modern perverts. Yet he is not alone among his peers and colleagues. I have had enough of my teachers' cursing, smearing, ridiculing, and insulting anything related to gays. All their rubbish made me sick and isolated.
Gradually I become irritable and violent. I came out to my mother rather abruptly. Though she seemed to have acquiesced it, I was giving in to the pressure and thinking about ending everything. I have no idea what happened to me and I know choosing death is not courageous, but rather an act of cowardice. I chose to avoid my family and I knew my indifference and avoidance hurt them, especially my mom, the one person who loves me the most.
My father is a weak and arrogant scum and inflicted my mother her whole life. He broke down my door when I was most vulnerable and isolated and banged my head on the wall. At that moment, I only wished he could kill me. But he was stopped by my sister.
Just now, my so-called "family" once again stormed my room and hurled their most insulting curses at me. I realized that my mom might be the only person who can accept me in this world. Or maybe she was just pretending too.
This is not the first time I've thought about dying to end it all. Just a few days ago, I scaled high trying to leave all these sufferings. When I called my mom to hear her voice one last time, I hesitated, climbed down and wandered for miles away from home.
Now I have once again escaped from home with that scum's phone in my hand. Yes, this account is my father's. I want to tell the world what I've always wanted to say and to do. And then leave this world forever.
I understand living on might be the better choice. I could have a bright future and watch this world getting more open and inclusive. But I have had enough. I am sorry to have vented everything on here, and I am sorry to be so weak my entire life. I wanted to do something for this world but in reality, I can do nothing. I know, China will not have its own Stonewall; its people can put up with anything. I am losing control of emotion…
I apologize for my cowardice. To be honest, I am not innocent. But even if I had the courage to change the world, a stab in the back could have easily killed me. I have chosen to solve the radical question with the radical way.
I love you all, the kind and beautiful people of conscience, I trust you to make the world better. If there were a heaven, I will send my blessings…I wish my story will be a faint voice to your fight."
Also read:
* Communist Youth League: "Being Gay is No Disorder!"
* Why the Gay Kisses in 'Bohemian Rhapsody' Won't Make It to Chinese Cinemas
* Weibo Administration: "We're No Longer Targeting Gay Content"
* China's Online Gay Revolution and Rainbow Warrior Geng Le
By Wendy Huang and Manya Koetse
Follow @whatsonweibo
Spotted a mistake or want to add something? Please let us know in comments below or email us. Please note that your comment below will need to be manually approved if you're a first-time poster here.
©2019 Whatsonweibo. All rights reserved. Do not reproduce our content without permission – you can contact us at info@whatsonweibo.com
Modern-Day Yugong or Greedy Wolf? Critical Discussions after Ningxia Land Owner Goes Viral Begging for Water
Is Sun Guoyou the victim of bad coal mine practices or did he throw dust in netizens' eyes? The viral Ningxia story is getting more complex.
As a video of him crying out and begging for water went super viral on March 29, Ningxia land owner Sun Guoyou suddenly became a public figure. But while Chinese netizens initially sympathized with the local landowner whose water was cut off by a big coal mine, he is now increasingly seen as a businessman who used social media to exploit his situation.
This week, the story of Ningxia land owner Sun Guoyou (孙国友) went completely viral on Chinese social media.
Various Chinese media outlets, from Sina News to Beijing News and The Paper all covered the story of the old man who was seeing his enormous land destroyed because a nearby coal mine had cut off water supplies. Although they had allegedly promised Guo to resume water supplies on March 27, they did not follow through.
A video of Sun kneeling on the ground and begging for water went viral on Douyin and Weibo, where dozens of hashtags relating to the story received millions of views (read our earlier story here).
One crucial aspect of the story is how Sun Guoyou allegedly has been combating desertification and improving the soil conditions of the barren land through afforestation, by planting trees and irrigating the land.
This is one of the various reasons why netizens initially felt sorry for Sun and wanted to help him out. People were rooting for the underdog, supporting the seemingly weaker Sun against the more powerful coal mine company and local authorities.
He was also called the 'modern-day Yugong' by some, referring to the old Chinese fable about an old man who was called foolish for persistently trying to move a mountain, yet finally succeeded in doing so. The Chinese idiom about "the foolish old man moving a mountain" (愚公移山 yúgōng yíshān) is often used as a figure of speech for persisting despite hardship.
But the more viral Sun's story went since March 29, the more people started doubting his story and called into question whether Sun was genuinely an underdog or just a business owner exploiting his land and, through the help of social media, manipulating the circumstances to his benefit.
On March 30, Weibo knowledge blogger 'PYGZ' (@平原公子赵胜) was among many other netizens accusing Sun of planting the wrong species of trees and raising cattle and sheep on his land, causing more soil erosion instead of improving soil quality. Rather than controlling desertification ("治沙"), Sun's practices are creating sand dunes ("造沙") instead, the blogger argued.
Why would Sun do such a thing? According to PYGZ, the state subsidizes windbreak forests that help prevent desertification ("防沙林"): 500-800 yuan ($72-$116) per Chinese "mu" (亩), which is about 666 square meters / 0.165 acre. With a land as big as Sun's, the annual subsidy would be millions of yuan (or more than $1M per year).
"This is what combating desertification in Ningxia actually looks like," charity blogger Sui Jiao (@碎叫) wrote, sharing photos of desert control work: "If you are concerned about desertification control, you can donate money to the China Green Foundation (中国绿化基金会) to plant trees."
Another thing that came up in critical discussions on Sun's case is how he previously received over seven million yuan (more than $1M) in compensation from the Shenhua Ningxia Coal Industry Group (神华宁夏煤业集团) for economic losses caused by them occupying forest land (#孙国友此前727万判决书曝光#).
As more netizens are starting to dive deeper into the facts behind Sun's desperate kneeling video, Sun's family stated that they did not want to further escalate the issue and were just focused on saving their trees for now (#跪地求水林场主家属称不想事情升级#).
The nationalist Weibo blogger Ziwuxiashi (@子午侠士), who has over one million followers, posted an image of a wolf sneaking away, writing: "They want to get away, but I'm afraid it's too late, the [wolf's ] tail has already been exposed." The blogger suggested that the Sun family might have enjoyed the spotlight, but do not want people to dig deeper.
Many others agreed, suggesting that Sun and his family staged the dramatic video to draw attention to their case, but now want to retreat before more details come out showing that Sun might not be the underdog he made himself out to be.
"Netizens are not like toilet paper that you can wipe your ass with and get rid of once no longer needed," one Weibo user wrote.
Chinese political commentator Hu Xijin (@胡锡进) also commented on the issue – as he does whenever social stories go viral like this, – and wrote that he understood why netizens would doubt Guo's sincerity or even say the entire video was staged.
At the same time, he reminded people that issues such as these are never black and white, arguing it is understandable that Guo earns income from his land and that it would only be right for the coal mine company to supply water to Guo if that is what they legally agreed on.
Hu suggested that, while many details in this story still have not come out, netizens might want to wait to make an absolute judgment in the case since issues such as these are usually not clear-cut and can be more complex than they initially seem.
More updates will follow.
By Manya Koetse 
Get the story behind the hashtag. Subscribe to What's on Weibo here to receive our newsletter and get access to our latest articles:
Spotted a mistake or want to add something? Please let us know in comments below or email us. First-time commenters, please be patient – we will have to manually approve your comment before it appears.
©2023 Whatsonweibo. All rights reserved. Do not reproduce our content without permission – you can contact us at info@whatsonweibo.com.
Pregnancy Discrimination in the Workplace: Three Major Problems Faced by Chinese Female Workers
Weibo discussions about a woman from Wuhan who was fired after sharing news of her pregnancy for "inability" to do her job.
Workplace pregnancy and maternity discrimination is a deep-rooted problem that has recently triggered online discussions in China, where netizens highlight common ways in which companies still try to avoid dealing with pregnant workers.
The official Weibo account of Legal Daily (法治日报), a Chinese state-owned newspaper, recently launched a social media hashtag about employers not being allowed to terminate female employees because they are pregnant (#不得因怀孕辞退女职工#).
Legal Daily reported that a female employee in Wuhan was fired from her job due to her pregnancy earlier this year (#武汉一女子怀孕后遭公司辞退#). After returning to work after the Spring Festival break, the woman informed the company about her pregnancy. In early February, the company asked her to accept a demotion and salary reduction, which she declined. Later that month, she received a termination letter from the company, stating that the employee was being terminated due to her "inability to do her job."
Legal Daily's Weibo account cited Article 5 of the "Special Provisions on Labor Protection for Female Employees," which prohibits employers from reducing the wages of female employees or terminating their employment contract due to them being pregnant, giving birth, or breastfeeding. It also stipulates a basic maternity leave of 98 days.
The female employee in question is currently suing the company for terminating her job. While this case may have a positive outcome, the issue of workplace discrimination against female employees due to pregnancy is more complicated than it appears, regardless of the Chinese laws designed to protect female workers.
Despite legal prohibitions against pregnancy discrimination in employment, some employers still circumvent the rules in various ways and in doing so, continue to engage in discrimination against female workers. This topic has recently also generated discussions on Chinese social media about the problems women face in the workplace.

Problem #1: Companies Not Hiring Female Workers At All

"It [the law] is not very useful," one Weibo user wrote under the related hashtag: "Companies do not usually fire female workers who are pregnant. They will solve the problem from the beginning by not hiring female workers at all."
Some smaller private companies do not want to take the risk of dealing with potentially prolonged maternity leave and pregnant workers that they cannot fire nor reduce their wages.
They also fear that workers who are pregnant or are taking care of young children will have reduced energy and might face challenges in the workplace. To avoid the presumed risk that comes with hiring a female worker, Weibo commenters discuss how many companies would "rather hire men directly" to evade the issue of dealing with pregnant workers altogether.
Some voices note how female job-seekers are facing gender discrimination in hiring, regardless of their marital status or the number of children they have.
Another post under the same hashtag (#不得因怀孕辞退女职工#) mentioned:
"It is so hard for females to find jobs. [From the company's perspective:] 1. Unmarried female: they're here for the marriage leave; 2. Married but no children yet: they're here for the pregnancy leave; 3. Married and have one child: here to have their second child (and the maternity leave); 4. Married and have two children: here to have their third child (and the maternity leave); 5. Married and have three children: they have no time for work because need to take care of the family; 6. Do not want to marry: they are having problematic thoughts [思想有问题]."

Problem #2: Going to Extremes to Avoid Paying for Maternity Leave

Despite Chinse labor law prohibiting companies from reducing wages or terminating the contracts of pregnant employees, some companies still attempt to circumvent paying for maternity leave through various means, as was the case with the Wuhan company.
One extreme way to avoid dealing with maternity leave pay is to cancel the company's registration altogether, which is also called "dying together" ("同归于尽", also: "to perish together with one's foe").
A recent news story about a boss who canceled his company's registration overnight due to a female employee's pregnancy received widespread attention on the internet.
According to a March 5 report by Netease (网易), the woman informed her boss that she was three months pregnant right after signing her work contract. The boss was so afraid of the potential costs for maternity leave pay and other benefits that he decided to immediately cancel the company's registration.
While the boss claimed that the cancellation was due to the fact that the company was operating at a loss for the past two years, he reportedly spoke with each employee and compensated them accordingly. However, the pregnant female employee in question refused to leave. After the cancellation, the boss formed a new company including all the former employees – except for the pregnant one.
While some netizens expressed concerns over the extreme actions of the company, others also blamed the woman for "blackmailing" the company into supporting her pregnancy and childbirth. Additionally, many netizens argued that the woman's actions also make it more difficult for other job-seeking females to find employment, especially with small companies that may become more cautious about hiring female workers.

Problem #3: Maternity Harassment on the Workfloor

"Dying together" is not the only way for companies to get rid of "troublesome" pregnant workers. There are many other low-cost ways to avoid dealing with pregnant employees and working mothers, such as making life in the workplace so difficult for them that they will voluntarily resign.
In Chinese, this kind of 'maternity harassment' is also called "chuān xiǎo xié" (穿小鞋), which literally means giving someone tight shoes to wear and making them uncomfortable. The phenomenon is also widespread in Japan, where the word 'matahara' was coined as an abbreviated form of the words 'maternity' and 'harassment' to describe the unfair treatment of pregnant women and young mothers in the workforce.
By pushing employees to resign voluntarily, the company not only saves on the costs of female workers' maternity leave pay but also avoids paying for a severance package.
Under the report by Jingshi Live-Streaming (经视直播) about the woman in Wuhan who was fired from her job due to her pregnancy, one Weibo user commented that many companies fire female workers who are pregnant, but they usually do not state it upfront and instead secretly force them to leave.
This comment received over 1500 likes, with many sharing their own similar experiences. One person wrote: "I was in that situation. The company explicitly persuaded me to resign and covertly marginalized me."
Another person shared: "After I announced my pregnancy, my year-end bonus was reduced by more than half, and my colleagues immediately treated me with coldness." One woman mentioned that "companies overtly use polite language while covertly giving the lowest performance evaluation to force employees to resign."
One Weibo user complained about how female workers first face nagging questions about their future plans to have children, then face criticism from employees and colleagues after announcing their pregnancy and then have to worry about getting fired or seeing their salary reduced after giving birth.

No Way Out?

Despite laws and regulations requiring companies to provide maternity leave for female employees, there are still loopholes that are used by businesses to avoid responsibility. This leaves women in a vulnerable position in the workplace and limits economic opportunities. Weibo users come up with several suggestions in recent online discussions on how to solve the problems female workers face.
Some suggest that women should "just be realistic" and settle for a second-best option ("退而求其次"). One Weibo post argued that since it is difficult for women to secure permanent positions in both government institutions and big private companies, they should consider becoming temporary workers in government departments as a secondary option.
Others disagreed with this hot take, stating that the average wages and benefits for temporary workers in government departments are not enough to make a living.
Another suggestion raised to combat pregnancy discrimination is to offer equal parental leave to both men and women. However, this proposal was also met with resistance from some who argued that it does not solve anything since fathers have the option to forgo paternity leave, but women do not have that choice. They also cited examples of male colleagues who voluntarily waived their 15-day paternity leave.
Some are skeptical about finding a solution to the problem of women facing pregnancy discrimination in the workplace, and also raise the issue of this problem decreasing women's willingness to have babies at all. Some netizens jokingly comment: "Do women need to provide their certificate of sterilization from the hospitals?" or "I suggest females just remove the uterus [as a solution]."
Facing low fertility rates and a large aging population, boosting birthrates is a priority for Chinese authorities. While Chinese experts look for ways to motivate couples to have (more) children at an earlier age, combating pregnancy discrimination in the workplace is also more important than ever.
One Weibo user bitterly joked about the apparent contradiction of boosting national birth rates while also promoting equal positions in the workplace:
"Women say: "If I get pregnant, I will face workplace discrimination."
The government says: "How dare companies discriminate against women? I will fine them."
Companies say: "You're good at playing tricks. I won't hire women anymore."
Women say: "If I have a child, I can't even find a job. I won't have children in the future."
Society says: "China is getting old before it gets rich. What should we do?"
The media says: "There is news every day. It's great!"
By Zilan Qian
Get the story behind the hashtag. Subscribe to What's on Weibo here to receive our newsletter and get access to our latest articles. Follow us on Twitter here.
Relevant Vocabulary
◼︎ 同归于尽 Tóng guī yú jìn
Dying together; suffering a downfall together; perishing together with one's foe
◼︎ 穿小鞋 Chuān xiǎo xié
Giving someone tight shoes to wear; making things hard for someone by abusing one's power
◼︎ 退而求其次 Tuì ér qíu qí cì
To settle for the second best thing
Images in featured image:
http://www.xinqtech.com/startup/201806/291055.html
https://www.maxlaw.cn/n/20220316/10379852097730.shtml
https://www.maxlaw.cn/n/20180823/923419931554.shtml
https://www.sohu.com/a/325722786_120156585
http://k.sina.com.cn/article_2090512390_7c9ab00602000n007.html
Spotted a mistake or want to add something? Please let us know in comments below or email us. First-time commenters, please be patient – we will have to manually approve your comment before it appears.
©2023 Whatsonweibo. All rights reserved. Do not reproduce our content without permission – you can contact us at info@whatsonweibo.com