Exam Room For HIV-positive Students Sparks Social Media Storm in China
For the first time ever in China, HIV-positive students will take the national college exams in a separate examination room at a special school in Linfen, Shanxi. News of the segregated exam site has triggered intense debate among Weibo netizens over the past few days.
For the first time ever in China, HIV-positive students will take the national college exams in a separate examination room at a special school in Linfen, Shanxi. News of the segregated exam site has triggered intense debate among Weibo netizens over the past few days.
Linfen Red-Ribbon School, the only special school for HIV-infected children in China, sparked a social media storm in early June when Shanxi Daily reported that its students would take their national exams in a special exam room, instead of taking it at the standard local exam site together with other students.
The Red Ribbon School was established in December of 2011, and has since been included in the national education system. The Institute offers free food, dorms, medical services, and psychological treatment for its 33 students, who come from all over China.
China's national college exam, better known as the gaokao (高考), is the National Higher Entrance Examination. For most students, it is the most important exam of their life.
The Red Ribbon School received official authorization to let 16 of its students take the national exam within the school premises. The students have lived and studied at the Institute since 2004. All prerequisites for the official exam, including CCTV and surveillance equipment, have now been installed in two designated gaokao rooms. There are separate rooms for candidates in liberal arts and science.
The idea for the special exam site was originally suggested by Guo Xiaoping, the school's headmaster. People with HIV often still face severe stigma and discrimination in China. "It is unrealistic to prevent all discrimination in modern-day society," Guo said in an interview with the Shanxi Daily: "Some people might object to taking tests together with our students. It was my proposal to set up a separate place for them, and it was then approved by the education and exam council. The establishment of this examination site is of major significance."
But not all netizens agreed on the helpfulness of separate exam rooms, and it triggered wider debates on the existence of the school itself. One Chinese web user objected: "'Red-Ribbon school'? Giving the school this name is like screaming from the rooftops 'these kids are sick!' This institution is unprecedentedly wicked rather than meaningful."
Another person ridiculed the exam arrangements, pointing out that it reinforced discrimination instead of eliminating it.
There are also many people who approve of the school; but also because they are worried about their own 'safety.' On the Weibo page of Chinanews, the comment that received the most 'likes' explained a concerned parent's perspective: "Would you feel safe knowing your kid is playing with those HIV-positive children? They are so little and don't know how to protect themselves. Something might happen that leads to contact with blood."
"I bet that half of the comments here are just out of political correctness. To be honest, I don't want to live with HIV-students in the same college because I'm afraid that I might have some dangerous physical contact with them without even knowing it."
There are also Weibo commenters who support headmaster Guo Xiaoping. "He's a great man who quit his job as the president of the Linfen People's Hospital to devote himself to building this school to help HIV-infected kids receive a proper education. It is really unfair to talk badly about such a kind old man and these poor children."
In 2014, over half a million (501,000) of China's population were reportedly living with HIV. Although the number of HIV cases is relatively low in China, this has also intensified existing stigmas and fear (see this 2009 study on stigma and discrimination among people with HIV in low HIV-prevalence contexts).
HIV-infected children in China are often forced to drop out of school because of poverty, discrimination, and poor health. In 2014, the 8-year-old HIV-infected Kunkun made headlines when he was banished from his village for the 'safety' of his neighbors. He later found a new home at the Red Ribbon school.
Sixth Tone recently reported that many workers with Chinese Hepatitis B seek body doubles to pass health checks in the workplace to avoid discrimination. Similar practices also occur with HIV carriers. Taboos surrounding the disease are so strong that some Chinese doctors still fear treating HIV/Aids patients, despite anti-discrimination rules.
Looking at the many comments on Chinese social media about the facts and falsehoods about HIV/Aids, it is clear that there is still a long road ahead for HIV awareness in China – especially because sexual education is still a controversial topic.
Through an open letter online, one of the students of the Red Ribbon School also gave their view and final say on the matter. They wrote: "I just want to go to college, achieve my dreams and pay back those who love me. The nearer the gaokao is, the heavier my heart feels. So many questions have been troubling me: whether I will be accepted to a university, if the teachers will accept me as a normal student, and whether my classmates will study and live with me."
The students of the Red Ribbon Schools will be taking their exams on June 7 and 8. One 19-year-old Weibo netizen wishes the students the best: "As a Linfen resident, this moves me to tears, and I am proud of Linfen. All these keyboard warriors need to shut up and stop discriminating. You can't deprive these students of their rights. I wish them all the good luck for their exams!"
– By Yue Xin
Follow on Twitter or Like on Facebook
Additional editing by Manya Koetse
©2017 Whatsonweibo. All rights reserved. Do not reproduce our content without permission – you can contact us at info@whatsonweibo.com.
Viral Politics: Next-Stage Investigation Into Covid-19 Origins Discussed on Weibo
Many Weibo users agree with Chinese officials that the U.S. re-investigation of the Covid-19 origin is about "political manipulation" and "blame-shifting."
While President Biden ordered a closer review into the origins of the Covid-19 and more countries are calling for action on a next phase study, Chinese officials demand that the U.S. thoroughly investigates the source of the epidemic within America's own borders and biological labs.
Fifteen months after the WHO declared the novel coronavirus (Covid-19) outbreak a global pandemic, the origin of the virus is still unclear. After the Wuhan field visit of the international WHO research team earlier in 2021, all hypotheses on the origin of the virus remain on the table.
As the efforts to get more people vaccinated continue and the outlook on containing Covid-19 are more positive, the question of where the virus that causes Covid-19 came from is attracting attention again. The issue of the 'origin investigation problem' ("溯源问题") is also generating discussions on Chinese social media.
The U.S. Side: "Looking for a Definitive Conclusion"
On May 26, the White House released President Joe Biden's statement calling for further investigation into the origins of Covid-19.
The statement says that there is still no definitive conclusion on the origins of the virus, with two scenarios being most likely: human contact with an infected animal or a laboratory accident. Biden writes that he has asked the Intelligence Community to "redouble their efforts to collect and analyze information that could bring us closer to a definitive conclusion," asking for a follow-up within 90 days, with a special focus on China.
Speculation that the coronavirus may have emerged from a laboratory in Wuhan was first raised in early 2020, before being refuted and sidelined as a "conspiracy theory" by many scientists.
A statement in The Lancet published in February of 2020 condemned any rumors on the virus origins, claiming that scientific research "overwhelmingly" concludes that the new coronavirus originated in wildlife. The WHO research team investigating the origins of Covid-19 also called it "extremely unlikely" that the virus leaked from a lab in China.
The American Dr. Anthony Fauci, the director of the National Institute of Allergy and Infectious Diseases, was among those scientists who originally refuted the 'lab leak' theory. But in May of 2021, Fauci said he was "no longer convinced" that the Covid-19 pandemic originated naturally.
In American media, reports on the 'lab leak theory' have also seen shifting narratives, going from a 'conspiracy theory' to a seemingly credible one. Last month, a Wall Street Journal published an opinion article titled 'The Science Suggests a Wuhan Lab Leak,' which claims that the pathogen of the novel coronavirus has a genetic footprint that has never been observed in a natural coronavirus.
The Wall Street Journal also reported on a study by the Lawrence Livermore National Laboratory in California, which concluded that the hypothesis of a virus leak from a Chinese lab in Wuhan is plausible and deserves further investigation. The report by Wall Street Journal included an alleged American State Department's assertion that the U.S. government has reason to believe that several researchers inside the Wuhan Institute of Virology became sick in autumn 2019, "with symptoms that were consistent with Covid-19 or a seasonal flu."
The Chinese Side: "It's All about Blame-Shifting"
Chinese officials have repeatedly denied a possible leak from a Chinese laboratory and have emphasized their cooperation with international efforts to find the origins of the pandemic.
On May 27 of this year, a day after Biden's statement was released, Zhao Lijian (赵立坚), spokesperson for the Foreign Ministry, responded to the reinvestigation of China regarding the origins of the novel coronavirus.
Zhao argued that the US is not actually interested in the scientific origin of the virus, but that its determination to reinvestigate China despite previous scientific conclusions is all about "political manipulation" and "blame-shifting." He further said that the US – with over 33 million confirmed Covid-19 cases and 600,000 deaths from Covid-19 – should examine its own behavior, instead of "attempting to scapegoat China."
Although China was the first country to report Covid-19 infections, the official stance has been that this does not necessarily mean that the new coronavirus "patient zero" was also in China.
Prior to the Wuhan lab leak theory, China had been questioning the US military base Fort Detrick in Fredrick, Maryland, about the leak of Covid-19 as an agent of biochemical warfare. In May of last year, China's Foreign Ministry Spokesperson Hua Chunying asked for an international review of Fort Detrick and other bio-labs.
The #US keeps calling for transparency & investigation. Why not open up Fort Detrick & other bio-labs for international review? Why not invite #WHO & int'l experts to the US to look into #COVID19 source & response?

— Hua Chunying 华春莹 (@SpokespersonCHN) May 8, 2020
In light of recent developments, Chinese Foreign Ministry spokesperson Wang Wenbin (汪文斌) also, again, suggested that the U.S. should invite an international team of scientists to conduct an independent investigation on Fort Detrick on its potential link to the origin of Covid-19.
This stance was again reiterated by Zhao Lijian in a June 17 press conference, where the MFA spokesperson asked the U.S. to explain why, being the most medically country in the world, their COVID19 death toll was so high and why nobody would take responsibility for this and give more transparency on Fort Detrick.
On June 22, China's Ministry of Foreign Affairs turned the tables on the U.S. and demanded a thorough investigation of (1) the source of the epidemic in the United States, a (2) thorough investigation of the why's and who's of the American inadequate response in fighting the epidemic, and then also (3) an investigation into the safety concerns at Fort Detrick other biological labs (#赵立坚请美国赶紧回答3个问题#).
Weibo Discussions and Hashtags
On Chinese social media, various discussions and hashtags have come up in response to the recent developments regarding the research into the COVID19 origins. Most commenters agree on one thing, namely that the next stage of Covid-19 origin investigations is seemingly more about politics than about the virus itself.
A hashtag titled "Biden Ordered US Intelligence to Investigate the Origins of Covid-19" (#拜登令美情报部门调查新冠病毒起源) appeared on the same day as the White House statement was released and immediately attracted over 35 million views. Another relating hashtag on Weibo is "U.S. Specialists Have Changed Their Tune Regarding COVID19 Origin" (#美国专家在新冠病毒的来源上改口了#).
On Weibo, the most common reaction to Biden's investigation and American media coverage of the origins of the virus is one of suspicion towards their true intentions, ranging from intense emotions to sarcastic humor. Weibo users suggest that Biden's call to action is a politically charged move to further blame China for the pandemic amidst growing China-US tensions. Most netizens commenting under this hashtag feel that the U.S. is deliberately hyping the issue to discredit China, turning the COVID19 origins issue into a geopolitical issue, rather than a scientific one.
One popular comment (@乐隐灯清) said: "If I say you have it, then you have it – [this is] the second season of 'Laundry Detergent'!" This sarcastic comment refers to the famous UN meeting where US Secretary of State Colin Powell presented a vial containing white powder, supposedly proving that Saddam Hussein was stockpiling anthrax, in order to justify the US's invasion of Iraq. Putin fired back by calling this vial of powder "laundry detergent."
There are also web users who are concerned with the 90-day limit of Biden's announced investigation, questioning whether such a relatively short time would be enough for a thorough and fair study. One user, whose profile image is the Chinese national flag, wrote: "90 days? If you investigated Fort Detrick starting in the morning, you would already have the conclusion before lunchtime!"
One user questioned the US President's move to trace Covid-19's origin in China instead of in his own country: "Are they giving 90 days to investigate the origin or 90 days to fabricate a rumor?"
Another hashtag is "Where did the new coronavirus originate?" (#新冠肺炎病毒起源于哪里#). On this hashtag page, most discussions revolve around the fact that COVID19 was already found in various countries outside of China during or just before the early days of the Wuhan outbreak. Various studies suggest that the coronavirus might have been circulating in the US and France a month before it was officially confirmed.
"The fact that Chinese scientists were the first to discover the genetic sequence of the new coronavirus does not mean that Wuhan is the source of Covid-19, and it certainly cannot be used as a pretext to conclude that the virus was made by Chinese scientists," one Weibo blogger (@侠骨一点情) wrote.
There are those who believe it is probable that the virus did come from the U.S., saying that the American investigation into China is an issue of "zéi hǎn zhuō zéi" (贼喊捉贼), an idiom that literally means 'a thief crying "Stop Thief!",' conveying the idea that it is easy for someone to accuse another in order to cover up one's own misdeeds.
In response to the investigation, the computer graphics artist @半桶老阿汤 / 'Half Can of Old Soup' also released a cartoon, showing President Biden blocking the entrance to Fort Detrick, with a WHO research team standing in front of the entrance.
Many web users support the Chinese official reaction that it is time for America to investigate the epidemic within its own borders. "First, discrediting and framing China regarding the virus origin has become a 'national policy' of the U.S. government to get rid of their [own] predicaments," Chinese economist Tao Yongyi (@陶永谊) wrote on Weibo: "Now, the best defense is a good offense."
By Susanna Sun & Manya Koetse
Follow @whatsonweibo
Spotted a mistake or want to add something? Please let us know in comments below or email us.
©2021 Whatsonweibo. All rights reserved. Do not reproduce our content without permission – you can contact us at info@whatsonweibo.com.
China's COVID-19 Vaccine Freebies: Get One Vaccine, Get Milk & Eggs for Free!
"Do I get free transport and a freebie with that vaccine?"
While American vaccine incentives – where some counties would offer a free beer and fries to encourage more Americans to get the COVID-19 vaccine – made international headlines, Chinese vaccine incentives have also been attracting the attention on Weibo and beyond.
Forget about free beer and fries. How about getting free milk, eggs, toilet paper, laundry detergent, or sesame oil after getting your shot? In China, and especially in Shanghai, some local vaccine sites have been offering all kinds of noteworthy freebies to encourage citizens to come and get their shots.
Since March and April of this year, netizens are sharing photos of COVID-19 vaccine posters online, such as this one, where you get a carton of milk after getting vaccinated: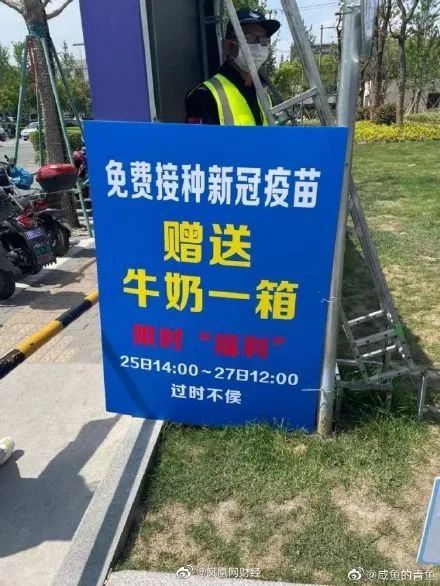 Or these, where you get free vegetable oil or sesame oil:
Or how about two boxes of eggs?
One local initiative even offered free toilet paper earlier this year:
Another place in Shanghai offered bags of rice for free with your shot:
And others offered free pick-up services to those getting vaccinated:
Here you see people leaving with their milk cartons (and vaccinated!):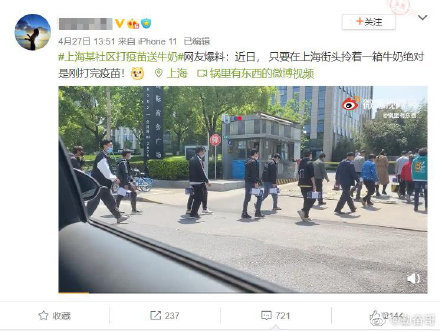 The freebies were meant to encourage more people to get their shots. But because of recent new COVID-19 cases in places like Anhui and Liaoning, more people are now in a rush to get vaccinated. Viral videos and posts on social media showed long queues at vaccine sites.
Popular WeChat account Xinwenge (新闻哥) reported a rapid shift in attitudes among young people towards getting the vaccine, from "do I get free transport and a freebie with that vaccine?" to "I'll stand in line and do anything as long as I can get vaccinated."
Is it a concert? Is it a lottery? No, it's covid-19 vaccines. pic.twitter.com/mF4FjyD87G

— Manya Koetse (@manyapan) May 18, 2021
"Confirmed local cases will motivate people more [to get the vaccine] than eggs and milk," one blogger from Guangdong wrote on Weibo.
Despite the surge of people going out to get their vaccine, some places still offer vaccine freebies. On social media, people are sharing the photos of their 'vaccine souvenirs'; plastic bags with milk and cookies.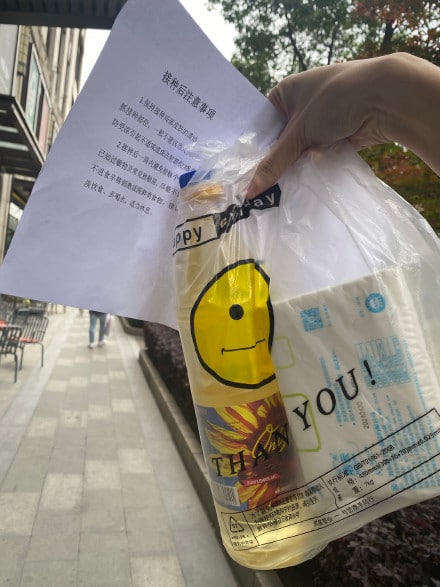 One Weibo user writes: "I was never so enthusiastic about getting my shot, until I heard they offered free milk and laundry detergent."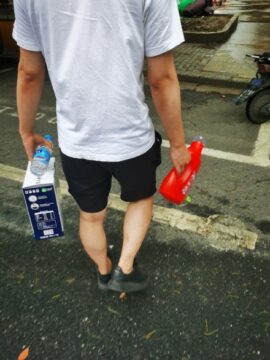 Another Weibo user also shows off their 'vaccine present', getting free milk, soap, and rice with their COVID-19 vaccine: "And I didn't even have to stand in line!"
By Manya Koetse & Miranda Barnes
Spotted a mistake or want to add something? Please let us know in comments below or email us. First-time commenters, please be patient – we will have to manually approve your comment before it appears.
©2021 Whatsonweibo. All rights reserved. Do not reproduce our content without permission – you can contact us at info@whatsonweibo.com.