False Alarm: 9 Strange "Emergency Calls" from China
China's emergency number '110' is supposed to be used when one needs urgent help from the police. However, some people call 110 with the strangest information and for the weirdest reasons. Here are nine real calls to 110 with very special 'emergencies'.
READING TIME: 3 MINUTES, 55 SECONDS
China's emergency number '110' is supposed to be used when one needs urgent help from the police, for example when someone is in serious danger or when witnessing a crime. However, some people call 110 with the strangest information and for the weirdest reasons. Here are nine real calls to 110 with very special 'emergencies'.

January 10 is the national day for China's emergency number 110. For this special occasion, the Chongqing Morning Post has picked a couple of "interesting" cases from the Chongqing 110 control center, causing astonishment amongst China's netizens (#奇葩报警#) about the reasons for people to call 110. See the following real stories.
Case 1: Phone needs a top-up
Man: Hi 110, my mobile phone is running out of credit. Could you please call this number [xxxx] for me?
110: What is this number?
Man: It's my friend's phone.
110: Is your friend requiring help from the police?
Man: No, but could you ask him to top up my mobile credit for me please?
110: All right….
What happened afterwards: the 110 receptionist literally did call the guy's friend and told him to top up his friend's phone.
Case 2: Professional salvage
110: Hello, Chongqing 110, how can I help you?
Old man: I dropped my certificate of property ownership into a sewer by accident, could you help me to get it out please?
110: Please let us know your exact location. And by the way, is the sewer deep?
Man: No, but it is really dirty. Hurry up a bit! My certificate is sinking!
110: Please wait a moment and keep your phone connected, we will send someone.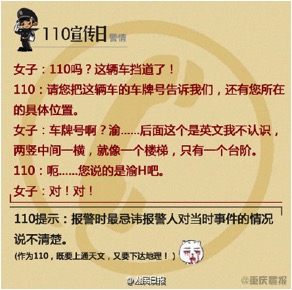 Case 3: Get it out of my way!
Woman: Hi 110? There is a car in my way!
110: Please tell us the registration plate of the car and your location.
Woman: Registration plate? Yu [for Chongqing] … and something in English that I don't know. It looks like vertical lines connected with a horizontal line. Looks like a staircase.
110: I guess you mean "H"
Woman: Yes! That's right!
[Chongqing police notice: Please make sure you provide precise information when calling 110.]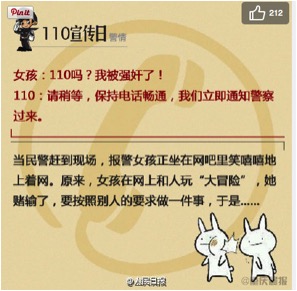 Case 4: Bad joke
Girl: 110? I was raped!
110: Please wait a moment, keep your phone connected and we will send someone immediately.
What happened afterwards: when the police arrived on site, the girl who made the call was sitting in an Internet bar. She was playing cards with her friends online. By rule, the person who loses the game has to do something decided by the winner. She lost. Hence she made the call.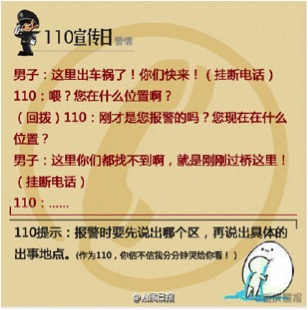 Case 5: I'm Here

Man: There is a car accident here, please come as soon as possible! [end of call]
110: Hello? Where about are you?
[Calling back] 110: Did you report a car accident just now? Where are you now please?
Man: How come you can't even find this place here? It is here, just across the bridge! [hangs up again]
110: ……
[Chongqing police notice: please, say the district name first and then the place of event.]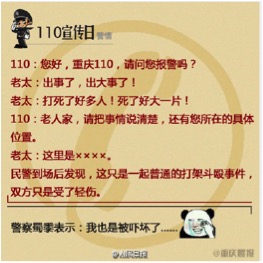 Case 6: A 'Massacre'

110: Hello ChongQing 110, how can I help?
Old Woman: Oh my god, things went terrible wrong! Many people were beaten to dead! So many!
110: Could you tell me more about the details please? And what is your location?
Old Woman: It is xxxxx [the location]
What happened afterwards: when the police arrived, it turned out to be nothing more than an ordinary argument and fight, where both sides only suffered minor injury.
Case 7: Unknown creature
110: Hello, Chongqing 110, how can I help?
Man: My pig just gave birth, and it delivered an "elephant"!
110: Could you give me more details please? Where about are you?
Man: I live in xxxx, I had a pig, which delivered an "elephant" just now.
110: All right, please keep your phone on, we will dispatch someone.
What happened afterwards: when the police arrived at the scene of the 'accident', the creature turned out to be just a little piggy with a long nose comparing to its siblings.
Case 8: Seasonal greeting
110: Hello, Chongqing 110, how can I help?
Old man: How come your guys at 110 are still working? It's not an easy job, is it? I send you my holiday greetings! I wish you good health!
110: Thank you. How can I help please?
Old man: No, I am only calling to send my greetings.
110: Thank you.
[Chongqing police notice: it's touching to send your thankful greetings, but in order to keep the telephone line clear for those who needs it, please only call 110 when necessary.]
Case 9: Free lift please!
110: Hello, Chongqing 110, how can I help?
Man: Hi, is that 110? Could you help me please? I need a taxi to xxx, but it is really too far and the fare is so expensive. Could you guys please give me a ride, so I can save some costs?
110: Did you lose any valuables?
Man: No, I didn't. The taxi fare is just too expensive.
Conclusion: these are not the ways to call 110.
– by Fan Bai
Follow What's on Weibo on Twitter.
Appreciate this article and want to help us pay for the upkeep costs of What's on Weibo? You can do so here! Every penny helps.
©2014 Whatsonweibo. All rights reserved. Do not reproduce our content without permission – you can contact us at info@whatsonweibo.com.
Chinese Anti-Bullying Movie "Better Days" Becomes Hit at Box Office and on Social Media
Chinese movie 'Better Days' is praised by online celebrities and experts for addressing the problem of campus bullying.
The Chinese movie Better Days (少年的你) is a hit; not just in Chinese cinemas, but also on social media, where campus bullying – one of the film's main themes – is a recurring topic of debate.
Over the past week, Chinese movie Better Days (少年的你), by Hong Kong director Derek Kwok Cheung Tsang and produced by Jojo Hui, has continued its extraordinary performance in movie theaters across China.
The drama movie, starring two popular celebrities Jackson Yi (易烊千玺) and Zhou Dongyu (周冬雨), reached more than 1.4 billion CNY (almost 200 million US$) in box office revenue this week, already making it one of the most lucrative movies of this year.
Better Days is noteworthy for its narrative, which focuses on campus-bullying. In the film, high school student Chen Nian (Zhou Dongyu) is struggling with the stress of her gaokao exams when her best friend, who is bullied by a group of girls at school, commits suicide by jumping off a building.
While mourning over the loss of her friend and dealing with the aftermath of her suicide, Chen becomes a bullying target herself. The story takes a turn when she meets the small criminal Xiao Bei (Jackson Lee).
China's bullying problem, central to this movie, has been an ongoing topic of discussion in online media over the past few years.
In 2016, a prominent elementary school in Beijing ended up at the center of controversy when various bullying incidents came to light. In that same year, a mother's social media article on her son's severe bullying at school went viral and triggered heated discussions.
In 2017, one bullying case became big news after a student from a Beijing-suburb area junior high school was reportedly forced to swallow feces from the restroom by his fellow classmates.
According to Chinese media outlet Caixin, China has yet to have specialized legislation against bullying. A 2016 study suggests that one-third of Chinese students experience school bullying on a frequent or occasional basis, and the bully problems are even more serious in rural areas, where more than 40% of the school-age children experienced some kind of bullying during their school life.
The heightened use of social media among China's younger generations seems to have only aggravated the bullying problem, with campus violence and bullying being filmed and published online, making victims more vulnerable to further harassment. "Extreme bullying videos" even became a concerning online trend over the past years.
Some argue that China's current legislation on protecting underage children is, in fact, protecting the bullies rather than those being bullied. A China News Service news report suggests that while most bullies are also individuals under 18 years old, penalties of bullying are also undermined because of the protective provisions in the current legal systems on minors.
In addition to calls to toughen related legislation, media commentaries are also calling for more resources to eradicate the bullying culture and toxic environment on campus. Chinese state media outlet Xinhua, for example, recently suggested the problem should be addressed through family education, counselling services, and more training for teachers and practitioners.
By addressing the issue of campus bullying in China, Better Days seems to have won the favor of moviegoing audiences in China. On the Chinese movie commentary site Douban, the film is receiving hundreds of positive comments and high ratings. The movie currently has a Douban score of 8.4 and a 98% "recommendation rate" on Weibo.
Better Days is also praised by online celebrities and experts. Renowned Chinese sociologist Li Yinhe (李银河), actress Ma Yili (马伊琍), and historian Yi Zhongtian (易中天) all complimented the great acting and the themes of the movie recently.
On Weibo, the movie has become tied to anti-bullying campaigns, with people sharing their own experiences and stories on school bullying and linking the film to hashtags such as "Unite in saying no to campus bullying" (#一起对校园欺凌说不#) or "How to combat campus violence" (#校园暴力到底该如何解决#).
By now, the movie's hashtag ("Movie Better Days" #电影少年的你#) has seen over 540 million views on Weibo.
See the trailer of Better Days here (with English subtitles). Better Days is still airing in cinemas across China and is also played at various theaters in Europe, America, and Australia.
By Chauncey Jung
Edited by Manya Koetse
Follow @whatsonweibo
Spotted a mistake or want to add something? Please let us know in comments below or email us. First time commenters, please be patient – we will have to manually approve your comment before it appears.
©2019 Whatsonweibo. All rights reserved. Do not reproduce our content without permission – you can contact us at info@whatsonweibo.com.
Didi Announces Relaunch of Hitch Carpooling, Igniting Controversy with Curfew for Women
This week, Didi announced it would allow users to 'hitch' a ride again, but the proposed curfew for female passengers stirred controversy.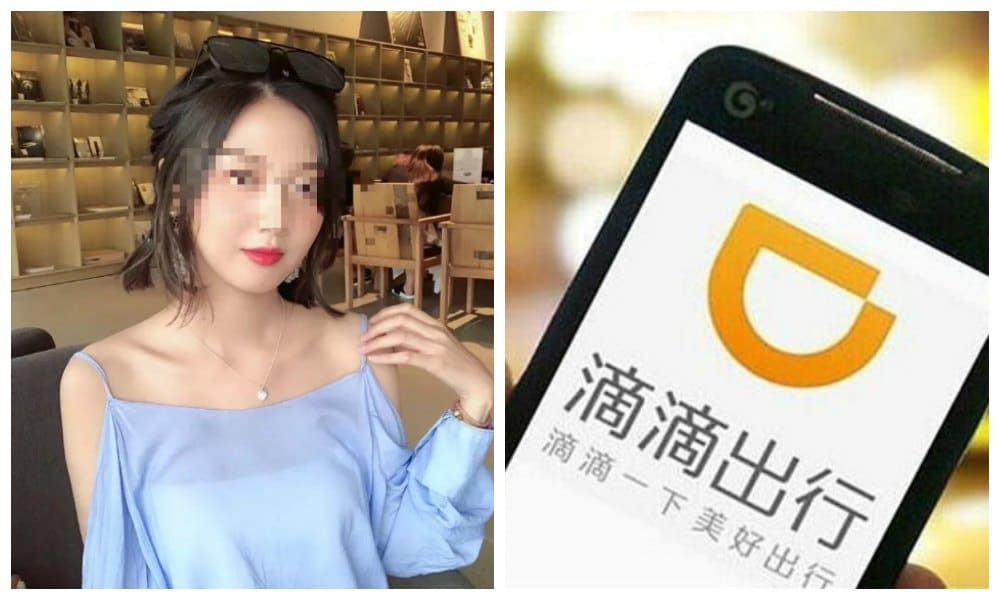 Over a year after China's most popular car-hailing company Didi Chuxing took down its carpooling service, news of its relaunch – including a curfew for female passengers – became a huge topic of debate on Chinese social media this week.
Earlier this week, Didi Chuxing (滴滴出行) announced that it would be relaunching its carpooling service Hitch (滴滴顺风车 Didi Shunfengche) on November 20 in seven trial cities.
The announcement comes after more than a year of safety overhauls and periods of public discussion following the murder of two female passengers committed by Hitch drivers in 2018.
But the new safety guidelines, which included an 8 pm curfew for female riders, drew major outrage from online commenters.
Hitch is a carpooling app where riders and drivers heading in the same direction can team up and split the cost. The two murder cases in May and August of 2018, coupled with multiple reported cases of sexual assault, led to widespread criticism that Didi does not sufficiently vet drivers and ensure the safety of its (female) riders.
In response, Didi suspended the Hitch service indefinitely in the summer of 2018 and revamped its safety protocols across the entire platform.
"Hi, long time no see," began a statement from Didi Hitch's Weibo account announcing the relaunch on November 6: "After 435 days of hard work, we developed 18 iterations, optimized 330 functions, and received 300,000 user suggestions. Finally, we decided to move forward, hoping that Hitch can shoulder our responsibilities and create value for the public."
The trial operations are set to begin in Harbin, Taiyuan, Shijiazhuang, and Changzhou on November 20 of this year, and expand to Shenyang, Beijing, and Nantong on November 29.
Didi further specified its trial operations, writing that services would be active from 5.00 in the morning until 23.00 at night, adding in between brackets that the services for women would end at 20.00 at night.
Many Weibo users were ecstatic at the news of the Hitch service starting again, but discussions were soon dominated by the question of whether or not Didi's curfew for women was a sexist measure.
"What kind of protection is limiting the movement of women?! How about please restrict the damn criminals instead, okay?" one Weibo user commented on a popular news post about the story.
"After an entire year of discussion, this is your plan??" others asked: "Sure, I agree to the rule that women cannot ride after 8 pm, as long as men are also not allowed to leave home after 8 pm."
One lawyer commented: "Stupid. Is this just a disclaimer from Didi? Self-protection? Or is it blatant discrimination against customers? In the face of a frequent and dangerous problem, rather than be concerned with prevention, protection, and response, they simply come up with strategies that refuse service to passengers."
Didi responded that both the curfew and a 50km limit placed on rides were temporary safety measures during the trial relaunch period while the company continues to improve its services, but it did not help cool down discussions. Hashtags such as "Didi Hitch's New Plan is Sex Discrimination" (#滴滴顺风车新方案被指性别歧视#) soon made their way across social media.
Besides the curfew, the relaunch announcement of Hitch also included an extensive range of other new safety features and regulations, including an entire program devoted to the safety of women. We have translated it below:
"PROTECTION PLAN FOR WOMEN"
1. Anti-single-picking mode: hide personal information and adopt a two-way confirmation mechanism to avoid the danger of drivers targeting single women.
2. Utilizing travel behavior records and other data, an algorithm will be integrated to find the most suitable fellow travelers for female users.
3. A customized "female safety assistant" includes the following features:
1 Rider can view relevant information such as the age of the car, the driver's age, and the time of the most recent facial recognition verification of the driver
2 Reminder to share your route while traveling, availability of emergency contact services, real-time location protection, and other security functions.
3 Can check trip safety information and discover whether any abnormal behavior has taken place. In the case of abnormal behavior such as route deviation and long-term stopping, the emergency contact person will be informed immediately.
4. Special protections for women's travel: long-distance trips require riders to undergo facial recognition, female users must set up emergency contacts, the driver will automatically audio record the trip (encrypted and uploaded to the platform).
5. Temporary restrictions: no cross-city trips or trips longer than 50 km will be allowed, and women will not be allowed as passengers from 8 pm to 5 am.
Although some of the new proposed policies above were met with online support*, as they were clearly designed to address the specific circumstances that led to the two murders in 2018, the curfew for women predominantly caused online anger.
Many commenters pointed out that one of the Didi murders was committed in broad daylight, not at night, which makes the curfew rule all the more confounding.
When big Weibo accounts such as the All-China's Women Federation also started commenting on the issue, Didi Hitch apparently chose to avert further controversy; on November 7, Didi announced that during the trial period of its continued operations, services for all passengers, male and female, will now be limited to 8 pm.
"That's right, we're all equal as passengers," some commented on the sudden policy change. Others, however, saw the change as a confirmation that Didi Hitch's policies were indeed sexist.
Some commenters suggested something else to supposedly ensure Didi passengers' safety: "Perhaps Didi should no longer allow male drivers to work after 8.00 pm instead."
With 2018 being Didi's toughest business year yet, this week's controversy shows that the company still has to work hard this year and in the year to come to win back its customers' trust, especially when it comes to its female passengers.
*(One of the more popular safety suggestions submitted to Didi during its period of public comment was the plan for all Hitch drivers' information to be checked through a third-party credit data provider, although it is not sure when or if this proposed measure will be realized in the future.)
Spotted a mistake or want to add something? Please let us know in comments below or email us. First time commenters, please be patient – we will have to manually approve your comment before it appears.
©2019 Whatsonweibo. All rights reserved. Do not reproduce our content without permission – you can contact us at info@whatsonweibo.com.