Defying Spinster Stereotypes: Why Chinese Unmarried Women are Rooting for Actress Faye Yu
Chinese actress Faye Yu has become a social media hit because of her views on love and marriage.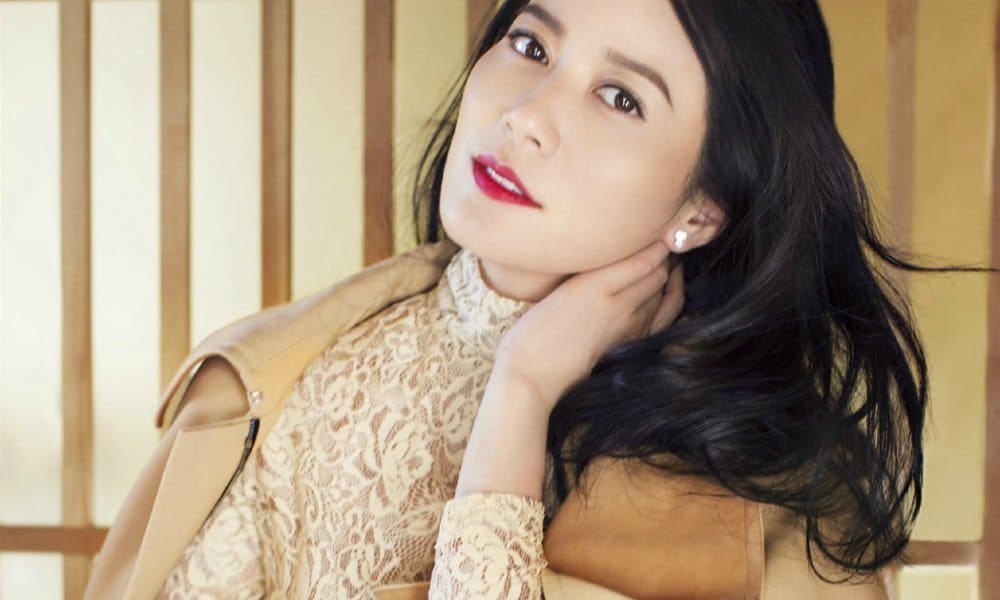 The unconventional attitudes on love & marriage of the unmarried 47-year-old actress Faye Yu have taken Chinese social media by storm. In a society where women are facing real pressures to get married, many welcome Yu's refreshing perspectives.
With contributions from Miranda Barnes.

Chinese actress Yu Feihong (俞飞鸿, born 1971), also known as Faye Yu, has recently become a big topic of discussion on Chinese social media for her refreshing perspective on marriage and singlehood.
The 47-year-old unmarried celebrity was previously on various Chinese talk shows hosted by older (male) presenters, who questioned the actress about her single status. These shows include 'Behind the Headlines' (锵锵三人行) and and 'Thirteen Invitations' (十三邀), hosted by Xu Zhiyuan (许知远).
Yu became a social media hit when popular writer Shen Jiake (@沈嘉柯), on June 20, posted images and quotes of her on the talkshow 'Behind the Headlines,' which was hosted by two men Dou Wentao and guest Feng Tang.
The various quotes show how Yu, in a relaxed and matter-of-fact way, addresses questions about her being unmarried, expressing that she does not need a partner to fulfill her needs, and that she did not feel she wants or needs to adapt her life to existing social expectations on the right age to get married.
Within a time frame of three days, the post has been reposted on Weibo over 120,000 times, receiving more than 100,000 likes. Other posts dedicated to Yu's appearance on the shows have also attracted hundreds of comments and reposts.
Some of these screenshots include the following:
Author Shen Jiake says about Yu: "Yu Feihong (俞飞鸿) really mirrors [these] old men's own demons*, making a fool of their own reflections. Xu Zhiyuan, Feng Tang, and Dou Wentao all have to face their defeat."
"I am rooting for Yu Feihong, she expresses my feelings!"
Over the past few days, thousands of people on Weibo comment on Yu's attitude and previous interviews. Many of them are young and female.
In recent years, much has been written and discussed on the pressures Chinese women are facing today when it comes to marriage, and their risk of being stigmatized as a 'spinsters', 'leftover women' or 'shengnu' when they are older than 25 and still single.
In 2016, an SK-II skincare ad campaign titled 'She Finally Goes to the Marriage Corner' became a huge trending topic on Chinese social media. The ad video focused on Chinese single women, pressured to get married by their families and society, who pluck up the courage to speak out towards their parents against the burdens they face.
The online hype around Faye Yu shows similarities with the SK-II topic, and reveals that for many women in China today the pressure to get married is very real.
Chinese media outlets have also started to report on the Faye Yu hype, headlining: "Why are young people suddenly such fans of the 47-year-old Yu Feihong?" The trend is especially noteworthy because the talkshow appearances that have gone viral were recorded a time ago; 'Behind the Headlines' is a show that has already been canceled since 2017.
"There is no age one should get married, there's just an age one feels they should get married" ("没有该结婚的年龄,只有该结婚的感情), Weibo blogger Yan Wangye (@颜王爷) writes.
"I am rooting for Yu Feihong, she expresses my feelings!", a typical comment says. "She's just cool. Beautiful and cool," others say.
But there are also many men responding to the topic. Famous designer 'Teacher Kevin' (@Kevin凯文老师) says: "I really appreciate Yu Feihong's attitude on marriage: marriage is not a woman's necessity. To be married or to be single is a personal choice, completely depending on what makes you more comfortable."
"I have my own concept of marriage."
Yu Feihong has been in the Chinese showbusiness since she was a child and has starred in dozens of movies since. Outside of China, she is mostly known for her role in the Joy Luck Club (1993). Many of these movies are about romance, and her own love life has been a topic of interest for Chinese journalists for years, especially because Yu is known as China's "most beautiful woman above the age of 40."
In a 2016 interview with Phoenix News, Yu says: "By the time I was 20 years old, I was instilled with the concept of marriage by society and my family. But up to the present day, I will not simply accept a concept given to me by others. I have my own concept of marriage."
In the interview, she says she has a stable partner, but does not feel the roles of "wife" or "mother" suit her lifestyle: "I don't reject it, but I don't feel it is something I need to attain in this life."
"She says it so well," one Weibo commenter writes: "I am a proponent of singlehood, although I do not oppose to marriage. I just feel we shouldn't enter marriage within such a restricted time frame. This is a state of mind that is not welcomed or accepted by the majority of people."
"I am not married for the mere reason that I do not want to be married yet," another person says. "It is just so fascinating to see someone with such an independent way of thinking," others say.
Besides praising Yu's courage, there are also many who condemn Chinese men such as the talk show hosts Dou Wentao or Feng Tang who do not hesitate to question unmarried women such as Yu about their single status – even suggesting that being single and "being lonely" are practically the same thing.
Many call these male presenters' questioning a sign of 'male chauvinism' or, literally: 'straight man's cancer' (直男癌). "I applaud Faye Yu's patience to deal with these kinds of boring questions," some say.
"I just really like Yu's view on life," another netizen writes: "Whether you're single or married, the most important thing is to be your own independent person."
Want to read more? Check out "The Shengnu Dilemma: (Don't) Marry Before You're 30."
By Manya Koetse
Follow @whatsonweibo
Contributions from Miranda Barnes
* The term he literally used is '照妖镜' ("老男人的照妖镜"), which means a "magic mirror for revealing goblins."
Spotted a mistake or want to add something? Please let us know in comments below or email us.
©2018 Whatsonweibo. All rights reserved. Do not reproduce our content without permission – you can contact us at info@whatsonweibo.com.
Papi Jiang Receives Online Backlash for Giving Son Her Husband's Surname
As a role model for female empowerment, Papi Jiang should not have given her child her husband's last name, 'feminists' on Weibo say.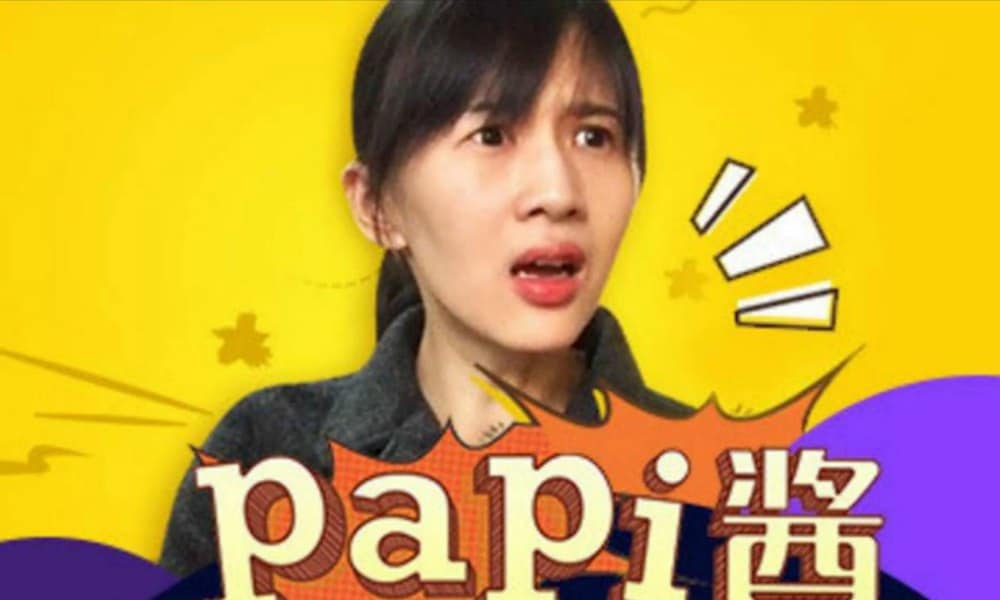 First published

An independent woman such as self-made superstar Papi Jiang should not have given her child her husband's last name, Chinese self-proclaimed feminists say. The issue became top trending on Weibo this week.
China's favorite online comedian and Weibo superstar Papi Jiang (papi酱) has received online backlash for giving her baby her husband's surname.
The online controversy erupted on Mother's Day, when Papi shared a photo of her and her baby on her Weibo account, that has some 33 million followers.
Papi Jiang (33) recently became a mum and wished all mothers a "Happy Mother's Day" in her post, which addressed how being a mum is one of the most tiring tasks she has ever faced in her life. The internet celebrity also posted about suffering from mastitis (inflammation of the breast) while breastfeeding.
Underneath the post, Weibo users started a discussion on Papi Jiang being a mum and why such a successful self-made woman had opted to name her baby after her husband, instead of giving him her own surname.
Dozens of disappointed fans, internet trolls, and self-proclaimed feminists accused Papi of not being an "independent woman," and some even suggested Papi was a "married donkey" (婚驴) for "blindly following the common rules of a patriarchal society."
Papi Jiang (real name Jiang Yilei) is a Beijing Central Academy of Drama graduate who rose to online fame in 2015/2016 with her sharp and sarcastic videos that humorously address relevant topics in Chinese society.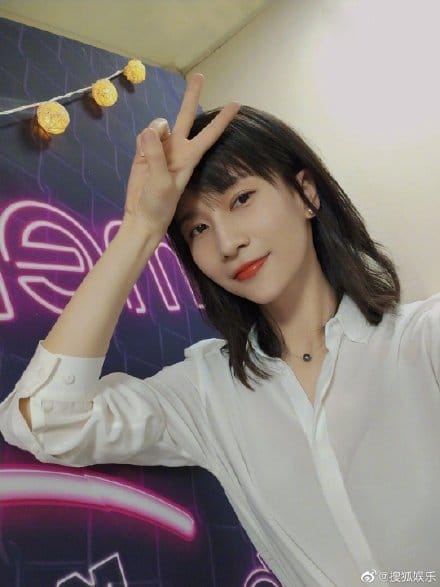 She has been a highly successful as a career woman; since as early as 2016, companies offer millions to get Papi Jiang to promote their brand in one of her videos.
The comedian is often seen as an online role model for female empowerment; not just because of her economic success and independence, but also because her success is not based on her looks – which generally is the case with many female online influencers in China. Proudly identifying herself as a "leftover woman" in the early days of her rise to fame, and not afraid to use vulgar language, she was a breath of fresh air in China's 'Big V' culture.
Papi once said that the most important person in the life of an independent woman is herself.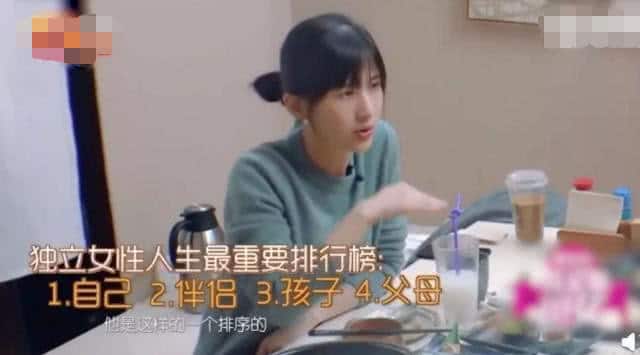 The vlogger already learned that fame can be a double-edged sword back in 2016, when she was targeted by online censors for spreading "vulgar language and content."
This week, the controversy over the surname of Papi's child temporarily became one of the most-searched hashtags on Weibo (#papi酱孩子随父姓引争议#), and some Chinese media outlets also reported the issue.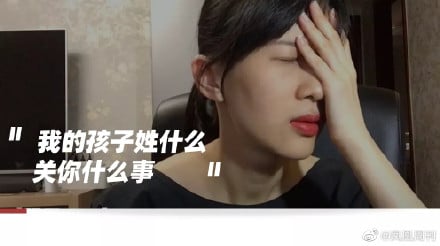 As per China's Marriage Law of 1980, parents can give their child either the father's or the mother's surname. It is relatively unusual for parents to give their newborn the mother's name, but there has been a recent rise in the number of babies to receive their mother's surname.
Although Papi faced backlash for supposedly not being 'independent' for giving her child her own family name, many of Papi Jiang's have come to her defense today. According to some Weibo commenters, the people who are criticizing her are "braindead single feminists" or "internet trolls projecting their own unhappiness onto Papi."
At the time of writing, Papi Jiang's Mother Day post and the one addressing her mastitis seem to have been removed.
By now, online discussions have also shifted to address what feminism actually is – and whether or not those attacking Papi over her child's name are feminists or not.
"Some feminists on Weibo are truly ridiculous," another person writes: "They talk about feminism all the time, but are quick to point their finger at women, what's that about?"
"I am a real feminist," one commenter writes: "The core of feminism is all about giving women the freedom to choose. This also means that women have the freedom to give their child the dad's name."
To read more about Chinese feminism, also see:
– Liberal Writer Li Jingrui Angers Chinese Feminists: "Weaklings and Warriors Are Not Defined by Gender"
– Is There No Chinese Feminism?
To read more about Papi Jiang, check out these articles.
By Manya Koetse (@manyapan)
With contributions from Miranda Barnes
Follow @whatsonweibo
Spotted a mistake or want to add something? Please let us know in comments below or email us. First-time commenters, please be patient – we will have to manually approve your comment before it appears.
©2020 Whatsonweibo. All rights reserved. Do not reproduce our content without permission – you can contact us at info@whatsonweibo.com.
IKEA China Masturbation Video Causes Consternation on Weibo
For some people, IKEA apparently feels a little too much like home.
First published

A video of a woman masturbating in an IKEA store in China has gone viral among Chinese social media users.
In the video, a woman is filmed while fondling herself within an IKEA store while regular customers are shopping in the background. The video is rumored to have been filmed at the store's Guangzhou location.
In the 2-minute video that is making its rounds, the woman is first posing on an IKEA sofa – without any pants on – pleasuring herself while another person films her.
Another shot shows her masturbating on an IKEA bed with multiple customers passing by in the background, seemingly not noticing the woman's behavior.
In a third scene, the woman continues to masturbate within one of the store's showrooms.
Since the pornographic video has spread across Chinese social media like wildfire, IKEA China released a statement on its Weibo account on May 9th, in which it condemned the video.
The Swedish furniture company stated that it is "committed to providing home inspiration for the public" and strives to provide a "safe, comfortable, and healthy shopping experience and environment" for its customers. IKEA further writes it "firmly opposes and condemns" the video.
In 2015, a similar incident went trending on Chinese social media regarding a video of a naked girl and a man having sex in a fitting room at the Sanlitun location of Japanese clothing brand Uniqlo.
Because of the unlikely combination of a 'sex video' and 'Uniqlo', many people wondered at the time if the viral video was actually a secret marketing campaign meant to spice up the image of Uniqlo – something that was denied by the chain.
Later on, five people were arrested over the sex tape and the personal details of the woman in the video were revealed and shared by Chinese web users.
"This is the 2020 Uniqlo," one commenter said about today's IKEA controversy.
Although IKEA has filed a police report against the people involved in the making of the video that has now gone viral, the identities of the woman and her accomplice are not yet known or revealed at the time of writing.
Some netizens suggest the video was filmed some time ago – in the pre-COVID-19 era – since the people in the background are not wearing face masks.
The controversy has not made the IKEA brand any less popular on Chinese social media – on the contrary. On Weibo, thousands of web users have posted about the issue, with many flocking to the IKEA Weibo account to comment.
Underneath an IKEA post promoted with the brand's slogan "Your Home, Your Way" – that now seems a bit dubious – people are leaving all sorts of comments about the video.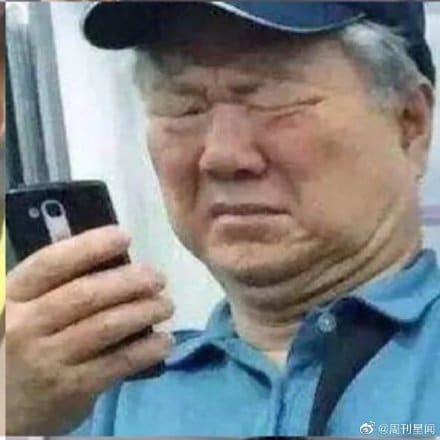 Although some people express anger over the woman's vulgar behavior, there are also many people who seem to find the controversy somewhat amusing, and many others who want to know where they can find the video.
"I'm asking for a friend," is one of the comments that is currently recurring the most in threads about the video.
By Manya Koetse (@manyapan)
With contributions from Miranda Barnes
Follow @whatsonweibo
Spotted a mistake or want to add something? Please let us know in comments below or email us. First-time commenters, please be patient – we will have to manually approve your comment before it appears.
©2020 Whatsonweibo. All rights reserved. Do not reproduce our content without permission – you can contact us at info@whatsonweibo.com.