Defying Spinster Stereotypes: Why Chinese Unmarried Women are Rooting for Actress Faye Yu
Chinese actress Faye Yu has become a social media hit because of her views on love and marriage.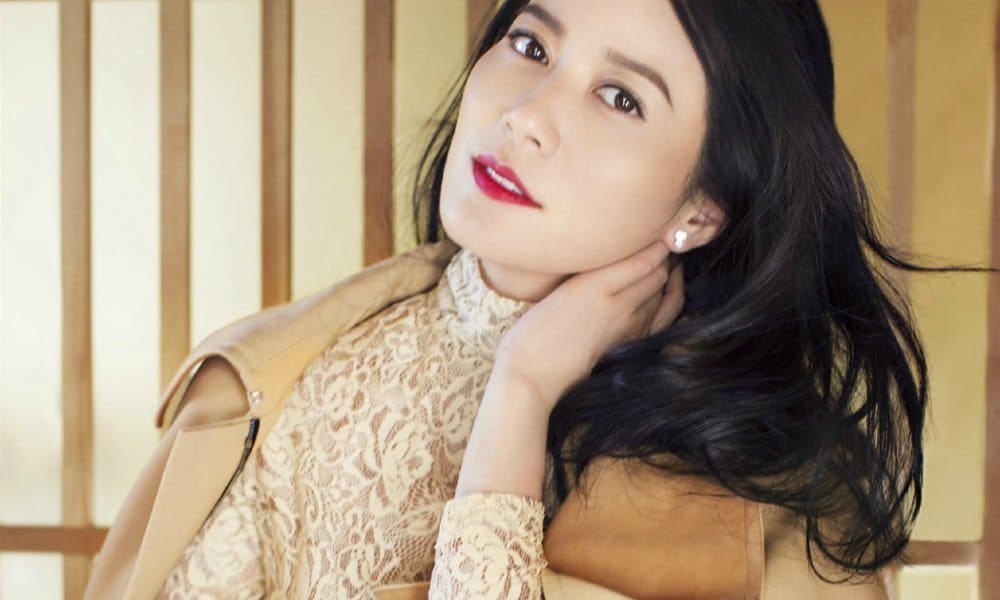 The unconventional attitudes on love & marriage of the unmarried 47-year-old actress Faye Yu have taken Chinese social media by storm. In a society where women are facing real pressures to get married, many welcome Yu's refreshing perspectives.
With contributions from Miranda Barnes.

Chinese actress Yu Feihong (俞飞鸿, born 1971), also known as Faye Yu, has recently become a big topic of discussion on Chinese social media for her refreshing perspective on marriage and singlehood.
The 47-year-old unmarried celebrity was previously on various Chinese talk shows hosted by older (male) presenters, who questioned the actress about her single status. These shows include 'Behind the Headlines' (锵锵三人行) and and 'Thirteen Invitations' (十三邀), hosted by Xu Zhiyuan (许知远).
Yu became a social media hit when popular writer Shen Jiake (@沈嘉柯), on June 20, posted images and quotes of her on the talkshow 'Behind the Headlines,' which was hosted by two men Dou Wentao and guest Feng Tang.
The various quotes show how Yu, in a relaxed and matter-of-fact way, addresses questions about her being unmarried, expressing that she does not need a partner to fulfill her needs, and that she did not feel she wants or needs to adapt her life to existing social expectations on the right age to get married.
Within a time frame of three days, the post has been reposted on Weibo over 120,000 times, receiving more than 100,000 likes. Other posts dedicated to Yu's appearance on the shows have also attracted hundreds of comments and reposts.
Some of these screenshots include the following:
Author Shen Jiake says about Yu: "Yu Feihong (俞飞鸿) really mirrors [these] old men's own demons*, making a fool of their own reflections. Xu Zhiyuan, Feng Tang, and Dou Wentao all have to face their defeat."
"I am rooting for Yu Feihong, she expresses my feelings!"
Over the past few days, thousands of people on Weibo comment on Yu's attitude and previous interviews. Many of them are young and female.
In recent years, much has been written and discussed on the pressures Chinese women are facing today when it comes to marriage, and their risk of being stigmatized as a 'spinsters', 'leftover women' or 'shengnu' when they are older than 25 and still single.
In 2016, an SK-II skincare ad campaign titled 'She Finally Goes to the Marriage Corner' became a huge trending topic on Chinese social media. The ad video focused on Chinese single women, pressured to get married by their families and society, who pluck up the courage to speak out towards their parents against the burdens they face.
The online hype around Faye Yu shows similarities with the SK-II topic, and reveals that for many women in China today the pressure to get married is very real.
Chinese media outlets have also started to report on the Faye Yu hype, headlining: "Why are young people suddenly such fans of the 47-year-old Yu Feihong?" The trend is especially noteworthy because the talkshow appearances that have gone viral were recorded a time ago; 'Behind the Headlines' is a show that has already been canceled since 2017.
"There is no age one should get married, there's just an age one feels they should get married" ("没有该结婚的年龄,只有该结婚的感情), Weibo blogger Yan Wangye (@颜王爷) writes.
"I am rooting for Yu Feihong, she expresses my feelings!", a typical comment says. "She's just cool. Beautiful and cool," others say.
But there are also many men responding to the topic. Famous designer 'Teacher Kevin' (@Kevin凯文老师) says: "I really appreciate Yu Feihong's attitude on marriage: marriage is not a woman's necessity. To be married or to be single is a personal choice, completely depending on what makes you more comfortable."
"I have my own concept of marriage."
Yu Feihong has been in the Chinese showbusiness since she was a child and has starred in dozens of movies since. Outside of China, she is mostly known for her role in the Joy Luck Club (1993). Many of these movies are about romance, and her own love life has been a topic of interest for Chinese journalists for years, especially because Yu is known as China's "most beautiful woman above the age of 40."
In a 2016 interview with Phoenix News, Yu says: "By the time I was 20 years old, I was instilled with the concept of marriage by society and my family. But up to the present day, I will not simply accept a concept given to me by others. I have my own concept of marriage."
In the interview, she says she has a stable partner, but does not feel the roles of "wife" or "mother" suit her lifestyle: "I don't reject it, but I don't feel it is something I need to attain in this life."
"She says it so well," one Weibo commenter writes: "I am a proponent of singlehood, although I do not oppose to marriage. I just feel we shouldn't enter marriage within such a restricted time frame. This is a state of mind that is not welcomed or accepted by the majority of people."
"I am not married for the mere reason that I do not want to be married yet," another person says. "It is just so fascinating to see someone with such an independent way of thinking," others say.
Besides praising Yu's courage, there are also many who condemn Chinese men such as the talk show hosts Dou Wentao or Feng Tang who do not hesitate to question unmarried women such as Yu about their single status – even suggesting that being single and "being lonely" are practically the same thing.
Many call these male presenters' questioning a sign of 'male chauvinism' or, literally: 'straight man's cancer' (直男癌). "I applaud Faye Yu's patience to deal with these kinds of boring questions," some say.
"I just really like Yu's view on life," another netizen writes: "Whether you're single or married, the most important thing is to be your own independent person."
Want to read more? Check out "The Shengnu Dilemma: (Don't) Marry Before You're 30."
By Manya Koetse
Follow @whatsonweibo
Contributions from Miranda Barnes
* The term he literally used is '照妖镜' ("老男人的照妖镜"), which means a "magic mirror for revealing goblins."
Spotted a mistake or want to add something? Please let us know in comments below or email us.
©2018 Whatsonweibo. All rights reserved. Do not reproduce our content without permission – you can contact us at info@whatsonweibo.com.
Over a Third of China's Babies Are Delivered via C-Section – The National Health Commission Wants to Change That
Fear of pain is a major reason for nonmedical cesarian deliveries on maternal request.
China's National Health Commission wants to lower the nation's high C-section rates. On Chinese social media, many women argue it should be up to the mother to decide how she wants to give birth.
In 2018 the percentage of deliveries by cesarean was 36.7% in mainland China, according to the latest Report on Women's & Children's Health (中国妇幼健康事业发展报告) that was launched by the National Health Commission on May 27.
This means that together with Hong Kong, Taiwan, Brazil, Egypt, and Turkey, the People's Republic of China (PRC) now has the highest C-section rates in the world.
A World Health Organization report from 2010 estimated that 46% of Chinese babies were delivered via C-section. In 2017, another study found that this percentage was incorrect, although some urban and wealthier regions in China, such as Shanghai, did see C-section (CS) rates as a high as 68% (Black & Bhattacharya 2018, 1; McNeil 2017).
China's CS rates have recently become a hot topic in Chinese newspapers and on social media. On May 27, the National Health Commission of the People's Republic of China held a Beijing news conference in which Qin Geng (秦耕), the director, announced that more actions will be taken to encourage natural childbirth among Chinese women.
These actions will, among others, include stricter regulation of cesarian section operations and the provision of more support and pain relief for laboring women, as well as a higher hospital income for natural births. The National Health Comission hopes to significantly reduce the number of unneccesssary C-sections without medical indication in this way (Beijing News 2019; Caijing 2019).
Since 1985, the international healthcare community has considered 10-15% to be "the ideal rate" for C-sections, of which the highest percentage are those CS deliveries with medical indications that can actually save the lives of mothers and babies.
Although the worldwide rates for CS deliveries have increased throughout the years, there is no evidence for the benefits of nonmedically indicated C-sections for women or children, according to the World Health Organization.
This is not the first time Chinese authorities try to combat the country's high CS rates. After reports by the World Health Organization from 2010 and 2015 pointing out the potential hazards of unnecessary C-sections, there have been various state efforts to reduce the number of nonmedical cesarian surgeries.
Besides the introduction of free prenatal education classes, these efforts included monitoring public hospital CS rates and removing bonuses or cutting portions of a hospital's income once their CS rates reached a certain threshold (e.g. 40%) (Wang 2017, 3). These government initiatives seem to have had effect: the country's C-section growth rates have slowed down, but were not decreasing yet.
Since the Chinese government announced an end to its one-child policy in 2015, lowering cesarean sections rates has become a more urgent matter, as Chinese couples are now allowed to have a second child.
Although various studies from mainland China and beyond challenge the idea that nonmedical C-sections are less 'safe' than vaginal births for single deliveries, this risk changes when a woman who previously had a CS section plans another pregnancy: multiple cesarean sections are associated with additional risks including CS scar rupture and abnormal placental invasion (Biler et al 2017, 1074; Black & Bhattacharya 2018, 2; Liu et al 2015, 817).
Why So Many C-sections in China?
But why does China have such a high cesarian delivery rate at all? Since the early 1990s, mainland China saw a more dramatic rise in CS rates than, for example, the USA; from less than 10% (with only 3.4% in 1988), China went to one of the highest in the world (Hellerstein 2011; Wolf 2018, 13).
The answer to why this is, is not so straightforward and relates to socio-economic changes as well as cultural factors that come into play.
One reason is that there is a general belief in the 'safety' of cesarian births that influence women's choices for a (nonmedical and planned) C-section (Black & Bhattacharya 2017, 2).
An insightful study into this matter is that of researcher Eileen Wang (2017), who found that anxiety about giving birth and fear of pain is also a major reason for nonmedical cesarian deliveries on maternal request, especially considering that only a minority of Chinese women are given any form of pain relief during labor. Besides traditional concepts, this is also because China faces a shortage of anesthetists and because obstetricians are not always well-informed to prescribe other forms of pain medication (2017, 5).
As noted by Wang, epidurals are denied to laboring women not just because anesthesiologists are too busy, but also because of various other factors: different from a scheduled C-section on their agenda, they are not always available during nighttimes and in weekends to administer anesthesia to women in labor, do not have the time to monitor a patient for hours during labor (whereas a cesarean could be done in an hour), or were not even trained to administer epidurals (2017, 5).
According to Wang, the concerns about labor pain result in more requests for C-sections, both before and during labor. With relatively low awareness and availability of labor pain relief methods many Chinese women simply opt for a C-section as a way to control their pain.
But there are also other factors that contribute to the relatively high rate of women requesting C-sections for nonmedical reasons. One of them is the importance placed in the astrological calendar: having a baby on that one 'lucky day' or within that 'lucky year' is considered enough reason to plan a cesarian birth for many Chinese families.
In early 2015, ahead of the Chinese New Year, many women rushed to the hospital to make sure their baby was born in the Year of the Horse (2014) as the Year of the Goat (2015) was coming up. There is an old Chinese saying that nine out of ten people born in the Year of the Goat are incomplete and will suffer from great misfortune throughout their life ("十羊九不全").
Another factor that leads to more cesareans on maternal request relates to the existing concerns among women that vaginal delivery will affect their figure or sex life (Wang 2017, 2).
Responses on Chinese Social Media
Since the Beijing news conference of May 27, the hashtag "Reducing Unnecessary Cesarean Section Surgery" (#减少非必需剖宫产手术#) has taken off on Chinese social media.
On Weibo, the hashtag page received 340 million views at time of writing. One thread about this topic even received over 28400 comments.
"What do you call 'unnecessary cesarian'?" one of the most popular comments said: "Isn't it that so many women in labor choose to have a C-section because natural childbirth is too painful?"
Other commenters also called for a normalization of pain relief in labor, saying that the high percentage of C-sections lies in the fact that Chinese women lack access to "wútòng fēnmiǎn" (无痛分娩) or "painless birth," meaning vaginal delivery with pain relief.
Some Weibo users also stress that women should have the freedom of choice on how they wish to give birth, saying: "C-section or natural should be my own choice" and "If you leave me no choice I might as well not give birth at all."
Multiple commenters write: "The lower the C-section rate, the higher the suicides," referring to an incident that occurred in Shaanxi in 2017 when a pregnant woman committed suicide by jumping from the fifth floor of the hospital after she was allegedly denied a CS delivery.
Other Chinese netizens also complain about the fact that it seems to be men who are promoting the new policies to combat the high C-section rates, writing: "Isn't there a way to have them suffer the pain of labor instead?"
In her study, scholar Eileen Wang also argues that the lack of pain relief is one of the major issues that should be addressed by policymakers who are hoping to reduce the number of C-sections in China. Further improving the childbirth experience by, for example, integrating a midwifery model, is also essential in making natural childbirth more attractive for Chinese women, Wang argues.
For now, many hospitals in China are still offering C-section "packages": some prices start at RMB 5800 ($840) for a C-section, other hospitals have packages that start from RMB 88,000 ($12,741) including a three-day hospital stay in a private room.
"It's a pregnant's woman body, so she should decide how she wants to deliver her baby," one commenter on Weibo writes: "It should be a woman's right to decide."
By Manya Koetse
Follow @whatsonweibo
References
Biler, A., Ekin, A., Ozcan, A., Inan, A. H., Vural, T., & Toz, E. 2017. "Is It Safe to Have Multiple Repeat Cesarean Sections? A High Volume Tertiary Care Center Experience." Pakistan Journal of Medical Sciences 33(5): 1074–1079.
Black, Mairead & Sohinee Bhattacharya. 2018. "Cesarean Section in China, Taiwan, and Hong Kong— A Safe Choice for Women and Clinicians?" PLOS Medicine 15(10): 1-3.
Caijing. 2019. "卫健委:全国剖宫产率为36.7% 积极推广分娩镇痛." Caijing , May 27 http://economy.caijing.com.cn/20190527/4591594.shtml [5.31.19].
Hellerstein, Susan Celia. 2011. "Cesarean Delivery in China Analysis of Cesarean Deliveries Without Indication." The American College of Obstetricians and Gynecologists: 20s.
McNeil, Donald. 2017. "Study Finds Lower, but Still High, Rate of C-Sections in China." New York Times, Jan 9 https://www.nytimes.com/2017/01/09/health/c-section-births-china.html [6.2.19].
Wang, Eileen. 2017. "Requests for Cesarean Deliveries: The Politics of Labor Pain and Pain Relief in Shanghai, China." Social Science and Medicine (173): 1–8.
WHO. 2015. "WHO statement on caesarean section rates." World Health Organization, April https://www.who.int/reproductivehealth/publications/maternal_perinatal_health/cs-statement/en/ [6.2.19].
Wolf, Jacqueline H. 2018. Cesarean Section – An American History of Risk, Technology, and Consequence. Baltimore, Maryland: Johns Hopkins University Press.
Featured image by Sohu News.
Spotted a mistake or want to add something? Please let us know in comments below or email us. Please note that your comment below will need to be manually approved if you're a first-time poster here.
©2019 Whatsonweibo. All rights reserved. Do not reproduce our content without permission – you can contact us at info@whatsonweibo.com
Noteworthy Weibo Moment: Qingdao Government Account Shows Support for LGBT Community
"The best official account post I've ever seen on Weibo."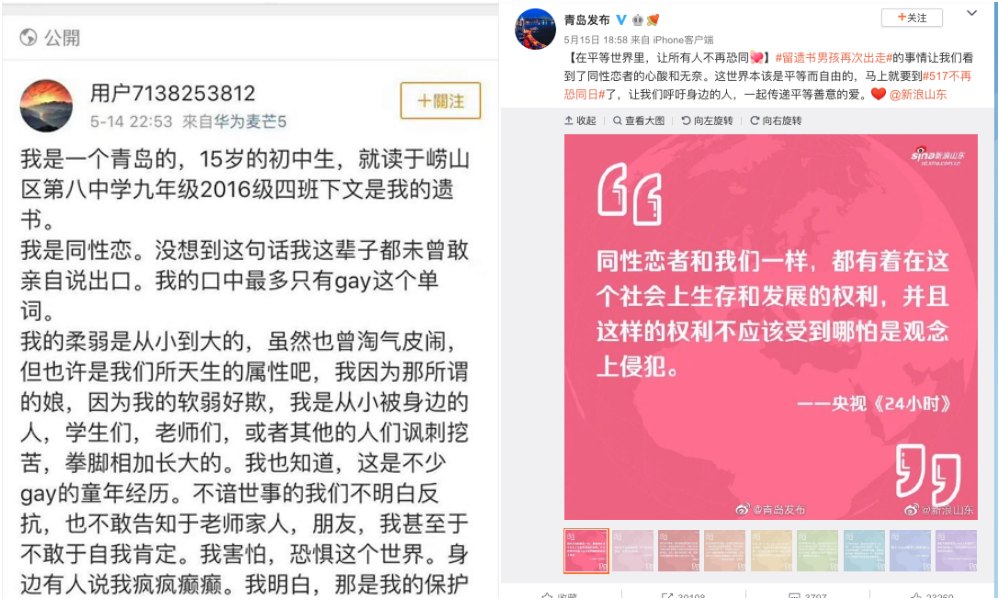 First published
Some netizens are moved to tears to see an official government account making a public statement in support of the gay community.
Just a day ahead of the 2019 International Day Against Homophobia, Transphobia, and Biphobia (May 17), a Qingdao government social media account has attracted the attention of Chinese netizens for showing support to the gay community.
On the night of May 15, the Information Office of Qingdao Municipal Government published the noteworthy post on its official Weibo account Qingdao Fabu (@青岛发布), which has over 3,8 million followers.
"In a world of equality, let all people turn away from homophobia" ("在平等世界里,让所有人不再恐同"), the post said, commenting on the recent trending news of a 15-year-old boy who came out as gay and posted a suicide note on his Weibo account.
"The incident shows us the difficulty and hopelessness homosexual people are suffering. The world should be equal and free, and as the International Day Against Homophobia (#517不再恐同日#) is nearing, let's call on the people around us to express our love of equality and kindness," the post said.
Within a day after it was published, the Qingdao Fabu post was shared over 30,000 times and received more than 23,000 likes.
A Weibo Suicide Note
The Weibo user referred to by the Qingdao local government account had posted a lengthy letter on the night of May 14. Using an anonymous Weibo account (@用户7138253812), the author, identifying himself as a 15-year-old boy from Qingdao, came out as gay and shared his pain and grievances over the pressure he faced.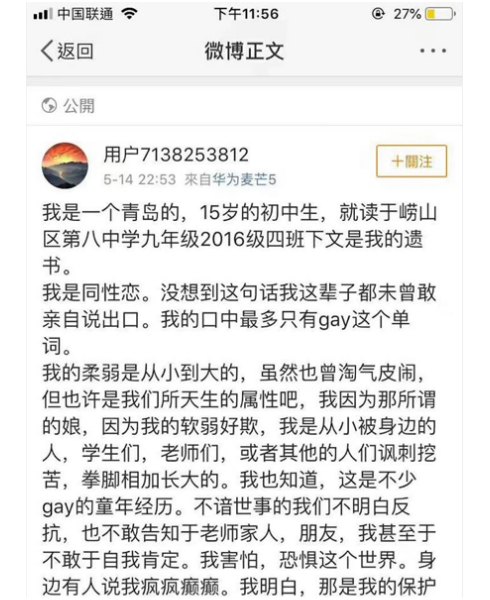 Because the boy wrote he wanted to "leave this world forever" and ended his post with a farewell, many people became worried about the boy's mental state and whereabouts.
In the early morning of May 15, the official Weibo account of Qingdao Police (@青岛公安) posted an update, stating that the boy was found safe after running away from home.
Later that day, another post was published on the same anonymous account saying: "Thank you everyone, everything is fine." The farewell note has since been deleted. See a full translation of the text below this article.
Qingdao Official Account Receives Praise
With its post supporting the young gay man and the LGBT community at large, the Qingdao Government official news account is receiving hundreds of comments praising them.
Besides their original post, the Qingdao government account also posted a total of nine different quotes relating to LGBT issues, including one from Taiwanese film director Ang Lee saying "There's a Brokeback Mountain in everyone's heart."
Another one stresses the fact that homosexuality is not a mental illness, with yet another quote mentioning that the Netherlands became the first country in 2001 to legalize same-sex marriage.
The reposted quotes were originally published on the Weibo account of Sina Shandong (@新浪山东), the official Weibo account of Sina's Shandong Province Branch.
As the Qingdao Weibo post is gaining more popularity on Weibo at time of writing, these are some of the popular comments below:
"This is so awesome for an Official Weibo account!"
"That an Official account would post this.. seeing this makes me tear up. I will always support equal rights."
 "I'm crying, this was really sent out by an Official account."
"This must be the best Official account post I've ever seen on Weibo."
"Let's give it up for Qingdao!"
"This means progress!"
"I'm not from Qingdao, but I will follow this account from now on. This [post] shows you have guts."
"I feel proud to be from Qingdao."
"I am so moved by your post. Thank you for your support. I hope your light will shine on all the people."
Over the past few years, Chinese social media have seen many times when gay content was censored.
One important moment occurred in 2017, when the China Netcasting Services Association (CNSA, 中国网络视听节目服务协会) issued new criteria to strengthen regulations over online audio-visual content on Chinese platforms. One of the new regulations regarded the removal of online content that "displays homosexuality" ("展示同性恋等内容"), grouping homosexuality together with incest and sexual perversity as "abnormal sexual behavior."
Although it is very noteworthy for an official government account to publish social media posts that strongly support the gay community, it is not the first time it has happened.
In July of 2017, the official account of the Communist Youth League of Fujian published a post that stated "Being gay is no disorder!" Many netizens at the time, like today, said the unexpected support moved them to tears.
Sometimes on Weibo, it's the little posts about big matters that seem to matter the most – especially when they come from a government-run source.
Full Translation of Suicide Note

The suicide note in question has been deleted from Weibo, but The Beijing LGBT Center translated the text and posted it on its Facebook page.
Please note that the following translation is not a What's on Weibo translation and that all credits for this translation go to the Beijing LGBT Center. Follow them on Facebook here:
"I am from Qingdao and am a 15-year-old student from Laoshan No.8 Secondary School.
I am a homosexual. I never expected I would be able to utter this word.
Growing up a frail and meek boy, I am that 'fem' everyone is referring to. An easy target, bullied, assaulted, teased, abused, and shunned by classmates and teachers alike. This is how I grew up, and so did many other gay children. Naive as I was, I did not fight back or told anyone about my feelings. I was afraid, and am still afraid of this world. I acted strangely and they called me lunatic, but I know that was my only way to protect myself. After I tried in vain to fit in, I chose to close myself from this world, and this is how I lived my childhood.
By sheer luck, I had a short childhood. I started to realize what's 'strange' with me in grade 5 or 6. I remember how I exulted when I first read about affirmative answers about gay on Zhihu (Chinese version of Quora). But I was soon overwhelmed by those derogatory, abusive, and hurtful answers. I cried the whole night and yet I put my mask back on the very next morning. What people saw as maturity in me was in fact avoidance and isolation.
Things got a little better in secondary school because I am a top student. There was less bullying but I reminded that fem guy teased and mocked at by everyone. Among the worst was my class teacher, Chen Feng. For two years he inflicted me with corporal punishments. Listening to him indoctrinating his banal views was pure suffering. I've got enough of his so-called masculinity values, his genders have their fixed roles, his homosexuals are modern perverts. Yet he is not alone among his peers and colleagues. I have had enough of my teachers' cursing, smearing, ridiculing, and insulting anything related to gays. All their rubbish made me sick and isolated.
Gradually I become irritable and violent. I came out to my mother rather abruptly. Though she seemed to have acquiesced it, I was giving in to the pressure and thinking about ending everything. I have no idea what happened to me and I know choosing death is not courageous, but rather an act of cowardice. I chose to avoid my family and I knew my indifference and avoidance hurt them, especially my mom, the one person who loves me the most.
My father is a weak and arrogant scum and inflicted my mother her whole life. He broke down my door when I was most vulnerable and isolated and banged my head on the wall. At that moment, I only wished he could kill me. But he was stopped by my sister.
Just now, my so-called "family" once again stormed my room and hurled their most insulting curses at me. I realized that my mom might be the only person who can accept me in this world. Or maybe she was just pretending too.
This is not the first time I've thought about dying to end it all. Just a few days ago, I scaled high trying to leave all these sufferings. When I called my mom to hear her voice one last time, I hesitated, climbed down and wandered for miles away from home.
Now I have once again escaped from home with that scum's phone in my hand. Yes, this account is my father's. I want to tell the world what I've always wanted to say and to do. And then leave this world forever.
I understand living on might be the better choice. I could have a bright future and watch this world getting more open and inclusive. But I have had enough. I am sorry to have vented everything on here, and I am sorry to be so weak my entire life. I wanted to do something for this world but in reality, I can do nothing. I know, China will not have its own Stonewall; its people can put up with anything. I am losing control of emotion…
I apologize for my cowardice. To be honest, I am not innocent. But even if I had the courage to change the world, a stab in the back could have easily killed me. I have chosen to solve the radical question with the radical way.
I love you all, the kind and beautiful people of conscience, I trust you to make the world better. If there were a heaven, I will send my blessings…I wish my story will be a faint voice to your fight."
Also read:
* Communist Youth League: "Being Gay is No Disorder!"
* Why the Gay Kisses in 'Bohemian Rhapsody' Won't Make It to Chinese Cinemas
* Weibo Administration: "We're No Longer Targeting Gay Content"
* China's Online Gay Revolution and Rainbow Warrior Geng Le
By Wendy Huang and Manya Koetse
Follow @whatsonweibo
Spotted a mistake or want to add something? Please let us know in comments below or email us. Please note that your comment below will need to be manually approved if you're a first-time poster here.
©2019 Whatsonweibo. All rights reserved. Do not reproduce our content without permission – you can contact us at info@whatsonweibo.com