Girl Brings 23 Relatives on Blind Date, Dinner Bill Comes Down to 20,000 Yuan
The girl said she wanted to test out the generosity of her date.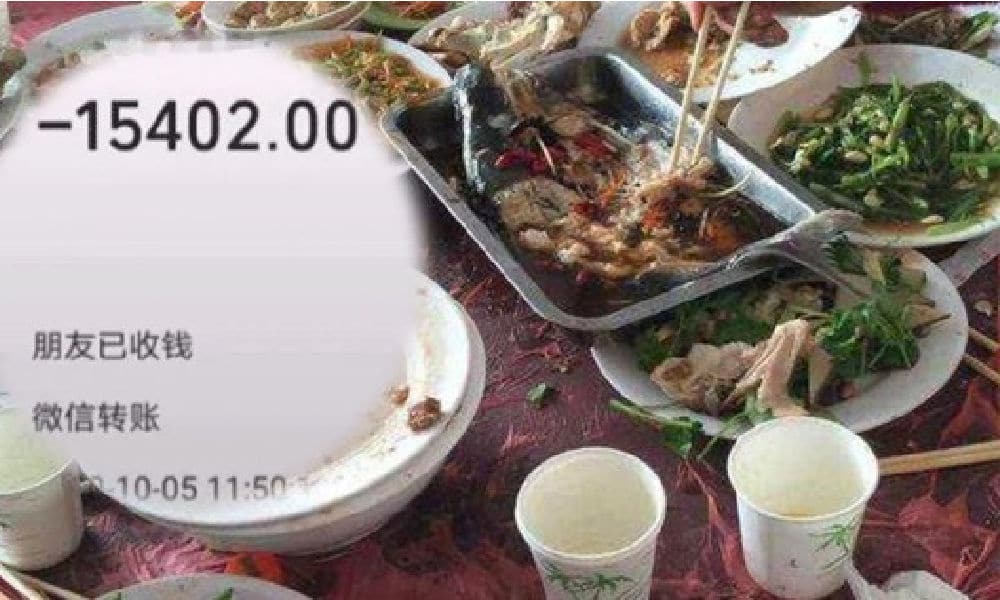 An expensive blind date has become top trending on Chinese social media platform Weibo, after a girl allegedly brought 23 of her relatives and friends to the dinner. The restaurant bill was 20,000 yuan – close to 3000 USD.
According to China Newsweek Magazine (中国新闻周刊), a man by the name of Xiao Liu had asked the young woman out for dinner, saying it would be his treat. The girl then unexpectedly showed up with an entire crew, saying it was to "test out" Liu's generosity.
Xiao Liu is a 29-year-old man from Zhejiang province. Struggling to find the time to date with his busy work schedule, Liu's mother hired a matchmaker to find a suitable potential girlfriend for her single son. The incident happened during a date that was set up by this matchmaker.
The story was originally published by local media outlets Taizhou Evening News (台州晚报) and Qilu Evening News (齐鲁晚报) on WeChat. These sources report that Liu took off without paying once he saw the restaurant bill, quickly turning off his cellphone afterward.
Since Liu left the 'dinner date' without paying, the woman was stuck with the bill.
In an attempt to solve the situation with Liu later on, the young woman said she was "willing to go Dutch" on the bill. Liu refused but was still willing to pay the 4398 yuan bill (660 USD) for two tables, leaving the girl with the rest of the 15,402 yuan bill (2305 USD).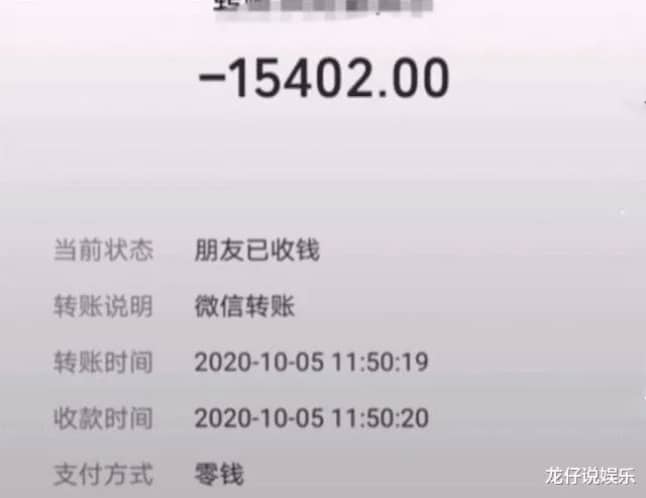 The girl reportedly turned to her relatives for help in paying the bill. Screenshots of the WeChat group chat were apparently leaked online, with some group members showing unwillingness to share in the high bill, saying that they did not smoke nor drink and just had a bite to eat – and that it was her who invited them in the first place.
On Weibo, the topic attracted 260 million views on Tuesday, with most commenters siding with Liu and condemning the girl.
Despite the online interest in the topic, there are also some netizens doubting whether or not the story is real. Although screenshots were shared by online media, the actual source of the story remains unknown. It is also not disclosed where or when the incident took place.
The fact that the story was also shared by some official (local) media makes people think that perhaps it was just posted as clickbait.
"Even an idiot would never bring 23 people to a date," some commenters say.
It is not uncommon for these kinds of interpersonal incidents to go viral on Chinese media.
In 2016, one Shanghai girl was so disappointed about what her boyfriend's parents served her for Chinese New Year, that she ended her relationship because of it. The story went mega-viral, reinforcing the 'demanding leftover woman' media cliché.
By Manya Koetse
Follow @WhatsOnWeibo
Spotted a mistake or want to add something? Please let us know in comments below or email us. First-time commenters, please be patient – we will have to manually approve your comment before it appears.
©2020 Whatsonweibo. All rights reserved. Do not reproduce our content without permission – you can contact us at info@whatsonweibo.com.
Chinese Tennis Star Peng Shuai Attends Fila Kids Junior Tennis Finals
Peng Shuai shows up at the Fila Kids Junior Tennis Challenge Finals in Beijing.
Chinese tennis player Peng Shuai (彭帅) has 'reappeared' on Chinese social media for the first time her post of November 2nd (link) sent shockwaves across social media before it was taken offline.
Although her Weibo account has no new posts and searches for her name still do not come up with any recent content, Peng attended the Junior Tennis Challenge Grand Finals event while keeping a relatively low profile. Photos of Peng Shuai attending the Beijing event were shared by various accounts, including that of China Open (@中网ChinaOpen).
The Junior Tennis Finals are meant to cultivate Chinese tennis talent.
The event that Peng attended is the Diamond Cup Junior Tennis Challenge, which is meant for the 6-12 age group.
Peng's appearance is noteworthy; over the past two weeks, international concerns have grown over the whereabouts of the Chinese tennis star. Famous tennis players including Naomi Osaka and Serena Williams used the hashtag #WhereIsPengShuai in joining the calls to locate the "missing" Chinese tennis player Peng Shuai.
Peng had not been seen or heard from publicly she described the affair she allegedly had with former vice-premier Zhang Gaoli (张高丽) in her November 2nd Weibo post, in which she also claimed that Zhang once forced her into having sex.
While the issue was completely silenced in Chinese (social) media, the English-language state media outlet CGTN did address the commotion on Twitter on November 17, when they shared a screenshot of an email allegedly sent by Peng to WTA Chairman Steve Simon, saying she was not missing and not unsafe.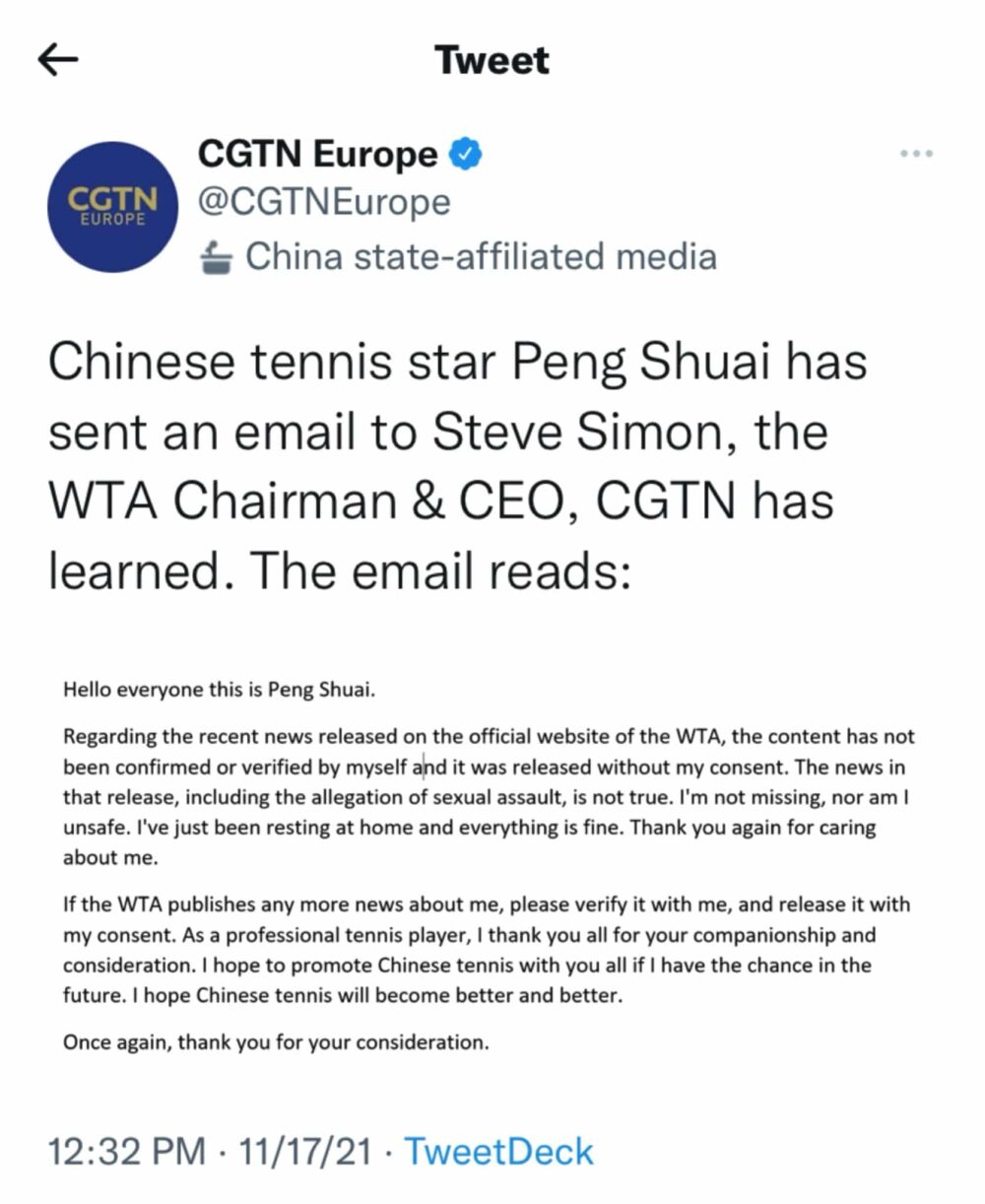 While many people still raised their concerns on Twitter and a White House spokesperson even said the Biden administration was 'deeply concerned' about the reports alleging that Peng Shuai had gone missing, photos of Peng Shuai in her home showed up on Friday (November 19th), posted on Twitter by Chinese journalist
Shen Shiwei (沈诗伟) claiming the tennis star posted them on her WeChat moments.
Peng Shuai's WeChat moments just posted three latest photos and said "Happy weekend".
Her friend shared the three photos and the screenshot of Peng's WeChat moments. pic.twitter.com/tut8CEH6gu

— Shen Shiwei沈诗伟 (@shen_shiwei) November 19, 2021
One day later, a video was also shared on Twitter by Shen, showing Peng having dinner and having conversations in which it was clearly indicated that the date was November 20, 2021.
Peng Shuai had a dinner with her friends. pic.twitter.com/rhZUvYlIxa

— Shen Shiwei沈诗伟 (@shen_shiwei) November 20, 2021
Later, news came out that Peng also attended the Junior Tennis Finals during the weekend. After the email, the home pics, and the dinner, this was the fourth time news of Peng's whereabouts made its rounds on Twitter, but it was the very first time in 19 days that she 'reappeared' in mainland China's online media spheres.
"A familiar face came to the Diamond Cup," one comment said, with others writing "long time no see" and "she showed her face!"
"She lost a lot of weight," others said, not explicitly mentioning Peng Shuai's name.
Some commenters just expressed they were happy to see the tennis champion "doing well" and being "safe and sound."
By Manya Koetse
Spotted a mistake or want to add something? Please let us know in comments below or email us. First-time commenters, please be patient – we will have to manually approve your comment before it appears.
©2021 Whatsonweibo. All rights reserved. Do not reproduce our content without permission – you can contact us at info@whatsonweibo.com.
Online Outrage after Pet Dog Gets Killed by Anti-Epidemic Workers in Shangrao
An official response to the Shangrao incident that called the killing of the dog "harmless disposal" only added fuel to the fire.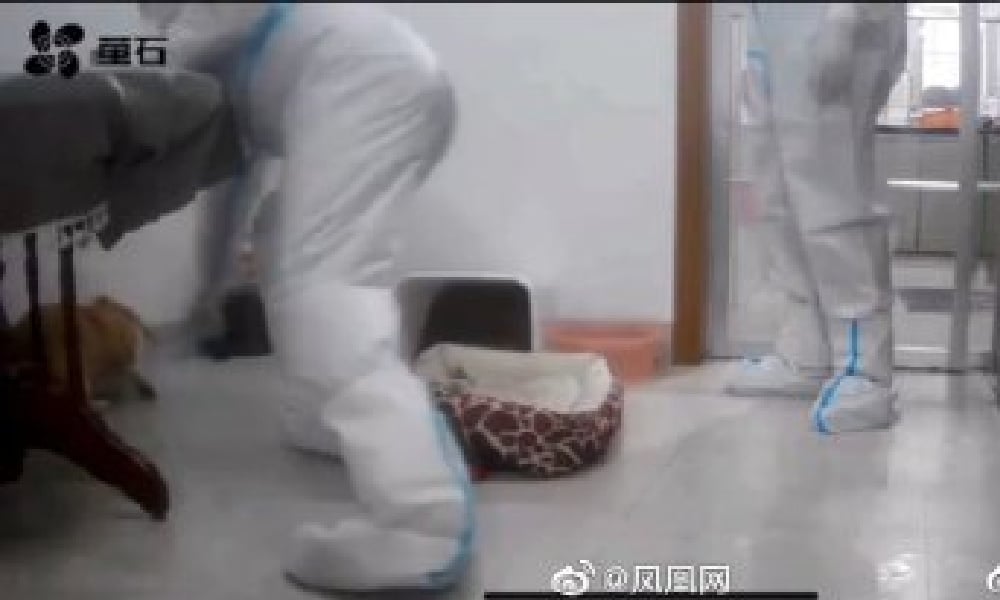 A pet dog was killed by anti-epidemic workers in Shangrao this week while its owner was undergoing quarantine at a nearby hotel. Chinese netizens are outraged, not only about the dog being killed during extreme efforts to contain Covid19, but also about the seemingly cold response of local authorities after it happened.
This weekend, a case in which a pet dog was killed by epidemic prevention workers in the city of Shangrao has sparked outrage on Chinese social media.
The incident occurred in the Golden Phoenix Garden community (金凤花园小区) in the Xinzhou district of Shangrao, a medium-sized prefecture-level city located in the northeast of Jiangxi province. Due to a new confirmed case of Covid19, the community is undergoing a lockdown and its residents are being quarantined while apartments are being disinfected.
On November 12, one of the community residents named Mrs. Fu (傅) shared on Weibo how her pet dog was presumably killed by anti-epidemic workers while she was undergoing quarantine at a local hotel that did not allow pets. She shared security footage recorded inside her residence from Friday around 16:45, showing how two epidemic workers enter her apartment and then begin to beat her pet dog on the head with iron bars.
The story and video sparked anger online, and the official response to the incident only added fuel to the fire.
On Saturday, November 13, Shangrao's Xinzou district released a statement via its official Weibo channel (@信州发布). The statement, posted as late as 23:37, explained that residents of the community were supposed to leave their doors open while being quarantined, but that the door of this particular resident was closed. Anti-epidemic staff then received police assistance in entering the house to disinfect it, which is when they discovered the dog was at the home. The notice writes that the workers then proceeded to deal with the dog through "harmless disposal" (the literal words "无害化处理" could also be translated as 'handling [something] to be made harmless').
The statement also says that the worker has since been removed from his post and has apologized.
Very similar wording can be found in an article addressing the controversy in the English-language version of Chinese state media outlet Global Times, where the incident is described as a staffer who "culled a pet dog during anti-epidemic mission," and that the staffer "gave harmless disposal on a pet dog without having fully communicated with the pet owner."
Other reports in Chinese media about the incidents received criticism from netizens for emphasizing anti-epidemic policies and the otherwise "humane" treatment of animals.
"Don't you think you're laughable? You have some nerve to report on this like this," one top comment said.
By now, the incident has attracted the attention of thousands of netizens using various hashtags, with one of them gaining over 170 million on views on Weibo, becoming one of the top trending topics on Sunday (#居民在外隔离期间家中小狗被扑杀#, #上饶正调查隔离人员宠物狗被扑杀#, #上饶回应隔离宠物狗疑似被扑杀#).

"The government of Shangrao leaves me speechless," one Weibo user (@爱吃火锅的邓邓) writes: "This dog was not even confirmed of having Covid19. Nevertheless, they just beat him to death. How can you be so cruel?!"
In September of this year, three pet cats that tested positive for Covid19 were put down in the Chinese city of Harbin. That incident also led to a social media backlash at what some viewed as overkill in local efforts to contain the virus. This case, however, is still different because the dog involved was allegedly killed before even getting tested for Covid19.
"You just 'dispose' of the dog and that's it? The dog's life is over! We don't even know how many dogs were killed like this," others responded.
"Prying open people's doors, killing people's pets, and then pressuring people to delete their posts on the matter, forcing them to settle (..), – Shangrao government is really putting itself on display here," one commenter said, referring to online rumors that Mrs. Fu was pressured by authorities into deleting her social media post – she posted about being threatened herself.
The dog owner also claims that at least one other cat and dog by residents living in the same community have also been "disposed of." At the time of writing, this claim has not been confirmed by official sources.
Meanwhile, a poster showing a cat saying "I can't transmit covid19, please don't abandon or hurt me" is circulating on social media. The Shanghai Center for Disease Prevention and Control reportedly stated it is unlikely for small pets to get Covid19, and that they therefore should not need to be screened.
The terms "harmless disposal" (无害化处置) and "culling" (扑杀) that have been used by some Chinese state media and local authorities in describing the Shangrao incident are also circulating online, with many people expressing disbelief in the seemingly cold and careless way in which the unnecessary killing of pets is being portrayed.
Global Times editor-in-chief Hu Xijin also posted about the issue, writing: "In my opinion, even from the perspective of crisis communication, this was certainly not a successful notice. It is not surprising to see it trigger controversies online."
At the same time, Hu also called on people not to condemn China's zero-covid19 approach over this controversy, writing: "We cannot deny the overall hard work of the grassroots pandemic prevention workers because of a specific case."
By Manya Koetse
Spotted a mistake or want to add something? Please let us know in comments below or email us. First-time commenters, please be patient – we will have to manually approve your comment before it appears.
©2021 Whatsonweibo. All rights reserved. Do not reproduce our content without permission – you can contact us at info@whatsonweibo.com.