"Go and Wear Your Miniskirts!" – Shenzhen Police Fights Sexual Harassment on Public Transport, Protects Freedom of Dress
"Go and wear your beautiful miniskirts! Perverts, we will catch you!", Shenzhen police states.
A strong statement by Shenzhen police that women should not be afraid to wear miniskirts in public transport has gone viral on Chinese social media. The online campaign "Wear your skirts, we'll catch the perverts" breaks with old ideas that place the burden of public safety and sexual assault on women.
Over the past two weeks, the hashtag "Still Go and Wear Your Miniskirt" (#小裙子 你尽管去穿#) has received almost 20 million views on Sina Weibo.
The phrase became popular on Chinese social media after a published statement from the Shenzhen Public Safety Office in early August on its public WeChat account, in which they made clear: "Go and wear your beautiful miniskirts! Perverts, we will catch you!" ("世上好看的小裙子,你尽管去穿!地铁上的色狼,我们来抓!")
Since late June of this year, Shenzhen's local public security office has initiated a crackdown on sexual harassment in public transport. In a period of 4-5 weeks, they have succeeded in arresting 29 suspects for indecent behavior, of which 20 were arrested on the spot by plainclothes officers surveilling the subway.
Sexual harassment on China's subways is a long-standing problem, especially during the rush hours when people are squeezed together on the trains.
Men secretly filming under women's skirts has also become a specific problem since the rising popularity of smartphones in China. Every year before summer, social media users warn each other to be extra vigilant when wearing skirts in public transport or on escalators, because offenders find creative ways to get some under-skirt footage.
These problems even led to the introduction of China's first women-only subway cars in 2017. Many social media commenters at the time, however, did not see the segregation of male and female passengers as a solution to the problem.
An online poll at the time showed that 59.7% of respondents opposed the measure, saying it opposed gender equality and even calling it a form of sex-based discrimination.
The crackdown on sex offenders on China's subways appears to receive more support on Chinese social media.
"[This is] a direct rebuttal of the traditional idea that the burden should be placed on women to protect themselves."
Chinese state media outlet Xinhua called the Shenzhen police statement a "direct rebuttal of the traditional idea that the burden should be placed on women to protect themselves."
Author Linzi Lu (林子璐) writes: "In the past, after sexual misconduct, indecent behavior or assault took place, some safe travel reminders to the public would warn women not to travel alone at night or not to wear revealing clothing," describing how these reminders, although supposedly well-intended, place the responsibility on women to take care of their own security, instead of focusing on the offenders who put their safety at risk.
Lu further adds that the efforts of the Shenzhen public security team are a valuable learning example for others, breaking with old ideas about victim blaming (受害者有罪论).
In 2016, a brutal assault on a woman at a Beijing hotel sent shock waves through the country as the attack was captured on security cameras and showed that bystanders did not intervene to help the victim. In response, state media spread infosheets on Weibo telling women not to go out "alone in dark streets" and not to open the door for strangers.
In Europe, a similar response from authorities triggered controversy when the mayor of Cologne warned women to "keep men at arm's length" to prevent sexual assault, after scores of women were sexually abused and mugged in the city during new year celebrations.
"Isn't it the job of the police to make sure we [women] can safely go out?" one netizen responded at the time.
"I'm rooting for Shenzhen police, even if I don't wear miniskirts myself!"
By now, the Shenzhen "miniskirt campaign" has received the praise of thousands of netizens on Weibo. One person (@潇洒帅气刘栋琛) wrote: "The distorted idea that women attract being assaulted because of what they wear should not become an established idea, nor should it be propagated. Let's go by the law and catch the perverts, building on a safe and harmonious society."
"I'm rooting for Shenzhen police, even if I don't wear miniskirts myself!", another commenter wrote.
"I am almost moved to tears by this [Shenzhen police] statement," another female Weibo user said, receiving over 50,000 likes.
Other female social media users wrote: "Through this campaign, all women can feel safer. It's not us who make the bad people bad, it's in the nature of those people."
A male commenter said: "Both men and women should be able to wear whatever style of clothes they want to wear. It's a shameful rhetoric to say that someone, who is fully innocent, can 'provoke' those who are obscene."
On Twitter, the well-known Shenzhen tech maker Naomi Wu (@realsexycyborg) showed some pride in the recent measures by local authorities, writing: "We're a bit different than other cities ?‍♀️?" (see embedded tweet below).
Shenzhen police were pretty clear during a recent crackdown: "Wear your beautiful little mini-skirts- we'll catch the perverts!" and were very specific that women should be able to wear what they liked?‍♀️?

But we're a bit different than other cities.https://t.co/eEQUTuUYAM https://t.co/455gQVYm4k

— Naomi Wu 机械妖姬 (@RealSexyCyborg) 16 augustus 2018
This summer, Shenzhen is not the only city cracking down on sex offenders on public transport. Among other cities, Beijing also has an active team of plainclothes police officers who patrol the subway network each day to prevent the sexual assault or harassment of women.
Through the official Shenzhen police Weibo account (@深圳公安), the Shenzhen team stated that they were happy about the attention their crackdown campaign has received online: "We've hit the top-trending search lists," they wrote: "It's a bit overwhelming. But we will keep on doing what we do!"
By Manya Koetse
Follow @whatsonweibo
Directly support Manya Koetse. By supporting this author you make future articles possible and help the maintenance and independence of this site. Donate directly through Paypal here. Also check out the What's on Weibo donations page for donations through creditcard & WeChat and for more information.
Spotted a mistake or want to add something? Please let us know in comments below or email us.
©2018 Whatsonweibo. All rights reserved. Do not reproduce our content without permission – you can contact us at info@whatsonweibo.com.
Pregnant Woman Throws Scalding Soup over Baby Girl in Malatang Restaurant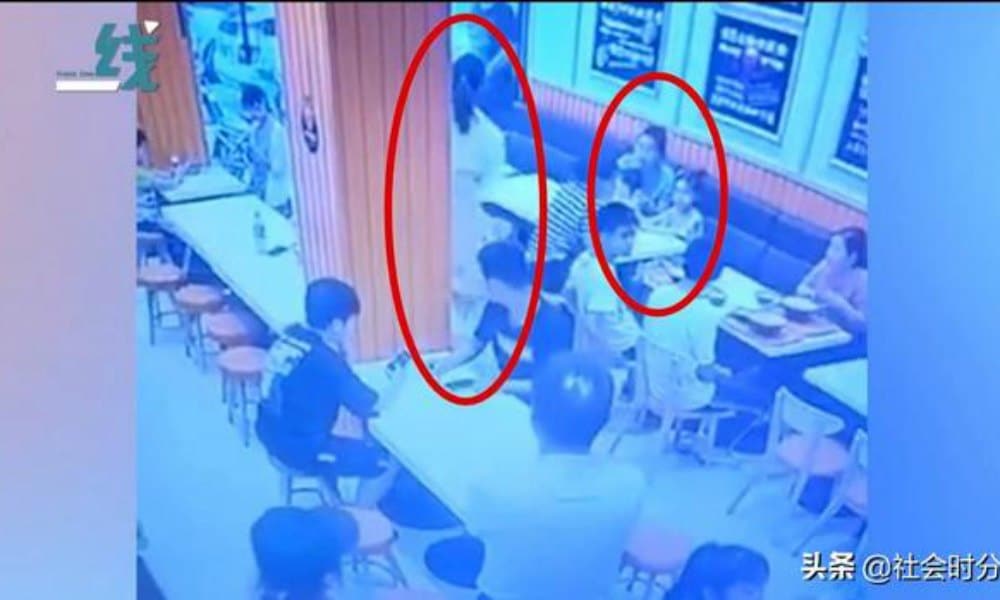 An incident that occurred in Zhoukou city in China's Henan province on the night of June 11 has gone viral on Chinese social media today.
Security cameras in a malatang (hot spicy soup) restaurant captured the moment a pregnant woman throws a bowl of hot soup at an 11-month-old girl.
The woman was allegedly annoyed because the baby was making noise by banging on the table with a spoon.
Footage making its rounds on social media shows how other customers in the restaurant stand up after witnessing the incident, with some going after the woman.
The baby girl reportedly sustained burn injuries on her back and buttocks.
According to various Chinese media reports, the culprit is a 28-year-old woman by the name of Ren. She received a 15-day prison sentence and a fine of 500 yuan ($72), but will not be detained at this point because she is pregnant.
See the video of the incident here:
The local public security bureau issued a statement on Weibo today, writing that the incident had occurred when Ren was dining at the restaurant together with her husband. She got into an argument with the other diners when their 11-month-old baby would not stop banging on the table.
Shortly after leaving the restaurant with her husband, the pregnant Ren then suddenly returned and threw the hot soup at the family, hurting the baby girl.
On social media, outraged commenters write that they think the woman will not be a good mother: "How can a woman like this raise a child?"
"This makes my hair stand up in anger! It's just a baby!" others write.
The story is somewhat similar to another incident that went viral on Chinese social media last year, when a pregnant woman intentionally tripped a 4-year-old boy in a malatang restaurant in Baoji (watch video below for the full story).
By Manya Koetse
Follow @whatsonweibo
Spotted a mistake or want to add something? Please let us know in comments below or email us. Please note that your comment below will need to be manually approved if you're a first-time poster here.
©2019 Whatsonweibo. All rights reserved. Do not reproduce our content without permission – you can contact us at info@whatsonweibo.com
Zhejiang Movie Theatre Displays Blacklisted Individuals in Avengers Movie Preview
A special 'trailer' before the Avengers movie premiere showed the audience blacklisted individuals.
A local movie theatre in the city of Lishui, Zhejiang province, showed a noteworthy 'trailer' before the Avengers: End Game premiere on April 24.
Chinese state tabloid Global Times reports that the sold-out premiere had a 'surprise' moment just before the movie was about to start: a short Public Service Announcement by the Liandu district court of Lishui displayed people who are currently on a 'debt dodging black list.'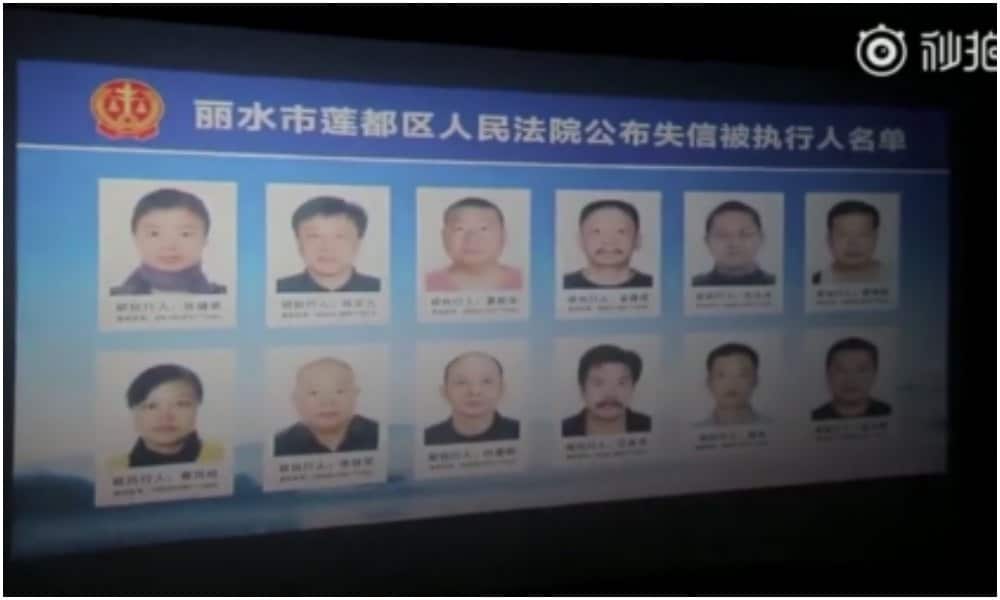 The short film also informed the cinema audience of potential consequences of being on a blacklist, including no traveling abroad, and no traveling by air or on high-speed trains.
According to Global Times, the local district court has registered a total of 5478 people on its blacklist since 2018.
The names and faces of more than 300 people on this list have reportedly been displayed on cinema screens, public LED screens, and on buildings. Allegedly 80 of them have since complied with court orders.
As part of China's emerging Social Credit system project, there are public court-issued lists of 'trust-breaking enforcement subjects' (信被执行人名单), referring to people or companies who have failed to comply with court orders.
Individuals on the judgment defaulter blacklist system run by the court system, whose information is publicized, can risk having their photos and names displayed on local LED screens on courthouses or other buildings (Dai 2018, 26).
Beyond that, they will face restrictions in various ways, from being denied bank credit to being restricted from staying in high-end hotels or traveling by air.
On Weibo, the Global Times post on the noteworthy cinema preview received over 4000 shares. The same news was also reported by CCTV and Phoenix News.
Some commenters joke about the Public Service Announcement, saying: "Blacklisters [can now say]: Mum! I was on TV! On a big IMAX screen! Together with the Avengers!"
Others leave comments in support of the measure, calling it "creative," and saying: "This is good, we should implement this all across the country."
"Blacklisters should be displayed on all kinds of platforms."
"This is for people to lose on their social credit," another commenter writes: "If you don't want to 'socially die' then just fulfill your duties."
But not everyone agrees. "People are buying a movie ticket to see their film," one person says: "They suddenly get exposed to this kind of content that has nothing to do with them, what about their rights as a consumer?"
By Manya Koetse
References
Dai, Xin, Toward a Reputation State: The Social Credit System Project of China (June 10, 2018). Available at SSRN: https://ssrn.com/abstract=3193577 or http://dx.doi.org/10.2139/ssrn.3193577 [5.3.19].
Spotted a mistake or want to add something? Please let us know in comments below or email us.
©2019 Whatsonweibo. All rights reserved. Do not reproduce our content without permission – you can contact us at info@whatsonweibo.com