Woman Slapped and Forced into Car Trunk at Hebei Gas Station
Shocking footage that is making its round on China's social media shows how a woman is beaten and forced into a car trunk at a gas station in Hebei. Weibo netizens are appalled with the incident and how it was dealt with – blaming existing traditional ideas on domestic violence being a private matter.
Shocking footage that is making its rounds on China's social media shows how a woman is beaten and forced into a car trunk at a gas station in Hebei. Weibo netizens are appalled with the incident and how it was dealt with – blaming existing traditional ideas on domestic violence being a 'private matter'.
A Cangzhou regional Weibo media page (@沧州这点事儿) released a short video on June 9 on its social media channel that shows how a woman is forced into a car trunk by a man while bystanders are watching and filming the incident. The violent episode allegedly took place in China's Cangzhou city (沧州) in Hebei province.
Although bystanders yell "don't hit her", the man continues to slap the woman and to force her into the trunk. He then shuts the trunk with force, while her hand is caught in between. The man then stands around for a bit before he returns to the driver's seat. According to Cangzhou's regional Weibo channel, the man then drove off.
The video has been shared hundreds of times on Chinese social media, with many netizens responding with shock and anger. "What is a woman's worth? She is treated like a commodity", one netizen says. "The man on the side does not prevent this from happening!" another Weibo user comments.
"AZ550 is his number plate," one netizen responds: "Oh, China's traditional concepts! Well, now the law has decided that violence between a husband and wife is illegal. And everyone should know this. However, under these circumstances, the woman should've called for help and should've pointed out a specific person to call the police. Just resisting without saying a single word is not helpful."
"My heart feels heavy," another person responds: "It seems like all people can do when faced with these sort of incidents is just to film it."
"No matter if these people are husband and wife, under such circumstances, people should call the police no matter what, and definitely don't let the car drive off. It is up to the police to find out the truth behind this matter," one netizen writes.
Amongst the many things that netizens are questioning about this incident are (1) why the woman did not cry for help, (2) why the bystanders did not take more action, and (3) where the police were in this matter.
Traditional ideas about domestic violence being a "private matter" are also mentioned in this matter. Earlier this year, China launched its first law against domestic violence. As Li Mingshun, Party secretary and deputy president of China Women's University, was quoted by China.org: "The ancient social orders that took family as a haven excluded from legal penalties no longer apply to a society which is governed by law and seeks to ensure equality and democracy to all of its citizens."
But although domestic abuse has now become illegal by law, many say the punishment of those who break the law is still too light, which still makes domestic violence a big problem in China.
According to state media estimation, one in four married women in China have experienced some form of domestic violence, although the real figure may be much higher, since many women do not report cases of abuse. Due to the new law, victims of domestic abuse can go to court to seek a restraining order, which could potentially force the abuser out of the home. But critics say the legislation still doesn't go far enough. "Getting a marriage certificate is like a no-guilty-medal, it lets you get away with anything," one netizen remarks.
For now, China's official media report that any further details of this story are yet "unknown".
For update June 10, see: Woman Forced into Trunk of Car: "I Won't Press Charges"

– By Manya Koetse
Follow @WhatsOnWeibo
[rp4wp]
©2016 Whatsonweibo. All rights reserved. Do not reproduce our content without permission – you can contact us at info@whatsonweibo.com
No Need for Plague Panic? China's Trending Plague Outbreak
After the Year of the Pig brought swine flue, some fear the Year of the Rat will bring the 'rat plague.'
Published
For the past nine days, during which three cases of the plague have been reported in China, the deadly bubonic plague has become a hot topic on Chinese social media.
The topic first made headlines on November 12, when Chinese state media announced that two people, a husband and wife from Inner Mongolia, were transported to Beijing's Chaoyang Hospital for treatment after being diagnosed with the pneumonic plague.
The couple reportedly got sick after eating raw marmot kidney.
A 55-year old hunter from the same region, the Inner Mongolian Xilingol League, was later also diagnosed with bubonic plague after eating wild rabbit meat.
The bubonic plague, also called the 'Black Death,' is an infectious disease that is known to have caused one of the most devastating pandemics in human history, killing millions of people in 14th century Europe.
News of the three cases of bubonic plague reminded many of the 2003 SARS panic; an outbreak of SARS in southern China caused over 8000 cases that year.
The World Health Organisation criticized China at the time for covering up the scale of the problem, with officials conceding in the Spring of 2003 that China's SARs problem was "nearly 10 times worse than had been admitted."
Current online reports on the bubonic plague in China stress that there is no reason for panic, with a hospital spokesperson confirming that the situation is "under control."
42 people who are known to have come into contact with the Chinese patients have all been quarantined and were not found to have any symptoms of catching the disease.
Chinese (state) media channels are spreading social media posts this week that mainly emphasize that the plague "can be prevented, controlled, and managed," and that it can be effectively treated.
"Don't panic over plague outbreak," Sina News headlines, with People's Daily posting on Weibo that, according to the China Center for Disease Control and Prevention, "there is no need to worry."
The bubonic plague primarily affects rodents and other animals, with animals – and incidentally humans – usually contracting the infection through insects such as (rat) fleas. This form of plague is highly contagious – can spread through coughing – and could be fatal within days if left untreated (Benedict 1996, 4).
Mammals such as rabbits or marmots, as eaten by the recent Chinese patients, but also rats, squirrels, gerbils, mice, etc., can all harbor the disease.
Although the disease is increasingly rare, and for many is something from the history books, there were still 3248 cases worldwide between 2010 and 2015, leading to 584 deaths, according to the World Health Organization.
Although Chinese media stress that there is no need to panic over the recent outbreak of the bubonic plague, many netizens still fear an epidemic, making comments such as: "The Year of the Pig brought the [African] swine fever, now the plague is starting just before the Year of the Rat!" (The word for 'plague' in Chinese is 鼠疫 shǔyì, literally meaning 'rat plague' or 'mouse plague').
Others are asking questions such as: "Do we risk the plague more if we have mice in the house?" and "How can we prevent getting it?"
Meanwhile, according to Jiemian News reports, the area in Inner Mongolia where the patients originally contracted the illness is currently under strict control by the Ministries of Health and Agriculture; some roads are closed off, and there's temperature screening for those taking public transport.
The area has seen four cases of plague over the past decades, the most recent one before this month being in 2004.
Last news on the current three patients was from last Saturday, when it was reported that at least one of the patients is now in stable condition.
By Manya Koetse
Follow @whatsonweibo
References
Benedict, Carol Ann. 1996. Bubonic Plague in Nineteenth Plague in Nineteenth Century China. Stanford University Press.
Spotted a mistake or want to add something? Please let us know in comments below or email us. First time commenters, please be patient – we will have to manually approve your comment before it appears.
©2019 Whatsonweibo. All rights reserved. Do not reproduce our content without permission – you can contact us at info@whatsonweibo.com.
"The End of an Era"? – Beijing Bookworm Closes Its Doors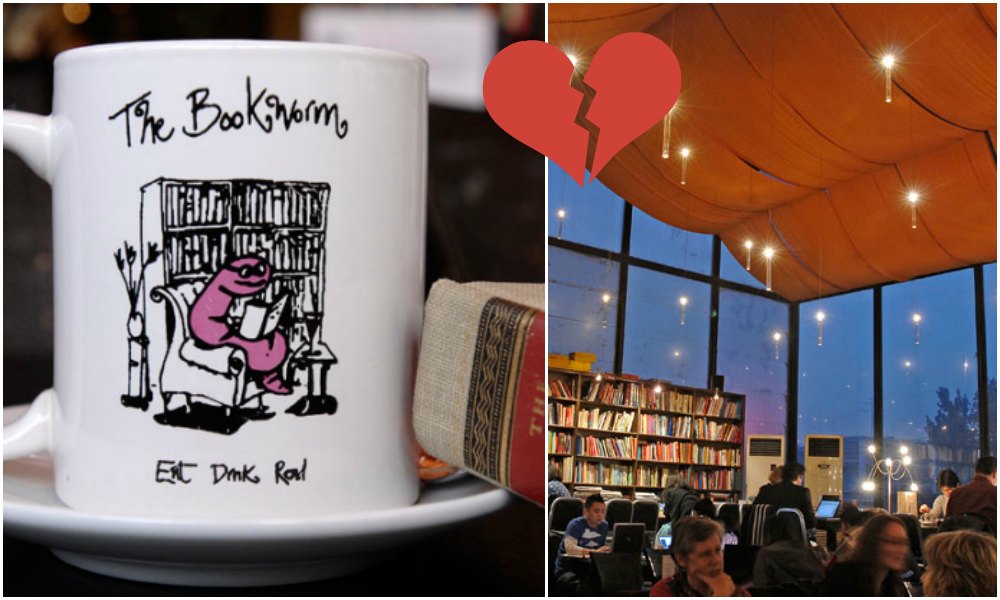 As news of The Bookworm's closing makes its rounds on social media, Beijingers have responded in shock, mourning the loss of an iconic and meaningful meeting place for book(worm) lovers around the city.
The Bookworm Beijing, at Nansanlitun Road, is a bookshop, library, bar, restaurant and events space that has become a center of cultural exchange for Beijing's foreign community since 2005.
The location is a beating heart of Beijing's literary world; a place where writers, journalists, students, diplomats, academics, and all kinds of people – both foreign and Chinese – come together to exchange knowledge, read, and sit down for a glass of wine.
Today, the Bookworm announced its sudden closure via WeChat, writing:
"It is with heavy hearts that we are forced to announce the impending closure of The Bookworm Beijing after 14 wonderful years in Courtyard No. 4 off SouthSanlitun Road. Despite our best efforts, we appear to have fallen prey to the ongoing cleanup of "illegal structures", and we have not been able to secure an extension of our lease."
The announcement further says that the location will be forced to suspend operations "most probably" as of Monday, November 11, and that the Bookworm will attempt to reorganize and find a new location.
News of the Bookworm's closing has been becoming a topic of conversation on various social media sites from WeChat to Twitter and Weibo.
Famous Chinese journalist and author Luo Changping (罗昌平) writes on Weibo: "The Bookworm is forced to close! It used to be next door to my former office, and it was once like my living room. Sigh."
Shanghai comedian Storm Xu called the closure of the Beijing Bookworm "the end of an era," saying he looks back on many good memories there.
"They had many events, good food, special books; I used to go there a few times per year," one person writes. "This really is so sad," other Weibo users respond.
There are also various Weibo commenters who also mention that news of Bookworm's closing comes just a day after the news that publisher of magazine-books and online bookseller Duku Books (读库) is forced to close its Beijing warehouse for the sixth time.
Over the past decade, many popular venues in Beijing have been forced to close their doors or relocate. Beijing hangouts such as Bed Bar, Salud, Vineyard Cafe, 2 Kolegas, Jiangjinjiuba, Mao Livehouse, Hercules, Aperativo, The Bridge Cafe, Great Leap Brewery Sanlitun, Jing-A Taproom 1949, and many others have all been closed over the past years.
Nightlife hotspot Sanlitun bar street was demolished and bricked up in 2017 as part of the mission of the city management to gentrify the area.
The demolishment of "illegal structures" in the city has been an ongoing effort of the local government for years. These efforts became especially visible in late 2017 when people in Beijing's Daxing area faced a large-scale evacuation campaign after a big fire broke out there on November 18, killing 19 people.
The large-scale evacuation campaign was also expanded to other areas of Beijing in a campaign by the municipal authorities aimed at unlicensed developments to target "illegal structures" and "buildings with potential fire hazards."
But many people on Weibo and WeChat questioned if the campaign was actually more about politics than about safety concerns – something that was strongly refuted by state media outlets at the time.
These questions will remain unanswered, also for the Bookworm. Is its closure really about closing down an "illegal structure," or are there more politically-motivated considerations playing a role here? On Weibo, some commenters say the location is closed down for being a home of free discussions and "free thinking," while others say that no matter what the place is, the building's safety and legal status is what matters here.
Perhaps the future will tell. We surely hope the Bookworm will soon pop up and open its doors in another location very soon.
Those who are interested can support the Bookworm by coming by and buying books, which will be heavily discounted, until November 11.
By Manya Koetse
Images: Bookworm images by The Bookworm, edited by What's on Weibo.
Sanlitun Image: Might have been taken by Manya in Beijing 2017, but we're not 100% sure so let us know if we're mistaken.
Spotted a mistake or want to add something? Please let us know in comments below or email us. First time commenters, please be patient – we will have to manually approve your comment before it appears.
©2019 Whatsonweibo. All rights reserved. Do not reproduce our content without permission – you can contact us at info@whatsonweibo.com.