Is China Resisting the West? (Asia Carousel Live Event)
Where will the rise of China take the country in the 21st century? Will China confirm to the Western world order, or will it create a new world order? What is the 'China dream' (中国梦)? These questions will be addressed at today's Asia Carousel at the Dutch Ministry of Foreign Affairs.
Where will the rise of China lead to in the 21st century? Will China confirm to the Western world order, or will it create a new world order? What is the 'China dream' (中国梦)? These questions will be addressed at today's Asia Carousel at the Dutch Ministry of Foreign Affairs. (To see more events live-blogged by What's on Weibo, see our live events list.)
Event: Asia Carousel, "China Resisting the Western World Order?"
Date: June 9, 2016
Place: Ministry of Foreign Affairs, The Hague
During this edition of the 'Asia Carousel', an initiative launched by the Dutch government to enhance knowledge and understanding of Asia, all focus will be on China and its role in international society today.
Today's speakers are sinologist and author Henk Schulte Nordholt, Leiden Asia Centre director Frank Pieke, and Arjen van Dijkhuizen, Senior Economist Emerging Markets at ABN AMRO. The discussion will be led by Arjen Schutten (China Expertise Centre).
An Economic Perspective (Van Dijkhuizen, 11.05 CET)
Today's first speaker, Arjen van Dijkhuizen, starts his talk by addressing the audience to ask people whether or not they think the rise of China and its influence on the world economy is a cause for concern. Although the majority of people in the room raise their hand for being 'not too worried', Van Dijkhuizen says that there might actually be more cause for concern than today's attendants might think.
"Improving communication is one of the biggest challenges that China is facing in its transition to the world economy."
China is often at the focus of attention in today's global financial markets. This, on the one hand, has to do with the rising importance of China's economy, and, on the other hand, also relates to the country's lack of transparency and communication. According to Van Dijkhuizen, opening up this communication is one of the biggest challenges that China is facing in its transition to the world economy.
But there are also other various issues that play a big role. Debts are one of China's bigger problems- "although this might be more of a domestic problem than an international one", Van Dijkhuizen says.
He continues: "The World Bank might be too bureaucratic for China – it is not fast enough, and too focused on the USA. It is therefore not surprising that the PRC is now setting up its own initiatives like the Asian Infrastructure Investment Bank, which we will hear much more about."
"All in all, there are many hurdles to come", Van Dijkhuizen says. The rising debts are one major point of concern. But China won't try to turn around the global financial market: "The country is reforming, but stabilization will be the number one priority – which is something that the whole world will profit from."
Looking at China's Nationalism (Schulte Nordholt, 11.25 CET)
Speaker Henk Schulte Nordholt is all too familiar with today's topic, as he is the author of the China and the Barbarians: The Opposition Against the Western World Order (2015) that is also focused on the theme of the rise of China.
"Maintaining the single-party state is a central aspect of nationalism in today's China," Schulte Nordholt says. One way to preserve this system is focusing on territorial issues – the Party suggests that without China's single-party system, the country's "territorial integrity" will not be maintained or reached. Where the borders of this "complete China" exactly are, Schulte Nordholt says, is not really clear.
"The main problem in China-US relations is a lack of trust."
So except for the economic perspective, it is important to focus on military aspects when talking about the rise of China and its attitude towards the Western world order, according to Schulte Nordholt. The question "Who will dominate the Pacific Ocean – China or the US?" is an important one in this matter.
Could China and the US clash? "The main problem is a lack of trust," Schulte Nordholt says. There are consistent strategic talks between the two nations, but the tensions continue. For China, economic development, sovereignty, and social safety/stability are three major issues – and they do not necessarily benefit from closer ties with the US.
These are exciting times, according to Schulte Nordholt. In the long run, he is optimistic – no one will be able to stop China's rise to the world order and its integration in the world economy, it has already passed the "point of no return" in 2001. Continuing dialogues, Schulte Nordholt says, is crucial.
China's Neo-Socialism (Frank Pieke, 11:45 CET)
"China is a country where nothing is allowed, but everything is possible," says Frank Pieke. A country like the Netherlands might very well be the other way around, Pieke smilingly points out – and it is not necessarily better that way. For Chinese people, and foreigners alike, there are many possibilities for individual development in today's China.
"Neosocialism", is what Pieke calls China's current political system. It is a continuing process. The Party is getting increasingly powerful – and its demonstration of power changes from year to year, from month to month, and from day to day. It also varies per theme, where some things might become more free, whereas others are more limited, like the recent restrictions on religion.
"The single-party state and China's sovereignty is now emphasized more than ever," Pieke says. We now first see that the Party and the government has a plan that they are creating. This was different in Hu Jintao's era; now it is clear that the Party leaders have a clear vision of where they are going and how they will reach this. It is almost like a grocery list that they are completing.
"It is not a renewed 'maoism'; you could compare it to nazism."
There is also a sense of completing this within the coming 6-7 years, Pieke says, so there is a new sense of power and urgency that is making Xi Jinping's reign different from that of his predecessors. "The Party and its leaders will become more dominant," according to Pieke. The role of the Premier Li Keqiang is seemingly becoming less important, as all eyes are on President Xi Jinping.
This growing importance of the President will not lead to a renewed 'maoism', according to Pieke: "China is not going back in time. This is much more managed and the plans are different from Mao's era. If you want to compare it to anything", Pieke says, "then you could compare it to nazism" – cultivating not only the Party, but also the leader: "Its background is aggressive, nationalistic and based on a history where China was victimized."
"What worries me most is not a revival of state-socialism", Pieke argues: "but that the Party dictatorship will become more like a fascist regime." Pieke sees this as a potential danger within the rise of China and its attitude to the West, as he also speaks of China's route of 'Lebensraum'.
Dialogue is therefore crucial, Pieke says – reiterating the views of the previous speakers. The dialogue has to be constructed and maintained with several layers in Chinese society; keeping communication alive with the various institutions and government bodies. "We cannot close the door to China," Pieke says: "But we also cannot accept a Chinese hyper-nationalistic agenda to grow."
Discussion & Questions (12.25 CET)
"It is a worrisome trend that China's image in the west is not getting more positive, while the country is growing," Schulte-Nordholt says: "If China is indeed continuing with a neosocialist system that has some fascist features [as suggested by Pieke], then this doesn't do much good for its future international image."
"We shouldn't see 'China' as one entity," Frank Pieke comments: "When I was talking about the fascist regime, I am talking about something that finds its roots in an aggressive form of nationalism that is alive at multiple layers in society – from top to bottom – but it is not that this nationalism applies to the entire society. This growing, and potentially dangerous, group is not representative for all of China."
Pieke does not see a strict division between Party and society, as there are movements in the Party that can be traced back to what is happening at grassroots movements. But Schulte Nordholt does not necessarily agree with Pieke's view when it comes to this Party & society symbiosis: "There really is a clear division," according to Schulte Nordholt.
Yet Pieke says: "A Party separate from society is fundamentally non-Chinese. Social government and social management are essential in understanding China," – suggesting close ties between state, government and society in China today.
Audience participant Ingrid d'Hooge has a question for the panel. She says that there are many of her friends in China who worry about the growing dictatorial regime in China, as it paralyzes the people to some extent. "How do you see this?" she asks the panel.
"2002-2006 were China's golden days with relative freedom and endless possibilities."
"I understand your friends," Pieke says: "But we should not forget that there are many people, both inside and outside the Party, who are happy that a 'real' leader has stood up who has the guts to watch the West in the eyes and show China's limits." In the end, Pieke says, a regime can only change when internal forces want it to change – "I'm fairly pessimistic about this," he concludes.
One other audience participant, China Analyst Mr. Hofman, wonders if the significance of China's previous President Hu Jintao (2002-2012) is not undervalued in discussions such as these – even 4, 5 years ago, people never spoke too highly of him. "He indeed did not get enough credit for what he did," Pieke answers: "Perhaps he was less media-genic, but I think 2002-2006 were China's golden days with relative freedom and endless possibilities. I want to emphasize that Xi Jinping cannot be blamed for today's fascistic changes in China – it is part of a movement that is larger than the President."
Audience participant Fred Sengers (@blogaap) wonders if there might be international consequences to China taking a route of 'Lebensraum', as Pieke previously mentioned.
"Of course it has international consequences. It is not all about creating trade routes, it is more than that. It is project of expanding China's [economic] influence. It is not necessarily bad, but we have to set limits when we no longer profit from it. There is major diplomatic influence of China within today's Europe. Let alone in Africa. Europe is more and more influenced by China, and we should set a limit to how much it will influence us."
This live blog is now closed.
– By Manya Koetse
Follow @WhatsOnWeibo
[rp4wp]
©2016 Whatsonweibo. All rights reserved. Do not reproduce our content without permission – you can contact us at info@whatsonweibo.com.
Social Media Blows up over Chinese Teen Celebrity Roy Wang Smoking in Beijing Restaurant
The star, who recently featured in a 'social credit' song, triggered controversy for smoking indoors and breaking the law.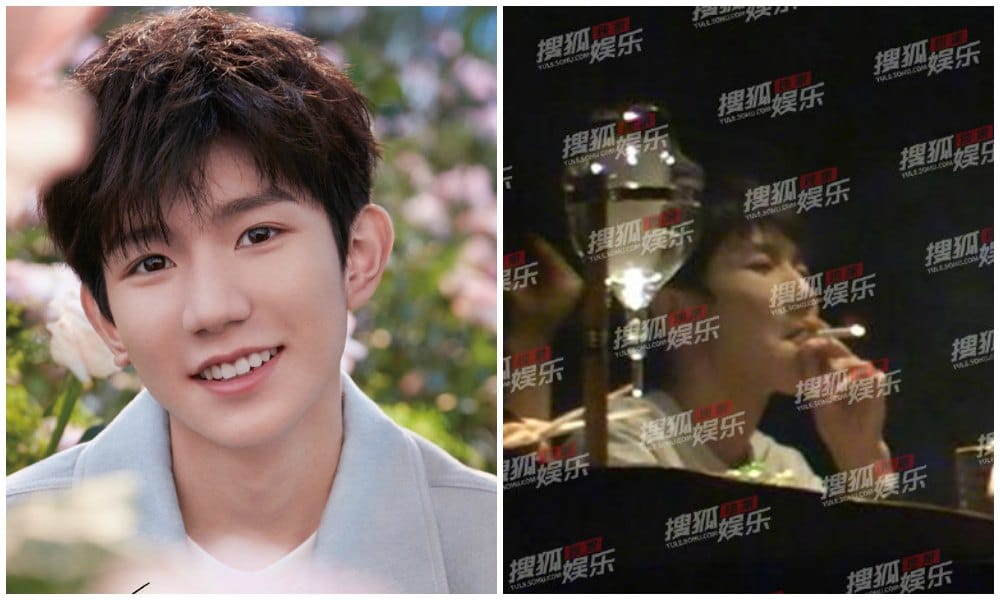 Roy Wang (Wang Yuan 王源), who is considered one of the most influential teens in China, was caught smoking during a '520' banquet in Beijing. May 20 (5.20) is China's unofficial second Valentine's Day.
The Sohu Entertainment channel published the exclusive photos of Wang smoking a cigarette. The hashtag 'Wang Yuan Smoking' (#王源抽烟#) received a staggering 1,4 billion views on Weibo on Tuesday, making it the number one trending topic of the day.
Wang was having dinner at a Japanese restaurant near Beijing's Worker's Stadium together with Chinese actor Jia Nailiang (贾乃亮) and teen idol Yang Chaoyue (杨超越) when the pictures were taken.
Roy Wang, who is now 18 years old, is a member of the super popular boy band TFBoys, but also has a solo career as a singer-songwriter and actor.
Wang often appears in high profile (government) events and media campaigns. With the TFBoys, he performed for the CCTV Spring Gala multiple times. Recently, he also starred in the 'social credit song' that was released by the Communist Youth League.
The fact that Wang's smoking has blown up on Chinese social media relates to two things. Beijing has banned smoking in all public indoor spaces since 2015, meaning that Wang was breaking the law by lighting up in a restaurant. Then there is also the fact that Wang, as a teen icon, is young and influential, with many people considering it inappropriate for him to smoke at all.
One popular comment on Weibo summarized the issue as follows: "Actually, smoking is quite normal. But 1) as a very influential teen idol you must surely avoid it – the fans are all young and they can easily be influenced. 2) It is not okay for him to smoke in a public place. It is forbidden by regulations, should you break those [regulations] as a celebrity?"
The incident led to Sina Headlines introducing the Weibo hashtag "Can You Accept that [Your] Idol Smokes?" (#你能接受偶像吸烟吗#), which received over 21 million views on Tuesday.
"Smoking is not a problem. It is harmful to one's health, and that's an individual choice. But smoking in a public place is inappropriate and bothers other people," some said, with others being less forgiving, writing: "If Wang does it again, he'll surely lose fans. It's unacceptable."
A poll, that 530,000 responded to, asked people if they could accept their idol smoking. A majority of people (50.3%) responded: "No, it's not setting a good example." Over 49% of respondents said they could forgive their idol for smoking.
Wang Yuan has now expressed regret on his social media account, after getting a warning from health authorities. He reportedly has been fined for smoking indoors.
Wang has nearly 73 millions fans on his Weibo page.
"I'm so sorry!" he wrote on May 21st: "This issue has made me deeply reflect on my actions, and how they negatively affect society. I feel sorry and ashamed. I apologize for setting the wrong example. I take on all responsibility and will accept punishment. As a public figure, I will now pay more attention to my words and actions. I hope nobody will follow my wrongful actions. I apologize again, and I will take this as a lesson to become a better person."
His post received over 219,000 shares.
Meanwhile, the restaurant where Wang smoked has received a visit from local inspectors, who found that there were no stipulated "No Smoking" signs on the premises. The restaurant has been ordered to adhere to local regulations as soon as possible, Phoenix News reports.
Update May 22: The first memes relating to Wang's smoking scandal have now also appeared online:
I was already expecting some 'Wang Yuan breaks the internet by smoking' memes. Voila. pic.twitter.com/nFJsoQDfgF

— Manya Koetse (@manyapan) 22 mei 2019
By Manya Koetse
Follow @whatsonweibo
Spotted a mistake or want to add something? Please let us know in comments below or email us. Please note that your comment below will need to be manually approved if you're a first-time poster here.
©2019 Whatsonweibo. All rights reserved. Do not reproduce our content without permission – you can contact us at info@whatsonweibo.com
Waves of Support for Huawei on Chinese Social Media following US Blacklisting
"My next phone will definitely be a Huawei."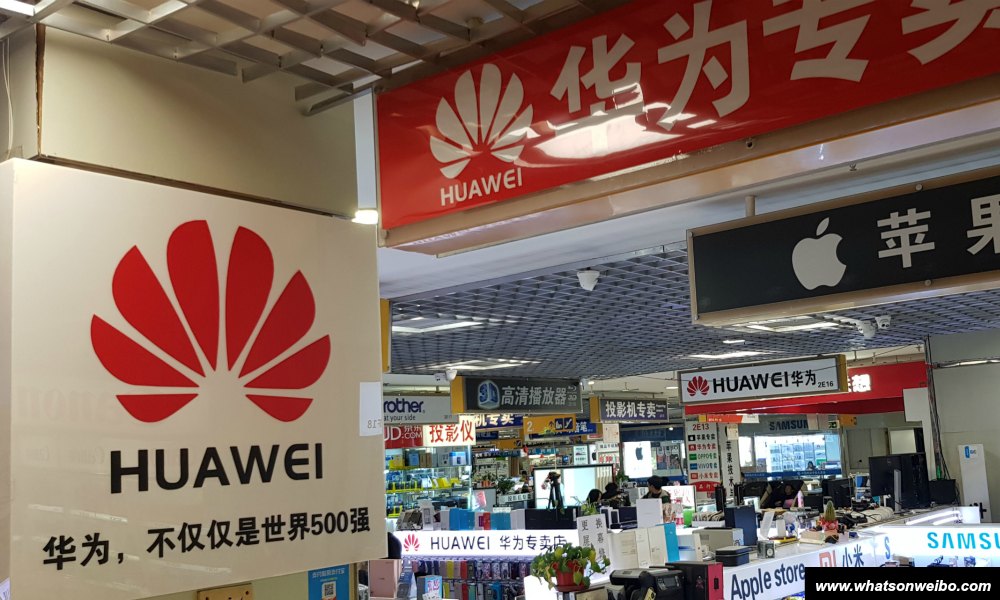 The US blacklisting of Huawei has left many Huawei owners across the world shocked and wondering if they will need to stop using their phone. In China, however, social media users are seemingly less worried, cheering on Huawei as China's 'national pride.'
Huawei smartphone users will allegedly receive no future updates from Android now that Google has suspended Huawei's access to its mobile Operating System, following orders issued by the US Trump administration, Reuters reported on Sunday.
The Chinese telecom giant was added to a trade blacklist earlier last week,as the China-US trade war reached another tipping point.
Huawei has been using Google's operating system for over a decade. Huawei debuted its first Android smartphone in February of 2009.
Besides being cut off from the world's best-selling operating system, some of the world's leading chip designers and suppliers are also ceasing their dealings with Huawei until further notice.
The news left many Huawei users outside of China worried and panicked. On Twitter, Huawei users have been asking what to do with their new Huawei device, with some saying they want to switch brands as soon as possible.
On Chinese social media, however, many people discussing this news are vowing not to abandon Huawei in light of the recent developments. "I've always used Huawei, and will never change," some said, with others even commenting: "I'm preparing to switch to a Huawei phone, I hope they can stand firm."
Huawei responded to the recent developments on May 20th, saying that Huawei does not need to depend on American suppliers for their chips, nor for their Operating System (OS). Huawei has reportedly been working on its in-house 'Hong Meng' OS since 2012.
They also promised to continue providing security updates and after-sale services for its smartphones and tablets, The Guardian reports.
Perhaps surprisingly, the majority of Chinese online responses to the issue are rather positive at the time of writing. The larger part of comments on Weibo are not necessarily anti-American, nor pessimistic about Huawei's future, but instead confident that Huawei will have no problems in overcoming the recent hurdles.
On Weibo, the hashtag "Huawei Doesn't Need to Rely on America for its Microchips" (#华为芯片可以不依赖美国供应链#) had over 19 million views by Monday night. The hashtag "Huawei's Self-Developed Operating System Hong Meng" (#华为自研操作系统鸿蒙#) also took off on Monday in response to the news that Huawei has been developing its own OS for years, in case it would no longer be able to depend on Google for the Android OS.
"What's been happening with Huawei recently teaches us an important lesson," one Weibo user (@叼着猫的小花鱼) wrote: "Sometimes, it's essential to have a plan B!" The Chinese idiom 'Jū ān sī wēi' (居安思危) is used by many, meaning "think of dangers in times of safety" or "be vigilant in peacetime." The second character of the idiom, ān 安, is also the first in the Chinese term for 'Android' (安卓).
Many netizens commented that they are looking forward to the Huawei OS, and predict that one potential consequence of the China-US trade war will be that all Chinese smartphones might eventually switch to a Chinese Operating System and use made-in-China chips and electronics.
On China's Douyin (Tiktok) platform, hundreds of people are sharing short videos of Huawei chief Ren Zhengfei (任正非) talking about Huawei as the world leader in 5G technology, with comment sections showing praise for the Huawei brand: "My next phone will definitely be a Huawei."
"We [Chinese] are becoming more and more confident," one of the 12,000+ comments on Douyin said.
Both on Weibo and Douyin, people express that Huawei is more than a brand to them, saying it is a "national pride." The slogan "Go China! Go Huawei!" ("加油中国 加油华为") is ubiquitous on social media.
"Some of my close friends are thinking of buying an iPhone, and I think it's shameful," one Douyin user wrote. "I will unconditionally support domestically produced products. Go Huawei!", others wrote on Weibo.
For now, Huawei users will still have access to the Android version on their existing devices and will still be able to download app updates provided by Google.
By Manya Koetse
Spotted a mistake or want to add something? Please let us know in comments below or email us.
©2019 Whatsonweibo. All rights reserved. Do not reproduce our content without permission – you can contact us at info@whatsonweibo.com