Is China Resisting the West? (Asia Carousel Live Event)
Where will the rise of China take the country in the 21st century? Will China confirm to the Western world order, or will it create a new world order? What is the 'China dream' (中国梦)? These questions will be addressed at today's Asia Carousel at the Dutch Ministry of Foreign Affairs.
Where will the rise of China lead to in the 21st century? Will China confirm to the Western world order, or will it create a new world order? What is the 'China dream' (中国梦)? These questions will be addressed at today's Asia Carousel at the Dutch Ministry of Foreign Affairs. (To see more events live-blogged by What's on Weibo, see our live events list.)
Event: Asia Carousel, "China Resisting the Western World Order?"
Date: June 9, 2016
Place: Ministry of Foreign Affairs, The Hague
During this edition of the 'Asia Carousel', an initiative launched by the Dutch government to enhance knowledge and understanding of Asia, all focus will be on China and its role in international society today.
Today's speakers are sinologist and author Henk Schulte Nordholt, Leiden Asia Centre director Frank Pieke, and Arjen van Dijkhuizen, Senior Economist Emerging Markets at ABN AMRO. The discussion will be led by Arjen Schutten (China Expertise Centre).
An Economic Perspective (Van Dijkhuizen, 11.05 CET)
Today's first speaker, Arjen van Dijkhuizen, starts his talk by addressing the audience to ask people whether or not they think the rise of China and its influence on the world economy is a cause for concern. Although the majority of people in the room raise their hand for being 'not too worried', Van Dijkhuizen says that there might actually be more cause for concern than today's attendants might think.
"Improving communication is one of the biggest challenges that China is facing in its transition to the world economy."
China is often at the focus of attention in today's global financial markets. This, on the one hand, has to do with the rising importance of China's economy, and, on the other hand, also relates to the country's lack of transparency and communication. According to Van Dijkhuizen, opening up this communication is one of the biggest challenges that China is facing in its transition to the world economy.
But there are also other various issues that play a big role. Debts are one of China's bigger problems- "although this might be more of a domestic problem than an international one", Van Dijkhuizen says.
He continues: "The World Bank might be too bureaucratic for China – it is not fast enough, and too focused on the USA. It is therefore not surprising that the PRC is now setting up its own initiatives like the Asian Infrastructure Investment Bank, which we will hear much more about."
"All in all, there are many hurdles to come", Van Dijkhuizen says. The rising debts are one major point of concern. But China won't try to turn around the global financial market: "The country is reforming, but stabilization will be the number one priority – which is something that the whole world will profit from."
Looking at China's Nationalism (Schulte Nordholt, 11.25 CET)
Speaker Henk Schulte Nordholt is all too familiar with today's topic, as he is the author of the China and the Barbarians: The Opposition Against the Western World Order (2015) that is also focused on the theme of the rise of China.
"Maintaining the single-party state is a central aspect of nationalism in today's China," Schulte Nordholt says. One way to preserve this system is focusing on territorial issues – the Party suggests that without China's single-party system, the country's "territorial integrity" will not be maintained or reached. Where the borders of this "complete China" exactly are, Schulte Nordholt says, is not really clear.
"The main problem in China-US relations is a lack of trust."
So except for the economic perspective, it is important to focus on military aspects when talking about the rise of China and its attitude towards the Western world order, according to Schulte Nordholt. The question "Who will dominate the Pacific Ocean – China or the US?" is an important one in this matter.
Could China and the US clash? "The main problem is a lack of trust," Schulte Nordholt says. There are consistent strategic talks between the two nations, but the tensions continue. For China, economic development, sovereignty, and social safety/stability are three major issues – and they do not necessarily benefit from closer ties with the US.
These are exciting times, according to Schulte Nordholt. In the long run, he is optimistic – no one will be able to stop China's rise to the world order and its integration in the world economy, it has already passed the "point of no return" in 2001. Continuing dialogues, Schulte Nordholt says, is crucial.
China's Neo-Socialism (Frank Pieke, 11:45 CET)
"China is a country where nothing is allowed, but everything is possible," says Frank Pieke. A country like the Netherlands might very well be the other way around, Pieke smilingly points out – and it is not necessarily better that way. For Chinese people, and foreigners alike, there are many possibilities for individual development in today's China.
"Neosocialism", is what Pieke calls China's current political system. It is a continuing process. The Party is getting increasingly powerful – and its demonstration of power changes from year to year, from month to month, and from day to day. It also varies per theme, where some things might become more free, whereas others are more limited, like the recent restrictions on religion.
"The single-party state and China's sovereignty is now emphasized more than ever," Pieke says. We now first see that the Party and the government has a plan that they are creating. This was different in Hu Jintao's era; now it is clear that the Party leaders have a clear vision of where they are going and how they will reach this. It is almost like a grocery list that they are completing.
"It is not a renewed 'maoism'; you could compare it to nazism."
There is also a sense of completing this within the coming 6-7 years, Pieke says, so there is a new sense of power and urgency that is making Xi Jinping's reign different from that of his predecessors. "The Party and its leaders will become more dominant," according to Pieke. The role of the Premier Li Keqiang is seemingly becoming less important, as all eyes are on President Xi Jinping.
This growing importance of the President will not lead to a renewed 'maoism', according to Pieke: "China is not going back in time. This is much more managed and the plans are different from Mao's era. If you want to compare it to anything", Pieke says, "then you could compare it to nazism" – cultivating not only the Party, but also the leader: "Its background is aggressive, nationalistic and based on a history where China was victimized."
"What worries me most is not a revival of state-socialism", Pieke argues: "but that the Party dictatorship will become more like a fascist regime." Pieke sees this as a potential danger within the rise of China and its attitude to the West, as he also speaks of China's route of 'Lebensraum'.
Dialogue is therefore crucial, Pieke says – reiterating the views of the previous speakers. The dialogue has to be constructed and maintained with several layers in Chinese society; keeping communication alive with the various institutions and government bodies. "We cannot close the door to China," Pieke says: "But we also cannot accept a Chinese hyper-nationalistic agenda to grow."
Discussion & Questions (12.25 CET)
"It is a worrisome trend that China's image in the west is not getting more positive, while the country is growing," Schulte-Nordholt says: "If China is indeed continuing with a neosocialist system that has some fascist features [as suggested by Pieke], then this doesn't do much good for its future international image."
"We shouldn't see 'China' as one entity," Frank Pieke comments: "When I was talking about the fascist regime, I am talking about something that finds its roots in an aggressive form of nationalism that is alive at multiple layers in society – from top to bottom – but it is not that this nationalism applies to the entire society. This growing, and potentially dangerous, group is not representative for all of China."
Pieke does not see a strict division between Party and society, as there are movements in the Party that can be traced back to what is happening at grassroots movements. But Schulte Nordholt does not necessarily agree with Pieke's view when it comes to this Party & society symbiosis: "There really is a clear division," according to Schulte Nordholt.
Yet Pieke says: "A Party separate from society is fundamentally non-Chinese. Social government and social management are essential in understanding China," – suggesting close ties between state, government and society in China today.
Audience participant Ingrid d'Hooge has a question for the panel. She says that there are many of her friends in China who worry about the growing dictatorial regime in China, as it paralyzes the people to some extent. "How do you see this?" she asks the panel.
"2002-2006 were China's golden days with relative freedom and endless possibilities."
"I understand your friends," Pieke says: "But we should not forget that there are many people, both inside and outside the Party, who are happy that a 'real' leader has stood up who has the guts to watch the West in the eyes and show China's limits." In the end, Pieke says, a regime can only change when internal forces want it to change – "I'm fairly pessimistic about this," he concludes.
One other audience participant, China Analyst Mr. Hofman, wonders if the significance of China's previous President Hu Jintao (2002-2012) is not undervalued in discussions such as these – even 4, 5 years ago, people never spoke too highly of him. "He indeed did not get enough credit for what he did," Pieke answers: "Perhaps he was less media-genic, but I think 2002-2006 were China's golden days with relative freedom and endless possibilities. I want to emphasize that Xi Jinping cannot be blamed for today's fascistic changes in China – it is part of a movement that is larger than the President."
Audience participant Fred Sengers (@blogaap) wonders if there might be international consequences to China taking a route of 'Lebensraum', as Pieke previously mentioned.
"Of course it has international consequences. It is not all about creating trade routes, it is more than that. It is project of expanding China's [economic] influence. It is not necessarily bad, but we have to set limits when we no longer profit from it. There is major diplomatic influence of China within today's Europe. Let alone in Africa. Europe is more and more influenced by China, and we should set a limit to how much it will influence us."
This live blog is now closed.
– By Manya Koetse
Follow @WhatsOnWeibo
[rp4wp]
©2016 Whatsonweibo. All rights reserved. Do not reproduce our content without permission – you can contact us at info@whatsonweibo.com.
Meng Wanzhou "Back to the Motherland," Michael Kovrig and Michael Spavor Return to Canada
Meng Wanzhou is coming home to China.
Meng Wanzhou (孟晚舟) is coming home to China. It has been nearly three years since the CFO of Huawei, and the daughter of Huawei founder Ren Zhengfei (任正非), was first detained in Canada during transit at Vancouver airport at the request of United States officials.
Meng Wangzhou was accused of fraud charges for violating US sanctions on Iran. Ever since late 2018, Chinese officials have been demanding Meng's release and called the arrest "a violation of a person's human rights." Meng was under house arrest in Vancouver while battling extradition to the United States.
At the same time, in December of 2018, Canadian national Michael Kovrig was detained in the Chinese capital by the Beijing Bureau of Chinese State Security. Kovrig, who is known as Kang Mingkai (康明凯) in Chinese, served as a diplomat in Beijing and Hong Kong until 2016, and then became a Hong Kong-based Senior Adviser at the International Crisis Group, where he worked on foreign affairs and global security issues in Northeast Asia.
Kovrig was accused of espionage in China, although many called the arrest a case of "hostage diplomacy" ("人质外交"). In late 2018, Kovrig's case went trending on Chinese social media. Although many online discussions were censored, popular comments said: "You take one of ours, we take one of yours" (more here).
Also detained in December of 2018 was the Canadian Michael Spavor (迈克尔‧斯帕弗), a China-based consultant and director of Paektu Cultural Exchange, an organization promoting investment and tourism in North Korea. In August of this year, a Chinese court sentenced Spavor to 11 years in prison after declaring him guilty of spying, while Kovrig had still been awaiting a verdict in his case.
Now, as announced by Canadian PM Trudeau on Friday night, the two Michaels and Meng are free and on their way home. Meng was discharged by the Supreme Court in British Columbia after an agreement was reached with American authorities to resolve the criminal charges against her. While Meng boarded a flight to Shenzhen, Kovrig and Spavor were heading back to Canada.
On the Chinese social media platform Weibo, Meng's return to China became the top trending topic of the day. "Meng Wanzhou About to Return to the Motherland" became the no 1 hashtag (#孟晚舟即将回到祖国#), receiving 1.5 billion views by Saturday afternoon (CST).
State media outlet People's Daily was one of the main accounts pushing hashtags related to Meng. They also released the hashtag "Meng Wanzhou Just Updated her Moments" (#孟晚舟刚刚更新朋友圈#), referring to a social media post by Meng on WeChat, in which she wrote that she was on her way home to China and just crossing the North Pole, adding "under the leadership of the Communist Party of China, our motherland is becoming glorious and flourishing; without a strong motherland, I would not have had my freedom today."
State media also issued online images featuring Meng, welcoming her back home after 1028 days.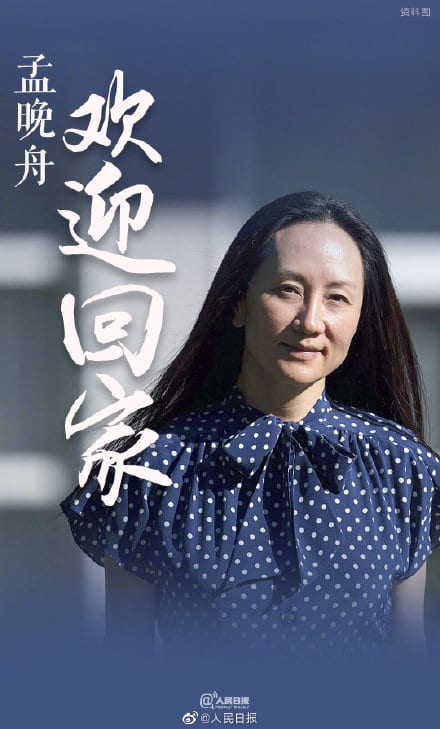 While Meng's return triggered thousands of posts and comments on Weibo, the release of Kovrig and Spavor did not get nearly as much attention on Chinese social media – it also was not reported on social media by any Chinese official media accounts at time of writing.
In some online discussions on Weibo, commenters called the release of Kovrig and Spavor an "exchange" or "a business deal," with others writing: "This is better, as long as Meng returns home, it's alright."
Meng Wanzhou's detainment became one of the biggest topics on Chinese social media back in 2018, and it sparked anti-American sentiments – many netizens expressed how the United States was allegedly using the judicial system in a battle that was actually all about politics.
A political satire image of Meng Wanzhou being rescued by the Chinese authorities as an American shark is trying to eat her alive also circulated on Chinese social media this weekend. The image ("归舟") was created and posted by digital artist Wuheqilin (乌合麒麟), who also welcomed Meng back home.
Meanwhile, some social media users in China have started a countdown to Meng's arrival, tracking the flight on live tracking maps. Her CA552 plane is scheduled to arrive in Shenzhen at 21:14 local time, September 25.
By Manya Koetse (@manyapan)
Spotted a mistake or want to add something? Please let us know in comments below or email us. First-time commenters, please be patient – we will have to manually approve your comment before it appears.
©2021 Whatsonweibo. All rights reserved. Do not reproduce our content without permission – you can contact us at info@whatsonweibo.com.
Chinese State Media Features German Twitterer "Defamed by Evil Western Forces"
European media call the 21-year-old Heyden a CCP propagandist, Chinese media call her a victim of the Western media agenda.
The German influencer Navina Heyden has been labeled "a propagandist for the Chinese government" by European media outlets. She is now featured by Global Times for preparing a lawsuit against German newspaper Die Welt for "defaming" her.
A 21-year-old woman from Germany has been attracting attention on Chinese social media this week after state media outlet Global Times published an article about her battle against "biased journalism" in Europe.
She is known by her Chinese name of Hǎiwénnà 海雯娜 on Weibo, but also by her German name, Navina Heyden. On Twitter (@NavinaHeyden) she has around 34K followers, on Weibo (@海雯娜NavinaHeyden) she has over 15800 fans.
According to the Global Times story, which is titled "21-year-old German Girl Debunking China's Defamation Is Tragically Strangled by Evil Western Forces" ["21岁德国女孩驳斥对中国抹黑,惨遭西方恶势力绞杀"], Heyden has been on a mission to "refute Western media's smear campaign against China" for the past year.
The same article was also published by other Chinese state media outlets this week, including Xinhua, Xinmin, and Beijing Times.
Recently, various European news outlets reporting about Heyden's online activities described her as a Twitter influencer acting as an advocate for "pro-CCP narratives."
It started with the German newspaper Welt am Sonntag publishing an article on June 15 of 2021 titled "China's Secret Propagandists" ["Chinas Heimliche Propagandisten"], in which Heyden was accused of being a propagandist. That same story was translated into French and published by Le Soir on June 23.
An article by London-based think tank ISD (Institute for Strategic Dialogue) dated June 10, titled "How a Pro-CCP Twitter Network is Boosting the Popularity of Western Influencers" (link), also featured Heyden and her alleged role in a coordinated Chinese online propaganda campaign.
The article focuses on Heyden's Twitter activity and her supposedly inorganic follower growth, using data research to support the claim that she is more than just a young woman siding with Chinese official views.
Heyden claims that she agreed to do the initial interview with Die Welt about her views on China and the online harassment she experienced by anti-China activists, but that the reporters eventually published something that was very different from the actual interview content, describing Heyden as a Chinese government propagandist and disclosing names and locations without her consent.
Heyden says she is now preparing a lawsuit against the newspaper and its three journalists for violating her rights. In order to do so, she started a crowdfunding campaign to help her fight media defamation. That 'Go Fund Me' campaign was also promoted on Weibo on July 5th, and she soon reached over 13,000 euros in donations.
The main take-away of the Global Times story is that Heyden is an active social media user who has bravely refuted Western bias on China and exposed the supposed media hysteria regarding the rise of China, and that she has been purposely targeted by European media outlets for doing so.
Heyden joined Twitter in March of 2020 with her bio describing her as a "German amateur manga drawer, studying business economy, grown up within Chinese community since age 15."
Since then, she has tweeted over 1000 times and has spoken out about many issues involving China, including the Covid-19 pandemic, the situation in Xinjiang, the national security law in Hong Kong, the India-China border conflict, and the status of Taiwan. She sometimes also tweets out more personal information, such as the time when she shared photos of herself and her Chinese partner.
Her very first tweet on the platform – one about China not falsifying Covid-19 numbers – was sent out on April 1st of 2020 and received 52 likes. Over the past year, her account has only gained more likes and followers.
A later tweet in which Heyden wrote "I can testify that Chinese Muslims are not persecuted like what western media claimed" (link) received over 870 likes.
In another tweet, Heyden wrote: "China is unfairly treated because she's always put in a trial without chances to defend. Her words must be propaganda, her people must be brainwashed. After confirmation with Chinese sources and my experiences, I'm enraged about how wrong our media is. This is harmful to us all." That tweet received over 1.4K likes.
Besides the fact that Heyden's tweets are often retweeted by the Twitter accounts of Chinese diplomats and other prominent Chinese channels – sometimes within just a few seconds of one another, – the aforementioned ISD article claims that Heyden's account has grown in a relatively short time due to sudden spikes in followership by accounts that were created in batches at specific times and in short sequence.
For a Twitter post of August 2020, Heyden recorded a video in which she explained why she wanted to open up her Twitter account in the first place and counter those accusing her of being a "CCP agent" or a "fake account". She said:
"I'm not getting paid by anyone so stop wasting your time on proving something which I am not. A lot of people may wonder why I say so many positive things about China in the first place. The reason is that when I was around 15 years old I was introduced into the Chinese community and I got to learn a lot of Chinese people, what they think about China, and also what they think about their government. And I found that the China I visited is so much different from the China that the media is describing. It's almost as if the media is describing a whole different country. Now, it wouldn't be so bad if only people would not buy those false narratives, and I'm having a problem with it, because a lot of my close friends and also my family are believing all those false narratives. And this is causing me to have some conflicts with them from time to time. So I've decided to open this Twitter account to debunk all those false narratives."
At this time, Heyden describes her own Twitter account as "one of the most influential ones to show people what real China is like."
The story about Heyden's online activities seems to suit some ongoing narratives in both European and Chinese newspapers. For the first, it upholds the idea of China secretly attempting to infiltrate and influence democratic societies in new ways; for the latter, it confirms the belief that biased Western media will do anything to defile China while serving the interests of their political parties.
Meanwhile, on Weibo, hundreds of netizens have praised Heyden for defending China and standing up against Western media.
"China has 1.4 billion people, Germany just has [tens] millions, of course, you're gonna get a lot of fans if you support China," one popular comment on Weibo said.
One influential Weibo blogger (@文创客) wrote about Heyden, calling her a victim of a "deranged" situation where Western media outlets have used her for their anti-China narratives.
"When will you come and live in China," some people on Weibo ask, with various other commenters saying: "Just come to China!"
Plans to move to China seem to be on the horizon for the German influencer. In an earlier tweet, she confirmed: "We are already on the path to live in China PERMANENTLY. Really feel much safer there."
Despite sharing her strong support for China on Twitter, the 21-year-old recently also expressed some frustrations with the Chinese social media climate when she encountered censorship on Sina Weibo and experienced some difficulties posting on Bilibili and Toutiao.
On Twitter, she wrote: "To CPC, you can't lock your citizens in an information greenhouse forever."

Sharing some of her frustrations regarding the Chinese social media sphere on Weibo, where she even admitted to missing Twitter, some Weibo users offered their support: "We're on your side."
By Manya Koetse (@manyapan)
With contributions by Miranda Barnes
Spotted a mistake or want to add something? Please let us know in comments below or email us. First-time commenters, please be patient – we will have to manually approve your comment before it appears.
©2021 Whatsonweibo. All rights reserved. Do not reproduce our content without permission – you can contact us at info@whatsonweibo.com.