Hot Pot Paradise? This is China's First 24/7 Digital Self-Service Hot Pot Supermarket
Chinese restaurant chain Wodi Hotpot (卧底火锅) is the new kid on the block in hot pot land. The start-up is China's first digital self-service hot pot supermarket and restaurant. Combining China's new digital trends with traditional tasty cuisine, Wodi is the typical post-1985 generation's place to be.
Chinese restaurant chain Wodi Hotpot (卧底火锅) is the new kid on the block in hot pot land. The start-up is China's first digital self-service hot pot supermarket and restaurant. Combining China's new digital trends with traditional tasty cuisine, Wodi is the typical post-1985 generation's place to be. What's on Weibo tried it out for you. [This is a premium content article.]
Hot pot cravings can come at any time. For those who want a tasty and affordable hot pot, whether it is in the wee hours of the morning or in the late hours of the night, there is a new popular Chinese 24-hour hot pot self-service supermarket & restaurant where digital is key.
It is not just its 24/7 opening hours and digital order-and-pay system that make this place special; their online-to-offline business model, supplier dynamics and revenue model all make Wodi Hot Pot (卧底火锅) a pioneering company in the wonderful world of Chinese hot pot.
'Hot pot' in Chinese is huǒguō (火锅), literally: 'fire pot'. It has a history of over 1000 years, and it is generally agreed that the Chinese hotpot tradition must have come from Mongol warriors who camped outside and had dinner together circled around a pot on the fire. The idea is that while the hot pot brew is kept boiling, fresh ingredients are placed into the pot and are cooked at the table. Nowadays, hot pot tastes vary greatly across different regions in China, but what matters most is its enjoyment: sitting with friends and family around the boiling stew, sharing food, eating slowly, and talking.
The founder of Wodi, Qiu Xingxing (邱星星), once had the most delicious hotpots for 30 days straight in Chongqing and Sichuan. He then jokingly told his friend he would one day start his own hotpot restaurant. And it came true. The "digital self-service restaurant" Wodi Hot Pot first opened its doors to hot pot lovers in Beijing in January of 2016. The online platform of Wodi was established in October of 2015, with the offline supermarket/restaurant following a few months later.
Wodi's Qiu Xingxing (see picture) is a post-1985 Chinese online entrepreneur who also co-founded the successful WOWO (55tuan.com), which is also known as 'the Groupon of China'. Qiu is no stranger to e-commerce and its extreme potential; WOWO was the first Chinese company of its kind to be listed on the NASDAQ stock exchange in 2015.
In a way, Wodi is a typical Chinese post-1980 or post-1985 generation outlet. The post-1980s is a generation that is known for still valuing tradition but also being creative and innovative and not afraid to try out new things.
Wodi is described as a "Hot Pot Online to Offline Platform" (火锅O2O平台) by Chinese media, as its online business lies at the core of the company. On Weibo, Wodi calls itself "the world's biggest online hotpot platform" (全球最大的互联网火锅平台), through which customers are driven to visit their offline stores. Wodi is well-known for its online food delivery services. Although ordering in hot pot is popular and convenient, going to the actual Wodi "offline restaurant" (线下门店) for some hot shopping and dining is far more exciting.
"It's fu*king cheap!"
Dining at this new hot pot chain is not just a nice experience, it is also surprisingly affordable. "It's fu*king cheap!" allegedly is a catchphrase often used by Wodi's young customers, founder Qiu Xingxing tells Ebrun magazine.
So much to choose from in the Wodi Hotpot supermarket.
One of the main reasons the Wodi Hotpot supermarket is relatively inexpensive is because Qiu decided to drastically change the supplier/supermarket dynamics in the Wodi outlet. [blendlebutton] Instead of working with the typical distribution system, where supermarket owners purchase from food suppliers and then resell to customers at a (much) higher rate, Wodi lets suppliers directly sell their food to its consumers. Because there is no intermediary profit, the prices at Wodi are exceptionally low.
The supermarket has a wide selection of products, offering all kinds of hotpot ingredients, such as a variety of mushrooms, fish, tofu, thin-sliced beef, etc. Besides the classic hotpot ingredients, they also sell sodas, beer, candy and snacks, and even Wodi's own hotpots to take home (32¥/±4,8US$), all priced at a much lower rate than other well-known hotpot places such as Haidilao (海底捞).
You're probably wondering – if Wodi does not make much profit from the food it sells, then how do they make money? Enterpreneur Qiu has thought of a new business model for this to be able to provide customers with low-priced qualitative food while still having a profitable business.
"The world's 2nd time-based hotpot restaurant."
Wodi's success formula lies in the original concept of the outlet, that has a supermarket area and a separate dining area. When you have purchased hotpot ingredients in the supermarket, you sit and eat in the Wodi restaurant at a hotpot table – which you rent for a time-based price.
The time-based costs vary on the size of the table and if it is peak hour or not. For a 2-4 person table during quiet hours, customers pay 5¥ (±0.75$) per 15 minutes or 20¥ (±3$) per hour. During the peak hours (17.30-22.30) this is 32¥ (±4.8$) per hour. For larger groups up to 8 people, quiets hours are rated at 40¥ (±6$) and busy hours at 60¥ (±9$). Private rooms are also available for 60¥ (±9$) and 80¥ (±12$).
By working with rentable hotpot tables, Qiu is a pioneer in his field. If you walk into the Wodi venue, a slogan on the wall reads "the world's 2nd time-based hotpot restaurant" ("全国第二家按用餐时长收费的火锅"). When a journalist from the 36kr.com business news site asked founder Qiu where the world's 1st time-based hotpot was based, he told them: "There is none. It is just that China's advertising laws don't allow companies to use the term 'the first'/'number one' ('第一'), so we turned it into 'the second'. Actually, we're the first."
The first Wodi restaurant in Beijing's Chaoyang is over 1000 square meter and offers 206 seatings, with maximum table turnover possibilities since the place is opened 24 hours. The Wodi restaurant became popular and packed right after its opening.
"You just need to bring your mobile phone."
Stepping into the Wodi near the Worker's Stadium in Beijing, visitors are immediately directed towards the supermarket that has baskets and trolleys for people to put their hotpot food on. The first stop is the touch-screen ordering system for the kind of hotpot you want, which is where one employer gives us a Wodi card that we need to swipe when ordering.
There are multiple types of hotpot stew to choose from – from extremely spicy to non-spicy, from a tomato-base stew to a garlic-based one, or better: have a half/half one so that you can combine two flavors. Most of the stews are priced around 30-35¥ (±4.5-5US$).
Supermarket entrance.
Customers can select and order their favorite hot pot stews through touch screens.
After the order for the hotpot stew is completed, the shopping can begin. The supermarket offers a variety of fresh foods – some great mushrooms and vegetables, soft and hard tofu kinds, noodles, intestines, fish heads, octopus, shrimps, and more. Meat can be ordered and cut at the center counter.
The supermarket counter where an employee slices the meat for you.
Once you've collected all you want to eat (no worries, you can always hop back in and out to get more food and drinks), the food is scanned at the special Wodi check out counter, where again you swipe the card to "pay" for it.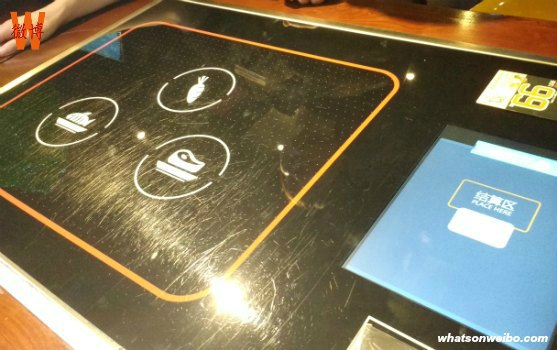 Wodi's supermarket checkout system.
Wodi has a great selection of different hotpot sauces that are all free. The most common one in Beijing is the plain majiang (sesame paste) dipping sauce, but there are many other options available at Wodi including ways to make your hotpot sauce more exciting by adding cilantro, garlic, chili, etc.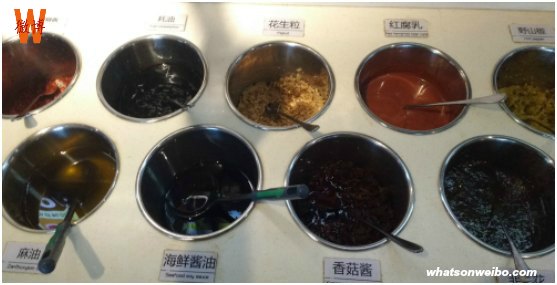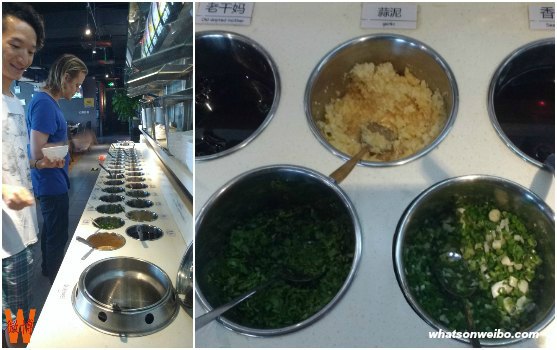 Once at the table, your ordered hotpot is prepared by the Wodi staff and hot potting can start. Except for the hot pot placement, Wodi is completely self-service as there are no employees who will serve you drinks or food. You will have to step back into the supermarket to get your own stuff, and cook your own food in the pot.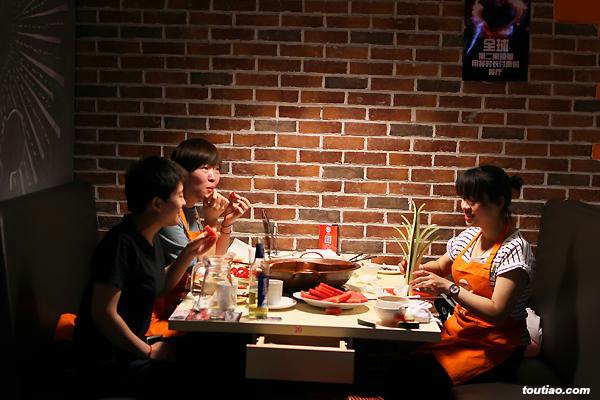 Wodi does all it can to make their customers as comfortable as possible to make them stay longer at the rented table. Tables have outlets to recharge mobile phones, there is free wifi, hair bands to keep the hair out of your face, and aprons to protect clothes from hotpot stains. In the meantime, the time for the table is counted by every 15 minutes you use it.
When food is finished and the bellies are full, it is time to pay. In a digital-focused store like Wodi, WeChat pay is the way to go, although there are other payment options available. As long as you have WeChat credit, "you just need to bring your mobile phone", as my fellow hotpotters say, and you're done. You give employees the Wodi card which you used for the supermarket and the table-time costs are added to it. For three persons spending multiple hours at Wodi eating and drinking, we spent a total of 240¥ (36US$)
For the true hotpot connoisseurs, Wodi might not be your hotpot heaven for its tastes are classic but not as refined as renowned hot pot restaurants in China. But for its price, quality, cleanliness, comfort, and above all, its no-nonsense, self-service, digital approach, Wodi is the place to go.
According to its founder, this is still the "1.0 phase" of Wodi, with the future "2.0 Wodi" offering customers more digital options and services. Keep an eye on this one – it might just be the hot pot paradise China's digital-loving hot pot foodies have been waiting for.
– By Manya Koetse
Follow @WhatsOnWeibo
Wodi Hotpot Address:
Beijing, Chaoyang,
East Gongti Road 工体东路20号春平广场
1st Floor Chunping Plaza
Branch in Beijing, Wangjing
悠乐汇C座3楼359室
Youlehui C/Building 3, 359
©2016 Whatsonweibo. All rights reserved. Do not reproduce our content without permission – you can contact us at info@whatsonweibo.com.
[/blendlebutton]
U.S. Embassy Launches WeChat Stickers Featuring Cartoon Eagle
A Weibo hashtag about the eagle stickers, that feature some phrases previously used by China's Foreign Ministry, has now been taken offline.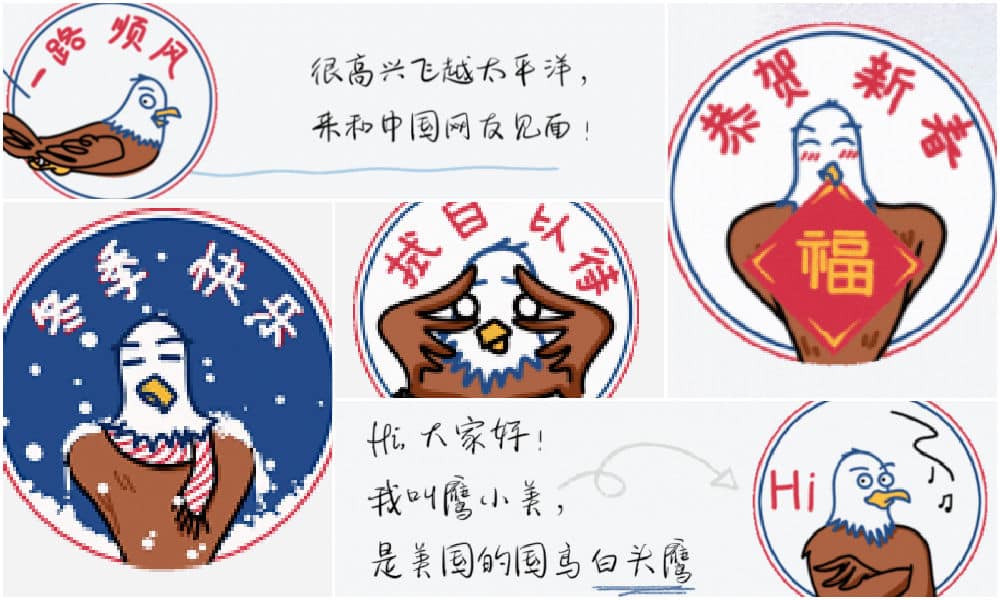 On January 30, the American Embassy in China announced the launch of its very own series of social media gifs, a special 'emoticon collection' (表情包), featuring a little, somewhat silly cartoon eagle.
The U.S. Embassy launched the eagle series on WeChat and also announced the series on their Weibo account, writing that the eagle made its first public appearance in light of the festivities surrounding the Chinese New Year.
The eagle is called "Xiaomei" or "Little Mei" (鹰小美). The 'mei' is part of 美国 Měiguó, Chinese for the 'United States,' but měi also means beautiful and pretty.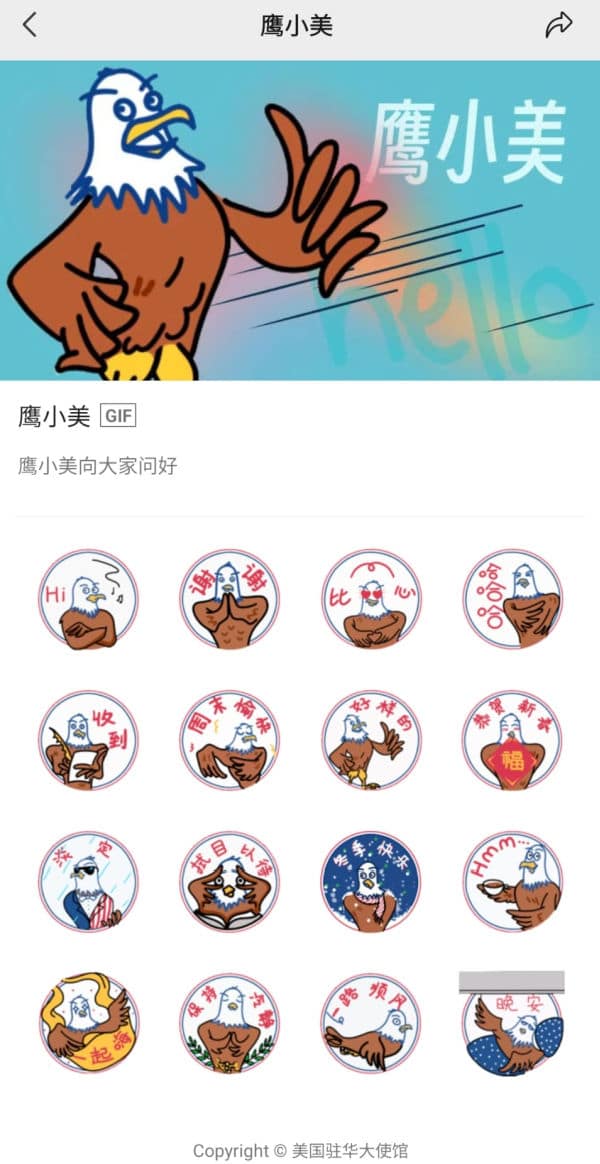 The American embassy issued a total of 16 different animated stickers, and they're intended to be used on Tencent's WeChat, where users can download all kinds of different emoticons or stickers to use in conversations.
WeChat users often use many different animated stickers in conversations to express emotions, make jokes, or increase the festive mood (by sending out celebratory New Year's or birthday etc gifs). Users can download new and preferred sticker packages through the app's sticker section.
One sticker shows Xiaomei with a festive decoration with 福 (fú) for blessing and prosperity, wishing everyone a happy start to the Chinese Lunar New Year. There are also stickers showing the texts "happy winter," "hi," and "thank you."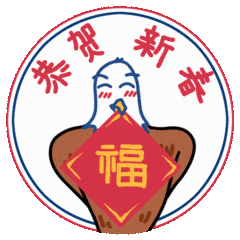 Another sticker in the series that has triggered some online responses is one that shows the eagle with a surprised look, wiping its eyes, with the words "wait and see" written above. The Chinese expression used is 拭目以待 shìmù yǐdài, to eagerly wait for something to happen, literally meaning to wipe one's eyes and wait.
This same expression was often used by the Chinese Foreign Ministry spokesperson Zhao Lijian (赵立坚) during press conferences, and he also used it in 2022 when responding to questions related to Nancy Pelosi's controversial visit to Taiwan and how the Chinese military would respond (e.g. he first used "wait and see" in the context of waiting to see if Pelosi would actually dare to go to Taiwan or not). But Zhao also used "please wait and see" (请大家拭目以待) when foreign reporters asked him how China would respond to the announced U.S. boycott of the Winter Olympics in 2021.
The Little Mei emoji triggered the most responses as some netizens felt it was meant as a sneer to the Chinese Foreign Ministry.
One of Little Mei's quotes is also "remain calm" (保持冷静 bǎochí lěngjìng), which was – perhaps coincidentally – also often used by Zhao in the context of the war in Ukraine and to refer to other international conflicts or tensions ("all parties should remain calm"). The animated sticker also has olive branches growing behind the eagle.
It recently became known that Zhao, who became known as the 'Wolf Warrior' diplomat, was removed as the Foreign Ministry spokesperson and was moved to the Department of Boundary and Ocean Affairs.
Especially in the context of Zhao leaving his post, some wondered why the U.S. Embassy would use phrases related to his press conferences for their new emoticons.
Although some people suggested the WeChat stickers were not launched in China with good intentions, others appreciated the humorous visuals and felt it was funny. Some also joked that America was infiltrating Chinese social media with its cultural export ("文化输出"), and others wondered if they could not also introduce some other stickers with more Chinese Foreign Ministry popular phrases on them.
A hashtag related to the topic made its rounds on Weibo on Tuesday (#美驻华大使馆上线鹰小美表情包#), but the topic suddenly was taken offline on Tuesday evening local time, along with some of the media reports about the remarkable WeChat series.
The WeChat stickers are still available for downloading by scanning the QR code below through WeChat.
By Manya Koetse , with contributions by Miranda Barnes
Get the story behind the hashtag. Subscribe to What's on Weibo here to receive our newsletter and get access to our latest articles:
Spotted a mistake or want to add something? Please let us know in comments below or email us. First-time commenters, please be patient – we will have to manually approve your comment before it appears.
©2023 Whatsonweibo. All rights reserved. Do not reproduce our content without permission – you can contact us at info@whatsonweibo.com.
Video Shows Real-Time "Departure" Information Board at Chinese Crematorium
From "cremation in process" to "cooling down," the digital display shows the progress of the cremation to provide information to those waiting in the lobby. The crematorium 'departure' board strikes a chord with many.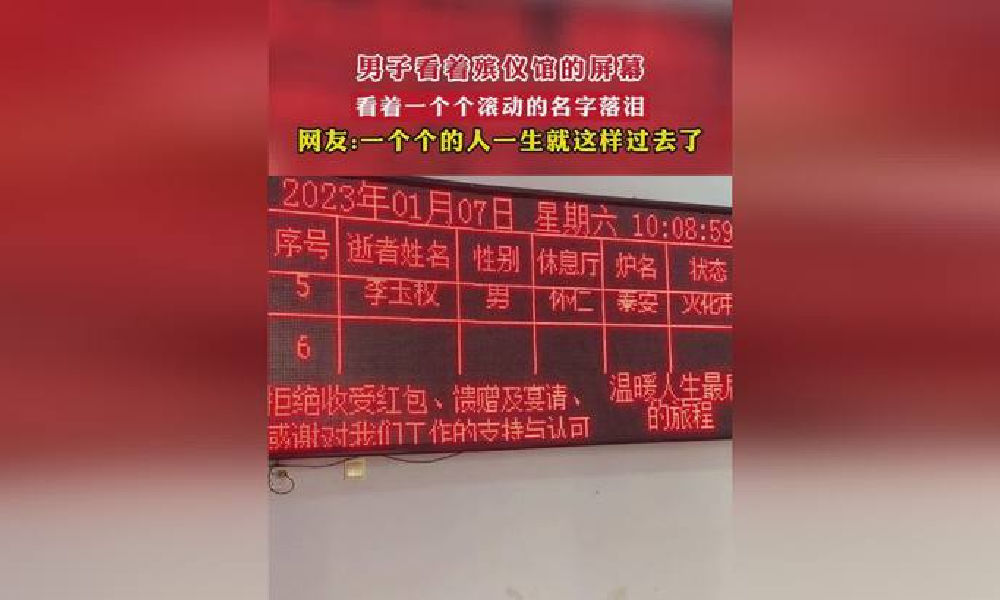 A video showing a live display screen announcing the names and status of the deceased at a Yunnan crematorium has been making its rounds on Chinese social media, from WeChat to Weibo, where one version of the video received over 1,7 million views.
Somewhat similar to a real-time platform departure display on train stations, the screen shows the waiting number of the deceased person, their name, gender, the name of the lounge/room (if any) for families, the name of the crematorium chamber, and the status of the cremation process. Below in the screen, it says "the final journey of a warm life" (温暖人生的最后旅程).
For example, the screen displays the names of a Mr. Chen and a Mr. Li; their bodies were in the process of being cremated (火化中), while other cremations were marked as "completed" (完成) or "cooling down" (降温中).
This video of a real-time "departure" information board in the lobby of a Chinese crematorium is making its rounds on Weibo/Wechat these days. The display shows the name and gender of deceased, which cremation chamber, and the cremation status to inform families of the progress. pic.twitter.com/EA94OWGwdk

— Manya Koetse (@manyapan) January 16, 2023
Through such a screen, located in the crematorium lobby, family members and loved ones can learn about the progress of the cremation of the deceased.
The video, recorded by a local on Jan. 7, received many comments. Among them, some people commented on the information board itself, while others simply expressed grief over those who died and the fragility of life. Many felt the display was confronting and it made them emotional.
"It makes me really sad that this how people's lives end," one commenter said, with another person replying that the display also shows you still need to wait in line even when you're dead.
"I didn't expect the screens [in the crematorium] to be like those in hospitals, where patients are waiting for their turn," another Weibo user wrote. "It would be better if the names were hidden, like in the hospitals, to protect the privacy of the deceased," another person replied.
Others shared their own experiences at funeral parlors also using such information screens.
"My grandfather passed away last September, and when we were at the undertaker's, the display was also jumping from one name to the other and we could only comfort ourselves knowing that he was among those who lived a relatively long life."
"Such a screen, it really makes me sad," another commenter from Guangxi wrote, with others writing: "It's distressing technology."
Although the information screen at the crematorium is a novelty for many commenters, the phenomenon itself is not necessarily related to the Covid outbreak and the number of Covid-related deaths; some people share how they have seen them in crematoriums before, and funeral parlor businesses have used them to provide information to families since at least 2018.
According to an article published by Sohu News, more people – especially younger ones – have visited a funeral home for the first time in their lives recently due to the current Covid wave, also making it the first time for them to come across such a digital display.
The online video of such an information board has made an impact at a time when crematoriums are crowded and families report waiting for days to bury or cremate their loved ones, with especially a large number of elderly people dying due to Covid.
On Jan. 4, one social media user from Liaoning wrote:
"I really suggest that the experts go to the crematoriums to take a look. There is no place to put the deceased, they're parked outside in temporary containers, there's no time left to hold a farewell ceremony and you can only directly cremate, and for those who were able to have a ceremony, they need to finish within ten minutes (..) At the funeral parlor's big screen, there were eight names on every page, and there were ten pages for all the people in line that day, I stood there for half an hour and didn't see the name of the person I was waiting for pop up anymore."
As the video of the display in the crematorium travels around the internet, many commenters suggest that it is not necessarily the real-time 'departure' board itself that bothers them, but how it shows the harsh reality of death by listing the names of the deceased and their cremation status behind it. Perhaps it is the contrast between the technology of the digital display boards and the reality of the human vulnerability that it represents that strikes a chord with people.
One blogger who reposted the video on Jan. 13 wrote: "Life is short, cherish the present, let's cherish what we have and love yourself, love your family, and love this world." Among dozens of replies, some indicate that the video makes them feel uncomfortable.
Another commenter also wrote:
"I just saw a video that showed an electronic display at a crematorium, rolling out the names of the deceased and the stage of the cremation. One name represents the ending of a life. And it just hit me, and my tears started flowing. I'm afraid of parting, I'm afraid of loss, I just want the people I love and who love me to stay by my side forever. I don't want to leave. I'm afraid I'll be alone one day, and that nobody will ever make me feel warm again."
One person captured why the information board perhaps causes such unease: "The final moments that people still spent on this earth take place on the electronic screen in the memorial hall of the funeral home. Then, they are gone without a sound."
Get the story behind the hashtag. Subscribe to What's on Weibo here to receive our newsletter and get unlimited access to all of our articles:
By Manya Koetse 
with contributions by Zilan Qian
Spotted a mistake or want to add something? Please let us know in comments below or email us. First-time commenters, please be patient – we will have to manually approve your comment before it appears.
©2023 Whatsonweibo. All rights reserved. Do not reproduce our content without permission – you can contact us at info@whatsonweibo.com.