Hot Pot Paradise? This is China's First 24/7 Digital Self-Service Hot Pot Supermarket
Chinese restaurant chain Wodi Hotpot (卧底火锅) is the new kid on the block in hot pot land. The start-up is China's first digital self-service hot pot supermarket and restaurant. Combining China's new digital trends with traditional tasty cuisine, Wodi is the typical post-1985 generation's place to be.
Chinese restaurant chain Wodi Hotpot (卧底火锅) is the new kid on the block in hot pot land. The start-up is China's first digital self-service hot pot supermarket and restaurant. Combining China's new digital trends with traditional tasty cuisine, Wodi is the typical post-1985 generation's place to be. What's on Weibo tried it out for you. [This is a premium content article.]
Hot pot cravings can come at any time. For those who want a tasty and affordable hot pot, whether it is in the wee hours of the morning or in the late hours of the night, there is a new popular Chinese 24-hour hot pot self-service supermarket & restaurant where digital is key.
It is not just its 24/7 opening hours and digital order-and-pay system that make this place special; their online-to-offline business model, supplier dynamics and revenue model all make Wodi Hot Pot (卧底火锅) a pioneering company in the wonderful world of Chinese hot pot.
'Hot pot' in Chinese is huǒguō (火锅), literally: 'fire pot'. It has a history of over 1000 years, and it is generally agreed that the Chinese hotpot tradition must have come from Mongol warriors who camped outside and had dinner together circled around a pot on the fire. The idea is that while the hot pot brew is kept boiling, fresh ingredients are placed into the pot and are cooked at the table. Nowadays, hot pot tastes vary greatly across different regions in China, but what matters most is its enjoyment: sitting with friends and family around the boiling stew, sharing food, eating slowly, and talking.
The founder of Wodi, Qiu Xingxing (邱星星), once had the most delicious hotpots for 30 days straight in Chongqing and Sichuan. He then jokingly told his friend he would one day start his own hotpot restaurant. And it came true. The "digital self-service restaurant" Wodi Hot Pot first opened its doors to hot pot lovers in Beijing in January of 2016. The online platform of Wodi was established in October of 2015, with the offline supermarket/restaurant following a few months later.
Wodi's Qiu Xingxing (see picture) is a post-1985 Chinese online entrepreneur who also co-founded the successful WOWO (55tuan.com), which is also known as 'the Groupon of China'. Qiu is no stranger to e-commerce and its extreme potential; WOWO was the first Chinese company of its kind to be listed on the NASDAQ stock exchange in 2015.
In a way, Wodi is a typical Chinese post-1980 or post-1985 generation outlet. The post-1980s is a generation that is known for still valuing tradition but also being creative and innovative and not afraid to try out new things.
Wodi is described as a "Hot Pot Online to Offline Platform" (火锅O2O平台) by Chinese media, as its online business lies at the core of the company. On Weibo, Wodi calls itself "the world's biggest online hotpot platform" (全球最大的互联网火锅平台), through which customers are driven to visit their offline stores. Wodi is well-known for its online food delivery services. Although ordering in hot pot is popular and convenient, going to the actual Wodi "offline restaurant" (线下门店) for some hot shopping and dining is far more exciting.
"It's fu*king cheap!"
Dining at this new hot pot chain is not just a nice experience, it is also surprisingly affordable. "It's fu*king cheap!" allegedly is a catchphrase often used by Wodi's young customers, founder Qiu Xingxing tells Ebrun magazine.
So much to choose from in the Wodi Hotpot supermarket.
One of the main reasons the Wodi Hotpot supermarket is relatively inexpensive is because Qiu decided to drastically change the supplier/supermarket dynamics in the Wodi outlet. [blendlebutton] Instead of working with the typical distribution system, where supermarket owners purchase from food suppliers and then resell to customers at a (much) higher rate, Wodi lets suppliers directly sell their food to its consumers. Because there is no intermediary profit, the prices at Wodi are exceptionally low.
The supermarket has a wide selection of products, offering all kinds of hotpot ingredients, such as a variety of mushrooms, fish, tofu, thin-sliced beef, etc. Besides the classic hotpot ingredients, they also sell sodas, beer, candy and snacks, and even Wodi's own hotpots to take home (32¥/±4,8US$), all priced at a much lower rate than other well-known hotpot places such as Haidilao (海底捞).
You're probably wondering – if Wodi does not make much profit from the food it sells, then how do they make money? Enterpreneur Qiu has thought of a new business model for this to be able to provide customers with low-priced qualitative food while still having a profitable business.
"The world's 2nd time-based hotpot restaurant."
Wodi's success formula lies in the original concept of the outlet, that has a supermarket area and a separate dining area. When you have purchased hotpot ingredients in the supermarket, you sit and eat in the Wodi restaurant at a hotpot table – which you rent for a time-based price.
The time-based costs vary on the size of the table and if it is peak hour or not. For a 2-4 person table during quiet hours, customers pay 5¥ (±0.75$) per 15 minutes or 20¥ (±3$) per hour. During the peak hours (17.30-22.30) this is 32¥ (±4.8$) per hour. For larger groups up to 8 people, quiets hours are rated at 40¥ (±6$) and busy hours at 60¥ (±9$). Private rooms are also available for 60¥ (±9$) and 80¥ (±12$).
By working with rentable hotpot tables, Qiu is a pioneer in his field. If you walk into the Wodi venue, a slogan on the wall reads "the world's 2nd time-based hotpot restaurant" ("全国第二家按用餐时长收费的火锅"). When a journalist from the 36kr.com business news site asked founder Qiu where the world's 1st time-based hotpot was based, he told them: "There is none. It is just that China's advertising laws don't allow companies to use the term 'the first'/'number one' ('第一'), so we turned it into 'the second'. Actually, we're the first."
The first Wodi restaurant in Beijing's Chaoyang is over 1000 square meter and offers 206 seatings, with maximum table turnover possibilities since the place is opened 24 hours. The Wodi restaurant became popular and packed right after its opening.
"You just need to bring your mobile phone."
Stepping into the Wodi near the Worker's Stadium in Beijing, visitors are immediately directed towards the supermarket that has baskets and trolleys for people to put their hotpot food on. The first stop is the touch-screen ordering system for the kind of hotpot you want, which is where one employer gives us a Wodi card that we need to swipe when ordering.
There are multiple types of hotpot stew to choose from – from extremely spicy to non-spicy, from a tomato-base stew to a garlic-based one, or better: have a half/half one so that you can combine two flavors. Most of the stews are priced around 30-35¥ (±4.5-5US$).
Supermarket entrance.
Customers can select and order their favorite hot pot stews through touch screens.
After the order for the hotpot stew is completed, the shopping can begin. The supermarket offers a variety of fresh foods – some great mushrooms and vegetables, soft and hard tofu kinds, noodles, intestines, fish heads, octopus, shrimps, and more. Meat can be ordered and cut at the center counter.
The supermarket counter where an employee slices the meat for you.
Once you've collected all you want to eat (no worries, you can always hop back in and out to get more food and drinks), the food is scanned at the special Wodi check out counter, where again you swipe the card to "pay" for it.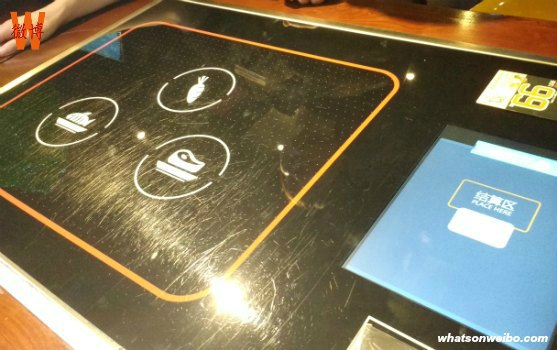 Wodi's supermarket checkout system.
Wodi has a great selection of different hotpot sauces that are all free. The most common one in Beijing is the plain majiang (sesame paste) dipping sauce, but there are many other options available at Wodi including ways to make your hotpot sauce more exciting by adding cilantro, garlic, chili, etc.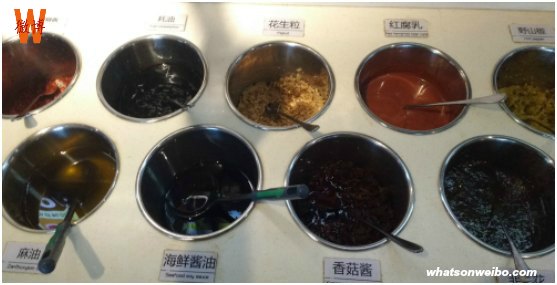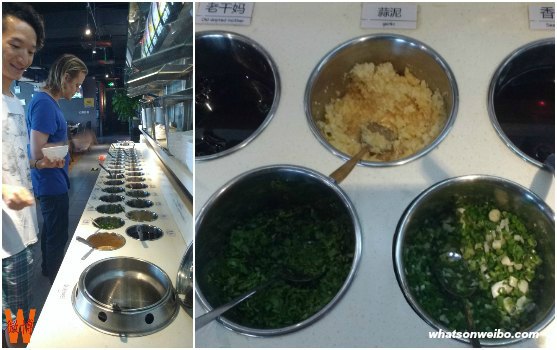 Once at the table, your ordered hotpot is prepared by the Wodi staff and hot potting can start. Except for the hot pot placement, Wodi is completely self-service as there are no employees who will serve you drinks or food. You will have to step back into the supermarket to get your own stuff, and cook your own food in the pot.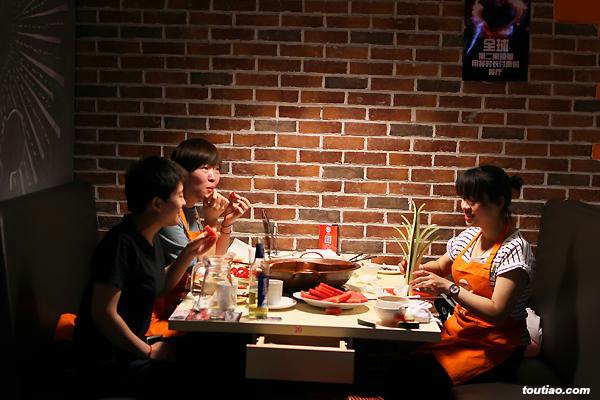 Wodi does all it can to make their customers as comfortable as possible to make them stay longer at the rented table. Tables have outlets to recharge mobile phones, there is free wifi, hair bands to keep the hair out of your face, and aprons to protect clothes from hotpot stains. In the meantime, the time for the table is counted by every 15 minutes you use it.
When food is finished and the bellies are full, it is time to pay. In a digital-focused store like Wodi, WeChat pay is the way to go, although there are other payment options available. As long as you have WeChat credit, "you just need to bring your mobile phone", as my fellow hotpotters say, and you're done. You give employees the Wodi card which you used for the supermarket and the table-time costs are added to it. For three persons spending multiple hours at Wodi eating and drinking, we spent a total of 240¥ (36US$)
For the true hotpot connoisseurs, Wodi might not be your hotpot heaven for its tastes are classic but not as refined as renowned hot pot restaurants in China. But for its price, quality, cleanliness, comfort, and above all, its no-nonsense, self-service, digital approach, Wodi is the place to go.
According to its founder, this is still the "1.0 phase" of Wodi, with the future "2.0 Wodi" offering customers more digital options and services. Keep an eye on this one – it might just be the hot pot paradise China's digital-loving hot pot foodies have been waiting for.
– By Manya Koetse
Follow @WhatsOnWeibo
Wodi Hotpot Address:
Beijing, Chaoyang,
East Gongti Road 工体东路20号春平广场
1st Floor Chunping Plaza
Branch in Beijing, Wangjing
悠乐汇C座3楼359室
Youlehui C/Building 3, 359
©2016 Whatsonweibo. All rights reserved. Do not reproduce our content without permission – you can contact us at info@whatsonweibo.com.
[/blendlebutton]
Discussions on Didi After $1.2 Billion Fine for User-Data Violations
"Don't even worry about rectifying, just go away," some commenters wrote about Didi after learning the car-hailing company illegally and excessively collected user data.
One of the topics trending on Chinese social media this week is Chinese ride-hailing giant Didi and the precarious situation the company is in. Online discussions are ongoing after the Cyberspace Administration of China (CAC) imposed a fine of 8.026 billion yuan [US$1.19 billion] on Didi Global on July 21 due to its alleged violation of at least three major laws, namely China's Network Security Law, Data Security Law, and the Personal Information Protection Law.
Didi CEO Cheng Wei and President Liu Qing also each received a fine of one million yuan (US$148,000) personally as they were held responsible for the company's violations.
Beijing launched a cybersecurity investigation into Didi on July 2nd of 2021, just days after the company's June 30 US$4.4 billion initial public offering in New York. The investigation was launched "to protect national security and the public interest," and also came at a time when Didi reportedly went against the CAC by pressing ahead with its New York stock listing despite allegedly being urged to wait until a cybersecurity review of its data practices was conducted. Shortly after, the CAC ordered domestic app stores to remove all of Didi's services.
Now that the investigation into Didi is completed, the CAC states that there is conclusive evidence that Didi committed 16 law violations including illegally obtaining information from users' smartphones – such as collecting information from users' clipboards and photo albums – and "excessively" collecting personal data, including facial recognition and information relating to age, occupation, home/work addresses, and family relations (also see Zichen Wang's write-up on this here).
Didi Chuxing, China's biggest taxi-hailing service, has over 550 million users and 31 million drivers. Besides taxi-hailing, Didi also offers other app-based transportation services, such as private car-hailing and social ride-sharing.
It is not the first time for the company to be in hot water. In 2018, the murders of two young women by Didi drivers caused national outrage and sparked concerns over customers' safety when hailing a car through the Didi company.
On Weibo, various hashtags relating to Didi went trending over the past week, such as "Didi fined 8.026 billion yuan" (#滴滴被处80.26亿元罚款#), "Didi excessively collected 107 million pieces of passengers' facial recognition information" (#滴滴过度收集1.07亿条乘客人脸识别信息#), and "Cyberspace Administration of China imposes administrative penalty on Didi" (#网信办对滴滴作出行政处罚#).
Some Weibo users wonder why Didi is just receiving a fine rather than being immediately shut down over the serious violations they committed. "You still not shutting them down?" was a popular recurring comment. Although rumors surfaced over Didi's car-sharing business going bankrupt, some expert bloggers claimed the company still would have enough financial power to go on after paying the fine.
The CAC has not provided details about the exact nature of the previously reported government's "national security concerns" regarding Didi, but on Weibo, some netizens share their ideas on the matter: "Didi has a lot of people's data. Just by hailing a car, they determine your cellphone number, your occupation, address, family member information, The U.S. could carry out targeted bribery or intimidation of some important people in China, as well as obtaining the geographic data Didi has, which would mean a heavy blow to China's cyber security." Another commenter wrote: "Didn't they already sell this illegally obtained user information? Is it a threat to national security?"
Others worry about their own privacy, writing: "Do people still have privacy nowadays? We talk about one thing today, tomorrow we'll be bombarded with advertisements for that very same thing."
But others mentioned that the general consumer will keep using Didi when booking a taxi via app, simply because it's still the major player in the market.
On Weibo, Didi responded to the administrative punishment via their official Weibo account, writing:
"We sincerely thank the departments in charge for their inspection and guidance, and we thank the public for their criticism and supervision. We will draw a lesson from this, and will pay equal attention to the importance of security and development, and we will further strengthen the construction of our network security and data security, enhance the protection of personal information, effectively fulfill our social responsibility, serve all of our passengers, drivers, and partners, for the company's safe, healthy, and sustainable development."
"Don't even worry about rectifying, just go away," some commenters wrote.
Read more of our articles about Didi Chuxing here.
By Manya Koetse
With contributions by Miranda Barnes
Get the story behind the hashtag. Subscribe to What's on Weibo here to receive our weekly newsletter and get access to our latest articles:
Spotted a mistake or want to add something? Please let us know in comments below or email us. First-time commenters, please be patient – we will have to manually approve your comment before it appears.
©2022 Whatsonweibo. All rights reserved. Do not reproduce our content without permission – you can contact us at info@whatsonweibo.com.
Beijing Communities Asking People to Wear Electronic Monitoring Wristband during Home Quarantine
"It's almost like wearing electronic handcuffs. I don't want to wear this," one tech blogger wrote after being asked to wear a monitoring wristband during home quarantine.
Social media posts from Beijing residents claiming that they were asked to wear electronic monitoring wristbands during home quarantine have prompted angry reactions on Weibo.
"Last week, I went on a work trip to Guangzhou and before I returned to Beijing I did the nucleic acid tests in time. I also reported my home isolation to authorities and received the antigen tests. In the middle of the night, I then received a notification from my community that they are giving me an electric bracelet to wear," one Beijing resident writes on Weibo on July 14: "If they need to monitor my health, I'll cooperate with temperature checks and nucleic acid tests at the door, but I cannot accept this so-called 24-hour electronic monitoring."
Similar stories by Beijing residents returning back to the city after traveling have popped up on Chinese social media over the past few days. Tech blogger Dahongmao (@大红矛) – who has over 170,000 followers on Weibo – also shared their wristband experience, writing:
"After returning to Beijing from a business trip, I reported to the community on my own initiative, and also volunteered to take the tests and stay in home isolation. Seeing that I could go out, a lady from the community called me and said that there was a new policy again and that all people in home quarantine must wear an electronic bracelet, and that it would be delivered to me that night. She explained that it is used to check the body temperature and that they could conveniently monitor body temperature data on the phone. I said that I had already strictly followed Beijing's requirements in accordance with the anti-epidemic work. If this bracelet can connect to the internet, it definitely is also able to record my movements and it's almost like wearing electronic handcuffs. I don't want to wear this. If you want to know my temperature, just come to the door and check me, that's fine, I'm also still clocking in to do antigen testing everyday. She said it's a requirement from higher-up and that I shouldn't make it difficult for her, I said I would not want to make it difficult for her but that she could tell those above her that I won't wear it. If you insist that I wear it, you'll have to come up with the documents that prove that it's a Beijing government requirement and that this is not some unlicensed company trying to make a profit."
As more stories started surfacing about Beijing compounds asking residents to wear electronic bracelets during their home isolation, various hashtags related to the issue made their rounds on Chinese social media and photos taken by people wearing the bracelets also were posted online.
Photos of the wristband's packaging show the electronic wristband is manufactured by Beijing Microsense Technology (北京微芯感知科技有限公司), a local Beijing company established in April of 2020 that is located in the city's Haidian District.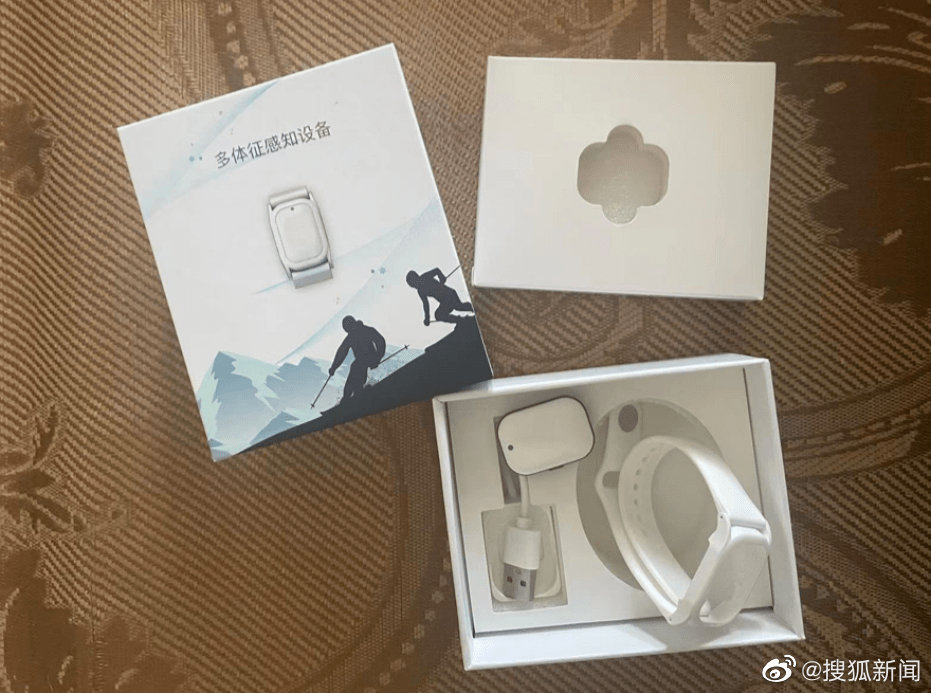 These stories raised concerns online, especially because the wristband had not been announced as a policy by the city's official health authorities.
"Resist the craziness," one Weibo user wrote: "Our personal freedom is covertly being limited, and there's people making a profit behind it." "This is becoming more and more like one big prison," one Zhejiang-based blogger wrote.
Tech blogger Dahongmao later updated their Weibo story about the bracelets, saying the community staff had come back to retrieve the electronic bracelets on Thursday afternoon because they had received "too many complaints." News of the wristbands being recalled after too many complaints also became a hashtag on Weibo (#大量投诉质疑后社区回收电子手环#).
Chinese state media commentator Hu Xijin (@胡锡进), who is Beijing-based, also responded to the controversy, emphasizing that the bracelets had already been retrieved by community workers and that Beijing city would not force people to wear electronic wristbands during home quarantine. "I wonder if this adjustment was made due to the pressure of public opinion," Hu wrote: "But even if it was, let us encourage this kind of respect shown in the face of public discontent and opposition." He also made a video about the incident for his Hu Says series.
Earlier on Thursday, Hu had called some of the posts about the electronic wristbands "unfounded rumors" because people returning to Beijing from low-risk regions inside of China do not even need to isolate at home at all.
According to the official guidelines, individuals arriving (back) in Beijing must have a green health code and a negative nucleic acid test obtained within 48 hours. Only those individuals coming in from overseas must complete a 7-day centralized quarantine plus 3-day home isolation. Secondary contacts of confirmed cases will also be asked to do 7 days of home quarantine.
"Don't say it's just rumors," one Weibo user wrote: "I'm wearing one [a wristband] right now. I had to, because my roommate returned from a trip."
Blogger Dahongmao responded to Hu's post about the wristband, saying: "Hu, if you are really concerned about this, then help to ask the relevant departments about these three questions. 1) Why doesn't this consumer electronic product have the nationally required 3C certificate? 2) How come this anti-epidemic product doesn't have medical device certification? 3) Without these two certificates, how did this [company] enter the purchasing list of the government for the Winter Olympics?"
As reported by Jiemian News, the same company that allegedly produced these wristbands also manufactured a smart wearable temperature measurement device called a "temperature band-aid," which was used in the Olympic Village during the Beijing Winter Olympics.
On the late afternoon of July 14, the Beijing Municipal Health Commission responded to the online concerns about the electronic wristband, reportedly saying that home isolation is only necessary for people returning to Beijing from inside of China if they are coming from high-risk areas, and that there is no official policy in place regarding the need to wear electronic bracelets.
To read more about Covid-19 in China, check our articles here.
By Manya Koetse
With contributions by Miranda Barnes
Get the story behind the hashtag. Subscribe to What's on Weibo here to receive our weekly newsletter and get access to our latest articles:
Spotted a mistake or want to add something? Please let us know in comments below or email us. First-time commenters, please be patient – we will have to manually approve your comment before it appears.
©2022 Whatsonweibo. All rights reserved. Do not reproduce our content without permission – you can contact us at info@whatsonweibo.com.