Italian Murder Case: Chinese 'Comrade' Suffocated and Stuffed in Suitcase by Ex-Lover
A Chinese man was reportedly suffocated in the Italian city of Modena. His remains were found in a suitcase under his bed.
A gruesome murder case is making headlines in China after the remains of a Chinese man have been found stuffed in a suitcase. The suspect is the victim's 17-year-old Chinese ex-boyfriend.
A 20-year-old ethnically Chinese man named Hu Congliang (胡聪亮) has been reportedly murdered in Modena, a city in Northern Italy, on November 26.
On Weibo, the news was published by Danlan.org, China's leading online LGBT news platform with the headline: "Ethnic Chinese 'Comrade' Harmed in Italy." The Chinese word 'comrade' (同志) is also slang for homosexuals.
Danlan reports that Italian police have questioned and detained five Chinese minors in relation to the murder, and that among them, a 17-year-old man is the main suspect in suffocating and killing Hu Congliang. He used to be in a relationship with the victim.
Hu Congliang lived in Italy together with his parents, who were both working there.
According to the Straits Times, the 17-year-old suspect previously tried to break up with Hu, who then refused and allegedly threatened his boyfriend to publicise intimate photos he had of him.
The underage suspect then went to Hu's residence with four friends, where they allegedly suffocated him with a pillow and put his remains in a suitcase under the bed. As they left they told Hu's mother, who was present in the house, that her son had left earlier.
Italian local media reported that the mother found her son's remains a couple of hours later.
Murder cases involving (ethnically) Chinese in foreign countries often make headlines in China. Earlier this year, the brutal murder of two Chinese sisters in Japan also set social media abuzz.
Another case, in which a Chinese woman was reportedly killed by the ex-boyfriend of her roommate in Japan is still receiving a lot of media attention in China. The suspect, a 25-year-old Chinese exchange student, is to be put on trial in December.
By Manya Koetse
Follow @whatsonweibo
Spotted a mistake or want to add something? Please let us know in comments below or email us.
©2017 Whatsonweibo. All rights reserved. Do not reproduce our content without permission – you can contact us at info@whatsonweibo.com.
Reversal Seen as Step Back: Chinese Social Media Responses to U.S. Abortion Ruling
"Now we can all have eight children and a bright future," one Chinese commenter sarcastically wrote about the U.S. reversal of abortion law.
As the end of constitutional protections for abortions in the United States is making headlines worldwide, the Supreme Court's overturning of women's right to abortion is also trending on Chinese social media.
On June 25, the hashtag "U.S. Supreme Court Cancels Constitutional Right to Abortion" (#美国最高法院取消宪法规定的堕胎权#) attracted over 640 million views on Chinese social media platform Weibo. The hashtag "U.S. Supreme Court Overthrows Roe v. Wade" (#美国最高法院推翻罗诉韦德案#) garnered over 120 million views.

Roe v. Wade refers to the United States Supreme Court decision on abortion, which recognised a woman's constitutional right to an abortion prior to the viability of the fetus (generally estimated to be about 24 weeks).
The plaintiff in the 1973 case was the then 21-year-old Dallas waitress Norma McCorvey (1947) – publicly known under the pseudonym 'Jane Roe' – who filed the case after she was denied the right to terminate her unwanted pregnancy. McCorvey eventually won the case (although she had already given birth by then), and the Roe decision thereafter granted the right to abortion for nearly five decades.
That decision was overturned on Friday, removing the federal constitutional right to an abortion in the United States and making the procedure illegal or heavily restricted in at least 11 states, with more states expected to follow. The reversal came in a dispute over a Mississippi law that banned abortions after 15 weeks of pregnancy and directly challenged Roe v. Wade.
As states began to enact abortion bans and clinics stopped offering abortion procedures, the Roe v. Wade reversal led to protests in cities across the United States.
On Weibo, media posts about the issue received thousands of shares and comments and triggered many discussions.
"Reasonable abortion is a recognized basic human right," one popular comment said, receiving over 57,000 likes. "In the world's most developed nation, women can't fully make decisions about their own wombs," another comment with hundreds of likes said, with other commenters calling the decision "historical" and "insane." Various commenters also wrote: "I just don't understand this" or "I don't dare to believe it."
Chinese media reports about the Roe v. Wade reversal have also generated online discussions about whether or not China could implement tighter restrictions on abortions in the future, and if that would be a good development or not – a decisive issue.
"Such a law in China could have prevented the abortion of many girls," one Weibo user wrote, reflecting on the non-medical, sex-selective abortions that occurred in China during the One Child Policy (1980-2015).
Although abortion is legal and widely available in the People's Republic of China, policy guidelines were introduced in September of 2021 to restrict the number of abortions performed for "non-medical reasons" at a time when the country is seeing the lowest population growth in six decades.
But while some commenters used the American case to reflect on China's potential future legal changes, there were also many who took this opportunity to reflect on and praise the basic personal freedom Chinese women currently have to end an unwanted pregnancy.
Many saw the U.S. move as a step back for women's rights ("is this really 2022?"), lamenting the state of women's rights internationally and also mentioning the recent Tangshan incident in China as a sign of a supposed international decreased level of (legal) protection of women.
"Perhaps you can't empathize, but there's also nothing to cheer about while you're watching the fire burn from afar and are grateful to be Chinese – American women lose their right to abortion, and Chinese women have seen their wombs become nationalized. Now we can all have eight children and have a bright future," one commenter from Shandong wrote in a sarcastic voice.
There were also some commenters who wrote that it was non-sensical for Chinese web users to argue over American abortion laws, saying the controversial U.S. decision has everything to do with an ongoing war between American Republicans who oppose legal abortion versus Democrats who favor it, and nothing to do with China and its family planning policies.
But regardless of whether or not American policies have anything to do with Chinese modern-day society, the U.S. Supreme Court decision is just a sign for many that policies could always turn around and that there is no guarantee that current rights and freedoms will last forever. "The wheel of history is moving backwards," one Weibo user wrote on Saturday, with another person adding: "Will the next step be a ban on contraception?"
Overall – perhaps surprisingly in light of a rise in online anti-American sentiments over the past few years – most comments on Weibo at time of writing show solidarity and sympathy for American women over the Roe reversal.
"Those in charge of society are unavoidably making plans for women's wombs," one female commenter said, perhaps reflecting both on Chinese family planning policies as well as the recent American developments.
For more related to abortion in China, check our previous articles on this topic here.
By Manya Koetse
Get the story behind the hashtag. Subscribe to What's on Weibo here to receive our weekly newsletter and get access to our latest articles:
Featured image: Photo by Gayatri Malhotra on Unsplash
Spotted a mistake or want to add something? Please let us know in comments below or email us. First-time commenters, please be patient – we will have to manually approve your comment before it appears.
©2022 Whatsonweibo. All rights reserved. Do not reproduce our content without permission – you can contact us at info@whatsonweibo.com.
Stinky Marketing: Chinese Feminine Hygiene Brand Fuyanjie Stirs Controversy with "Dark and Smelly" Ad
Feminine hygiene brand Fuyanjie is caught in a social media storm over its "dark and stinky" marketing campaign.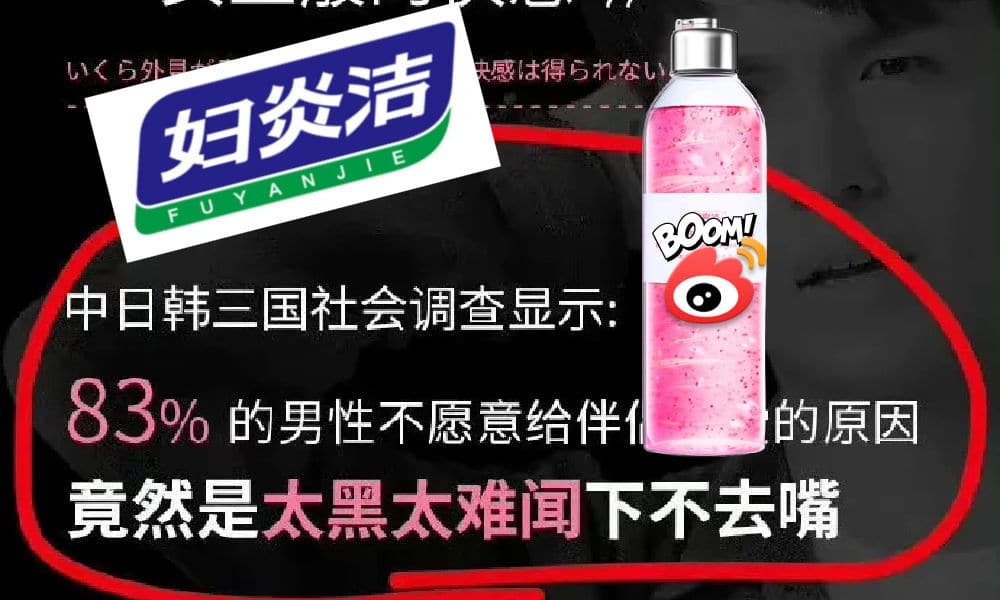 'Insulting' and 'unscientific': Chinese female hygiene brand Fuyanjie has come under fire on social media after suggesting that most men do not want to perform oral sex on women due to the vaginal area being "too dark and too smelly." Their new product promised a 'clean, odorless, and pink' genital area.
The Chinese feminine hygiene brand Fuyanjie (妇炎洁) has caused controversy on Chinese social media this week because of its latest marketing campaign.
The brand recently came out with a new product promotion campaign via its online flagship store. The campaign promoted the pink-colored lotion by claiming that "surveys show that 83% of men from South Korea, Japan, and China are not willing to go down on their partner because it's too dark and stinky."
Of course, the brand promised a solution for this alleged widespread bedroom problem. The campaign suggested that Fuyanjie's lotion will clean the genital area while also lightening darkened vaginal area skin and make it more "pink."

Besides claiming to make the skin more pink-colored, the campaign also suggested that hyperpigmentation of the genital area can be caused by wearing tight pants and having too much sex.
The brand drew widespread criticism from netizens for being vulgar, insulting to women, and completely unscientific. By Saturday, the hashtag "Fuyanjie Ad Insults Women" (#妇炎洁广告被指侮辱女性#) had received over 130 million views on Weibo.
China Women's News also condemned Fuyanjie on May 17th for its ad, saying that the brand ruined its own reputation by using women's bodies for distasteful marketing practices.
Following the controversy, Fuyanjie published an apology on social media on May 20th, saying they offered their sincere apologies for their "inappropriate content" and that they will make sure something like this will not happen again in the future. They also stated that the product in question has now been taken off the shelves.
The "Fuyanjie Apologizes" hashtag (#妇炎洁道歉#) received over 80 million views on Weibo, but most netizens were not buying it, blaming the company for deceiving and discriminating women while also making money off of them.
Fuyanjie is a well-known female product brand in China that has been around since 1998. It is part of the Renhe Pharmaceuticals Group, a pharmaceutical company that specializes in the manufacture and marketing of over-the-counter (OTC) drugs and other healthcare products. Besides female intimate hygiene products, Fuyanjie also sells sanitary napkins and other related products.
"I can't wash away your past, but I can clean up your future"
Fuyanjie became a household name in the 1990s and early 2000s, mainly due to its marketing strategy which involved a catchy song by a couple singing a love song ('Lover' 知心爱人 by Ren Jing and Fu Disheng) and the slogan: "Washing is Healthier" ("洗洗更健康").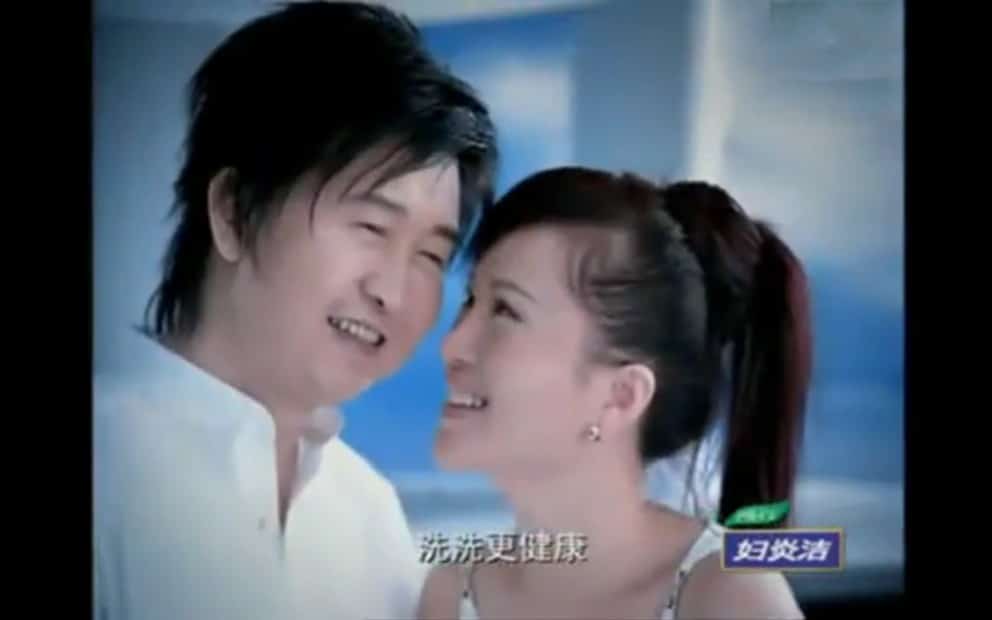 The brand name Fuyanjie (妇炎洁) literally means 'cleansing women's vaginitis,' with the company claiming that their products kill germs, make you feel fresh and clean, and that using their intimate care products somehow makes you "more healthy" (Li 2016).
In its commercials and ads, Fuyanjie also makes a connection between their products and romantic relationships, showing happy couples buying Fuyanjie products together. In between the lines, the company suggests that using Fuyanjie feminine hygiene products will magically boost your love life.
Nevertheless, it has been pointed out many times before that these kinds of female hygiene products are unnecessary and misleading. Rather than maintaining genital health, some of these intimate washing products actually might disrupt the intimate balance of the vagina and give rise to infections.
One popular Weibo comment said: "Unless your doctor says otherwise, the best way to wash your private parts is with water. And regarding the pigment – it's normal to have darker skin there."
It is not the first time Fuyanjie gets caught in controversy. As reported by Jiemian News, the brand also sparked criticism from netizens in 2016 when it used the marketing slogan "I can't wash away your past, but I can clean up your future" ("我不能洗掉你的过去,但我能洗干净你的未来") for one of their intimate care products.
Other Chinese brands were previously also criticized for insulting women. Chinese underwear brand Ubras caused controversy online last year after suggesting that its underwear was so good that it helped women "lie to win in the workplace." Sexist and offensive, according to many Weibo users. An ad by Chinese cotton product brand Purcotton also sparked controversy in 2021 for showing a woman wiping away her makeup to scare off a male stalker, with many finding the ad sexist and hurtful to women.
"They don't respect women at all," one Weibo commenter said about Fuyanjie. "They should make their own penises pink instead," another person suggested.
By Manya Koetse
With contributions by Miranda Barnes
Get the story behind the hashtag. Subscribe to What's on Weibo here to receive our weekly newsletter and get access to our latest articles:
References
Li, Hongmei. 2016. Advertising and Consumer Culture in China. Cambridge: Polity.
Spotted a mistake or want to add something? Please let us know in comments below or email us. First-time commenters, please be patient – we will have to manually approve your comment before it appears.
©2022 Whatsonweibo. All rights reserved. Do not reproduce our content without permission – you can contact us at info@whatsonweibo.com.