Jiangsu Traffic Police Woman Becomes Internet Hit
Female traffic police Chen Zixuan from Jiangsu has become an internet celebrity since local government posted her picture on Weibo. The traffic police woman is praised as a model worker, but most netizens just like her for her looks.
Female traffic police Chen Zixuan from Jiangsu has become an internet celebrity since local government posted her picture on Weibo. The traffic police woman is praised as a model worker, but most netizens just like her for her looks.
A traffic police woman from Jiangsu has become an internet hit after her picture was posted on Weibo by the local government account of Lianyungang city (@连云港发布) in Jiangsu, China.
The woman is popular among some netizens for doing her job in the freezing cold, but she is mainly a hit because of her looks and close resemblance to Michelle Chen, a popular actress and singer from Taiwan.
The female traffic police went trending on Sina Weibo under the hashtag 'Traffic police woman is the look-alike of Michelle Chen' (#女交警撞脸陈妍希#).
The original post by the Lianyungang city government of November 22 says: "Thumbs up for this beautiful traffic police woman in the snow. In the traffic peak this afternoon, the snow was heavy, but Chen Zixuan of the Haizhou area Lianyungang traffic police brigade has been sticking to her post. Let's praise her!"
The Lianyungang official public security account added: "Their cheeks have become red from the blazing wind, but they always stand firm in the middle of the road; their hands are ice-cold from the cold snow, but their posture is still strong. Through wind and snow, they fulfill their duty, so that we can safely go home on this snowy evening."
The praise of ordinary people doing their work is a recurring theme in official Chinese government announcements. In July 2016, China's Communist Party produced a public service TV ad that also featured ordinary, hard-working people as model workers.
The 1-minute video showed a traffic police man in the rain and a street cleaner starting work early in the morning. The Party video conveyed the message that party members are "always part of the people, closely connected to the people, and devoted to serve the people."
Especially female workers play an important role in the propagation of the hard-working citizen who is serving the people. The most famous examples are female locomotive driver Sun Guilan and Liang Jun, the woman to be a tractor driver in China. The latter was even depicted on Chinese banknotes in 1962.
Perhaps unfortunately for the local government, the propagated 'serve the people' message on the Jiangsu police woman did not inspire Weibo's netizens as much as her beauty. "She looks just like Michelle Chen. With a bit more make-up, she's even prettier than her," some netizens commented.
Another Weibo user wonders about something else: "Don't we have traffic lights nowadays? Don't we have surveillance cameras? And automated traffic signs?"
"This is her job," another netizen comments: "And she receives steady wages, it's not a low-paying job. What is your goal of propagating this on Weibo? What about ordinary people like sanitation workers who struggle and suffer? Don't propagate this woman!"
– By Manya Koetse
Follow on Twitter or Like on Facebook
©2016 Whatsonweibo. All rights reserved. Do not reproduce our content without permission – you can contact us at info@whatsonweibo.com.
Netizens or Not? About Chinese Online Communities & Use of the Term 'Netizen'
The term 'netizens', referring to Chinese internet users, is both loved and hated.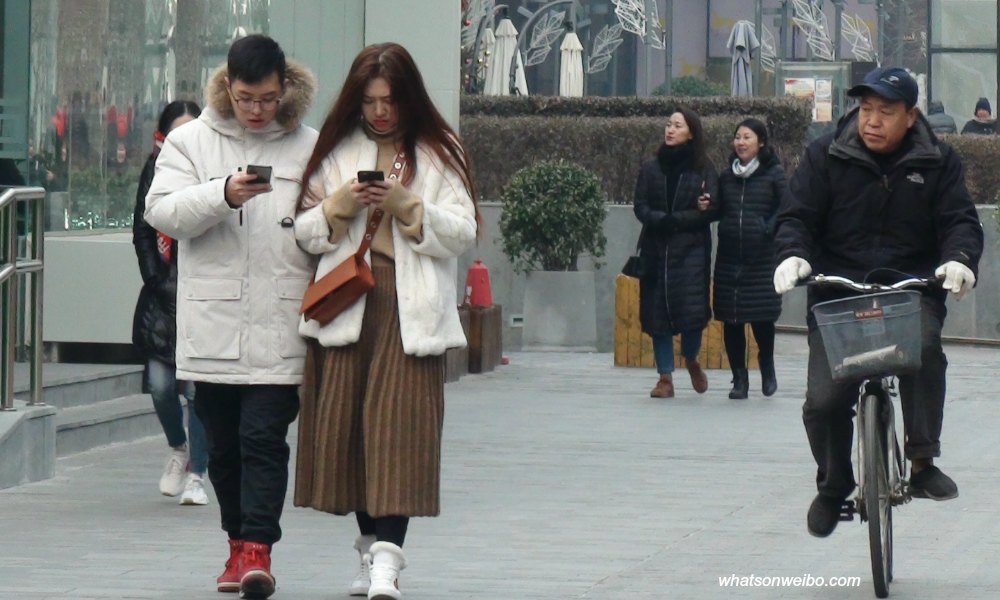 Chinese internet users are often referred to as 'netizens', but some people say the term is outdated and inappropriate. Should something change? What's on Weibo explores the term and its use in different contexts.
It has been an issue of debate for years; the use of the word 'netizen' in English-language media – especially when referring to Chinese internet users.
At What's on Weibo, it is a word we use in pretty much every article we post. Online media in China is our focus, and how 'netizens' deal with social media and trending topics is at the heart of this website.
But many people have had enough of the word 'netizen.' Already in 2013, Matt Schiavenza at The Atlantic wrote that the term was "once useful as a way to describe China's internet users," but that it is now "meaningless, inaccurate, and misleading."
Schiavenza argues that "netizens" is mainly used for Chinese internet users who are politically active or outspoken, while there is a huge number of Chinese people who are non-political in their online behavior.
The term has also been discussed among people on Reddit, where some call it a "stupid journalism" term.
At the conclusion of the recent Chinese Internet Research Conference at Leiden University, the term was also briefly discussed in the context of 'online communities,' with some scholars deeming the word inappropriate to refer to Chinese internet users – also suggesting that speaking of Chinese "online communities" in itself was problematic to begin with.
One discussion participant suggested that words such as 'community' or 'netizen' are labels used by outsiders in the academic world or in foreign media, rather than Chinese describing themselves that way – saying it is problematic because it is "our label, not theirs."
Is this really true? What's behind the term 'netizens'? Should Chinese internet users be described with other terms than 'netizens'? For what reasons?
Behind the Word 'Netizen'
The word 'netizen' was first coined in 1984 and popularized with the spread of the internet during the 1990s. The word is a blend of the words 'internet' and 'citizen,' and is (or was) generally used to either refer to people who use the internet, or more specifically, to refer to people who participate in online discussions or belong to 'online communities' (Johnson 2013).
The term is also often attributed to net theoretician Michael Hauben, who used it in his 1997 work to define people who "actively contribute toward the development of the Internet" and for a "citizen who used the Internet as a way of participating in political society."
Already in 2012,Time Magazine elected the term as one of the words that should be banished, suggesting it had become archaic since its launch in the 1980s.
But when looking at the more recent use of the word 'netizens' in academia and foreign media, the term is anything but dead. It does seem to be applied far more often to Asian online contexts, e.g. Chinese or Korean online users, than it is used to describe internet users in Europe or America.
It is often used, for example, to talk about online fans of the K-pop industry or users of the Sina Weibo platform – suggesting that there has been a shift in the use of 'netizens' from the 1980s or 1990s to describe any internet user, to more specifically describing those (often Chinese) internet users that are part of a specific online circle.
From Netizen to Wangmin
One reason why 'netizen' is used in the Chinese case specifically, is because Chinese media and social media users use the word 'wǎngmín' (网民) very frequently.
Wangmin (网民) literally means 'net-people' or 'net-citizens' (thus literally: 'netizens'), and is the generally accepted term to designate internet users in China. The term was described by the China Internet Network Information Center (CNNIC) in 2013 as "Chinese residents who are six or older and have used the Internet at least once in the past six months" (Shen 2013).
The CNNIC has used the term wangmin officially since 1997, the year of its founding, when its first 'China Wangmin Survey' (中国网民调查) came out – the same year that Michael Hauben theorized and politicized the word.
The Chinese term wangmin seems to lack the more political implications of the term 'netizen' in English in Western countries, which has come to imply that an internet user is politically involved in online issues. Chinese fans of certain music genres or TV series are hardly politically involved in online causes, yet they are still wangmin.
There are (political) implications to the term wangmin on another level, though; in Chinese media, the term is mostly connected to nations. For example; one can speak of 'American netizens' (全美网民), 'Canadian netizens' (加拿大网民) or 'Chinese netizens' (中国网民,国内网民).
There are also instances in which the term is applied to platforms rather than nations. Some Chinese media have used the term 'Sina Weibo netizens' (新浪微博网民), for example.
Netizens versus Netizens
So what does this all mean? Firstly, it means that the use of 'wangmin' or 'netizens' in the Chinese context is not the same as the way the term 'netizens' has come to be used in the English-language Western context.
It also means that the term is not archaic at all. After all, who can claim a word is 'outdated' or 'old-fashioned' when it is practically being used at all hours of the day on Chinese internet and in Chinese media today? Even though it has been used since 1997, it has proved to be anything but a word trend: wangmin has become a part of normal Chinese vocabulary.
Third, claiming that it is a "stupid journalist term" or "our label, not theirs" also does not do just to the word; in the Chinese context, the term is used far beyond journalism, and more importantly; it is used by Chinese organizations and individuals to describe Chinese internet users, meaning it is not merely a term that is used by non-Chinese to describe Chinese online populations.
Online Communities
One thing that stands out when talking about 'netizens', no matter in what context, is that it is tied to the idea of an 'online community.' Much has been researched and said about what constitutes an online community, but for the scope of this article, we could say that it minimally requires some sense of a shared collective identity or some pursue of a shared purpose (Massa 2017, 961).
In the case of China's online environment, online communities are build in two ways.
In one way, it is constructed at the state level to "define wangmin within the nation-state boundary," as Yiping Shen (2015) writes in Public Discourses of Contemporary China.
This is, amongst others, very visible in state reports or state media that define "Chinese netizens" (中国网民) in the same way in which citizens are legally recognized subjects of a nation or state, meaning citizens of the PRC. In this way, all of China's 772 + million internet users are part of this group of 'netizens' and have to follow to guidelines the government lays out for Chinese netizens.
In another way, it is used among Chinese companies and internet users to define themselves, either in the way the state has intended it, or at a smaller online community level. And these communities exist everywhere, from small-scale to large-scale, some existing for a long time, some being short-lived; from the long-standing Rage Comics community to temporary groups and Human Flesh Search Engines, to flourishing BBS or WeChat groups.
A platform such as Sina Weibo also clearly defines itself as a 'community' (社区), with its 'Weibo Community Management' (新浪微博社区管理) being an important part of the site in setting out guidelines for its members.
Wangyou: Chinese Online Friends
So what options are there for future references to Chinese internet users? Should we just stick to 'netizens'? Would it more appropriate to use the original Chinese term 'wangmin,' or should we perhaps use another widespread term, namely that of 'wǎngyǒu'?
Besides Chinese internet users defining themselves as wangmin, the word wangyou (网友), literally 'web friend', is also often used among netizens to define the members of their online 'community' (e.g. Weibo) or Chinese internet users at large.
Jessica Sun (孙慧), linguist and co-founder of the Dutch website Chinatalk, explains that 'wangyou' or 'webfriends' initially was meant to define those people one knew from cyberspace, when internet just gained traction in China.
Once China's online population grew bigger, the idea of wangyou also grew to include more people. "It could also refer to a larger group of people who share the same interests or attitudes, instead of just friends," Sun explains.
Sun compares the use of wangyou to the Chinese word for 'friend', pengyou (朋友), which is often used to sound more intimate, although the person addressed is not necessarily really considered a 'friend.'
According to Sun's analysis, wangmin (netizen) and wangyou (webfriend) are generally interchangeable, although there are some subtle differences. Sun has some remarks explaining the difference between the two terms:
1. In many cases, wangmin could also be a wangyou, but not the other way around. Wangyou can be used to show a more emotional attachment or personal relation, as in 'my webfriends' (我的网友). One can not say 'my netizens' (我的网民).
2. While wangyou is more intimate, wangmin is more neutral, and is therefore mainly used by news outlets.
3. The use of the term wangmin or wangyou depends on the attitude of the person who uses it towards a specific person/event, depending on the 'community' they are in or the stance they have towards a particular incident.
For example, when Chinese media report about wangyou doing something or being angered about something, it often means this author/publication is siding with these 'webfriends'.
The headline featured above ("As policeman bravely sacrifices his life, [some] webfriends are angered about these details") is a story about a policeman who died on duty while trying to protect pedestrians from an out-of-control car. When some online commenters said that it was the policeman's job to protect the people, suggesting his death was part of his duty, many other commenters were angered with these comments. By featuring the 'webfriends' term in this headline, the publication shows it sides with those 'webfriends' who mourn the policeman's death and who are angered about insensitive comments relating to his death.
Another story, headline above ("Shenyang policeman dies on duty, two netizens detained over insulting comments"), is about another policeman dying on duty due to an attack by a suspect, with two web users commenting that the person attacking the police was a "hero" for doing so. The headline states that "two netizens insulting [police] have been detained" – in such a case, the media report shows a distance towards the commenters – 'webfriends' would surely not be used to refer to them.
All in all, it is clear that words such as netizen or wangyou, although they might sound outdated in an English-language context, are anything but outdated in the Chinese context.
Nearly five years after The Atlantic posted its anti-'netizen' article, claiming the word "meaningless, inaccurate, and misleading," recent uses of the term and its ubiquity in (Chinese) media show that it was perhaps the author's perspective that was flawed, rather than the term itself.
For the time to come, Chinese 'netizens' are here to stay.
We'd like to hear your stance! How do you feel about 'netizens,' or would you rather see a more frequent use of the original wangmin term? Fill out the poll below:
By Manya Koetse
Follow @whatsonweibo
With contribution from Jessica Sun at Chinatalk.
References
Hauben, Michael and Ronda Hauben. 1997. Netizens: On the History and Impact of Usenet and the Internet. Computer Society Press: Los Alamitos, CA.
Jones, Paul Anthony. 2013. Haggard Hawks and Paltry Poltroons: The Origins of English in Ten Words.
Massa, Felipe G. 2017. "Guardians of the Internet: Building and Sustaining the Anonymous Online Community."Organization Studies 38 (7): 959 –988.
Shen, Yiping. 2015. "Netizens, Counter-Memories, and Internet Literature into the New Millennium." In: Public Discourses of Contemporary China. Chinese Literature and Culture in the World, Chapter 4. Palgrave Macmillan: New York.
Directly support Manya Koetse. By supporting this author you make future articles possible and help the maintenance and independence of this site. Donate directly through Paypal here. Also check out the What's on Weibo donations page for donations through creditcard & WeChat and for more information.
Spotted a mistake or want to add something? Please let us know in comments below or email us.
©2018 Whatsonweibo. All rights reserved. Do not reproduce our content without permission – you can contact us at info@whatsonweibo.com.
15-Year-Old Fatally Stabs Classmate over Better Exam Scores
A 15-year-old middle school student recently stabbed his classmate to death. His reasons for the brutal stabbing allegedly relate to the fact that his classmate received better exam scores than him.
A shocking incident that occurred in Zibo, Shandong, has attracted the attention of Chinese netizens. WeVideo, a video platform affiliated with 'The Beijing News', reported the incident in a video earlier this week.
According to the video report, a 9th-grade student named Ma was stabbed to death by one of his classmates in the district of Linzi in Zibo on June 5th.
The victim's father told reporters that his son's classmate, Qin, was hiding in one of the units in Ma's neighborhood that day, waiting for Ma to come outside. He had brought knives and a hammer with him.
The crime scene, featured in the WeMedia report, shows that the confrontation between Ma and Qin was a bloody one – leaving blood stains across the area which were later covered by sand. Ma died from a fatal stabbing wound in his neck.
The victim's family told that Qin had previously threatened Ma, who was a star student, in late May of this year. According to Ma's uncle, his nephew had relayed to him that Qin had said he would kill him if he would score better than him during the exams. The school did not intervene when Ma's parents warned staff about the threats. Ma was killed the second day after the exams.
The principal of the local school told Chinese media that the stabbing came as a total shock, especially because the two boys were known to be good friends. The boys, both in their final year of junior high school, we preparing to enter secondary school in September.
According to Ma's mother, her son won numerous awards and certificates during his studies. Earlier this week, some Weibo posts suggested that Ma was always the top student of his class, with Qin coming in second.
Many Chinese students are strained because of the country's test-oriented and competitive education system. Students in Shandong province face even more pressure than their peers from other provinces. According to Financial Times (Chinese), students from Shandong are among the least likely to get into top institutions such as Tsinghua.
Shandong has a high population but a relatively low number of educational institutes and university entrance opportunities.
A post on the official Weibo account of Linzi Zibo police (@临淄警方) confirmed that Qin was taken into custody on June 9th. The case is currently still under investigation.
By now, various posts on Weibo discussing the incident, including the WeMedia video, have been censored, although reasons for the scrutiny are yet unclear. Searches on 'Zibo 15-year-old stabbing' no longer returned relevant results on Sina Weibo at time of writing.
The WeMedia video report (in Chinese) available for viewing here:
By Chauncey Jung
Follow @whatsonweibo
Spotted a mistake or want to add something? Please let us know in comments below or email us.
©2018 Whatsonweibo. All rights reserved. Do not reproduce our content without permission – you can contact us at info@whatsonweibo.com.